Those looking for a beach getaway in Thailand should understand that beach destinations in Thailand are divided into two areas - the Gulf of Thailand and the Andaman Sea. The Andaman Coast is busier of them as with pristine Andaman Sea islands and white sand beaches it's a very popular destination for travelers .
The Andaman Sea in Thailand
The Andaman Sea is located south of Myanmar and west of Thailand and Malaysia. The Andaman Sea offers dreamy islands with wonderful endlessly long beaches under palm trees and a fascinating underwater world. Here you will also find many untouched points, where hardly any tourists visit, with beautiful views, wild animals in the rainforest and local life in the mangroves. Phuket and Koh Phi Phi are the most famous islands on the Andaman Coast and therefore unfortunately they are mostly overcrowded in the high season.
The western coast of southern Thailand can be roughly divided into three parts:
Northern Andaman Coast: The Phang Nga Bay area connected by land with Phuket Island, the country's best resort island. Some top destinations include Khao Lak, Similan Islands, and Surin Island, making this area the perfect place for a relaxing beach holiday and diving. Here you will also find Buddhist temples, bazaar and rich nightlife in Phuket.
Central Andaman Coast: The province of Krabi, where you can find some of the most beautiful beaches in the world such as Railay Beach and Ao Nang. The scenery of rocks and cliffs rising directly from the sea is fascinating. You can also take the ferry to Koh Phi Phi, which became world famous as the location for the film "The Beach".
Southern Andaman Coast: The southernmost Andaman Coast with destinations such as Trang and Satun is more remote and authentic alternative for travelers exploring the islands of Thailand. The islands off the coast of Trang are hardly developed for tourism compared to its neighbors but are a convenient base for island hopping all over the Andaman Sea. While Satun overgrown by dense jungle and mangroves on the coast with some truly picturesque tropical islands. This area is suitable for adventurers, nature lovers, those seeking peace and quiet.
Best Andaman Coast beaches & Andaman Sea islands
The Andaman Sea is home to many islands that are also suitable for island hopping. The picturesque Andaman Coast beaches in Krabi and dozens of Andaman Sea islands, including popular Phuket, Koh Phi Phi, Koh Lanta, and Koh Lipe, offer almost endless possibilities for enjoying your holiday. In addition to the well-known hotspots, there are plenty of other fantastic destinations that are worth visiting. Below you can find details of the main islands and mainland beaches that are waiting for you on the Andaman Coast.
Northern Andaman Coast
Phuket
Phuket is the Andaman Sea island, which is also the largest island of Thailand and often considered to be the most touristic island in the country. Phuket is also the perfect island for beginners because of the well-developed tourist network. Many hotels, bars, clubs, restaurants and other tourist infrastructure are present there. You will also find several great viewpoints, interesting markets and impressive temples on Thailand's largest island.
Phuket Island is also famous as a hub of major beach resorts. Patong is the tourist center of the island that offers numerous beaches as well as shopping and party opportunities. The nightlife is centered around Soi Bangla (Bangla Road) with its neon-lit bars and chaotic atmosphere. Karon is the second most popular and one of the longest beaches in Phuket. Kata, on the other hand, is located south of Karon and offer a small bay located among forested hills.
Even if Phuket is very touristy, a quiet day trip to the surrounding islands is worthwhile. Some of the most wonderful islands around Phuket with crystal clear water and absolute tranquility await here: Koh Racha, Koh Bon, Koh Maiton, Koh Yao Yai, and Koh Yao Noi. If you have more time to spend, take a tour of Similan National Park in Khao Lak with at least 1-night stay.
In our Phuket Travel Guide you can find more information about the best places to visit, nicest beaches, and day tours that are worth joining.
Where to stay in Phuket?
Whether traveling on a budget or looking for a little more luxury and convenience, you will find all in Phuket. Some of the best rated accommodations on the island can be found below.
The Westin Siray Bay Resort & Spa, Phuket
Mandarava Resort and Spa, Karon Beach
For a wider choice of top Phuket accommodation options check Best Pool Villas in Phuket, Best Phuket Beach Resorts, Best 5-Star Hotels in Phuket, and Phuket's Most Luxurious Resorts.
How to get to Phuket?
Phuket can be reached easily. There are direct flights to Phuket from the main airports in Southeast Asia and even more distant countries so it's possible to get there even without transferring in Bangkok! Domestic flights to Phuket are offered from Bangkok and Chiang Mai several times a day. Alternatively, you can also travel by a ferry from the mainland of Krabi province.
Khao Lak
Khao Lak is a small town with silky golden beaches that stretch for 20 km on the northern Andaman coast. With its quality resorts and three national parks, Khao Lak is one of the places where natural life is at its best. Here you can also find the best diving and snorkeling base with fantastic coral reefs to discover.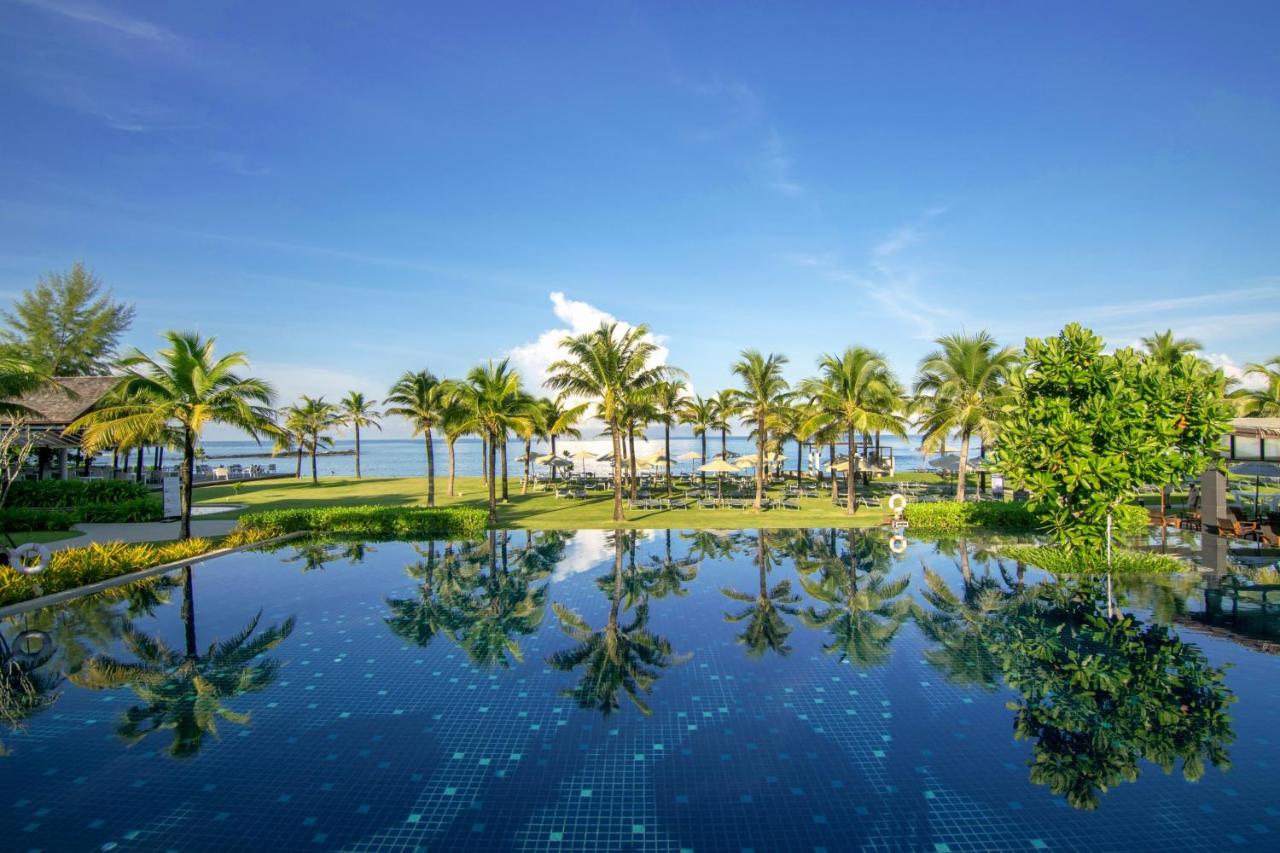 At Khao Lak you will not find many bars and nightclubs. It is a really quiet place that is a good destination for families and other travelers who want absolute relaxation. In addition, Khao Lak is an excellent place to stay for exploring the wild Similan Islands and Khao Sok National Park.
Khao Sok National Park covers tropical forests with a very rich flora and wildlife. Waterfalls and caves are accessible by trekking routes in the lush forest. The highlight of the national park is its iconic limestone hills. It is best to go to the park with at least one overnight stay as you can choose a characteristic accommodation of Raft House (Floating Bungalow) in Cheow Lan Lake or the Treetop Hut in the jungle.
Where to stay in Khao Lak?
In the vicinity of the beaches there are plenty of accommodation and restaurants of all price categories. Some of the best rated accommodations in Khao Lak are as follows.
The Sands Khao Lak by Katathani
Kalima Resort and Villas Khao Lak
Le Meridien Khao Lak Resort & Spa
Devasom Khao Lak Beach Resort & Villas
Other great accommodations in Khao Lak can be found in the list of Best Khao Lak Pool Villas.
How to get to Khao Lak?
The easiest way to get there is via Phuket, from where you have to take a taxi or choose a two-hour journey by local bus. Some airlines offer a direct transfer to Khao Lak. Alternatively, you can fly to one of the cities on the east coast and make your way to the sea on the way to the beautiful inland Khao Sok National Park.
Similan Islands
The Similan archipelago consists of several smaller islands and is located in the Andaman Sea about 70 kilometers from the mainland. Similan Islands are called the "Pearl of Andaman". The archipelago is made up of nine granite islets covered with lush tropical vegetation. Similan Islands are among the most beautiful diving spots in the world with its coral reefs, clear waters and very rich underwater life. It is recommended to opt for boat trip of 2- 4 days (with nights on board) to fully enjoy the islands.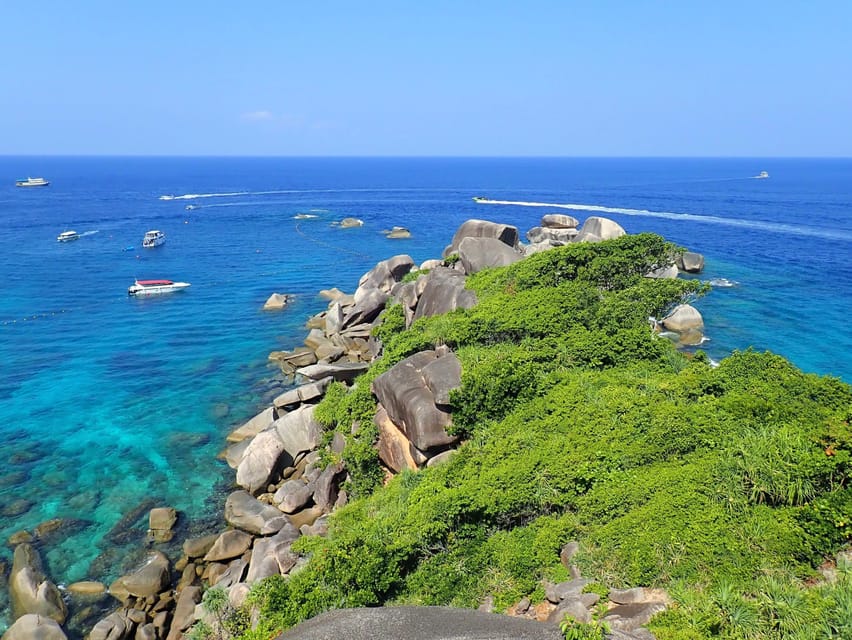 Where to stay in Similan Islands?
Similan Islands offer multiple types of accommodation such as bungalows and campsites provided by Similan National Marine Park.
How to get to Similan Islands?
Similan Islands are not as easy to reach as other islands. The shortest way to reach the islands is by boat trip from Thap Lamu Pier in Phang Nga. Boat trips take about three hours and the cost can vary a lot.
The more common way of visiting the Similan Islands is taking a day trip from Phuket or Khao Lak, or visiting the islands on a diving excursion. It is important to note that the islands are open only from November to the end of April.
Surin Islands (Mu Koh Surin)
Surin Islands, located in the Andaman Sea very close to the border of Myanmar, are protected by Mu Ko Surin National Marina Park. There are 2 islands close to each other, Koh Surin Nuea (north) and Koh Surin Tai (south).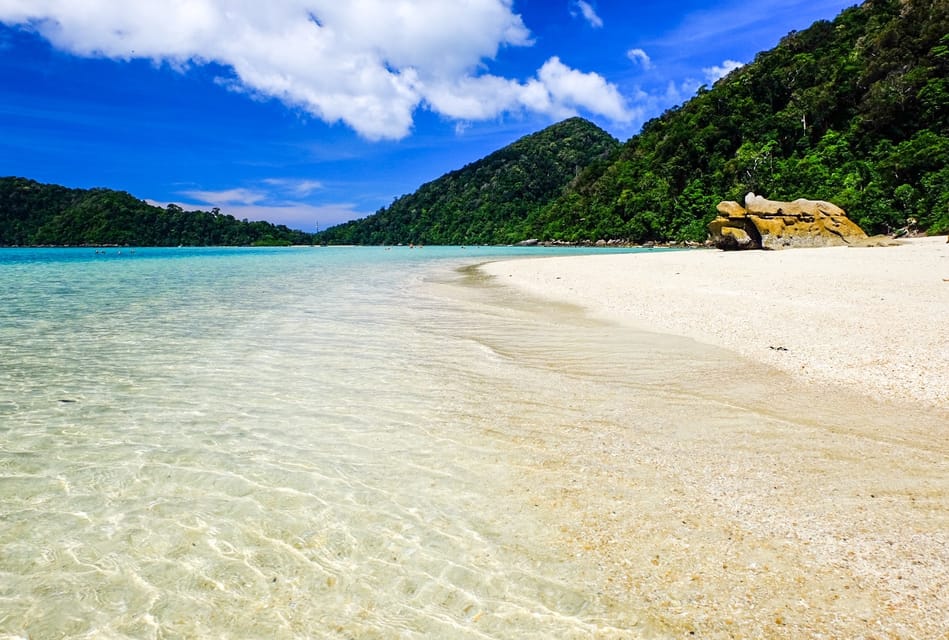 Mu Koh Surin is one of the most beautiful archipelagos in all of Southeast Asia and also one of the best places for diving and snorkeling in Thailand. Surin Islands are lined by stunning coral reefs and feature rich tropical marine life with a variety of fish species. The reefs are close to the surface, making them excellent for snorkeling. We would suggest you to take the trip of two or three days with a stay on the islands and snorkel from morning to night. If you are planning to sleep overnight on the island, don't forget to bring comfortable shoes, there are several trails and viewpoints on Koh Surin.
Tip: From the beginning of May until the end of October the islands are closed to tourism.
Where to stay in Mu Koh Surin?
You can spend the night in bungalows or tents provided by the national park.
How to get to Mu Koh Surin?
The best way to reach the Surin Archipelago is by boat from Khao Lak. The islands can only be reached by speed boats departing from Khuraburi city in Phang Nga region. There are many tours offering excursion to Surin Islands from Phuket and Khao Lak.
Central Andaman Coast
Krabi
Krabi is a seaside province located about 2 hours from Phuket by bus. The total length of the beaches in Krabi is about 20 kilometers. Most of the beaches are connected by roads and can be easily explored. The Krabi town is much more local and not so touristy.
Of the many beautiful beaches in the Krabi region, Railay Beach and Ao Nang are probably the best known. From Krabi port there are also ferries to Koh Lanta and Koh Phi Phi.
Railay Beach
The Railay Peninsula, separated from the rest of the Andaman coast by massive karst cliffs, is undoubtedly one of the most picturesque places in Southeast Asia. Beautiful bay with fine sand and crystal clear water, accessible only by sea, is what you can find here.
On the Railay Peninsula there are four beaches:
East Railay, where the boats arrive and some businesses operate.
Phra Nang Bay, which is often ranked among the most beautiful beaches in the world as well. The Princess Cave is right at the end of the beach.
West Railay, the best beach to spend the day and enjoy the sunset with many restaurants and hotels. Here you can hire most of the activities that can be done on the peninsula.
Tonsai Bay, hippie village which brings together cool bars and backpackers - if you like this vibe, stay here. It is paradise for people who like climbing. At low tide you can walk there across from West Railay.
Sunbathing, rock climbing, visiting caves, trekking for breathtaking views, kayaking, and snorkeling are on the list of popular activities on Railay. Another interesting activity is to visit the Hidden Lagoon by a trail through the forest.
Where to stay in Railay Beach?
For more great Railay accommodation options check Where to Stay in Railay?
How to get to Railay Beach?
From Krabi Airport, you can go by private transport or take a bus for 150 THB and get to the port in approximately 40 minutes and then take a long tail boat to Railay. If you are staying in Ao Nang area, you can walk to the port and buy a ticket for the long tail boat to Railay that should cost about 200 THB for a round trip.
Ao Nang
Located 20 km from the center of Krabi, Ao Nang is the Andaman Coast beach area that is easily accessible by land and there are a large number of accommodation and dining options in the area. However, the beauty and water quality of the beach here cannot be compared to Railay beach.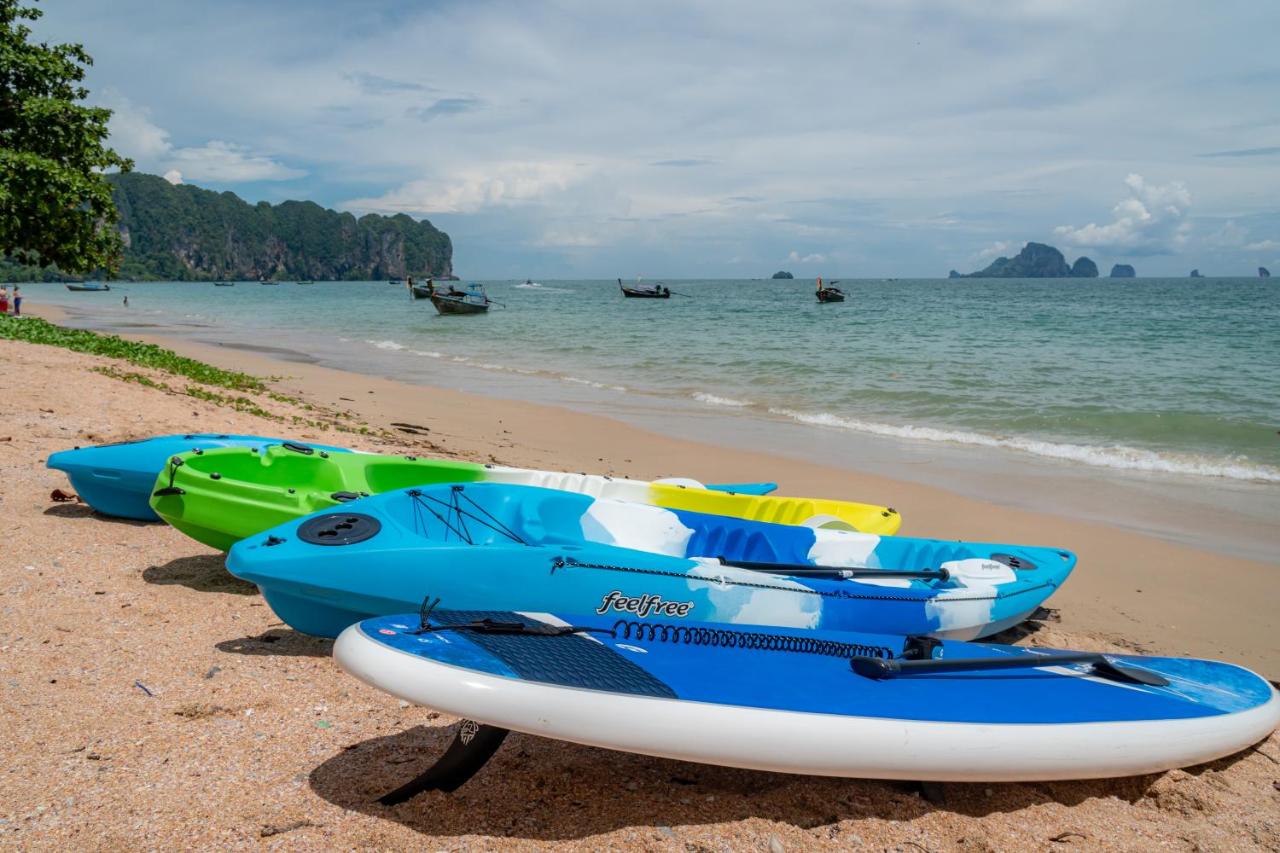 Where to stay in Ao Nang?
Sugar Marina Resort CLIFFHANGER Aonang
For more great Ao Nang accommodation options check Where to Stay in Ao Nang?
How to get to Ao Nang?
From Krabi Airport you can go to Ao Nang by private transport or take a bus for 150 THB and the journey should take approximately 40 minutes. Buses from Phuket, Surat Thani to Ao Nang depart daily. If you've chosen Phuket as your base for exploring Thailand, you can also get to Krabi and Ao Nang by ferry from there. You can check ferry prices and timetables on 12Go.Asia website.
Koh Phi Phi
Koh Phi Phi is a group of the Andaman Sea islands in Krabi province of southern Thailand. Koh Phi Phi Don is the largest of this small archipelago. Koh Phi Phi Leh and its Maya Bay is the place where the movie "Beach" with Leonardo Di Caprio in the early 2000s was filmed. The bay is surrounded by karst rocks covered with trees on three sides and accessed through a narrow strait. Being one of the most beautiful bays in the world, Maya Bay attracted loads of tourists that left their mark. To protect it from the effects of over-tourism which damaged a lot of nature in recent years, the famous Maya Bay has been closed to visitors since 2018 but was recently reopened with temporary closures planned every year.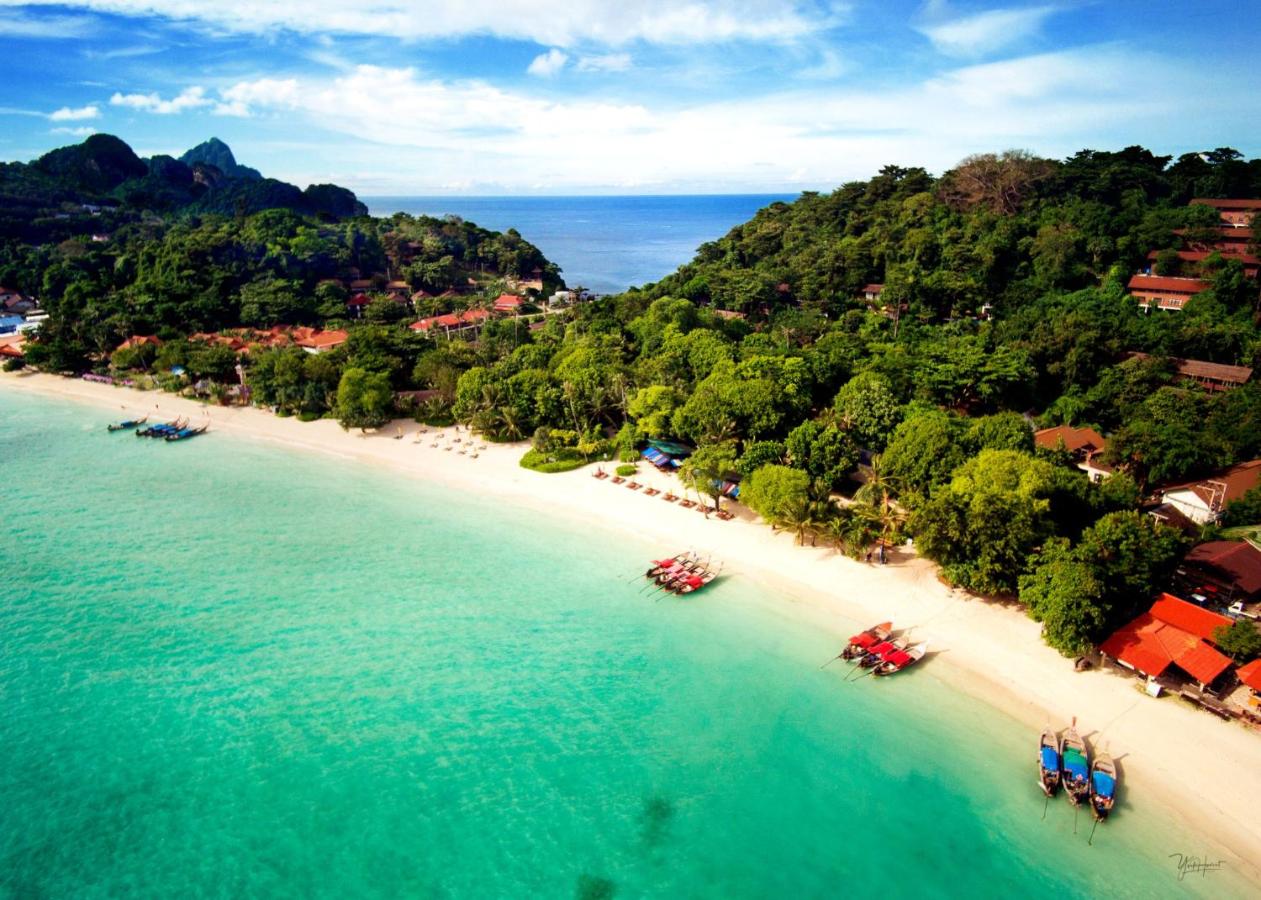 Koh Phi Phi is also a destination of choice for partying and socializing as it has a very lively nightlife.
Where to stay in Koh Phi Phi?
There are accommodation options that appeal to every budget. The most popular area of Koh Phi Phi is the town of Tonsai. In the north of the island you will be able to find some more exclusive resorts and hotels.
For more great Koh Phi Phi accommodation options check Best Koh Phi Phi Hotels.
How to get to Koh Phi Phi?
If you are on the mainland of Krabi, there are daily ferries or speedboats departing to Koh Phi Phi from Ao Nang. The journey takes about 1 hour by speedboat and about 1.5 hour by ferry. You can also take a ferry from Phuket. The journey between the islands takes about 45 minutes.
Many people take tours that include Koh Phi Phi from Krabi, Phuket or Surat Thani. You can find some interesting Koh Phi Phi trips here: Island tours from Phuket and Island Tours from Krabi.
Koh Lanta
Koh Lanta is part of an archipelago of 52 islands in the Andaman Sea and has developed well in recent years. Koh Lanta has 15 kilometers of coastline and nine stunning beaches. Klong Dao and Long Beach on the north-west coast are the most popular.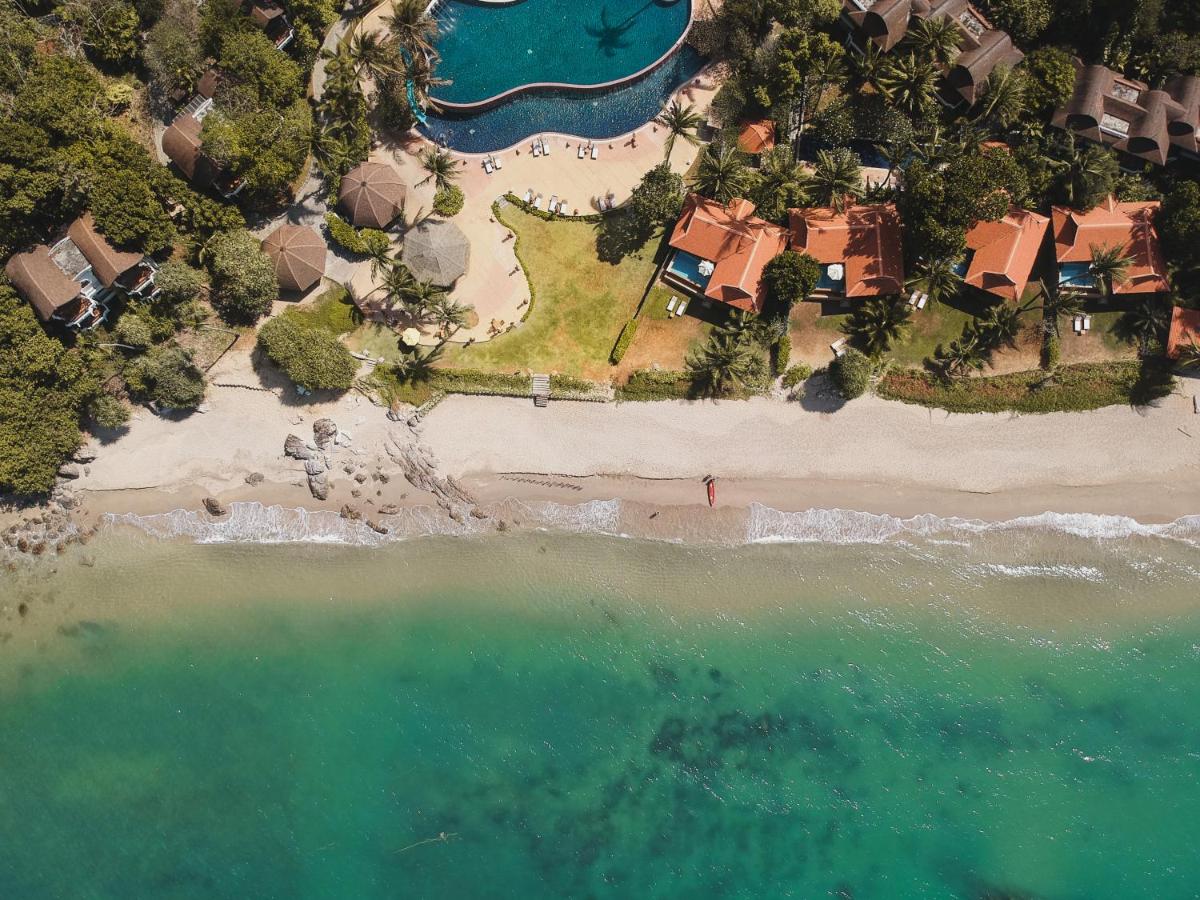 This island actually consists of two islands called Koh Lanta Noi and Koh Lanta Yai. Lanta Noi, the smaller of the two, is far less inhabited than the larger island of Lanta Yai. There are still sublime traditional villages and local life with many fishermen and farmers on the island of Koh Lanta Noi. There is no shortage of activities in Koh Lanta from trekking, snorkeling, boat trips to discovering the National Park, waterfalls and more. Koh Lanta also has great diving and snorkeling opportunities. You can book some fun excursions during your stay, for example to Phi Phi Islands.
Koh Lanta is a nice place for those who have a lot of time and want to enjoy the atmosphere which is much more laid back than on most other islands. It is great for families looking for a quieter place or couples looking for romance. The island is frequented by European families and sometimes is called the Swedish Island with Swedish school and many Swedes traveling and living there for longer periods.
Where to stay in Koh Lanta?
Apart from a few more luxurious complexes, most of the accommodation on the island consists of small family-run guesthouses and beach bungalows.
For more great Koh Lanta accommodation options check Best Koh Lanta Hotels.
How to get to Koh Lanta?
The easiest way to get there is by ferry from Krabi. There are also boat connections to Ao Nang, Phuket and the Phi Phi Islands as well as to the south.
Koh Lanta is a relatively large island and to get around it you might need to rent a scooter or a car.
Koh Jum (Koh Phu or Koh Pu)
A small gem of the Andaman Sea is the unspoilt island of Koh Jum, also known as Koh Phu or Koh Pu. Koh Jum is often advertised as a place of tranquility and idyll. It is an island paradise that has hardly been developed for tourism. That is why it is an ideal paradise for nature lovers and those who just want peace and quiet. There are few bars, pubs and restaurants.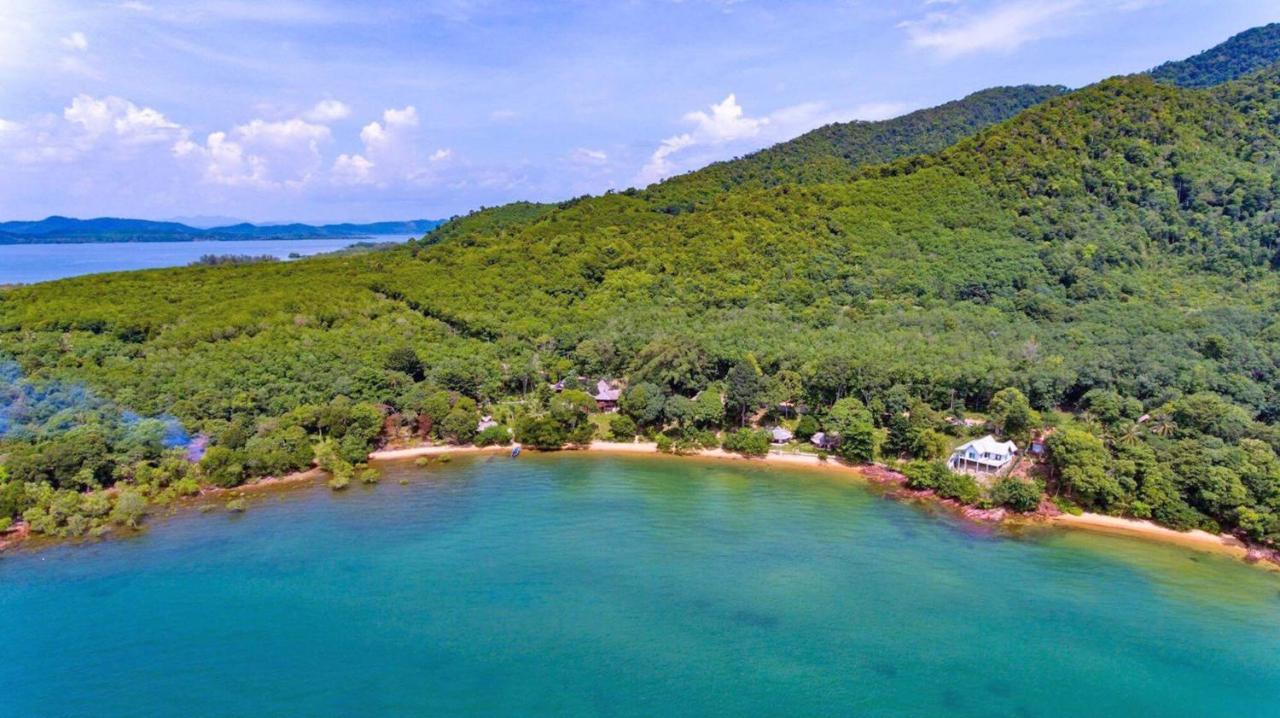 Where to stay in Koh Jum?
Some of the best accommodations in Koh Jum:
How to get to Koh Jum?
You can reach Koh Jum with a ferry from Klong Jilad and Lam Kruat Pier in Krabi.
Southern Andaman Coast
Koh Kradan
Koh Kradan is the Andaman Sea island with the most beautiful beach in the region, according to the tourism authorities. This island pearl is only three kilometers long. Koh Kradan is suitable for those looking for peace and quiet as well as honeymooners.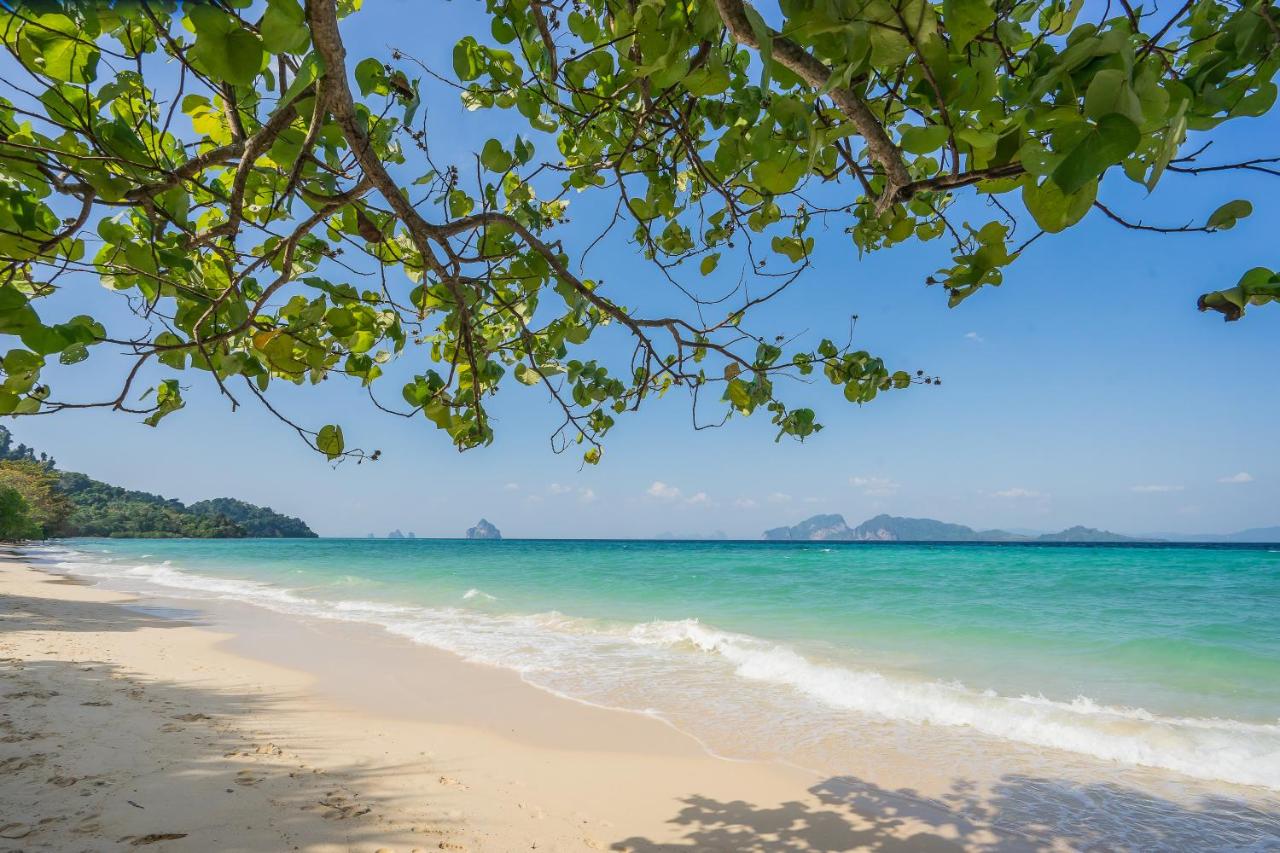 Where to stay in Koh Kradan?
The Sevenseas Resort Koh Kradan
How to get to Koh Kradan?
The fastest way to get to Koh Kradan is by ferry from Hat Yao Pier in Trang. There are also ferries to the island of Koh Mook from here.
Koh Muk (Koh Mook)
Koh Mook is one of the Andaman Sea islands in Trang province, closest to the mainland. This small island off the coast is hardly developed for tourism compared to its neighbors and even the picture-perfect beaches are still rarely visited here. If you prefer to spend the whole day on a deserted beach, this island is the right place for you. On Koh Muk there are only a few small resorts, bars and restaurants. Without the hustle and bustle, you can enjoy paradise with its dream beaches, coconut plantations and natural areas.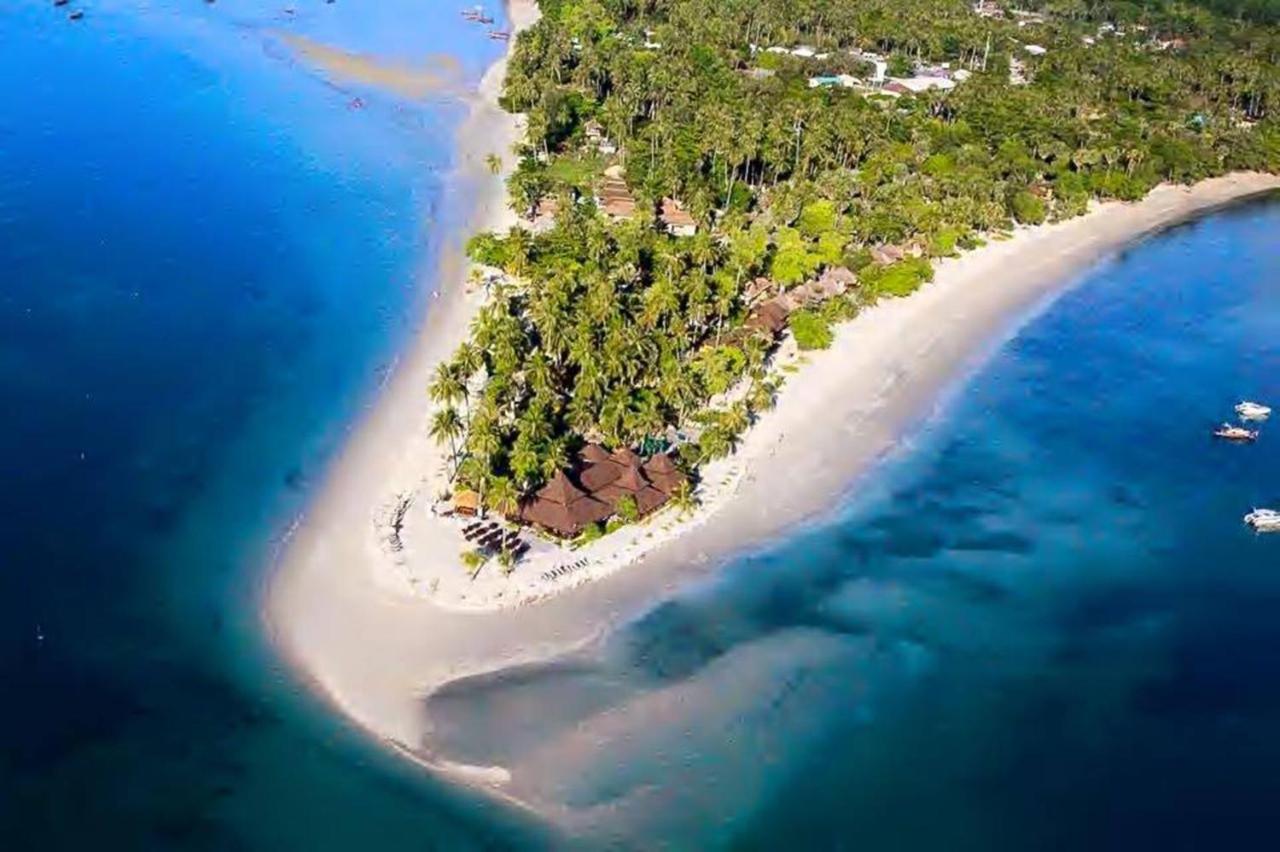 Where to stay in Koh Muk?
Koh Mook Sivalai Beach Resort, which is located directly on the headland, should be highlighted as offering an ideal stay.
How to get to Koh Muk?
The fastest way to get to Koh Mook is by ferry from Hat Yao Pier in Trang. There are also ferries to the island of Koh Kradan from here.
Koh Ngai (Koh Hai)
Due to its proximity to the city of Trang, Koh Ngai (also Koh Hai) is one of the so-called Trang Islands. In fact, Koh Ngai is located between Koh Lanta and Koh Muk. This Andaman Sea island occupies just five square kilometers. You will find absolute dream beaches in the east and south of the island with palm trees, turquoise sea, and its own coral reef on the south coast. There is also dense jungle for hiking enthusiasts. It is possible to climb to the highest peak on the island and enjoy an exceptional view. There are various diving and snorkeling spots around Koh Ngai.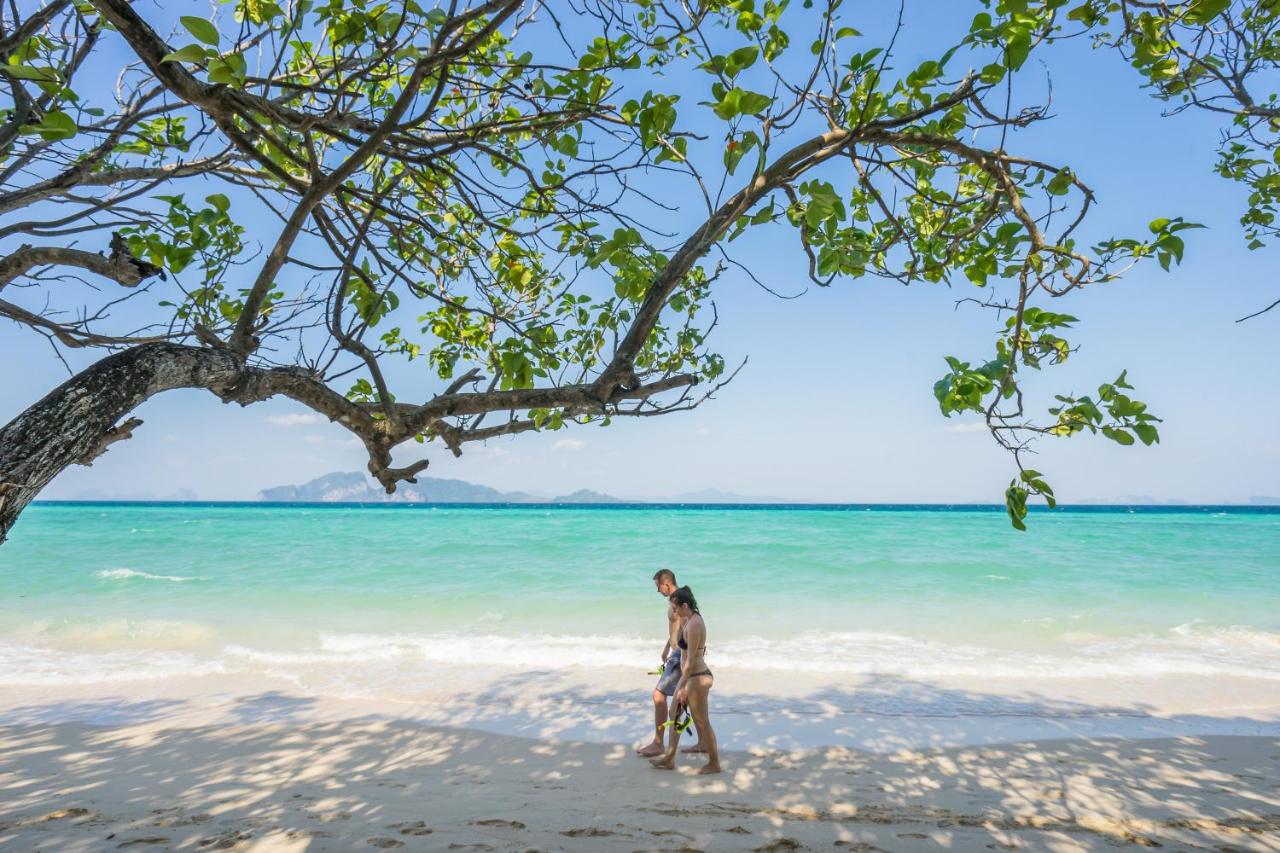 If you will take an island hopping day trip, many tours stop at the island as their first spot. You can also stay overnight here to enjoy this charming island beauty. The few high-priced hotels and resort complexes are mostly located directly on the beautiful main beach on the east coast.
Where to stay in Koh Ngai (Koh Hai)?
How to get to Koh Ngai (Koh Hai)?
Ferries to Koh Ngai depart from Trang, Koh Lanta and Koh Kradan.
Koh Lipe
At the southernmost tip of Thailand, there is the tiny Andaman Sea island of Koh Lipe, part of archipelago in the Koh Tarutao National Marine Park on the border with Malaysia. Known as Thailand's Maldives, Koh Lipe is a remote backpacker's dream. Beaches of fine sand, turquoise water, coconut palms and diverse marine life offers a nice holiday opportunity.
Koh Lipe has three main beaches. The main activities of the island include snorkeling, diving and excursions to the surrounding islands via day trips, where you can enjoy a relaxing holiday without large crowds of tourists. The standard tours lead to different islands including Koh Tarutao, Koh Adang, Koh Rawi and Koh Yang.
Where to stay in Koh Lipe?
Koh Lipe has by far fewer tourists than Phuket or Samui, but it does not lack perfect beaches and accommodation from simple bamboo huts to large luxury hotels. This is an ideal place for couples, families and those who want to relax on the beach.
How to get to Koh Lipe?
Koh Lipe can be reached year-round from Pak Bara port in Satun Province of Thailand. If you are traveling by air, the nearest to Koh Lipe airports are Hat Yai and Trang. From the airport you can catch a bus or taxi to Pak Bara port, and then take a ferry or speedboat to Koh Lipe. Some airlines offer combined tickets from Bangkok including flight, minibus transfer and ferry.
In high season speedboats to Koh Lipe also run from Langkawi of Malaysia, Koh Lanta, Koh Phi Phi, Phuket, Krabi and several surrounding islands in the Andaman Sea regularly.
Boat tickets to Koh Lipe can be booked here: Boat tickets to Koh Lipe.
Koh Tarutao
Koh Tarutao is one of Thailand's most pristine islands and the largest of the islands in Tarutao National Marine Park located in Satun Province, just outside Malaysia's border. This Andaman Sea island served as a political prison in the 1930-40s with several thousand inmates. The ruins of it can also be visited. Most of the island is covered by dense jungle and mangroves on the coast.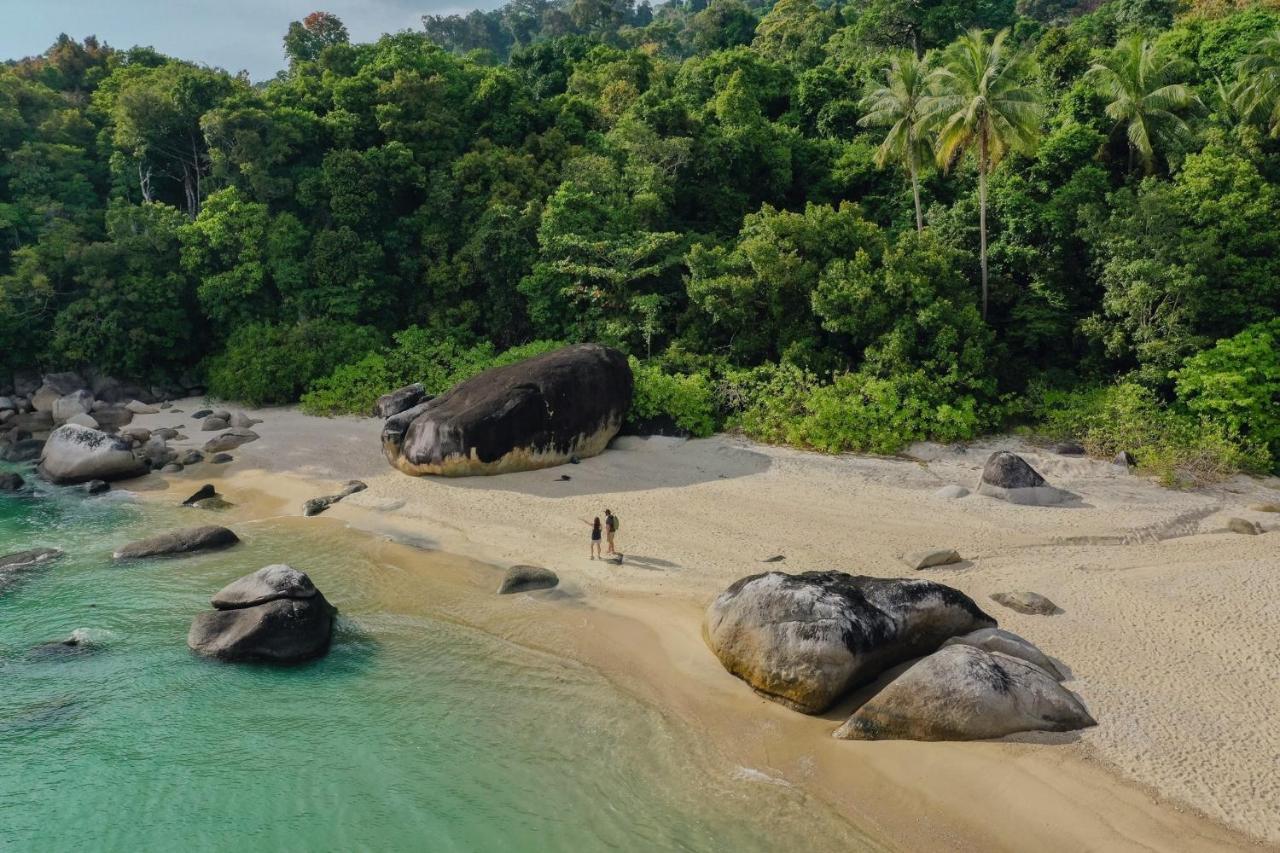 The best beaches are Ao Molae and Ao Son. Bird watching, mussel collecting, hiking and snorkeling are the most common activities the island has to offer. The island can be explored on two paved roads with pick-ups or bicycles. Here you can stay in bungalows in the north of the island. The island also has a few simple restaurants you can eat at. If you want a simple Island life and a real getaway, the island of Koh Tarutao is an ideal destination.
Where to stay in Koh Tarutao?
As the main island belongs to Tarutao National Marine Park, you can only rent one of few bungalows or hire tents, or bring your own with you to the island. To book accommodation, you need to contact the National Park in advance.
How to get to Koh Tarutao?
In the high season, you can get here by boat from the neighboring Koh Lipe. Out of season (June-October) the island can be reached from Pak Bara, where you can come by bus from Hat Yai or Trang.
Koh Adang
Koh Adang is another paradise island in the Andaman Sea, located very close to Koh Lipe, only 2 km away. Around the island there are several small islands such as Koh Dong, Koh Hin Ngam and Koh Yang that are suitable for snorkeling.
Where to stay in Koh Adang?
You can rent bungalows or tents offered by the National Park. On the other side of the island, there is Adang Island Resort, the only resort on Koh Adang that features a private beach area and water sports facilities, seasonal outdoor swimming pool, and a bar.
How to get to Koh Adang?
The easiest way to get to Koh Adang is from Koh Lipe, its neighboring island, which is much more developed. From there, long tail boats can take you to Koh Adang for 100 THB per person (round trip 200 THB).
Koh Bulon
On Koh Bulon, also called Koh Bulon Leh or Ko Bulon Lae, is the Andaman Sea island, where small fishing villages, beautiful sandy beaches, and absolute calm are waiting for you.
Where to stay in Koh Bulon?
You can rent bungalows or tents offered by the National Park. Currently, there are also several basic resorts on the island.
How to get to Koh Bulon?
The easiest way for getting to Koh Bulon is from Pak Bara pier in Satun province. The nearest airports are in Trang and Hat Yai. If you are coming from Bangkok, it's better to take a flight to Hat Yai airport and from there get on a minivan or taxi to Pak Bara pier. From the pier a speedboat takes you to Koh Bulon in 30-45 minutes.
Langkawi (Malaysia)
Langkawi is the Andaman Sea island that belongs to the neighboring country Malaysia, but it has to be mentioned briefly here as only five kilometers separate Langkawi from the pristine Thailand island of Koh Tarutao. Langkawi in Malaysia is a good starting or ending point for island hopping in Thailand. The island has an international airport and in the high season there are daily ferries from there to Koh Lipe of Thailand.
The choice of accommodations on this Malaysian island is also wide and the best of them can be found here: Best Langkawi Pool Villas.
Andaman Coast Transportation
The main transport hubs in the region are Phuket, Krabi and Trang. Phuket Airport welcomes a large number of international flights from many countries in Asia and Europe. Domestic low-cost airlines also connect the region with Bangkok, Chiang Mai and other major cities in Thailand. Most of airlines offer combined tickets for the flight, bus and boat / ferry trip to different islands and beaches.
Most of tickets can be conveniently bought online. You can use this form to search for transportation on the Andaman Coast.
Classic Andaman Sea island hopping
A Thailand island hopping tour through the Andaman Sea is an ideal way to get to know the charm of each island. Some of the best tours can be found here: Island tours from Phuket and Island Tours from Krabi.
Best time to visit Andaman Coast
The Andaman Sea is quite shallow and its average depth is 870 meters. Its temperature ranges from 23°C in winter to 27-29°C in summer so you can visit this part of Thailand any time of the year.
The climate and sea conditions in the Andaman Sea are influenced by monsoons in Southeast Asia. The climate is tropical, with temperatures around 30°C all year round.
The best time to visit the Andaman Coast is from December to April when dry season with little precipitation falls, a lot of sun shines, and the calm sea is present. Among them, December to March is the peak season with the best conditions for sailing. During the New Year's season, there are a lot of package tourists on the most popular islands and beaches.
From June to October, it rains almost every day and the monsoon often brings typhoons, making this period of the year a bit more dangerous to travel. The boat traffic is also limited, and some resorts in the far south may be closed.