Bangkok is a city that never sleeps. The city is amazing during the day, and even better at night. Bangkok nightlife is just as vibrant as you'd expect it to be, making the city famous for it as well. This list of the 12 best things to do in Bangkok at night will help you find the best places to enjoy your night out in Thai capital.
Best Bangkok Nightlife Spots
The list of the best Bangkok nightlife spots includes the venues and activities that are some of the best things to do in Bangkok at night.
1. Chao Phraya River Cruise
Going on Bangkok dinner cruise along the Chao Phraya River is a must do experience when you are visiting Bangkok. During your dinner cruise you will have an opportunity to enjoy the beauty of Thai capital's stunning scenery while floating on the river, sipping drinks and enjoying food on board. The famous historical sites scattered on the banks of the Chao Phraya River such as the Royal Grand Palace & Wat Pra Kaew (Temple of Emerald Buddha), Wat Arun (Temple of Dawn), Bangkhunprom Palace, Kanlayanamitr Temple and the Rama VIII Bridge are beautifully lit at night and you can see them all from different angle.
There are many dinner cruises to choose from for your memorable night out in Bangkok with a gourmet dinner cruise along the Chao Phraya River. The best ones are listed here: Bangkok dinner cruises.
2. Rooftop Bar
There are many sky bars and rooftop restaurants in Bangkok offering lovely views from the rooftops of city's numerous high-rise buildings. Sipping some cocktails at a rooftop bar in Bangkok while admiring the skyline of Thai capital from above is one of the best things you can do in Bangkok at night. The most famous rooftop bar in Bangkok is Sirocco, a luxury sky bar on the top of the State Tower and Lebua Hotel on the 63rd floor offering a stunning view of Bangkok overlooking the Chao Phraya River.
The selection of the best rooftop bars in Bangkok that are the most popular between locals and travelers and shouldn't be missed on a night out in Bangkok can be found here: Bangkok Rooftop Bars.
3. Muay Thai Fights
Watching Muay Thai fights in Bangkok is an experience that shouldn't be missed on the trip to Thailand as Muay Thai is the national sport and cultural martial art of the country. The oldest, largest and most prestigious Thai boxing venues are found in Bangkok, so there's no better place in the world for enjoying this thrilling sport. Here you can witness adrenaline-packed performances, feel the electric atmosphere and cheer on the champions with locals and visitors while enjoying a glass of beer.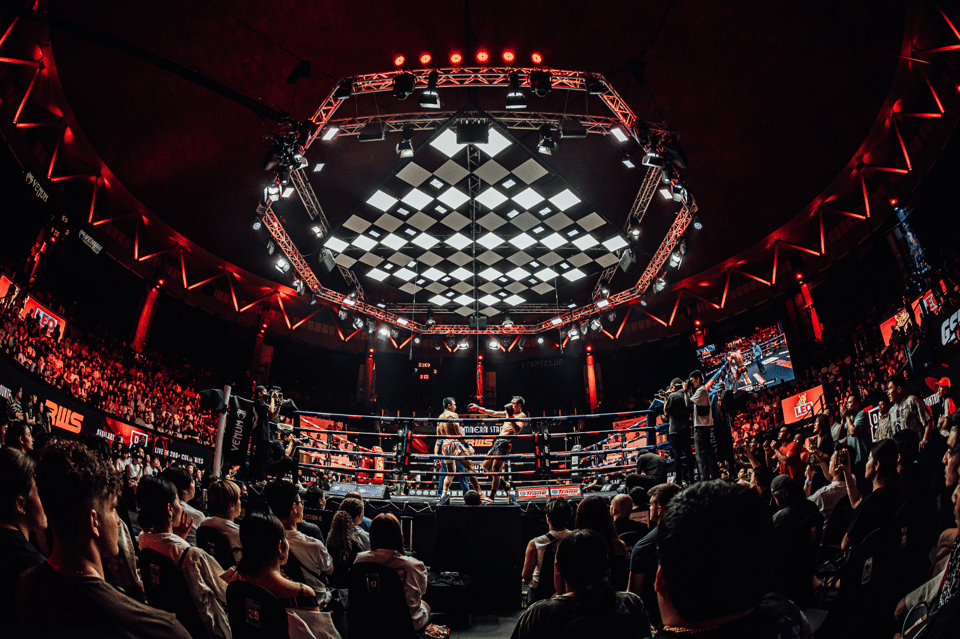 There are several places that are popular for watching Muay Thai in Bangkok but for the best overall experience of Thai boxing as entertainment it is recommended to plan a night out at Rajadamnern or Lumpinee Boxing Stadium. These two are the famous venues that attract the most skilful fighters and the best Muay Thai fights are organized there on Friday and Saturday nights. Rajadamnern Boxing Stadium opens its gates daily, so travelers can experience Muay Thai fights on any night in Bangkok.
4. Khao San Road
Khao San Road is filled with crowds of tourists. If you are staying around the old town of Bangkok, this is a place where you should go in the night time. Khao San Road becomes lively from 5 pm and remains like that until 2-3 am. The street is filled with lights, sounds, shops, vendors, bars, and restaurants.
At Khao San Road you can do some late night shopping for handicrafts, paintings, clothes, local fruits, counterfeit stuff, used books, dine at one of its restaurants or just enjoy a drink or two at the bar and party till morning.
5. Chinatown / Yaowarat
If you are a food lover, you cannot miss Chinatown in Bangkok. As soon as the sun sets, the restaurants open and line up both sides of Yaowarat Road. This area is famous worldwide for its street food. The food here is well-known for its deliciousness, whether it is noodle or drinks. The most famous restaurants in Chinatown are Nai-Ek Rolled Noodles, Lad Na Heng Yod Pak, Nai Mong Hoi Tod, etc.
Explore Bangkok Chinatown food offerings by yourself or join this popular evening tuk tuk tour to whizz around Bangkok and discover the beauty of the city and local culture at night. This tour combines temples, market areas, famous sights, tuk tuks and food. During this tour you'll stop to sample some of the best food in the city, whether that be random snacks in a market, some of the city's best noodles, or dessert in Chinatown.
6. Asok
Asok area is filled with business centers and both, local and foreign office workers like to hang out here at night for relaxation after work. There are many hotels in the area as well, so tourists visiting Bangkok also join the crowd. There are plenty of chill-out restaurants offering Thai food, Japanese food, Korean food, as well as many pubs and bars.
If fine dining is the thing you would like to do in Bangkok at night or you just want to spend your night out in a more upscale environment than Khao San Road is, Asok and other nearby areas on Sukhumvit Road are some of the best places in the city for that.
7. Asiatique The Riverfront
Asiatique the Riverfront is an unusual shopping venue in Bangkok which is very popular between tourists. Occupying a large complex of old warehouses on the bank of Chao Phraya River, Asiatique the Riverfront feels more like an open-air shopping mall than the traditional night market.
On a night out at this venue in Bangkok you can also enjoy the magical view of the Chao Phraya River while enjoying top-notch meals at Sirimahannop Ship, a classical three-masted vessel permanently docked at Asiatique The Riverfront. You will be invited to step into a vibrant world of mixology and gastronomy, with original beverages infused with native woods and tropical fruits, specialist rum cocktails, craft beers, fine wines, premium spirits, and a mouth-watering menu that showcases fresh local seafood and tapas-style plates. After dinner, you can experience a taste for phenomenal song and dance numbers of Calypso Cabaret.
8. Night Markets
For a local shopping experience on the night in Bangkok, you should head to one of city's night markets. At the most popular Bangkok night markets you can find various vintage goods as well as clothing, shoes, bags, glasses, collections, dolls, mobile accessories, electronics and other stuff. As a rule, at night markets in Bangkok large areas occupied by food stalls, where you can find local food with something weird and amazing on offer.
Our favorite night market in Bangkok is Talad Rot Fai Srinakarin, also known as Train Market, which is mostly about retro and vintage. Even if you're not into vintage goods, the atmosphere of the market makes it a place to visit in Bangkok at night.
As Train Market only opens on weekends and is quite far from the main tourist hotspots, more popular between tourists is Jodd Fairs, one of the latest night markets in Bangkok. Jodd Fairs Night Market opens every night and is located in the city center, just next to MRT metro station.
Other night markets that are worth considering as venues for a night out in Bangkok are listed here: Bangkok Night Markets.
9. Ladyboy Cabaret Show
Bangkok nightlife is varied and unforgettable as everyone can find something for their own taste. A number of Bangkok ladyboy shows add up to the nightlife scene of the city. Visiting ladyboy cabaret show in Bangkok is a unique experience as these shows are colorful music and dance performances presented by talented transgender artists and they are really fun to watch.
Three most popular Bangkok ladyboy shows are Mirinn Cabaret, Calypso Cabaret and Golden Dome Cabaret Show. Cabaret shows take place in Bangkok every night. All the necessary details about them are provided here: Bangkok ladyboy shows.
10. Red Light Districts
The most famous Bangkok red light district is Soi Cowboy. Soi Cowboy is a short (only 150-meter-long) street, which becomes Bangkok's brightest street as soon as the sun sets. 

The selection of venues at Soi Cowboy is really good as you can find more than 20 go-go bars and more than 10 beer bars there. You will never be short of the options to choose from and experience Bangkok nightlife at its best.
Another popular red light district in Bangkok is Nana Plaza - a U-shaped three story building-sex complex, claiming to be "The World's Largest Adult Playground". There are around 30 go-go bars spread over all three levels of Nana Plaza building. Go-go bars within Nana Plaza offer all that Thailand's red-light districts are famous for - go-go dancers, live shows, pole dancers and relaxing atmosphere.
Patpong is the oldest red-light district in Bangkok consisting of two parallel streets surrounded by well-known Patpong night market. More than 20 go-go bars, some of them older style, can be found at Patpong. There are also many bars of various kinds on both of Patpong's streets.
There are also sex shows, including Ping pong shows, featured on several upstairs bars, but most of them are run by scammers and better to be avoided.
11. Rooftop Pool Party
Every first Saturday of the month you can come to experience the ultimate rooftop pool party: top-tier lighting & laser production to go along with a festival-level sound system. Organized on the 25th floor of Novotel Bangkok Sukhumvit 4, 'ENERGY' pool party invites to grab your swimsuit or bikini and make it splash or dance into the sunset together with Bangkok's city skyline.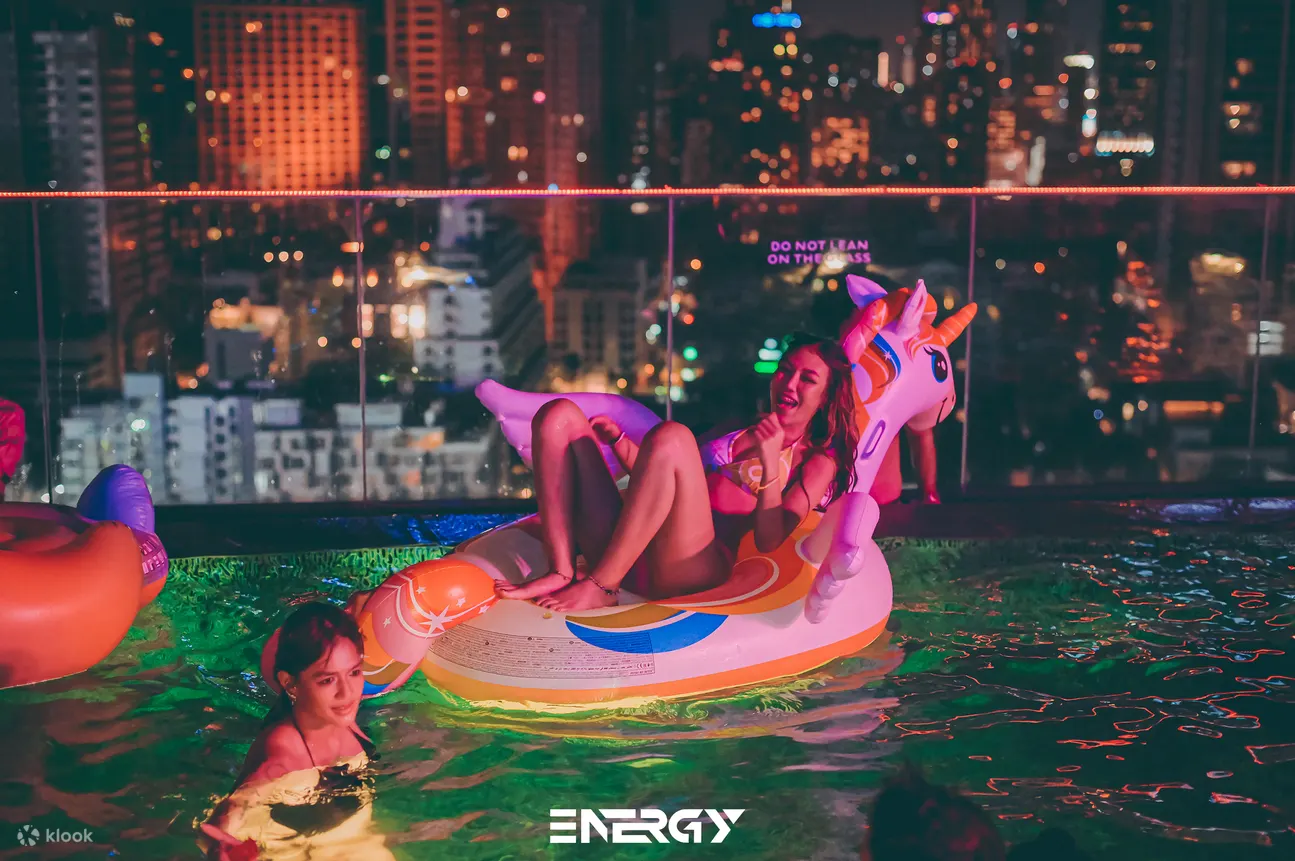 Get your rooftop pool party tickets for a night out in Bangkok and enjoy an unforgettable day-to-night journey with entertainment throughout.
12. Ari
It is well known that Bangkok's Ari area is the place that attracts hip people because there are many restaurants, boutique shop, cafes and stylish hangout bars in the area. During the daytime, you will find many small catchy shops here, but at night Ari area is filled with open-air bars. If you are a drinker, there are many semi-pub and restaurant style venues to choose from.