Phuket is one of the most popular holiday destinations in Thailand. If you are looking for luxury for your holidays, check the list of the best Phuket luxury resorts with private pool villas, including the special selection of resorts in Phuket that boast pool villas with private pools and villas with cliff edge views.
Phuket Pool Villas
Phuket, the largest island in Thailand, is well-developed with a big number of tourist accommodations available for all tastes and different budgets. Not surprisingly, luxury villas with private pool can be also found in almost any area of Phuket.
Phuket Villas with Private Pool provide not only a comfortable stay, but also an unforgettable experience. The luxury pool villa resorts normally offer a high level and wide range of services. In most cases, such hotels have a variety of restaurants and bars, luxury spa, saunas, Jacuzzis, access to excellent beaches and organize excursions to nearby islands. In more exclusive resorts, you will find world-class facilities, including entertainment, shopping, award-winning fine dining and outdoor activities such as golf or tennis courts.
Accommodation prices of pool villa in Phuket can vary significantly. You will find both incredibly expensive and more affordable options on the island.
List of best Phuket Resorts with Pool Villas
The best resorts with pool villas in Phuket offering exceptional luxury during your holiday in Thailand are listed below.
---
To decide on the best option for the trip, more detailed information on each of the resorts with reviews, prices and availability of rooms for the selected dates can be found by clicking the links provided.
---
1. The Shore at Katathani
The Shore at Katathani is an awarding winning luxury pool villa resort on Kata Noi Beach in Phuket. The Shore is an intimate collection of private pool villa hideaways and is secluded amongst lush, palm-filled gardens. Each 5-star villa features a private infinity pool, sunken lounge, bath with rain shower with the majority of villas having a panoramic view of the ocean and looking over Kata Noi beach.
Location: Kata Beach
Reviews about pool villas at this Phuket resort:
"The facilities exceeded my expectations - a spacious and comfortable one-bedroom pool villa, with a lovely terrace overlooking the sea, plenty of closets and room to put the luggage in, the infinity pool was great"
"Came here for our honeymoon and took a pool villa with an ocean view. The room was large, very spacious and clean. The design is very elegant and gave a feeling of class. The pool in the room is large enough and has a stunning view of the sunset. The Kata Noi beach that is connected to the hotel is beautiful and kept very clean"
"The pool villa room 8833 was truly beautiful, comfortable clean and wonderful views the infinity pool was beautiful by day and night time"
2. Renaissance Phuket Resort & Spa
Set amidst the unspoiled splendor of Mai Khao Beach, Renaissance Phuket Resort & Spa is the ultimate retreat for guests looking for relaxed luxury. Hotel's deluxe guest rooms and private 5-star villas boast sophisticated decor, plush bedding, and modern technology; many of accommodations feature breathtaking beach views, and some even include plunge pools.
Location: Mai Khao Beach
Reviews about pool villas at this Phuket resort:
"The villa we booked is an oasis, surrounded by lush green garden and peaceful sound of nature."
"We really enjoyed our stay in the property and decided to extend one more night from two nights stay in Pool Villa, as from the facilities and the staff are all wonderful and made us feel really comfortable and relax."
"Villa was very nice. Modern design, good bathroom items great private pool. 100% recommendation of the private villas with pool!!!!"
3. The Senses Resort & Pool Villas
The Senses Resort offers a unique ambiance of relaxation, with supremely comfortable luxury accommodation creating a haven of tranquility and wellbeing. With stunning views over the city and azure-blue Andaman Sea beyond, the welcoming Phuket 5-star resort is an ideal respite for romantic couples and families to unwind and be pampered, yet is only a short distance from the gorgeous tropical beach.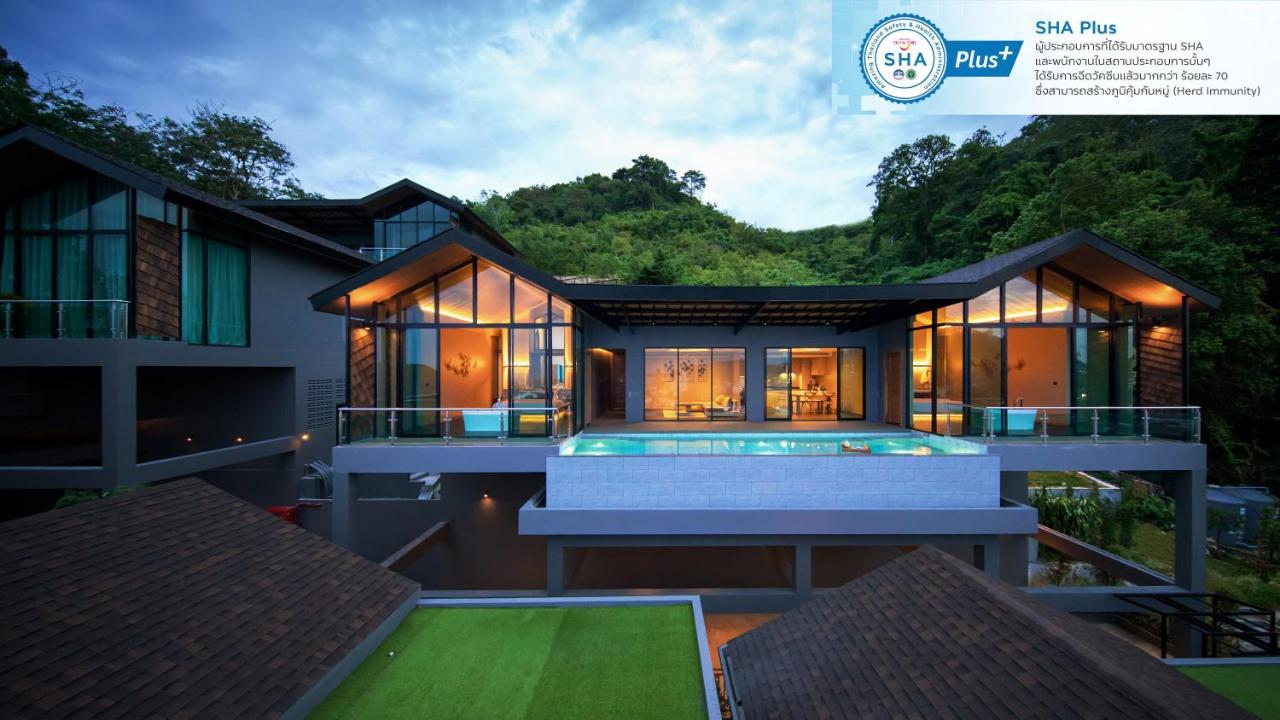 Location: Patong Beach
Reviews about pool villas at this Phuket resort:
"The views were amazing and the resort offered many options for excursions. The private pool villa was incredible."
"Pool villa is outstanding! Its away from the noisy streets of Bangla(10 mins walk) so its perfect for peaceful vacation with family and friends. The two bed pool villa is perfect for 2 families or group of friends. Rooms are very huge, amazing bathroom and view. Pool is also very good" not very deep. The living and dining area is also amazing with all facilities.
"The room is quite spacious and the in villa pool was of adequate size."
"The villa is very spacious. We booked the 2 bedroom and 1 bedroom villas. Every villa has a full equipped kitchen with every thing you need. You can control the whole villa via the iPad in the room from the AC and lights and services."
4. Banyan Tree Phuket
Embrace Rest in the Pearl of the Andaman Escape to a Sanctuary for the Senses at the award winning Banyan Tree Phuket located in the Andaman's greatest treasure, the island of Phuket. A private paradise of luxurious all-pool villas nestled around a salt water lagoon and surrounded by lush greenery. This is the perfect destination for travelers who seek a luxury hideaway, a Golf Getaway, a relaxing staycation or a base from which to explore this beautiful island its heritage, culture and stunning beaches.
Location: Bang Tao Beach
Reviews about pool villas at this Phuket resort:
"The double pool villa was superb! Such privacy and luxury, amazing, the resort is beautiful and very well taken care off. Excellent location near the beach."
"we love the villa lay-out and the courtyard with swimming pool, That's why we are coming back, now for the 4th time."
"The pool setup in the villa is just perfect ... when you open the windows and walk straight out into the pool or just enjoy a drink sitting in the terrace area above the pool."
5. Anantara Mai Khao Phuket Villas
Indulge in beachfront living on the northwest shores of sunny Phuket at Anantara Mai Khao Phuket luxury 5-star villas. Explore the island or head out for the horizon, with stunning Phang Nga Bay on one side and the world-famous Similan Islands on the other.
Location: Mai Khao Beach
Reviews about pool villas at this Phuket resort:
"The resort is simply astonishing. Beautiful villas with private pool."
"The villa was very nice with the big window on the private pool All the trees and plants around Beautiful ocean view"
"I like the villa and the atmosphere and like mostly the swimming pool and it was really private . The ocean was incredible and magnificent I love it."
6. Sri Panwa
Sri Panwa is one of the top properties in Thailand, perched high atop Cape Panwa and commanding breathtaking views of the Southeastern tip of Phuket, occupying the Cape Panwa peninsula in its entirety. Sri Panwa is an oasis of calm and luxury set in one of the finest locations on Phuket. The 5-star villas sit 40-60 meters above sea level along the Eastern & Western ridges at the very tip of the cape.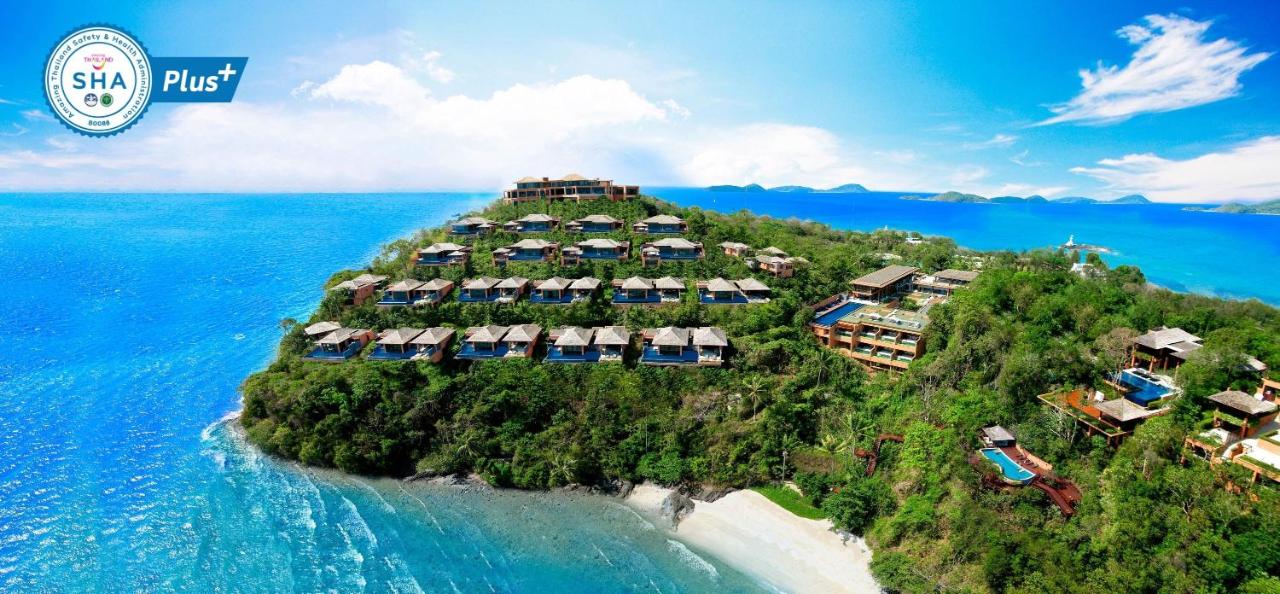 Location: Panwa Beach
Reviews about pool villas at this Phuket resort:
"We are staying at the 4 bedroom villa with a gorgeous view of the infinity pool and they bay."
"The villa we stayed in had tremendous views and the pool was spacious. We especially enjoyed the outdoor showers with ocean views."
"Lot of Villa options to suit requirements be it couples or families . Location is very good with amazing sea views."
7. The Naka Phuket
The Naka Phuket is offering unique-designed luxury villas with private balconies. The property also boasts an outdoor pool and a restaurant. Stylish villas at this Phuket 5-star hotel are tastefully decorated and offer modern facilities.
Location: Kamala Beach
Reviews about pool villas at this Phuket resort:
"The design of the villas with the panoramic views soo nice and breathtaking."
"Stayed here on honeymoon, as a result the hotel gave us the top story villa and complimentary cake and champagne - an amazing touch. The villa was outstanding, boasting great views of beach."
"The villa is spacious and very stylish. The view is exquisite."
8. Keemala
Keemala is a Phuket 5-star hotel nestled amidst lush flora atop rolling hills overlooking Kamala Village and the Andaman Sea. This resort boasts a spa and wellness centre, soothing massage treatments and a restaurant. Kamala Beach is 2 km away. Featuring a private pool, each tastefully decorated unit is complete with multimedia, seating areas and a terrace, which enhances stunning views of the below woodlands and the glittering sea.
Location: Kamala Beach
Reviews about pool villas at this Phuket resort:
"The design of the villa is amazing, spacious and very unique. Featuring two floors with a upper level master bedroom and a large lounge and dining area on the lower level with a privet pool."
"everything was exceptional, birds nest Villa was beautiful with a huge bed, high ceiling, beautiful bathroom and a fantastic sized swimming pool."
"Amazing Tent Villa with private pool. Although set in the rainforest their were minimal bugs/mosquitos. Decor was amazing and the outdoor shower was amazing."
9. Paradox Resort Phuket
Holiday dreams come alive at Paradox Resort Phuket - new name of the former Mövenpick Resort & Spa Karon Beach Phuket, a truly wonderful 5-star spa resort in Thailand. Amid the lush tropical gardens and just steps away from pristine sands of Karon Beach, are a range of luxurious rooms perfect for family vacations, leisure travellers or a special occasion. Exclusive Villas, perfect for couples seeking the ultimate comfort and privacy, are surrounded by beautiful gardens.
Location: Karon Beach
Reviews about pool villas at this Phuket resort:
"The villa with the plunge pool, the short walk to the beach"
"The property itself is really impressive, we stayed in a penthouse villa with plunge pool so we had so much space and the foliage all over the property makes it feel so remote and the flowers were all so beautiful."
"The villa was amazing, spacious, stylish, all appliances were modern, the bed was super-comfortable."
10. Bandara Villas Phuket
Located on Panwa Beach and 2.5 km from Panwa Cape, Bandara Villas Phuket offers private 5-star villas with sea views. Most of the villas here boast a private pool, while some come with a shared infinity pool. Offering sea and pool view through the glass wall, each luxury villa is complete with a flat-screen TV, a DVD player and a sofa set. A terrace with outdoor furniture is available.
Location: Panwa Beach
Reviews about pool villas at this Phuket resort:
"My private villa had everything and more that one could need when travelling. It was very clean, had a panoramic view of the beach, boats and mountains, with my own private infinity pool that lit up in the evening. I could see the sunrise from my lounger while relaxing with an orange juice in hand.
"The duplex villa was amazing. What I love the most was the view from the villa. It was unforgettable and stunning. Beside that, the room arrangement is perfect for families."
"The deluxe 2 bedroom villa is amazing! So spacious and the view is fantastic! The splash pool is a nice feature."
11. SALA Phuket Mai Khao Beach
SALA Phuket Mai Khao Beach is a stunning deluxe pool villa resort, located on pristine Mai Khao Beach on Phuket's northwest shoreline, just 20 minutes from Phuket International Airport. SALA Phuket combines rare historical Sino-Portuguese architecture with modern 5-star facilities.
Location: Mai Khao Beach
Reviews about pool villas at this Phuket resort:
"We stayed in a garden villa with our own private pool which was lovely and peaceful. I would definitely recommend it to others."
"I really enjoyed the calmness and the Sala Pool room was divine, it was so relaxing I was happy to stay in the villa, reading and cooling in the pool"
"Beautiful resort, if you're a traveler that likes privacy like me this is the place, beautiful villas with total privacy, the facilities of the resort are amazing and staff super nice and helpful."
"I stayed in villa 47 for 4 nights, a very secluded villa indeed. The bed and pillows are very comfy. Outdoor shower and bath are new experience for me. And the pool is a perfect size. You can also lie down for sunbathing in the villa."
12. Splash Beach Resort Mai Khao Phuket
Set on the peaceful Mai Khao Beach, Splash Beach Resort Maikhao Phuket features functional and comfortable accommodation on the northwest coast of Phuket, stretching along 11 kilometers. Surrounded by spacious landscaped gardens, the resort boasts Splash Jungle Waterpark, a range of on-site restaurants and bars and a large conference centre. Featuring a variety of accommodations including rooms, suites, penthouses and villas, each modern unit offers views of tropical gardens, the pool or Andaman Sea. At the water park, guests can enjoy exciting rides such as Boomerango, a six-level wave pool and an aqua play pool for children. For those looking for a relaxing water park tour, a 335 m lazy river is where they can float around and enjoy the place. The resort also has a sandy pool with direct access to the beach.
Location: Mai Khao Beach
Reviews about pool villas at this Phuket resort:
"The Villa with private pool is of course a charm, morning and evening swims and the kids just loved it."
"The hotel pent house villa was amazing and the pool was also very nice and clean. The fact that you could use the waterpark was also an added advantage. When we arrived, we were told that we were VIP guests so we could use the executive lounge which was amazing."
"Villa was very spacious. Just walking distance to Mai Khao beach. Near airport so you need not wake up earlier when checking out for departure."
13. Avani+ Mai Khao Phuket Suites & Villas
Experience boundless island tranquility at Avani+ Mai Khao Phuket Suites & Villas. Discover a haven of luxury and serenity amid tropical gardens in northern Phuket. Ensconce yourself in comfort by your own private pool. Embark on island adventures through lush jungle or on sparkling waters. Dine barefoot on the beach or immerse yourself in local scents and flavors of southern Thailand. A blissful escape awaits.
Location: Mai Khao Beach
Reviews about pool villas at this Phuket resort:
"Great new spacious villas, the staff was very attentive and super helpful, good variety of choice breakfast and the restaurants were also tasty. it was super easy to get to the beach with a bucki, with amazing sunsets. The kids really enjoyed the kids club."
"The location was amazing and it was awesome that we had access to the main Villas area. I actually booked these serviced villas versus the regular villas on accident, but was pleasantly surprised that they were still great!"
14. InterContinental Phuket Resort
Set in Kamala Beach, InterContinental Phuket Resort offers luxury beachfront accommodation 2.7 km from Pineapple Beach and various facilities, such as a restaurant, a bar and a garden. This Phuket 5-star resort features an outdoor swimming pool, fitness centre, evening entertainment and a 24-hour front desk. InterContinental Phuket Resort offers accommodation with a hot tub and children's playground. You can play tennis at the resort, and the area is popular for hiking.
Location: Kamala Beach
Reviews about pool villas at this Phuket resort:
"we stayed in a pool access villa which was exceptional. the facilities and service was excellent as was the beach and weather."
---
Phuket Hotels
For more great accommodation options in Phuket please check Best Phuket Hotels.