Thailand is a perfect getaway offering abundant culture, delicious gastronomy and natural paradises. Being one of the best destinations in the world for divers, you will find the most exciting and wonderful seabed here. Discover the top 7 best spots for scuba diving in Thailand for your next underwater vacation.
Best spots for diving in Thailand
Below are listed the best spots for diving in Thailand. Whether you choose the Andaman Sea or the Gulf of Thailand, you will surely not be disappointed with your underwater experience.
1. Similan Islands
If you are an advanced diver and want to experience the best of diving in Thailand, Similan Islands is the perfect place for that. Similan Islands is a group of nine breathtaking desert islands that make up the Muh Koh Similan Marine National Park. Similan Islands has crystal clear and shallow water with plenty of maritime life, full of incredible rock formations and coral reefs. As it is designated as a national park in Thailand, it is good to dive in a well-preserved natural environment with around 20 different diving spots that you can explore. One of the best-known diving spots of the Similan Islands is Elephant Head (or Hin Pusar), a maze of rocks made up of channels, and caves with depths of up to 40 meters. It is really out of this world! Here you will also find different species of sharks, such as the white tip, the black tip or the leopard, which makes this site an excellent place for shark diving. Other notable sites within the area are Christmas Point and Fantasea Reef.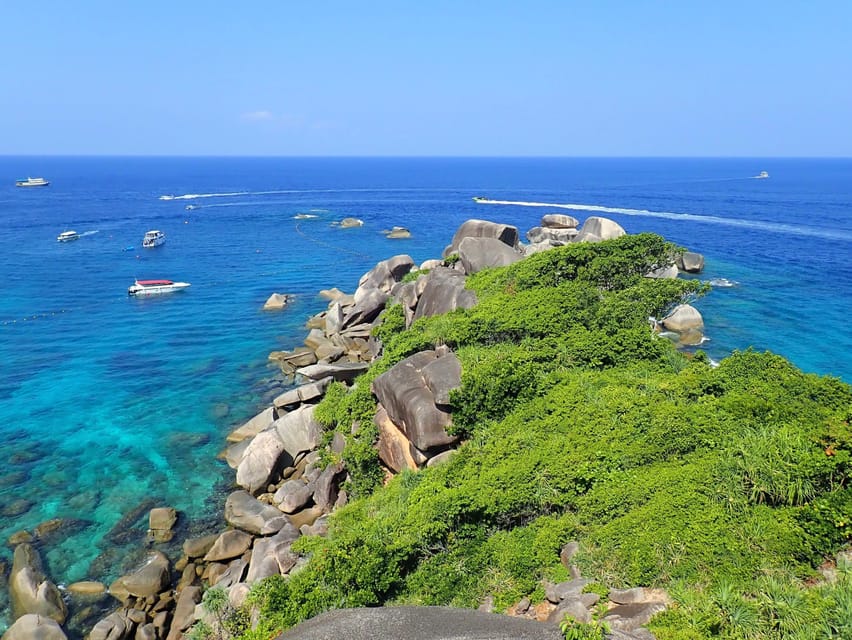 The best way to explore these islands is on board for 3 or 4 days, as this ensures that you are going to do several dives. There are also plenty of day trips to the Similan Islands from Khao Lak and Phuket. You can visit the Similan Islands by joining this day trip: Similan Islands Day Trip.
Unlike Koh Tao, where the prices of the courses and the dives are cheaper and the atmosphere is more backpacking, diving in this area of Thailand will be higher priced.
Be noted that Similan Islands is not open to public all year round. This Thailand diving destination is closed from April to November for protecting the nature so the best time to come here is from January to April.
2. Surin Islands
Surin Islands is an archipelago that consists of five smaller islands in the Andaman Sea. It is located about 40 km from the west coast of Thailand, near the border with Myanmar.
Surin Islands is one of the most beautiful archipelagos in all of Southeast Asia and also one of the best places for diving and snorkeling in Thailand. Beginners can join Surin Islands Snorkeling Day Trip to snorkel through the sheltered reef between the islands.
Surin Islands are lined with stunning coral reefs. The reefs are close to the surface, making them excellent for snorkeling. Waters around these islands feature rich tropical marine life and a variety of fish species. There are also several trails and viewpoints on the island.
You can visit the islands on a day trip by speedboat from Phuket or Khao Lak. Those who love adventures can also try camping on the island or overnight in the cottages and snorkel from morning to night. In any case, Surin Islands will definitely not disappoint you.
3. Koh Phi Phi
On the other side, in the Andaman Sea, there is Koh Phi Phi, famous worldwide thanks to the movie "The Beach" with Leonardo Di Caprio in the early 2000s. Of course, the place is very frequented by tourists but the landscapes that you can discover there are well worth the detour.
The underwater area of Koh Phi Phi is also hugely spectacular. While snorkeling, there is a good chance of seeing sea turtles and even sharks. There is even a snorkeling trip company promising that you will get your money back if you won't see sharks. Sometimes some of the areas might be closed for an ecological recovery, due to excessive tourism.
You can join the first freediving school in Koh Phi Phi and explore incredible freediving experiences throughout stunning world-famous landscapes with a unique long-tail boat. Get either a basic 1-day introduction to freediving and reach 12 meters underwater, or go even deeper with the 2-day course to 20 meters and get your worldwide certificate from Apnea Total as a freediver level 1.
4. Koh Lanta
Koh Lanta, one of Thailand's largest islands, is part of an archipelago of 52 islands in the Andaman Sea and is accessible by boat from Phuket, Krabi or Koh Phi Phi. The island is less touristy than Phuket and it is usually quiet throughout the year, so it is great for families with children looking for a quieter place or couples looking for romance in Thailand. Koh Lanta has 15 kilometers of coastline and nine stunning beaches, more than 70 small islands, coral reefs and a vibrant marine life.
The best diving spots in Koh Lanta are shared with Koh Phi Phi. Hin Daeng, Hin Muang and Koh Haa are the main sites and are accessible from both islands. If you are an advanced diver, Lanta will be ideal for you, since the dive sites are usually done in the open sea. Therefore, large marine life such as Manta rays or Leopard shark show up.
The most popular snorkeling trips from Koh Lanta are 4 Islands Snorkelling Tour and Sea Tour to Koh Rok and Koh Haa
5. Koh Dok Mai
Another great diving destination is Koh Dok Mai, which is located in the middle between Phuket and Koh Phi Phi. Koh Dok Mai has a huge rocky wall of limestone where you can find varieties of corals and exotic creatures including seahorses, moray eels and possible leopard sharks peeking out from between the gaps. This site is a good training spot for a night dive. There is a small 5 meters deep cave leading to a huge cavern with fairly strong currents that adds the excitement for diver.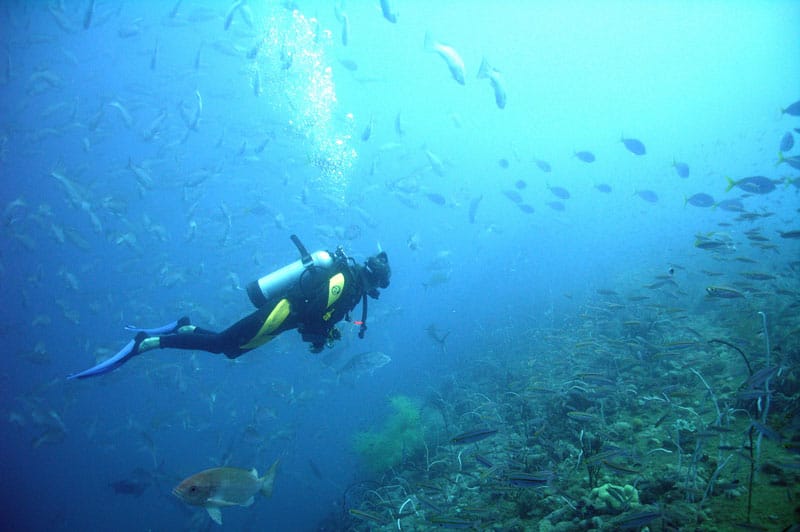 Advanced Open Water Diving Course from Phuket is offering you an opportunity to learn diving under the supervision of certified instructors and explore multiple dive sites with diverse marine life including Koh Dok Mai and other diving site such as King Cruiser Wreck, Shark Point, Koh Bida Nok, and Palong Wall.
6. Koh Lipe
The southernmost island in Thailand is Koh Lipe, nicknamed Thailand's Maldives on the Andaman Sea. This island, along with other islets, is part of the Tarutao National Park and is surrounded by colorful coral reefs. It has more than 38 diving spots and you can even snorkel directly from the beach, but the best underwater scenery can be found at the neighboring island of Koh Adang.
On this Koh Lipe Full Day Scuba Diving trip, you will get to see the turquoise waters, white sandy beaches and magnificent coral reefs of Koh Lipe while enjoying 2 dives at the beautiful reef around Koh Lipe to a maximum depth of 12 meters.
7. Koh Tao
The list of the best diving destinations in Thailand would not be complete without Koh Tao. Koh Tao or Turtle Island, named after its turtle-like shape, is located in the Gulf of Thailand. This island is great for beginners in the diving industry as it is known as the best and cheapest place to get your diving certificate. There are about 70 diving schools in Koh Tao that issue certifications from the Professional Association of Diving Instructors (PADI) or from other equivalent companies. The price of the course to start diving starts from 150-180 EUR and many of them include accommodation. You can take free diving courses where you learn to hold your breath for a long time and dive to impressive depths without diving equipment.
There is no complete experience in Koh Tao without visiting the Pinnacle of Chumphon, which is filled with gigantic groupers, moray eels, leopard sharks, crabs, shrimps and other common fish in the reefs of the Gulf of Thailand. Whale sharks sometimes come for a visit, depending on the season.
Beginners and experienced divers are welcome to explore Koh Tao's deep blue waters filled with beautiful sea creatures with Nava Scuba Diving Experience at Koh Tao. You will be taught by the professional instructors of Nava Scuba Diving, a brand new PADI dive shop on the island of Koh Tao.
You can try out scuba diving in Thailand and tick it off your bucket list by joining Koh Tao Try Scuba Diving 1-Day Experience. Even with no experience you can drop beneath the waves to marvel at the amazing variety of marine life that Koh Tao has to offer.
Not far from Koh Tao, there is Koh Nang Yuan with beautiful transparent sea, coral beach, and Mango Bay, which is also good for snorkeling.
Other Diving Destinations in Thailand
Other popular Thailand dive sites can be explored by joining the tours below:
Cat Island Phuket Scuba Diving
Phuket Diving Day Trip - Three Dives (King Cruiser, Shark Point & Koh Dok Mai)
Scuba Diving Maithon Private Island
3 Khai Islands Tour with Snorkeling or Scuba Diving
The best time to dive in Thailand
Thailand is in a tropical region and therefore it is possible to dive in Thailand throughout the year. The average water temperature is around 28-31 degrees Celsius. However, the best time to dive in Thailand depends on the geographical point of the country you are planning to visit. In the Andaman Sea the diving season is during December to April, that is the dry season. During the months of May to September, heavy rains are expected, so many of the marine reserves are closed down until October. During those times, diving the Gulf of Thailand is much more recommended.