The Full Moon Party on Koh Phangan Island is perhaps the most famous party in all Thailand. It is known worldwide and every month tens of thousands of partygoers gather in Koh Phangan to party under the full moon on Haad Rin's beach from sunset to sunrise. Find the ultimate guide to Full Moon Party in Koh Phangan.
Full Moon Party in Koh Phangan
What is Full Moon Party?
The first Full Moon Party in the late 80's was originally just a one-time beach party when a group of backpackers gathered at Haad Rin Nok at Paradise Bungalows to dance in the light of the full moon. Due to its great success, it was repeated regularly at the same place and the others also started to join the party. The party became more and more popular for young people from all over the world and it boomed in 2000, after being mentioned in the film "The Beach".
This madness party attracts thousands of people to have fun on Haad Rin Beach until the morning, where they are enthusiastic with fire shows, different kinds of music, wide choice of alcohol and more. Most tourists come from Europe (Spain, Germany, France etc.), so there is less tourists from Southeast Asia here.
When is Full Moon Party?
As the name suggests, Full Moon Parties are held at full moon time, unless it coincides with a Buddhist holiday or important election day. Sometimes the actual party can be celebrated days before or after the full moon. The exact date of the party can always be confirmed before planning a trip.
Find the Full Moon Party schedule here: Full Moon Party Schedule.
Where is Full Moon Party?
The Full Moon Party is held on a one-kilometer-long Haad Rin Beach, also called Sunrise Beach, of Koh Phangan. This beach is located on the east side of the southernmost part of Koh Phangan in the Gulf of Thailand (on the same side as Koh Samui and Koh Tao). The beach is located about 30 minutes from the port of Koh Phangan (Thong Sala Pier). Haad Rin Beach itself is surrounded by palm trees, fine sand and crystal-clear waters. When the party approaches, the area begins to fill up with street vendors and locals.
Full Moon Party Entrance Fee
The Full Moon Party should be free of charge by Thai law for everyone, but it is not like that anymore. In fact, foreigners are prevented from accessing the areas of the party unless they pay for it. At the moment, the entrance fee to get to the area is 100 THB per person. This money is used by the management for cleanliness, security and so on. After buying an entrance ticket at the gate, you will be given a colorful rubber band as an entry sign.
You can try to pass without paying but know that it is a rather impractical option in recent years. You still have to buy your drinks and food, of course more expensive at a party area.
Full Moon Party Experience
On the full moon day, everything starts when the sun is completely set. Around the party area at Haad Rin, there are many vendors setting up their stalls from the parking area to the streets leading to the party entrance.
You should get yourself a neon outfit with the words Full Moon Party, or a hat glowing in the dark and other Full Moon Party knick-knacks. Make-up or painting of the craziest figures and images on your face and body that shine at night is a must. Prices vary according to the size. The smallest is 100 THB and the big ones are around 500 THB.
When it is late night, literally from 22:00 - midnight, everything gets more alive. The beach is filled with people from various countries. Along the long and wide sand of the beach several stages are built, there are few chairs, especially in front of certain bars or clubs. There are DJs who play music of all genres from electronic music, reggae music, R&B, Rock, HOUSE to EDM, which undoubtedly the most popular. And as usual in Thailand, there are no rules when it comes to volume so the music is overlapping with each other. As the night progressed, the beach turns into a dancing crowd with liquor. You can dance everywhere. You will see fire dance, neon signs, black lights, flashing lights, fire shows. The atmosphere is fun as everyone come here for an unforgettable time. You can do whatever crazy you want, as if there was no tomorrow. The party lasts until morning and even continues until the afternoon again. The peak of the party is of course midnight to early morning.
Drinks
Everywhere you can find alcohol, snacks and bottles of water at double prices. Uniquely, they don't sell drinks per bottle but per bucket. The alcohol is filled in small buckets that cost from 200-500 THB, depending on the type of drinks. One bucket usually consists of at least two types of drinks. This small bucket functions as a cup for mixing drinks that is easy to carry around during the party. Beer in shops on the beach is 60-80 THB.
Fire Shows
Fire shows are perhaps the best-known image of Full Moon Party. You will see fires and fire dancing everywhere during the party. Tourists are often invited to participate to jump over a flaming rope. Few people end up injured, sometimes even seriously burnt when it wraps around their legs.
Where to stay during Full Moon Party?
There are plenty of options available if you want to stay in Koh Phangan:
1. Stay near Haad Rin Beach
If you want to have the party location a short distance away, you will certainly have to choose to stay in the Haad Rin area. There are many options around the beach at different price ranges.
Some of the best rated accommodation at Full Moon Party: BOOK NOW!
Affordable Hostel: So Good Haad Rin Hostel
Mid-range Hotel: Palita Lodge
Luxury Resort: Skymoon Resort
You can find the best hotels near the Full Moon Party to enjoy a pleasant stay at the best price: Best Hotels near Full Moon Party.
2. Stay in other parts of the island
Keep in mind that you can't expect to get a normal sleep if you stay close to Haad Rin Beach. The party will keep you awake until dawn. There are many alternatives to stay on the island. Outside of this famous party, Koh Phangan is not very busy and definitely worth a stay. You can find our tips for choosing the perfect base for your stay in Koh Phangan here: Koh Phangan Best Areas.
If you want the real comfort on your vacation, take a look at the Best Luxury Hotels in Koh Phangan.
3. Sleeping on the beach
You will see some people lying on the beach because they are too drunk and couldn't find a place to stay overnight.
Hotel Booking
One important thing to be noted is that you should definitely book your place well in advance. You can imagine that thousands of people come to the island so don't think that accommodation on Koh Phangan will be easily available prior to and during the Full Moon Party. The whole island often gets completely full. Also, hotel prices increase 3 times or even more. You have the best chance to find a good place to stay if you arrive a few days in advance. Nearly all resorts also require a minimum stay of 3 to 4 nights during Full Moon Week.
Many people also choose to stay nearby in Koh Samui or Koh Tao and then come to party. Sometimes accommodations on the neighboring islands are also filled up a few days before the party.
To help you find the perfect accommodation on the neighboring islands, we have prepared a guide on the Best Area to Stay in Koh Tao. You will find our hotel recommendations for individual beaches and bay areas on the island.
How to get to Full Moon Party, Koh Phangan
There is no airport on the island of Koh Phangan, so everyone arrives by ferry. The nearest airport is on Koh Samui Island, which is only 45 minutes away. It is also not far from the airports in Surat Thani and Chumphon. Several ferries depart from different piers every day and all arrive at Thong Sala Pier on Koh Phangan.
From Koh Samui to Koh Phangan
By Ferry
If you are staying in Koh Samui during Full Moon Party, it is possible to participate in the party and then go back the same morning. By normal ferry, the trip takes more than an hour. It is advisable to take the last regular ferry from Koh Samui to Koh Phangan at 18:30, and return with the regular ferry which departs to Koh Samui about 07:00. You can check current ferry schedule and buy tickets to reach Koh Phangan by ferry here: Koh Samui - Koh Phangan. 
On the return journey, the waiting time for the normal ferry increases enormously. You will then have to wait several hours before you can return by ferry.
For more information on traveling between the islands check How to get from Koh Samui to Koh Phangan (and vice versa)
By Speedboat
You can take one of speedboats that hop all night long to get you to Koh Phangan in half an hour. You just need to go to the Maenam Pier, the Big Buddha Pier or the Na Thon Pier and ask for the speedboat service to the Full Moon Party. Many operators organize a party boat trip that will leave at sunset and return at dawn.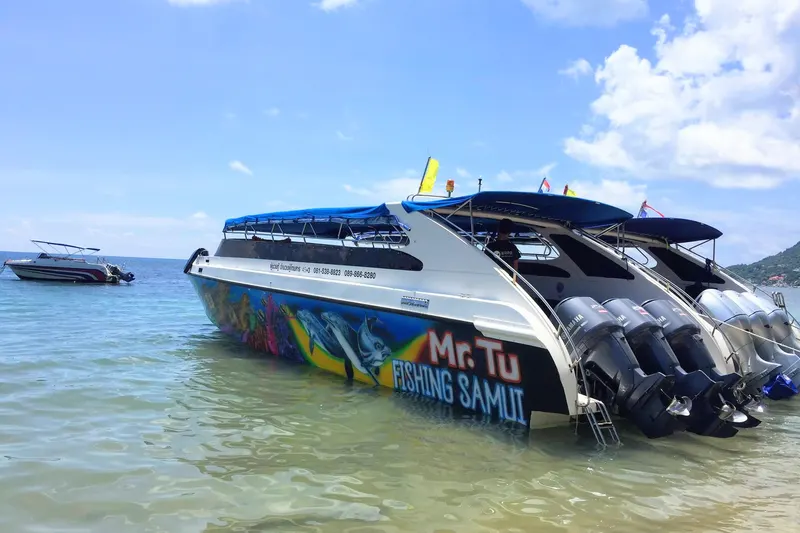 You then pay around 1000-1200 THB including a minibus which picks you up and returns you to your accommodation. You can have a stress-free journey from Koh Samui to Koh Phangan and attend the famous Full Moon Party by booking Full Moon Party Round-Trip Ticket.
How to go to Haad Rin
Once on the island, you will see many drivers waiting to take you to Haad Rin or Full Moon Party Beach for 100 THB per person. When you want to come back, whatever time, you can ride the songthaew (taxi) many of which hang outside.
Safety and security
Is Full Moon Party safe?
The Full Moon Party is not at all dangerous, although of course that is up to you. Although the atmosphere is relaxed and fights and aggression are rare, theft is something to be aware of. There are also many tragic events. Some people are injured in firework accidents. Swimming drunk at the sea is also not such a good plan, as people regularly drown. Drinking is okay, but you should know the limit. Local medical clinics are overflown during the party with those who are suffering from something or drinking too much.
Drugs
Unfortunately, this party has many times been associated with drugs so it means that drugs are available if you wish. However, we strongly advice not to risk dealing with drugs in Thailand. It is strictly forbidden and there are severe penalties for those who buy, sell or use drugs. There are many uniformed and plainclothes police officers looking for offenders. You can also find policemen who try to sell drugs during the party to see if you fall into the trap. If you find that someone wants to sell you, definitely stay away.
Useful tips for your safety during Full Moon Party
We recommend to keep your valuables in a safe place where they can be locked up. Even in hotels, theft can happen. There are pickpockets just like in any other major festival or tourist area. Take cash only when you go to the overcrowded party. You can leave your room key at the reception. The less you take with yourself to the party, the better.
Wear a pair of proper sandals or shoes to avoid stepping on a broken bottle, glass or burning cigarette butts that are buried in the sand.
Always pay close attention to your drink and not let anyone put anything in your drink.
It is important to stay hydrated with enough water, not just alcohol.
Do not accept food and drinks from strangers.
Most people use the sea as their bathroom, so don't go there to swim at night.
For any problem with law enforcement, call the Tourist Police on 1155.
Agree on meeting points in advance in case you lose with your friends or group.
Other alternative parties in Koh Phangan
It's no wonder that Koh Phangan is nicknamed Party Island. If you can't come during Full Moon, don't worry, as Koh Phangan is a famous party island with many parties and events organized here. In practice, in any period of the month you go, if you stay at least 3 days, you will find a party. Of course, in order to fully have this experience, you need to be here for Full Moon Party.
In addition to the Full Moon Party, these are the best-known parties in Koh Phangan:
Half Moon Party: The Half Moon Party is the second biggest open-air party on Koh Phangan. It is held one week before and after the Full Moon Party. It takes place not on the beach, but deep in the rainforest of Koh Phangan.
Black Moon Culture: The perfect party held at Mac's Bay resort right on the sandy Baan Tai beach, on the night when the moon is at its smallest.
Jungle Experience: It is known for its carnival atmosphere that is held 10 days before and one day before the Full Moon Party.
Waterfall Party: Party in a place in the jungle where there used to be a waterfall. Every 2 days before and after the Full Moon Party.
Loi Lay Floating Bar: Loi Lay Floating Bar is the only party boat on Koh Phangan. A popular party that takes place every Sunday with international DJs.
Other activities on Koh Phangan
Koh Phangan is a large island on the eastern coast of the Gulf of Thailand, half way between the islands of Koh Samui and Koh Tao. Even if Full Moon Party is the biggest reason for tourists to come here, there is also plenty to see and do on the rest of the island. On Koh Phangan you will find many places where you can dive and snorkel. After the party, you can have a good relax on some of the best beaches on Koh Phangan. The island also has several temples and national parks.
You will find that Koh Phangan is surprisingly relaxed and can even be quiet with plenty of beautiful beaches. In this guide, find the best things to do in Koh Phangan for an unforgettable holiday.
Discover another side of Koh Phangan with the island's travel experiences:
Guide to Ang Thong National Marine Park