Planning your holidays in Thailand and looking for a hotel in Phuket's Karon Beach area? Find the list of the best Karon Beach hotels, including the most popular Phuket hotels and resorts on Karon Beach that will help you choose Karon Beach accommodation for your trip to Thailand.
Karon Beach
Karon Beach is a long beach located between Patong Beach and Kata Beach on the west coast of Phuket. With its 3 km of white sand and turquoise waters, Karon is one of the longest beaches in Phuket. It is large enough that it never seems full of people.
The beach is quieter and more relaxed than Patong which is nearby. This makes Karon a great place for people who want to stay in a more laid-back atmosphere but wish to have nightlife, shopping and various attractions not too far away.
Where to book Karon Beach hotels?
The most convenient way to book Karon Beach hotels is by using a reliable online travel agent such as Booking.com.
---
Note! While most of Karon hotels are offering airport pick-up service, booking a separate Phuket Airport transfer to Karon Beach in most cases is significantly cheaper than transfer arranged by the hotel
---
List of Karon Beach Hotels
As Karon Beach is one of the most favorite vacation spots for tourists on Phuket Island, there are numerous hotels for every taste and budget in the area as travelers can choose from simple guesthouses to luxury international chain hotels. Most hotels at Karon Beach are located across the street from the beach.
The most popular hotels in Karon Beach area are listed below.
---
To decide on the best option for the trip, more detailed information on each of the hotels/resorts with reviews, prices and availability of rooms for the selected dates can be found by clicking the links provided. 
---
1. Pullman Phuket Arcadia Resort and Spa
The beachfront Pullman Phuket Arcadia Resort & Spa is set on 75 acres of tropical landscape, offering perfectly maintained lush tropical garden views in front of the golden sands of Karon Beach. Among all family-friendly facilities at the resort are 8 dining outlets for all tastes, a fully-equipped 24-hour fitness centre, 3 tennis courts and 2 squash courts for active guests. There are also 5 outdoor swimming pools surrounding lagoons and palm trees, a two-leveled water slide and a kids club with a trampoline and a large pillarless Grand Ballroom. Eforea Spa boasts 15 private wooden villas and a beauty salon. All spacious rooms at this Phuket Sandbox hotel feature a private balcony boasting stunning views of the Andaman Sea, tropical gardens or lotus lagoon.
2. Le Méridien Phuket Beach Resort
On a secluded cove against a canvas of sand and sea in Thailand, Le Méridien Phuket Beach Resort offers bold new discoveries with top-rated facilities for land and water adventures, a rejuvenating spa, inspired cuisine and forward-thinking services that exceed our guests' desires. The resort's 416 rooms and 54 luxury suites blend the creative and the elemental with authentic Thai accents against a soothing tropical setting. Style coupled with superb amenities allows for a stay of limitless exploration and renewal on the beach.
3. Woraburi Phuket Resort & Spa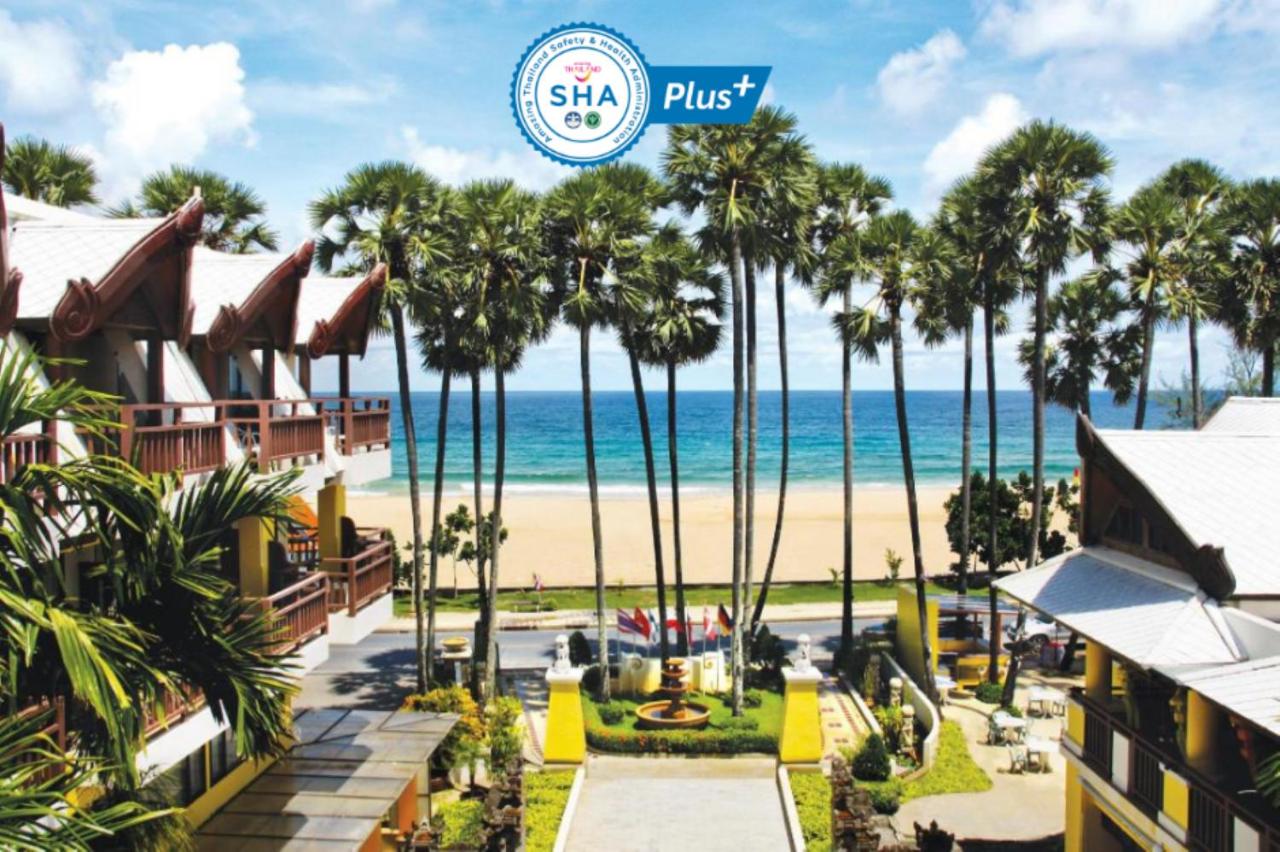 The beachfront Woraburi Phuket Resort & Spa is a Phuket Sandbox hotel featuring stunning ocean and landscaped views. The resort features Thai architectures throughout and provides bright and spacious rooms with sea, pool or garden views, selected room types also comes with direct pool access.
4. Avista Grande Phuket Karon MGallery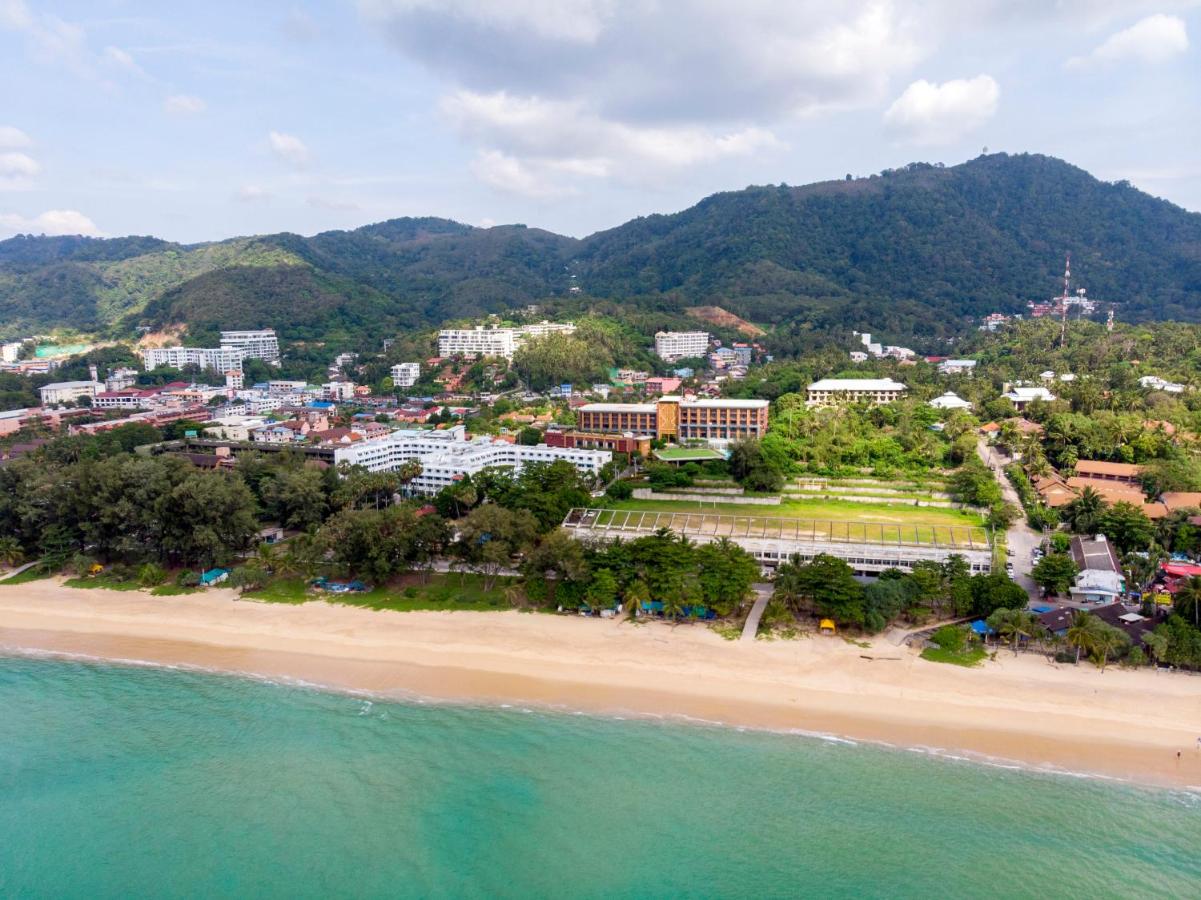 Avista Grande Phuket Karon - MGallery Hotel Collection is nestled between Phuket's spectacular white-sand Karon Beach and the island's lush green mountains. Rooms at this Phuket Sandbox hotel are complete with a private bathroom fitted with a hot tub and free toiletries, while certain rooms are fitted with a seating area.
5. Beyond Resort Karon
Secluded, intimate and romantic, adults-only Beyond Resort Karon nestles in a quiet corner of beautiful Karon Beach. Gaze from your room over the crystal shimmer of the Andaman Sea and discover your haven of privacy. A short stroll away from this hotel, the myriad shopping, dining and entertainment choices of Karon Beach await
6. Phuket Orchid Resort and Spa
Phuket Orchid Resort and Spa is located in the middle of Karon Beach, a couple of minutes' walk from the sea. Complete with full hotel facilities are set up in a wide beautiful green landscape.
7. Thavorn Palm Beach Resort
Thavorn Palm Beach Resort is one of the best Karon Beach resorts in Phuket. Being located right on the beachfront, the resort is only a few steps from Karon Beach. Here you can relax amidst the spacious, tropical surroundings at an unrivalled beachfront location, lose yourself exploring the magnificent splendor of the tropical orchid gardens, find your own peaceful, uncrowded space at one of resort's four swimming pools, Giant 4-Storey Slider or relax in the comfort of elegant, colonial style public spaces.
8. Novotel Phuket Karon Beach Resort and Spa
Novotel Phuket Karon Beach Resort and Spa is a SHA++ certified hotel featuring 224 beautifully appointed guest rooms. This Phuket family resort offers space and freedom for all type of guests with seven different room types on offer. You can sit back, chill and sip a cocktail next to one of the three pools while the kids enjoy Kids World.
9. Sugar Marina Resort-ART-Karon Beach Phuket
Sugar Marina Resort- ART- Karon Beach is a Phuket Sandbox hotel located a 3-minute walk from the scenic Karon Beach. Guests can relax on the wide sun deck facing the pool, or enjoy daily activities on the large grass lawn. Hotel's fun artistic theme rooms and exclusive installation art displays around every corner are produced by in-house designer and staff.
10. Best Western Phuket Ocean Resort
Best Western Phuket Ocean Resort is a hotel situated on the hillside among the coconut groves overlooking Karon beach and Karon lagoon. The hotel offers the utmost comfort in the accommodation amidst the lavish setting of Karon beach and is proud to be one of the best-valued vacation resorts in Phuket.
11. Phuket Island View Hotel
Overlooking the azure Andaman Sea, Phuket Island View Hotel is the perfect getaway for beach lovers. When staying here, you just need to take a few steps to reach the gorgeous soft sands of Karon Beach and enjoy browsing the shops, markets, restaurants and entertainment only a 10 minute walk away. This hotel in Karon Beach is filled with exotic gardens for a tranquil and relaxing stay where you can swim in three outdoor swimming pools, and relax all day on poolside loungers.
12. Phuket Golden Sand Inn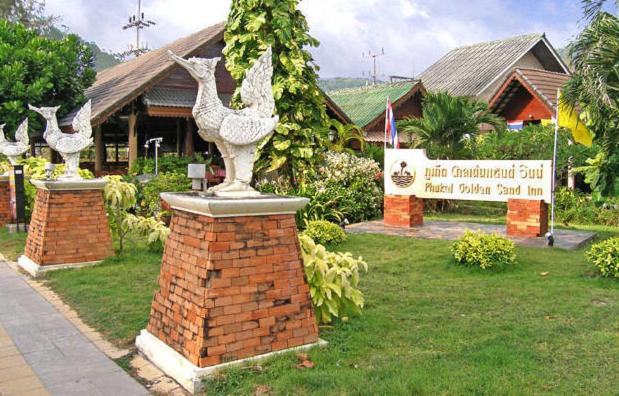 Phuket Golden Sand Inn is located in a prime position with the beach adjacent to the hotel and local shops and market just a few minutes by walk.
13. Karon Living Room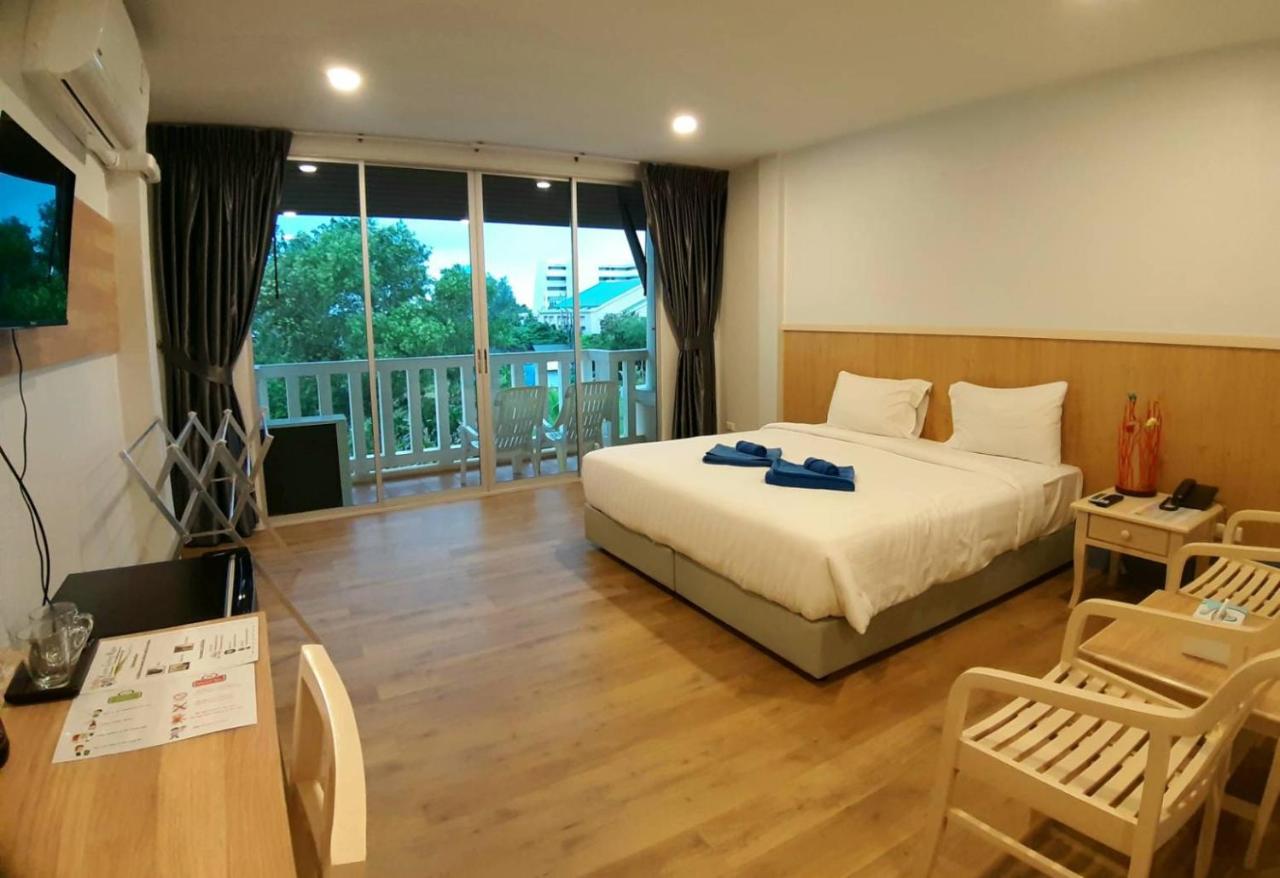 Karon Living Room Hotel is located not far from Karon Beach. It's a quiet place, close to nature, clear sea water and white sand beach. The rooms are clean, spacious and comfortable. The staff are available and happy to help. It is close to attractions such as Kata Beach, Kata Noi Beach, Patong Beach, Big Buddha and Chalong Temple, which are suitable for worship for the auspicious and prosperity.
14. OneLoft Hotel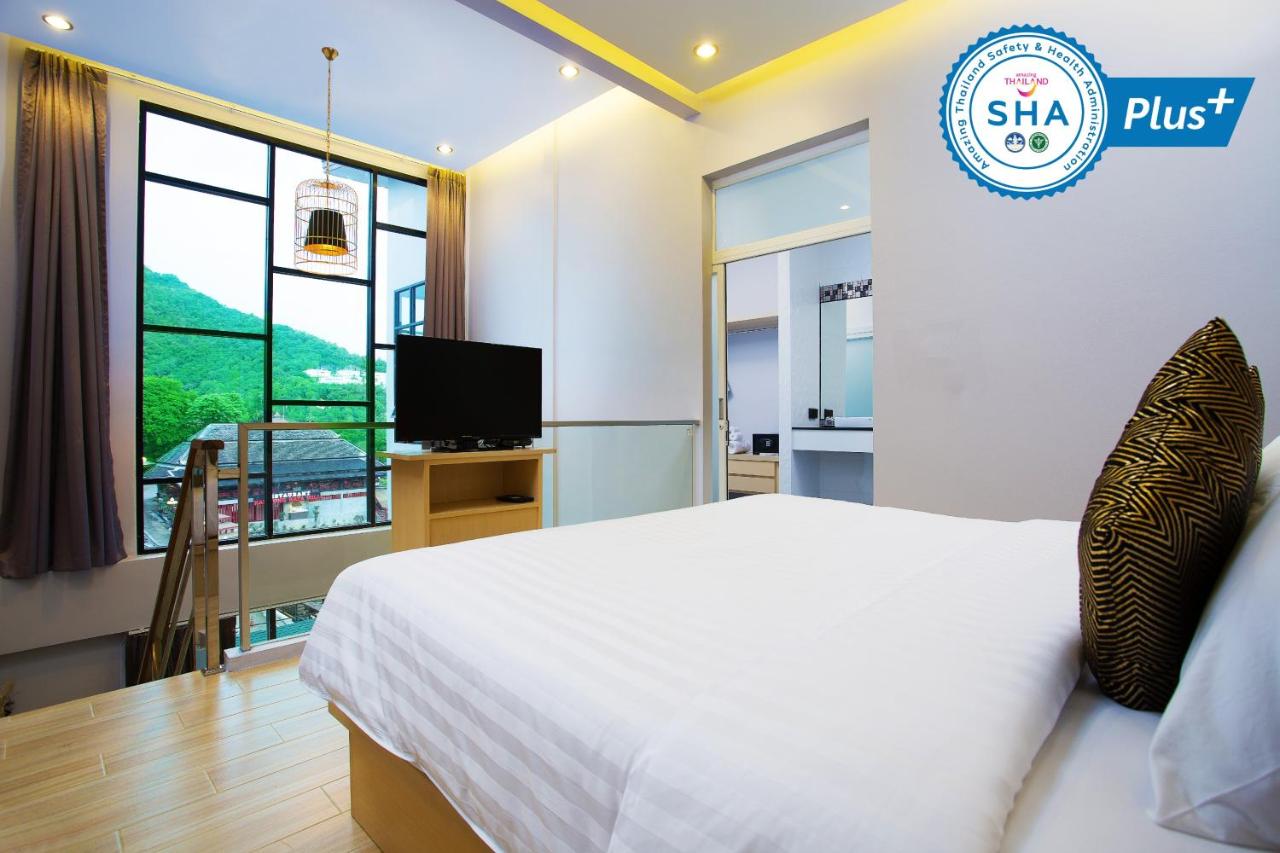 OneLoft hotel is located between Kata beach and Karon Beach. Hotel provides variety of room types with facilities such as Fitness, Jacuzzi salt pool and restaurant.
15. ACCESS Resort & Villas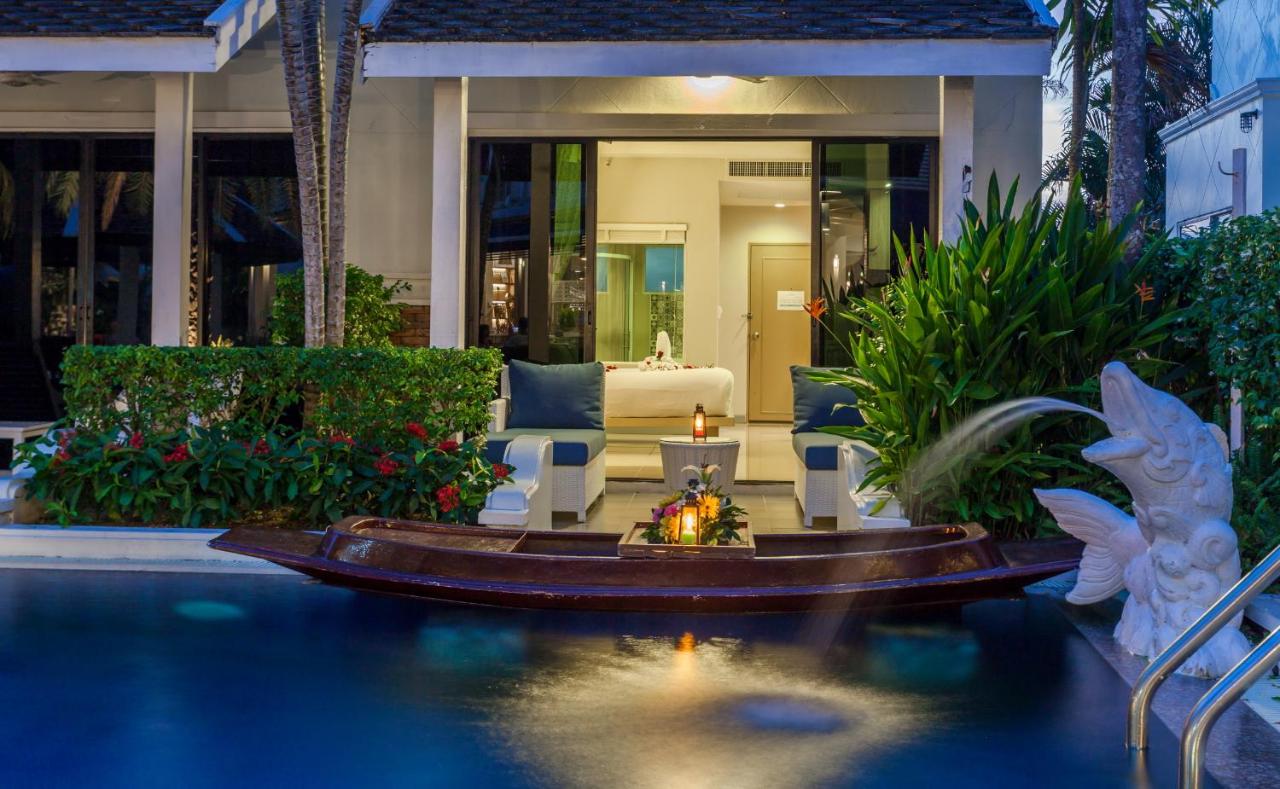 ACCESS Resort & Villas is a SHA++ certified accommodation claiming to be "The Only Hotel Offering Direct Pool Access from All Rooms, where a Room Service Serve by Boat". This unique design resort allows every room to have its own direct access to the pool with a few steps from your bed. You might find yourself happily wandering around the pool services from your very own room with direct access. Here you can experience what you have never experienced before from elsewhere.
16. Centara Villas Phuket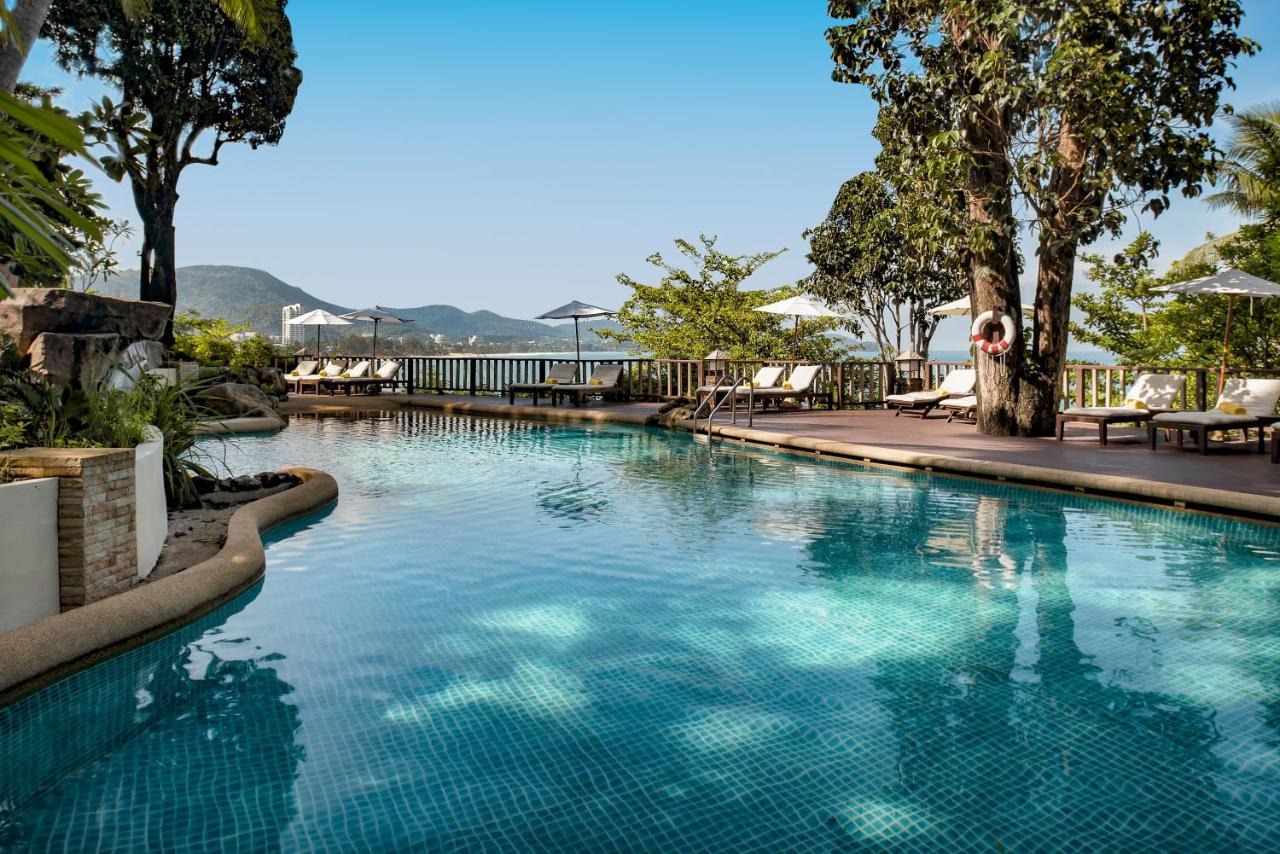 Centara Villas Phuket is a romantic hideaway almost lost within a luxurious natural tropical backdrop, yet still only steps away from the sweeping expanse of Phuket's Karon Beach. Each totally private Thai-style villa, nestled within its own screen of green, directly faces the sea from a dramatic inclined perch, ensuring that views are endless and the quiet all-pervading. Some of the villas even offer the choice of either a private pool or Jacuzzi.
17. Karon Princess Hotel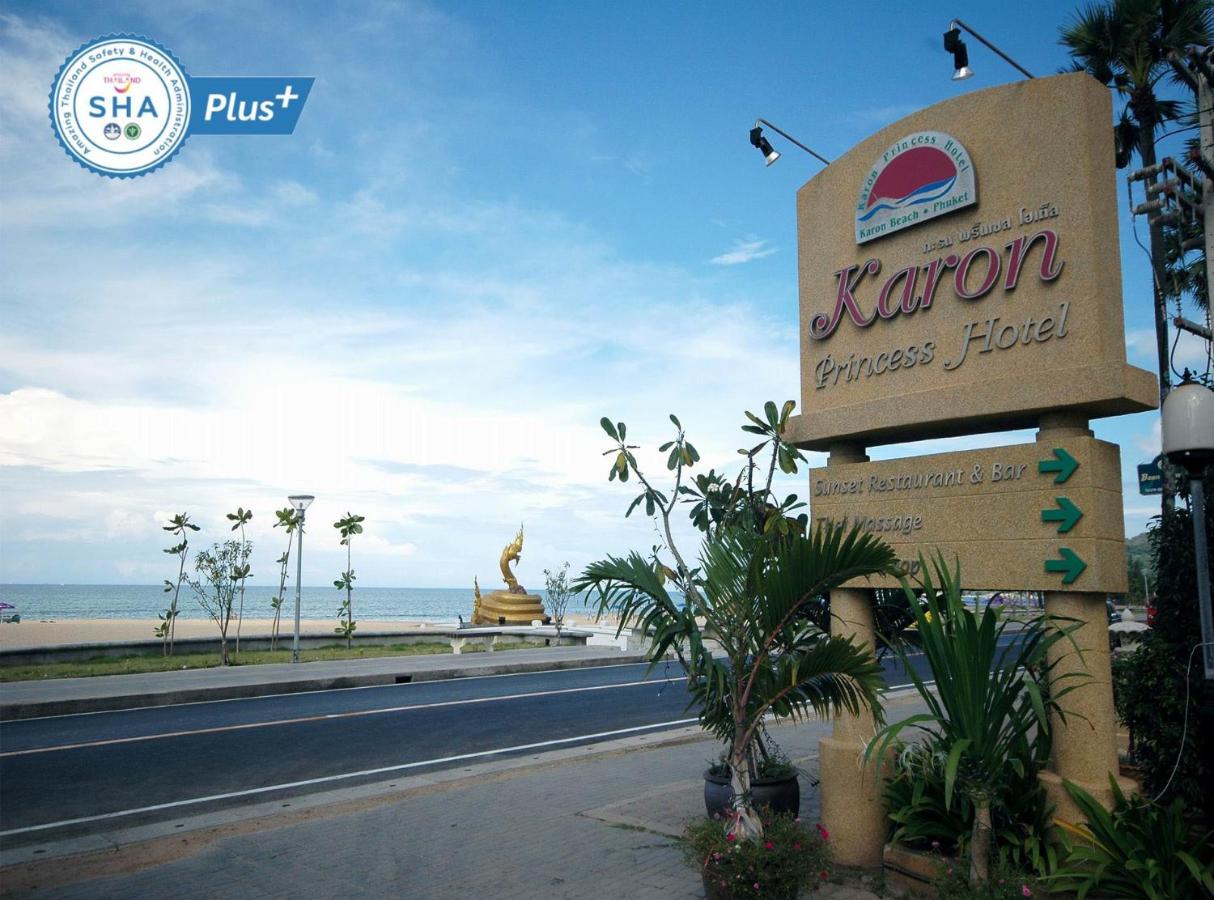 Karon Princess Hotel is located along Karon Bay, just a stroll from the Andaman Sea's white sandy beach. It features an outdoor pool with a spa tub, and rooms with private balconies.
18. Karon Sino House
Karon Sino House offers modern accommodation a 5-minute drive to Karon Beach. Fitted with a balcony, each air-conditioned room features cable TV, fridge and safe.
19. The Old Phuket Karon Beach Resort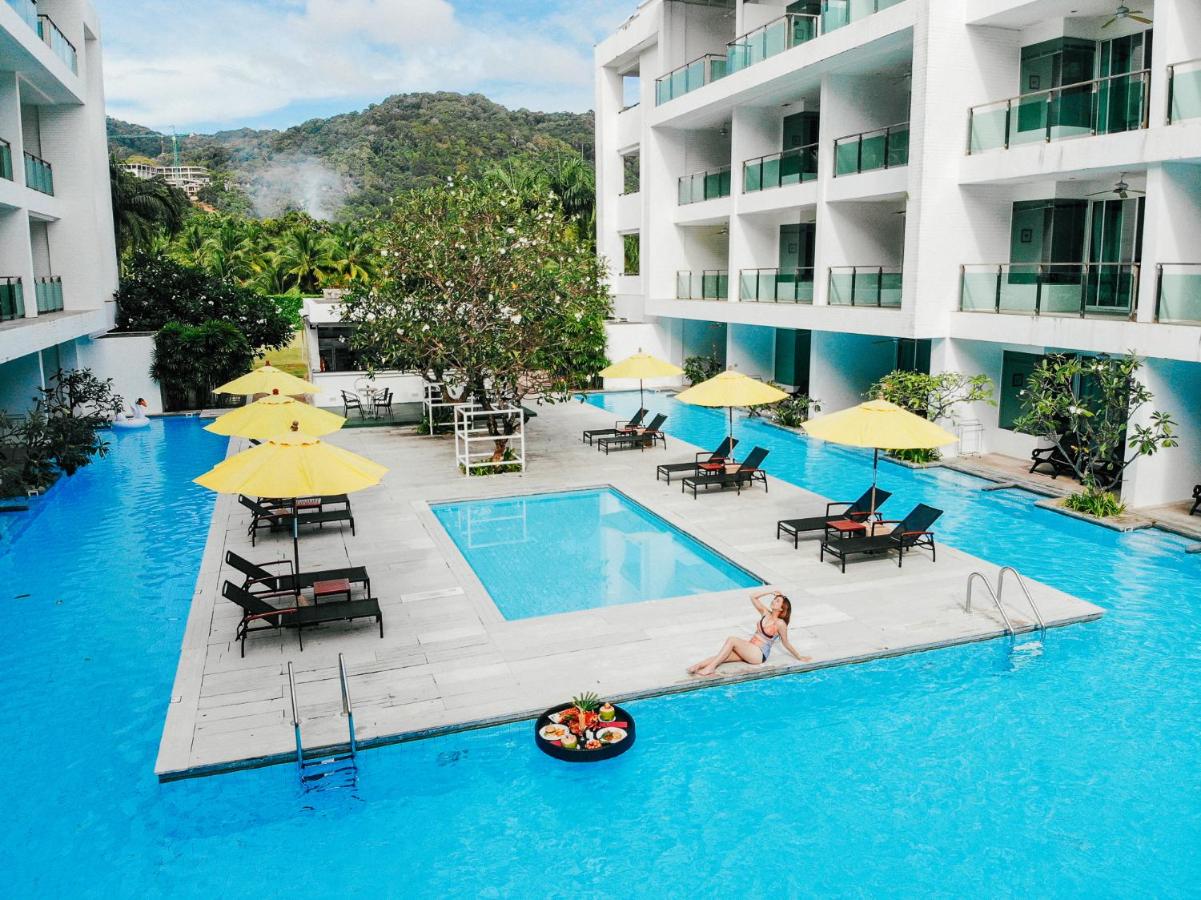 The Old Phuket Karon Beach Resort provides guest an alternative to enjoy a unique holiday with the best of both worlds accommodation spread over two distinct wings: The Sino Wing providing the restored period accommodation influenced Sino-Portuguese architecture and the Serene Wing which is immaculately designed to offer the luxury of the modern day comfort. All rooms in both wings has its own balcony with a choice to enjoy either the refreshing breeze coming from the Andaman Sea or magnificent pool and mountain view, both furnished with all amenities to facilitate daily needs.
20. Peach Blossom Resort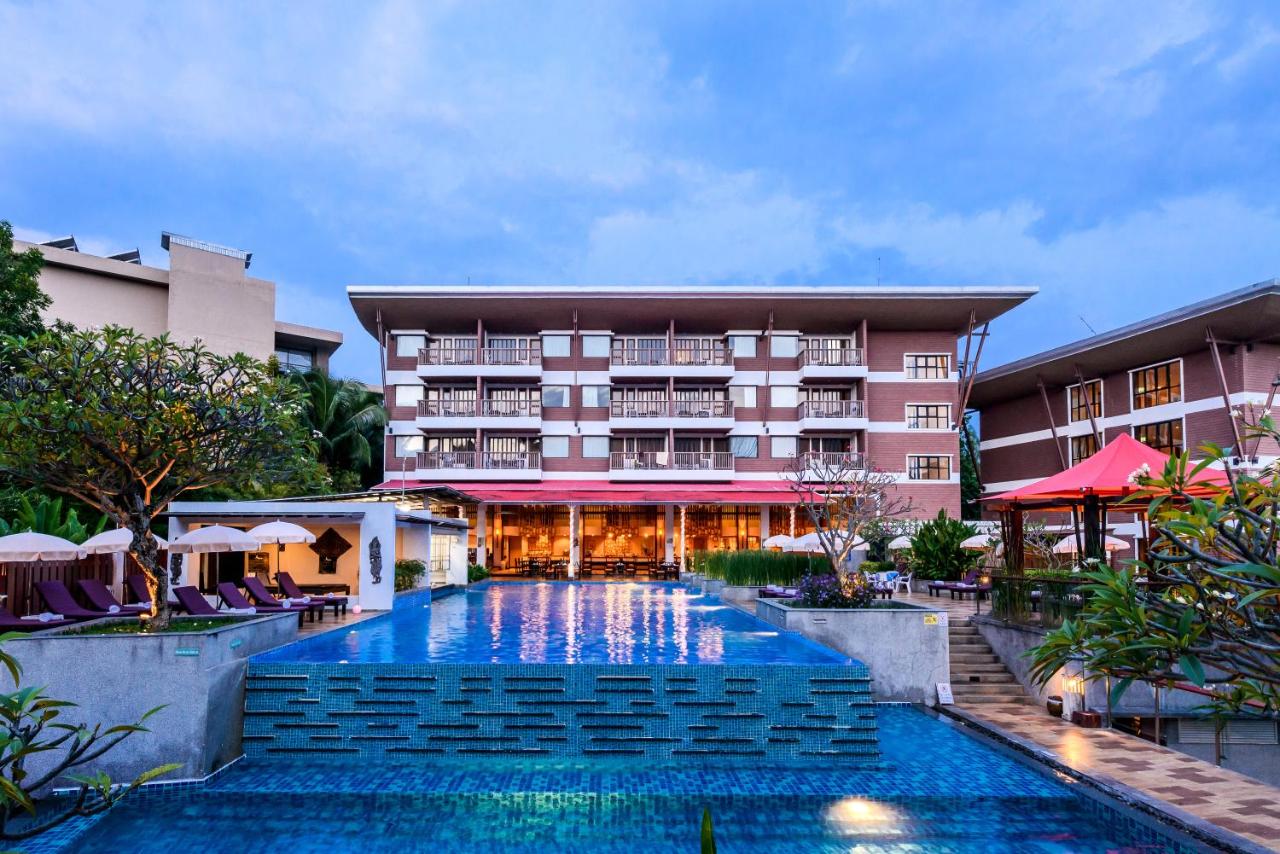 Discover your tropical island getaway at Peach Blossom, the hillside resort only 400 meters from the azure blue Andaman Sea. Nestled on the forested headland between Kata and Karon, two popular family beaches, there are so many choices of what to see and do in the local area.
21. Kata Tranquil Villa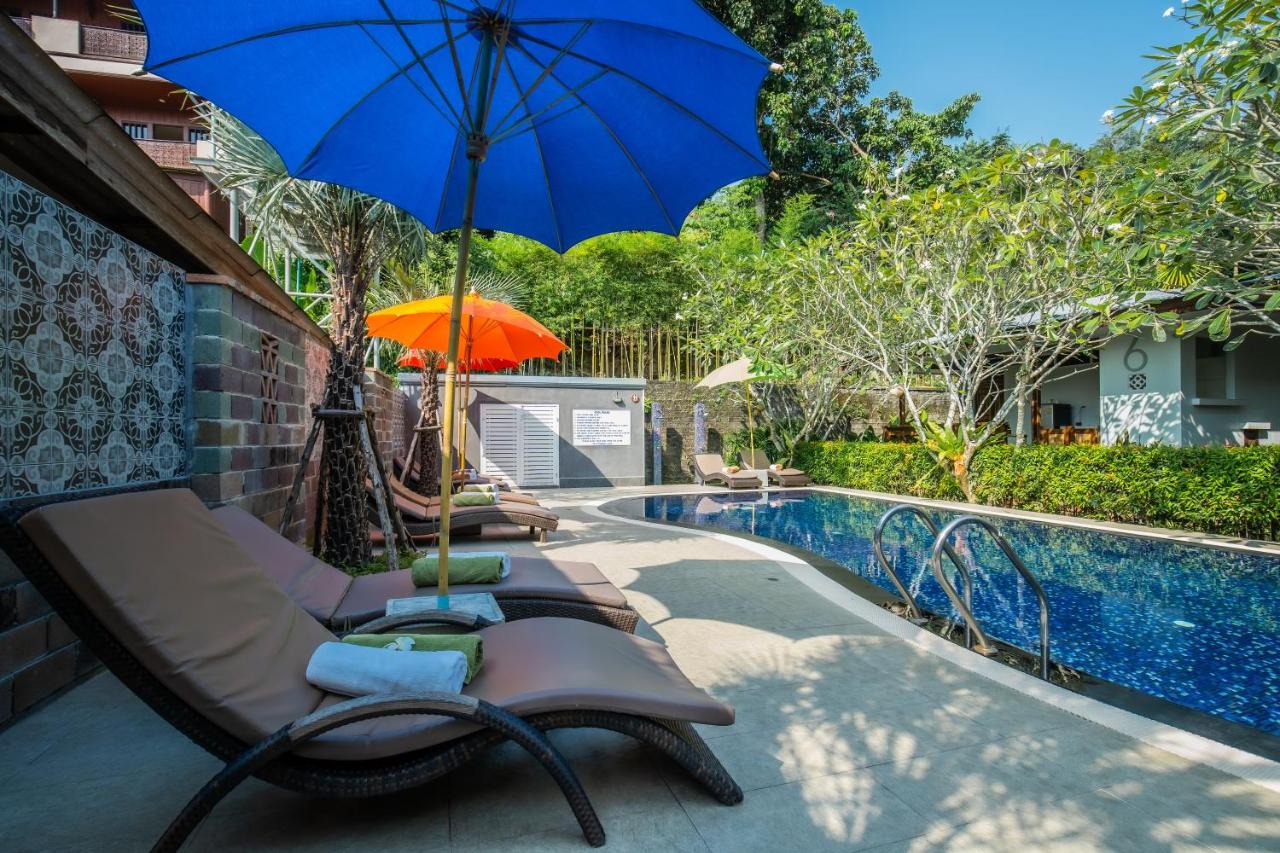 Kata Tranquil Villa is a 5-minute drive from Karon and Kata Beaches. Offering comfortable accommodation, it is equipped with an outdoor pool. Each well-decorated 2-storey unit comes with an air conditioning, a flat-screen cable TV and a refrigerator. There is a kitchenette and a modern style living room for guests' comfort on the ground floor.
22. Baan Karon Resort
Offering rooms with private balconies and cable TV, Baan Karon Resort is located 700 m from Karon Beach. It features a swimming pool and restaurant. The air conditioned rooms at the resort have plenty of natural light.
23. Kasemsuk Guesthouse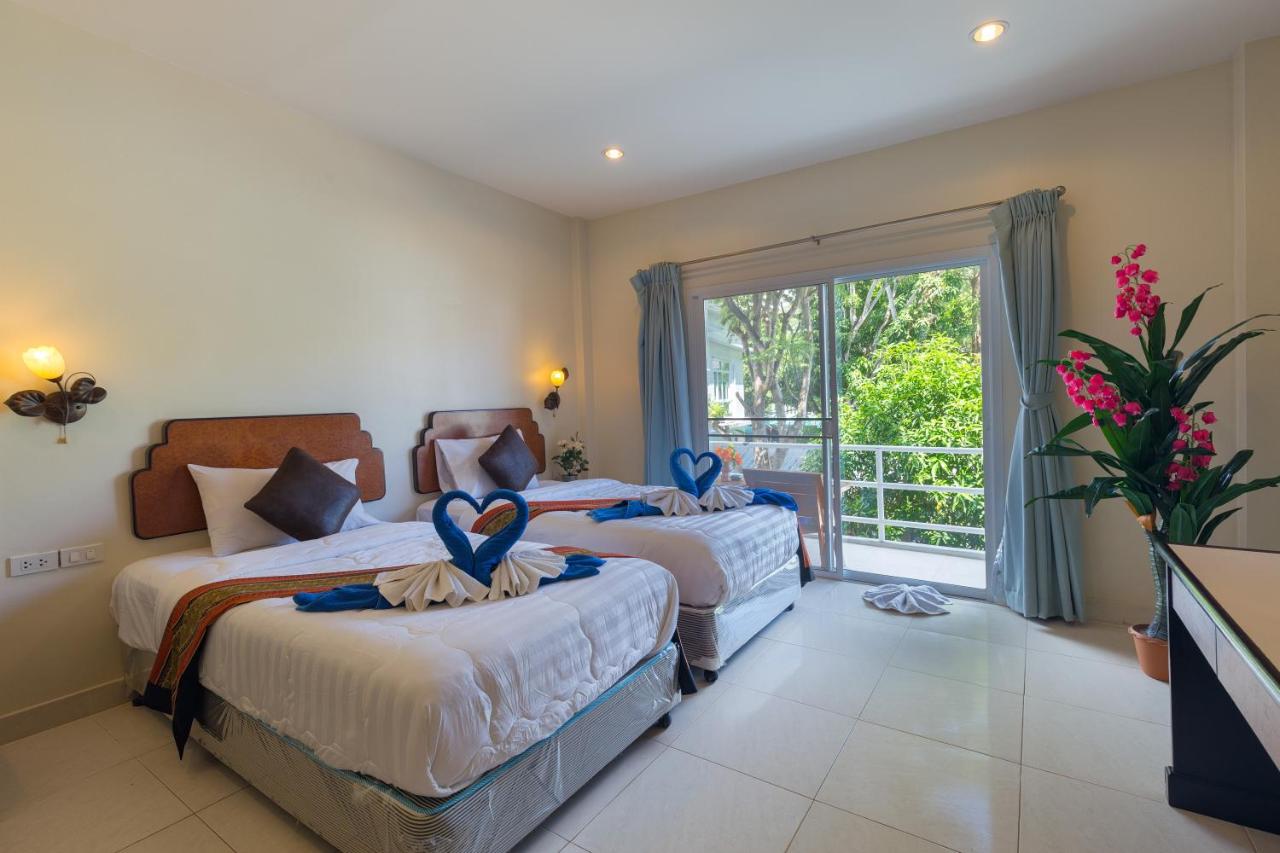 Kasemsuk Guesthouse provides basic rooms with either fan or air conditioning only a 3-minute walk from Karon Beach. Surrounded by tropical gardens, rooms at this resort feature wooden furnishings and tiled flooring.
24. Hotel IKON Phuket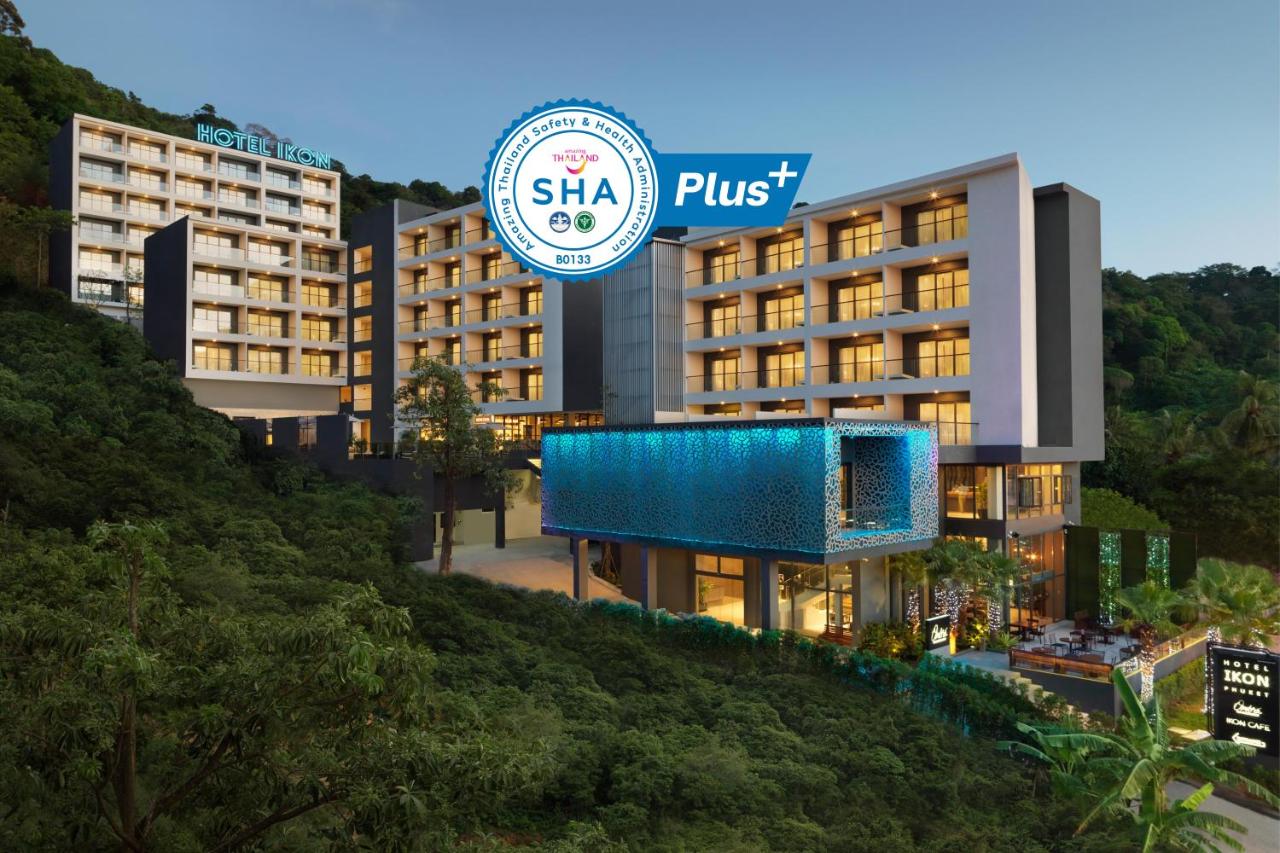 Stay & play in style at Hotel IKON Phuket, a modern day hotel where you will be steps away from Karon Beach. Hotel's 98 IKONic rooms feature an ultra-comfortable signature bed, walk-in shower, custom spa shower amenities, free Wi-Fi and more. The hotel offers the effortless access to Phuket's sandy beaches, local scene, natural attractions, renowned restaurants, and vibrant nightlife.
25. Princess Seaview Resort & Spa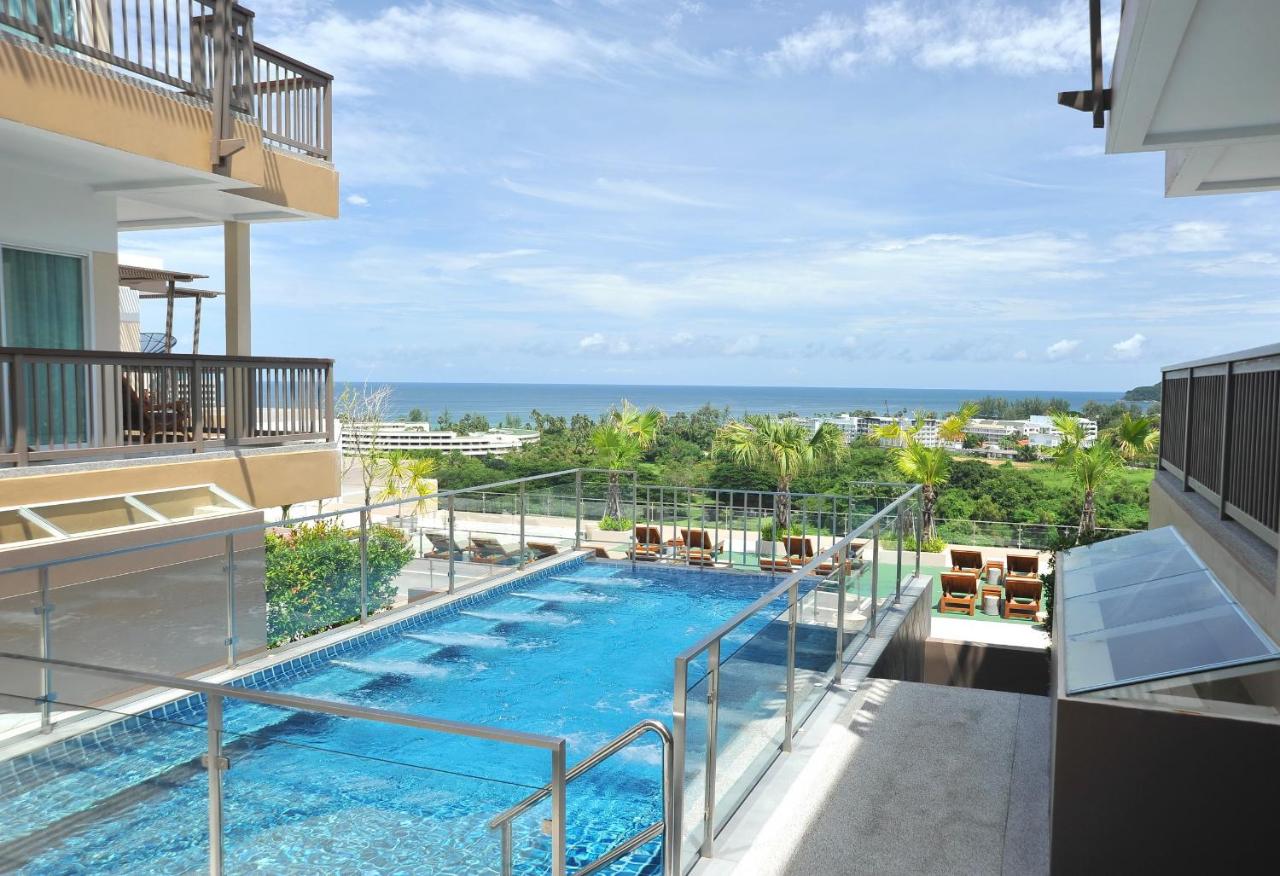 Princess Seaview Resort & Spa offers a rooftop outdoor pool. Its spacious rooms have a private balcony with views of the sea or Karon Town. The large outdoor pool is surrounded by sun loungers, where guests can suntan while enjoying a cocktail or burger from the pool bar. For guests' convenience, there is also a fitness centre and laundry services.
26. Diamond Cottage Resort & Spa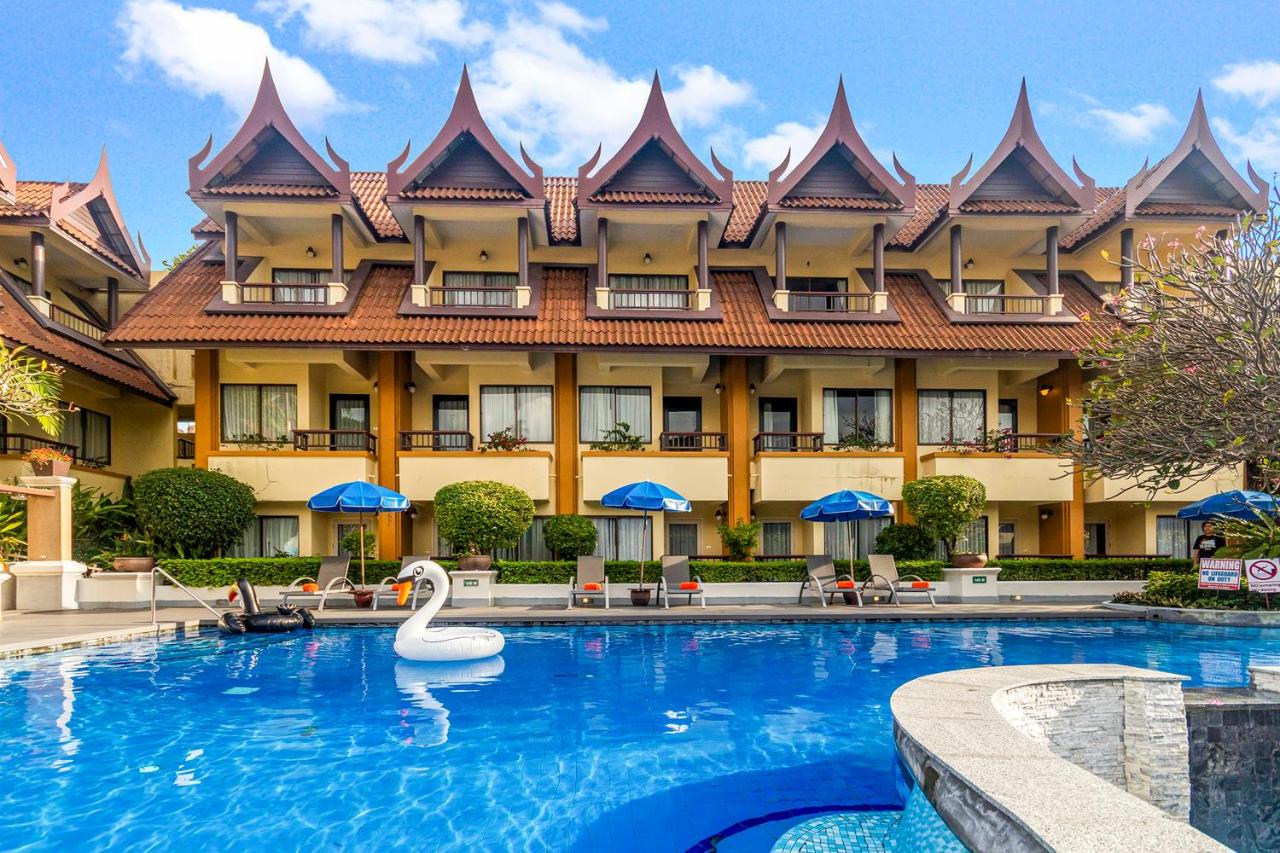 Diamond Cottage Resort and Spa is the resort boasting unique Thai style architecture with contemporary look and modern comfort on the hillside of Karon, a few minute stroll from the shores of Andaman Sea, just a short walk to Kata Beach and Karon Beach. Diamond Cottage Resort and Spa creates an ambiance of comfort and exotic beauty.
27. The Front Village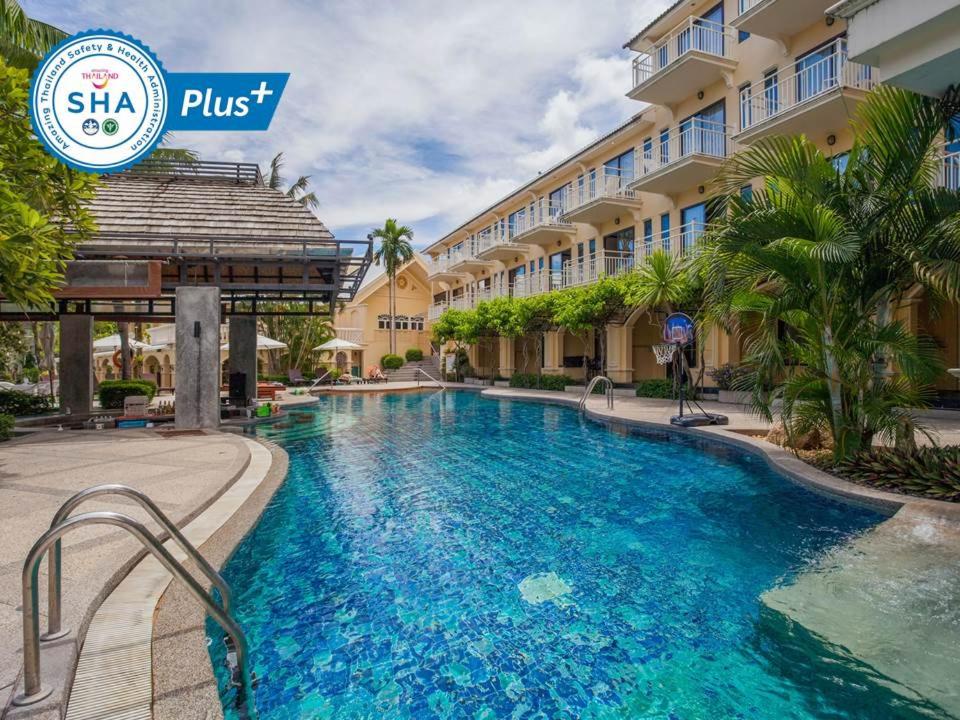 The Front Village sets against a backdrop of magnificent mountains and nestled in lush tropical gardens, in a secluded part of north Karon in Phuket. The resort features distinctive Sino- Portuguese architecture and every one of the 71 elegant guest rooms boasts stunning sea views. The hotel is a 5 minute walk from the dazzling white sands and crystal clear waters of Karon Beach. Facilities include a stylish all day dining restaurant with an international menu, as well as a huge free-form swimming pool.
28. The Village Resort and Spa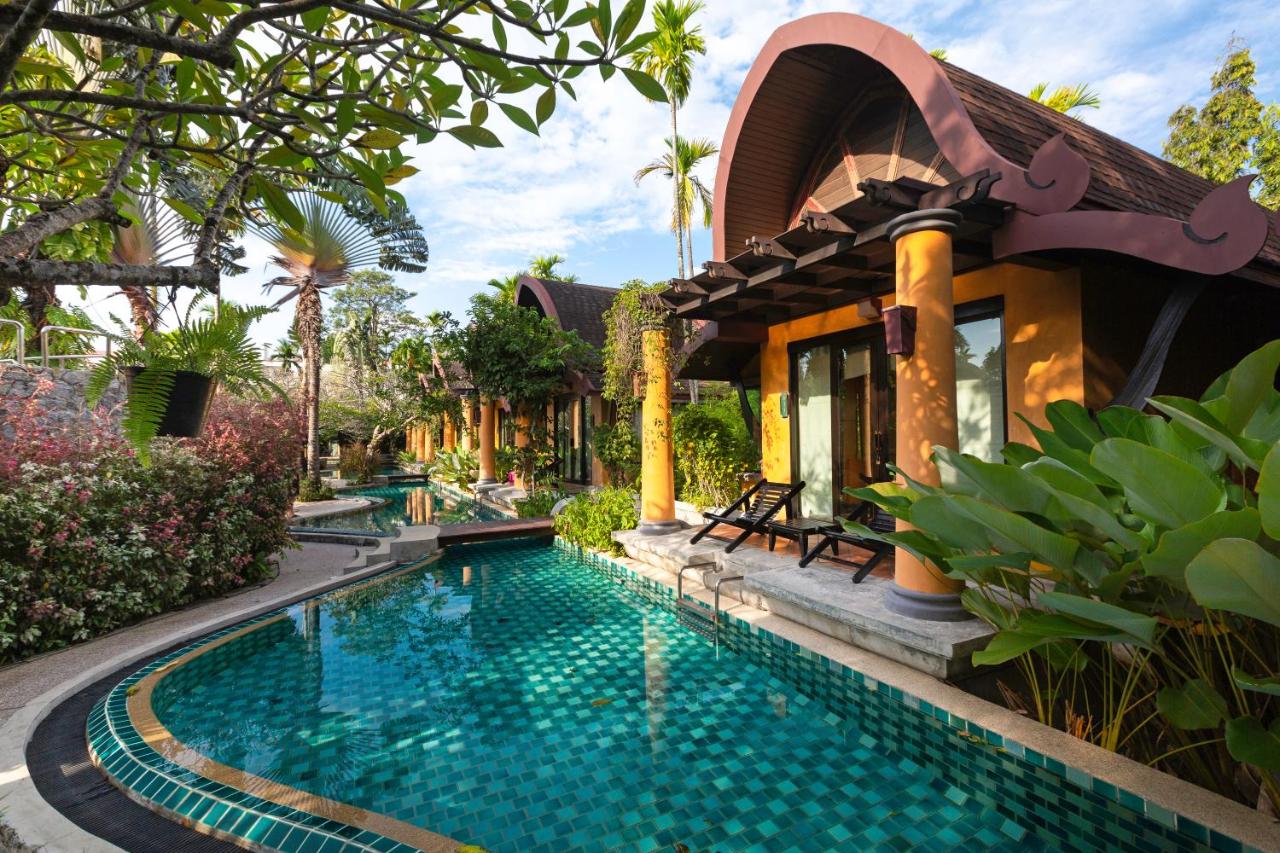 The luxurious and elegant haven of The Village provides discerning travelers with a unique tropical experience in the heart of Karon. Serene gardens are the perfect backdrop for the villa style accommodation, which blends distinctive southern Thai architecture with the incredible natural beauty of the surroundings. Yet, this private world of 34 villas is only a 5 minute walk from the bustling Karon beach, where dazzling white sands and crystal clear waters abound.
29. Paradox Resort Phuket
Holiday dreams come alive at our Paradox Resort Phuket, a truly wonderful spa resort in Thailand. Amid the lush tropical gardens and just steps away from pristine sands of Karon Beach, are a range of luxurious rooms perfect for family vacations, leisure travellers or a special occasion. Exclusive Villas, perfect for couples seeking the ultimate comfort and privacy, are surrounded by beautiful gardens.
30. Centara Grand Beach Resort Phuket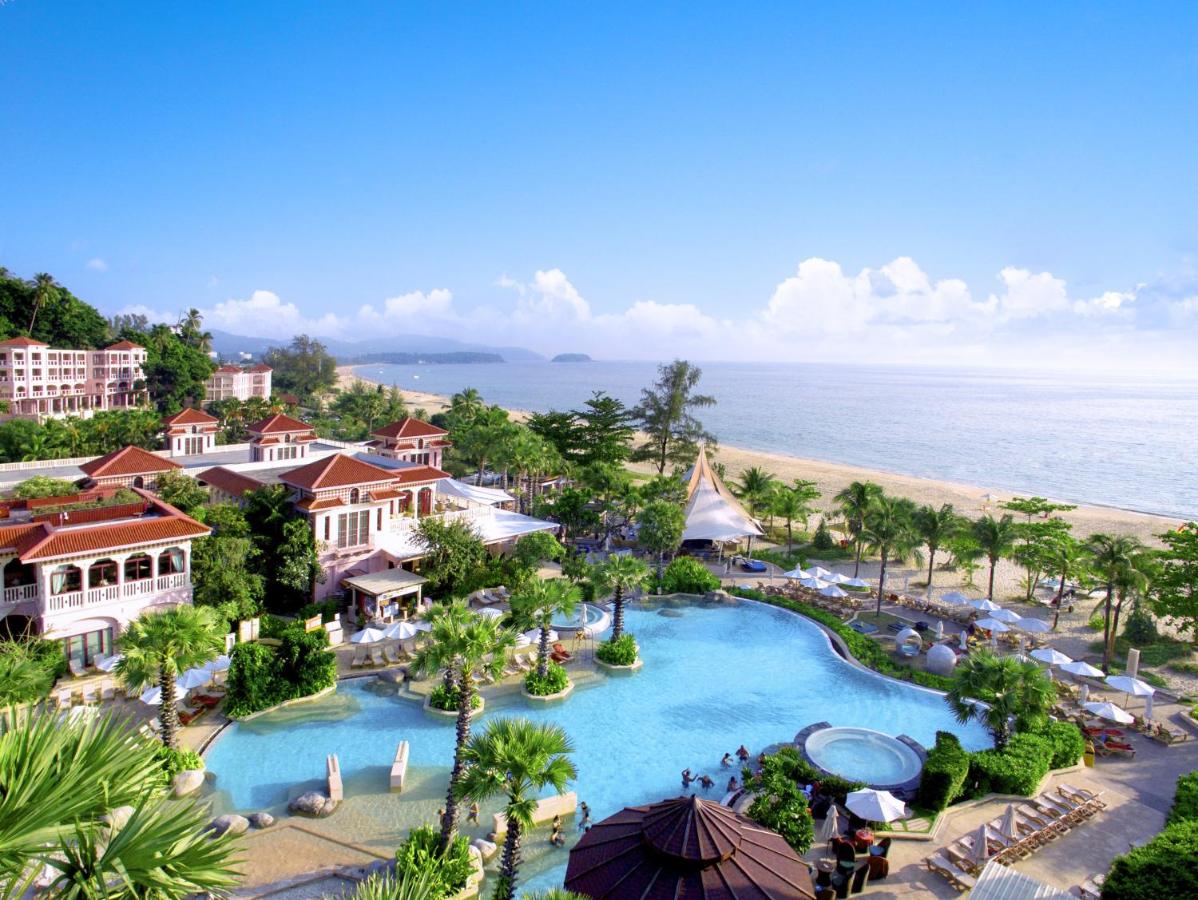 Centara Grand Beach Resort Phuket is set directly on the sands at Karon Beach, backed by a green hill, and grouped around its own water park. The resort has design theme from the classic Sino-Portuguese architecture that characterizes Phuket Town offering a comforting and relaxing ambience for all.
31. Baan Karonburi Resort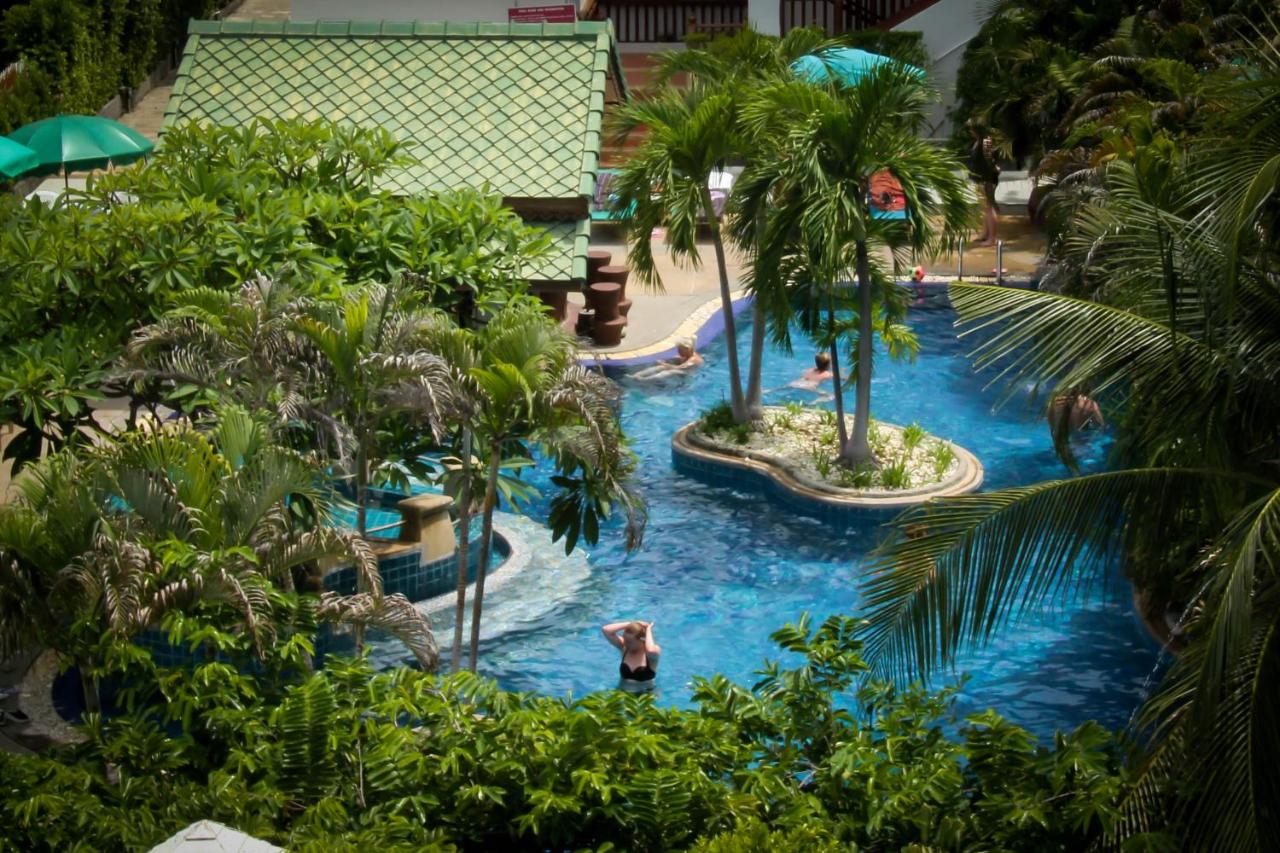 Baan Karonburi Resort is a beachfront residence featuring 100 modern Thai style rooms located in the heart of Karon Beach. It is of perfect size to offer a cozy and intimate atmosphere yet still providing full amenities.
32. Mandarava Resort and Spa
Mandarava Resort & Spa is submerged in an environment of lavish greenery and natural waterfalls overlooking the magnificent Karon Beach. The resort hosts 232 rooms nestled in 55 tropical villas, with 5 infinity pools scattered on different slopes around the resort. A scenic walk to the beach only 700 meters away.
33. Karon Sea Sands Resort
Sitting in pride of place on the fore shore of the Andaman Sea is Karon Sea Sands Resort & Spa – an idyllic & centrally located resort, yet with an atmosphere of privacy and tranquility.
34. Andaman Seaview Hotel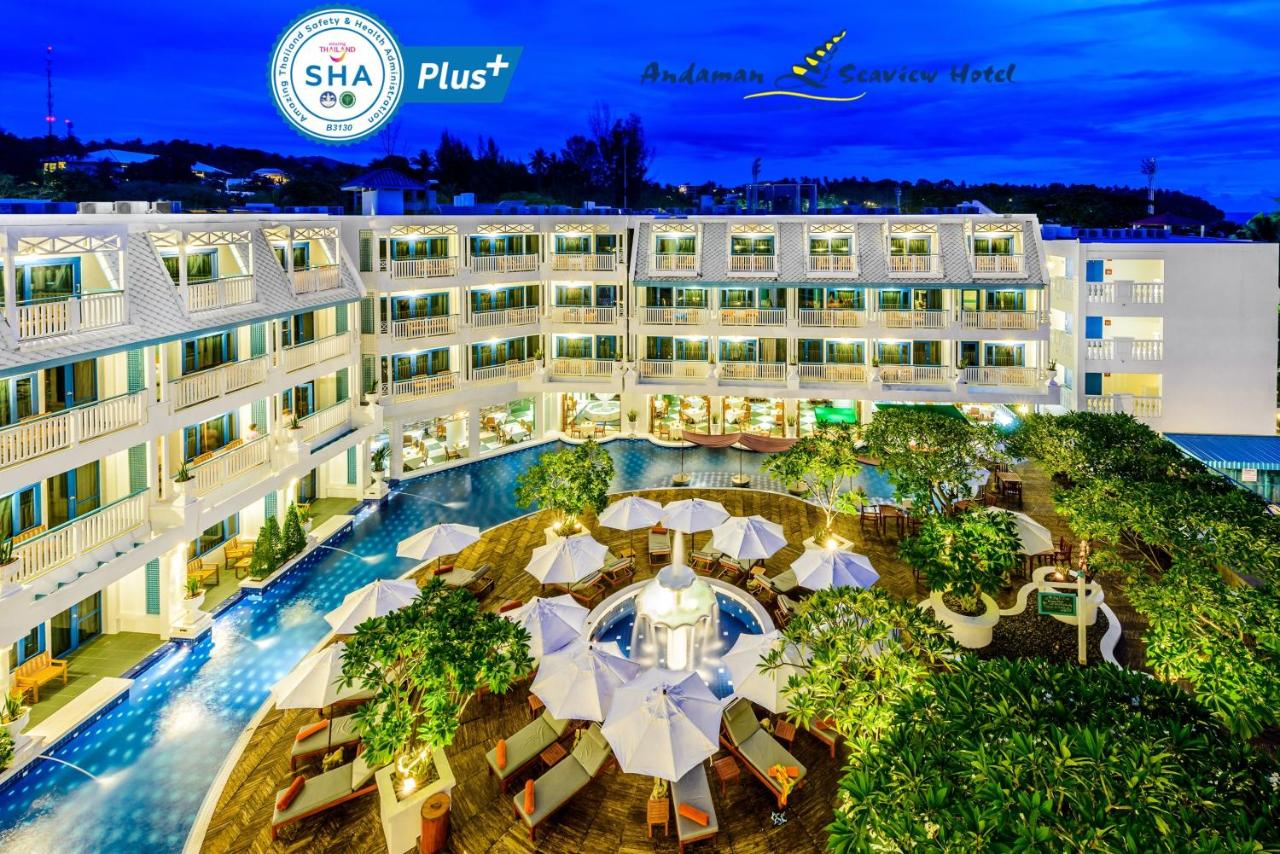 Situated across the road from Karon Beach, Andaman Seaview Hotel faces the Andaman Sea. Boasting 2 dining options and 2 outdoor pools, it features spacious rooms with a private balcony. Fitted with tiled flooring, contemporary air-conditioned rooms at Andaman Seaview Hotel feature Sino-Portuguese influence.
35. Phunawa Resort
Phunawa Resort is a hotel with 47 tastefully furnished bedrooms. The hotel offers many unique recreational opportunities such as outdoor pool, spa, massage, kids club.
36. Centara Karon Resort Phuket
Centara Karon Resort Phuket is a SHA++ certified hotel offering to stay in the heart of Karon Town, with dining and entertainment opportunities at the doorstep and the wide expanse of sands at Karon Beach only moments away. The setting of the resort, backed by green hills and comprised of four residential zones, provides an air of quietness and privacy to all.
37. Pacific Club Resort
Pacific Club is a Phuket Sandbox hotel built with your relaxation, comfort and enjoyment in mind. With the serene spa atmosphere, quiet location and robust amenities, you'll feel right at home.
38. Karona Resort & Spa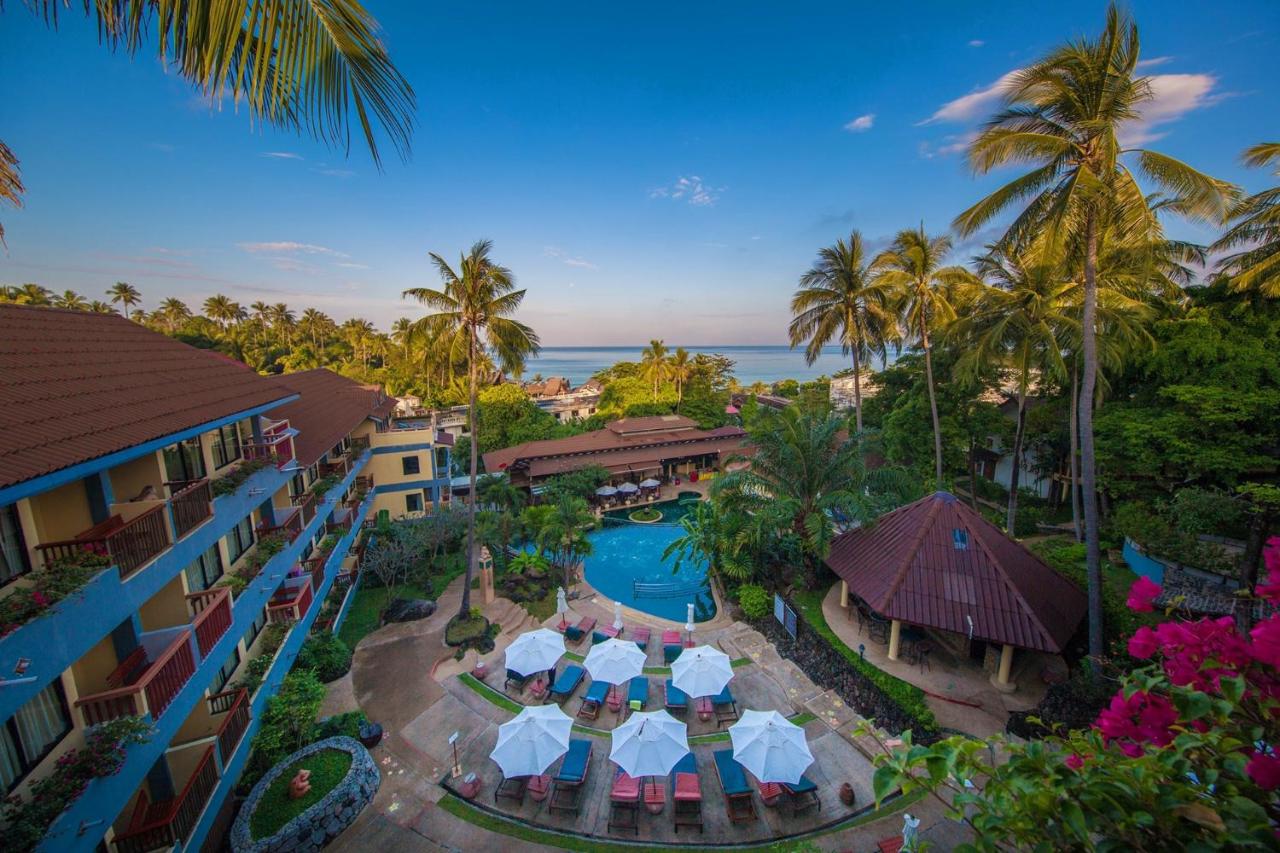 Located on Karon Beach is beautiful Karona Resort and Spa. It provides a 2-level free-form pool and tropical-themed rooms with private balconies and views of the ocean or landscaped garden. The entire resort is decorated with traditional ceramic art pieces. Rooms are spacious and have colourful walls and warm lighting.
39. Karon View Resort
Situated in Karon Beach area, Karon View Resort Phuket is a good place to experience Phuket. The hotel offers comfortable rooms and recreational facilities such as outdoor pool.
40. Baan Sailom Resort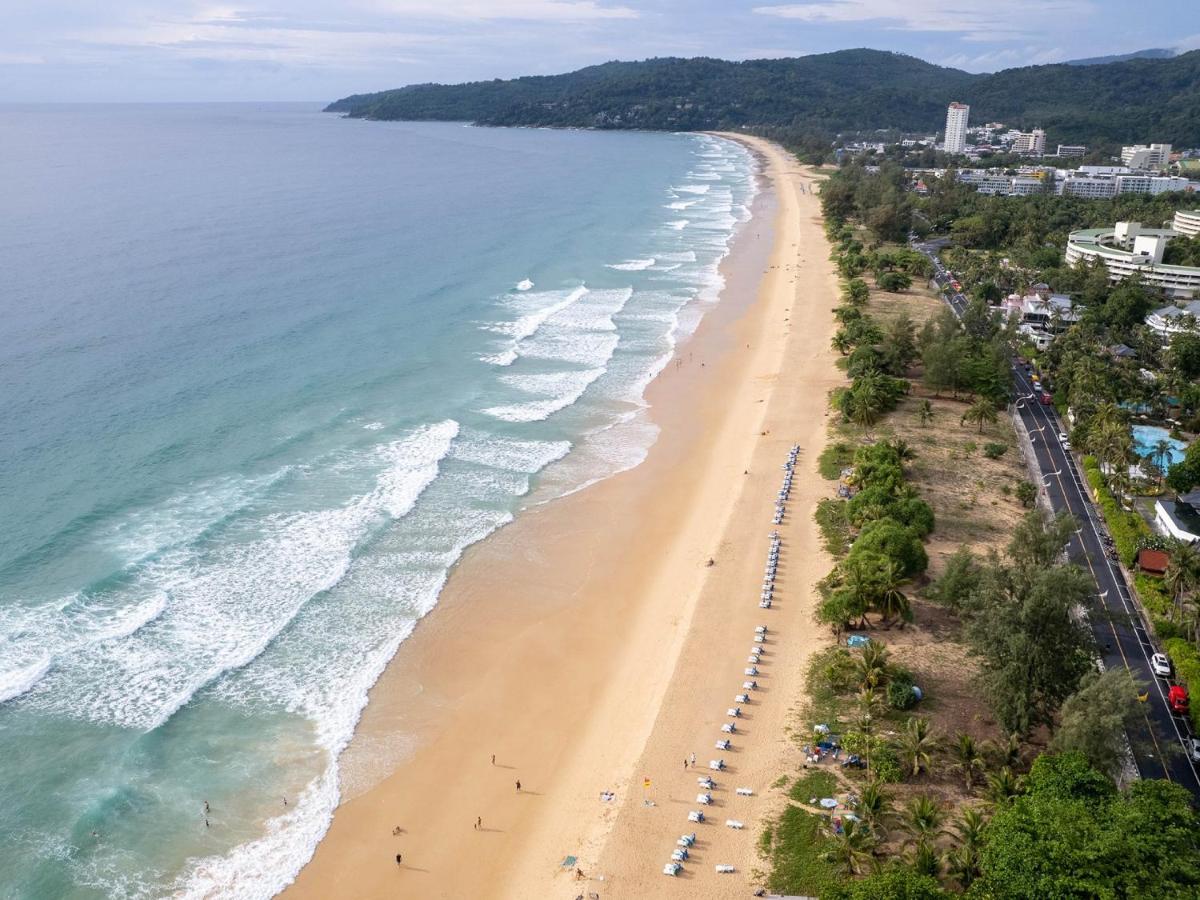 Located along Karon Beach, Baan Sailom Hotel features comfortable rooms with a private balcony and an outdoor pool. The hotel is 1 km away from Karon Night Market and 1.6 km from Wat Suwan Khiri Khet.
41. Baan Vanida Garden Resort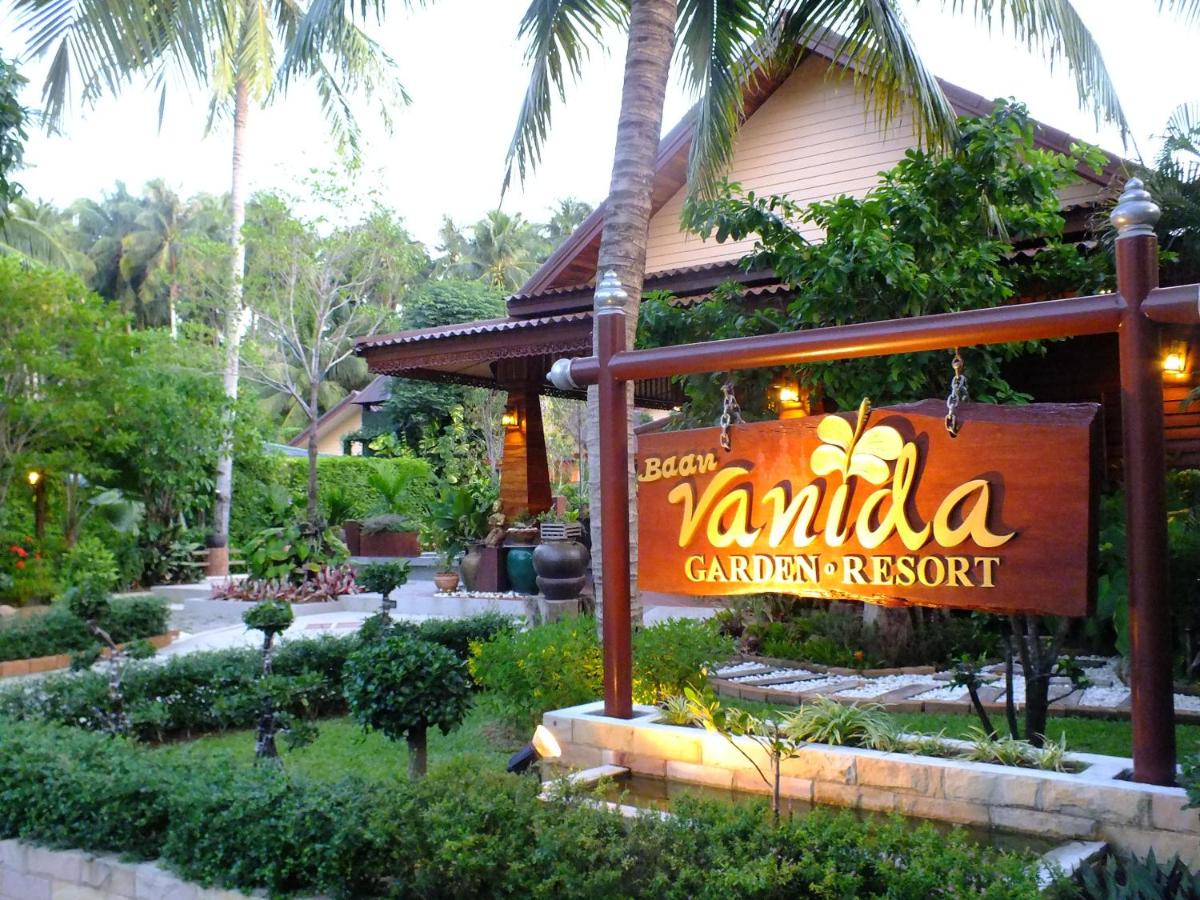 Baan Vanida Garden Resort, located only 10-minute walk to the gorgeous Karon Beach, offers the best spot for you who desire a serene and peaceful getaway, far away from the crowds. The resort offers air-conditioned rooms with a private balcony overlooking the garden and an outdoor swimming pool.
42. Phoenix Karon
For travelers who want to travel comfortably in an economical and affordable way, the Karon Beach Phoenix Hotel is an ideal place to stay, offering first-class facilities and first-class facilities. Located on Karon Beach, next to Karon Park, you can indulge in various shops, restaurants and nightlife within walking distance of the hotel.
43. Baan Suay
Offering a little more than an ordinary resort or guesthouse, Baan Suay Karon Resort assures beautiful accommodation in a relaxed atmosphere along with its warm hospitality. An ideal destination for travelers wanting to make the most of their holidays, the resort is few minutes away from Karon and Kata Beach, and a 10-minute drive to markets, shops, and nightlife of Patong. Accommodation features a collection of guestrooms and apartments, something that suits all budgets.
44. Ramada by Wyndham Phuket Southsea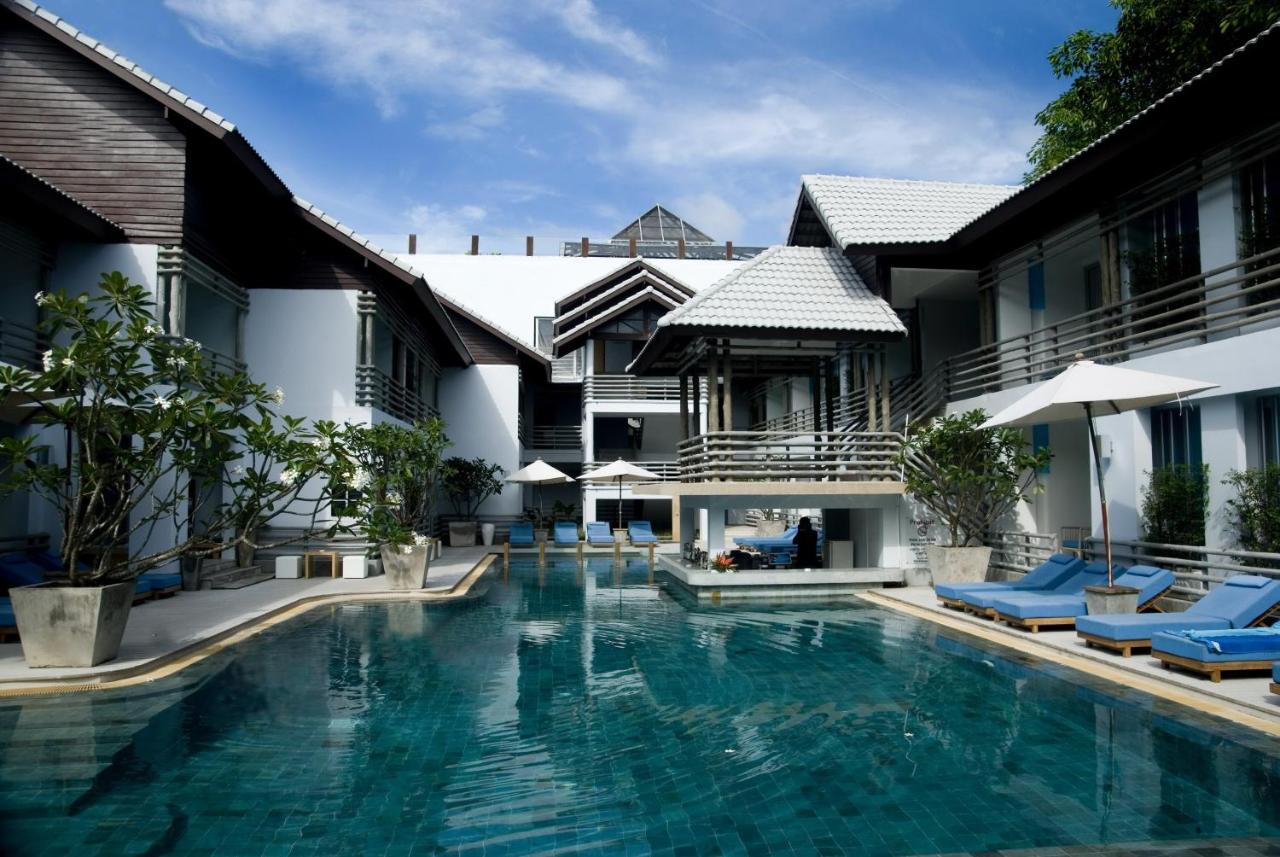 Ramada by Wyndham Phuket Southsea, a beachfront resort located on Karon Beach, features a restaurant and spa complete with a spa bath and pool.
45. Karon Phunaka Resort and Spa
Karon Phunaka Resort and Spa is perched on the cliff of Naka over the vibrant Phuket and offer a luxurious and quality accommodation with stunning views of the Karon beach.
46. Secret Cliff Resort & Restaurant
Secret Cliff Resort is located in the perfect setting for a quiet, peaceful holiday only a 5-minute drive from the lively exciting resort of Patong Beach, with the fabulous long powder sand beach of Karon a similar distance for daytime lazing and swimming in the gentle waters of the Andaman Sea. Secret Cliff Resort lies hidden in Luxurious rain forest setting on the slopes of coast of Andaman Sea between Patong Beach and Karon beach. The hotel is landscaped into the hillside of this rugged coastline and offers wonderful views through the trees to the ever-changing moods of the Andaman Sea.
47. Chanalai Hillside Resort
Chanalai Hillside Resort offers 211 rooms with the some pool access rooms and the spectacular view of the swimming pool, hillside or ocean and offers you a wide array of accommodation options at an unbeatable value. These cozy rooms are designed to give you a great night's sleep with an orthopedic mattress, excellent sound insulation and near-perfect black-out curtains. The room offers you close to home comfort and keep that spring in your step, when you travel on leisure.
48. ON Hotel Phuket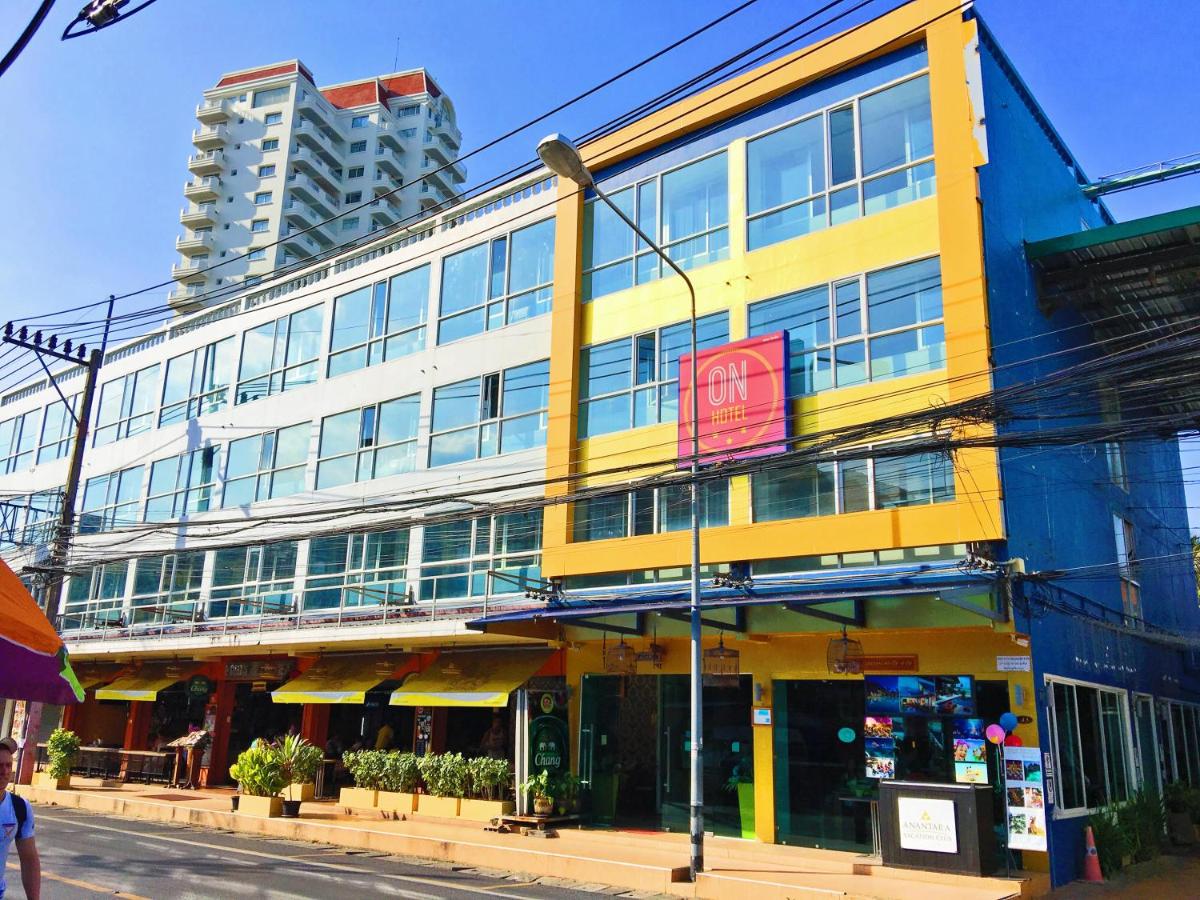 ON Hotel Phuket is a hotel, located just a 3-minute walk from Karon Beach. This hotel offers bright, cosy rooms with city or garden views. Appointed with plenty of natural light, each air-conditioned guestroom at Phuket ON Hotel is complete with a flat-screen satellite TV, a telephone and a minibar.
49. Karon Whale Resort
Karon Whale Resort is a Phuket hotel located just 50 m from the sandy shores of Karon Beach. With views of Andaman Sea, it offers an outdoor pool and a 24-hour front desk. The spacious air-conditioned rooms are decorated with Thai fabrics and wooden furnishings.
50. Anda Beachside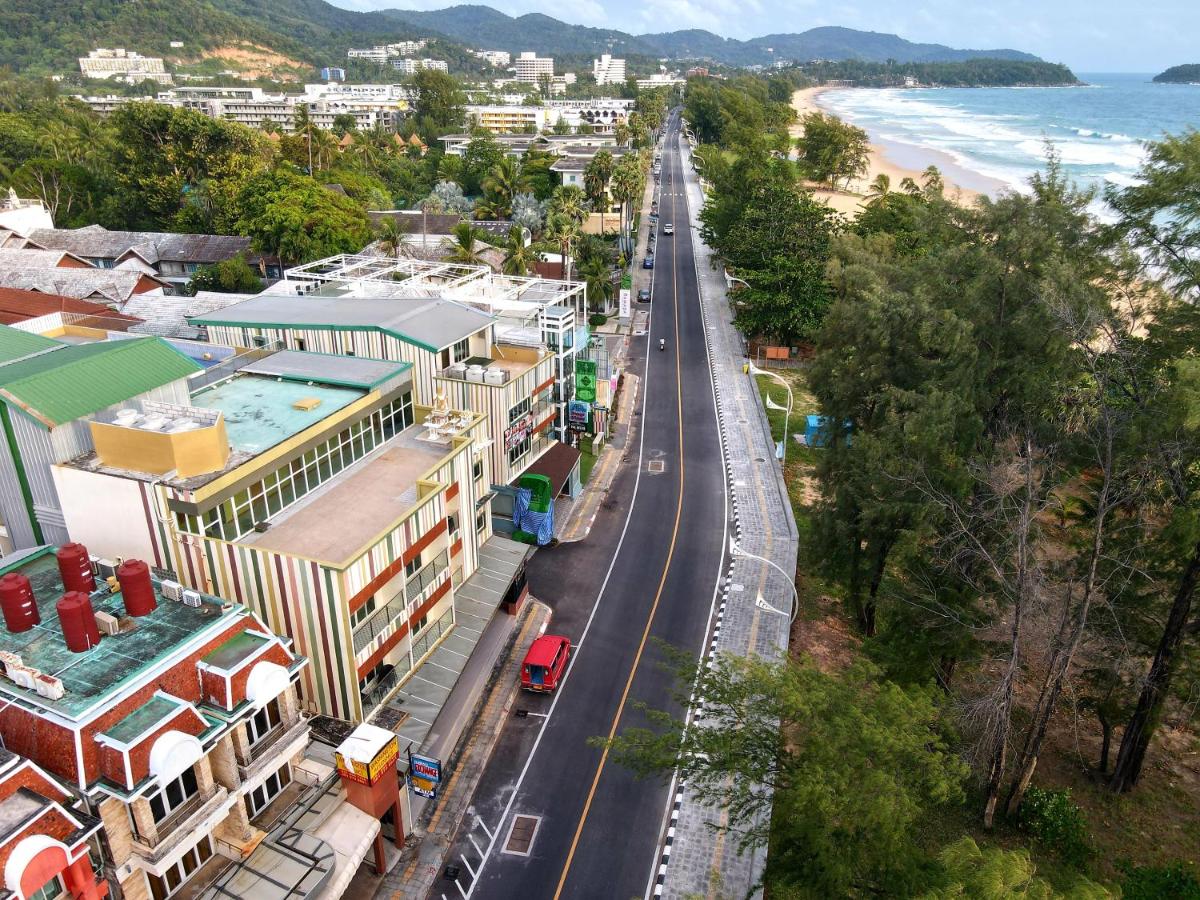 Anda Beachside is Phuket hotel located directly across from Karon Beach. The property features accommodation with an outdoor swimming pool, fitness centre, bar and terrace.
---
Karon Beach Hotel Tips!
Accommodations in Karon Beach area, even the five-star resorts, are set not right on the beach. However, various hotels and resorts of all kinds are available close to the beach, as well as some restaurants, small cafes, shops, a bazaar, entertainment centers. Karon Beach Road is lined with tall palm trees and pine trees.
Compared to Kata Beach, there are a higher number of cheaper accommodations in Karon Beach area, which is more popular with those who stay for a long time.
Other Phuket Hotels
If you are interested in other Phuket areas as well, find top hotels in other popular areas of Phuket:
For the list of Best Phuket Hotels including top hotels in Phuket check here ⬇️