Phuket Sandbox is a program that will allow vaccinated travelers to vacation in Phuket without quarantine on arrival. Planning to enter Thailand under this scheme and looking for a hotel in Kata Beach area? Find the list of Kata Beach hotels with SHA Plus certificate that are acceptable for Phuket Sandbox.
General Information of Kata Beach
Kata Beach is located by the bay in the southwest of Phuket island, south from Karon beach. Kata Beach is considered to be the one of the pretty cozy beaches on Phuket Island where you can escape from the hustle and bustle. Kata Beach is wide 2 km long beach gently sloping into the Andaman Sea. The coast of Kata Beach is covered with soft sand, which is pleasant and comfortable to walk on. Koh Pu or Crab Island can be found at the northern end of the Kata Beach.
In fact, Kata Beach is divided into 2 beaches, Kata Yai and Kata Noi. These two beaches are approximately 500 meters apart, with a rocky cape in the middle, each with a different atmosphere. When referring to Kata Beach, it generally refers to Kata Yai Beach which occupies a larger area.
The beach is lively and the nightlife here is fun, but not as noisy as Patong. There are several good restaurants, shops, massage parlors, viewpoints and various fun activities such as jet skiing, banana rides, water skiing, and other water sports. This beach is a paradise for diving and surfing enthusiasts. It is also popular with people and families who want to enjoy the sea.
List of Kata Beach SHA Plus Hotels
As Kata Beach is one of the top spots for tourists in Phuket, here you can find hotels of various levels, from 3 stars to luxury 5 stars. Room rates can also depend on the distance to the beach, the availability and services provided.
46 Hotels in Kata Beach area that hold SHA Plus certificate and can be used for Phuket Sandbox are listed below.
---
To decide on the best option for the trip, more detailed information on each of the hotels/resorts with reviews, prices and availability of rooms for the selected dates can be found by clicking the links provided. 
---
1. Katathani Phuket Beach Resort
Katathani Phuket Beach Resort stretches along 850 meters of white sandy beach in the secluded cove of Kata Noi, 50 minutes from Phuket International Airport. Embraced by lush green hills and sparkling blue ocean, palm-fringed beach. Katathani features perhaps the most idyllic setting on the Island.
2. The Palmery Resort Phuket
The Palmery Resort is located in the embrace of scenic Kata mountain, enabling you to relish the beautiful vistas of nature whilst offers you superior services and an excellent variety of amenities. This SHA Plus hotel is only a short distance from the famous Kata beach in Phuket.
3. Centara Kata Resort Phuket
Nestled amid lush surroundings, Centara Kata Resort Phuket is a family-friendly resort located 600 meters away from the two kilometers of white sands and clear, shallow waters of Kata Beach. A complimentary scheduled shuttle service to the beach is offered by this Phuket Sandbox hotel.
4. Peach Hill Resort
Located at the heart of Kata, Peach Hill Resort & Spa offers the ultimate family holiday in the sun, packed with fun activities and entertainment for everyone. This Phuket family resort is only a short stroll from the white sand beaches and right in the center of town, making it easy to explore the beaches, shops and restaurants. Fill your days relaxing by the three spectacular swimming pools with swim-up bars, fountains and children's play areas with heavenly mountain views.
5. The Yama Hotel Phuket
Offering an outdoor pool swimming pool and a fitness centre, The Yama Hotel Phuket is a 5-minute drive from Kata beachfront. It offers an on-site restaurant and a bar. The rooms at the Yama Hotel Phuket are stylish design with Yama flower lamp lighting.
6. Ibis Phuket Kata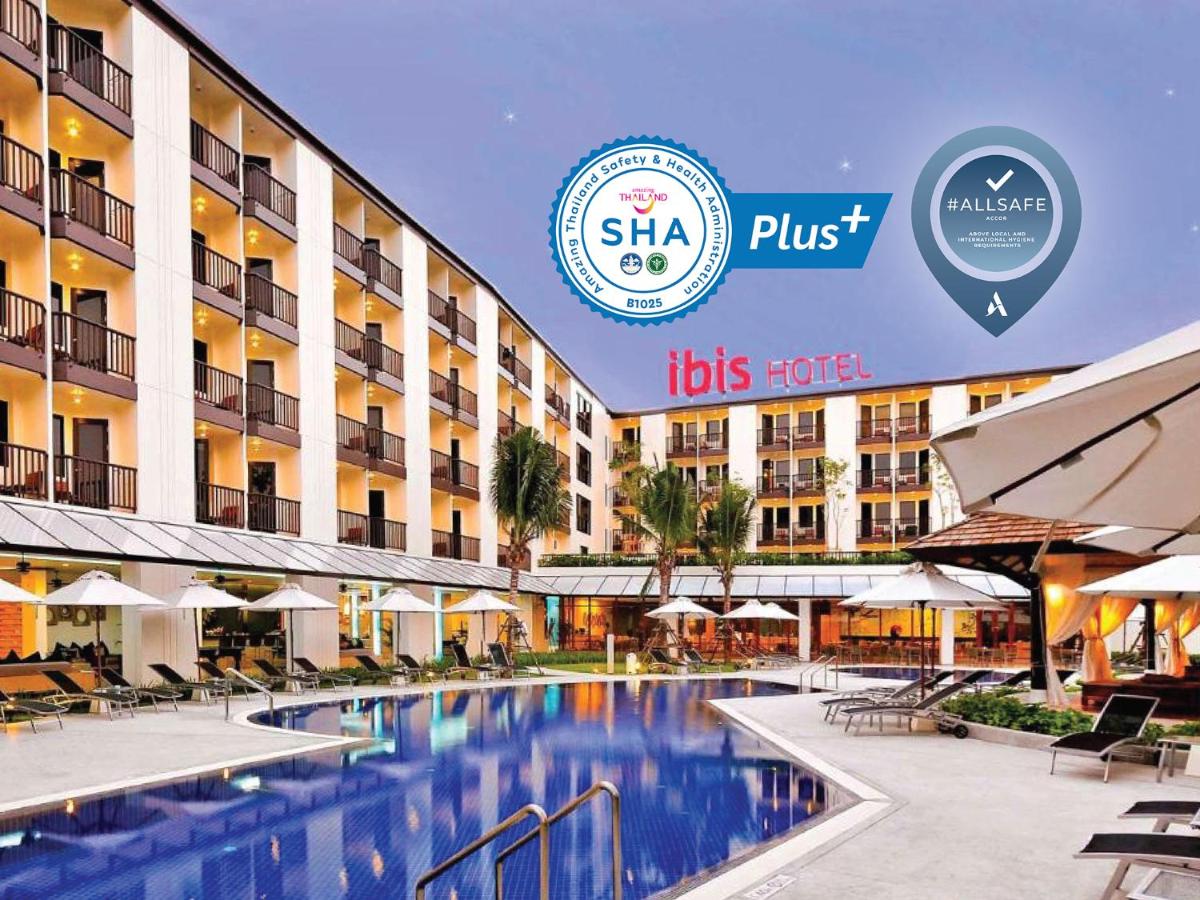 ibis Phuket Kata Hotel is a vibrant economy hotel, located close to the beautiful palm-lined Kata Beach, renowned as one of Phuket's most beautiful beaches. Hotel Ibis Phuket Kata offers top value accommodation with shopping, dining and nightlife nearby. Rooms at the Hotel Ibis are decorated in a trendy, modern style.
7. Metadee Resort & Villas
Situated around a spectacular landscaped pool, Metadee Resort Phuket offers spacious and luxurious Thai-style rooms with fine canopy beds and free-standing bathtubs. It boasts fitness facilities, indulgent spa services and a poolside bar. Featuring wood-beamed ceilings and private terraces, large rooms open out to tropical or pool views. Some rooms have private pools and pavilions. Guests can enjoy relaxing Thai massages or lounge by the large outdoor pool, which features spray jets.
8. Andaman Cannacia Resort & Spa
Andaman Cannacia Resort & Spa is a harmonious hideaway perched above Kata Beach offering spectacular panoramic sea views. A hillside that is spacious and serene featuring a stunning three-tiered cascading pool, garden and beds with amazing views.
9. Kata Palm Resort & Spa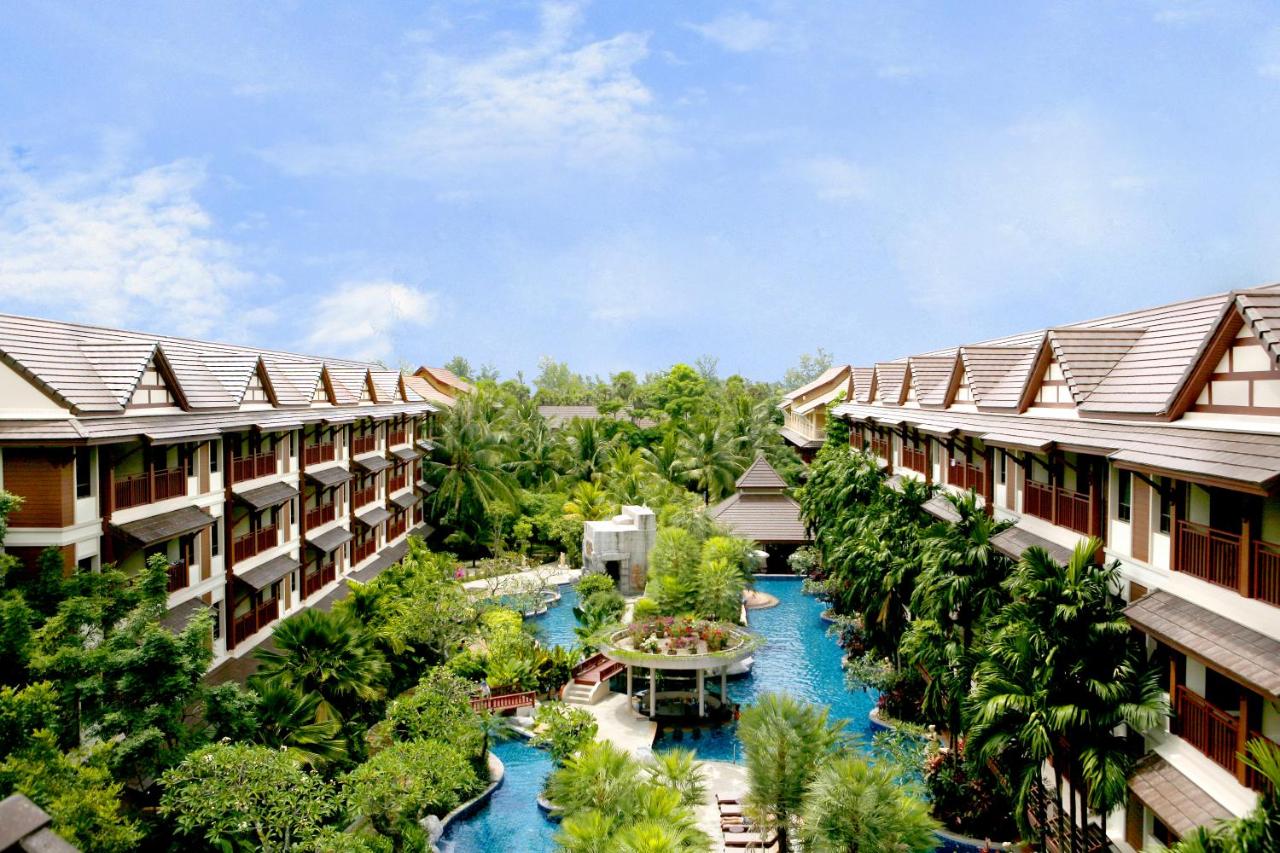 Kata Palm Resort & Spa is a four-star resort providing high quality rooms, facilities, services, great and easy access to the beach with a short walking distance or free shuttle service, close to shopping center, restaurants and bars. The resort features 276 guest rooms, 3 large free-form swimming pool with swim-up bars, 3 restaurants and bars.
10. The Beach Heights Resort
Currently not SHA Plus certified
The Beach Heights Resort is a modern hotel with big swimming pool for relaxing. This SHA Plus certified hotel is located only a 6-minute walk from Kata Beach. Rooms at The Beach Heights Resort come in 4 styles that represent different Thai regions.
11. Sugar Palm Grand Hillside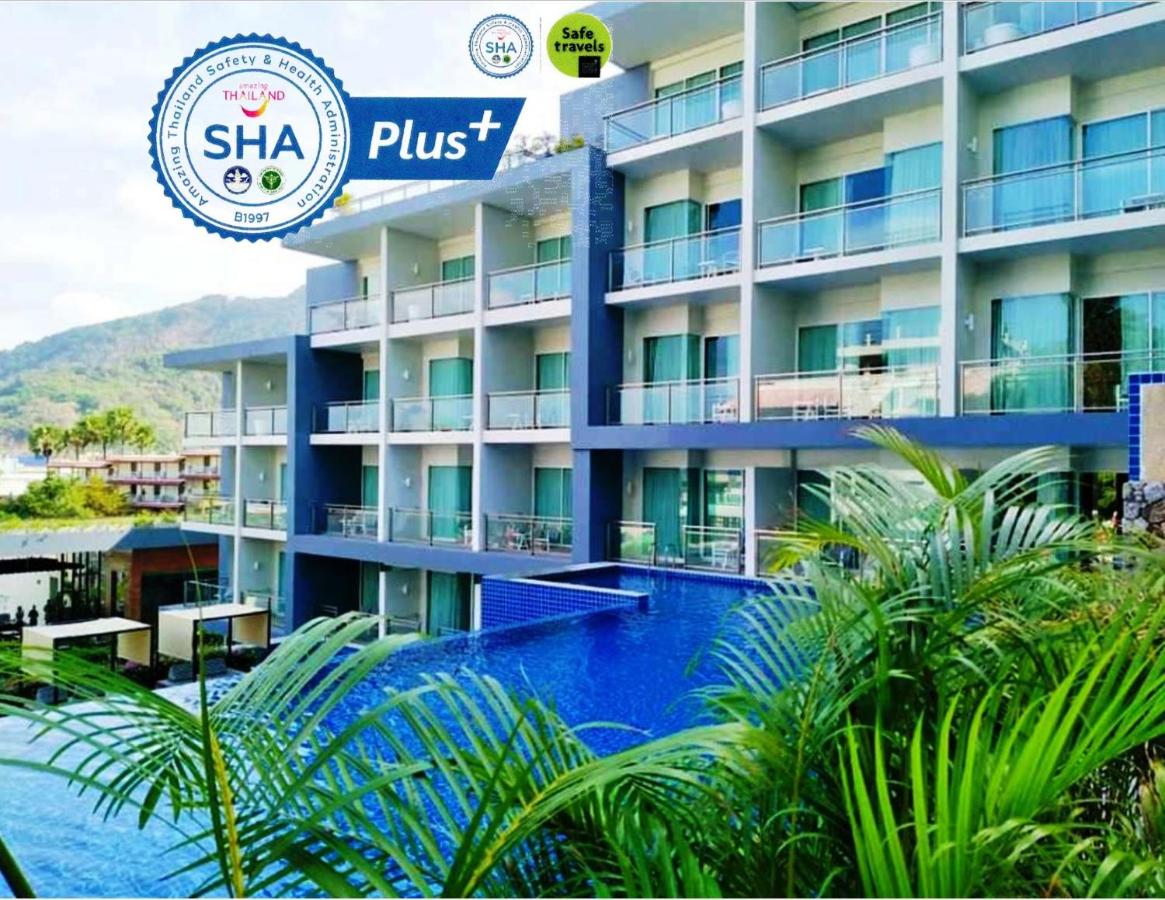 Sugar Palm Grand Hillside is a stylish elevated retreat surrounded by man-made cascading waterfall and tropical gardens overlooking the Andaman Sea. Soak up the sun from your private balcony and exotic hillside hideaway of infinity swimming pools rising nine tiers above the vibrant view of Kata beach. Experience the exotic and the serenity of the area which are ideal for families and couples seeking the perfect place for a modern romance. And just before day ends, all guests have access to enjoy and watch the beautiful sunset at 7th Heaven Sky Bar.
12. The SIS Kata
The SIS Kata – a dynamic young and trendy resort situated about 300 meters up on the hillside a few moments away of the award-winning gold sands of Kata beach. The SIS Kata stands out as having amazing views across the Andaman Sea plus a signature restaurant which welcomes both in house guests and visitors alike.
13. The Shore at Katathani
The Shore at Katathani is an awarding winning luxury pool villa resort on Kata Noi Beach in Phuket. The Shore is an intimate collection of private pool villa hideaways and is secluded amongst lush, palm-filled gardens. Each villa features a private infinity pool, sunken lounge, bath with rain shower with the majority of villas having a panoramic view of the ocean and looking over Kata Noi beach.
14. The Sea Galleri by Katathani
The Sea Galleri by Katathani is an adult-friendly lifestyle resort inspired by a love of art and nature and aimed for the young-at-heart travelers. This modern resort available for Phuket Sandbox highlights nature's masterpieces with tropical sceneries and a sublime vista of the Andaman Sea.
15. Novotel Phuket Kata Avista Resort and Spa
Novotel Phuket Kata Avista Resort and Spa overlooks the aquamarine Andaman Sea and pristine white sands of Kata Beach in Southern Phuket. A gloriously relaxing and tranquil beach getaway experience, this Kata hilltop hotel combines a delightful atmosphere with a wide range of recreational activities, all in a secluded setting.
16. Kata Sea Breeze Resort
Kata Sea Breeze is a SHA Plus certified hotel perfectly nestled between the golden sands of Kata beach and the green in land hills. Just a few moments' walk will bring you to the center of Kata and the beach just beyond. Spacious guest rooms and suites are the pride of Kata Sea Breeze to suit all guests.
17. Kata Rocks
Currently not SHA Plus certified
Nestled in the heart of Kata, Kata Rocks is an ideal spot from which to discover Phuket. Hotel accommodations have been carefully appointed to the highest degree of comfort and convenience. Kata Rocks is a smart choice for travelers to Phuket, offering a relaxed and hassle-free stay every time.
18. OZO Phuket
Set in Kata Beach, 300 m from Kata Beach, OZO Phuket offers accommodation with a restaurant, an outdoor swimming pool and a fitness centre. With a bar, the property also has a shared lounge, as well as a garden.
19. Pamookkoo Resort
Pamookkoo Resort is hidden in the middle of Kata amongst the world-renowned beach attractions and shops of one of Phuket's favorite beach destinations. If adventure is for you, you shouldn't miss a chance and climb up the four-storey-high water slide.
20. Beyond Resort Kata
With its location directly on the sands of Kata Beach, and a wide range of leisure activities, Beyond Resort Kata (formerly Kata Beach Resort & Spa) is a paradise island holiday destination for everyone.
21. Aurico Kata Resort & Spa
Aurico Kata Resort & Spa is a newly built 4-star resort, located only 500 m from Kata Beach. This SHA Plus certified resort features a restaurant, outdoor swimming pool, a fitness centre and bar.
22. Sugar Marina Resort-Fashion-Kata Beach
Add style to your stay at the unique Sugar Marina Resort - FASHION - Kata Beach, situated only 3 minutes' walk from the turquoise Andaman Sea. This newly renovated creative hotel has transformed into a designer label dream incorporating the patterns and prints of the world's top fashion icons offering affordable luxury for all guests.
23. Sugar Marina Resort-Surf-Kata Beach Phuket
Sugar Marina Resort-Surf-Kata Beach Phuket is a hip new hotel at one of the top surf beaches in Phuket. The awesome surf experience begins at the resort entrance with the highest water wall in town and a huge surfboard display that you simply can't miss! Take a dip in the unique swimming pool that lights up at night with a cool compass design, a surfer's best friend for forecasting swell.
24. Sugar Marina Resort-Nautical-Kata Beach
Sugar Marina Resort - NAUTICAL - Kata Beach is a new port of call for holiday makers with a sense of adventure and a taste for life on the high sea while enjoying all with modern comfort and convenience of a contemporary resort.
25. Mom Tri's Villa Royale
Mom Tri's Villa Royale is a beautiful hotel property with an award-wining restaurant that serves great food and wine. Located in Kata Noi, Mom Tri's Villa Royale offers spacious suites with sweeping views of the Andaman Sea. Its 4-star facilities include a public beach, 4 swimming pools and free Wi-Fi. Modern Thai décor and wooden flooring feature throughout the elegant suites at Mom Tri's Royale Villa. Each villa has a private balcony and seating area with a 32-inch flat-screen TV.
26. Malisa Villa Suites
Malisa Villas are located in Kata Beach on the southwest coast of Phuket Island. These private pool villas are designed for couples and friends to enjoy a relaxing beach escape on Thailand's best loved holiday island. Malisa Villas is the perfect base for guests to retreat to after a day of sightseeing or beach action in Phuket. The design of the pool villas is arranged to not only to immerse you into a state of relaxation but also to allow you to experience the beauty of the Kingdom through architecture, landscaping, service standard.
27. Chanalai Romantica Resort
Offering modern style rooms situated around an outdoor pool, Chanalai Romantica Resort is a 5-minute walk from Kata Beach. It boasts a swim-up bar, a fitness centre and complimentary WiFi. Luxurious rooms at Chanalai Romantica Resort feature spacious layouts and a private balcony. Selected rooms also offer direct pool access.
28. The Boathouse Phuket
The Boathouse is located at Kata on Phuket's west coast, also better known as the bustling, family-friendly town, popular with surfers and sailors during low season as it is with sunbathers and snorkelers during the high season. The Boathouse Phuket comes with both guestrooms and suites and some units feature views of the Andaman Sea.
29. Chanalai Garden Resort
Chanalai Garden Resort is a Phuket Sandbox hotel in Kata Beach area. The resort features 2 outdoor pools, 2 pool bars, a fitness centre and 2 on-site restaurants. Rooms at Chanalai Garden Resort are decorated in a modern Thai style.
30. Impiana Private Villas Kata Noi
Currently not SHA Plus certified
Impiana Private Villas Kata Noi is a luxurious urban resort, perched on the rocks above the bay of Kata Noi, overlooking the stunning Andaman Sea. The surroundings, set in plush opulence, and each villa is stunningly designed to make your stay spectacular with modern furnishings. The best features of these private pool villas are our floor-to-ceiling glass front walls to capture the panoramic ocean views, stunning sunsets in the West from all rooms and to maximizing natural lighting so that every view is breathtaking.
31. Chanalai Flora Resort
Chanalai Flora Resort is located a 5-minute walk from Kata Beach. Chanalai Flora Resort features 2 swimming pools with swim-up bars, a kid's pool, 2 dining outlets and a kid's club. Rooms feature Thai-style furnishings and a LCD cable TV. Free WiFi is available.
32. The Beach Boutique House
Currently not SHA Plus certified
The Beach Boutique House is an English style boutique hotel blended perfectly with the modern colonial interior designs, making the right combination for relaxation.
33. Kata Poolside Resort
Kata Poolside Resort offers rooms with a private balcony just a 2-minute walk away from the golden sands of Kata Beach. The resort features a pool area with a swim-up bar and kiddie pool. Guests can relax on the sun loungers around the pool and enjoy mountain views. Kata Poolside's rooms have dark wood furnishings and modern Thai décor.
34. Orchidacea Resort
Orchidacea Resort is located on the gently sloping hills of Kata, overlooking the crystal clear Andaman Sea and the immaculate white sands of Kata Beach which is only 5 minutes-walk from the Resort. All nine buildings of accommodation are surrounded by Trees, variety of Orchids and Colorful Flowers. The modern-Thai style resort offers a fantastic experience, with friendly and attentive Thai Hospitality. Hotel's 154 luxurious guestrooms and suites with private balcony consist of 5 categories to suit your experiences and comfortable. Gorgeous open-air international restaurants, a large swimming pool with a Jacuzzi corner and a separated children pool, a favorable pool bar with sea view, fully equipped gym, Kids room, a relaxing massage service and meeting rooms, and Free Wi Fi are available for your choice.
35. Katamanda Luxury Villas
Peace and privacy are assured at Katamanda Luxury Villas set within the secure and luxuriantly landscaped with unfettered views over Kata Noi Bay. The white sands of Kata Noi Beach – one of Phuket's finest – are just 800m away, while the larger Kata Beach lies just a little further to the north.
36. Baan Saint-Tropez Residence
Baan St. Tropez is a charming modern residence situated above Kata Village overlooking of Kata Beach with a wonderful Seaview. The calm and the relaxing atmosphere around the swimming pool offer a welcome retreat in a privacy site. Take a deep breath with refreshing cool sea breeze and clear blue sky. Villas are all fully equipped for your comfort with private overflow swimming pool.
37. The Melody Phuket
Located in Kata and a short drive from both Kata and Karon Beaches, The Melody Phuket offers an outdoor pool and free WiFi access. Furnished with musical gimmicks, the modern rooms come with air conditioning, a flat-screen cable TV and a sofa seating area.
38. Dome Kata Resort
Dome Kata Resort is a 3-star SHA Plus certified hotel located in Kata Beach and providing accommodation with a restaurant, a fitness centre and a terrace.
39. Kata Leaf Resort
Currently not SHA Plus certified
Kata Leaf Resort is a quiet hotel suitable for relaxing near the sea as it's located only 300 meters from the beach and it takes 3-5 minutes to walk to the sea.
40. Kata Bai D
Currently not SHA Plus certified
Kata Bai D is a Phuket Sandbox hotel offering comfortable budget rooms and suites with air conditioning 4 minutes to Kata Beach and 15 minutes' walk to Kata Noi Beach.
41. Kata Hill Sea View
Currently not SHA Plus certified
Kata Hill Sea View is offering quiet accommodation, suitable for people who like privacy.
42. Dome Resort
Less than 5 minutes' walk from Kata Beach, Dome Resort features a restaurant and bungalow-type rooms set in tropical gardens. Rooms offer a choice of fan or air conditioning. Each room has a balcony and a private bathroom with shower facilities.
43. Sawasdee Village
A treasury of exotic Thai art & culture Sawasdee Village is an exotic oasis like no other, nestled amongst nature in the heart of Kata Beach, where lush scented gardens, twinkling pools, waterfalls, and an award-winning spa set the tone for peace, relaxation and healing.
44. Jinta Andaman
Jinta Andaman is a Phuket Sandbox hotel in the quiet spot only 600 m to Kata Beach. The hotel features an outdoor pool and tour services. Featuring private balconies overlooking Kata, the modern rooms feature minimalist interiors and artwork. They come with a flat-screen cable TV, sofa and tea/coffee maker.
45. CC's Hideaway Hotel
CC's Hideaway, a boutique hotel nestled in the lush hills of Kata overlooking the Andaman Sea, provides easy access to 3 of Phuket's finest beaches: Kata Noi, Kata and Karon. Enjoy the best of Phuket! CC's Hideaway offers a unique combination of breathtaking views and modern accommodations infused with traditional and authentic Thai furnishings.
46. BLU PINE Villa & Pool Access
BLU PINE Villa & Pool Access is a SHA Plus certified accommodation, located in central Kata, a mere 500 meters walk from Kata Beach. This tropical, garden-style resort surrounded by mountains and beautiful gardens offers the ultimate peaceful holiday getaway. The hotel features a spectacular outside pool, private balconies with views of pool or tropical greenery, fitness center and massage service.
---
Kata Beach Hotel Tips!
Some upscale resorts on Kata Beach are located right on the beach with wonderful views overlooking on the Andaman Sea. Most of resorts also offer outdoor pool, a kids' club, bars and restaurants. Some even have a tennis court, a wellness center and a golf course.
Kata Noi Beach area is much more private than Kata Yai Beach and surrounded by luxury resorts with high privacy as the access to the beach is only at the end of the road.
If you prefer more economical options, you can check for hotels that are located in a bit longer distance from the sea but it can still be only a 5–10 minutes' walk to the beach.
Other Phuket Sandbox Hotels
If you are interested in other areas as well, find SHA Plus certified hotels in other popular areas of Phuket:
For the full list of Phuket Sandbox Hotels including all the hotels that have been certified as SHA Plus hotels in Phuket check here ⬇️