Khao Lak in Phang Nga is part of Phuket Sandbox 7+7 Extension or called "Khao Lak Sandbox" which allows vaccinated travelers to vacation in Phang Nga province without quarantine on arrival. Planning to enter Thailand under this scheme and looking for a hotel in Khao Lak? Find the list of Khao Lak hotels with SHA Plus certificate.
General Information of Khao Lak
Khao Lak is one of the most popular seaside resort areas for tourism, located just 80 kilometers north of Phuket International Airport. Khao Lak is a beautiful, secluded place that is great for couples, families and nature lovers. Khao Lak is also the starting point for snorkeling tours to the Similan and Surin Islands, where you can see multicolored coral reefs and extremely diverse ecosystem. Staying at Khao Lak, you can enjoy many activities such as visiting magnificent natural limestone caves and lagoons at Phang Nga Bay and short-distance boat trips to several offshore islands to give you the enjoyable moments of rest in Khao Lak.
How long to stay at SHA Plus Hotels?
According to the rules of Phuket Sandbox 7+7 Extension scheme, the first 7 nights must be spent in Phuket SHA Plus hotels but for the next 7 nights of mandatory stay you can move to SHA Plus hotels in Khao Lak.
Booking Khao Lak SHA Plus Hotels
The most convenient way to book Khao Lak SHA Plus hotels is by using a reliable online travel agent such as Booking.com. However, not all Khao Lak hotels found there are certified as SHA Plus so we would highly recommend checking if your chosen hotel is one of SHA Plus hotels listed below.
List of SHA Plus Hotels in Khao Lak
Khao Lak area has been developed to house several beautiful 4 or 5-star resorts. You will find some of the most spectacular resorts from private pool villas to tropical-style cottages surrounded by a lush tropical garden with direct access to a secluded beach area. Many of them feature an infinity pool, a spa and wellness center inviting all guests to indulge in various refreshing treatments and therapies, fitness center, tennis court, Kids club and several dining options. There are also budget hotels and guesthouses located in the center of Khao Lak Town.
59 Hotels in Khao Lak area that hold SHA Plus certificate and can be used for Phang Nga Sandbox 7+7 Extension are listed below.
---
To decide on the best option for the trip, more detailed information on each of the hotels with reviews, prices and availability of rooms for the selected dates can be found by clicking the links provided.
---
1. Aleenta Phuket - Phang Nga Resort and Spa
Located on the sunset side of the Andaman Sea and the pristine Natai Beach, the 5 Star Aleenta Phuket Resort & Spa in Phang Nga is just 25 minutes north of the Phuket International Airport. Aleenta's luxury resort accommodation range in sizes from 80sqm for smallest suites to up to 4-bedroom beachfront Grand Villas.
2. The Retreat Khaolak Resort
Set within a 15-minute walk from Khukkhak Beach, The Retreat Khaolak Resort offers modern rooms with balcony and free WiFi. Guests can enjoy at an outdoor pool or arrange trips using motorbike or bicycle rental services at the front desk. Rooms at The Retreat Khaolak Resort are fitted with tiled flooring. It comes with air-conditioning, a TV and a refrigerator. Shower facilities are included in a private bathroom.
3. Hotel Gahn Khaolak
Hotel Gahn is a 3-star venue located in Khao Lak, one of Thailand's most famous beach destinations. Hotel Gahn consists of 20 rooms, decorated in a concept of houses in the old days - the charming Sino-Portuguese architecture.
4. Grand Mercure Khao Lak Bangsak
Located in Khao Lak, Grand Mercure Khao Lak Bangsak offers beachfront accommodations 1,300 feet from Bang Sak Beach. The new beachfront resort on Bangsak beach that perfect blends Southern Thai design touches with subtle modern elements. Ideal for families, couples and anyone seeking a uniquely peaceful experience.
5. TUI BLUE Khao Lak Resort
TUI BLUE Khao Lak Resort offers an adult-only accommodation located within a 15-minute walk from Khaolak Centre. It boasts an outdoor pool, a fitness centre and an on-site restaurant. Free on-site parking is provided. Free WiFi is available in the lobby. Khaolak-Lamru National Park is a 15-minute walk from TUI BLUE Khao Lak Resort and Thap Lamu Pier is a 15-minute ride away. Phuket International Airport can be reached within an hour's drive from the property. 
6. Pullman Khao Lak Resort
Pullman Khao Lak Resort is situated on Bang Muang Beach, with a gently sloping white sand beach, turquoise waters of the Andaman Sea and beauty of Khao Sok National Park. The architecture is Sino Portuguese inspired with handcrafted local materials that celebrate the heritage of Khao Lak. The resort offers well appointed suites and pool villas, a kids club, 4 pools, 2 restaurants and bars as well as excursions to the surrounding area. Ideal for families, friends or couples.
7. The Phura Villa Khaolak
The Phura Villa Khaolak is a private accommodation pool Villa with 3 bedrooms, size 200sqm./unit. All units are fitted with air conditioning, and some have a flat-screen TV, washing machine, a kettle, completed with a kitchen.
8. Loma Resort Khao Lak
Lomaris Resort Khao Lak is a perfect place to stay for travelers who want to fully enjoy the colors of Khao Lak, located in the heart of Khao Lak, just 1 km. This accommodation also has a special charm. The surroundings are clean, quiet and close to the Medicel Bangkok Phuket hotpitel, a Michelin-rated restaurant. There are various facilities and services. That will guarantee to satisfy the guests. You will enjoy Wi-Fi, parking, room service, airport transfers, restaurants.
9. KhaoLak GoodView Mansion
KhaoLak GoodView Mansion is 12 minutes walk from the beach, 2.4 km from Tsunami Memorial - Rue Tor 813 and 9 km from Tublamu Pier. Free WiFi is available and free private parking is available on site. Every room is equipped with a flat-screen TV. Nangthong Supermarket is a few steps from Khao Lak Good view, while McDonald Khaolak is 300 m from the property. 
10. Khaolak Yama Resort
Khaolak Yama Resort is only a 2-minute ride from Khaolak Bus Terminal. It features non-smoking accommodation with private balconies and free Wi-Fi, which is available throughout the residence. Other facilities include an outdoor pool and an on-site restaurant. The property provides a free shuttle service from and to Khuk Khak Beach twice a day. Bang Nieng Beach and local market are within a 5-minute drive from Khaolak Yama Resort. Phuket International Airport is a 1.5-hour ride away.
11. Santhiya Phuket Natai Resort & Spa
Thailand's rich cultural heritage and natural beauty come together at Santhiya Phuket Natai Resort & Spa's newest address on Natai Beach, situated just 20 minutes from Phuket International Airport. The unspoiled beach, one of Thailand's yet-undiscovered tropical secrets, drapes along the western coast of the mainland in an upscale neighborhood comprising just a handful of exclusive beachfront residences and boutique five-star resorts. The tranquillity of the wind-swept beach and endless horizon is captured at Santhiya Phuket Natai Resort & Spa with four collections of 32 rooms including a private pool in every single room. 
12. The Hotspring Beach Resort and Spa
Situated along Phang Nga's Natai Beach, The Hotspring Beach Resort features 2 mineral hot spring pools, an indoor pool as well as an outdoor pool. It also features 2 dining options, free parking space, and free WiFi. Rooms and villas at Hotspring Resort are fitted with a satellite TV, minibar and safety deposit box. Each has a private balcony.
13. Hongte Khaolak Resort
Hongte Khaolak Resort is 5 minutes walk from the beach. Located just 400 m from Bang Niang Beach, Hongte Khaolak Resort an outdoor pool a terrace and a luscious garden. Free Wi-Fi and parking are available.
14. Le Menara Khao Lak Hotel
Le Menara Khao Lak Hotel features 108 beautifully appointed guest rooms, many of which include television LCD/plasma screen, bathroom phone, complimentary instant coffee, complimentary tea, free welcome drink. Throughout the day you can enjoy the relaxing atmosphere of the boats, canoe, dart board, yoga room, snorkeling. Enjoy unparalleled services and a truly prestigious address at the LE MENARA.
15. Le Coral Beach Resort & Cafe
Dream Beyond Horizon at Le Coral Beach Resort & Cafe is settled a few steps away from the picturesque north of Natai Beach, face to beautiful Bo Dan canal and Andaman sea. Beautiful and peaceful Relax under the atmosphere of a private beach stretching along the Mangrove Forest Reserve. One of Thailand's most beautiful rural roads, stretching over 20 kilometers of long sandy beaches, offers you the opportunity to relax and exercise on the bicycles, scenic views of Natai Beach, beautiful sunrise and sunset,is a beautiful summer memories. 
16. Khaolak Laguna Resort
 Khaolak Laguna Resort is a 4.5 stars hotel where located on the best location Khaolak beach which closed to beachfront and a short walk to Khaolak shopping center and nearby many attractions of Phang-Nga Province. The Hotel is uniquely designed in Classic Oriental Style, in the embrace of Nature. Total 154 rooms each room are fully furnished with amenities and utilities as well as private terrace or balcony. Exterior and interior are uniquely designed, Woodwork and Thai Artistry. The resort offers all, and more, of the facilities you would expect from a luxury resort. Khaolak Laguna, it's your Paradise.
17. Khaolak Paradise Resort
Nestled between tropical evergreen forests and a secluded white sandy beach, Khaolak Paradise Resort is a tranquil haven with traditional Thai charm and gracious hospitality. Located approximately one hour drive from Phuket International Airport.
18. Khaolak Orchid Beach Resort
Khao Lak Orchid Beach Resort is an exclusive boutique resort in colonial style low rise building with relaxing beach and unique surroundings, our extensive facilities and amenities have been designed to ensure the utmost in comfort and convenience.
19. Chongfah Beach Resort
Chongfah Beach Resort Khao Lak is a small boutique resort situated alongside panorama Andaman sea in Khao Lak. This charming Khao Lak resort is surrounded by nature and features a total of 30 rooms. The Resort features 1 Seaborn Restaurant and 1 Infinity Swimming Pool overlooking to the beautiful sunset. Perfect for both couples and families as well for those looking for a small romantic resort seaside getaway.
20. Sudala Beach Resort
Sudala Beach Resort is boutique resort, located on the unspoiled and pristine of Bang Niang Beach, Khao Lak, Phang-Nga province, only 85 kilometers. Sudala Beach Resort is filled with fine facilities and conveniences, 78 rooms: 24 Deluxe Villa rooms and 54 Superior (Building) rooms. The villas and buildings are designed rhymes the lush tropical atmosphere, guest can enjoy the choice of 2 swimming pools, restaurants.
21. Beyond Resort Khaolak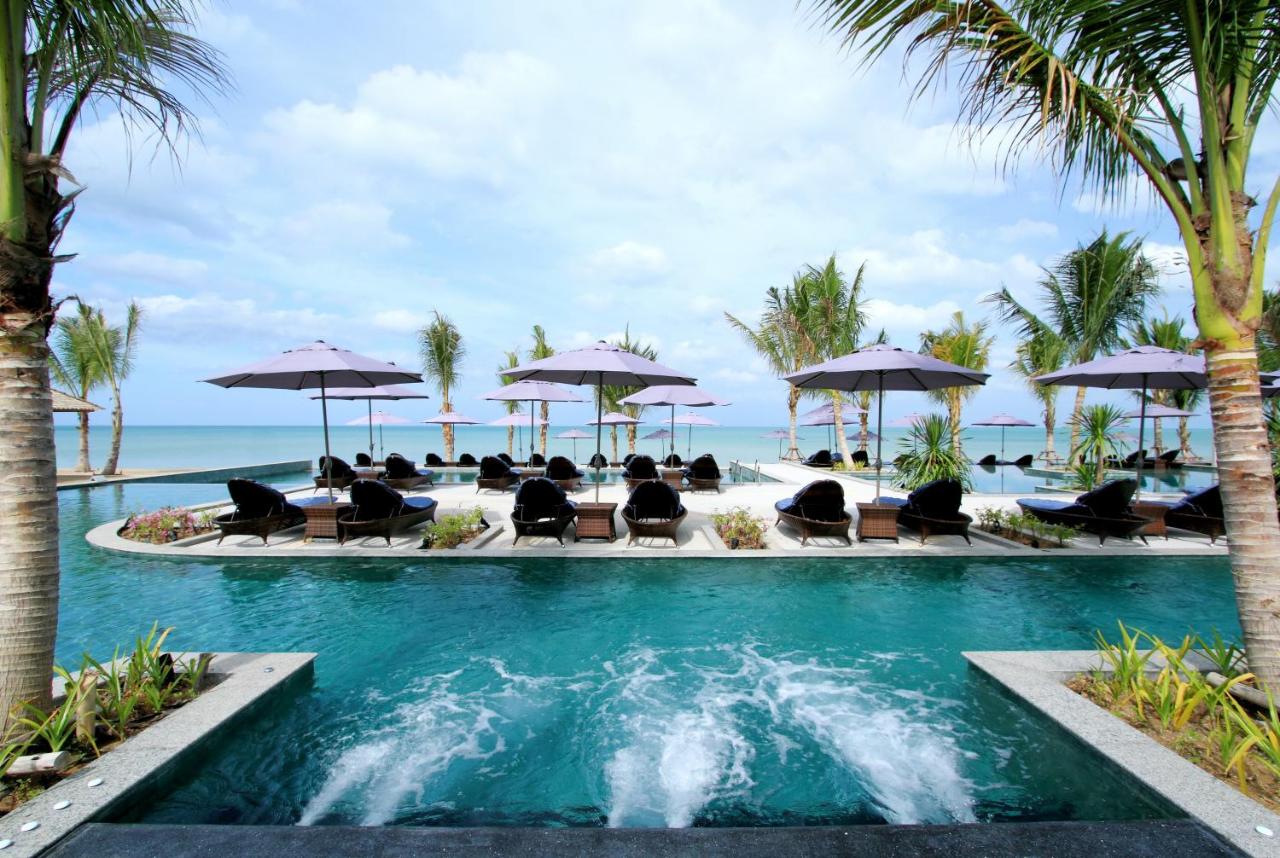 Lush, luxurious and romantic, Beyond Resort Khaolak is a multi-award-winning all-villa adults-only indulgent beach resort offering a pure escape in paradise. On the white powder sand of Pakweep Beach in Phang Nga Thailand, surrounded by unspoiled nature and verdant tropical greenery, find your perfect holiday destination or setting for your beachfront wedding. Only guests over 18 years old are allowed
22. Seaview Resort Khao Lak
 Seaview Resort Khao Lak is set on Nang Thong Beach, an extensive stretch of fine sands framed by the emerald blue waters of the Andaman Sea and against a verdant mountainous background. The resort offers a choice of accommodation options ranging from comfortable garden view rooms to relaxing pool villas, along with a stunning beach and a wealth of activities and facilities to keep both adults and younger guests busy and happy.
23. Palm Galleria Resort
Palm Galleria Resort Khao Lak is located near Pakarang beach which is one of the most beautiful beach in Khao Lak. A place where you can indulge the tropical paradise in one of a kind homey and tender atmosphere.
24. Kalima Resort & Villas Khao Lak Phang Nga
The Kalima Khao Lak, is a new 5-star luxury hotel. design and architecture which reflects our Sino Portuguese heritage. The other, is the tribute we've made to our Tin Mining .The property is a hidden gem and sits in a secluded area surrounded by mangrove forests, rubber plantations and is boarded by river estuaries.
25. X10 Khaolak Resort
X10 Khaolak Resort is situated in Khao Lak and 2 km from the city centre. The non-smoking resort has an outdoor pool and fitness centre, and guests can enjoy a drink at the bar. Every room at this resort is air conditioned and is fitted with a flat-screen TV. Certain units include a seating area for your convenience. You will find a kettle in the room. Each room is equipped with a private bathroom. For your comfort, you will find free toiletries and a hair dryer.
26. Ayara Villas KhaoLak
Ayara Villas is a boutique resort located right on Bang Niang Beach. It offers villa and room accommodation, 2 outdoor pools, and views of the Sea of Andaman. Ayara Villas - SHA Plus is just a 1-hour drive from Phuket International Airport and 2.5 km away from Khaolak City. Ayara consists of 27 villas and 53 luxurious rooms. All units are tastefully decorated and features small kitchenette for family and private balcony.
27. Baan Khaolak BeachResort
Set by the Andaman Sea and centrally located on Khao Lak Beach, Baan Khaolak Beach Resort offers 2 restaurants, spa and an outdoor pool. Free WiFi and free parking are available. Spacious rooms feature a private balcony, an en suite bathroom with hairdryer and cable TV. A minibar and a safe are provided. Guests can read a book at the library, go for a massage or work out at the fitness centre. Disabled-friendly facilities are available in this hotel.
28. Khaolak Emerald Beach Resort & Spa
Khaolak Emerald Beach Resort and Spa located in the exclusive enclave of Khaolak on one of the most stunning sandy beaches of Khaolak, Phang-Nga just 5 minutes from Khaolak-Lamru National Part, Similand Island& Tachai Island Pier (Thub Lamu), Phang-Nga Naval Golf Course or just 30 minutes to Katathong Golf Course. Nearby Khaolak Emerald Beach Resort & Spa is nested amidst the lush tropical garden, offering a combination of traditional Thai hospitality and casual elegance. The resort build in a Thai's contemporary style offers 270 refurbished and fully equipped rooms and villas ideal for family and traveler who seek a carefree escape.
29. Ramada Resort by Wyndham Khao Lak
Situated on Bang Niang Beach in Khao Lak, Ramada Resort by Wyndham Khao Lak is an idyllic choice for guests to relax at sundecks, dining areas or oceanfront villas. Resort surroundings of white beach, blue waters, outlying islands and lush tropical foliage. The resort features 116 rooms and villas, including Deluxe Oasis, Deluxe Lanai, Deluxe Jacuzzi, exclusive Oceanfront Villas and private Pool Villas. Experience the new dining atmosphere at Ramada Resort by Wyndham Khao Lak. The Kitchen serves breakfast with multiple live cooking stations. Take an afternoon break to enjoy a cup of premium ground coffee or fresh juices with sandwiches, snacks or cakes at Mellow Bean. The resort's signature venue, Sassi's Beach Club, offers international and traditional Thai cuisine and a stunning sunset views. Children can enjoy outdoor Kids pool or indoor activities and games at the Kid's Club Playland. The resort provides sun beds and lounges for those who would like to relax and sunbath by the pool or by the beach.
30. The Leaf on The Sands Khao Lak by Katathani Collection
If you're a nature loverlooking to relax at a affordable resort within a convenient location, The Leaf on The Sands is the perfect place for you! On a flatland embraced by hundreds of tropical trees and plant species, this resort is suitable for travelers of all ages. Enjoy the sounds of exotic birdsongs while cooling off in the sparkling pool as you soak up the sun. Relax all day with an ice cold drink at hand; enjoy a nature walk to the beach. 
31. Villa Sundara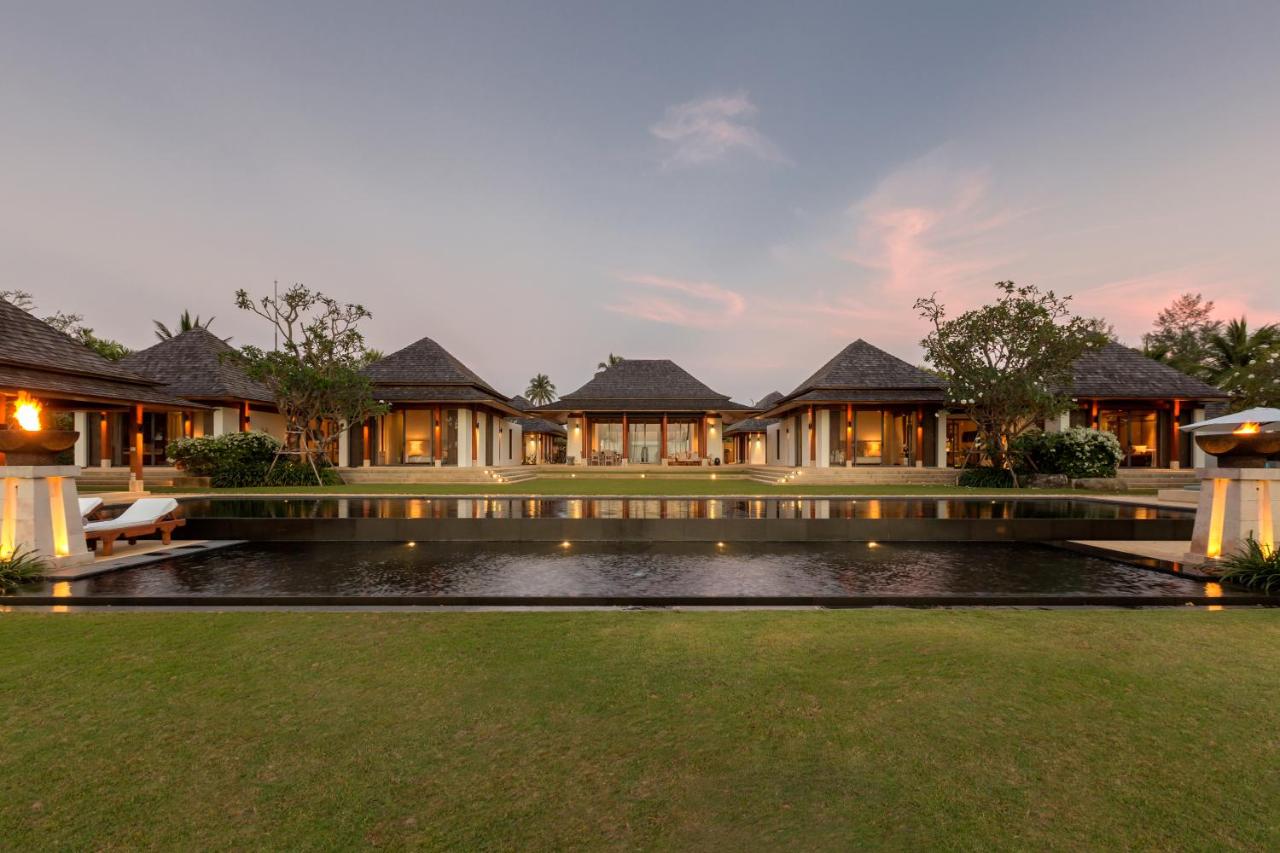 Six-bedroom villa on Natai beach. Steps away from the beach, Villa Sundara features pavilions with floor-to-ceiling glass doors that offer views of the Andaman Sea. This six-bedroom beachfront villa has an outdoor pool and free Wi-Fi. Combining wooden interiors with designer furniture and modern art, the beachfront villas have spacious living and dining areas. The Family Room boasts a DVD library, a Wii game console, and a small library. Air-conditioned bedrooms have flat-screen TVs and en suite marble bathrooms.
32. Bangsak Village
Bangsak Village offers private accommodation with spectacular landscapes. Located on Bangsak beach, it features an infinity pool, a spa and several dining options. Surrounded by tropical greenery, rooms are tastefully decorated with art pieces and warm sand-coloured interiors. They are air-conditioned and come with private bathroom facilities, cable TV and a minibar. A safe is also provided. Guests can relax in the hot tub and enjoy luxurious massages with views of the Andaman Sea at Resort Bangsak Village. A stroll in the resort's gardens is another excellent option for a relaxing afternoon outdoors.
33. Baba Beach Club Natai Luxury Pool Villa Hotel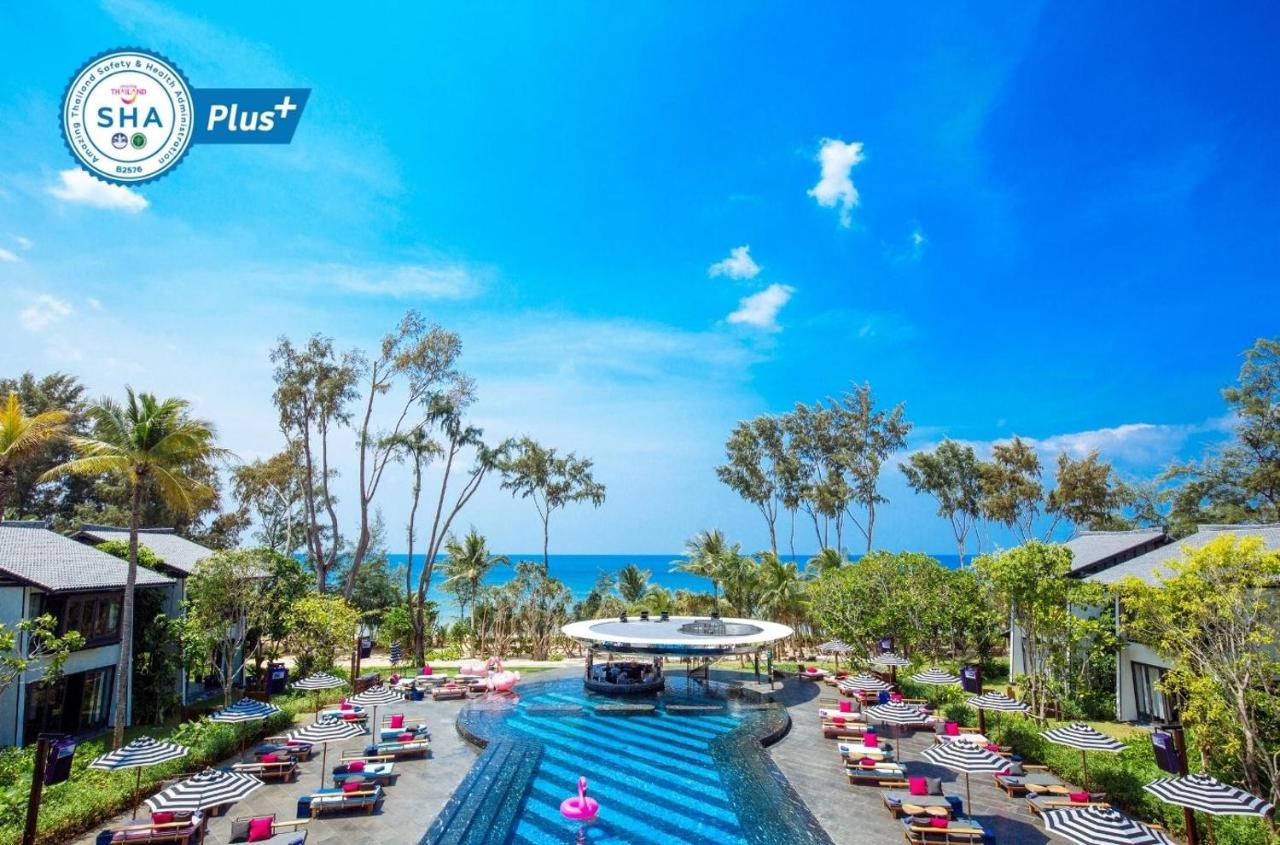 Baba Beach Club Natai Luxury Pool Villa Hotel, Natai was envisioned with the intention of fusing together brio and bluster with glamour and grace located just 20 minutes north of Phuket International Airport, managed and developed by internationally acclaimed luxury pool villa hotel & residential estate Sri panwa. Offering resort-style living of the highest quality, maximum privacy, and superior service on an exclusive unspoilt 42 rai beachfront on Natai beach.
34. The Waters Khao Lak by Katathani Collection
The Waters Khao Lak Embraced by water and immersed in nature, The Waters Khao Lak offer 3000 square meters of pool space and more than 100 pool access room to create a distinctive holiday experience. The Waters is an ADULT-Focused resort set in the heart of Bang Niang Village in Khao Lak, close to the beach. Enjoy the beautiful water features and the serene blue pools to create the sense of relaxation and tranquility for your rejuvenating holiday.
35. Le Meridien Khao Lak Resort & Spa
Le Méridien Khao Lak Resort & Spa sits on the stunning white sands of Bangsak Beach in Khao Lak, Thailand, north of Phuket International Airport. Our luxury hotel, ideal for couples, families and meeting planners alike, features a secluded location and panoramic ocean vistas. Hotel guests can choose from 10 types of rooms, suites and villas with spacious balconies overlooking our resort pool and the breathtaking Khao Lak coast.
36. Graceland Khaolak Beach Resort
Just 90 minutes from Phuket, Graceland Khaolak Beach Resort is a tropical hideaway perfect for nature lovers seeking relaxation in stylish comfort. The stunning location with 100 metres of soft white sand beachfront, tall shady trees and lush mountain views was carefully developed to preserve mature trees, retaining its natural charm. The designers of this first property in Thailand, successfully blended nature with luxury creating a unique atmosphere where guests can breathe fresh air and feel completely rejuvenated.
37. JW Marriott Khao Lak
Discover the treasures of Khao Lak at JW Marriott Khao Lak Resort & Spa, located just 1-hour drive from Phuket International Airport. JW Marriott Khao Lak Resort & Spa - Tropical luxury Situated along the gorgeous white sands of Khao Lak's Khuk Khak beach, JW Marriott Khao Lak is the perfect resort to soak in the tropical seaside beauty of southern Thailand in distinctive five-star luxury. With elegant contemporary-Thai style guestrooms, gourmet cuisine, unrivalled facilities and a superb range of activities for the entire family, JW Marriott Khao Lak offers the ultimate holiday experience.
38. The Leaf Oceanside by Katathani Collection
The Leaf Oceanside brings you the beauty of the blue sea and exotic, green gardens. Relax in the tropical oasis surrounded by the lush gardens and palm trees, or enjoy the cascading blue pools nearby. Feel the generous outdoor space of the resort, or relax in the comforts of the rooms. Located just 100 meters away from the beach, a walk to the beautiful Nang Thong beach is just a stone's throw away. Come and experience this tropical gem in the convenient location of Khao Lak Center. The Leaf Oceanside awaits you.
39. Mai Khao Lak Beach Resort & Spa
Located along the beach, Mai Khao Lak Beach Resort & Spa offers rooms with private balconies. The resort is prompted to serve the tourists whether family, honeymooner, friends, or group can come to relax, using the service in the hotel, and joining the hotel's activities with plenty of facilities.
40. La Flora Khao Lak
Only an hour away from Phuket International Airport, La Flora Khao Lak is a sustainable hideaway nestled in the shimmering sand of Bang Niang Beach. The rooms are consciously designed with modern aesthetics for your comfort. Facing the Andaman ocean, La Flora Khao Lak is ready to enhance your experience with our facilities and activities ranging from sea kayaking and coral reef snorkelling to sunset cocktails by the pool and delightful dinner on the beach. Although you might be thousands of kilometres far away from home, the top-notch service guarantees to make you feel right at home and that every one of your needs before and during your stay is immaculately taken care of. 
41. Khaolak Bayfront Resort
Khaolak Bayfront Resort is located in Phang- Nga province ; Right on Andaman Sea in south of Thailand. Offering tranquility, a beautiful beach , great amenities and perfect view of the Andaman Sea. Khaolak Bayfront Resort is the right place for you to experience the haven on the earth. Located in a secluded area with a golden beach frontage around scenic mountain backdrop. The resort is just an hour away from Phuket International Airport.
42. Casa De La Flora
Located along beautiful Bang Niang Beach, Casa De La Flora offers stylish accommodation with a private pool, butler services and free Wi-Fi. It is a 15-minute drive from Khao Lak National Park. Beautiful sea views can be enjoyed from the clear glass windows and private sun deck. Each room is equipped with a free minibar with chilled beer and snacks. A flat-screen TV and iPod dock are also available.
43. The Sarojin
Located in Khaolak, The Sarojin offers a lush tropical garden setting with direct access to a secluded beach area. Surrounded by national parks and rainforests, it offers a tropical retreat 1-hour by car from Phuket. Rooms at The Sarojin are set within landscaped gardens of local flowers and exotic fruits. Each room is equipped with a bluetooth speaker and free WiFi access. Afternoons can be spent lazing at the Thai-style outdoor pavilion while enjoying coffee from the mini-bar.
44. Moracea by Khao Lak Resort
Moracea by Khao Lak Resort offers 5-star beachfront accommodation situated on gently sloping Khao Lak Hill. Boasting a spa and sea-facing outdoor pool, it has a fitness room and an on-site restaurant. Featuring private balconies with sunset views, spacious air-conditioned rooms are fitted with cable flat-screen TVs. A fridge and safe are provided. Private bathrooms have a bathtub and hot/cold shower. Relaxing massages and body treatments await at Bamai Spa. Guests can relax with a drink in hand by the outdoor pool and bar or play a game of billiards. Free parking is available. The Malila offers international food by the beachfront with views of the open kitchen where guests can enjoy fresh seafood dishes.
45. The Haven Khao Lak
The Haven offers intimacy and seclusion in its 110 spacious, rooms and Villa. A perfect getaway destination, this appealing resort is an oasis that indulges every guest's expectations. The Haven KhaoLak is catering for adult only and accepts guest only above the age of 12 years old. The total area surrounding our resort is an impressive 16 rai and we offer an exclusive ambience with plenty of space for everyone to enjoy time spent next to the beach. The combination of the contemporary design of the hotel set amongst the exotic background is enchanting, and as close to nature as you can get whilst still experiencing local travel at its best. You are surrounded by water wherever you look as we have the ocean on our doorstep, a tropical lagoon, and an impressive 5,000sqm salt water swimming pool that extends the length of the resort. 
46. The Sands Khao Lak by Katathani Collection
The Sands Khao Lak by Katathani is a resort for everyone from individuals to couples to families.  Offering three wings- Lagoon Wing, Seaside Wing and Aqua Wing—each catering to diverse needs and lifestyles with ample spaces provided for bringing people together and for offering the peace and solitude others desire.
47. Khaolak Bhandari resort and spa
Featuring traditional Thai architecture, accommodation at Khaolak Bhandari uses local materials, fabrics and art for decoration. Spacious and elegantly decorated, chalets and bungalows have polished wooden floors and several amenities to ensure your comfort. Unwind by its free-form saltwater swimming pool and a spa bath while and soaking up the sun with a refreshing drink or enjoy the wide range of treatments and facilities offered at the Bhandari Spa. It includes massage, aromatherapy and body treatments, as well as a sauna and hot tub.
48. Khaolak Palm Beach Resort
Located along the sands of Khaolak Beach, Khaolak Palm Beach Resort is 5-minute drive to town. It offers air-conditioned rooms with a balcony. It features a pool and spa. Rooms at Khaolak Palm Beach are situated within wooden Thai-style villas set on a hillside facing the Andaman Sea.
49. Mukdara Beach Villa & Spa Resort
The Mukdara Beach Villa & Spa Resort is " A lustrous Pearl" washed up on the pristine sand, Bang Niang Beach of Khao Lak. Set in over 15 acres of beautifully landscaped gardens, provide a luxury room and villas in Thai-contemporary style designed rhythm with tropical garden, full equipped with facilities, surrounded with restaurants, only 5 minutes on foot to famous Bang Niang Local Market, 15 minutes to pier to Similan Island and Tablamu Golf course and 1.15 hours from Phuket International Airport.
50. ThaiLife Homestay Resort and Spa
ThaiLife Homestay Resort & Spa is a boutique resort located in the Khao Lak area by the Andaman Sea in Phang Nga, Southern Thailand. The villas are situated around a lake and we have over 80,000 square meters of lush tropical gardens, as well as a private beach offering over 3 kilometres of pristine sandy shores.
51. Apsara Beachfront Resort and Villa
The eco-friendly resort in Khao Lak is located on a pristine and unspoiled white sandy beach in Phang Nga Province, only 90minute's drive from Phuket International Airport. Apsara Beachfront Resort and Villa is a truly secluded destination where you will be totally relaxed and simply indulge yourself with the wonderful surroundings, the waves breaking on the deserted shore and the breathtaking sunsets. Set on tranquil Pakarang Beach, this isolated haven is a great place for surfing, particularly for those seeking an uncrowded beach and friendly waves.
52. Khaolak Merlin Resort
Located in the coastal area of Khaolak, Merlin Resort is a luxurious, Thai-style resort with direct access to the beach and beautiful tropical gardens. You can relax in our tropical gardens and beach, swim in any of 4 stunning pools, or enjoy many eco-adventures such as elephant bathing, river rafting and trekking in the Lam Ru National Park.
53. Eden Beach Khao Lak Resort & Spa
Located on a white sand beach of Khao Lak, Eden Beach Khaolak Resort and Spa is beautifully positioned on 30,000 sqm of private beach front gardens so you never feel like you are in a crowd. Guests can enjoy a full range of facilities including spa treatments, 2 dining outlets, a fitness center and a swimming pool.
54. Devasom Khao Lak Beach Resort & Villas
Devasom Khao Lak Beach Resort & Villas is the new luxury landmark on the spellbinding Khao Lak seascape. Meaningful architecture, well-thought details, handmade artworks and furnishings represent Southeast Asia's rich heritage and share the peninsula's genuine story. Complement with Thai hospitality by real people, Devasom looks forward to welcoming guests with the most unique, memorable beachfront vacation surrounded by lush nature and spell-binding views of the Andaman sea.
55. La Vela Khao Lak
Inspired by verdant tropical nature, a shimmering ocean, and rich cultural heritage of the ancient Takola seaport, La Vela Khao Lak
is anchored on Khao Lak's most serene stretch of beach, appropriately named Bang Niang. Boasting a large and well-designed outdoor pool with views of the mountain ranges and the sea, La Vela Khao Lak offers modern rooms with complimentary WiFi. Sea breeze and the sunlight can be enjoyed at the beachfront deck. Spa and wellness center invites all guests to indulge in various refreshing treatments and therapies.
56. The Briza Beach Resort Khaolak
The Briza Beach Resort is located on Khao Lak beach in Phang Nga. The resort features an outdoor swimming pool and three dining options. Briza Resort has a fitness center and tour desk. Activities include scuba diving, snorkeling and golf. Thai cooking classes are also available.
57. Kantary Beach Khaolak
Kantary Beach Hotel is a breathtakingly beautiful natural sanctuary located on one of the few remaining stretches of pristine beach in Phang Nga, just an hour's drive north of Phuket International Airport. Surrounded by tropical greenery, air-conditioned rooms at Kantary Beach feature private balconies with beach or garden views. They are fitted with cable TV and a safe. Spacious rooms have a kitchenette with tea/coffee making amenities, a fridge, and space for in-room dining.
58. Khaolak Wanaburee Resort
Escape to a lost paradise at Khaolak Wanaburee Resort, a boutique village situated on the edge of lush rainforests facing a gorgeous secluded beach. Air-conditioned and equipped with a fan, rooms include a satellite TV, mini-bar and safe. Enjoy views from the balcony. Private bathrooms have shower facilities.
59. Natai Beach Resort and Spa
Situated on the sandy golden shores of Natai Beach, Phang Nga, Natai Beach Resort and Spa, is an intimate 106-room resort featuring Deluxe Pool view rooms or Sea View rooms, Pool Terrace rooms, spacious one Bedroom suites and Beach houses. The resort is located on the unspoiled golden sandy beach of Natai only 30 minutes from Phuket International Airport.