Krabi is a popular holiday destination in Thailand. If you are looking for luxury for your holidays, check the list of the best Krabi luxury resorts with private pool villas, including the special selection of resorts in Krabi province that boast exceptional pool villas with private pools.
Krabi Pool Villas
Krabi is the coastal province on the Andaman Coast of Thailand. This province is home to several famous beach areas like Ao Nang and Railay as well as worldwide famous islands like Koh Phi Phi and Koh Lanta. Krabi is a well-developed holiday destination with tourist accommodations available for all tastes and different budgets. Not surprisingly, luxury villas with private pool can be also found on the beaches and islands of Krabi province.
Krabi Villas with Private Pool provide not only a comfortable stay, but also an unforgettable experience. The luxury pool villa resorts normally offer a high level and wide range of services. In most cases, such hotels have a variety of restaurants and bars, luxury spa, saunas, Jacuzzis, access to excellent beaches and organize excursions to nearby islands. In more exclusive resorts, you will find world-class facilities, including entertainment, shopping, award-winning fine dining and outdoor activities such as golf or tennis courts.
Accommodation prices of pool villa in Krabi can vary significantly. You will find both incredibly expensive and more affordable options in the area.
Best Krabi Resorts with Pool Villas
The best resorts with pool villas in Krabi province offering exceptional luxury during your holiday in Thailand are listed below.
---
To decide on the best option for the trip, more detailed information on each of the resorts with reviews, prices and availability of rooms for the selected dates can be found by clicking the links provided.
---
1. Phulay Bay, A Ritz-Carlton Reserve
The 5-star Phulay Bay Ritz-Carlton Reserve is located along the shores of Andaman Sea in Krabi. Boasting 24-hour butler services, it also has an infinity pool, spa and 5 restaurants. Luxurious and set within tropical gardens, pool villas at Phulay Bay Ritz-Carlton feature beautiful Thai wooden décor and stylish bathrooms. Ocean views and fresh evening breeze can be enjoyed from the private veranda.
Location: Tab Kaek Beach
Reviews about pool villas at this Krabi resort:
"What a fantastic and fabulous property! Luxurious, rejuvenating, relaxing, and ultra-comfortable!"
"Everything (staff, food, villa, facilities) was perfect. This is the corner of pure luxury."
"The room, the villa, the spa, the infinity pool and restaurants all can have a beautiful view."
"Actually, it's not a room, it's a very spacious and super charming villa. Everything offered is of excellent quality: bedding, wonderful pillows, incense, soap."
2. Pimalai Resort & Spa
Luxurious and elegant Pimalai Resort and Spa overlooks the blue waters of the Andaman Sea and offers exclusive accommodation that is spacious and serene with personalised service. The property provides complimentary round-trip transfer from Krabi Airport to the resort. Nestled in a lush tropical forest, pool villas at Pimalai offer a private balcony that overlooks the beautiful surroundings.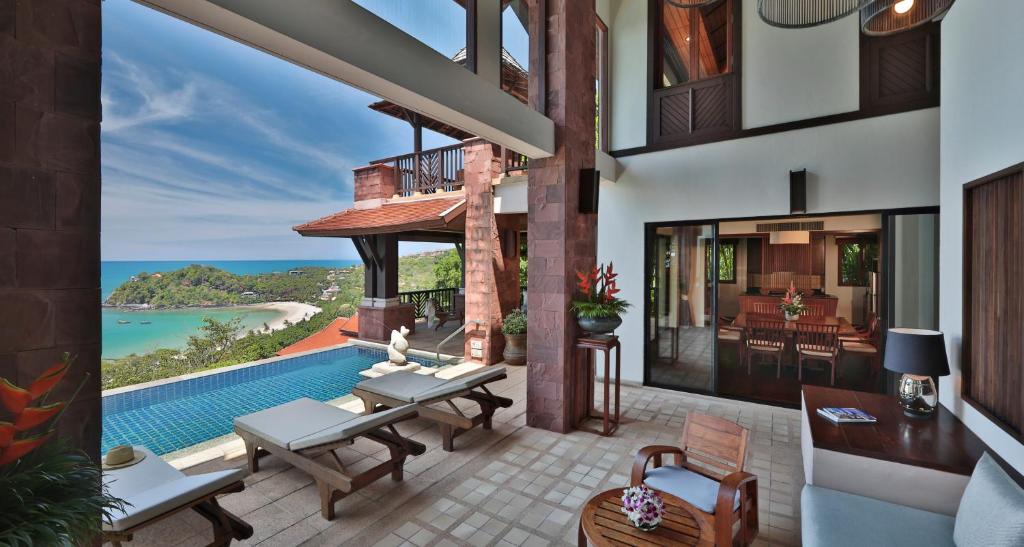 Location: Kan Tiang Beach, Koh Lanta
Reviews about pool villas at this Krabi resort:
"Beautiful resort with beautiful staff. What a relaxing retreat- a paradise. I loved the food, views, pool villa was luxurious and amazing. The beach was clean and the sea warm."
"Just gorgeous rooms. So huge, quiet, comfortable, clean and luxurious with fabulous views of the Andaman sea. The amazingly clean private pool- large enough for exercise laps and with a full view of the sea."
"The grounds are beautiful and the spa is epic! It is literally an oasis. We stayed in the one-bedroom beach villa which was phenomenal. We enjoyed swimming in our own pool every day, taking baths in our luxurious bathroom, and listening to the waves at night."
"Mind blowing location, great villas and premises. Excellent service. Great place to relax and discover the beautiful Ko Lanta area."
"Stunning resort with two beautiful infinity pools at different levels allowing you to move from the heat of the beach on lower levels to get more far reaching views and some breeze higher up. The property covers a vast site and feels very relaxed. The rooms/villas are well hidden in the vegetation. View of the bay/beach. Our room offered very spacious accommodation and was beautifully appointed with a lovely plunge pool."
3. Banyan Tree Krabi
Located in Tab Kaek Beach, Banyan Tree Krabi offers beachfront accommodation a few steps from Tub Kaek beach and offers various facilities, such as a garden, a bar and water sports facilities. The resort provides an outdoor swimming pool, fitness centre, evening entertainment and a kids' club. For the most luxurious stay at Banyan Tree Krabi guests can choose Deluxe Garden Pool Villa or Beachfront Pool Villa.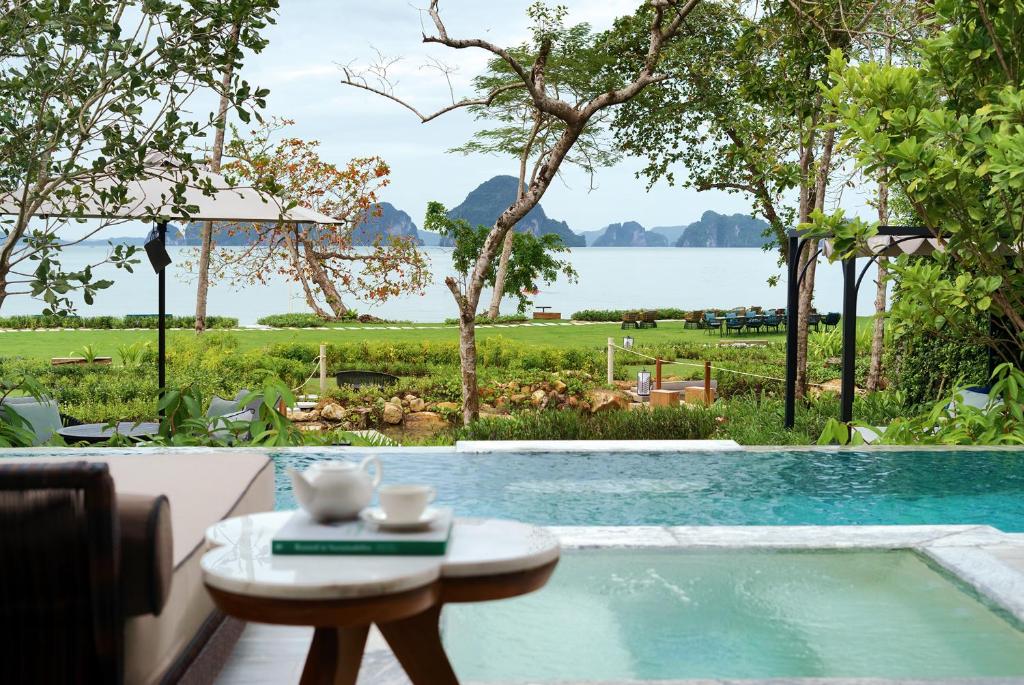 Location: Tab Kaek Beach
Reviews about pool villas at this Krabi resort:
"We stayed at beach villa with private pool - the interior of the rooms is so inspiring and modern, you want your house to look like that, kids loved private pool and it was very comfortable to have them swimming around while you can tan."
"Amazing resort, new, the villa we stayed in the pool was somewhat privet which was perfect."
"Awesome, quiet beach, with great views. Beach view pool villa is amazing! Right next to National Park with excellent hike."
"Beautiful resort. Fantastic villas, amenities and facilities. Exceptional staff attitude. A little far off from convenient places like Ao Nang and Krabi Town."
4. Koh Jum Beach Villas
Located on Koh Jum Island, Koh Jum Beach Villas offers spacious villas. This beachfront property is located approximately 1 hour from Krabi Airport and is only accessible by boat. Villas are fitted with a terrace, dining area and living room. Some villas at the resort have a private pool.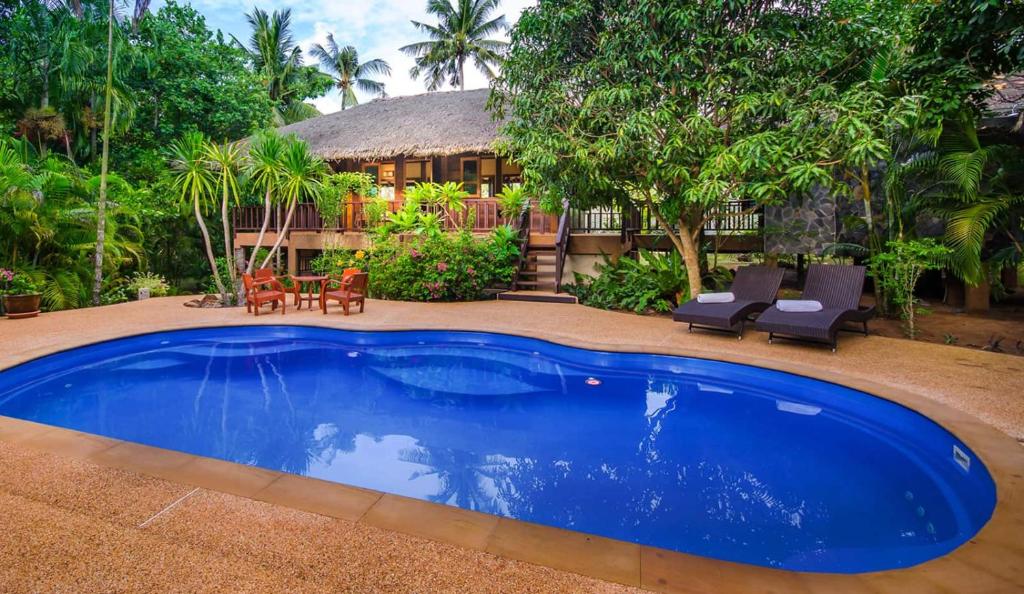 Location: Koh Jum
Reviews about pool villas at this Krabi resort:
"The views are gorgeous and sunset every evening is unmissable. Helpful staff and beautiful villa!"
"Serene beach location and beautiful villa stay that left us feeling very relaxed. So quiet you could only hear birds all day. Grounds were impeccable and the beach access was easy. The beach was deserted and huge. The pool villas could be more private."
"The villas are beautifully designed and surrounded by a lush garden along the beach. We enjoyed our stay very much. Also great that the hotel has an eco-friendly approach."
"It isn't cheap when comparing to other places in Thailand but for us it was worth every penny and wished we had booked for longer. The location was amazing right on the beach with views looking out to sea. We had a 2 bed villa with private pool. All rooms were very big and well maintained."
5. Rayavadee
Luxurious beachfront accommodation along Krabi's Andaman Coast is provided at the 5-star Rayavadee, just next to Krabi Marine National Park. It has a full-service spa, 4 dining options and an outdoor pool. Surrounded on all sides by tropical gardens and beaches, Rayavadee features free-standing 2-storey pavilions and beachfront pool villas.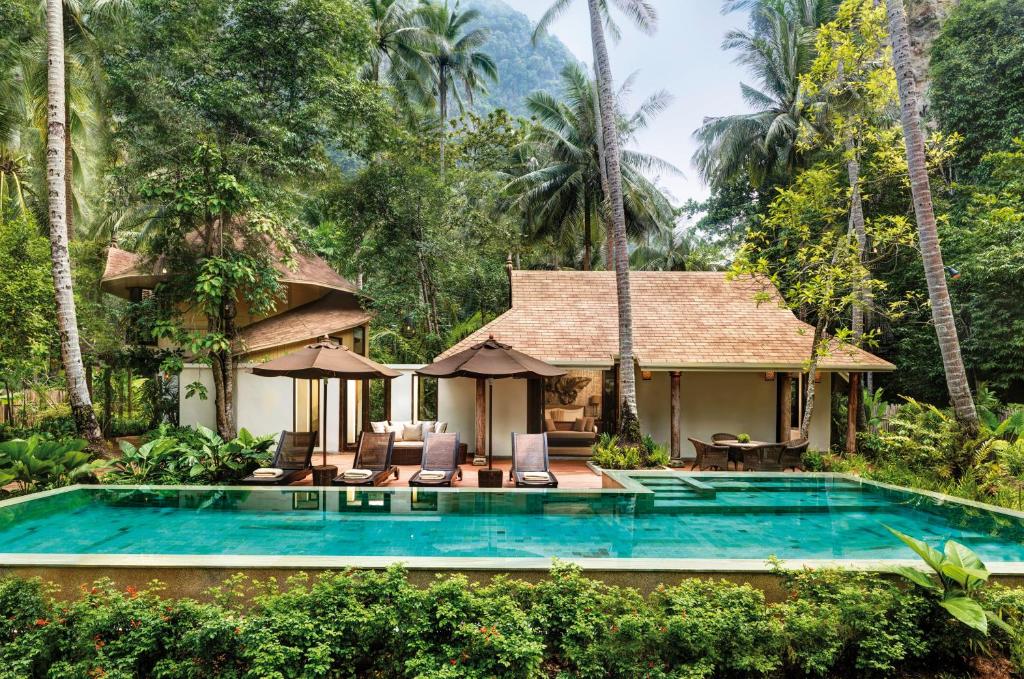 Location: Railay Beach
Reviews about pool villas at this Krabi resort:
"Almost everything was great! The beach, place, sea, villas, restaurant were all brilliant! Grotto was magnificent, also kayaking and Happy Island! Phranang Beach is amazing! A little bit pricey and need renovation for some stuff."
"Wonderful location. Very beautiful villas."
"Very nice experience, excellent environment the villa very nice and clean the nature is very beautiful."
"Honestly this hotel exceeded our expectations. From the natural beauty surrounding the hotel to the immaculate standard of the villas and the service makes the hotel stand out in every category."
6. Layana Resort & Spa
Surrounded by tropical greenery, Layana Resort & Spa is located in Koh Lanta and overlooks the beautiful sea. It offers an outdoor infinity pool and direct access Long Beach from the resort. Situated within Mu Koh Lanta National Park, Layana Resort is located on a white, sandy beach. Pool villas at Layana Resort feature modern Thai architecture and are decorated with silk and hardwood furnishings.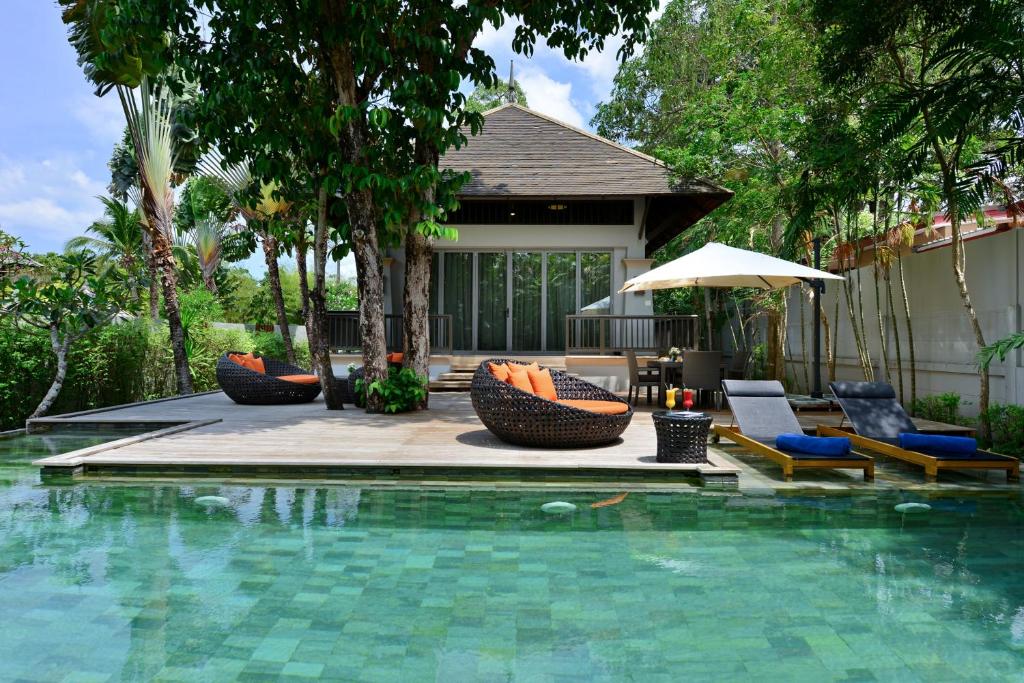 Location: Long Beach, Koh Lanta
Reviews about pool villas at this Krabi resort:
"Our family stayed at La Maison villa, we had an absolutely amazing Christmas time in Layana. Beautiful beach, excellent amenities, superior service — simply top notch."
"We were in one of the property's three beach villas, which are well worth the extra spend. The bedroom opens out to a private terrace with beautiful beach sunset views. The outdoor rain shower is a wonderful experience."
"Our villa was incredible. So lovely to be able to walk straight out onto the beach. The outdoor showers were such a nice touch."
7. The Tubkaak Krabi Boutique Resort
Nestled within abundant greenery, The Tubkaak Krabi Boutique Resort offers beachfront accommodation on Tub Kaek Beach. Offering spacious rooms, it also features a full-service spa and an outdoor pool. Tubkaak Boutique Resort's rooms feature wooden interiors, giving them a cosy feel. Guests can sit and enjoy mountain views from the balcony. Each room has an outdoor, tropical-style bathroom. At the resort guests can choose from Premier Pool Villas and Ocean View Pool Villas.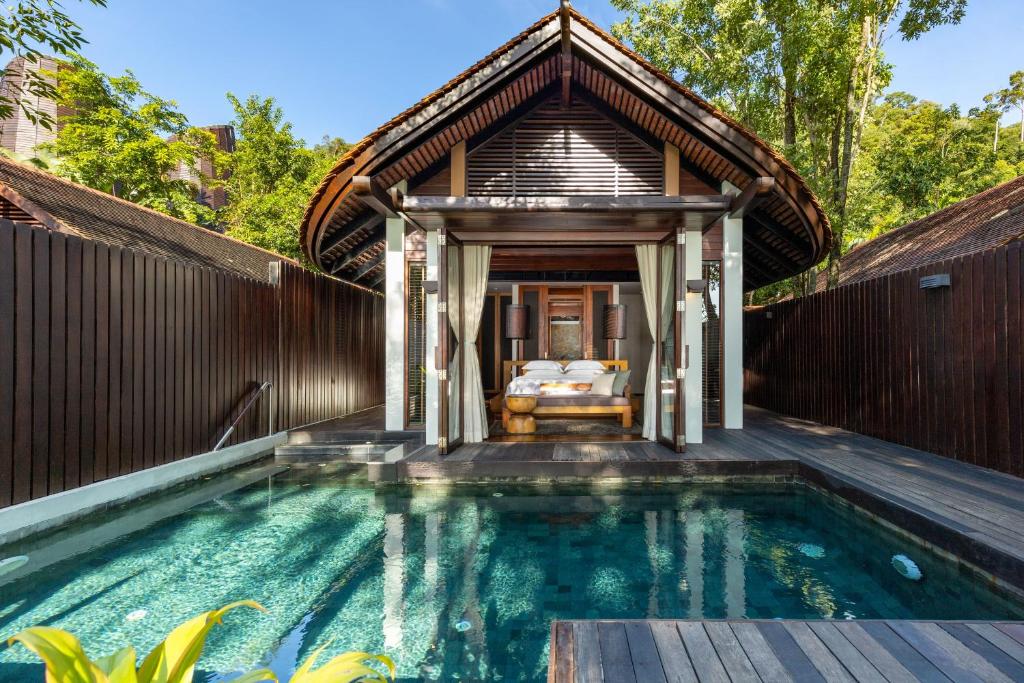 Location: Tab Kaek Beach
Reviews about pool villas at this Krabi resort:
"Incredibly beautiful property, pool villa with ocean view in Asian style (would highly recommend the number 161), bathroom area partly inside, partly outside, very comfortable beds, amazing view from the bed and private pool deck to garden, beach and sea."
"Beautiful quiet resort, with lots of lovely and attentive staff. Tubkaak is in a picture perfect location also. The private pool villas are stunning but the pools aren't heated."
"Our pool villa was absolutely stunning cleaned twice daily. Stunning beach and views."
"We stayed in a villa with a pool overlooking the sea, the villa is stunning. The whole resort is crazy like paradise."
"The beach villa we stayed in is so beautiful and inspiring, the interior is very authentic and comfortable. The pool is exactly what you need, very chilled and quiet."
8. Zeavola Resort
Zeavola is the definition of barefoot luxury and one of the most sustainable hotels in Thailand: This charming retreat is a jungle resort and themed to be a Thai Village from over 30 years ago, without missing all the amenities and services of a typical 5-star Hotel. Grass-roofed teakwood villas blend with traditional Thai influences and a charming feel rustic. You won't find golden faucets and white marble here. Together with the tropical jungle, its sand paths, and the authentic Zeavolians is what will spark the magic. Zeavola is located on Phi Phi Don's northeast coast and is only reachable by boat.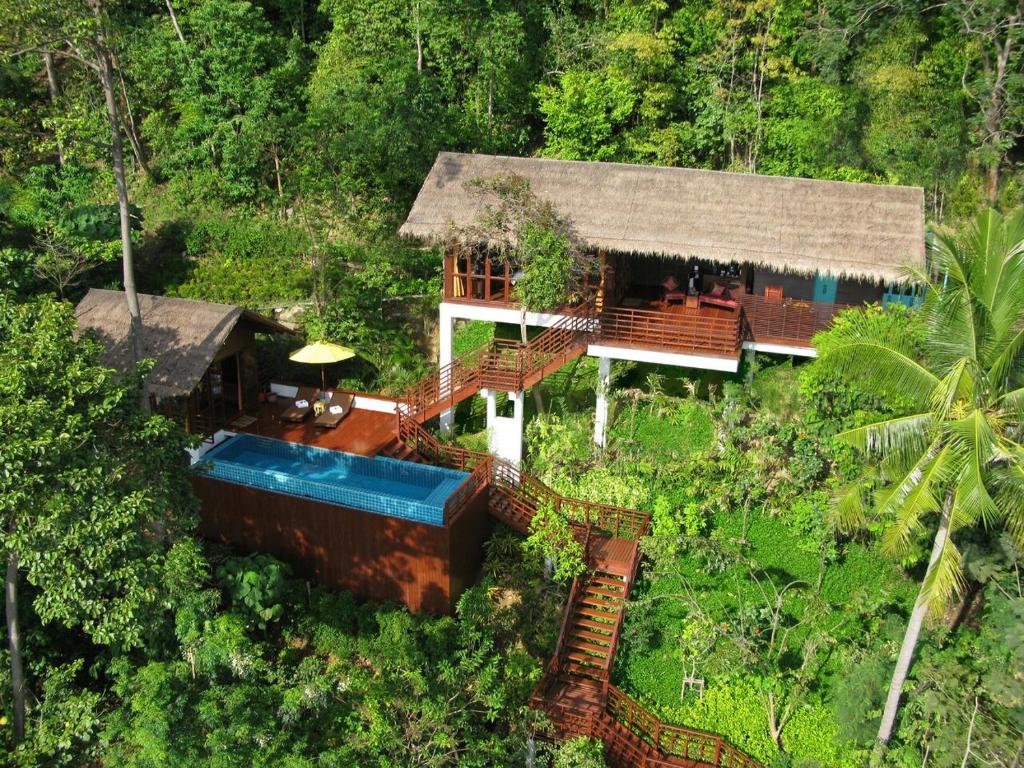 Location: Laem Tong Bay, Phi Phi Don
Reviews about pool villas at this Krabi resort:
"The place is incredible, amazing resort, with an amazing beach. Probably going back i wouldn't choose the villa with the pool as it has a lot of stairs and we used the pool maybe once given the amazing beach."
"Quiet, laid-back atmosphere in a natural and elegant package - the jungle is literally there, and you're a part of it, living in a beautiful wooden villa with a patio and a view to die for."
"The Zeavola Resort is true paradise. We stayed for 4 nights in the rainforest villa with the pool and it was amazing."
"Beautiful beach. Very quiet. Treat yourself and book villa 1-4 with your own private pool. Piece of heaven on earth."
9. Avani Plus Koh Lanta Krabi Resort
Swap reality for a dreamy Koh Lanta escape – ocean views, sunset sessions, a sandy cove for sun-soaked days. Explore the best of Krabi resorts with one of the world's top-ranked islands from a stylish hilltop hideaway. Bask on silvery beaches. Dive gin-clear waters. Find your happy place overlooking Koh Kwang Beach at Avani+ Koh Lanta Krabi Resort.
Location: Koh Kwang Beach, Koh Lanta
Reviews about pool villas at this Krabi resort:
"We stayed in the pool villa for 5 days. Beautiful spacious villa with great views of the ocean and phi phi islands."
"The hotel is beautifully located on a rock which provides great views on the sea and is a 10min tuktuk drive to the centre. The hotel is very well maintained, staff is friendly and helpful. We stayed in diverse rooms. The villa option is a real heaven of luxury."
"Our room was stunning, we booked a villa with private pool and sea view and it was just spectacular. The main pool was also beautiful and there was plenty of space to swim around. The private beach was just a luxury, beautiful warm sea and not loads of people used it so it really felt very private."
"The villa with pool is a nice place to relax. The view of Koh Phi Phi is great - especially at sunset. The hotel makes a modern impression. The private beach is small and rocky. However, the public beach is only 5 minutes' walk away."
10. Nakamanda Resort and Spa
Overlooking the mountain landscapes, the luxurious Nakamanda Resort and Spa is located directly on Klong Muang Beach. Surrounded by mangrove forests and plantations, villas are decorated in a tropical Thai style. Some villas at the resort come with a private pool.
Location: Klong Muang Beach
Reviews about pool villas at this Krabi resort:
"Large Boutique-style standalone villas. Private beach with views of the islands and Andaman."
"The small individual villas were stunning."
"One of the nicest in Krabi with lush green surroundings and excellent service. We stayed at a Thai style sala villa with a sea view, which was spacious and comfortable."
"Villa layout is very good. Location is not so good. Very far from Ao Nang and any activity place. Furniture in villas has become old and needs renovation."
11. Rawi Warin Resort and Spa
Rawi Warin Resort and Spa offers 5-star luxury with 4 large outdoor pools, fitness centre. Boasting 5 dining options, it offers stunning views of Klong Tob Bay. Featuring spacious layouts and private balconies, modern Thai-style rooms have fine wood furnishings and flooring. For the most luxurious stay at the resort, guests can choose Sunset Pool Villa or Beachfront Pool Villa.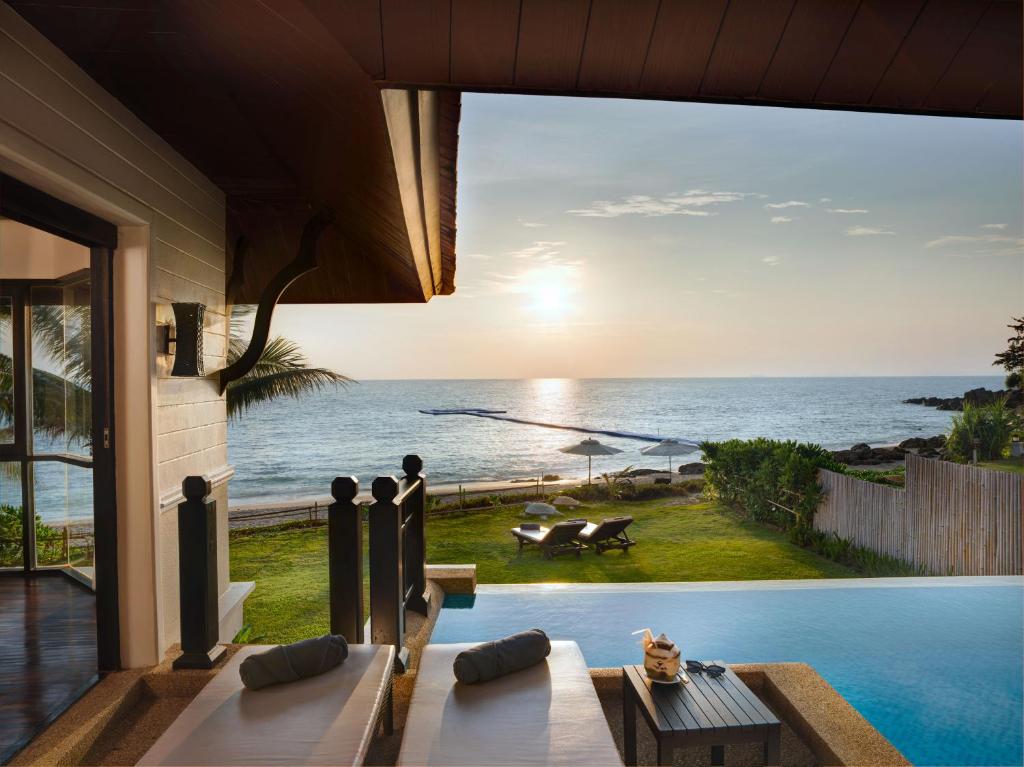 Location: Klong Toab Beach, Koh Lanta
Reviews about pool villas at this Krabi resort:
"We had a villa with private pool which was wonderfully luxurious and relaxed. resort this time of year (June) was very quiet."
"We were lucky enough to book one of the pool villas which are tucked away up the hill and so private, the only noise you could hear was the waves and the birds even though there are houses all around. Having our own pool was amazing!"
"In my opinion, a separate villa in the second or third tier was preferable. Silence and solitude."
"Beautiful resort - it really has everything you need. We stayed in one of the beachside pool villas, and it was everything we could hope for. Amazing views from the private infiity pool, separate 'living' room with a minibar that was restocked each day, excellent bed and a nice big bath in the bathroom too."
12. Amari Vogue Krabi
The exclusive Amari Vogue Krabi offers a private beachfront along Tub Kaek Beach. Beautiful rooms are fitted with polished wooden flooring, traditional Northern Thai artwork and carvings. For the most luxurious experience at the resort, guests can choose from One-Bedroom and Two-Bedroom Villa with Private Pool.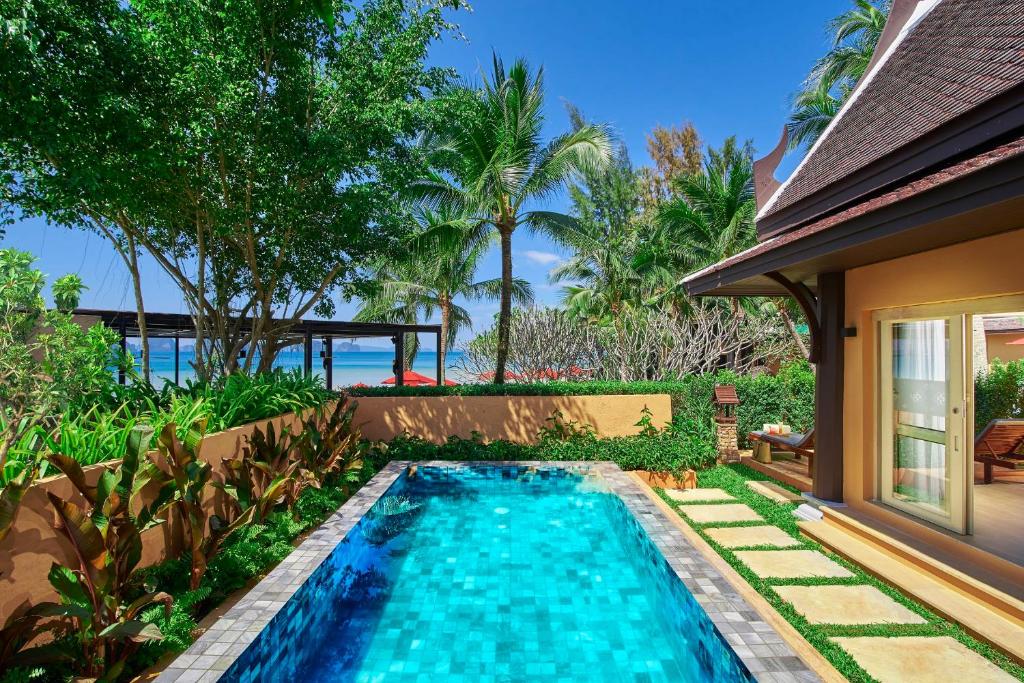 Location: Tab Kaek Beach
Reviews about pool villas at this Krabi resort:
"The hotel, the garden and the beach area are stunning. We booked one of the 4 separate villas and were really happy about our decision. The villa was spacious, had a good bed and a very big and beautiful bathroom."
"A perfect combination of luxury and cosiness. Great pool area, also small villas with a private pool."
"My family and I book a 2-bedroom villa at Amari Vogue. We were checked in promptly upon arrival and were impressed by the size, cleanliness and design of our villa! It was better than the website pictures and a stone-throw away from the beach. The hotel is well maintained and has many places for Instagram-worthy shots."
"Extremely spacious. We were in the 2-Bedroom Villa. Huge. And the private pool was a saviour for the kids."
13. The ShellSea Krabi
Beautifully set next to the beach in Ao Nam Mao, The Shell Sea offers stylish accommodation in a convenient area of Krabi. Boasting an unsurpassed spa experience and sauna for guests' casual enjoyment, the resort features an outdoor pool overlooking the views of the sea. The resort has several types of villas with a private pool.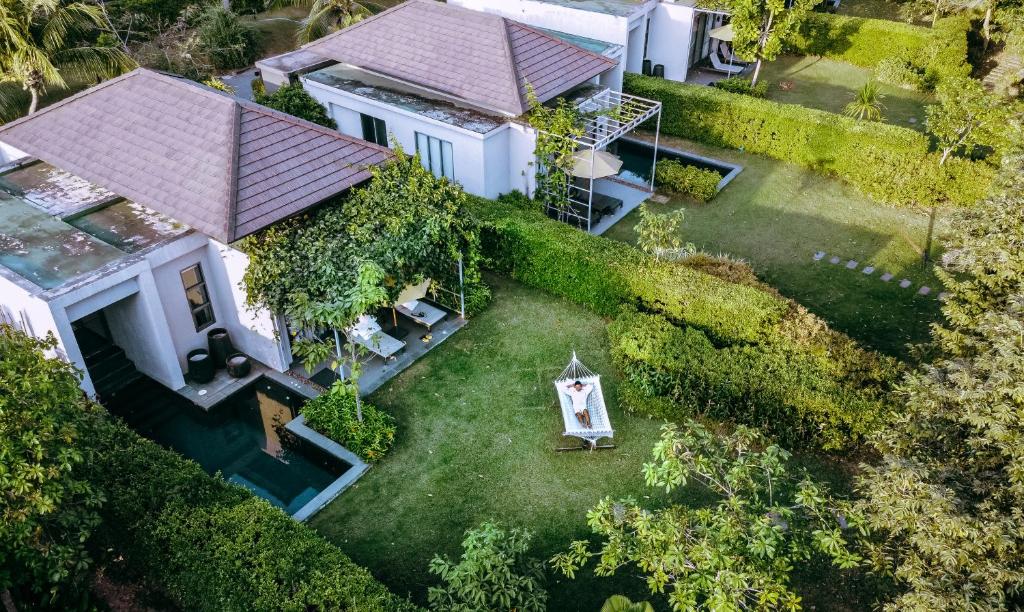 Location: Ao Nam Mao
Reviews about pool villas at this Krabi resort:
"The garden pool villa is amazing with excellent amenities."
"We stayed in a villa which was beautiful. We liked the fact that Shellsea was a little secluded but it also meant it was a little tricky to go into town but we were completely fine with that."
"We spent two nights in one of the villas, which I must say is exceptional! The bed is super large and comfortable, the bedroom and living room part large and modern. The bathroom is wonderful, with the Jacuzzi on one side and the shower leading to the pool on the other. The garden is very well maintained; the pool is superb."
"Very nice villa, well appointed, nothing is left to chance, everything is clean and classy."
14. SAii Phi Phi Island Village
Escape to SAii Phi Phi Island Village, a dream-like tropical resort on a private 800-metre stretch of pristine white sandy beach lapped by the turquoise waters of the Andaman Sea. The resort is set amid 70 acres of coconut palm plantations, in the privacy of Loh Ba Gao Bay on the peaceful northeast coast of beautiful Phi Phi Island. Accommodations include 189 traditional Thai-style bungalows and 12 exclusive Hillside Pool Villas. Each villa has its own private pool overlooking the island's magnificent scenery.
Location: Loh Bagao Bay, Phi Phi Don
Reviews about pool villas at this Krabi resort:
"I liked the local feel of this resort, spacious pools, decent spacious villas with new air-condition, nice beach and sea with a nice reef nearby."
"Two-bedroom hillside pool villa has amazing view and swimming pool."
"The best hotel on the island, for sure! Villas are clean and comfortable. The hotel area is picturesque and pleasant to walk around, with a lot of trees I. bloom and shade."
"The villas overall are lovely, with thatched roof and a great balcony area with seating, and the resort has a clean beach and is well maintained. The view coming in to the resort is stunning, with the large hills behind. It feels very private. The pool water temperature was so hot, it provided no relief from the baking heat."
---
Krabi Hotels
For more great accommodation options in Krabi area please check:
Where to Stay in Ao Nang, Krabi?
Where to Stay in Railay Beach, Krabi?