Loy Krathong is a festival in Thailand that is celebrated throughout the country on the full moon of the 12th month of the traditional lunar calendar. During this time, you can get a real glimpse of Thai cultural history. Loy Krathong festival 2023 will be held on 27 November with celebrations a few days before and after the full moon. 
The Loy Krathong festival is an opportunity for locals to express their respect and gratitude to the water god Phra Mae Khongkha for providing abundant water source for the people. The way of Loy Krathong celebration is slightly different in each region of Thailand but the riversides all around the country fill up with the lights from thousands of candles twinkling on the water.
Here's the list of the best places to celebrate Loy Krathong festival 2023 in Thailand.
Loy Krathong in Chiang Mai
Loy Krathong and Yee Peng Lantern Festival 2023
Date: 27-28 November 2023
Chiang Mai offers an exciting and unique experience that you should definitely see at least once in a lifetime. Loy Krathong in Chiang Mai is celebrated together with the Yee Peng (also called Yi Peng) Festival which is also known as Thailand Lantern Festival. Normally, during Yee Peng Festival people light up Lanna-style hot-air lanterns (called khom loi or khom lui) and launch them into the sky.
The most popular place for locals and tourists to celebrate Loy Krathong and Yee Peng in Chiang Mai is on the riverside of the Ping River. The areas around Nawarat Bridge and the Iron Bridge are the best spots for releasing Krathongs to the river and lanterns into the sky. You will even see the houses and public places decorated with showy colored lanterns during this holiday. You can also dress up in traditional Lanna style to visit the Yi Peng Festival.
The Heaven Lantern Festival 2023
Date: 27-28 November 2023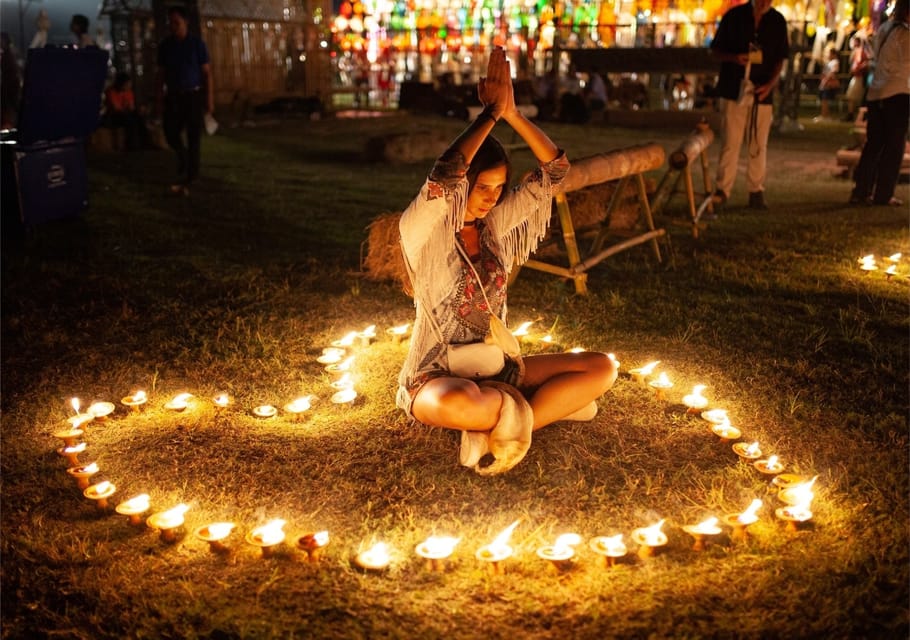 The Heaven Lantern Festival in Chiang Mai is the place where you can discover local Thai traditions and indulge your senses with brightly-lit lanterns floating in the sky and on the water, as well as with a local Thai dinner. The Heaven Lantern 2023 festival will be taking place at Suansawan (The Garden), Mae Taeng, Chiang Mai.
At the event venue visitors will find various exciting activities, including visiting the Yi Peng (or Sky Lantern) Pavilion. Visitors are invited to engage in cultural activities, and taste delicious local food and drinks while observing the countless lanterns glimmering in the sky. Guests can immerse in the event, enjoy Thai Lanna art performances and even make their own Lanna Lantern in a fun workshop activity.
The festival also gives a chance to sample local cuisine from a retro Lanna-style food market while celebrating the famous floating lantern festival in Thailand, Loy Krathong (also known as the 'Festival of Lights'). As the evening begins, festival visitors can enjoy a tasty hour-long Khan Toke buffet dinner, accompanied by an intimate show on a small stage.
To complete the evening, in the courtyard of the event venue visitors will be mesmerized by a captivating light, sound, and 'Spirit of Faith' show set in the middle of the lake and will experience the beauty of the Sky Lantern release into the night sky.
Delight in an unforgettable experience that honors timeless Thai traditions with an entrance ticket to the Heaven Lantern Festival in Chiang Mai. Be enchanted by the lanterns, the rhythm of the music, and the flavors of local Thai food.
Chiang Mai Heritage Sky Lanterns Festival 2023
Date: 27 November 2023 Experience this year's enchanting Yee Peng Chiang Mai Lantern Festival: A Night to Remember. Step into the heart of northern Thai culture with this captivating event that weaves tradition, culinary delights, and cultural immersion into an unforgettable night. Explore local crafts and learn the art of lantern making. Forge connections to age-old customs, and feast your senses at the Kae Mour Traditional Market. Eat Northern Thai dishes, snacks, and refreshing beverages (with an option for beer enthusiasts).
Dive into Lanna culture as you savor traditional music, folk dances, and cultural exhibitions that provide a window into the region's rich heritage. Watch the festival's grand performances, featuring Tai Lue Candles Dance, the Victory Drum. and Sword Fire Dance, which showcases the artistry of local traditions. As the full moon rises, embrace the spiritual side with a Monk Chanting ceremony and a mass lantern release, which transforms the night sky into a constellation of hopes and dreams.
Get tickets to Chiang Mai Heritage Sky Lanterns Festival 2023 and experience Yee Peng Chiang Mai 's Lanterns Festival, an amazing festival celebrated in the north of Thailand during the full moon of November.
Also check for discounted tickets here: Chiang Mai Heritage Sky Lanterns Festival 2023
Loy Krathong in Sukhothai
Sukhothai Loy Krathong & Candle Festival 2023
Date: 18-27 November 2023
Although Loy Krathong is celebrated across the country now, Sukhothai, the first Thai capital, is the place where this festival was first celebrated. The highlights of the Sukhothai Loy Krathong celebration Light & Sound presentations, along with a spectacular firework show, elephant duel show, Sukhothai dancing, cultural performances in front of Wat Mahathat at Sukhothai Historical Park. The event venue at the central area of Sukhothai Historical Park, which is a UNESCO World Heritage Site, can be accessed with an admission ticket  that costs from 400 THB to 1,200 THB. The show will be available every night at 19:00 with an additional performance on the last day of Loy Krathong festival celebration at 20:30.
Loy Krathong in Bangkok
If you cannot make a trip to up-country of Thailand, you have many options to join one of Loy Krathong festival events held in Bangkok. There are many places in Bangkok where Loy Krathong festival celebrations will be arranged. The main spots for many locals and tourist in Bangkok include Chao Phraya River, Asiatique the Riverfront, Wat Arun, Tha Maharat, Rama IIX Bridge, Santichaiprakan Park as well as other prominent hotels and restaurants in town.
Loy Krathong Dinner Cruise 
You can celebrate Loy Krathong Festival 2023 on the waves of the majestic Chao Phraya River in Bangkok. Enjoying dinner on Bangkok Loy Krathong River Cruise is one of the most exclusive ways for experiencing this traditional Thai festival as you can enjoy a beautiful view of the city lights and thousands of candles on the river.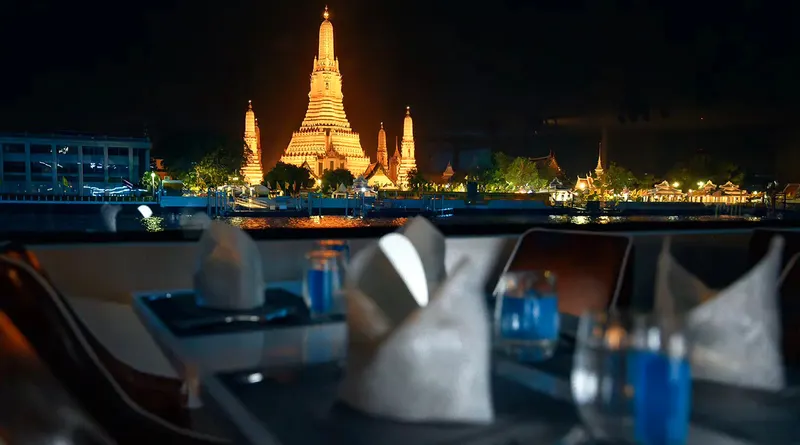 There are many dinner cruises to choose for your memorable night out on Loy Krathong Day and most of them can be found in the list of Bangkok River Cruises. During such a dinner cruise, you will experience the beauty of the Bangkok waterfront and see famous landmarks of the city illuminated at night while enjoying a gourmet dinner.
Loy Krathong Day in Bangkok Hotels
Many hotels in Bangkok organize various events on Loy Krathong Day to entertain guests with special atmosphere, from floating Krathong down the river to enjoying delicious dishes and overnight with special one-night-only rates on Loy Krathong Day 2023.
The best hotels in Bangkok for Loy Krathong Day celebration and their special offers on this occasion are listed here: Best Hotels in Bangkok for Loy Krathong.
Loy Krathong at The Salil Hotel Riverside Bangkok
Loy Krathong celebration at Nava Restaurant at The Salil Hotel Riverside Bangkok invites guests to enjoy gourmet delights, fireworks, live music, eco krathing and stylish touches. You can choose between indoor or outdoor seating by the Chao Phraya River and join the celebration on 27 November 2023, from 18:00 to 22:00. Highlights of the Riverside Loy Krathong Night Buffet include Fresh Oysters Fines de Claire No 4m Maine Lobster, Foie Gras, Roasted Lamb, Chinese BBQ, Dim Sum, Sushi, Scallop Souffle, Premium Cheese, Chocolate Fountain, and more.
Loy Krathong in Tak
Loy Kratong Sai Lai Prathip Festival
Date: 24-27 November 2023
Loy Krathong in Tak has a slightly different name as the festival here is called Loy Krathong Sai Lai Prathip Festival. The customs of Loy Krathong Sai Lai Prathip Festival in Tak are slightly different from the customs of the festival in the other parts of Thailand. People here release Krathong Sai (coconut-shell Krathongs) to flow in lines along the river. Looking from a distance, the Krathongs become a beautiful long chain of bright glittering lights.  The highlights are the ceremony of 9 Royal Inaugurated Krathongs and Lanterns and the releasing of the 1,000 floating Lanterns. This festival is organized at the Ping Riverside, at the foot of the Somphot Krung Rattanakosin Song Roi Pi Bridge.
Loy Krathong in Pattaya
Pattaya Loy Krathong Festival 2023
Date: 27 November 2023
Pattaya City scheduled the Pattaya Loy Krathong Festival to promote cultural tourism on 27 November 2023. In Pattaya, Loy Krathong Festival 2023 will be held all across the city and the beach. The main places for locals and tourists to enjoy the event are activity areas of ​​Central Pattaya (Pattaya Beach), Jomtien Beach and Lan Po Public Park in Na Kluea. There will be the Krathong making contest from natural materials, cultural art performances as well as lots of fun activities.
Loy Krathong in Samut Songkhram
Loy Krathong Kap Kluai
Date: 27 November 2023
Loy Krathong Kap Kluai on the Mae Klong River in Samut Songkhram is unique and presents an ancient tradition of using local natural resources for making Krathongs without damaging the environment. Krathong Kap Kluai is made from the fibrous layer of the "trunk" of the banana plant. You will see over 200,000 floating Krathong Kap Kluai, krathong contest and a beautiful boat for the royal cup, Miss Noppamas Pageant contest and various local cultural activities. The festival will take place at Phummarin Kudithong Temple.
Loy Krathong in Lamphun
Hundred Thousand Lantern Festival in Lamphun
Date: 4 October - 27 November 2023
Hundred Thousand Lantern Festival in Lamphun is part of Yi Peng tradition festival which similar to Chiang Mai and other areas of the north. In Lamphun, it has been practiced for a long time as a Buddhist worshiping Phra That Hariphunchai and paying respect to Phra Nang Chamadevi, the first King of Lamphun. Visitor are invited to join this festival at Wat Phra That Hariphunchai in Muang Lamphun District.
The schedule of Lamphun Hundred Thousand Lantern Festival 2023:
4 October 2023, opening to the public and tourists with worshiping and offering lanterns and hanging lanterns at Wat Phra That Hariphunchai
27 October 2023 News-telling event of a hundred thousand lantern festival in Lamphun City
17 November 2023, opening ceremony of the Hundred Thousand Lantern Festival in Lamphun in the area in front of Wat Phra That Hariphunchai
18 November 2023, opening ceremony of the flower garden and Lanna International Lantern Garden at Hariphunchai Art Park and Sala Lao Leung Art Gallery with Loy Krathong activities
25 November 2023, opening ceremony of the International Lantern Procession and Lanna Lanterns and the ceremony of presenting 9 lanterns and lighting the lanterns
27 November 2023, the last day of lantern offerings with releasing floating lanterns to worship Phra Ketkaew Chulamanee
Loy Krathong in Thailand
Loy Krathong festival will be celebrated not only in the venues listed above but across the whole nation so don't miss a chance to join in. In fact, you can get a Krathong with the candles lit and a couple of baht coins inside of it as an offering to the water spirits, bring it to the riverside, the beach or even to the swimming pool (if your hotel is holding a party of floating Krathongs) and enjoy Thai festivity!
Tips
Loy Krathong festivities at luxury hotels across Thailand are listed here: Loy Krathong at Luxury Thailand Hotels.
Loy Krathong Festival is one of the major holidays attracting a lot of tourists, so you should book hotel to stay around the festival area in advance. Book Your Hotel Now!