Planning your holidays in Thailand and looking for a hotel in Phuket's Mai Khao Beach area? Find the list of the best Mai Khao Beach hotels, including the most popular Phuket hotels and resorts on Mai Khao Beach that will help you choose Mai Khao Beach accommodation for your holidays to Thailand.
Mai Khao Beach
Mai Khao Beach is located on the northwest coast of Phuket, where most of the beach belongs to Sirinath National Park. It is and one of the most natural and quietest beaches of Phuket. At 11 km, Mai Khao Beach is the longest beach on the island. Compared with other beaches in Phuket, this beach is characterized by palms, pure and quiet scenery.
Mai Khao Beach is just a 15-20-minute drive from the airport is famous as airplane beach where you can see planes taking off and landing nearby. The beach is not popular for swimming as the water is quite deep, while the yellow sand is narrow and shallow. Most local tourists just like to come to capture pictures of planes flying over their heads and chilling on the beach.
Mai Khao Beach is actually far from everywhere, and not many people are coming here. However, you can still find a few luxury resorts. The area has a limited number of restaurants and no nightlife activities since being part of the park make the construction strongly controlled in the area. If you want to enjoy isolated time with the real nature, then Mai Khao will probably be Phuket's best spot for you.
Where to book Mai Khao hotels?
The most convenient way to book Mai Khao Beach hotels is by using a reliable online travel agent such as Booking.com.
---
Note! While most of Mai Khao hotels are offering airport pick-up service, booking a separate Phuket Airport transfer to Mai Khao Beach in most cases is significantly cheaper than transfer arranged by the hotel
---
List of Mai Khao Beach Hotels
There are few accommodations in the vicinity of Mai Khao Beach ranging from the mid-range to the luxury class.
The most popular hotels in Mai Khao Beach area are listed below.
---
To decide on the best option for the trip, more detailed information on each of the hotels/resorts with reviews, prices and availability of rooms for the selected dates can be found by clicking the links provided. 
---
1. JW Marriott Phuket Resort & Spa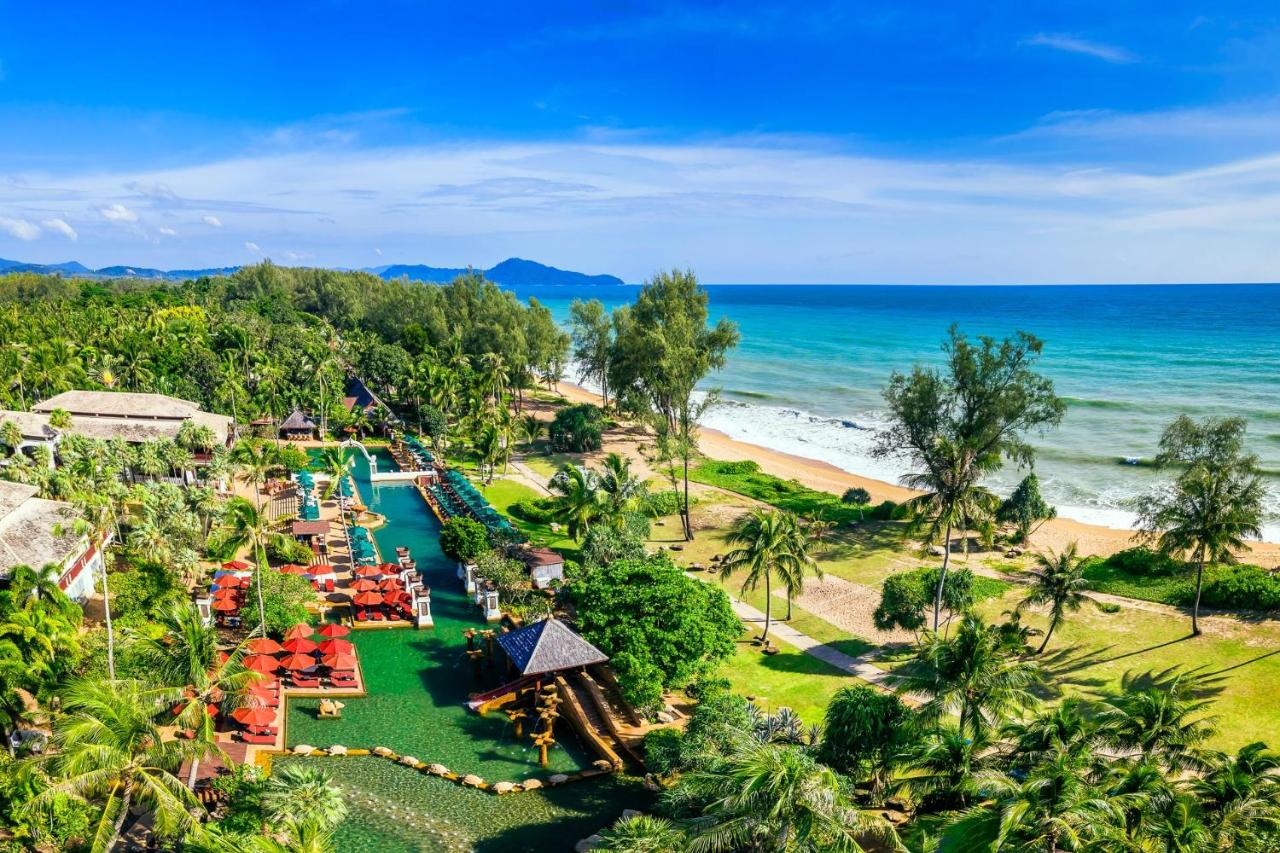 An award winning luxury resort, JW Marriott Phuket Resort & Spa, set 15 Kilometers north of the Phuket International airport, picturesque scenery on Phuket's beautiful Mai Khao Beach. Adjacent to the Sirinath Marine National Park where is the protected sea turtles nesting area. The resort provides 262 elegantly appointed deluxe rooms, suites and a royal villa overlooking the stunning Andaman Sea or tropical gardens. For a culinary journey, guests will be delighted with 11 restaurants and bars, a range of cuisine among Thai, Italian, International and Japanese. In addition to Ginja Cook, our premier culinary school where you can learn the intricacies of fine Thai cooking. The resort also offers an extensive selection of world-class facilities and diverse recreational activities, relax by three magnificent swimming pools , an award winning Mandara Spa, health club with fitness equipment, sauna room, watersport centre, Kid's Pavilion, tennis courts and The Mai Khao Marine Turtle shelter and education centre.
2. Anantara Mai Khao Phuket Villas
Indulge in beachfront living on the northwest shores of sunny Phuket at Anantara Mai Khao Phuket luxury villas. Explore the island or head out for the horizon, with stunning Phang Nga Bay on one side and the world-famous Similan Islands on the other.
3. Maikhao Dream Villa Resort & Spa, Centara Boutique Collection
Situated at the most expansive beach in Phuket, Maikhao Dream Villa Resort & Spa, Centara Boutique Collection offers 22 exquisite pool villas that are designed precisely to cater for and satisfy all the needs and desires of our guests. It is the only spacious pool villa resort in Phuket which offers tantalizing tropical-inspired décor, impeccable amenities, and warm hospitality to stir the senses beyond expectations. All 22 luxury villas are built of high quality natural materials, including classy teak wood and terra cotta, and are delightfully appointed in elegant Thai style with a private terrace, Sala, sunbathing deck and private swimming pool.
4. Anantara Vacation Club Mai Khao Phuket
Anantara Vacation Club provides the ideal setting for rest and relaxation. Suites and pool villas dot perfectly manicured tropical gardens, and are fully equipped with kitchen and laundry facilities. An immersive recreational program keeps families and groups of friends entertained.
5. Marriott's Phuket Beach Club
Marriott's Phuket Beach Club welcomes you to Thailand with contemporary comfort and sophisticated style. This vacation ownership resort is a fabulous destination for families and groups, with a great location on Phuket Island and full access to the luxurious facilities at the neighboring JW Marriott Phuket Resort and Spa. Spacious apartment rentals feature complimentary Wi-Fi, full kitchens, master suites with soaking tubs, washer/dryers and furnished balcony. Relax by one of the resort pools or break a sweat in the on-site fitness center before spoiling yourself with a spa treatment or unwinding at the beachfront bar. Satisfy every craving at one of several restaurants - from a modern steakhouse to a Japanese restaurant and an Italian eatery with pizza delivery service.
6. Renaissance Phuket Resort & Spa
Set amidst the unspoiled splendor of Mai Khao Beach, Renaissance Phuket Resort & Spa is the ultimate retreat for guests looking for relaxed luxury. Hotel's deluxe guest rooms and private villas boast sophisticated decor, plush bedding, and modern technology; many of accommodations feature breathtaking beach views, and some even include plunge pools.
7. Splash Beach Resort Mai Khao Phuket
Set in the peaceful Mai Khao Beach, Splash Beach Resort Maikhao Phuket features functional and comfortable accommodation on the northwest coast of Phuket, stretching along 11 kilometers. Surrounded by spacious landscaped gardens, the resort boasts Splash Jungle Waterpark, a range of on-site restaurants and bars and a large conference centre. Featuring a variety of accommodations including rooms, suites, penthouses and villas, each modern unit offers views of tropical gardens, the pool or Andaman Sea. At the water park, guests can enjoy exciting rides such as Boomerango, a six-level wave pool and an aqua play pool for children. For those looking for a relaxing water park tour, a 335 m lazy river is where they can float around and enjoy the place. The resort also has a sandy pool with direct access to the beach.
8. Coriacea Boutique Resort
Coriacea Boutique Resort is a Phuket Sandbox hotel, situated on the peaceful beachfront of Mai Khao Beach in northern Phuket. The resort is located a short ride from Splash Jungle Water Park and only a 15-minute drive away from Phuket International Airport. All rooms come with a flat-screen satellite TV, a minibar and an electric kettle. They come with a balcony or patio and some rooms have sea views.
9. Maikhao Palm Beach Resort
Maikhao Palm Beach Resort is a stunning Thai-Lanna style resort ideally located on the stretching and unspoiled Mai Khao Beach, part of Sirinart National Park on the north western coast of Phuket featuring 225 sumptuous guest rooms which surrounded by free-form pools and landscaped garden next to the peatland and facing to an iconic Mai Khao Beach.
10. SALA Phuket Mai Khao Beach
SALA Phuket Mai Khao Beach is a stunning deluxe pool villa resort, located on pristine Mai Khao Beach on Phuket's northwest shoreline, just 20 minutes from Phuket International Airport. SALA Phuket combines rare historical Sino-Portuguese architecture with modern 5-star facilities.
11. Maikhao Hotel Managed by Centara
Located just a short walk from the most expansive beach in Phuket, Maikhao Hotel offers a simple and relaxing getaway perfect for travellers who are seeking comfortable accommodation close to Mai Khao Beach and the airport. Maikhao Hotel consists of 2 buildings with 142 rooms and suites. A splendid pool terrace where you can relax and swim is located in the hotel courtyard.
12. Maikhao Home Garden
Maikhao Home Garden is a standalone bungalow nestled among the peaceful surroundings and luscious greenery.
13. Avani+ Mai Khao Phuket Suites & Villas
Experience boundless island tranquility at Avani+ Mai Khao Phuket Suites & Villas. Discover a haven of luxury and serenity amid tropical gardens in northern Phuket. Ensconce yourself in comfort by your own private pool. Embark on island adventures through lush jungle or on sparkling waters. Dine barefoot on the beach or immerse yourself in local scents and flavors of southern Thailand. A blissful escape awaits.
14. Wayla Villa @ Maikhaobeach
Wayla Villa @Maikhaobeach offers accommodation with an outdoor swimming pool, a garden and a shared kitchen for your convenience. Offering a patio, all units are air conditioned and feature a dining area and a seating area with a satellite flat-screen TV.
15. Marriott's Mai Khao Beach
Marriott's Mai Khao Beach Club is a SHA Extra Plus hotel located 10-minute walk to Mai Khao Beach. The resort provides modern air-conditioned apartments with a luxurious bathroom and a fully functional kitchen. Guests can stay fit at the fitness centre or relax by the pool.
16. Phuket Campground
Phuket Campground is situated in a stunning scenic landscape area away from the hustle and bustle of traffic and people on the island of Phuket. It's like a secret garden that hasn't yet been discovered. There are five separate bungalows and a vast camping area with two lakes in the centre of the land. There are numerous wild bird species and the only thing that might keep you awake at night are the croaking frog sounds.
17. Meliá Phuket Mai Khao
Meliá Phuket Mai Khao is a new beach-front pool villa resort in the most luxurious beach in Phuket.
---
Mai Khao Beach Hotel Tips!
Mai Khao Beach location is slightly off, so it is recommended for those who are planning to spend time at a high-end resort surrounded by quiet beaches.
In addition to enjoying the natural scenery, another highlight at Mai Khao Beach is to see the turtles laying eggs from November to March that attracts many people to support it.
Other Phuket Hotels
If you are interested in other Phuket areas as well, find top hotels in other popular areas of Phuket:
For the list of Best Phuket Hotels including top hotels in Phuket check here ⬇️