Phuket has long been a beach paradise favored by many tourists. On the largest island in Thailand, there is no shortage of picturesque beaches that can be perfect for your holiday. Find the list of the most beautiful beaches in Phuket and choose the place to stay nearby or visit them while touring the island.
Some of Phuket beaches are easily accessible directly from the main asphalted road, others are more hidden, and some pleasant walks along the bush are necessary to get there. The crystal clear blue sea and fine white sand of its beaches make Phuket one of the most spectacular places to enjoy your holiday in Thailand.
Best Beaches in Phuket
The 15 most beautiful beaches on the island that you should visit if you are looking for the best beach in Phuket are the following.
1. Banana Beach, Phuket
Banana Beach (sometimes called 'Banana Rock Beach') was the most pristine beach in Phuket but then the secret was discovered and tourists started rushing there. Despite the increasing number of tourists, the beach still retains incredible beauty. Banana Beach is found along Phuket's west coast between Nai Thon and Bang Tao beaches, and is located just about 50 meters north of Trisara Villas, one of Phuket's most exclusive five-star resorts. There are several bars on the beach but nothing fancy.
2. Paradise Beach, Phuket
Phuket Paradise Beach is located on the southwestern coast of the island, right on the southern tip of Patong Bay, about 5 kilometers from Patong Town. This is the beach that still retains its original features with clear water and pure white sand flanked by two large granite rocks despite the increasing flow of tourists. The beach offers a great glimpse of the whole Patong Bay and is bordered by tropical palm and almond trees which give a pleasant natural shade. The coast does not exceed 150 meters and can be reached via a path between the rocks. On Paradise Beach, there is a restaurant and also other services providing the opportunity to practice many water sports.
3. Kata Beach, Phuket
Kata Beach is about 1.5 kilometer long beach with crystal clear waters and soft white sand located by an idyllic bay. The beach is large enough to never feel too crowded and ensures that you will always have space on the beach. Kata Beach is just south of Karon Beach, but has a different atmosphere.
Kata Beach is one of the popular tourist stops on the island because it is one of the most beautiful beaches in Phuket offering fresh air and tranquility here. The beach is unofficially divided into Kata South and Kata Center (which is actually the north end, closest to Karon Beach). Kata South is home to most of the resort hotels on this beach. The beach is popular all year round and suitable for relaxing and resting. You can participate in activities such as swimming, sunbathing, and diving. Kata Beach has some excellent restaurants and quite active nightlife. There are also places for shopping, wave park (Surf House Phuket) and Dino Park Mini Golf, a Jurassic themed miniature golf course that is fun for the whole family. Although a lot of activities take place on and around the beach, Kata Beach is still very beautiful and attractive.
Some of the best resorts on Kata Beach:
4. Kata Noi Beach, Phuket
Located south of Kata Beach, Kata Noi Beach (means Little Kata) is one of Phuket's most beautiful beaches. Kata Noi Beach is like miniature Kata - same white sand, same beautiful blue water, but the beach is smaller and more intimate.
The beach is still not commercialized, so there are only a handful of sun loungers to sunbathe. Kata Noi Beach is suitable for those who love to swim, snorkel and practice water sports. The beach also boasts some lovely resort hotels and excellent food to make your day more fun and interesting.
Some of the best resorts on Kata Noi Beach:
5. Laem Singh Beach, Phuket
Laem Singh Beach, a small beach located between Kamala Beach and Surin Beach, is one of the pretty beaches on Phuket Island that used to be less known but now attracts a lot of tourists. If you are looking for a beach that looks like a tropical paradise, then Laem Singh Beach is the place for you. Laem Sing Beach is very beautiful, with white beach and turquoise waters. The only downside is that it is quite crowded in recent years, if compared to the past. However, this is one of the most beautiful bays on the island and a great place to spend few hours.
6. Nai Harn Beach, Phuket
Located in the southern part of Phuket, Nai Harn Beach is a cove with soft sand and sea that changes from tranquility during high season to strong waves in low season, making it a popular spot for surfers. The water here is excellent, so you can take a deep dive. This beach has never been crowded like other beautiful beaches in Phuket, so it offers a quiet and relaxed space for holidays.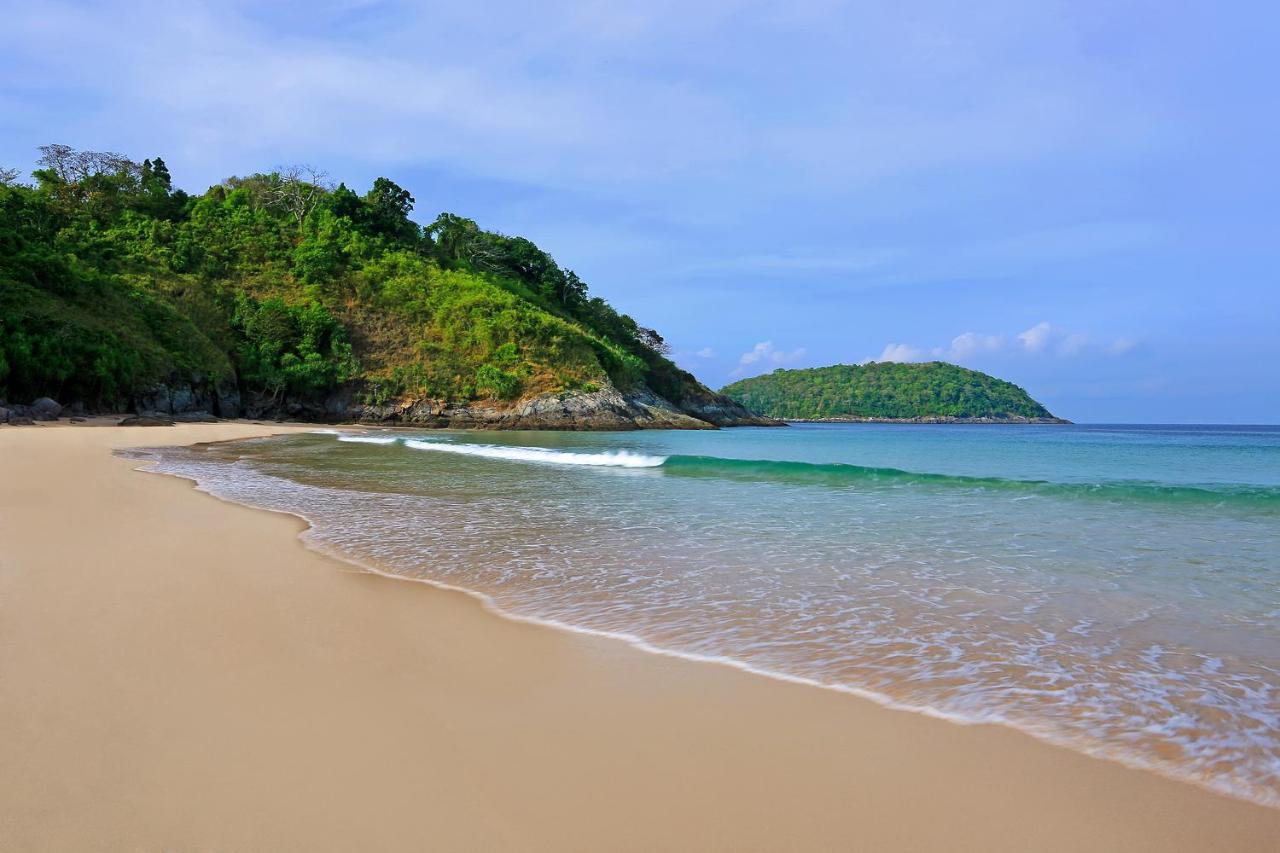 Some of the best resorts on Nai Harn Beach:
7. Freedom Beach, Phuket
Phuket Freedom Beach is located on the southwestern coast of the island, behind the southernmost end of the famous Patong Beach. Freedom Beach is also very popular with tourists as it is isolated and quiet, completely out of the hustle and bustle of Patong Beach. As the name implies, this is a fairly deserted beach and is one of the most difficult beaches to access in Phuket. Unless you are prepared to trek 1 kilometer through the jungle, you can only take a boat for reaching it. The trip by a long tail-boat normally should not exceed 1000 baht for 6-8 passengers. With that effort, you will be able to visit this beautiful 300 meter seaside strip to enjoy the clear turquoise water with soft white sand and the background of the dense forest stretching along the beach. On the coast, there is a restaurant and sunbeds to rent. The stay on the beach is not allowed.
8. Kamala Beach, Phuket
Kamala Beach is located on the west coast of Phuket Island, 8 kilometers north of Patong Beach and about half an hour drive from Phuket International Airport. With a nearby fishing village, the beach retains a sense of authenticity, something rare in this part of Phuket. Kamala Beach has a 2 kilometer stretch of sand surrounded by dense hills. The beach is extremely quiet during the low season. The peak season on Kamala Beach is more bustling, but this is still one of the most relaxing and quiet beaches on the island.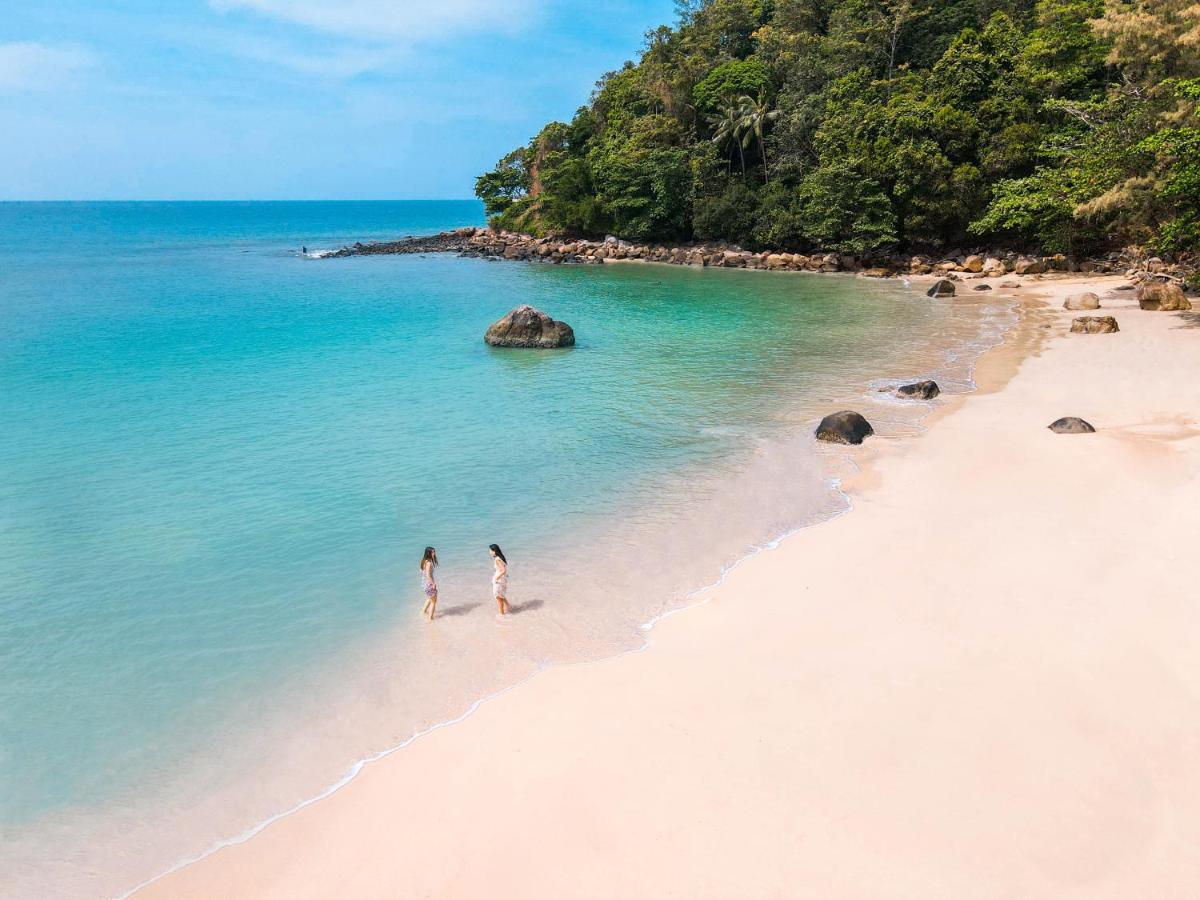 By the north of Kamala Beach, there are beautiful coral reefs, attracting a large number of tourists to come there for snorkeling. At the end of this beach, there is the temple of Wat Baan Kamala with many pictures of Buddha. You can visit the temple. Kamala Beach is the favorite place for retirees and long-term tourists. There are many small hotels, villas and apartments for rent. You will also get an opportunity to enjoy watching extremely romantic sunsets on the beach.
Some of the best resorts on Kamala Beach:
InterContinental Phuket Resort
9. Surin Beach, Phuket
Surin Beach is a 1 kilometer long golden sand beach. This place is famous for its clear water and beautiful rows of palm trees.
The beach once was visited by the late Rama IX in the 1950s, from which it became a playground for the rich and wealthy, with several nearby luxury resorts and hotels as well as a golf course. One of the most popular things on Surin Beach is the abundance of sea sports. There are also several gardens and fishing villages nearby that can be visited. In addition, it's an extremely pleasant beach with some small restaurants and bars just a short walk away.
Some of the best resorts on Surin Beach:
10. Ya Nui Beach, Phuket
Ya Nui Beach is an intimate and absolutely captivating beach just a few steps south of Nai Harn Beach and just over the hill from the Windmill Viewpoint. In fact, you get an excellent view of Ya Nui Beach from the viewpoint. The beach is divided into two bays by a rock formation that juts out into the water.
The entrance to the bay is guarded by Koh Man, a small island about 700 meters from the shore. The beach attracts swimmers in the high season, as well as snorkelers. More adventurous tourists can rent a kayak and paddle to Koh Man for a few hours.
Some of the best accommodations around Ya Nui Beach:
11. Karon Beach, Phuket
Karon Beach is divided into Karon Noi and Karon Yai. Karon Beach is the first main beach south of Patong, and is one of the longest beaches in Phuket. The area is extremely popular with tourists. Karon Beach has a number of excellent Thai and western restaurants, and although nothing like Patong, it also has its nightlife scene. The boardwalk is lined with boutiques and resort hotels though these are located across the street from the beach.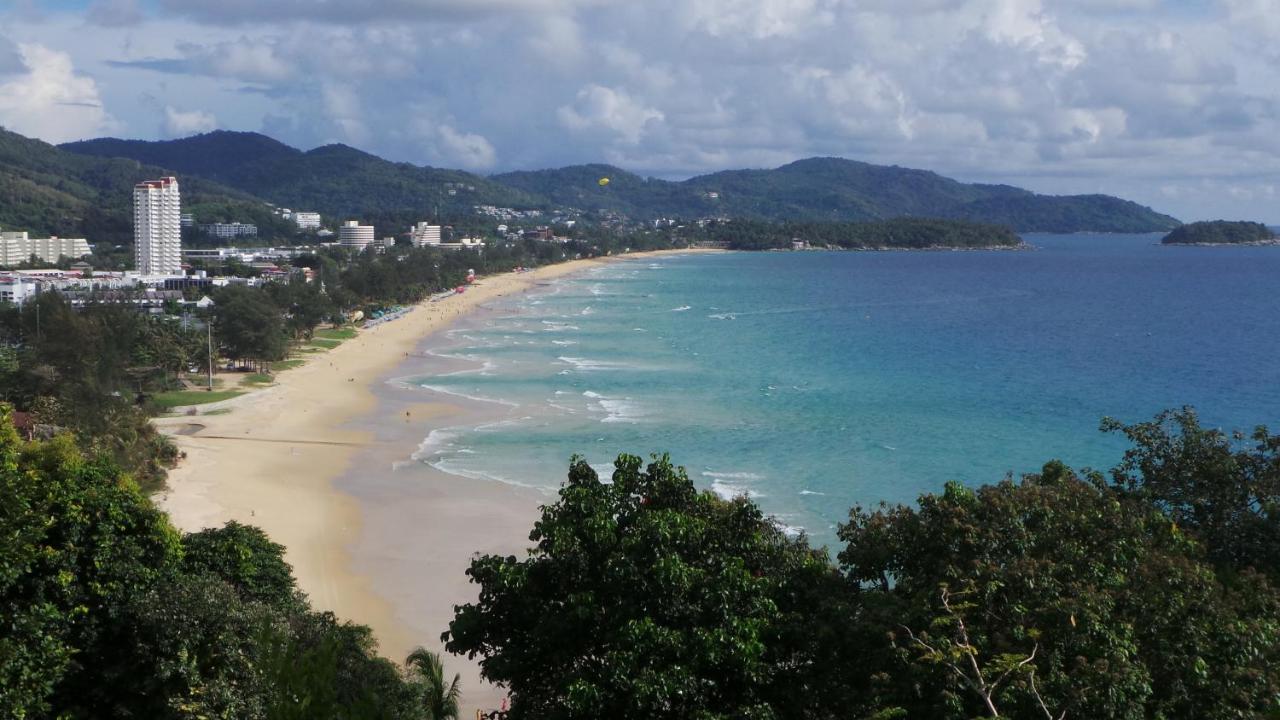 Some of the best resorts on Karon Beach:
Centara Grand Beach Resort Phuket
Thavorn Palm Beach Resort Phuket
12. Patong Beach, Phuket
For better or for worse, Patong Beach is probably Phuket's most popular beach, so it's a good place to start the trip. Every year, Patong Beach welcomes millions of tourists from all over the world. Patong Beach is large as it occupies 4 kilometers of coastline and has a beautiful natural landscape, a combination of clear blue sea with the fine white sand.
At Patong Beach, you will not only discover the beauty of this place but also experience many water sports such as windsurfing, water skiing, sailing, canoeing, etc. On the beach, there are many shops serving fresh and cheap specialties and seafood. There are also many Thai massage services right on the beach to help you enjoy moments of comfort. Patong Beach is also famous for its nightlife due to the party atmosphere and close to the neon lights of Bangla. However, this place is not recommended for families and those looking for a quiet corner.
Some of the best hotels on Patong Beach:
LIV Hotel Phuket Patong Beachfront
13. Mai Khao Beach, Phuket
Mai Khao Beach, also known as White Wood Beach, is located north of Phuket Airport. With the length of 9.5 kilometers, Mai Khao Beach is the longest beach in Phuket. This is one of the few places offering developed international resorts and beaches with natural beauty. Although not as beautiful as some other beaches, this area is attractive because of its very peaceful atmosphere.
Some of the best resorts on Mai Khao Beach:
Maikhao Dream Villa Resort and Spa
14. Bang Tao Beach, Phuket
Bang Tao Beach is a beautiful beach with the length of 8 kilometers. Bang Tao has a dual personality. The beach is located between Surin and Nai Yang. The northern end of the beach is relatively quiet, while the southern end of the beach attracts bigger crowds.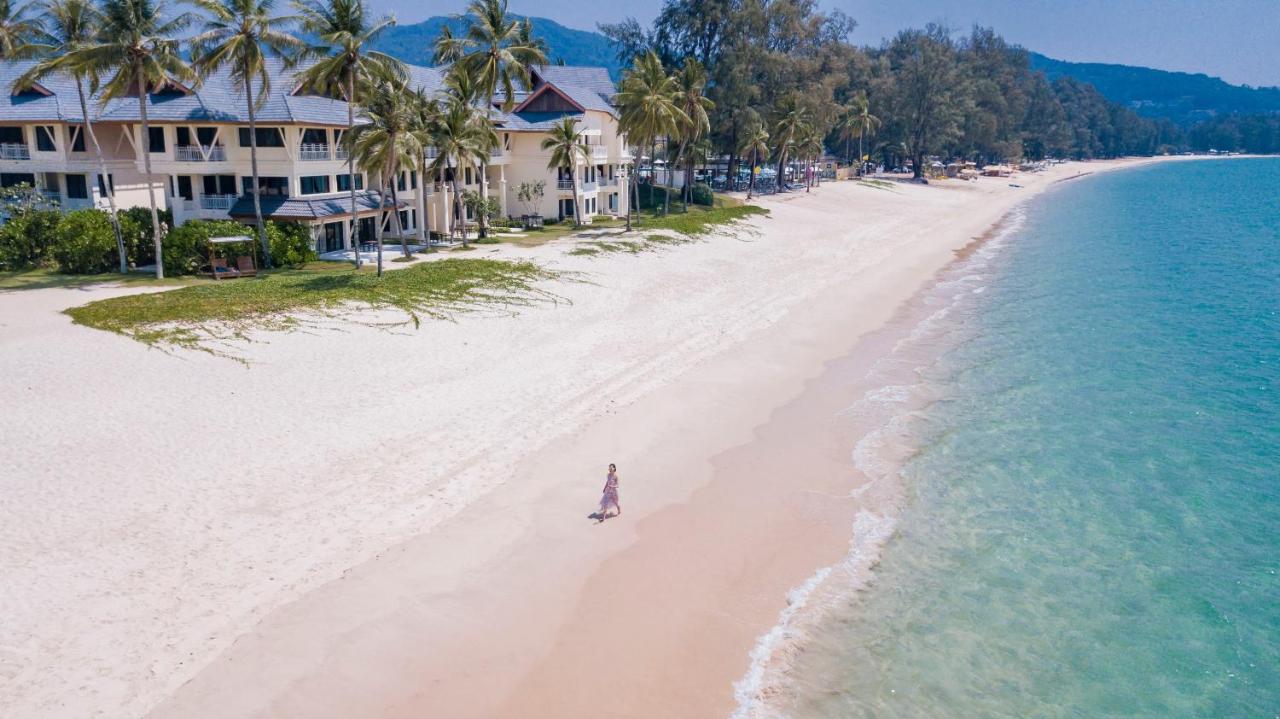 It is also home to Laguna Complex - an area of the most luxurious hotels and resorts and a private golf course. The beach offers the possibility to practice many water sports and nearby you can even try horse riding. Bang Tao Beach is also home to four renowned beach clubs, each of which is a great place to spend an afternoon or evening.
Some of the best resorts on Bang Tao Beach:
Outrigger Laguna Phuket Beach Resort
Best Western Premier Bangtao Beach Resort & Spa
15. Panwa Beach, Phuket
Panwa Beach is located on the southeastern coast of the island and is divided into two parts by an esplanade along the sea of about 300 meters. The western part is only about seventy meters long, sandy and located right next to the headquarters of Thai Navy. Local fishermen are often found at the ends of Panwa Beach. At the end of the beach, Phuket Aquarium can be found.
On the beach, there are neither umbrellas nor sunbeds, so you can really enjoy the tranquility and privacy here. Along Panwa beach, there are many villas and fisherman's huts. In addition, you can also use a boat to visit the nearby bays.
Some of the best hotels on Panwa Beach:
Sri Panwa Phuket Luxury Pool Villa Hotel