Without a doubt, Muay Thai (Thai Boxing) is the number one national sport in Thailand and part of Thai culture. On your upcoming trip to Bangkok, we would recommend seeing at least one Thai boxing match. For the most exceptional experience, choose one of 8 best places to watch Muay Thai fights in Bangkok.
According to historical records, Muay Thai martial arts appeared in the Middle Ages when the fighting had the use of swords, bows and arrows. In Thailand, this martial art began to be sent to the army to train soldiers on the orders of King Nareusan during 1555-1605. He was one of the bravest warriors of the country at the time and helped Muay Thai to become famous.
An official match of Muay Thai must not exceed 5 rounds, each round up to 3 minutes. Two fighters wear blue or red pants. They are not allowed to wear shoes but have bandages around their feet.
Best places to watch Muay Thai in Bangkok
In this article, you will discover the best places to see a Thai boxing fight in Bangkok, where you will enjoy a true professional match and understand more about this part of Thai culture during your trip to Thailand.
1. Rajadamnern Boxing Stadium
Rajadamnern Boxing Stadium is one of two most famous Muay Thai venues of Bangkok. It is the oldest and most prestigious boxing stadium in Thai capital, opened in 1945. Commonly called by its abbreviation, Radja, it is the second largest boxing stadium in Thailand. Rajadamnern Boxing Stadium is a real institution for boxers where many champions of Muay Thai have done their classes.
One of the best things about this stadium is that it is very close to the old city, Khao San Road and the Chao Phraya River, making it more accessible for tourists, especially the ones staying on city's most famous backpacker street.
This Thai boxing stadium is also the only place to go if you want to watch a fight between female fighters.
Schedule:
Mondays, Tuesdays, Fridays and Saturdays from 18:00 to 23:00 (event starts at 19:00 /19:15)
Wednesdays, Thursdays and Sundays from 17:00 to 22:00 (event starts at 18:00 / 18:15);
Ticket prices:
1,500 THB in 2nd Class
1,800 THB in Club Class
2,500 THB at the Ring Side
3,500 THB at VIP counter with Free Flow Beer
4,500 THB at VIP lounge with Free Flow Beer
Look for discounted entrance tickets here: Tickets to Muay Thai Rajadamnern Boxing Stadium
Another place to look for discounted tickets is here: Muay Thai Match at Rajadamnern Stadium
Address: Rajadamnern Boxing Stadium, 1 Ratchadamnoen Nok Road, Pom Prap, Khet Pom Prap Sattru Phai, Bangkok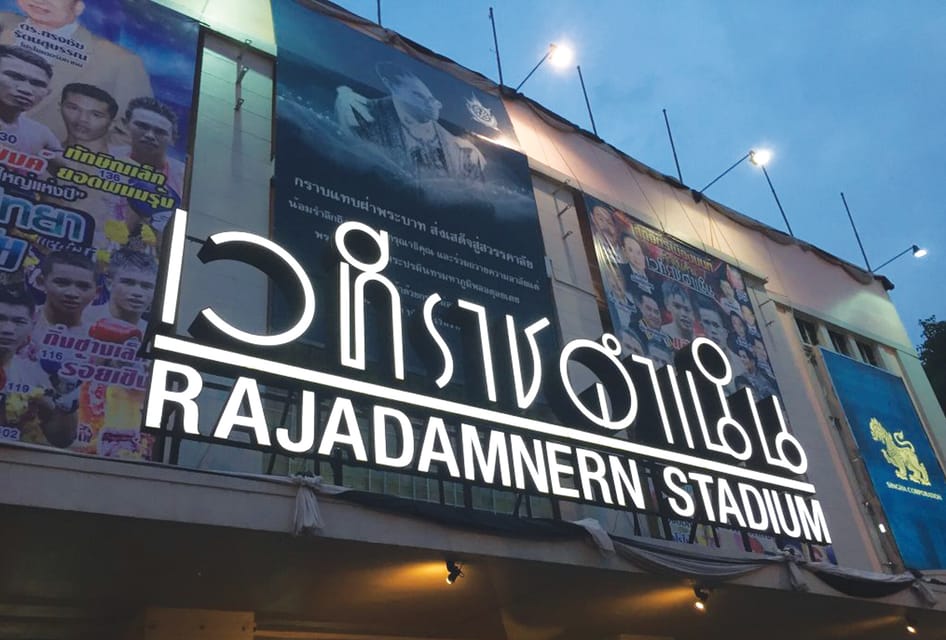 How to get there: For getting to this stadium it is best to take a taxi, as most of Bangkok taxi drivers will know it. If you are staying far away, you can save on taxi fare by going to National Stadium BTS Skytrain station and taking a taxi from there.
2. Lumpinee Boxing Stadium
As one of the largest Muay Thai stadiums in Bangkok, Lumpinee Boxing Stadium is considered the heart of Muay Thai, where all professional fighters aspire to fight one day.
Operated by the Thai Army on behalf of the government, Lumpinee Boxing Stadium is located outside the city center, close to Don Muang Airport. It is officially called New Lumpinee Boxing Stadium because it was moved from its original location, next to Lumphini Park, a few years ago, although many local people still call it by its short name.
Currently, matches at this Thai boxing stadium take place on Fridays and Saturdays. 
On Saturday nights the fights of LWC SUPER CHAMP (Lumpinee World Championship) take place at Lumpinee Boxing Stadium. You will see between 8 and 10 fights on one night, which should last for two or three hours. As always, the best fights are left until the end.
On Saturday mornings, Fairtex Fight event "Fairtex Fight มวยมันพันธุ์ EXTREME" is organized at the stadium and broadcasted on Channel 7. 
Friday nights at the iconic Lumpinee Boxing Stadium are reserved for "ONE Lumpinee" weekly live events that are organized by ONE Championship (ONE), the world's largest martial arts organization. Events feature the best local and international martial artists competing in ONE's Muay Thai, kickboxing, and mixed martial arts divisions. 
Schedule:
Fridays 19:30-22:30
Saturdays 10:00 - 12:00, 17:30-20:00
You can see the program of upcoming events on Lumpinee's Facebook page
Ticket prices to ONE Lumpinee (Fridays):
1,000 THB for Grandstand Normal Seat
2,000 THB for Grandstand Upper Seat
2,500 THB for Grandstand Lower Seat
3,000 THB for Ringside Seat
Book discounted tickets here: ONE Lumpinee Muay Thai Tickets at Lumpinee Boxing Stadium
Ticket prices to LWC SUPER CHAMP & Fairtex Fight (Saturdays):
800 THB for Club Class (Chair Seat)
800 THB for Grandstand Seat
1,500 THB for Ringside Seat
Book discounted tickets here: Muay Thai Match Tickets at Lumpinee Boxing Stadium
Address: New Lumpinee Boxing Stadium, 6 Ramintra Rd, Khwaeng Anusawari, Khet Bang Khen, Bangkok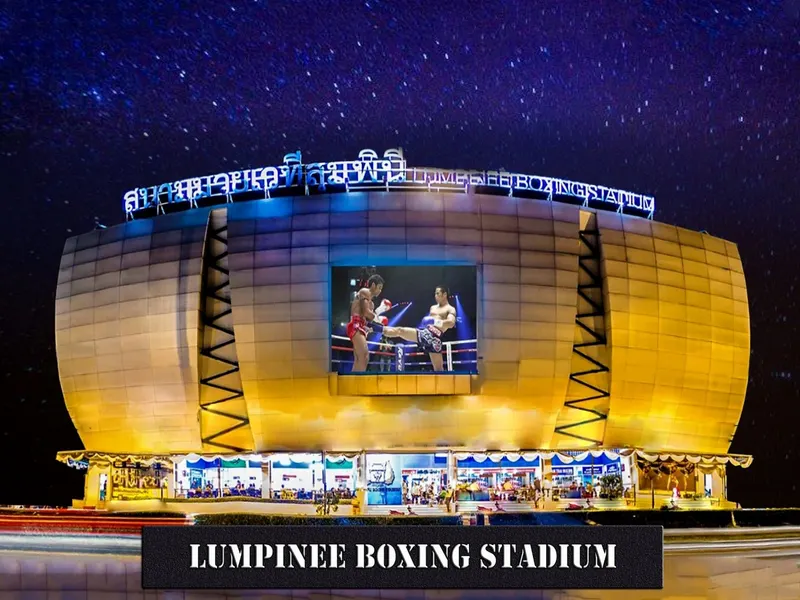 How to get there: Lumpinee Stadium is located on the outskirts of Bangkok, about a 30-minute drive from downtown Bangkok in the direction of Don Muang Airport. The best way for reaching Lumpinee Boxing Stadium is to take a taxi but if you want to save some money, you can go by Bangkok BTS to Wat Phra Sri Mahathat station, which is about 1.6 km from the stadium, and catch the taxi or motorbike taxi from there.
3. Channel 7 Boxing Stadium
In the past, Channel 7 Boxing Stadium used to be a local secret venue with tickets, but now it also attracts a large number of tourists to watch Muay Thai. The stadium is located in Chatuchak, near Bangkok Northern Bus Station and the famous Chatuchak Weekend Market.
Channel 7 Boxing Stadium holds six matches attended by professional fighters of all ages. The battles take place only on Sunday, starting shortly after 14:00. The fighting session lasts about two and a half hours, since there are several fights. It is also possible to walk outside and see how boxers prepare.
We recommend arriving a little later than noon on any Sunday, as the area will almost certainly be packed since it does not cost money.
There is also the area that is designated for foreigners. Otherwise, you can pay only 300 THB to get yourself a plastic chair as a VIP seat! However, be sure to respect the dress code with no shorts, no sandals or flip-flops and sleeveless T-shirts.
If you cannot go to the venue, you can watch Muay Thai fights live on television. The matches are filmed and broadcasted on Channel 7.
Schedule: Sunday, starting at 14:00
Ticket prices: Free admission for standing, 300 THB for seating
Address: Channel 7 Boxing Stadium, 998/1, Phahon Yothin, Khwaeng Chom Phon, Khet Chatuchak, Bangkok
How to get there: For getting to this Muay Thai stadium, you can take Bangkok MRT to Chatuchak station or BTS to Mo Chit station and walk from there in less than ten minutes or ask the motorbike taxi to take you to Channel 7 studios for 20 THB.
4. World Siam Stadium
World Siam Stadium is one of the newest Thai boxing stadiums in Bangkok. This Muay Thai venue is located at Tawanna Bangkapi Community Market in Bang Kapi District, Bangkok. Even if the stadium is not that big, watching Muay Thai might be a good idea as stadium's location next to a huge shopping mall The Mall Bang Kapi lets you combine shopping with an event of Muay Thai in Bangkok.
Schedule: Saturday, starting at 16:00
Ticket prices: 
800 THB for Grandstand Seat
1000 THB for VIP Ringside
Discounted ticket packs of 10, 15 and 20 tickets are offered for group visitors.
Book discounted tickets here: Muay Thai Saturday Fight at World Siam Stadium
Address: World Siam Stadium at Tawanna Bangkapi, 3500 Ladprao Road Khlong Chan, Ladprao, Bang Kapi District, Bangkok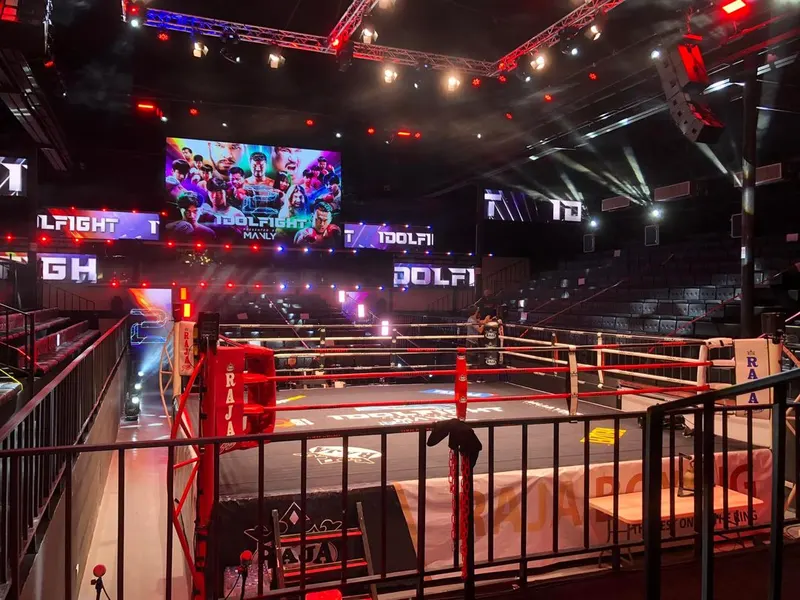 How to get there: The easiest way for getting to this Muay Thai stadium from the city center is by taking a taxi. Depending on where in Bangkok you are staying, the trip to the boxing stadium in Bangkapi should cost around 200-300 THB. Otherwise, you can take the newly opened MRT Yellow Line skytrain to Bang Kapi station.
5. MBK Fight Night
Perhaps less authentic than the stadiums mentioned above, MBK Center is a gigantic shopping center, where you can find everything, including high-end products. This is also good place to see free Muay Thai fights. Now there are monthly Thai Boxing matches at MBK shopping center. This place often attracts a large audience so the atmosphere is very bustling and you can watch great women's matches.
Schedule: Every first and last Wednesday of the month, starting at 17:00. To know their schedule, you can refer to the information directly on their official Facebook Page MBK Fight Night.
Ticket price: Free admission
Address: G Floor, MBK Avenue (zone A), MBK Center, Rama 1 Rd., Pathumwan, Bangkok
How to get there: You can take BTS to National Stadium station
6. Siam Boxing Stadium
Located in the neighboring Samut Sakhon province, Siam Boxing Stadium is also known as the Omnoi Stadium. It's a smaller venue where you get to experience watching Muay Thai fights with locals. The stadium was originally the first Thai boxing stadium to have a female commentator. However, there are a large number of professional fighters here, including Muay Thai fighters from abroad. It is easier to see the knockout matches here, in part because of the heavier weight of the competitors. Moreover, the tickets here are more affordable than in other stadiums, so you can visit Siam Boxing Stadium to watch a professional Muay Thai match at good price.
Siam Boxing Stadium fights are broadcasted live on Channel 3 of Thai television.
Schedule: Sunday at 11:00
Ticket price: 300-500 THB
Address: Siam Boxing Stadium, 74 Moo 12, Soi Phet Kasem 87, Om Noi, Samut Sakhon
7. Rangsit Boxing Stadium
Rangsit Boxing Stadium is located in the neighboring province of Pathum Thani, which also has a large shopping center Future Park and Dream World amusement park. This is more like a traditional Thai boxing stadium in Bangkok. The stadium has two rounds of fights, one for male fighters and one for female opponents.
The matches are held on Tuesday and Friday nights, starting at 18:00 and live streaming on True4U Channel. Fares vary depending on the day and whether male or female fighters are boxing.
Schedule: starting at 18:00 on Tuesday and Friday
Ticket price: 100-200 THB
Address: 323 Phahonyothin Rd, Tambon Prachathipat, Thanyaburi District, Pathum Thani
How to get there: You can take SRT Red Line commuter train to Lak Hok or Khlong Rangsit station and then take a taxi to the stadium, which is around 3 km from both these stations.
8. Thupatemi Boxing Stadium
Thupatemi Stadium is a multi-purpose stadium in Pathum Thani, north of Bangkok. It is currently mostly used for football matches but in 2022 Thupatemi Boxing Stadium was also opened inside the stadium's premises and is one more Thai boxing venue in Bangkok since then. Muay Thai competition program there is organized every Monday and broadcasted live on PSI TV channel 53.
You can witness authentic Muay Thai fights at Thupatemi Boxing Stadium and enjoy a thrilling and action-packed evening as local and international fighters compete in traditional Muay Thai bouts.
Schedule: Monday, starting at 18:00
Ticket prices: 
1,500 THB for Admission ticket
Book tickets here: Muay Thai Monday Fight at Thupatemi Boxing Stadium
Address: Thupatemi Boxing Stadium, 171 Phaholyothin Road, Khu Khot, Lam Luk Ka District, Pathum Thani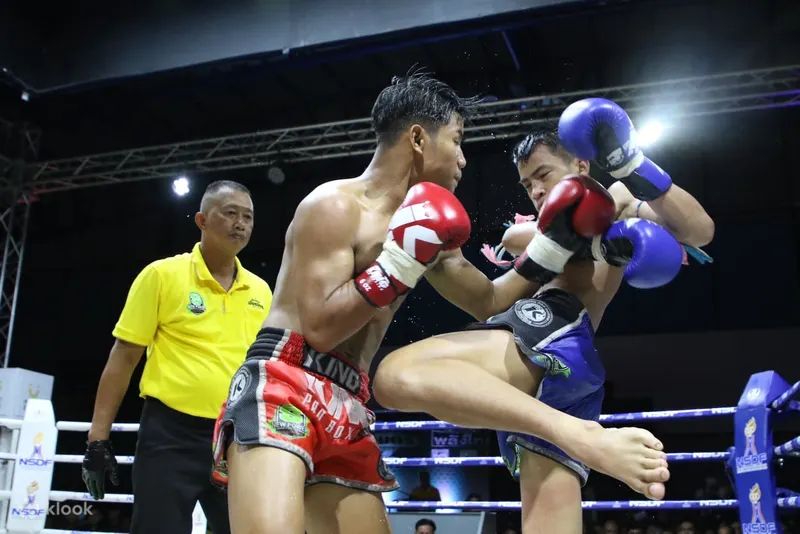 How to get there: You can take SRT Red Line commuter train to Grand Canal station or Bangkok BTS to Royal Thai Air Force Museum station and then take a taxi to the stadium.
Muay Thai Live Show at Asiatique Bangkok [CLOSED]
If you are interested in this martial art, you can visit the Muay Thai Live Show at Asiatique during your trip to Thailand. The Muay Thai Live Show is an exciting and wonderful entertainment program for anyone who wants to gain a deeper insight into Thai culture. This show takes place at the Modern Stage Theater with a capacity of 600 seats. The 90-minute performance was directed by Ekachai Uekrongtham, the world famous director with the award-winning film Beautiful Boxer and the hit musical Chang and Eng Bunker.
The stories of Muay Thai Live begin in the ancient Siam region, where traces of this ancient martial art are found. As well as the usual types of performances at the theater, this program also has a male protagonist, series of male villains, beautiful girls and drunken village boys. You will also see firsthand fights that are only a few meters from your seat. All the performances here are staged, but the punches, kicks, lifting and throwing opponents to the ring are based on real attacks, without special techniques.
Schedule: CLOSED
Book discount ticket here: Muay Thai Live: The Legend Lives Ticket
Address: Asiatique The Riverfront, 2194 Charoenkrung Road, Bangkok
How to get there: For getting there, it's best to take BTS skytrain to Saphan Taksin station and then transfer to the free boat at the end of the pier that will take you to Asiatique.
MX Muay Xtreme [CLOSED]
If you want to find the energetic place to see Muay Thai in Bangkok, go to MX Muay Xtreme to enjoy the battles. This place attracts the younger generation of Thailand.
MX Muay Xtreme has its own rules as some Muay Thai traditions here have been replaced, such as the use of modern music and colorful entrance, and it's quite common to see Thais fighting against foreigners. MX Muay Xtreme does not use big size gloves like other places, but only 6 oz size gloves (quite light and small gloves), so the rate of knockouts here is very high. There is often a lot of blood, injuries (fake or real) and knockouts. MX Muay Xtreme is a weekly show that is also broadcasted on TV.
Update! MX Muay Xtreme no longer has a constant location in Bangkok, where you could watch Muay Thai fights live. The last time an event under this name was taking place in a temporary venue in Phuket. 
Currently similar to some extent fights are organised at the event Fairtex Fight, Extreme Boxing. This Muay Thai programme is shown live on Channel 7HD every Saturday from 10:00 to noon but so far we don't have information if you could get in into the venue to see these fights.
Which Muay Thai Stadium to choose?
For the best experience, choose to watch Muay Thai fights in one of the leading Thai boxing stadiums in Bangkok - Lumpinee or Rajadamnern. These two stadiums are considered to be the best not only in the capital city but also in all Thailand.
Any day of the week you can attend Muay Thai fight event at Rajadamnern Boxing Stadium, which is centrally located. That makes this Bangkok Muay Thai stadium the preferred choice easily. However, if you don't mind getting out a bit from the city center and are looking to visit Bangkok on weekend, visiting Lumpinee and watching ONE fights on Friday or other Muay Thai fights on Saturday might be a good choice as these events are cheaper but no less professional than the ones at Rajadamnern.
Where to learn Muay Thai
You can learn the basics of Muay Thai, Thailand's traditional combat sport, while in Bangkok. This is an experience not to be missed. These classes are suitable for both beginner and intermediate participants, with an option for a private class available:
Muay Thai Class by Watchara Muay Thai Gym
Muay Thai (Boxing) Classes by Laks Thai in Bangkok
More options for training Muay Thai in Bangkok can be found here: Best Muay Thai Classes in Bangkok
Muay Thai in Thailand
If during your Thailand trip your time in Bangkok will be limited and you will spend most of your holidays time in Phuket, you can also watch Muay Thai in Phuket as there are several Thai boxing stadiums on the island.
Several Thai boxing stadiums are also located in Krabi province (Ao Nang and Koh Lanta), providing plenty of options for seeing Muay Thai in Krabi.
When traveling on the coast of the Gulf of Siam, you can choose to watch Muay Thai in Koh Samui.
There are also plenty of Thai boxing stadiums in Northern Thailand, giving you an opportunity to watch Muay Thai in Chiang Mai. However, the quality of fights might be not as high as you can experience in Bangkok.
Experiencing Muay Thai in Pattaya is also an option, even if Thai boxing venues in Pattaya are mainly focused on serving tour groups.