Planning your holidays in Thailand and looking for a family-friendly hotel or resort in Phuket that would have water slides or even a water park onsite? Find the list of the best Phuket hotels with water park or water slides for the whole family.
Where to book Phuket Hotels?
The most convenient way to book Phuket hotels with water park or water slides is by using a reliable online travel agent such as Booking.com.
It is recommended to book your accommodation in advance during the hottest days of summer, as Phuket resorts with water park and water slides are some of the most popular destinations on the island for families with children during the summer months.
---
Note! While most of Phuket hotels are offering airport pick-up service, booking a separate Phuket Airport transfer to hotel in most cases is significantly cheaper than transfer arranged by the hotel
---
List of Phuket Hotels with Water Park
Many Phuket hotels and resorts offer numerous entertainment options and water activities for kids to make sure that you will have the perfect family holiday.
The most popular Phuket Hotels with water park or water slides for a family holiday are listed below.
---
To decide on the best option for the trip, more detailed information on each of the hotels/resorts with reviews, prices and availability of rooms for the selected dates can be found by clicking the links provided. 
---
1. Phuket Orchid Resort and Spa
Location: Karon Beach
Water park opening hours: daily 07:00 - 19:00
Surrounded by tropical gardens of bougainvillea, Phuket Orchid Resort is located in the middle of Karon Beach and a few minutes' walk from the beach. The 524-room resort includes family rooms with pool views, and has an easy-going village atmosphere with tropical gardens and tall palm trees.
At Phuket Orchid Resort, there is an outdoor swimming pool with the highest water slide in Karon to provide a thrilling water ride for everyone, accompanied by the slide's happy purple penguin mascot, Guinlider. There is also a separate area for children, including the very young, to splash around and enjoy themselves.
Reviews about hotel's water park from guests:
"The kids loved the waterslide. The pools are a great feature of the hotel and we really enjoyed the outdoor areas during the day. The swim-up bar was fun for the whole family. "
"The pool and slides were great. Lots of different areas for kids of all ages which kept the kids in our group (aged 3-9) occupied for hours each day."
"Perfect stay for families with kids! there's a kiddie pool with mini slides, a larger pool for the grown-ups, and 2 tall water slides surrounded by a lazy river. "
2. Splash Beach Resort
Location: Mai Khao Beach
Water park opening hours: from Thursdays to Mondays 10:00 - 17:45
Set in the peaceful Mai Khao Beach, Splash Beach Resort is a full-service beachfront resort offering an infinity pool, private pool villas, kid-friendly water park in Phuket and more.
Within a walking distance, there is a Splash Jungle Water Park which is open from Thursday to Monday. At the water park, guests can enjoy exciting rides such as Boomerango, a six-level wave pool and an aqua play pool for children. For those looking for a relaxing water park tour, a 335 m lazy river is where they can float around and enjoy the place. The resort also has a sandy pool with direct access to the beach.
Reviews about hotel's water park from guests:
"The splash water park is nice for families with children. Lots of options to play around with water for small and grown-up children."
"Waterpark was good as well, not crowded, nice choice of slides. If you got kids below 1.22M expect only 2-3 rides available for them, including a lazy river. Good restaurant in a waterpark, with very reasonable prices and great service."
"Great hotel with water park! Must be booked if you are traveling with kids (they were excited with water park)."
3. Diamond Cliff Resort & Spa
Location: Patong Beach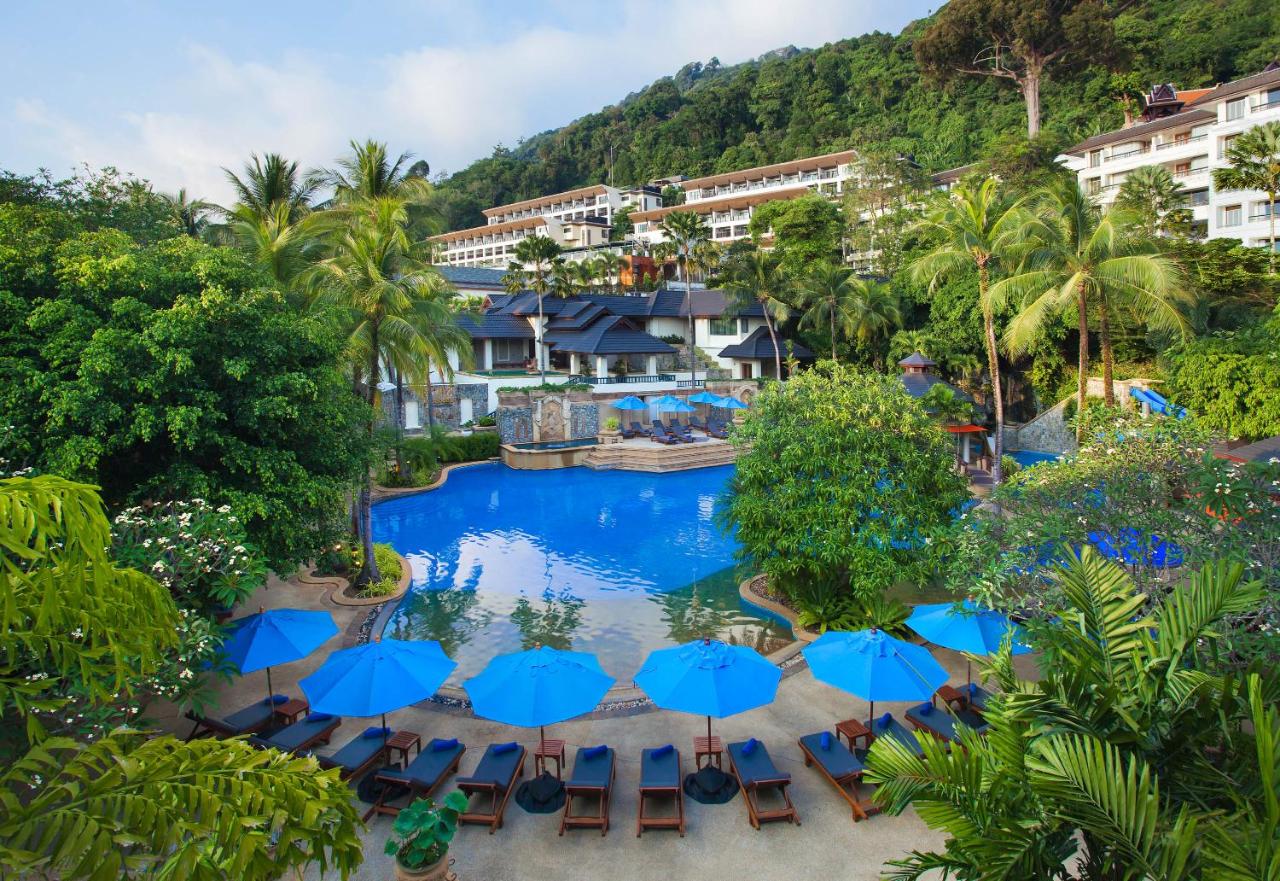 Diamond Cliff Resort and Spa is set within 20 acres of beautiful gardens above Patong. Overlooking the Andaman Sea and Kalim Beach, it offers 3 restaurants, 3 bars and 2 pools. The superb waterfall swimming pool set amidst coconut palms and tropical gardens is where all the action takes place. The large pool has something for everyone, especially children with cascading waterfalls, a fun slide, splash zone and floating pool. A shallow kid's pool is alongside the main pool providing a safe area for little ones. Swim up to the bar for a refreshing drink with fresh fruit juice and cocktails to cool you down.
Reviews about hotel's water park from guests:
"The hotel has two pools we enjoyed both of them. The children especially loved to bigger pool with the slider."
"The pool facilities are very nice too, with the front one having a view of the ocean and the rear one having a little waterfall and slide for children."
"The hotel is at walking distance from Patong Beach. A large size property with a great ambiance, including two swimming pools. The slide in the pool was icing on cake as my kid loved it."
4. Centara Grand Beach Resort Phuket
Location: Karon Beach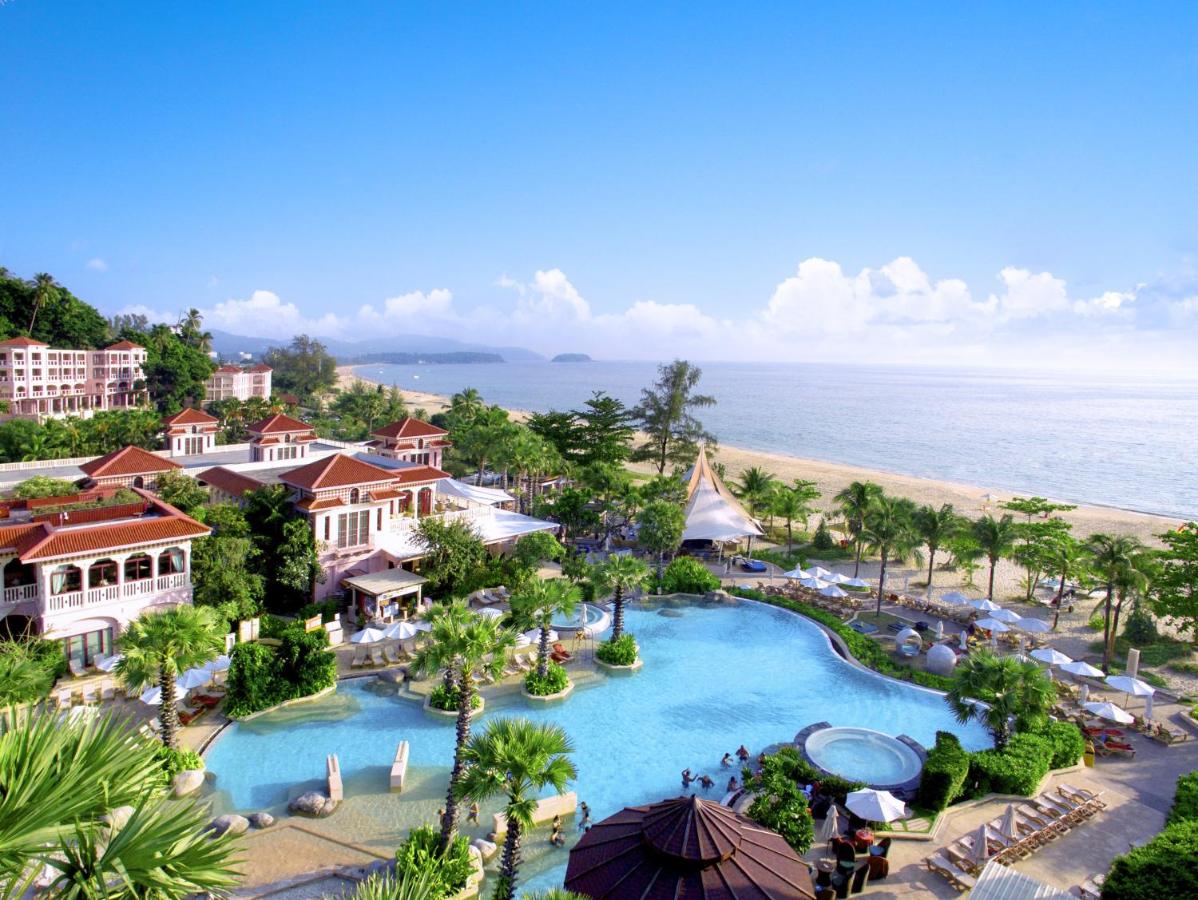 With scenic green hills as a backdrop, the 5-star Centara Grand Beach Resort Phuket offers a beachfront location along Karon Beach. It features bay-facing rooms and a landscaped water park with 4 outdoor pools.
Reviews about hotel's water park from guests:
"Surroundings with pool and ocean. Children loved the pool jumping area from the cliffs, making splashes, and having fun with the supervising staff"
"The pool facilities for the kids were excellent. They thoroughly enjoyed the lazy river cliff jumps and slides."
"The pool is really big and with the lazy river and couple of slides its perfect for a family holiday"
5. Destination Resorts Phuket Karon Beach
Location: Karon Beach
Located in the inner area of Phuket a short walk to Karon Beach, Destination Resorts Phuket Karon Beach will expose you to the magnificent ocean view of the Andaman Sea. The resort has 3 swimming pools, including one with a kid's water slide. The resort also organizes many water activities to make a splash and keep the good times rolling all day long from chilling with the floaties to spiking it up with Water Volleyball, Walking on Water, and embarking on a boat adventure.
Reviews about hotel's water park from guests:
"The pools were amazing and the kids absolutely loved the slides. They couldn't get enough of it. We spent plenty of time lazing around the pools while sipping on a drink."
"The kids pool is amazing, very shallow suitable for very young kids."
"The pools are great for families, especially the water slides and other water games."
6. Rawai VIP Villas & Kids Park
Location: Rawai Beach
Situated in Rawai Beach, near Nai Harn Beach in southern Phuket, Rawai VIP Villas & Kids Park features individual villas with access to their own private outdoor swimming pool designed for a family holiday. Kids can get soaked in the water park and have fun in a playroom at Rawai Park. The park has three play areas which are good for kids from 1 to 5 years old.
Reviews about hotel's water park from guests:
"Good value for money. We stayed in the 4br pool villa. It was clean, heaps of air con, great beds, nice pool. The resort has an amazing kids club, and kids pool, and the cafe had amazing food"
"For families with small children this is the perfect location. It is quiet and not fast paced, everything is close by. The soft play area was very big, clean with air conditioning, the pools were shallow and the property was well maintained."
Water Parks in Thailand
Going to a water park in Thailand is one of the best ways for escaping the heat during your trip to this tropical country. Numerous water parks can be found in all most popular destinations of the country. Find the list of the best Thailand water parks in Bangkok, Phuket, Pattaya and Hua Hin.