Incoming travelers from abroad, who are vaccinated against COVID-19 and willing to use Phuket Sandbox for entering Thailand without quarantine, will be required to stay at hotels holding a SHA+ (SHA Plus) certificate. Here is the list of Phuket Sandbox hotels including all the hotels that have been certified as SHA Plus hotels in Phuket.
Since COVID-19 epidemic severely affected a major tourism industry of Phuket, this famous resort island has been set to become the first area in Thailand to be able to accept vaccinated travelers without quarantine. It should be possible to travel to Phuket from July 2021 under the so-called 'Phuket Sandbox' scheme.
To be able to come to Phuket without quarantine, vaccinated tourists must look for specific hotels with SHA+ (SHA Plus) certification to reassure that the hotel has taken steps to prevent the spread of the COVID-19 virus intensely and guarantee that more than 70% of employees have been vaccinated to service customers.
What is SHA and SHA+?
During the COVID-19 pandemic, the SHA or Amazing Thailand Safety & Health Administration is a project by Tourism Authority of Thailand (TAT) to control the Thai tourism industry for safety standards to match the new normal way and show tourists that hotels and other services are taking measures to prevent the spread of the COVID-19 virus.
While, the "SHA Plus" Certificate was just introduced when talking about reopening country and means that the certified business not only meets the usual SHA certification criteria but also at least 70% of hotel or business staffs have been fully vaccinated against COVID-19.
How long to stay at SHA Plus Hotels?
Phuket Sandbox was well advertised by The Tourism Authority of Thailand (TAT) that tourists will need to stay in Phuket for 7 days before being allowed to travel to other destinations in Thailand.
However, the latest report after the meeting of the Center for Economic Situation Administration (CESA) on 4th June suggests that vaccinated tourists will need to stay 14 days in Phuket and after staying for a specified period of time, they can travel elsewhere in the country. According to the reports, booking of SHA Plus hotels in Phuket for full duration of this period will be needed for getting into Thailand under Phuket Sandbox program.
If you are planning to visit only Phuket and will fly out on an international flight from Phuket Airport, you can stay on the island for less than 14 days and SHA Plus hotel booking will be needed for the duration of your stay.
Important note! Phuket Sandbox plan is yet to be officially confirmed so all the conditions as well as the duration of stay at SHA Plus certified hotels are not known yet. We strongly recommend to wait for the final confirmation of this plan before making any bookings.
---
In addition to booking SHA Plus hotel, other documents will also required for entering Thailand under Phuket Sandbox scheme:
Thai visa or eligibility to use Thailand visa exemption
COVID-19 free certificate issued within 72 hours before departure to Thailand
COVID-19 vaccination certificate
Health insurance policy covering COVID-19 related treatment in the amount no less than 100,000 USD for the total duration of your planned stay in Thailand (you can easily buy the special package of AXA Thailand insurance online to meet all these requirements)
---
List of SHA Plus Hotels in Phuket
Currently, there are more than 230 SHA Plus hotels authorized to provide accommodation in Phuket under Phuket Sandbox scheme. There should be more hotels in the list soon as there are more than 400 hotels in Phuket that have received SHA certificate and they already meet the health and safety guidelines. Most of these hotels are just waiting to be certified as SHA Plus hotels.
The list of Phuket Sandbox hotels including certified SHA Plus hotels grouped by areas is the following:
Patong Beach
1. Phuket Marriott Resort and Spa, Merlin Beach
Phuket Marriott Resort & Spa, Merlin Beach is a 5-star luxury resort overlooking the Andaman Sea in Phuket. Set amongst forested mountains and lush, tropical landscaped gardens, serenity awaits at Phuket Marriott Resort & Spa, Merlin Beach. Located on a beautiful secluded stretch of white sandy Tri-Trang Beach, the resort boasts its own reef and stylish accommodation.
2. Paripas Patong Resort
Located less than a 5-minute walk from Patong Beach, Paripas Patong Resort features two outdoor pools, a sun terrace and a fitness center. Rooms at this SHA Plus certified hotel come with a balcony with city or mountain views.
3. DoubleTree by Hilton Phuket Banthai Resort
DoubleTree by Hilton Phuket Banthai Resort is set in the heart of Patong, opposite the sandy beach and turquoise water of the Andaman Sea. All rooms come with a private balcony or terrace overlooking the pool and tropical green garden.
4. The Senses Resort & Pool Villas
The Senses Resort offers a unique ambiance of relaxation, with supremely comfortable accommodation creating a haven of tranquility and wellbeing. With stunning views over the city and azure-blue Andaman Sea beyond, the welcoming resort is an ideal respite for romantic couples and families to unwind and be pampered, yet is only a short distance from the gorgeous tropical beach.
5. Crest Resort and Pool Villas
Crest Resort & Pool Villas perched on a gentle hillside, on the beautiful Tri Trang Beach, just outside Patong. Surrounded by tropical rain forest and stunning 240° views of turquoise waters from the famous Andaman Sea, the Crest Resort is the perfect venue for a well-deserved natural getaway holiday within an enchanted setting.
6. Andamantra Resort and Villa Phuket
All 274 rooms, suites and pool villas at Andamantra Resort and Villa Phuket offer great comfort and a minimalist décor that harmoniously blends warm colors with wooden accents. You can choose from one or two bedroom, suites and villas, some of which feature an outdoor bathtub overlooking the turquoise waters. As the resort in located in a secluded, cliff-top area, the pool villas represent perfect havens for those who wish to spoil themselves with fabulous ocean views or magnificent sunsets.
7. Wyndham Sea Pearl Resort Phuket
Offering breathtaking views of Patong Bay and the Andaman Sea and nestled within 15 acres of lush tropical landscapes, Wyndham Sea Pearl Resort Phuket beckons one and all to the Pearl of the South. This Phuket Sandbox hotel is found in a location that boasts easy access to iconic sites like Patong Beach, Paradise Beach, Bangla Road.
8. Avista Hideaway Phuket Patong, MGallery
Nestled on the height of Patong's hill, Avista Hideaway Phuket Patong - MGallery offers an outstanding view of the two bays. The resort is lush in a tropical jungle near the hidden Freedom Beach and its crystal-clear water.
9. Holiday Inn Express Phuket Patong Beach Central
Holiday Inn Express Phuket Patong Beach Central is a smart hotel located in the heart of Patong Beach, for savvy travelers looking for a relaxing island getaway experience. The hotel offers quick access to all of Phuket's major shopping, dining and entertainment venues. Featuring 277 stylishly designed modern rooms, this hotel is the smart choice for savvy leisure travelers who are looking for the best location with the best value in a resort-style hotel on their island getaway.
10. ibis Phuket Patong Hotel
Hotel Ibis Patong Phuket is favorably located in a quieter part of Patong, but still only a 10-minute walk from Bangla Road and 5 minutes from the beach. The Patong Phuket Ibis offers a fun time for all, with a large swimming pool and a full entertainment program.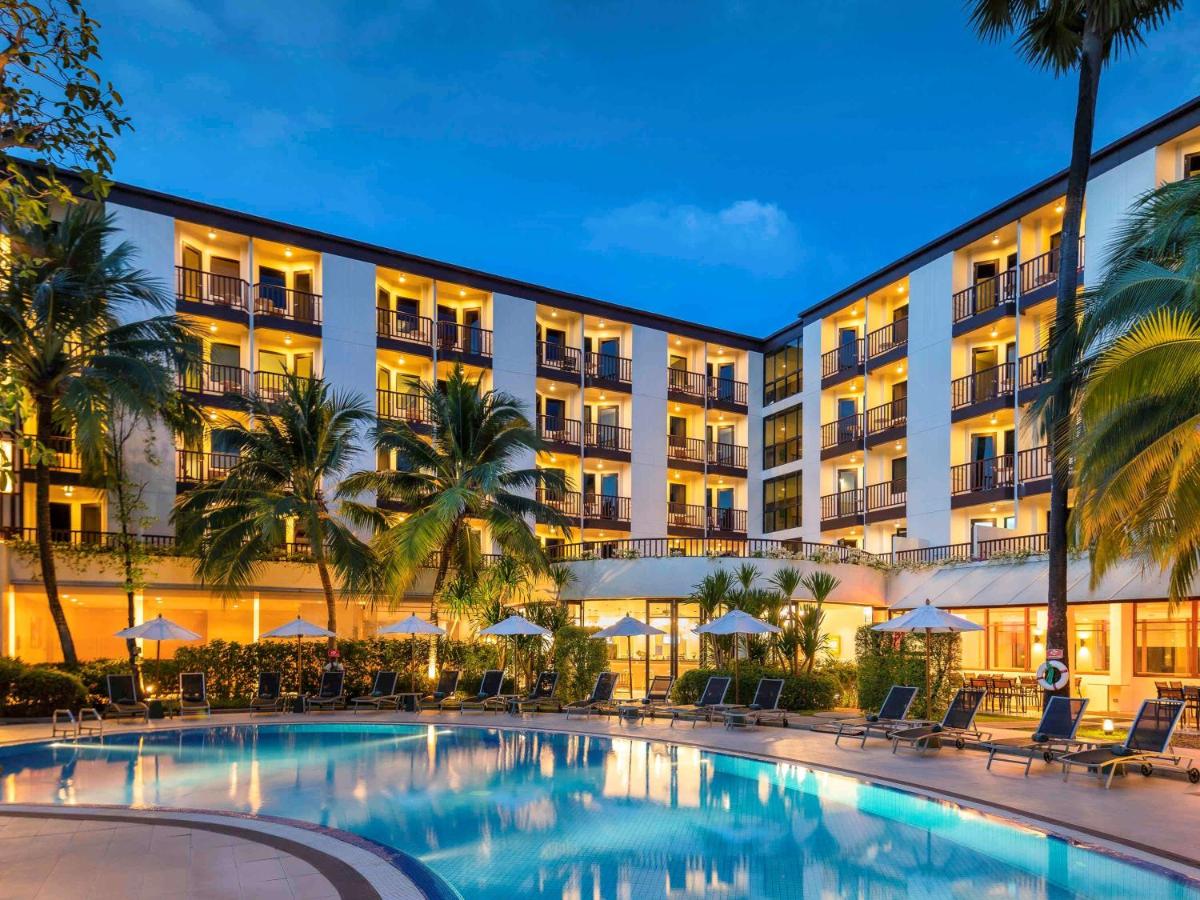 ---
Check the full list of Patong Beach Hotels available for Phuket Sandbox
---
Kata Beach
1. Andaman Cannacia Resort & Spa
Andaman Cannacia Resort & Spa is a harmonious hideaway perched above Kata Beach offering spectacular panoramic sea views. A hillside that is spacious and serene featuring a stunning three-tiered cascading pool, garden and beds with amazing views.
2. The SIS Kata
The SIS Kata – a dynamic young and trendy resort situated about 300 meters up on the hillside a few moments away of the award-winning gold sands of Kata beach. The SIS Kata stands out as having amazing views across the Andaman Sea plus a signature restaurant which welcomes both in house guests and visitors alike.
3. The Shore at Katathani
The Shore at Katathani is an awarding winning luxury pool villa resort on Kata Noi Beach in Phuket. The Shore is an intimate collection of private pool villa hideaways and is secluded amongst lush, palm-filled gardens. Each villa features a private infinity pool, sunken lounge, bath with rain shower with the majority of villas having a panoramic view of the ocean and looking over Kata Noi beach.
4. The Sea Galleri by Katathani
The Sea Galleri by Katathani is an adult-friendly lifestyle resort inspired by a love of art and nature and aimed for the young-at-heart travelers. This modern resort available for Phuket Sandbox highlights nature's masterpieces with tropical sceneries and a sublime vista of the Andaman Sea.
5. The Palmery Resort Phuket
The Palmery Resort is located in the embrace of scenic Kata mountain, enabling you to relish the beautiful vistas of nature whilst offers you superior services and an excellent variety of amenities. This SHA Plus hotel is only a short distance from the famous Kata beach in Phuket.
6. Novotel Phuket Kata Avista Resort and Spa
Novotel Phuket Kata Avista Resort and Spa overlooks the aquamarine Andaman Sea and pristine white sands of Kata Beach in Southern Phuket. A gloriously relaxing and tranquil beach getaway experience, this Kata hilltop hotel combines a delightful atmosphere with a wide range of recreational activities, all in a secluded setting.
7. Katathani Phuket Beach Resort
Katathani Phuket Beach Resort stretches along 850 meters of white sandy beach in the secluded cove of Kata Noi, 50 minutes from Phuket International Airport. Embraced by lush green hills and sparkling blue ocean, palm-fringed beach. Katathani features perhaps the most idyllic setting on the Island.
8. Kata Sea Breeze Resort
Kata Sea Breeze is a SHA Plus certified hotel perfectly nestled between the golden sands of Kata beach and the green in land hills. Just a few moments' walk will bring you to the center of Kata and the beach just beyond. Spacious guest rooms and suites are the pride of Kata Sea Breeze to suit all guests.
9. Kata Rocks
Nestled in the heart of Kata, Kata Rocks is an ideal spot from which to discover Phuket. Hotel accommodations have been carefully appointed to the highest degree of comfort and convenience. Kata Rocks is a smart choice for travelers to Phuket, offering a relaxed and hassle-free stay every time.
10. Kata Palm Resort & Spa
Kata Palm Resort & Spa is a four-star resort providing high quality rooms, facilities, services, great and easy access to the beach with a short walking distance or free shuttle service, close to shopping center, restaurants and bars. The resort features 276 guest rooms, 3 large free-form swimming pool with swim-up bars, 3 restaurants and bars.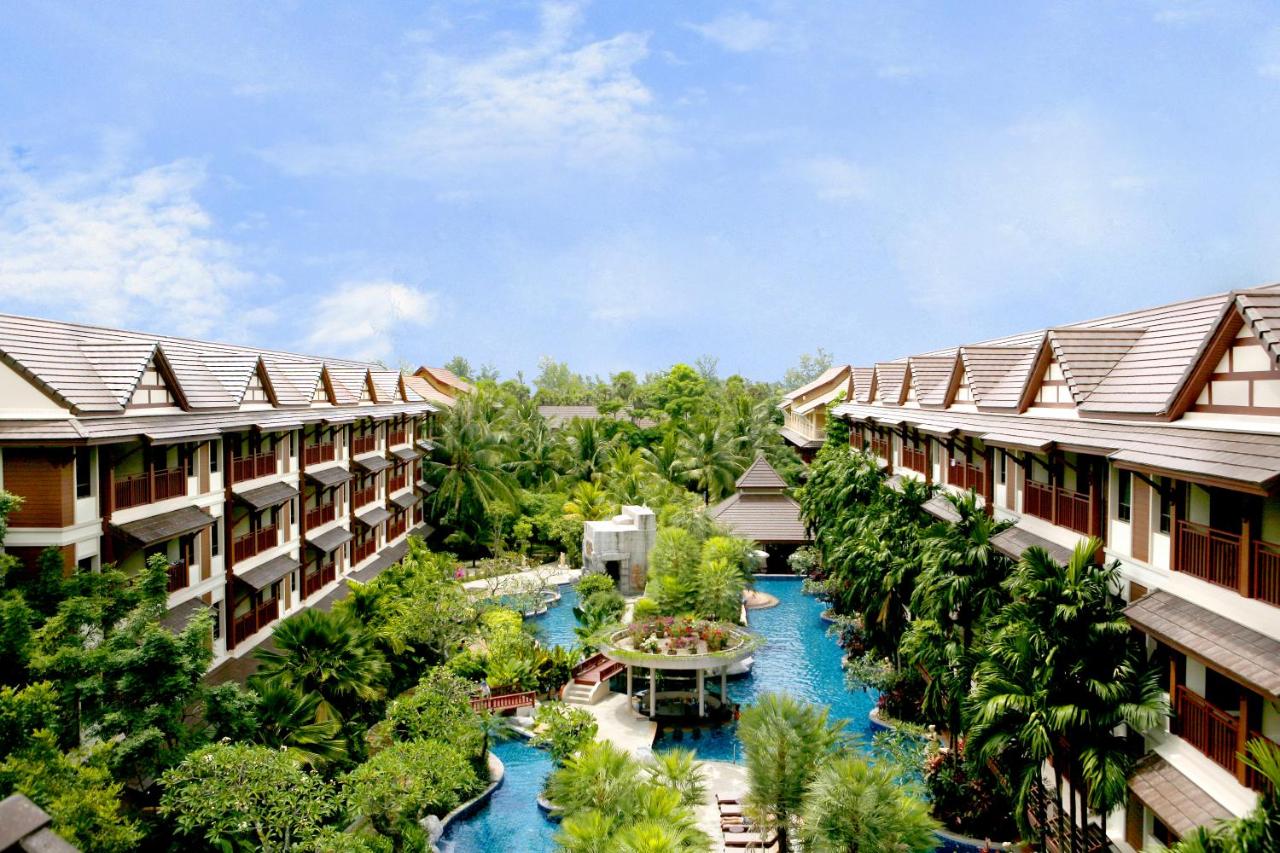 ---
Check the full list of Kata Beach Hotels available for Phuket Sandbox
---
Karon Beach
1. Woraburi Phuket Resort & Spa
The beachfront Woraburi Phuket Resort & Spa is a Phuket Sandbox hotel featuring stunning ocean and landscaped views. The resort features Thai architectures throughout and provides bright and spacious rooms with sea, pool or garden views, selected room types also comes with direct pool access.
2. Mandarava Resort and Spa
Mandarava Resort & Spa is submerged in an environment of lavish greenery and natural waterfalls overlooking the magnificent Karon Beach. The resort hosts 232 rooms nestled in 55 tropical villas, with 5 infinity pools scattered on different slopes around the resort. A scenic walk to the beach only 700 meters away.
3. Baan Karonburi Resort
Baan Karonburi Resort is a beachfront residence featuring 100 modern Thai style rooms located in the heart of Karon Beach. It is of perfect size to offer a cozy and intimate atmosphere yet still providing full amenities.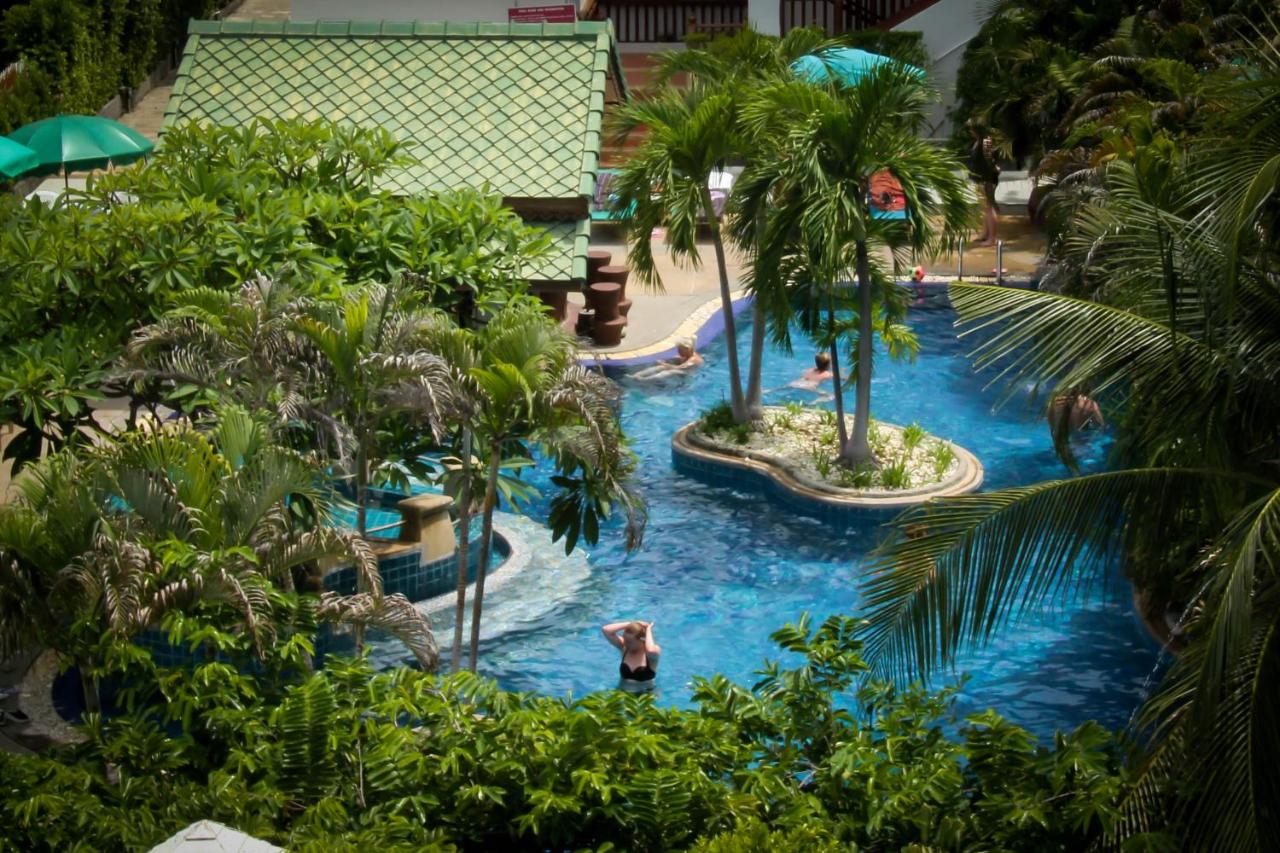 4. Centara Villas Phuket
Centara Villas Phuket is a romantic hideaway almost lost within a luxurious natural tropical backdrop, yet still only steps away from the sweeping expanse of Phuket's Karon Beach. Each totally private Thai-style villa, nestled within its own screen of green, directly faces the sea from a dramatic inclined perch, ensuring that views are endless and the quiet all-pervading. Some of the villas even offer the choice of either a private pool or Jacuzzi.
5. Avista Grande Phuket Karon MGallery
Avista Grande Phuket Karon - MGallery Hotel Collection nestled between Phuket's spectacular white-sand Karon Beach and the island's lush green mountains. Rooms at this Phuket Sandbox hotel are complete with a private bathroom fitted with a hot tub and free toiletries, while certain rooms are fitted with a seating area.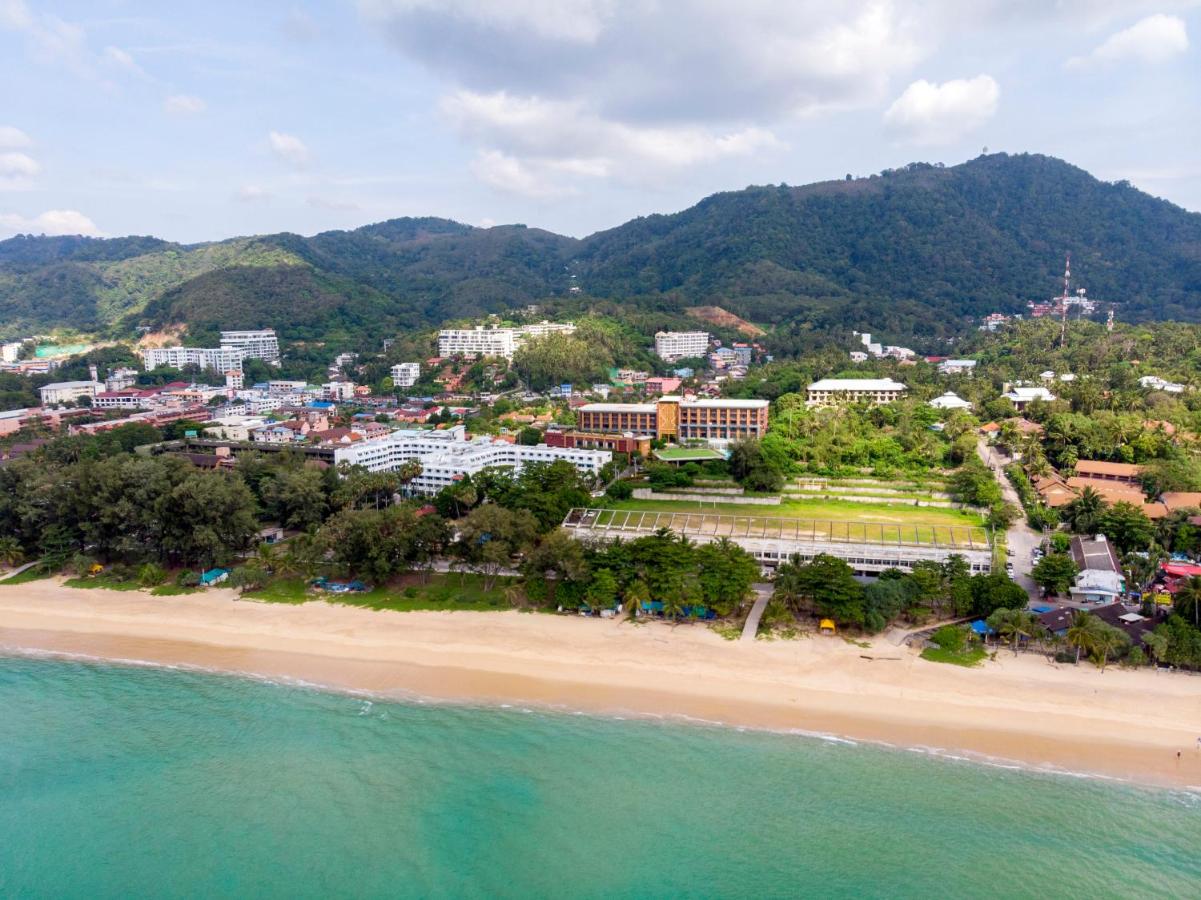 6. Centara Karon Resort Phuket
Centara Karon Resort Phuket is a SHA Plus certified hotel offering to stay in the heart of Karon Town, with dining and entertainment opportunities at the doorstep and the wide expanse of sands at Karon Beach only moments away. The setting of the resort, backed by green hills and comprised of four residential zones, provides an air of quietness and privacy to all.
7. Beyond Resort Karon
Secluded, intimate and romantic, adults-only Beyond Resort Karon nestles in a quiet corner of beautiful Karon Beach. Gaze from your room over the crystal shimmer of the Andaman Sea and discover your haven of privacy. A short stroll away, the myriad shopping, dining and entertainment choices of Karon Beach await
8. Best Western Phuket Ocean Resort
Best Western Phuket Ocean Resort is a SHA Plus hotel situated on the hillside among the coconut groves overlooking Karon beach and Karon lagoon. The hotel offers the utmost comfort in the accommodation amidst the lavish setting of Karon beach and is proud to be one of the best-valued vacation resorts in Phuket.
9. Centara Grand Beach Resort Phuket
Centara Grand Beach Resort Phuket is set directly on the sands at Karon Beach, backed by a green hill, and grouped around its own water park. The resort has design theme from the classic Sino-Portuguese architecture that characterizes Phuket Town offering a comforting and relaxing ambience for all.
10. Andaman Seaview Hotel
Situated across the road from Karon Beach, Andaman Seaview Hotel faces the Andaman Sea. Boasting 2 dining options and 2 outdoor pools, it features spacious rooms with a private balcony. Fitted with tiled flooring, contemporary air-conditioned rooms at Andaman Seaview Hotel feature Sino-Portuguese influence.
---
Check the full list of Karon Beach Hotels available for Phuket Sandbox
---
Kamala Beach
1. Keemala
Keemala is nestled amidst lush flora atop rolling hills overlooking Kamala Village and the Andaman Sea. This resort boasts a spa and wellness centre, soothing massage treatments and a restaurant. Kamala Beach is 2 km away. Featuring a private pool, each tastefully unit is complete with multimedia, seating areas and a terrace, which enhances stunning views of the below woodlands and the glittering sea.
2. Cape Sienna Phuket Gourmet Hotel & Villas
Phuket's west coast is home to the Cape Sienna Phuket Gourmet Hotel & Villas, a 5-star resort on Kamala Beach. The resort is a sanctuary of peace away from the city's usual commotion. The seaside resort feels stylish, blending modernity with urban liveliness while seamlessly in tune with nature.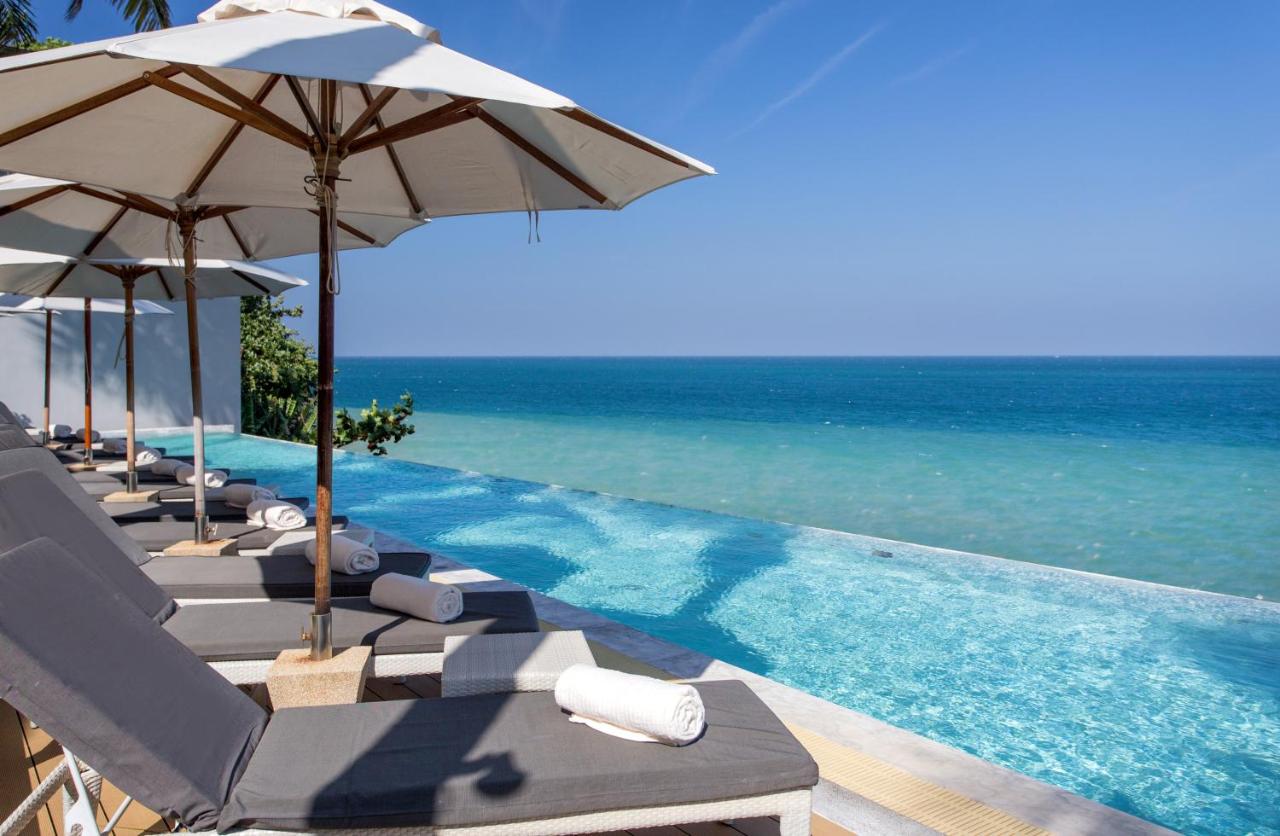 3. The Naka Phuket
The Naka Phuket is offering unique-designed villas with private balconies. the property also boasts an outdoor pool and a restaurant. Stylish villas are tastefully decorated and offer modern facilities.
4. Ayara Kamala Resort & Spa
Ayara Kamala Resort & Spa is offering to sleep, eat, indulge, explore and rejuvenate at the beautiful resort located in Kamala Bay on the west coast, Phuket Island's peaceful spot, in your piece of paradise facing your own Andaman. Each room and villa are designed with the concept of "Ayara" meaning "noble elephant" to represent a sophisticated and Thai setting. All Ayara Kamala accommodations are ocean-facing so that every guest can relish the beautiful Andaman and feel its tranquility and breeze.
5. Kamala Beach Resort, A Sunprime Resort
Boasting 4 outdoor pools and easy beach access, Kamala Beach Resort, A Sunprime Resort is a large beachfront property offering spacious rooms set in landscaped grounds. This Phuket Sandbox hotel is located a 10-minute walk from Kamala Village's dining and shopping options.
6. Sunwing Resort Kamala Beach
Boasting 8 outdoor pools, Sunwing Kamala Beach in Phuket enjoys beautiful views of the Andaman Sea. This family-friendly resort offers 2 restaurants, an on-site convenience store and a wide selection of both free and paid activities for children in MiniLand. Colorful and bright, air-conditioned rooms are very spacious and come with a kitchenette.
7. Novotel Phuket Kamala Beach
Located directly next to the white sands of Kamala Bay and with uninterrupted views of the Andaman Sea, Novotel Phuket Kamala Beach offers a little slice of paradise for visitors of Phuket. With its unique and quiet beachfront location, along with its close proximity to the hustle and bustle of Patong just 15 minutes away, this modern hotel provides the best of both worlds. Featuring 166 rooms, guests can choose from a selection of Superior rooms, Suites or Villas, including Ocean Villas, Jacuzzi Villas and Pool Villas.
8. Paresa
Paresa Resort, "Heaven of all Heavens," is a truly unique hideaway-style luxury resort perched on the side of a cliff and surrounded by lush tropical forest on the "Millionaires Mile" coastal road between Patong and Kamala. The breathtaking location is paired with uninterrupted Andaman sea views, a Michelin Plate coveted restaurant serving genuine International and authentic Thai cuisine, an award-winning spa, and personalized bespoke experiences offered by our Angels. All suites and villas have private infinity pools facing directly to the ocean and offering up to 4 bedroom units. Unique, independent, and offering the ultimate relaxation with unrivaled sea and sunset views.
9. Thavorn Beach Village Resort and Spa
Thavorn Beach Village Resort & Spa is a true oceanfront private beach resort located on Nakalay Bay right next to Kamala and Patong with services and facilities suited to creating a memorable experience. As most space is dedicated to natural areas, you can truly enjoy a tropical paradise without disturbance from the outside world. The free-form Lagoon swimming pool is considered one of the largest of its kind in South-East Asia. Simply swim all day or explore the massive pool for your very own quiet corner to relax and/or sunbathe. Hillside Cable Car, the very first in Phuket, offers some of the best views of the botanical resort grounds and the Andaman Sea to be found in Phuket. Thavorn Beach Village Resort & Spa also provides 5 unique dining experiences, a world-class Spa, a pier, an activity center, and coral conservation center.
10. InterContinental Phuket Resort
Set in Kamala Beach, InterContinental Phuket Resort offers beachfront accommodation 2.7 km from Pineapple Beach and offers various facilities, such as a restaurant, a bar and a garden. The resort features an outdoor swimming pool, fitness centre, evening entertainment and a 24-hour front desk. InterContinental Phuket Resort offers 5-star accommodation with a hot tub and children's playground. You can play tennis at the resort, and the area is popular for hiking.
---
Check the full list of Kamala Beach Hotels available for Phuket Sandbox
---
Bang Tao Beach
1. Mövenpick Resort Bangtao Beach Phuket
Mövenpick Resort Bangtao Beach Phuket blends the best of classic Thai and contemporary design, located just a few steps away from Bang Tao Beach. The classic and premier rooms are located in the main building with wonderful views over the gardens and the pool. The exclusive luxury residences, suites and penthouse offer ultimate relaxation and space with one, two or three bedrooms, a dining area and a living area.
2. Diamond Resort Phuket
Diamond Resort Phuket is a SHA Plus certified hotel that embraces a coastal living style with a touch of elegance. Surrounded by lush tropical scenery, the resort features a chic design, a hip ambiance and quality service.
3. Cassia Hotel
Cassia Phuket is located on Bang Tao Beach, 1 km from Xana Beach Club. The hotel has a sun terrace, and guests can enjoy a drink at the bar. All suites come with a separate bedroom, living area and has a private balcony offering an outdoor pool and views of the sea.
4. HOTEL COCO Phuket Beach
HOTEL COCO Phuket Beach is offering perfect romantic getaways with friendly Siamese's impressive "COCO Smile Services" and the real touch of nature just 3-8 minutes' walk to the white sandy beach and peaceful sea breeze at Bang Tao Beach, Laguna area.
5. Banyan Tree Phuket
Embrace Rest in the Pearl of the Andaman Escape to a Sanctuary for the Senses at the award winning Banyan Tree Phuket located in the Andaman's greatest treasure, the island of Phuket. A private paradise of luxurious all-pool villas nestled around a salt water lagoon and surrounded by lush greenery. This is the perfect destination for travelers who seek a luxury hideaway, a Golf Getaway, a relaxing staycation or a base from which to explore this beautiful island its heritage, culture and stunning beaches.
6. Laguna Holiday Club Phuket Resort
Laguna Holiday Club Phuket Resort is centrally located amid the lush garden surrounds of Laguna Phuket overlooking the Laguna Golf Club's scenic fairways and just 20 minutes from the airport. The resort features spacious suites available in selection types ranging from 65-113 square meters. All suites feature separate living and dining area, convenient kitchens and furnishings. Resort amenities available to guests include a swimming pool with waterslide, a pool bar, restaurant, kids club, game room, and fitness in the resort.
7. Angsana Villas Resort Phuket
Angsana Villas Resort Phuket offers varied accommodations in a remarkable family setting. Situated within the exceptional integrated of Laguna Phuket, the suites and villas unfold over a beautiful green landscape and tranquil atmosphere. The resort features stunning residential-style accommodation, including private villas with fully equipped kitchenette, spacious dining & living areas and Thai Sala pavilion, all three and four-bedroom villas have private pools.
8. SAii Laguna Phuket
SAii Laguna Phuket is a Phuket Sandbox hotel located on Bang Tao Beach. It offers rooms with a private balcony. The resort is equipped with a spa, an outdoor pool and fitness centre. A kid's club and babysitting service are available.
9. Angsana Laguna Phuket
Angsana Laguna Phuket is an integrated resort complex renowned for its quality and excellence. Angsana Laguna Phuket is a fun-filled destination that offers the best in sun, sand and sea. As part of Laguna Phuket, this beachfront resort has unrivalled access to the emerald waters of the Andaman Sea. With the variety of rooms and suites, 6 dining venues including stylish XANA Beach Club, the award-winning Angsana Spa, Laguna Phuket Golf courses and enjoy complimentary land and water sports, indoor & outdoor playground at Kids Club, you will be spoilt for choice. Angsana's size and offerings allow for new experiences with each stay, and superior services and special events are guaranteed to bring ultimate satisfaction to both new and returning guests.
10. The Pavilions Phuket
Perched high above Layan Beach, The Pavilions Phuket Resort is as spacious as it is private and peaceful. Decidedly adult, each private villa is a haven of tranquility. Whether you're celebrating a special occasion or looking to relax and reconnect, The Pavilions Phuket is your perfect intimate escape.
---
Check the full list of Bang Tao Beach Hotels available for Phuket Sandbox
---
Mai Khao Beach
1. JW Marriott Phuket Resort & Spa
An award winning luxury resort, JW Marriott Phuket Resort & Spa, set 15 Kilometers north of the Phuket International airport, picturesque scenery on Phuket's beautiful Mai Khao Beach. Adjacent to the Sirinath Marine National Park where is the protected sea turtles nesting area. The resort provides 262 elegantly appointed deluxe rooms, suites and a royal villa overlooking the stunning Andaman Sea or tropical gardens. For a culinary journey, guests will be delighted with 11 restaurants and bars, a range of cuisine among Thai, Italian, International and Japanese. In addition to Ginja Cook, our premier culinary school where you can learn the intricacies of fine Thai cooking. The resort also offers an extensive selection of world-class facilities and diverse recreational activities, relax by three magnificent swimming pools , an award winning Mandara Spa, health club with fitness equipment, sauna room, watersport centre, Kid's Pavilion, tennis courts and The Mai Khao Marine Turtle shelter and education centre.
2. SALA Phuket Mai Khao Beach
SALA Phuket Mai Khao Beach is a stunning deluxe pool villa resort, located on pristine Mai Khao Beach on Phuket's northwest shoreline, just 20 minutes from Phuket International Airport. SALA Phuket combines rare historical Sino-Portuguese architecture with modern 5-star facilities.
3. Renaissance Phuket Resort & Spa
Set amidst the unspoiled splendor of Mai Khao Beach, Renaissance Phuket Resort & Spa is the ultimate retreat for guests looking for relaxed luxury. Hotel's deluxe guest rooms and private villas boast sophisticated decor, plush bedding, and modern technology; many of accommodations feature breathtaking beach views, and some even include plunge pools.
4. Maikhao Palm Beach Resort
Maikhao Palm Beach Resort is a stunning Thai-Lanna style resort ideally located on the stretching and unspoiled Mai Khao Beach, part of Sirinart National Park on the north western coast of Phuket featuring 225 sumptuous guest rooms which surrounded by free-form pools and landscaped garden next to the peatland and facing to an iconic Mai Khao Beach.
5. Anantara Mai Khao Phuket Villas
Indulge in beachfront living on the northwest shores of sunny Phuket at Anantara Mai Khao Phuket luxury villas. Explore the island or head out for the horizon, with stunning Phang Nga Bay on one side and the world-famous Similan Islands on the other.
6. Marriott's Phuket Beach Club
Marriott's Phuket Beach Club welcomes you to Thailand with contemporary comfort and sophisticated style. This vacation ownership resort is a fabulous destination for families and groups, with a great location on Phuket Island and full access to the luxurious facilities at the neighboring JW Marriott Phuket Resort and Spa. Spacious apartment rentals feature complimentary Wi-Fi, full kitchens, master suites with soaking tubs, washer/dryers and furnished balcony. Relax by one of the resort pools or break a sweat in the on-site fitness center before spoiling yourself with a spa treatment or unwinding at the beachfront bar. Satisfy every craving at one of several restaurants - from a modern steakhouse to a Japanese restaurant and an Italian eatery with pizza delivery service.
7. Anantara Phuket Suites & Villas
Experience boundless island tranquility at Anantara Phuket Suites & Villas. Discover a haven of luxury and serenity amid tropical gardens in northern Phuket. Ensconce yourself in comfort by your own private pool. Embark on island adventures through lush jungle or on sparkling waters. Dine barefoot on the beach or immerse yourself in local scents and flavors of southern Thailand. A blissful escape awaits.
8. Maikhao Dream Villa Resort & Spa, Centara Boutique Collection
Situated at the most expansive beach in Phuket, Maikhao Dream Villa Resort & Spa, Centara Boutique Collection offers 22 exquisite pool villas that are designed precisely to cater for and satisfy all the needs and desires of our guests. It is the only spacious pool villa resort in Phuket which offers tantalizing tropical-inspired décor, impeccable amenities, and warm hospitality to stir the senses beyond expectations. All 22 luxury villas are built of high quality natural materials, including classy teak wood and terra cotta, and are delightfully appointed in elegant Thai style with a private terrace, Sala, sunbathing deck and private swimming pool.
9. Anantara Vacation Club Mai Khao Phuket
Anantara Vacation Club provides the ideal setting for rest and relaxation. Suites and pool villas dot perfectly manicured tropical gardens, and are fully equipped with kitchen and laundry facilities. An immersive recreational program keeps families and groups of friends entertained.
10. Splash Beach Resort Mai Khao Phuket
Set in the peaceful Mai Khao Beach, Splash Beach Resort Maikhao Phuket features functional and comfortable accommodation on the northwest coast of Phuket, stretching along 11 kilometers. Surrounded by spacious landscaped gardens, the resort boasts Splash Jungle Waterpark, a range of on-site restaurants and bars and a large conference centre. Featuring a variety of accommodations including rooms, suites, penthouses and villas, each modern unit offers views of tropical gardens, the pool or Andaman Sea. At the water park, guests can enjoy exciting rides such as Boomerango, a six-level wave pool and an aqua play pool for children. For those looking for a relaxing water park tour, a 335 m lazy river is where they can float around and enjoy the place. The resort also has a sandy pool with direct access to the beach.
---
Check the full list of Mai Khao Beach Hotels available for Phuket Sandbox
---
Rawai Beach
1. Mangosteen Ayurveda & Wellness Resort
Overlooking the Andaman Sea, Mangosteen Ayurveda & Wellness Resort offers relaxing stays set on a peaceful hillside. It features a 2231 ft² outdoor pool with a jetted pool, spa and free shuttles to Nai Harn Beach. Surrounded by tropical greenery, spacious villa-style rooms feature a private balcony and outdoor rain showers.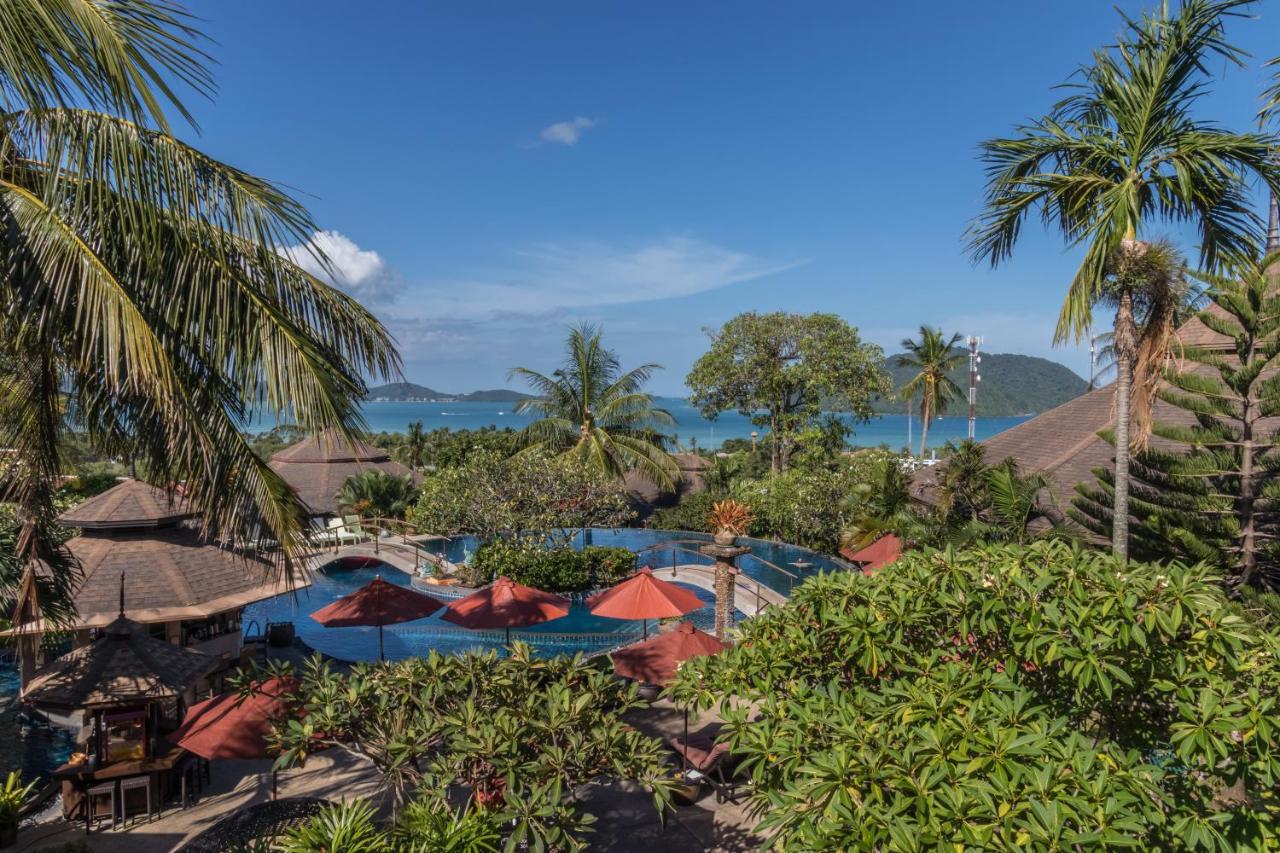 2. Rawai Palm Beach Resort
Rawai Palm Beach Resort, situated at Rawai Beach in the southern tip of Phuket Island, is surrounded by a secluded environment with a tranquil tropical garden, great and ideal for a family, honeymooner and holiday's seeker.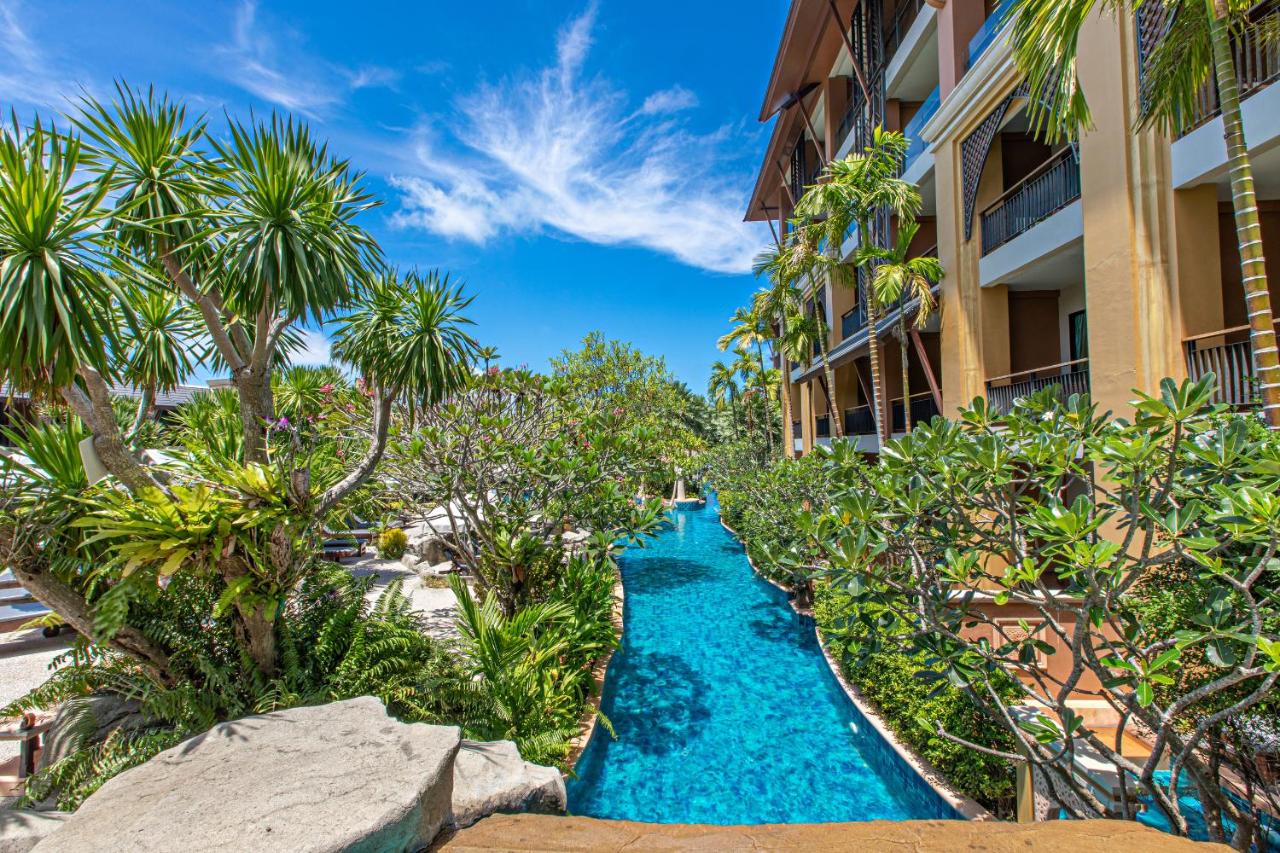 3. Best Western Plus The Beachfront
Best Western Plus The Beachfront hotel is located on the Southeast coast of Phuket. The hotel features its own beach and guests enjoy the unique flair of this tranquil part of Phuket. The Beachfront is just a few minutes away from Rawai Seafood village. Hotel's 179 guest rooms and suites all feature a contemporary design and many of them offer either sea view or direct swimming pool access from the private patio.
4. Navatara Phuket Resort
Located in Rawai Beach area at south of Phuket Island, Navatara Phuket Resort offers an accommodation for travelers planning to use Phuket Sandbox scheme. The beautiful swimming beach Nai Harn with its white sand is a short ride away with the resort's shuttle service. Guests can find local seafood restaurants along the beachfront or use the Rawai Beach as a starting point to do some island hopping.
5. The Vijitt Resort Phuket
The Vijitt Resort Phuket is a romantic retreat where peace and tranquility soothe the soul with breathtaking natural scenery all around, providing a romantic stay in contemporary style private villas and creatively designed activities you never experience before.
6. Stay Wellbeing & Lifestyle Resort
Stay Wellbeing & Lifestyle Resort is Phuket's premiere fitness inclusive resort and home to Stay Fit, the 1,000 sq. meter fitness center. Considered as one of the best gyms in Asia, Stay Fit is comprised of three floors of top-of-the-line Life Fitness equipment. Situated only minutes from Rawai & Nai Harn Beach, STAY Resort features luxury accommodation ranging from Junior Suites to private Pool Villas.
7. Saturdays Residence by Brown Starling
Staying at Saturdays gets you close to nature in the secluded Saiyuan area at the South end of the island, where the pace of life is detached and relaxed with distinct rustic appeal. Saturdays residence comprised 60 suite rooms both for 1 bedroom suite & 2 bedrooms suite type. Each residence has en-suite bathrooms, an outdoor terrace and a fully functional kitchen that is reminiscent of Boston's Modernism era with a breakfast bar, electric hob, vintage-style fridge and built-in cupboards for independent self-catering with style and convenience.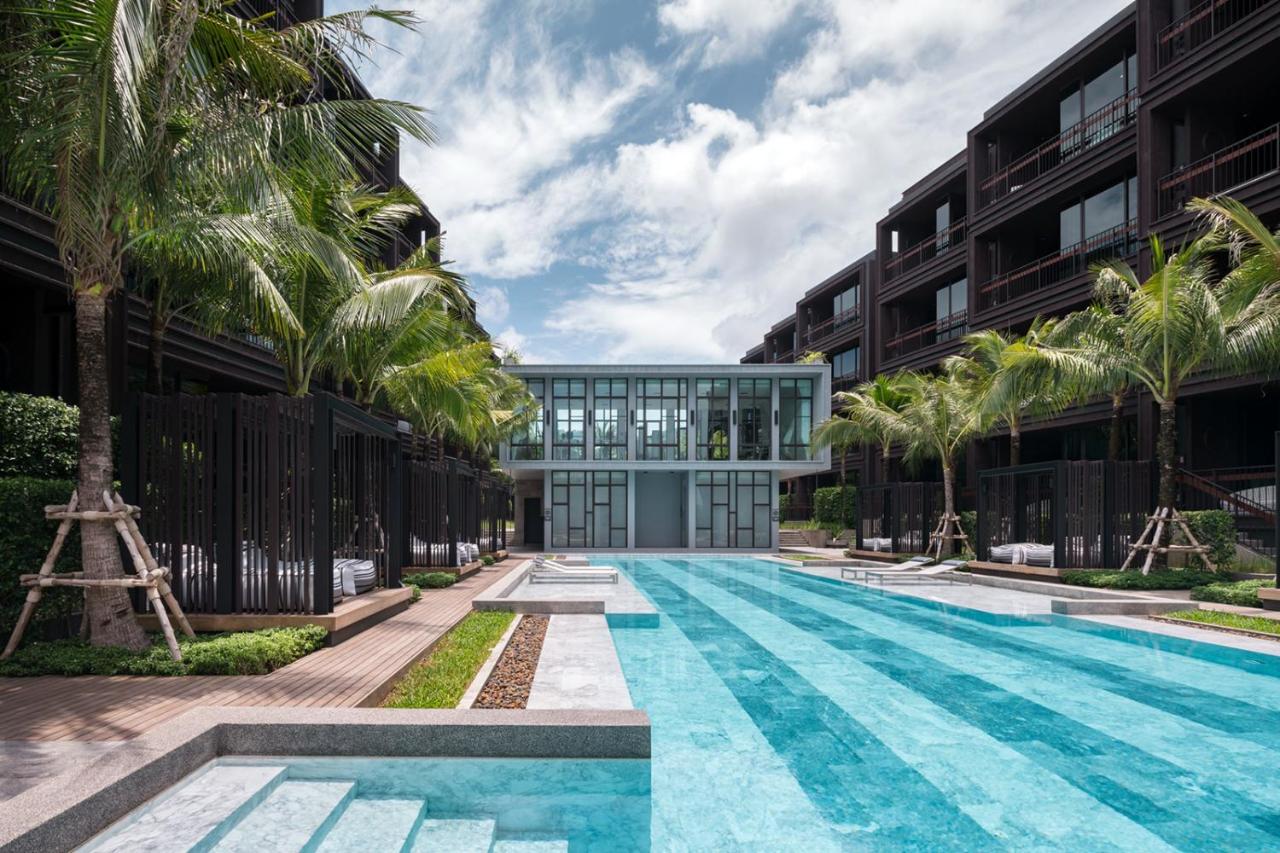 8. Thames Tara Pool Villa Rawai
Thames Tara Pool Villa Rawai is a SHA Plus certified accommodation with 4-bedroom en suites and a large pool. The property is offering 20 Pool Villas with spacious rooms, best room privacy, comfort, and daily cleaning.
Nai Yang Beach
1. The Slate Phuket
The Slate Phuket is a luxury design resort within Nai Yang Beach's sheltered sands, set amidst lush tropical gardens where pools and lagoons juxtapose post-modern art. Known for his visionary architecture, this Bill Bensley design masterpiece, and a member of Design Hotels™, The Slate, is the island's only avant-garde expression of a true Phuket heritage.
2. Lesprit de Naiyang
L'esprit de Naiyang Resort is dramatically located at peaceful Nai Yang beach of Phuket, a white sand rimmed with green pines of Sirinat Marine National Park, on the northwest of the Phuket Island. L'esprit de Naiyang resort is just 10 minutes from Phuket International airport.
3. Maya Phuket
A short walk from Nai Yang beach, Maya Phuket offers modern accommodation. The hotel features an outdoor pool and is less than 1 km away from Phuket International Airport.
4. Phuket Marriott Resort and Spa, Nai Yang Beach
Phuket Marriott Resort and Spa, Nai Yang Beach offers quiet, secluded accommodation within walking distance of Nai Yang's main beach. It boasts a restaurant and a large lagoon pool winding through the resort. Overlooking the Andaman Sea, rooms feature either a private balcony with sitting area or a terrace with sun loungers and direct pool access.
5. Dewa Phuket
Dewa Phuket features 28 Pool Villas, 56 new deluxe rooms, and 46 One- and Two-Bedroom Apartments, making it the ideal destination for leisure travelers to this famous "Pearl of the Andaman". With its well-known Thai hospitality and boutique style and design, Dewa Phuket ensures all guests will have a wonderful holiday experience and a true Thai beach getaway.
6. Nai Yang Beach Resort & Spa
Nai Yang Beach Resort & Spa is a SHA Plus certified hotel, located only 5 minutes from Phuket International Airport. Surround yourself with nature and at this tranquil retreat resort. The beautiful beach with gently sloping white sand is just a few steps away from Nai Yang Beach Resort & Spa.
7. Marina Express Aviator Phuket Airport
Located 1 km from Phuket International Airport, Marina Express-AVIATOR-Phuket Airport offers modern hotel rooms with free WiFi and an outdoor swimming pool. The hotel is a 15-minute walk from Nai Yang Beach. As the property is built near the airport, it incorporates aviation and sea as its Aviator concept for the interior decoration.
8. Naiyang Park Resort
At Naiyang Park Resort a wood pathway connects all bungalows, leading to a private terrace in front of each unit. The interiors are finished with fine wood furniture and teak wood details, adding a touch of natural warmth and comfort. Yet all units have been fitted with the latest amenities including flat screen televisions, in-room safety boxes, and high speed internet connections.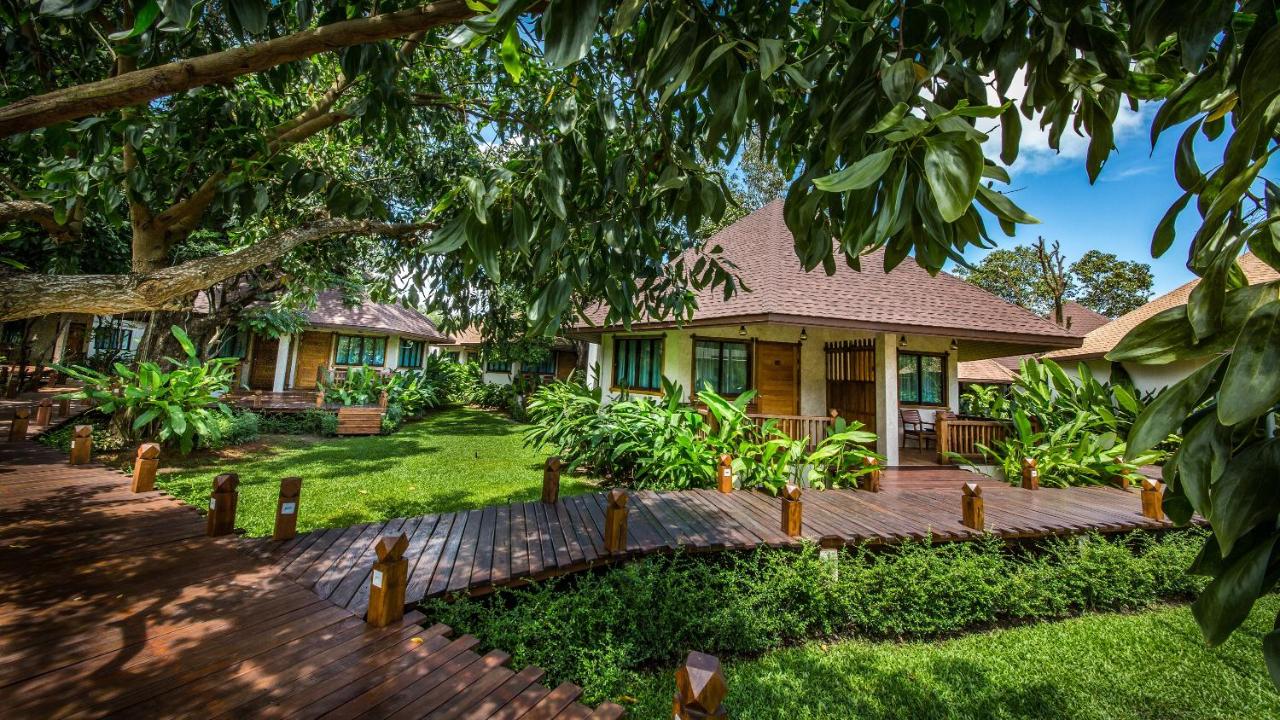 9. Ideo Phuket Hotel
Ideo Phuket Hotel is a 3-star SHA Plus certified hotel, located in Nai Yang Beach. This budget friendly hotel is a popular choice for travelers due to its good location as within easy reach are Nai Yang Beach (5 min walk), Sirinat International Park (10 min walk) and Phuket International Airport (10 min drive).
Nai Harn Beach
1. Wyndham Grand Nai Harn Beach Phuket
Wyndham Grand Nai Harn Beach Phuket is located on the south western tip of Phuket's Andaman coastline, a short stroll from a stunning sheltered bay of powder white sand and the clear azure sea of Nai Harn Beach.
2. Utopia Loft
Utopia Loft, situated in the same complex as Utopia Naiharn, is located between 2 famous beaches on the island – Rawai and Nai Harn, and is nearby to the photogenic Yanui Beach & Nai Harn Lake. This modern loft-style resort boasts of 4 swimming pools including a waterpark with water slides, a variety of gourmet-worthy dining options, an indulgent spa and shuttle bus services to the beaches.
3. Sunsuri Phuket
Sunsuri Phuket is positioned just meters away from the shore in a heavenly spot offering impressive vistas of the Andaman Sea, a scenic lake, Buddhist monastery and forested hills beyond. A luxury hideaway where guests can rejuvenate in remarkably spacious surroundings, rekindle romance and feel at peace with nature and themselves. The beautiful designed rooms, suites and pool villas are chic & elegant, offering extra-large beds, oversized private balconies and unforgettable panoramic views.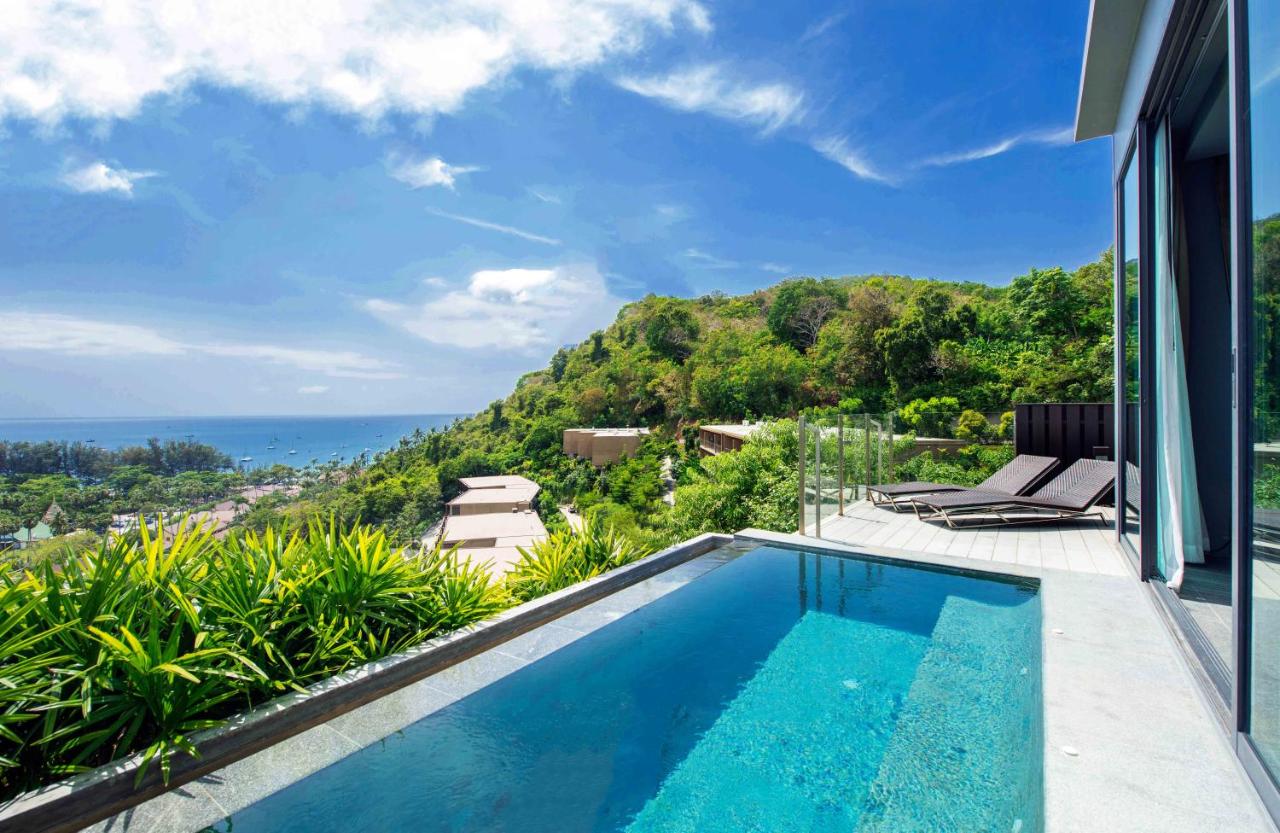 4. The Nai Harn
The Nai Harn is an iconic Phuket resort overlooking one of the world's finest beaches. Beachfront property with direct beach access is only a few minutes away from the most famous view point in Phuket, Promthep Cape. All rooms with a private terrace and 95% of the rooms at this resort overlook the ocean.
Nai Thon Beach
1. Trisara
The award-winning Trisara is set on a private bay. Its spacious rooms feature private pools and sweeping views of the sea. The beach is only a short stroll away. The elegant rooms at Trisara come with modern décor, a separate living area and outdoor deck.
2. Pullman Phuket Arcadia Naithon Beach
Pullman Phuket Arcadia Naithon Beach Resort is perched on the headland overlooking the crystal water of the Andaman Sea. The resort has 277 contemporary rooms and pool villas complimented by 3 eateries including an Italian restaurant and deli for a casual treat. A Phuket Sandbox resort that ticks all the boxes.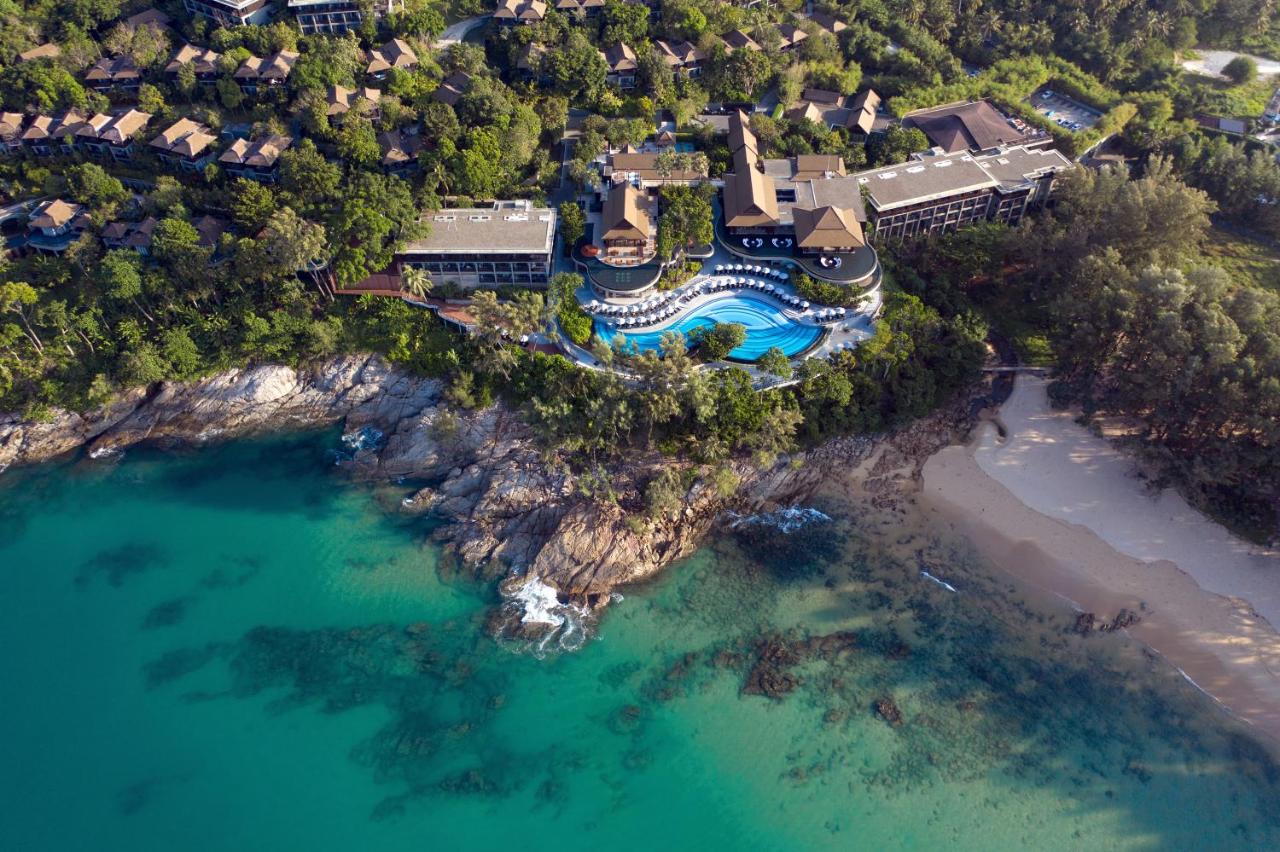 3. Naithonburi Beach Resort
Naithonburi Beach Resort is a family-friendly resort that sits right in the valley and right by the sea, offering outstanding value in hospitality to its guests visiting Phuket. The hotel is located directly opposite the spectacular Nai Thon beach.
Panwa Beach
1. Bandara Villas Phuket
Located on Panwa Beach and 2.5 km from Panwa Cape, Bandara Villas Phuket offers private villas with sea views. Most of the villas here boast a private pool, while some come with a shared infinity pool. Offering sea and pool view through the glass wall, each villa is complete with a flat-screen TV, a DVD player and a sofa set. A terrace with outdoor furniture is available.
2. Bandara Phuket Beach Resort
Boasting stunning views of Ao Yon Bay in Phuket's Panwa area, Bandara Phuket Beach Resort offers modern rooms and an outdoor swimming pool. This SHA Plus certified hotel is a 5-minute walk from the peaceful beach.
3. Sri Panwa
Sri Panwa is one of the top properties in Thailand, perched high atop Cape Panwa and commanding breathtaking views of the Southeastern tip of Phuket, occupying the Cape Panwa peninsula in its entirety. Sri Panwa is an oasis of calm and luxury set in one of the finest locations on Phuket. The villas sit 40-60 meters above sea level along the Eastern & Western ridges at the very tip of the cape.
4. Kantary Bay Hotel Phuket
The charming Kantary Bay is a beach-front hotel, 15 minutes away from Phuket town. It combines traditional Thai features with modern design and offers a roof-top pool with panoramic views over the Andaman Sea.
5. Cape Panwa Hotel
The luxurious Cape Panwa Hotel is situated in quiet area of Panwa Beach in the southeast Phuket. It features 10 dining options, a well-appointed spa, a private beach area and luxurious accommodation with sweeping views of the sea. Set amidst a tropical landscape, the elegant rooms at Panwa Cape hotel are fitted with spacious balconies and sun beds.
6. Pullman Phuket Panwa Beach Resort
Pullman Phuket Panwa Beach Resort is nestled on the picturesque shores of Makham Bay with stunning panoramic ocean views. With Phuket International Airport just 55 minutes away and Phuket Town just 20 minutes, Pullman Phuket Panwa Beach Resort is ideally located to explore the many attractions that Phuket Island has to offer.
7. Amatara Wellness Resort
Positioning itself as one of Thailand's leading wellness resorts, Amatara Wellness Resort in Phuket is an ideal venue that offers a tranquil natural setting, spacious accommodation, and comprehensive wellness experiences. Offering a range of tailored Wellness Retreats, Amatara serves as a perfect sanctuary for people of all ages who are looking for rebalancing emotional and behavioral needs, nurturing inner peace, and being inspired towards living a healthy lifestyle. Guests who experience Amatara also enjoy wholesome and nutritious cuisine at the resort's range of restaurants; delivering nutritious dishes from a menu inspired by modern, healthy eating influences.
8. Cloud 19 Panwa
Cloud 19 Panwa is a former beach residence of the Chumbala family that is now open for guests as a boutique getaway hotel. Located close to Chalong Bay, Cloud 19 Panwa includes a private beach as well as a private pier for guest use. Popular activities include diving, sailing, fishing, and island hopping. Each of the 19 rooms here offers spectacular sea views and are fitted with Posturepedic mattresses and features a separate bath and shower. After a long day out in the sun, guests are sure to enjoy a dip in either of the pools. With an excellent location and amenities, Cloud 19 Panwa will make for a memorable holiday on the island.
9. The Mangrove Panwa Phuket Resort
The Mangrove Panwa Phuket Resort is located in Khao-Khad village, Cape Panwa. Hugged by lush green foliage and overlooking Chalong Bay, this is the place that gives relaxation its meaning. The resort's low-rise bedrooms complement the mangrove beach sanctuary and the neighboring homes of local villagers, offering an island getaway experience with modern-day comforts.
10. V Villas Phuket
V Villas Phuket is a hotel with personality for a remarkable travel experience Located 39 meters above pristine and secluded Ao Yon Bay and immersed into nature, an exclusive pool villas resort with 24 hours butler service, European and Thai Coastal cuisine, world-class rooftop bar with panoramic view as well as Spa & wellness program. V Villas Phuket offers guest unparalleled privacy and indulgence.
11. My Beach Resort Phuket
Located overlooking Panwa Beach, My Beach Resort is a seafront resort, allowing guests to experience breathtaking views of sea and mountains. The outdoor infinity swimming pool is featured in this property. The rooms at the resort are fitted with a seating area, a flat-screen TV with satellite channels, air conditioning and a desk. While some rooms come with a balcony and others also offer pool views.
Surin Beach
1. Amanpuri Resort
Aman's flagship property, Amanpuri is situated on Phuket's west coast on a headland overlooking a private white-sand beach and the Andaman Sea. The resort offers 40 spacious guest Pavilions and 40 Residences, as well as several dining venues, a Beach Club and the brand's first AMAN Spa and Holistic Wellness Centre.
2. Twinpalms Phuket
A tranquil and secluded tropical oasis just a minute's walk from Surin Beach, on Phuket's west coast, Twinpalms Phuket, a member of Small Luxury Hotels of the World, is set in a magical, water garden landscape. Contemporary and stylish, we're an independent and boutique hotel with hip restaurants, bars and fabulous beach clubs all delivered with attentive service, ensuring your Phuket stay is as vibrant and relaxing as you want it to be.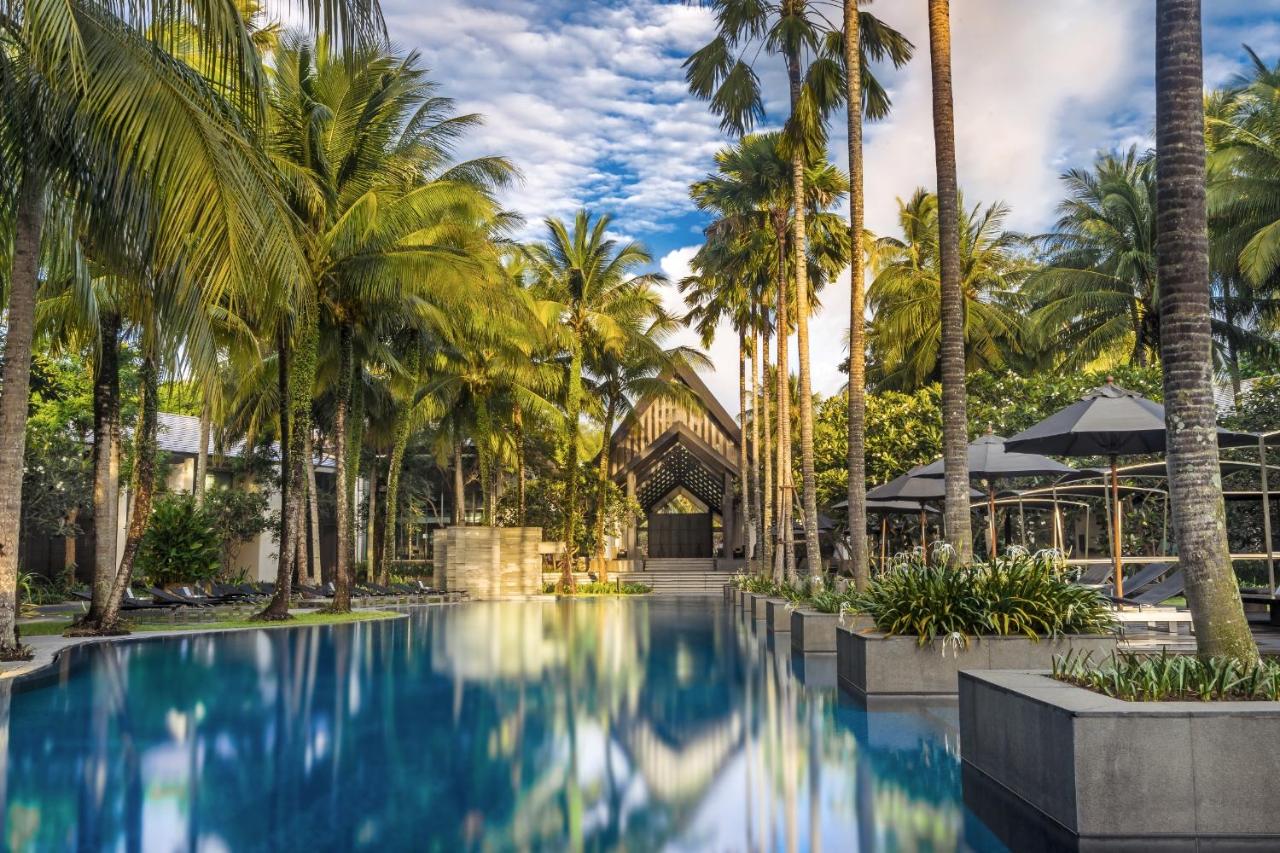 3. The Surin Phuket
A long-established resort with a unique story, The Surin is a luxury hotel that boasts an idyllic beachfront location on the exclusive Pansea Beach. The hotel is nestled amongst towering coconut palms and rolling hills on the west coast of Phuket Island.
4. Grand Villa Luxury Time Phuket
Grand Villa Luxury Time Phuket is a fully serviced modern luxury 6-bedroom villa featuring super spacious impeccably appointed rooms, private huge infinity sea salt water swimming pool and breathtaking sea and valley views. The villa is located only 5-10 min. drive to the scenic beaches - Surin & Bang Tao.
Layan Beach
1. Anantara Layan Phuket Resort
Anantara Layan Phuket Resort is a luxury beachfront resort in Phuket overlooking the Andaman Sea. Here you can retreat to an island paradise where lush hillside overlooks powdery beach and hide away in luxury pool villas for two or sprawling residences for families as Anantara Layan Phuket Resort offers 30 rooms and suites, 47 pool villas, and 15 pool residences.
Koh Racha Yai
1. The Racha
Twelve nautical miles from Phuket lay one of the Andaman Sea's most beautiful island destinations – Koh Racha Yai. So near and yet so far from the hustle and bustle of the mainland. In this tiny sanctuary you'll find nature as it was intended and civilized living at its finest.
Fronting the soft white sand and azure waters of pristine Batok Bay, discover the exquisite and much-awarded The Racha resort. Expect no less than unparalleled personalized service with only eighty-five luxurious eco-chic villas spread over twenty acres of verdant tropical grounds.
Koh Naka
1. The Naka Island, A Luxury Collection Resort & Spa, Phuket
The Naka Island, a Luxury Collection Resort & Spa, Phuket is an exclusive all-villa island hideaway off the coast of Phuket in southern Thailand. Nestled among stunning beaches, lush coconut groves, with never-ending views of the emerald-green Phang Nga Bay and idyllic landscapes of the Phuket coastline, The Naka Island is accessible only by private speedboat, making it a uniquely private and intimate retreat. The resort offers 67 villas with private plunge pools and/or tropical gardens and 23 luxury suites that are magnificently appointed, along with an incomparable spa facility, access to countless outdoor recreation activities, and uncompromising service.
Por Bay
1. 8IK88 Resort
Located in Por Bay, 8IK88 Resort provides accommodations with a restaurant, outdoor swimming pool, a bar and a private beach area.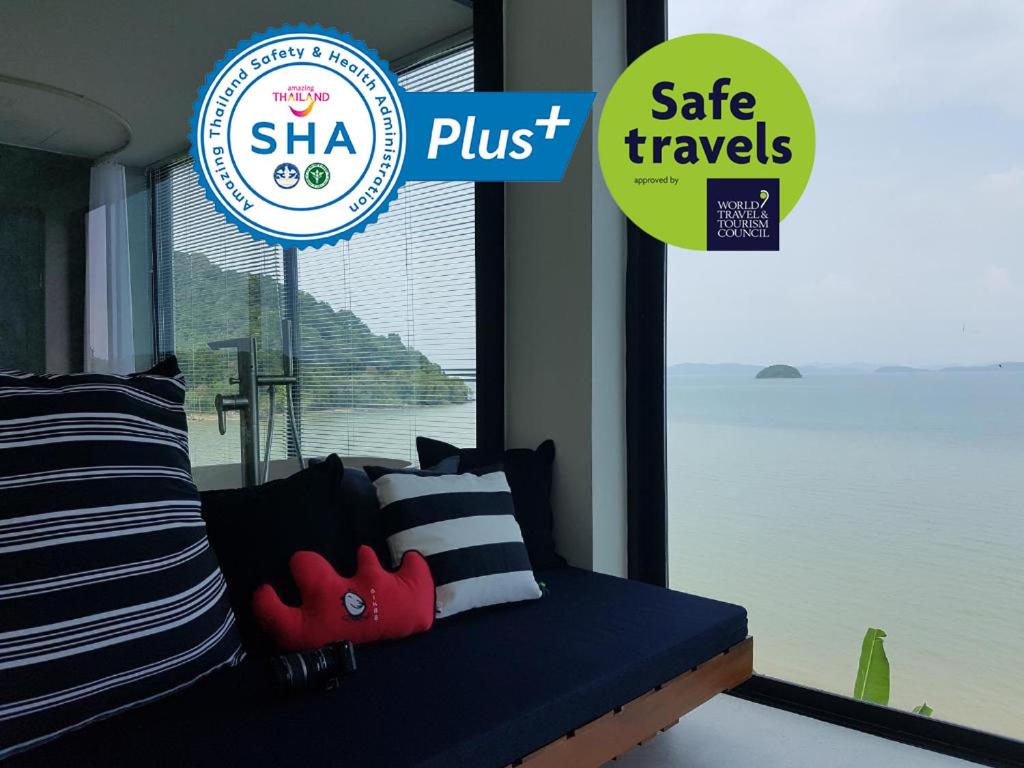 2. Supalai Resort & Spa
Supalai Resort & Spa Phuket sits amidst the beautiful scenery of green forest hill with Luxury View of Andaman Sea on the North Eastern side of Phuket Island.
3. Chandara Resort & Spa
Chandara Resort & Spa stands on a generous landscape, gently rising from the beach offering dramatic scenery over Ao Por Bay, marinas and nearby islands. Pool Villas offer spaciousness and privacy within the setting of a comfortable and homely. The resort grounds are covered by lush and mature trees, further enhancing the surrounding natural tranquil ambiance and privacy.
Ban Pa Khlok
1. COMO Point Yamu
Leave day-today life behind with a break in Phuket, choosing COMO Point Yamu as your place to truly relax. With spectacular 360-degree view of Andaman Sea and contemporary interiors by Paola Navone, the resort offers luxury both inside and out, while an extensive activities programme takes you beyond the resort, from island excursion to snorkeling in crystal-clear water.
Coconut Island
1. Island Escape by Burasari
Island Escape by Burasari is Thailand's first 5-star resort created specifically for modern lifestyles, a resort where romantics, friends, couples with children, extended families and partners can enjoy their ideal holiday. Couples can indulge in privacy and intimacy, while children and extended family members can enjoy the resort's fabulous repertoire of pools and beaches, landscaped gardens, spa and wellness programs and adventure excursions. Island Escape by Burasari offers the greatest escape, where life is celebrated, passion is pursued, and happiness is fully realized.
Phuket Town
1. The Tint @ Phuket Town
The Tint @ Phuket Town is the personalized accommodation of a sweet modern hotel in Phuket town. The hotel is inspired by the sweetness of the surroundings. The Tint At Phuket Town is located a 10-minute walk from Phuket Old Town and features rooms with a private balcony.
2. The Blanket Hotel
Featuring a restaurant, bar, shared lounge and free WiFi, The Blanket Hotel is a Phuket Sandbox hotel located in Phuket Town.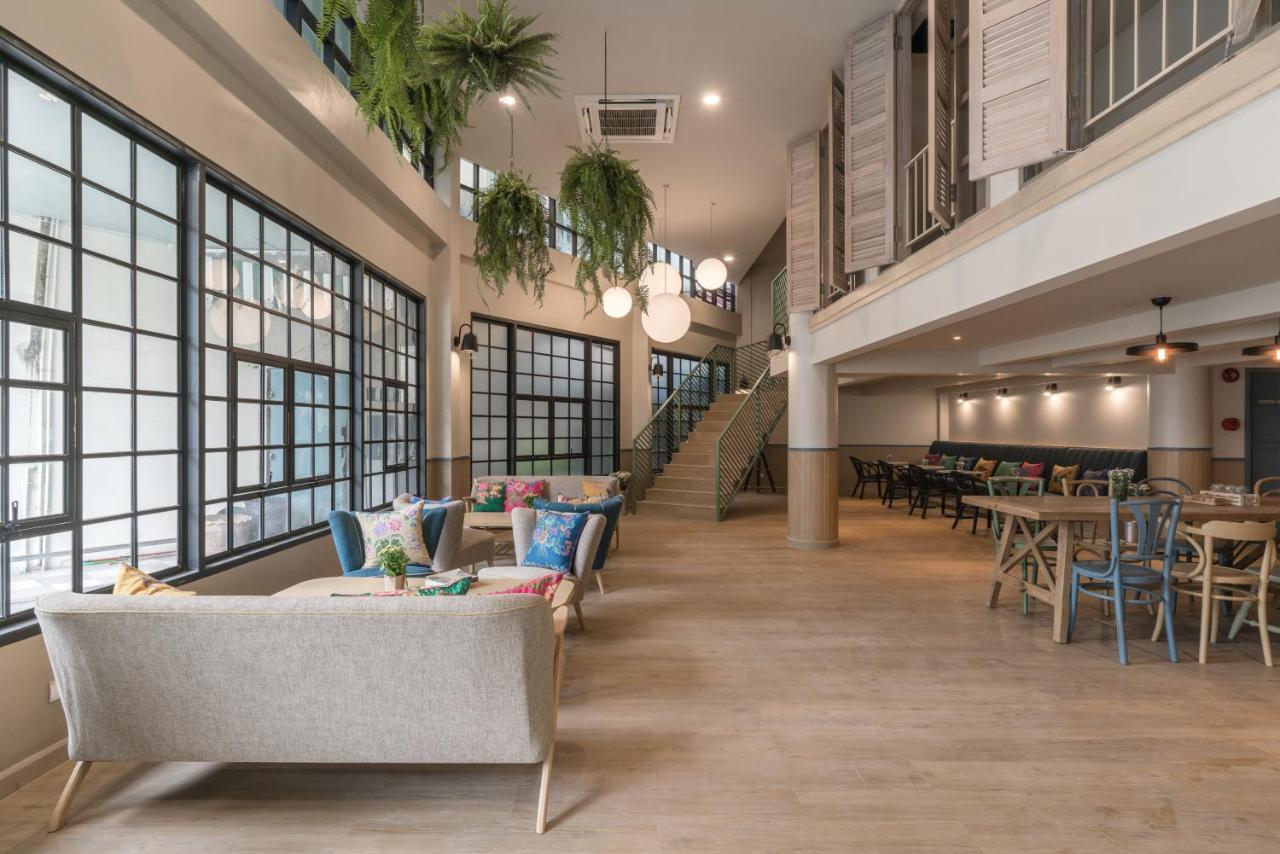 3. Book a Bed Poshtel
Book a Bed Poshtel in Phuket Town has a friendly, laid back vibe, perfect for digital nomads who love to share their travel experiences! There are plenty of room types to choose from as you can share a room with other travelers in female and mixed dorm rooms or relax in total privacy in private rooms designed for couples.
4. Ratana Hotel Rassada
Ratana Apart-Hotel @ Rassada is a Phuket Sandbox hotel in Rassada area. Decorated with the high-quality finishing, all guest rooms enhance the comfort and harmony with Sino-Portuguese concept design.
5. Seabed Grand Hotel Phuket
Seabed Grand Hotel Phuket is a new 5-star hotel in Phuket town, offering resort feeling. Seabed Grand Hotel Phuket offers accommodation with a restaurant, an outdoor swimming pool and a fitness centre. The accommodation also offers a sun terrace.
---
Check the full list of Phuket Town Hotels available for Phuket Sandbox
---
Thalang
1. The Rubber Hotel
The Rubber Hotel offers the sensation of relaxing, fresh, fun, quiet, and comfort with perfect services and facilities. The hotel is located in the center of Thalang city but surrounded with natural rubber tree hideaway from disorder and complexity. The Rubber Hotel consists of 72 rooms designed in clean & modern style of decoration and fully furnished and equipped with modern amenities.
2. Poolrada Boutique Hotel
Poolrada Boutique Hotel is a boutique style hotel with modern classic decoration which was recently opened in Phuket's Thalang area, only 15 minutes from the airport.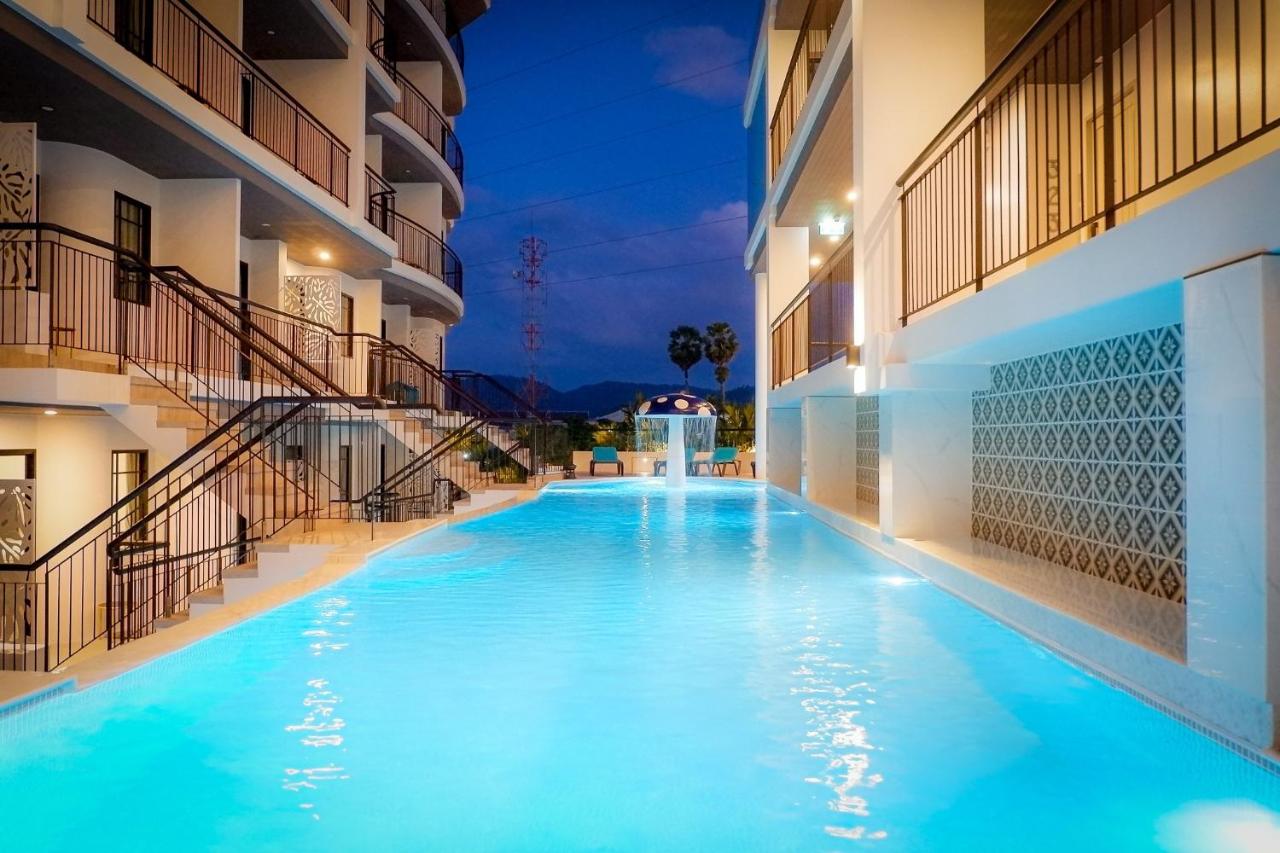 3. Thanyapura Sports and Health Resort
Thanyapura Sports & Health Resort is Asia's premier healthy holiday destination. Located just 20 minutes from the Phuket international airport and next to a national forest, Thanyapura is dedicated to promoting active living and healthy lifestyles through sports and wellness. Thanyapura is the ideal location for a sports training, executive retreats or a healthy holiday.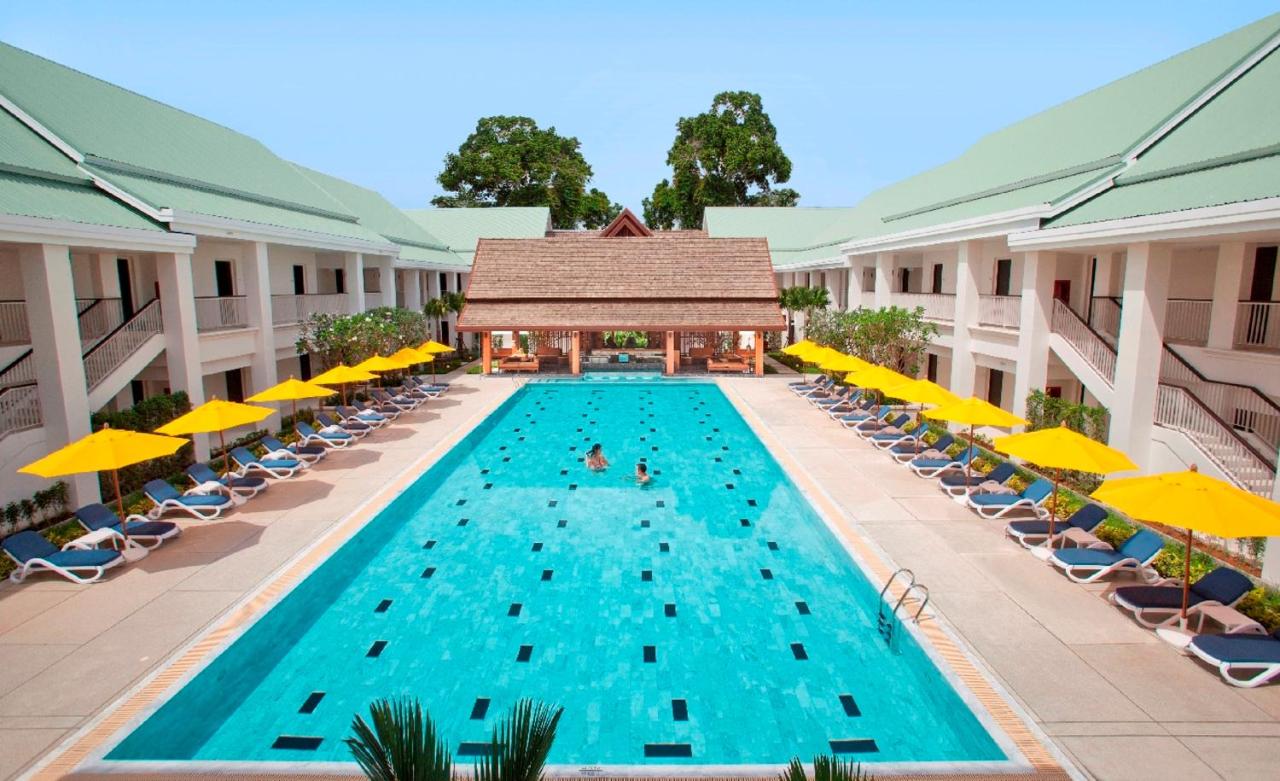 Chalong
1. The Lake Chalong Resort Phuket
Situated in Chalong, 400 m from Chalong Temple, The Lake Chalong features accommodation with a restaurant, free private parking, an outdoor swimming pool and a shared lounge. Elegant rooms at The Lake Chalong Resort Phuket are designed in temporary style with good lake view of Chalong.
2. Phuket Marine Poshtel
Nestled in the heart of Chalong, Phuket Marine Poshtel is an ideal spot from which to discover Phuket. The property's strategic location ensures that guests can quickly and easily reach many local points of interest. With its convenient location, the property offers easy access to the city's must-see destinations. Offering guests superior services and a broad range of amenities, Phuket Marine Poshtel is committed to ensuring that your stay is as comfortable as possible.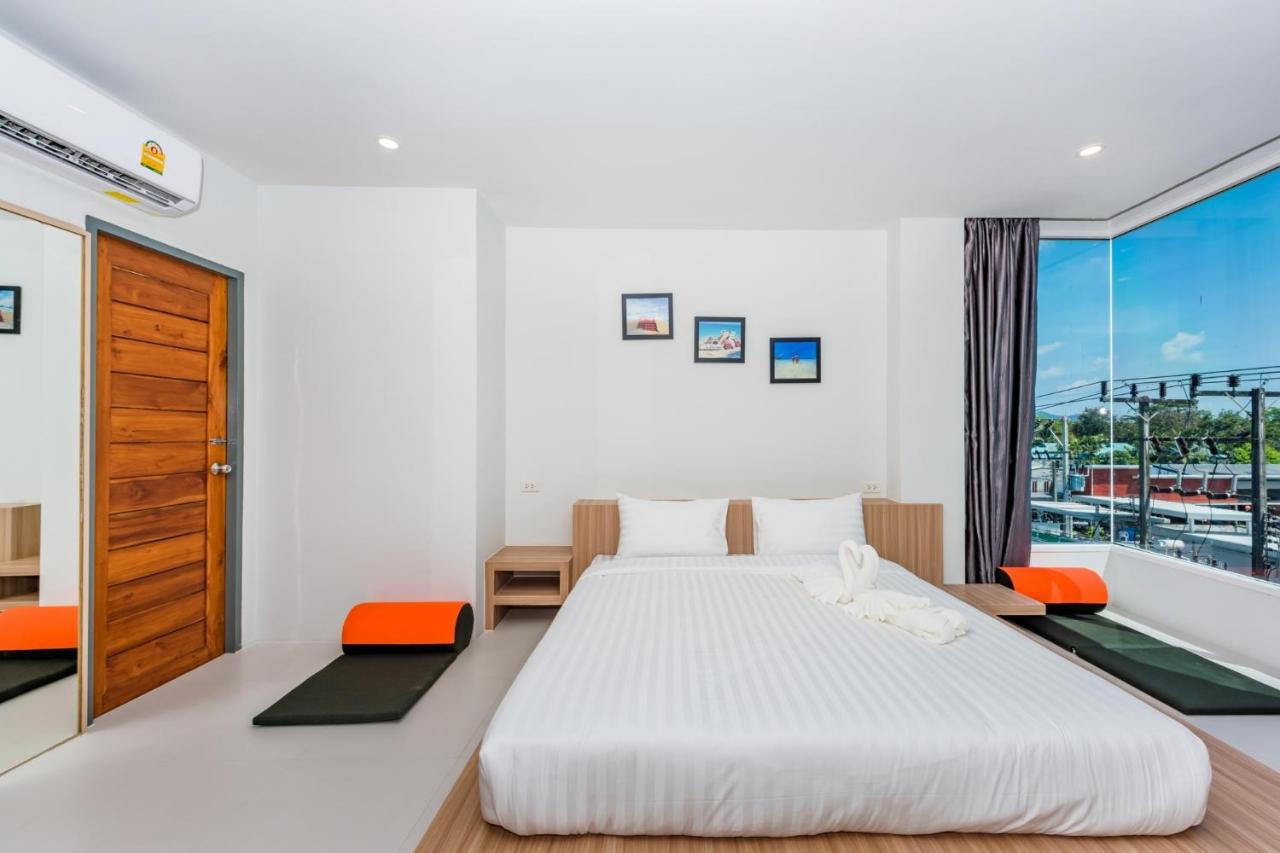 3. Villa Zolitude Resort & Spa
Get away from it all at Villa Zolitude, a Phuket luxury villa resort nestled on the forested mountainside with stunning panoramic views. This is a romantic hideaway in the treetops, so tranquil and calm, a place to rejuvenate and relax amongst nature. Spend lazy days and romantic nights in luxury pool villas beautifully designed to complement the forest, and get pampered for hours in the exotic Moroccan inspired spa. At Villa Zolitude you have the luxury of time, to be still, sleep well and disconnect from the world with your loved one a feel a renewed energy for life.
4. The Blue Phuket
The Blue Phuket is located in the heart of Phuket on Soi Chaopha 50 nearby Tiger Thai-Boxing Training Camp and not too far from Chalong temple, Phuket's most famous temple which is hard to miss. Providing warm and cooperative service accompanied by great Thai hospitality, the charming guest rooms are ideal for people who are seeking a visually breathtaking scenery combined with a tranquil and refreshing atmosphere.
5. Anchan Boutique Hotel
Anchan Boutique Hotel features non-smoking accommodation with contemporary décor and a private balcony. It presents an outdoor pool, as well as an on-site restaurant. This boutique hotel is just a 5-minute drive from Dragon Muay Thai Training Camp and Phuket Top Team Mauy Thai Training Camp, which offer traditional Thai boxing training classes. All the trendy units are equipped with air conditioning, a kitchenette and a seating area.
6. Wanawalai Luxury Villa
Located in Ban Na Bon, 2.4 km from Chalong Beach, Wanawalai Luxury Villa has a number of amenities including a restaurant, an outdoor swimming pool, a fitness centre and free WiFi. Featuring a 24-hour front desk, this property also provides guests with a terrace. The hotel features family rooms.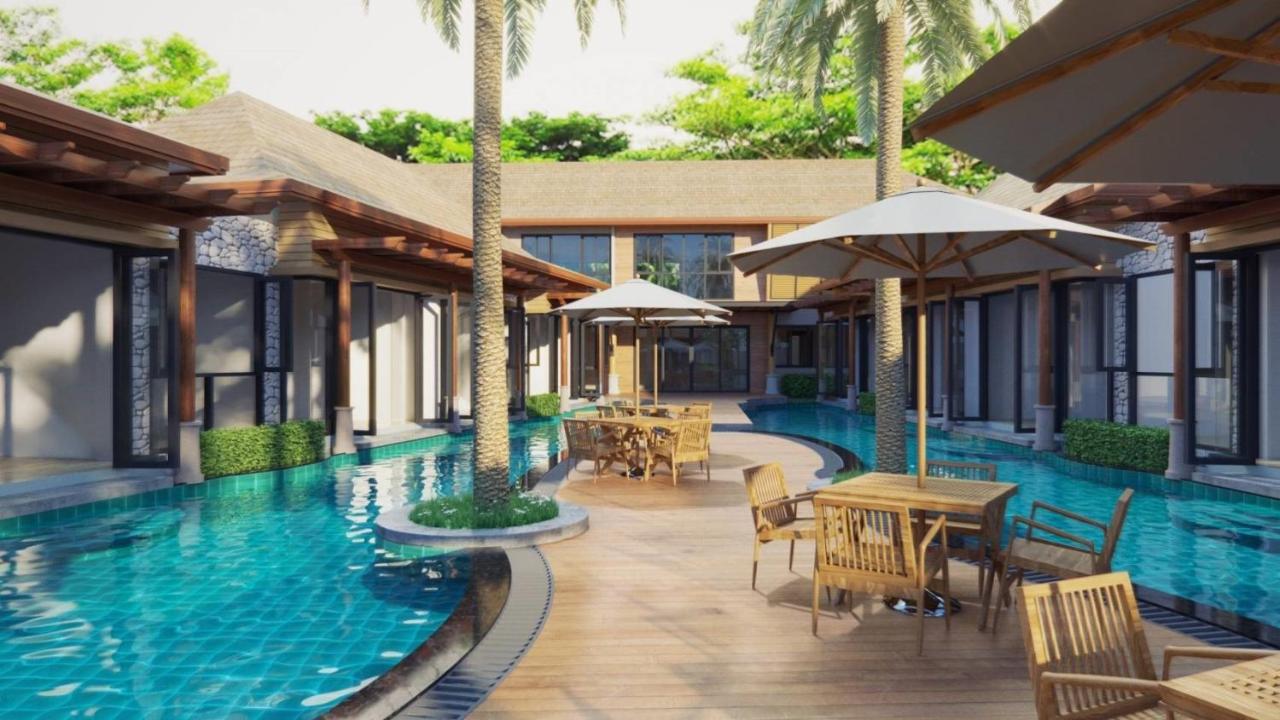 7. Anchanlina Hotel
Set in Chalong, Anchanlina Hotel offers 4-star accommodation with private balconies. With an outdoor swimming pool and sun terrace, the 4-star hotel has air-conditioned rooms with free WiFi, desk and a flat-screen TV. Tiger Muay Thai and MMA Training Camp is a few steps from Anchanlina Hotel.
Kathu
1. The Par Phuket
The Par Phuket is an innovative property that sits near the resplendent rolling fairways of premier golf courses. It is conceived as a haven for everyone who shares the same passion for nature, adventure, and the desire for entertainment and relaxation during holidays. If you are looking for a captivating verdant area as your home away from home, The Par Phuket promises to make you enjoy Phuket for yet another reason.
2. Tinidee Golf Resort @ Phuket
Tinidee Golf Resort at Phuket is surrounded by a naturally undulating, verdant landscape, with palm-fringed lake and forested mountains nearby. Tinidee Golf Resort @Phuket offers a relaxing getaway from the big city, yet is just a short ride from the stunning beaches and renowned entertainment areas of the beautiful tropical island of Phuket.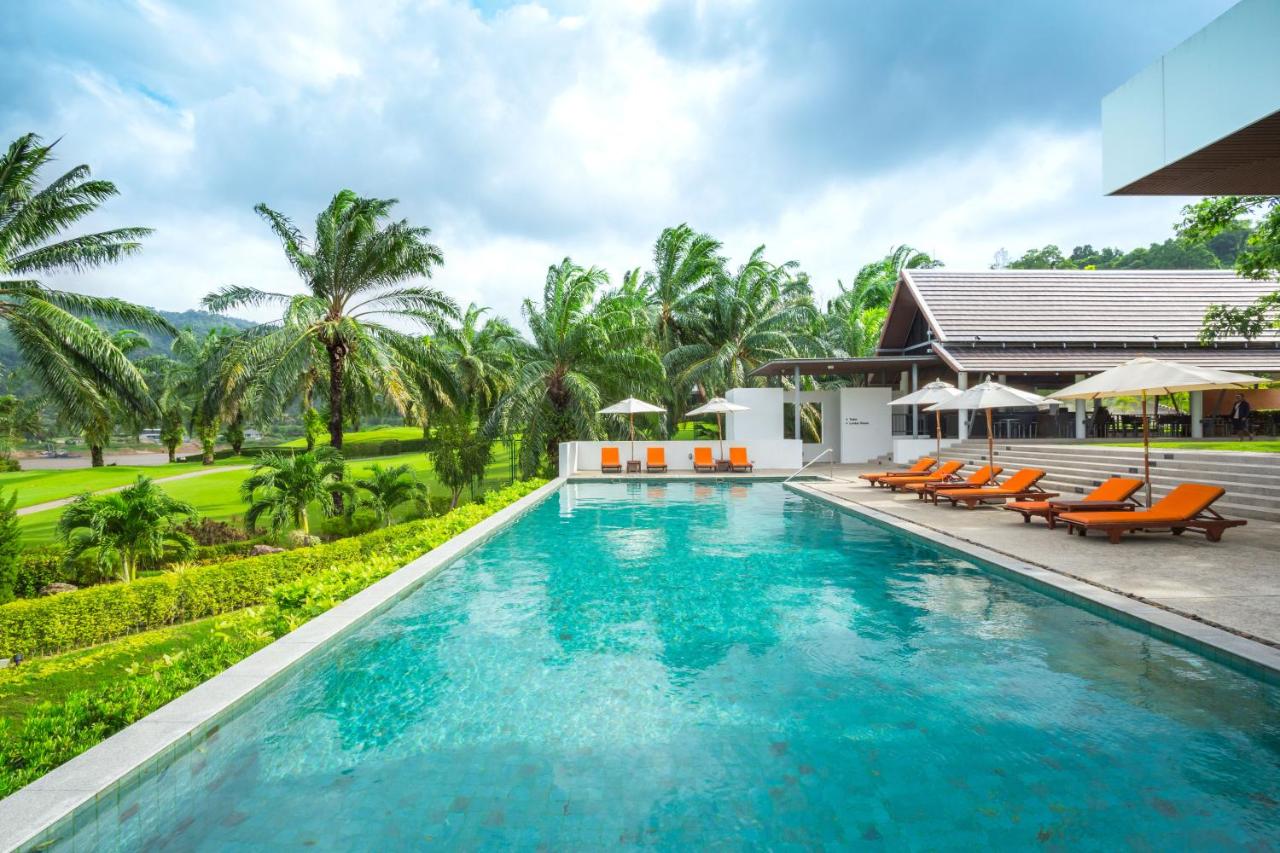 Quarantine Hotels
Unvaccinated travelers arriving in Phuket will still be subject to quarantine and will have to stay at Phuket ALQ Hotels.