Incoming travelers from abroad, who are vaccinated against COVID-19 and willing to use Samui Plus plan for entering Thailand without quarantine, will be required to stay at hotels holding a SHA+ (SHA Plus) certificate. Here is the list of Samui Plus hotels including all the hotels that have been certified as SHA Plus hotels in Koh Samui.
Koh Samui is one of the most developed travel destinations in Thailand and will be reopen to tourists under the Samui Plus plan, also known as 'Samui Sealed Route' model. Since COVID-19 epidemic severely affected a major tourism industry of Koh Samui, this famous resort island has been set to accept vaccinated travelers without quarantine, following the Phuket Sandbox scheme in Phuket. It should be possible to travel to Koh Samui from 15 July 2021.
Types of Samui Plus Hotels
To be able to come to Koh Samui without quarantine, vaccinated tourists must look for 2 types of specific hotels.
The first 7 nights need to be spent at one of Samui Extra Plus hotels that are approved by government to provide quarantine service. Travelers entering Thailand under Samui Plus scheme won't need to quarantine for two weeks like other travelers but will use Samui Extra Plus hotels as the travel base for the first week of Samui Plus plan. Between Day 1 and Day 3 tourists will allowed to leave the hotel room for designated areas in hotel, while from Day 4 to Day 7 they will be allowed leave their hotel and travel within designated routes and on tour programs on Koh Samui.
Get a special Samui Extra Plus offer from Avani+ Samui!
If the second test is negative, tourists can travel freely in Koh Samui, Koh Phangan or Koh Tao and stay for at least another 7 nights at any SHA Plus certified hotel. Hotels with SHA+ (SHA Plus) certification were introduced to reassure that the hotel has taken steps to prevent the spread of the COVID-19 virus intensely and guarantee that more than 70% of employees have been vaccinated to service customers.
---
In addition to booking of Samui ALQ hotel for 7 nights and booking of SHA Plus hotel(s) for another 7 nights, other documents will also required for entering Thailand under Samui Plus scheme:
Thai visa or eligibility to use Thailand visa exemption
COVID-19 free certificate issued within 72 hours before departure to Thailand
COVID-19 vaccination certificate
Proof of payment for COVID-19 Tests (must be booked and prepaid with ALQ / SHA Plus hotels)
Air ticket for an international flight to Koh Samui
Health insurance policy covering COVID-19 related treatment in the amount no less than 100,000 USD for the total duration of your planned stay in Thailand (you can easily buy the special package of AXA Thailand insurance online to meet all these requirements)
---
List of SHA Plus Hotels in Koh Samui 
Currently, there are more than 100 SHA Plus hotels authorized to provide accommodation in Koh Samui, Koh Phangan and Koh Tao under Samui Plus scheme. There should be more hotels in the list soon as there are more than 270 hotels that have received SHA certificate in Surat Thani province and they already meet the health and safety guidelines. Most of these hotels are just waiting to be certified as SHA Plus hotels.
The list of the best Samui Plus hotels including certified SHA Plus hotels in Koh Samui grouped by areas is the following:
Samui Plus Hotels in Chaweng Beach
1. SALA Samui Chaweng Beach Resort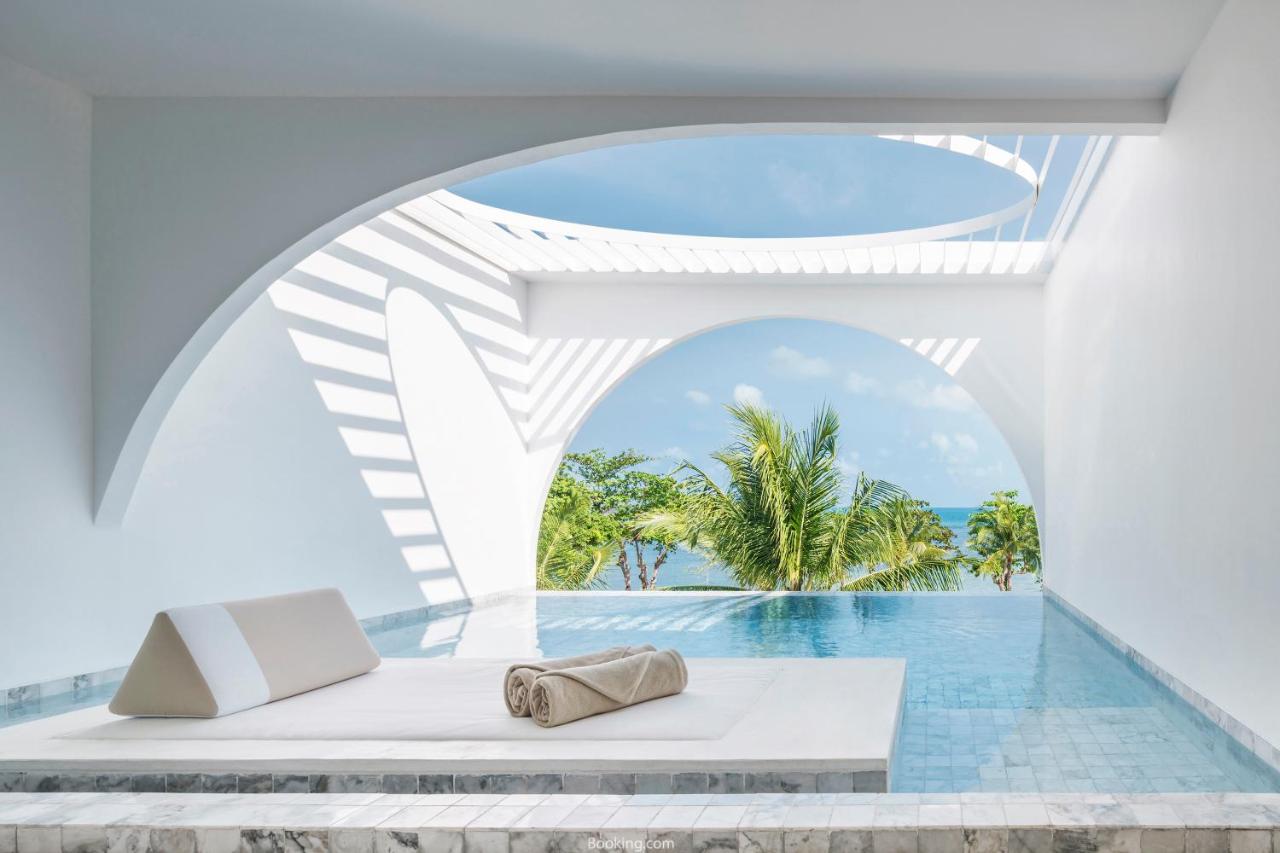 SALA Samui Chaweng Beach Resort is Koh Samui's stunning 5-star pool villa beach resort and spa. The resort is situated directly on the beach. SALA Samui Chaweng has a gorgeous white sandy beach, luxurious pool villas and pool suites, a stunning beachfront swimming pool, a romantic beachfront restaurant, and all the modern facilities and amenities guests have come to expect from SALA Resorts and Spas. Personal and private space is again the theme… a peaceful, serene atmosphere in which to enjoy a wonderful, relaxing holiday.
2. Anantara Lawana Koh Samui Resort
Anantara Lawana Koh Samui Resort offers luxurious island getaways on buzzing Chaweng Beach. Villas cluster around palm-fringed lagoon pools, reminiscent of the early Sino-Thai settlements. Dine in the tree tops or on the beach. Cruise out to sea or hide away in the spa. The resort invites you to explore at your own pace at this exceptional Koh Samui resort.
3. Amari Koh Samui
Amari Koh Samui is found on a secluded beachfront at idyllic Chaweng Beach just 5 km from Koh Samui Airport. The resort's spaces have been thoughtfully designed for that comforting home-from-home experience with touches added to the décor to showcase modern Thai craftsmanship at every turn – a contemporary re-imagining of the traditional Thai home.
4. The Library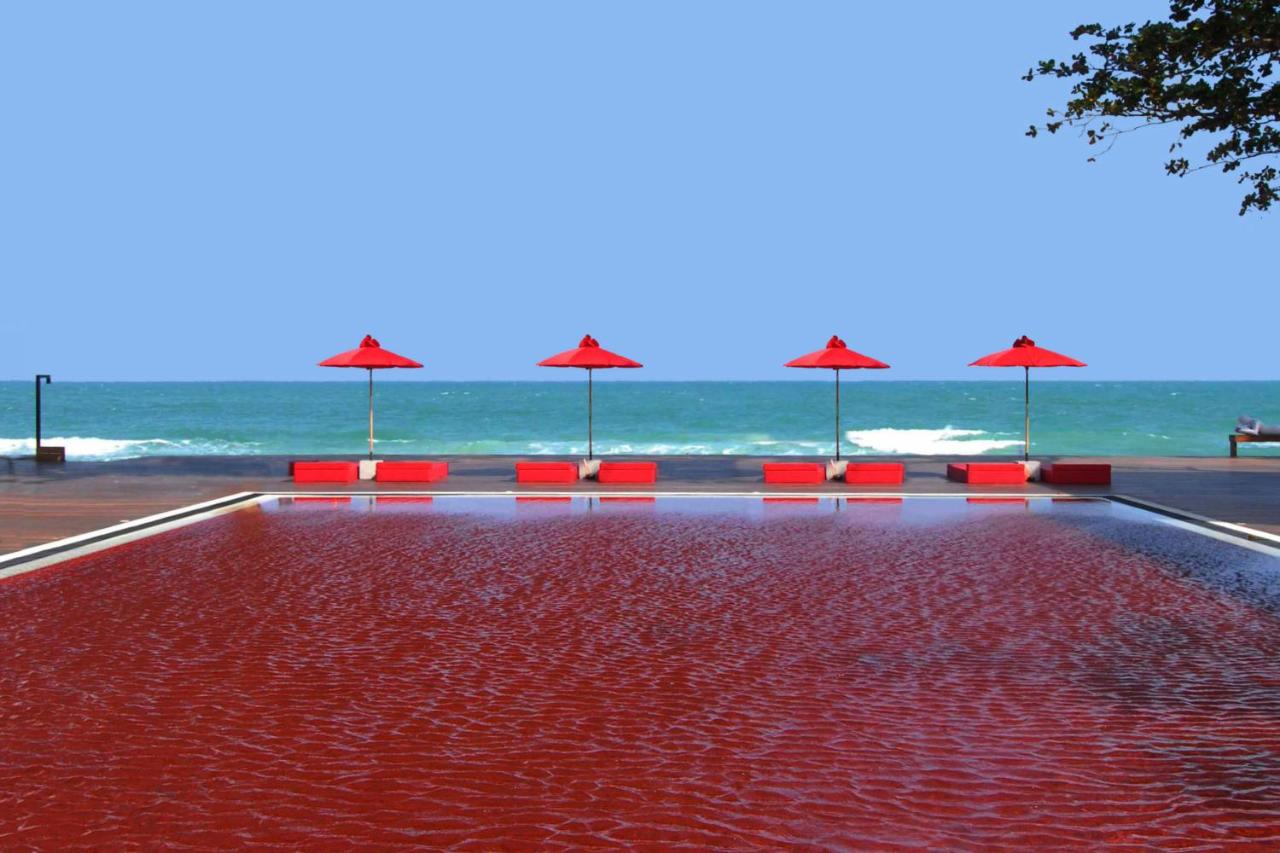 With a vision to provide beautiful spaces for reading, The Library on the beachfront of Chaweng Beach uses modern minimalist design to complement its surrounding tropical greenery. Apart from showcasing an expansive library of over 1400 books available for guests to borrow, the resort also features a unique red swimming pool, a fitness room and a spa centre. With various choices of pool villas, suites and studios, each unit is equipped with premium amenities and entertainment technology, including iMac computers and free WiFi.
5. Sareeraya Villas & Suites
Sareeraya Villas & Suites is offering to effortlessly experience the zenith of Thai hospitality expertise while steeped in "Oriental Chic" tropical luxury. Step out of the ordinary into an inspired level of excellence rarely found in such an exclusive resort in such a desirable location. A special place where each moment is a celebration of the finest qualities of life. Surround yourself in architecture to contemplate and participate, furnishings to inspire and hearten, this is a resort taking you in to the realm of Oriental intoxicatingly pleasurable ambience. Escape to your own seaside villa with Private pool. The Suites features the best in accommodation with spacious terrace.
6. Buri Rasa Village Samui
Buri Rasa Village Samui is a true oasis in the heart of Chaweng with enchanting traditional southern Thai dwellings amidst a 'Garden of Eden.' Echoes of halcyon days in this 4-star luxury boutique resort on the paradise island of Koh Samui. Once upon a time tales of aristocracy escaping to retreats with a full complement of hotel associates and services to meet their every need & requirements. Located on a quiet part in the middle of Chaweng beach, Buri Rasa Village Samui is conveniently situated within walking distance to the main shopping and entertainment and nightlife attraction of Chaweng.
7. Chaweng Regent Beach Resort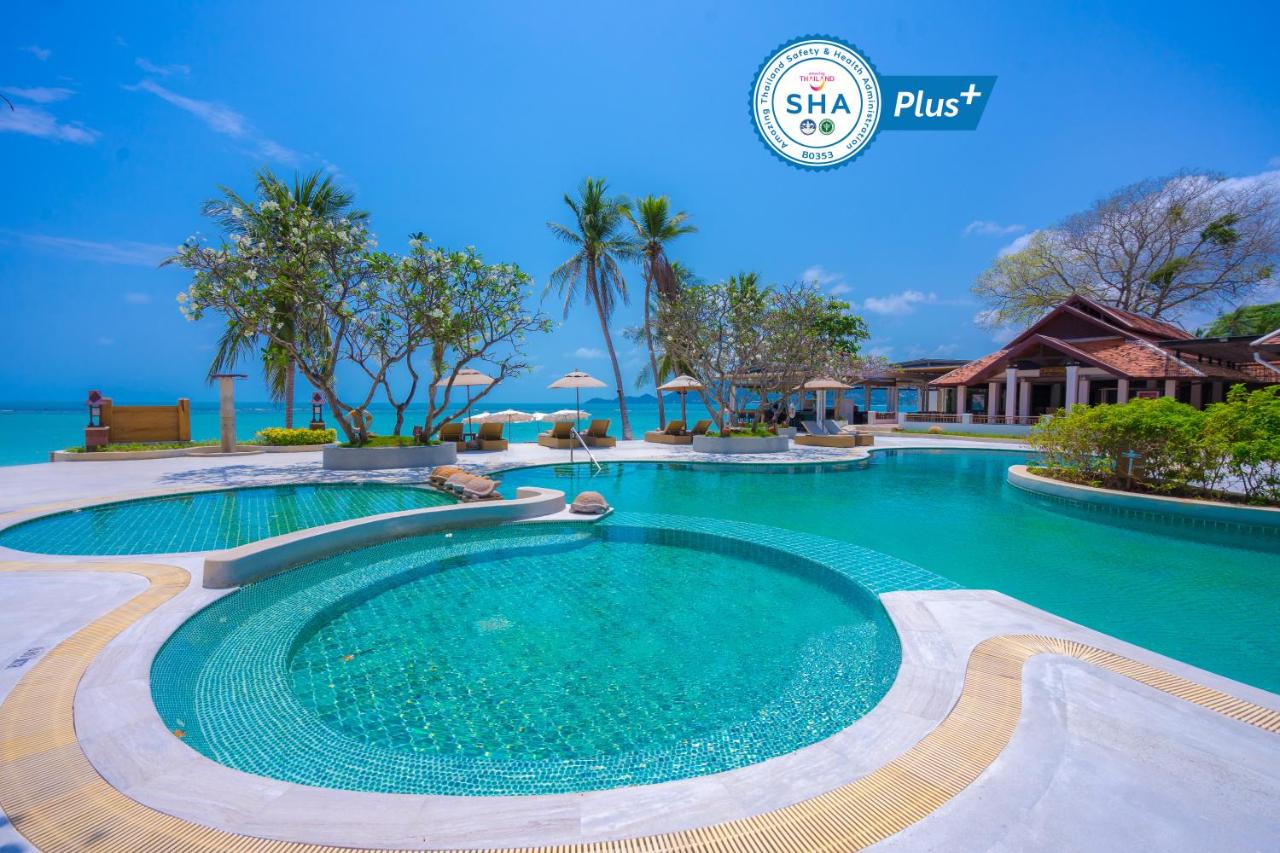 Chaweng Regent Beach Resort welcomes you to your own paradise, enveloped in breezy elegance and shaded by majestic coconut trees. Enjoy a taste of tropical living, bask among blooming native flowers and sweeping ocean views and delight in an idyllic holiday of relaxation and pampering at this Samui Plus hotel.
8. Synergy Samui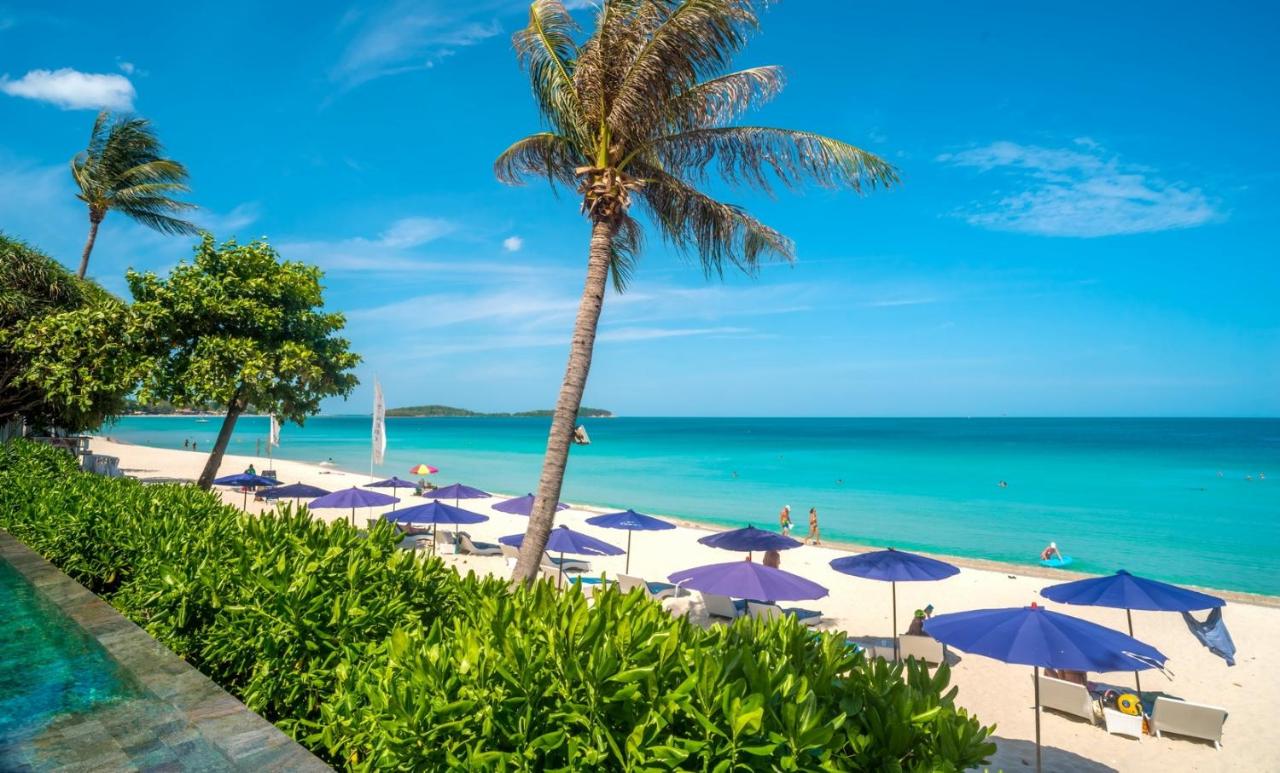 Synergy Samui, the resort with its natural unique theme is built in the middle of the famous Chaweng beach in the northern part of Samui island, on white sandy beach where cool climate and fresh sea breeze remains natural. It offers luxurious villas with modern interiors, and infinity pool view.
9. Banana Fan Sea Resort Hotel
Banana Fan Sea Resort lies on the most beautiful part of Samui's famous Chaweng Beach, with the finest white and powdery sand. Located at the south end of Chaweng Beach, yet not too far away from the famous shopping, entertainment and nightlife areas.
10. Baan Chaweng Beach Resort
Baan Chaweng Beach Resort and Spa is preferred for detached villas with oriental design and fusion of classical Thai style and contemporary luxury. Surrounded by the tropical garden, guests can relax in the swimming pool, or private balconies. Chaweng beach, the most beautiful beach in Koh Samui, is situated in front of the resort. The location of the resort is in the center of Chaweng Town, only 5 minutes' walk to Central Festival shopping center. Baan Chaweng Beach Resort & Spa offers an excellent choice for guests seeking a memorable place to stay in Koh Samui at reasonable prices.
---
Samui Plus Hotels in 
Chaweng Noi Beach
1. Sheraton Samui Resort
Sheraton Samui Resort offers the perfect beachfront accommodation for travelers with a stylish blend of modern and Mediterranean décor. Each hotel room is designed with a spacious balcony overlooking the tropical Garden Pool and Beachfront Pool, just steps away from the sparkling turquoise waters. The resort is just 15 minutes away from Samui International Airport and only a short ride to well-known Koh Samui attractions. Sheraton Samui Resort welcomes you to the timeless property amidst the serenity of Chaweng Noi beach.
2. Vana Belle, a Luxury Collection Resort Koh Samui
Experience the cultural immersion into luxurious Thai-style island living, where exception surpasses expectations at Vana Belle, A Luxury Collection Resort, Koh Samui. The resort is situated on Chaweng Noi Beach. It offers luxurious suites and villas with a private pool and free WiFi. At Vana Spa, guests can fully indulge in deep relaxation with massage treatments. The property also boasts an outdoor pool, sauna and 24-hour fitness centre.
3. Fair House Beach Resort & Hotel Koh Samui
Sitting on Chaweng Noi Beach, Fair House Beach Resort & Hotel boasts a spa pavilion and free WiFi. It has a beachfront freshwater swimming pool and another pool with tropical theme located on a hill. Rooms are elegantly decorated in Contemporary Thai design and all feature private balconies.
4. Chaweng Noi Pool Villa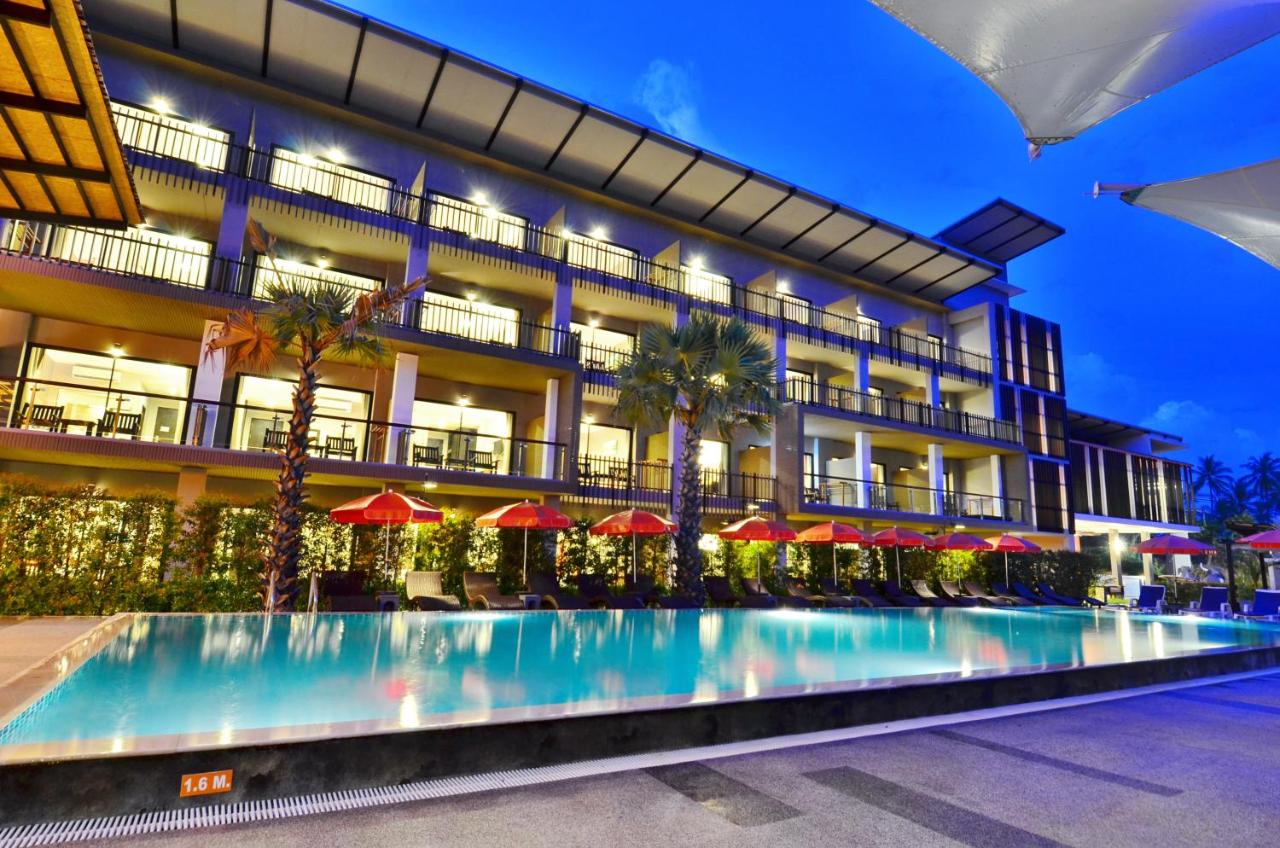 Chaweng Noi Pool Villa is the unique 4.0-star-rated combination of hotel and private villas. The resort is specially designed for guests who are looking for affordable luxury accommodation in modern boutique style. A 100 square meter swimming pool plays a role as a highlight of the hotel. Due to the splendid location surrounded by lush tropical greenery our guests will certainly experience amazing holidays. They can also enjoy Samui nightlife without taking too much time to reach.
5. Impiana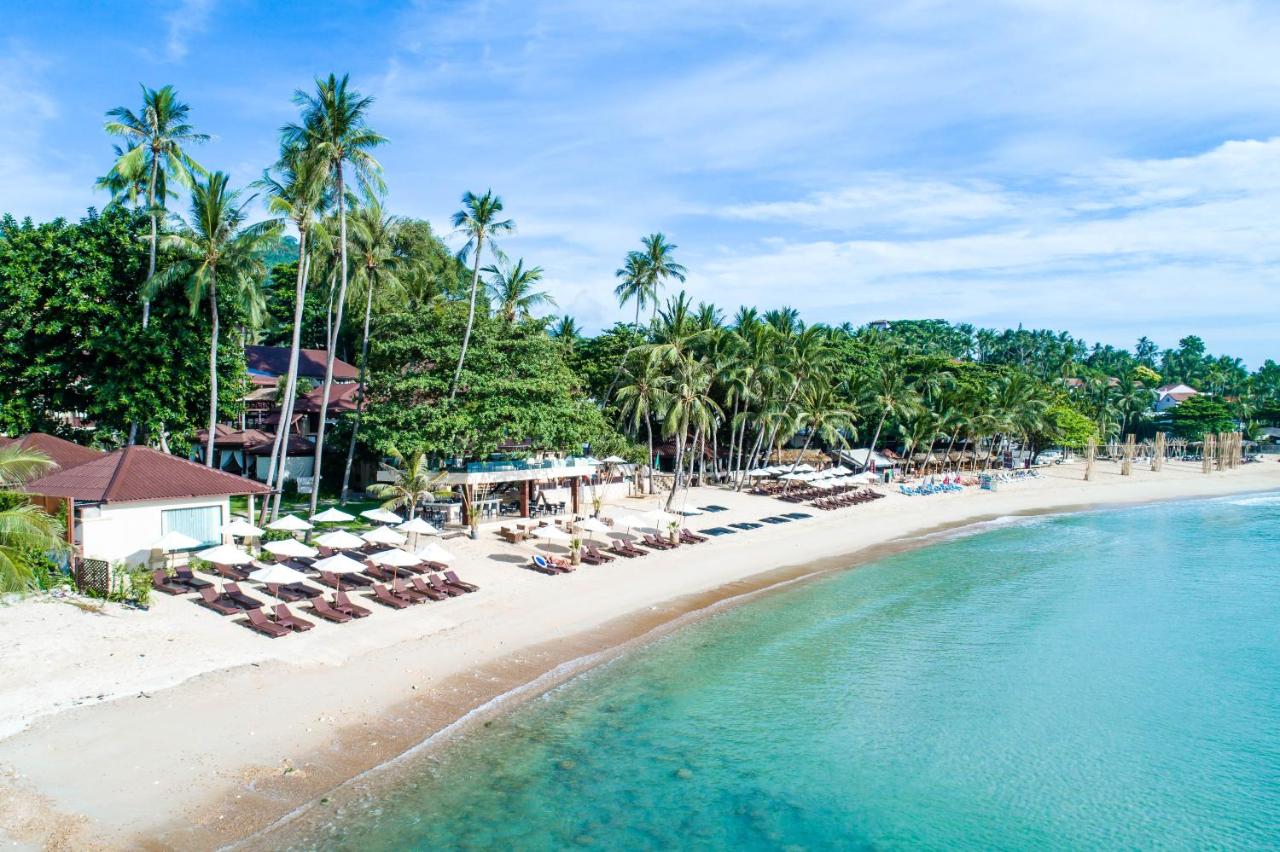 Impiana resort is located at the northernmost tip of Chaweng Beach (Chaweng Noi Beach). This SHA Plus certified beachfront resort in Koh Samui is a great place to relax and unwind.
---
Samui Plus Hotels in 
Choeng Mon Beach
1. The Ritz-Carlton, Koh Samui
Nestled within the embrace of a private sun-kissed bay, The Ritz-Carlton, Koh Samui is the resort surrounded by oceanfront beauty and quintessential experiences that inspire treasured moments. Discover the legendary hospitality of its people in a constant pursuit of happiness that salves your mind, body and soul through wellness programmes, cultural immersions or culinary journeys. Embracing the Samui way of life is the heartbeat at The Ritz-Carlton, Koh Samui.
2. Cape Fahn Hotel, Koh Samui
Cape Fahn Hotel, Koh Samui is a spectacular boutique hotel belonging to the prestigious Cape Hotel Collection, Thailand's premier group of luxury hotels and serviced apartments. A member of the Small Luxury Hotels of the world, this is an enchanting development of 22 one- or two-bed luxury pool-villas set in the tranquil seclusion of a modern tropical-styled complex on two small private islands off the northeast coast of the famed Koh Samui offering spectacular views across the Gulf of Thailand.
3. Melia Koh Samui
Escape to an idyllic beachfront retreat at Melia Koh Samui, blending Asia's rich maritime heritage with luxurious rooms. Soak up the tropical ambience in a choice of unique luxury The Level Boat Suites, surrounded by beautiful gardens and sparkling pools. Soothe yourself with spa treatments, delectable dining and fun family activities, or simply unwind on a stunning sandy beach overlooking the glistening Gulf of Thailand.
4. Six Senses Samui
Six Senses Samui is a SHA Plus hotel offering private pool villas and garden villas landscaped with natural vegetation nestled on a gently sloping headland at the northern tip of Samui Island. Lose yourself while gazing out to the sweeping panoramas of the Gulf of Thailand. Laze, graze and refresh by a vast infinity pool, which blends seamlessly with the distant horizon.
5. Hyatt Regency Koh Samui
Stay at Hyatt Regency Koh Samui, a tranquil oceanfront resort of North Chaweng near the airport, Big Buddha, Fisherman's Village and Central Festival Samui. Located in the vibrant area of North Chaweng with direct access to a semi-private beach, eight minutes from the airport, Hyatt Regency Koh Samui is built around over 600 protected Yang Na and coconut trees. Energize your body and mind in a gallery where nature including stunning sea views is the art on display.
---
Samui Plus Hotels in 
Lamai Beach
1. The Lamai Samui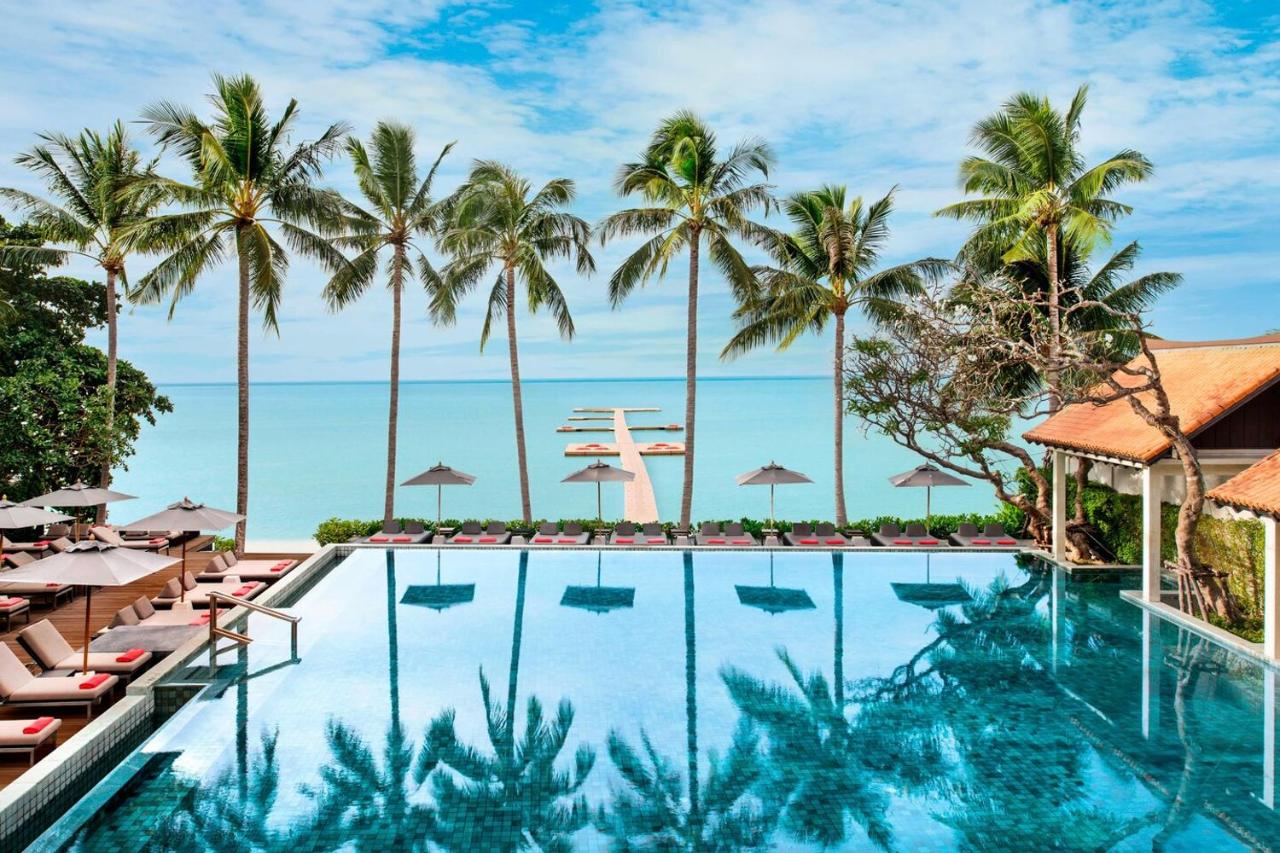 Discover the luxury resort's enchanting island paradise with breathtaking views over the ocean and an auspicious beachfront location on an idyllic stretch of Lamai Beach with private access to wondrous coral reefs and lush natural landscaping. The Lamai Samui (formerly Le Méridien Koh Samui Resort & Spa) is a chic and intimate beachfront resort that induces a sophisticated lifestyle through the arts, rich cultural experience and inspiring cuisine with its unique blend of stylish amenities that offers guests a new perspective. The refined 63 suites and distinctive 14 villas are designed with a contemporary Sino-Thai style and tropical ambience for the ultimate luxury.
2. Banyan Tree Samui
Set on an exclusive beachfront along Lamai Bay, Banyan Tree Samui offers 5-star villa accommodation with private infinity pools. It features a world-class spa, 5 dining options and free Wi-Fi. Spacious villas feature a private terrace with sweeping views of the ocean or tropical greenery. Large bathrooms have floor-to-ceiling windows and twin vanities.
3. Renaissance Koh Samui Resort & Spa
Renaissance Koh Samui Resort & Spa is a villa resort set in spacious, lush tropical gardens and perched on a hill that gently slopes towards a mesmerizing blue sea on the picturesque Laem Nan Peninsula of Lamai Bay, the south-east coast of Koh Samui Island.
4. Silavadee Pool Spa Resort
Silavadee Pool Spa Resort is an exclusive luxury hideaway resort on the island of Koh Samui in the Gulf of Thailand. Nestled in the seduced hill called, "Laem Nan" between Chaweng and Lamai beach, the tranquility gives guests the chance to pamper their holidays with memorable experience in a uniquely charming Thai way.
5. Rocky's Boutique Resort
Rocky's Boutique Resort is a private and secluded boutique Samui resort. This luxurious accommodation features 49 rooms. The resort is situated on the beach, with unparalleled views of the Gulf of Thailand, and only a short walk to downtown Lamai. Long tailed fishing boats can be seen daily as they depart or return home with their catch. Here is the ideal place to relax and feel free to enjoy the natural beauty of this amazing Samui resort with accommodation facilities that will make your holiday a memorable one.
---
Samui Plus Hotels in 
Mae Nam Beach
1. W Koh Samui

W Koh Samui, where the days are for relaxing and the nights are for celebrating. Located on pristine beach of Mae Nam, the resort presents unexpected turn of the world of fashion, design, music and fuel.
2. Four Seasons Resort Koh Samui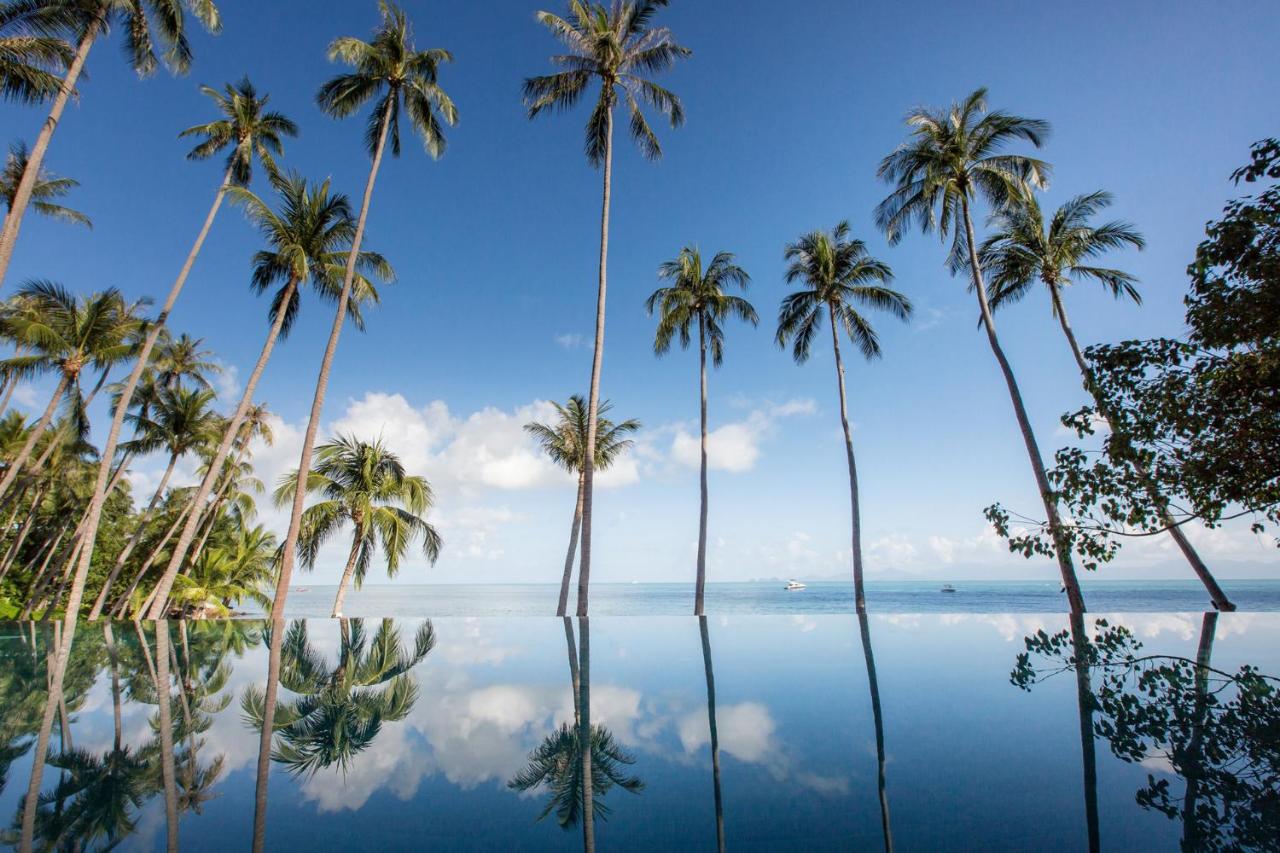 Four Seasons Resort Koh Samui is the perfect place to discover the idyllic bliss of Thailand's island life, whether from a private outdoor deck overlooking the Gulf of Thailand, the aqua-inspired plus Residences or from the edge of the infinity pool on the beach. Fringed by breezy coconut palms, the 60 luxury Villas and 10 Residences ranging from two- to five-bedroom come with spectacular panoramas of the Gulf of Thailand. Savour the spirit of the island in your chic living space, where hues of turquoise blue complement the Southern Thai design.
3. Santiburi Koh Samui
Santiburi Koh Samui is a spacious, experience-driven luxury resort on the quiet north shore of Koh Samui. Set in 23 acres of tropical foliage, shady trees and lotus ponds, the resort overlooks 300 meters of pristine sandy beach. The exquisitely designed suites and villas feature sleek, modern design blended with warm contemporary Thai décor.
4. Fair House Villas & Spa, Koh Samui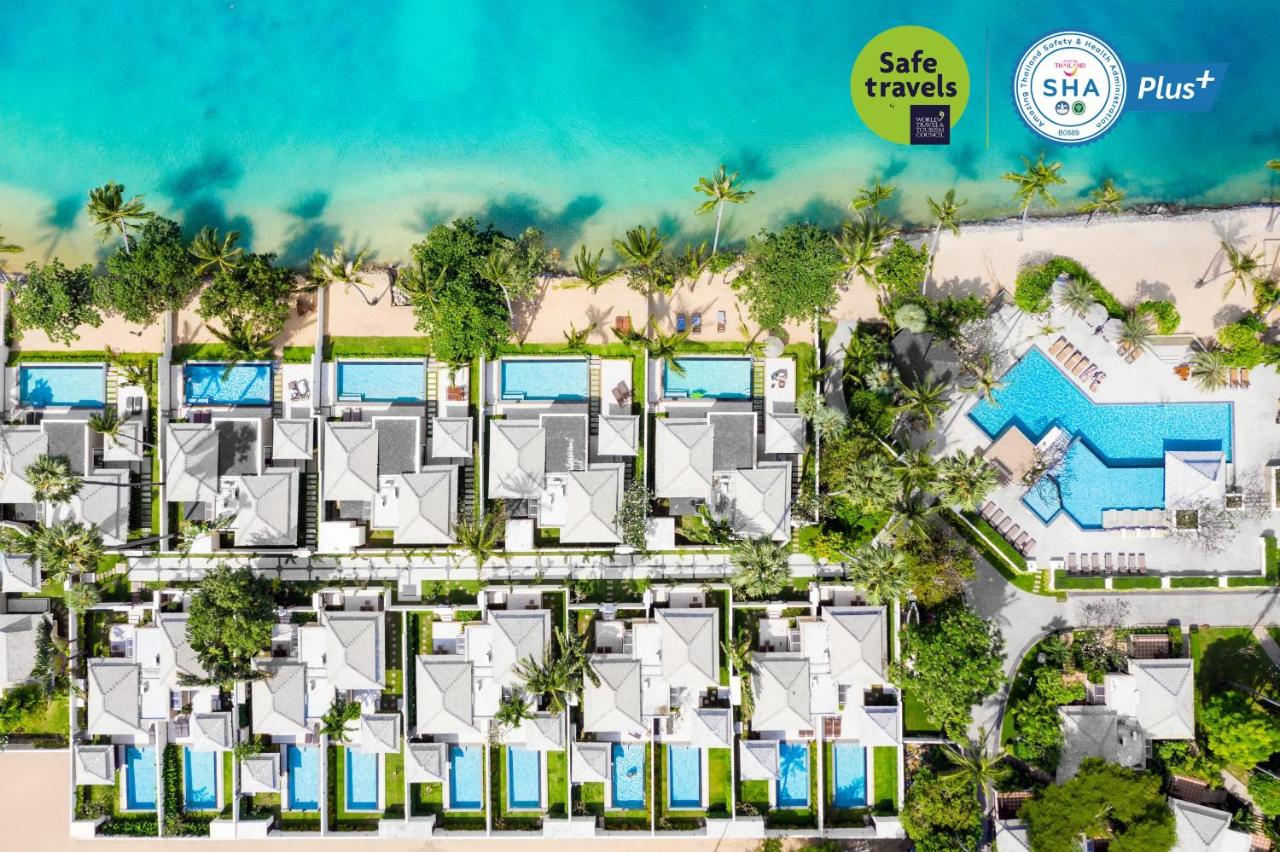 Fair House Villas & Spa is the ideal choice for those seeking simplicity in a modern Thai style setting, beautifully located in tropical surroundings by the sea. The hotel features a total of 72 lavishly designed Thai style villas and suites in various configurations to meet all different requirements. Enjoy personalized service, romantic atmosphere, exciting activities, fabulous gastronomy and true traditional revival.
5. Mantra Samui Resort
Mantra Samui Resort by Louis T Collection offers luxurious boutique accommodations including free WiFi, a 24 square meter outdoor infinity pool, and a pampering spa. Located on a hillside, the resort offers guests some of the most spectacular panoramic views of Koh Samui's beautiful coastline. Guests can enjoy these views in peace while being only a short distance from numerous shops, an array of local restaurants, and some of the most stunning beaches you have ever seen.
---
Samui Plus Hotels in 
Bophut Beach
1. Anantara Bophut Koh Samui Resort

Among the finest Koh Samui resorts, Anantara Bophut Koh Samui Resort is a tropical playground of adventure and tranquillity. Low-rise shingled buildings overlook a central lily pond and palms, and a wide stretch of golden sands fronts the resort.
2. Celes Beachfront Resort
Set on the serene Bophut beach with breathtaking panoramic views of the ocean and Koh Phangan, Celes spreads 270 meters across the beach making it the only five-star resort with the longest beachfront on the tropical island of Samui. At Celes, you can fully indulge in a variety of facilities and services for unforgettable holidays and unique experiences. The property features a beachfront outdoor saltwater pool, fitness center, spa and restaurant.
3. Nora Buri Resort & Spa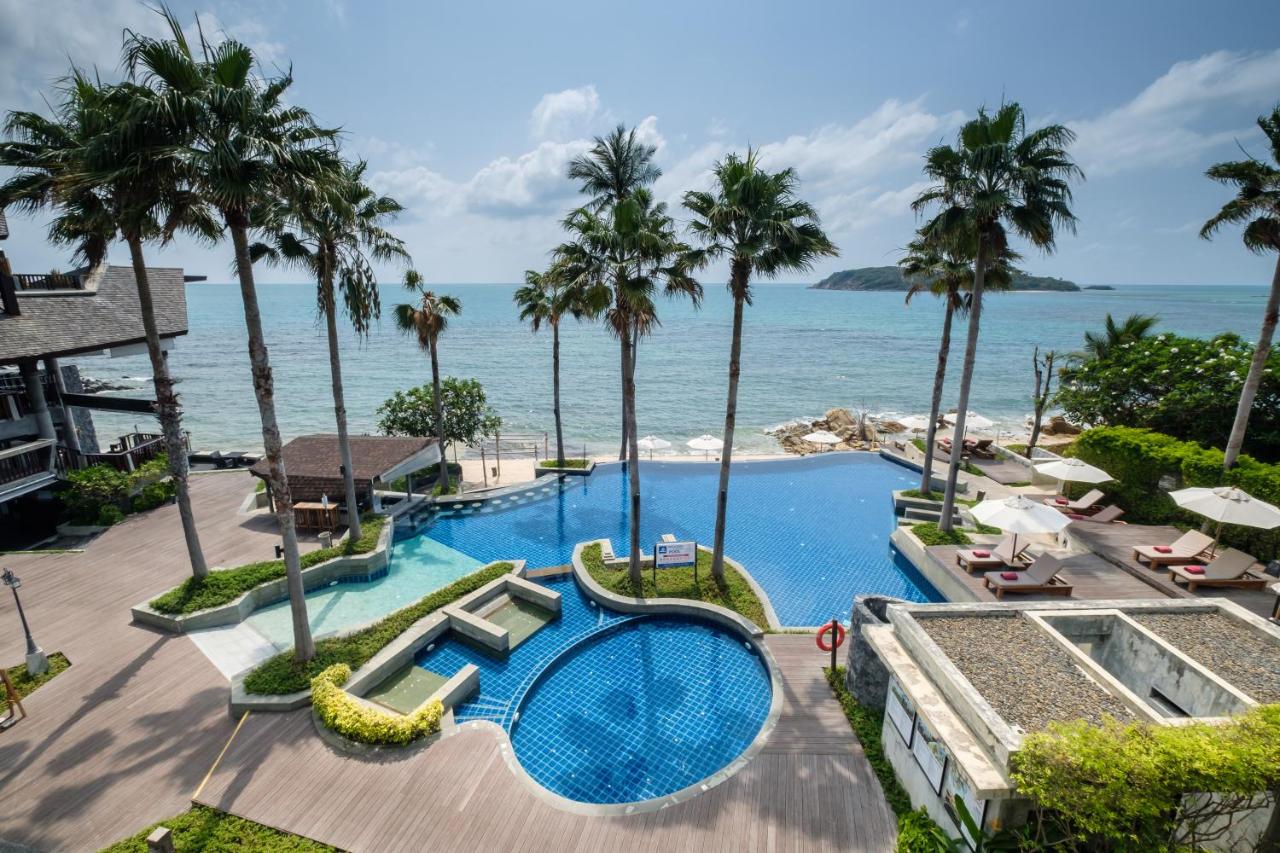 Nora Buri Samui Resort & Spa is a stunning 16-acre-luxury resort in Koh Samui. The resort offers its guest a tropical island retreat choices in its 7 luxury accommodation types (total 144 rooms and villas) on a beautiful cliff or on the beach, both are surrounded by lush gardens offering shades of calmness and pure sanctuary overlooking azure oceans and private white sand beaches.
4. Bo Phut Resort and Spa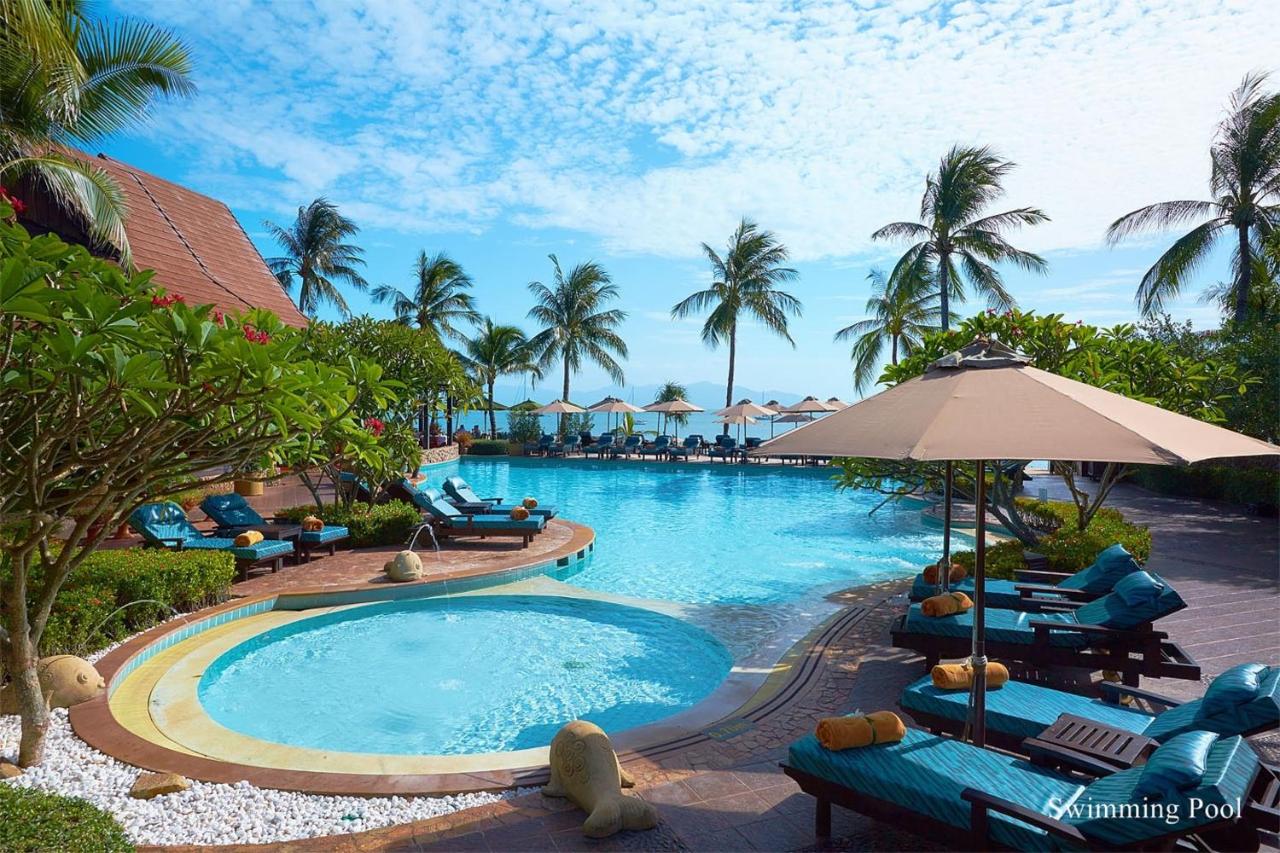 Bo Phut Resort & Spa has earned an unparallel reputation for offering the most luxurious and secluded hideaway on Samui. Bo Phut Resort & Spa is a fine attribute of traditional and contemporary Thai design, combining an exotic and tranquil setting. The resort is situated in the northern tip of the island, approximately 5 km from Samui International Airport. This boutique resort is a perfect combination of distinctly designed accommodation in a setting of rare natural beauty which only Samui has to offer. The resort is located on a superb beach of Bo Phut whilst surrounded by 7 acres of indigenous plantations.
5. ibis Samui Bophut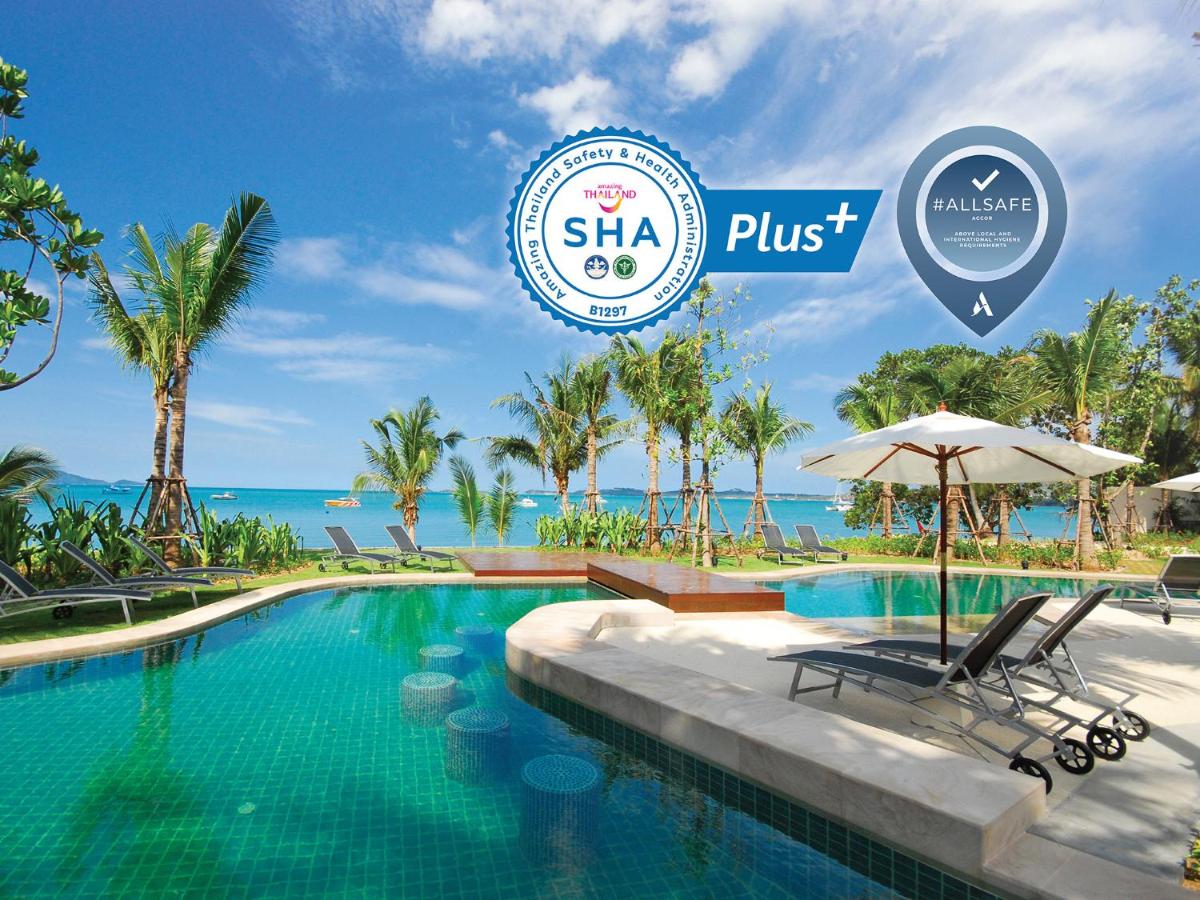 ibis Samui Bophut is a vibrant economy hotel, open to everyone. The hotel is situated right on Bophut beach with fabulous sea views in an idyllic beachfront location. Relax by the pool, chill out at the bar, or explore Bophut bay by kayak; the choice is yours. The only international 3-star hotel in Bophut, ibis Samui Bophut is an inspiring island paradise that will leave you revitalized.
---
Quarantine Hotels
Unvaccinated travelers arriving in Koh Samui will still be subject to quarantine and will have to stay at Koh Samui ALQ Hotels.