Hotel Amber Sukhumvit 85 is an ASQ hotel, located a 5-minute walk from On-nut BTS Skytrain Station in Bangkok. The place is offering quarantine rooms with a balcony, microwave and Wi-Fi.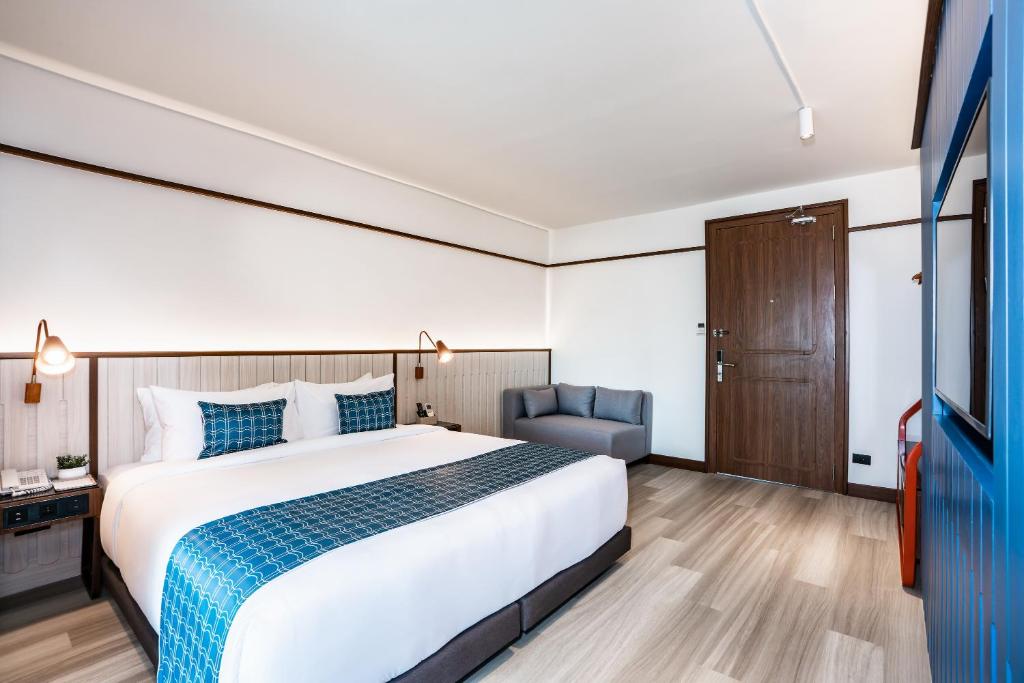 ASQ Package Price
14-day Quarantine Package
Grand Deluxe Room (30 sq.m) 35,000 THB per person
One Bedroom Suite (37 sq.m) 38,000 THB per person
10-day Quarantine Package
Grand Deluxe Room (30 sq.m) 24,500 THB per person
One Bedroom Suite (37 sq.m) 28,500 THB per person
7-day Quarantine Package
Grand Deluxe Room (30 sq.m) 19,000 THB per person
One Bedroom Suite (37 sq.m) 23,000 THB per person
---
What is the room price in USD, EUR, GBP or other currency?
Easily check how much the room costs in your local currency with the help of this Currency Converter.
And if you are looking to send money abroad, consider 'Wise, formerly TransferWise'. It's a great tool for sending and receiving money internationally with low fees — much cheaper than using your local bank!
---
ASQ Package Features 
COVID-19 screening test conducted on property 
Complimentary 14 surgical face masks, alcohol hand gel
24 hours standby nursing service
Medical room at the hotel
Temperature check 2 times per day
Free 24 hours transportation service to the hospital
24 hours doctor consulting via telemedicine service
The official medical report for quarantine issued upon check out
Free airport pick up service on arrival day
Complimentary high-speed internet access
Complimentary meals including breakfast, lunch and dinner
Smart Cable TV with local and international channels
Room cleaning service
Relaxing area during room cleaning
2 bottles of drinking water, coffee and tea daily
Outdoor recreational area is available with prior registration
Booking Package
Check room availability and book quarantine package here ⬇️
Other ASQ Hotels
Full list of Alternative State Quarantine hotels in Thailand can be found here: ASQ Thailand
Recommended Hotels at this Price Range
Hotel Reviews
Hotel Amber Sukhumvit 85 reviews on Booking.com
ASQ Package Reviews
What people say about their quarantine with Hotel Amber Sukhumvit 85 ASQ package?
Room
"This is a medium sized room about 32SQM"
"Initially upon entering the room it is extremely modern"
"It has a nice sized balcony you can go from Day 1"
"It has a smart TV "40" that I plugged my Firestick in to get Netflix"
"It has about 60 channels mostly in Thai but 1 News, Sports, and Movie channel in English"
"The bathroom is good, shower is very hot"
"Air conditioner is wicked cold, almost too cold"
"Bed is ridiculously comfortable as are the pillows"
"Small table and chair"
"Plastic cover everywhere"
"Have balcony you can go Outside for Smoking from day 1"
"A room with balcony, microwave and kettle"
"There is no mosquito net for balcony door. So you can't really open the door for more than 5 minutes, otherwise your room will be full with mosquitoes"
"The aircon is also very loud"
Food
"The food which is what everyone is asking is not good"
"They forgot our breakfast"
"American Breakfast which is absolutely dreadful. 2 pieces of Toast and 2 cold fried eggs. No meat no fruit nothing"
"It did get better my Wife gives the Thai food a 5/10"
"I would rate the Farang food a 3 to 4/10"
"Breakfast is maybe a 1"
"They serve everything in microwavable dishes AND there is a microwave"
"Food is always cold"
"All good except the food"
Staff
"Staff was very friendly, helpful and took extra care of me since i am vegan"
"From the ladies picking us, from the cleaning service (every 7th, 10,th and 13thday) and English speaking reception staff everyone was extremely nice"
Getting outside the room
"So we were allowed to go to Gym after our first negative Covid 19 Test today. Mind you this is quarantine Day 7"
"Just an ordinary GYM. Something is better than nothing"
"Not allowed to use pool"
"Pool is incredibly small and only two chairs on it"
"They said earlier they allowed to go to pool but Health authorities ask them to place restrictions.so not allowed to access that area"
"Gym half an hour per day that is a very short time"
"The next day after testing negative, I booked outdoor time which is nothing special but gets you out of the room"
"Just an area to walk around for 40 minutes and get out of your room"
Internet
"The WIFI is PHENOMENAL. I am a Network Engineer by trade and we get 180 up/ 80+ down which is better than most business internets. Definitely a Fiber backbone here"
"The problem is the internet was good until the past two days, it was off half the day"
Delivery
"You can order from 7/11 from day #1"
Overall
"Very well recommended"
"Overall I would stay here again and pleased with almost every aspect besides the food"
Reviews of Other ASQ Hotels
Reviews of ASQ packages in other Thailand hotels can be found here: ASQ Hotel Reviews
Leave Your Review
If you were staying at Hotel Amber Sukhumvit 85 and used their Alternative State Quarantine package, use Facebook comment box below to leave your review of ASQ package to help other travelers!
Otherwise you can send us your review and we will post it for you!