Shangri-La Hotel Bangkok is a 5-star hotel situated along the Chao Phraya River. Some of hotel's luxury rooms with a spectacular river view are available for Alternative State Quarantine in Bangkok.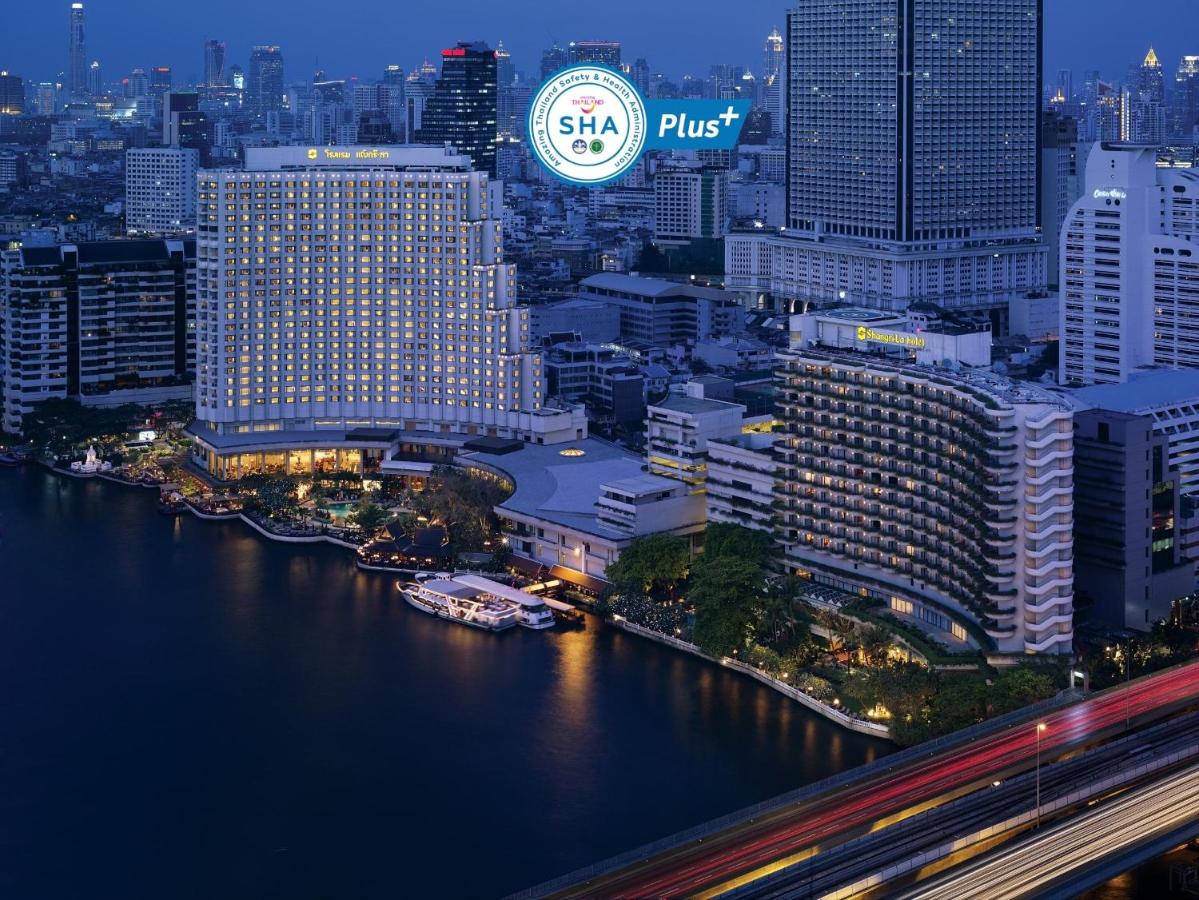 ASQ Package Price
14-day Quarantine Package
Krungthep Deluxe Balcony Room (44 sq.m) 90,000 THB per person
Krungthep Deluxe Suite (84 sq.m) 130,000 THB per person
10-day Quarantine Package
Krungthep Deluxe Balcony Room (44 sq.m) 70,000 THB per person
Krungthep Deluxe Suite (84 sq.m) 98,000 THB per person
7-day Quarantine Package
Krungthep Deluxe Balcony Room (44 sq.m) 50,000 THB per person
Krungthep Deluxe Suite (84 sq.m) 70,000 THB per person
---
What is the room price in USD, EUR, GBP or other currency?
Easily check how much the room costs in your local currency with the help of this Currency Converter.
And if you are looking to send money abroad, consider 'Wise, formerly TransferWise'. It's a great tool for sending and receiving money internationally with low fees — much cheaper than using your local bank!
---
ASQ Package Features 
Full board meals including breakfast, lunch and sinner
Complimentary high-speed internet
Transfer from the airport to the hotel
COVID-19 screening tests
The certificate for completion of the quarantine upon check-out
24-hour nurse standby to conduct health evaluation and temperature check one time per day
Other ASQ Hotels
Full list of Alternative State Quarantine hotels in Thailand can be found here: ASQ Thailand
Recommended Hotels at this Price Range
Hotel Reviews
Shangri-La Hotel, Bangkok reviews on Booking.com
ASQ Package Reviews
What people say about their quarantine with Shangri-La Hotel, Bangkok ASQ package?
Room
"Balcony has an interesting view towards the river"
"Optional exercise classes via Zoom and other activities organized by the hotel"
"We enjoy the balcony a lot and I think having a balcony makes a big difference"
"Old rooms, old buildings, not such good value for money"
"The view is amazing both morning and night"
"Having a balcony that you can go outside all the time"
"Beds are comfortable"
"Rooms look a bit dated and probably due to be refurbished"
"No dining table"
"No Nepresso machine"
"No Netflix"
"Room is great with lovely river view and balcony"
"Bed is large and very comfortable"
"Room cleaned every other day from Day 6 COVID test negative result"
"Gym mats available on request"
"No Netflix etc."
"Free laundry of 2 items per person per day. Laundry returned clean and pressed the same day"
"A balcony with a view"
Food
"Food is delicious"
"Nice little teatime / afternoon snacks"
"A daily changing menu with 3 courses for each meal"
"Proper plates and cutlery from day one"
"There's no choice, but we were never let down so far"
"They are open for changes"
"Food keeps being awesome"
"Food comes pretty much on-time every day and every meal, nicely plated and warm"
"Desserts are delicious 9/10 of the time"
"Every morning you get freshly brew pot of coffee or any hot beverages of your liking"
"We kind of expected more in term of the quality of food and at times quantity"
"No choices for food but they do try to accommodate your requests"
"Room service is extremely expensive"
"Not a lot of choices for room service either"
"The food is ok but not that great"
"Menu is repeated on a 7 day cycle, no choice at all"
"A lot of Thai/Asian dishes and few Western"
"Plenty of fresh fruit but mainly tasteless melon and papaya and no mango, desserts are mostly cake and very sweet"
"The occasional meal from a very restricted room service menu makes a welcome change"
"Nespresso machine and coffee capsules provided by the hotel"
"Drinking water provided in small plastic bottles - larger bottles not available"
"No plastic cutlery or plates and proper linen napkins for every meal served on trays which are left outside the room"
"All food arrives hot and perfectly on time"
Staff
"They put a lot of effort into making the stay enjoyable"
"Everyone is lovely"
"Service is excellent, they try to accommodate your every request"
"Staff are really helpful and very quick to respond to any request"
Getting outside the room
"We can also book time to hang out at the pool after our COVID test we had at check-in is done"
"We can leave every day for an hour after the 5th day test"
"We had our first COVID test the day we arrived but were not allowed out until day 6th after our 2nd COVID test"
"The relaxation area is small"
"Nice relaxation area outside next to the river with parasols and sun loungers but obviously can only look at the pool but not use it"
Internet
"Internet is very fast and stable"
"Free hotel unlimited Wi-Fi reasonably fast"
Delivery
"You can have belongings delivered to your room but cannot send anything out"
"Bags scanned on arrival"
Overall
"We are happy and while this is at the higher end of ASQs it was already well worth it for us"
"I was expecting better from this hotel to be honest..."
"They advertise a nice place & if you look on their webpage it looks great. But once you've paid and you arrive they stick you in the oldest wing and it's frankly just a rip off"
"All in all, it's a pleasant stay so far but it does feel overpriced. Would not recommend"
"Shangri La, can't fault it so far"
Reviews of Other ASQ Hotels
Reviews of ASQ packages in other Thailand hotels can be found here: ASQ Hotel Reviews
Leave Your Review
If you were staying at Shangri-La Hotel, Bangkok and used their Alternative State Quarantine package, use Facebook comment box below to leave your review of ASQ package to help other travelers!
Otherwise you can send us your review and we will post it for you!