Canggu is one of the most popular resort areas on the west coast of Bali, Indonesia. If you are looking for luxurious holidays in Bali, check the list of the best Canggu luxury resorts with private pool villas, including the special selection of resorts in Canggu that boast pool villas with private pools and exceptional views.
Canggu Pool Villas
Canggu in Bali, Indonesia, is a well-developed resort area with a good number of accommodations available for all tastes and different budgets. Luxury villas with private pool can also be found in Canggu.
Canggu Villas with Private Pool provide not only a comfortable stay, but also an unforgettable experience. The luxury pool villa resorts normally offer a high level and wide range of services.
Accommodation prices of pool villa in Canggu can vary significantly. You will find both really expensive and more affordable options in this part of Bali.
Best Canggu Resorts with Pool Villas
The best resorts with pool villas in Canggu offering exceptional luxury during your holiday in Bali are listed below.
---
To decide on the best option for the trip, more detailed information on each of the resorts with reviews, prices and availability of rooms for the selected dates can be found by clicking the links provided.
---
1. Desa Hay Canggu
Located in Canggu, Desa Hay Canggu provides accommodation with an outdoor swimming pool, a garden and a restaurant. It is a unique sanctuary with spacious and luxurious villas nestled within lush, private gardens. The resort is carefully designed to reflect the spirit of the island and provide a deep feeling of tranquility, wellness and harmony with nature. All villas at Desa Hay Canggu come with a private pool.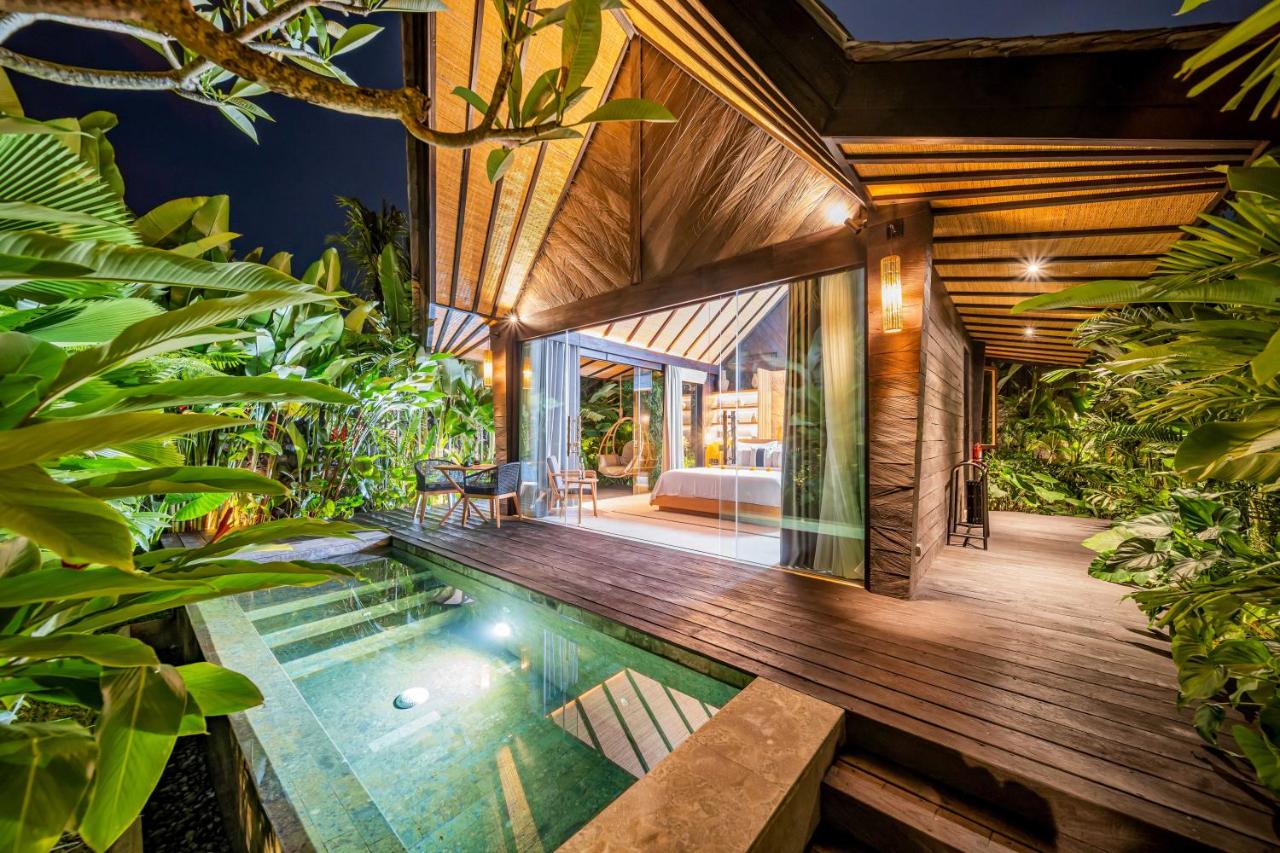 Location: Babakan, Canggu
Reviews about pool villas at this Canggu resort:
"Very modern villa with complete peace and tranquil surroundings. The green garden is luscious and the plunge pool made for a very relaxing stay."
"This place is like a private villa in a James Bond movie. Lovely design with lots of great details."
"An oasis, away from the hustle and bustle, on the outskirts of Canggu. The villas are stunning, from the antique style Balinese gates to the stylish decor of the room and the luxury of the bathroom, it's like a secret garden."
"Amazing pool area with double couches and palm trees surrounded. The private villas are luxury, very modern, very nice ambience also at night, own little pool, very comfy bed and amazing open rain shower."
"The private villas are amazing, with small private pool: amazing bedding, the rooms are spacious, very well thought out, lots of little touches and memories, very clean."
2. The BK Village
Situated in the peaceful area of Umalas, The BK Village offers a relaxing getaway surrounded by lush tropical greenery. It boasts an outdoor pool and a spa. Decorated in ethnic Javanese style, some of the private villas at the property come with a private pool. Boasting spacious interiors with an open plan design, each villa has a cosy lounge area, in-house bar and a private terrace.
Location: Umalas, Canggu
Reviews about pool villas at this Canggu resort:
"The full site is so big but there are only several rooms which means it is very quiet and peaceful. Yoga shala is really cool and the spa treatments/facilities are exceptional. The pool is INCREDIBLE."
"The villas are beautiful, as are the gardens. It's quite a costly place to stay."
"The rooms are super comfortable with a big luxury outdoor bathroom and the room also has an amazing aircon!! The location is a little far to walk but it is located in between Seminyak and Canggu."
"Excellent architecture with high harmony spaces and amazing villas. We stayed at villa Lima and the space was amazing. The 2 pools are fantastic."
3. Blossom Eco Luxe Villas
Blossom Eco Luxe Villas offers a bohemian contemporary eco-conscious pool villa retreat set right in the heart of Canggu, 170 m from Canggu Beach. At the property guests can choose to stay at one-bedroom or two-bedroom villas with private pool.
Location: Batu Bolong, Canggu
Reviews about pool villas at this Canggu resort:
"Facilities are very nice, clean and well maintained. Private pool is good size, the villa is great size too, although more space for clothes storing and a working desk would be nice. Kitchen has all essentials, great for longer / living type stay."
"The villa was clean, spacious and beautifully designed! Our private pool was peaceful."
"Absolutely stunning villas and the service was exceptional. Great location in Canggu."
"The whole villa and pool were so clean, the water fountain in the villa was an added bonus. We absolutely loved our stay! The proximity of the villa to the beach and bars was so good!"
4. Theanna Villa and Spa Canggu
Set in Canggu, Theanna Villa and Spa Canggu offers villas with private pools. Guests can enjoy pampering massages at the spa centre. Combining modern look with traditional designs inspired by Balinese, Japanese and Scandinavian styles, the pool villas at Theanna Villa and Spa Canggu have an open plan seating area, an outdoor dining area and a kitchenette.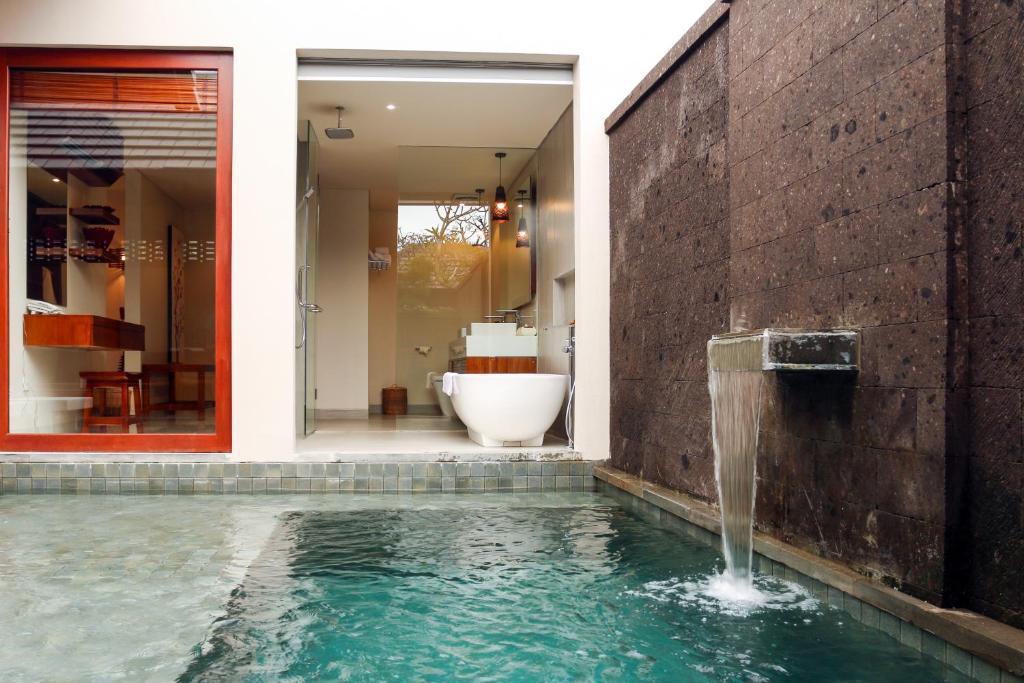 Location: Batu Bolong, Canggu
Reviews about pool villas at this Canggu resort:
"Our villa was fantastic - spacious, clean and it was the small touches that made it perfect - daily cleaning including fumigation, an in-room jacuzzi overlooking the pool, filtered watered dispensers that we could access whenever we needed."
"A great hotel with private villas that transport you away from the busy Canggu area. A place to enjoy and relax."
"The villa has exceeded our expectations. The location of this hotel was the best thing. it was on the main road that leads to the beach and all the main attractions. close to shops and restaurants. Very quiet villa and the spa was incredible, everything was amazing."
"Pool was really nice, and the entire villa layout just makes sense."
5. Kharista Villas & Retreat
Set in Canggu, Kharista Villas & Retreat offers luxury accommodation. Each accommodation at the 5-star villa complex has private pool, and guests can enjoy access to spa facilities and wellness packages.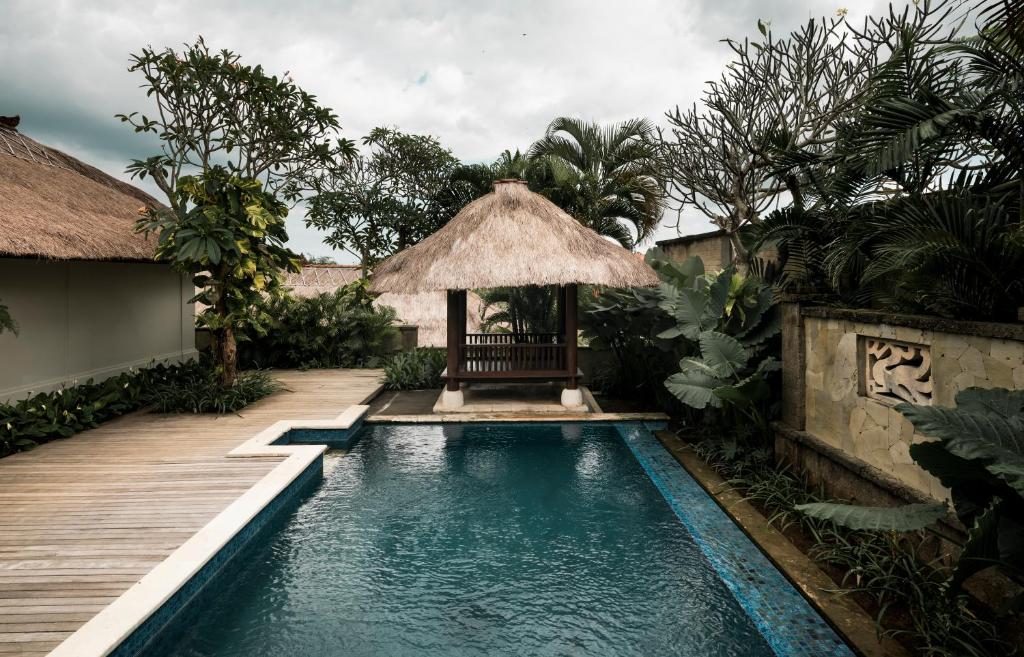 Location: Batu Bolong, Canggu
Reviews about pool villas at this Canggu resort:
"A perfect little sanctuary of heaven. Having a private pool and villa out of the hustle and bustle of Canggu was perfect!"
"The villa is beautiful and the service and the staff is exceptional. breakfast and pool villa is great."
"We booked the private villa with pool and it was simply amazing. Everything was super new and clean. The bath tub was large and beautiful and we enjoyed a very nice breakfast every morning on the terrace."
"Beautiful and contemporary set of spic and span villas in the center of Canggu. Off the main street, the villas are stylishly furnished in the traditional Balinese style and meets all expectations. The two-bedroom villa with private pool which we stayed is highly recommended providing all privacy and maintained in excellent condition."
6. The Clifton Canggu Villas
Boasting air-conditioned accommodation with a private pool, The Clifton Canggu Villas is set in Canggu. The private pool is the standout feature of this villa that comes with a private entrance, 1 bedroom and 1 bathroom.
Location: Batu Bolong, Canggu
Reviews about pool villas at this Canggu resort:
"The villa was extremely spacious, clean, very comfortable and in a fantastic location. Walking distance to the beach and so many amazing restaurants."
"Bed was incredibly comfy. Rooms are spacious and well designed. The villas are next to each other, so if there are people next door you hear them."
"Private villa. Large spaces and lovely dipping pool. Good vegetal location. Clean and bed comfortable. Great air con."
"It's reasonably new and can confidently say the villas are better and bigger than the photos."
7. Adepa Resort
Adepa Resort offers luxurious villas with spacious living areas and a private pool. Elegant villas at Adepa Resort come with modern Indonesian décor and floor-to-ceiling windows. At the resort guests can choose from one-bedroom, two-bedroom and three-bedroom pool villas.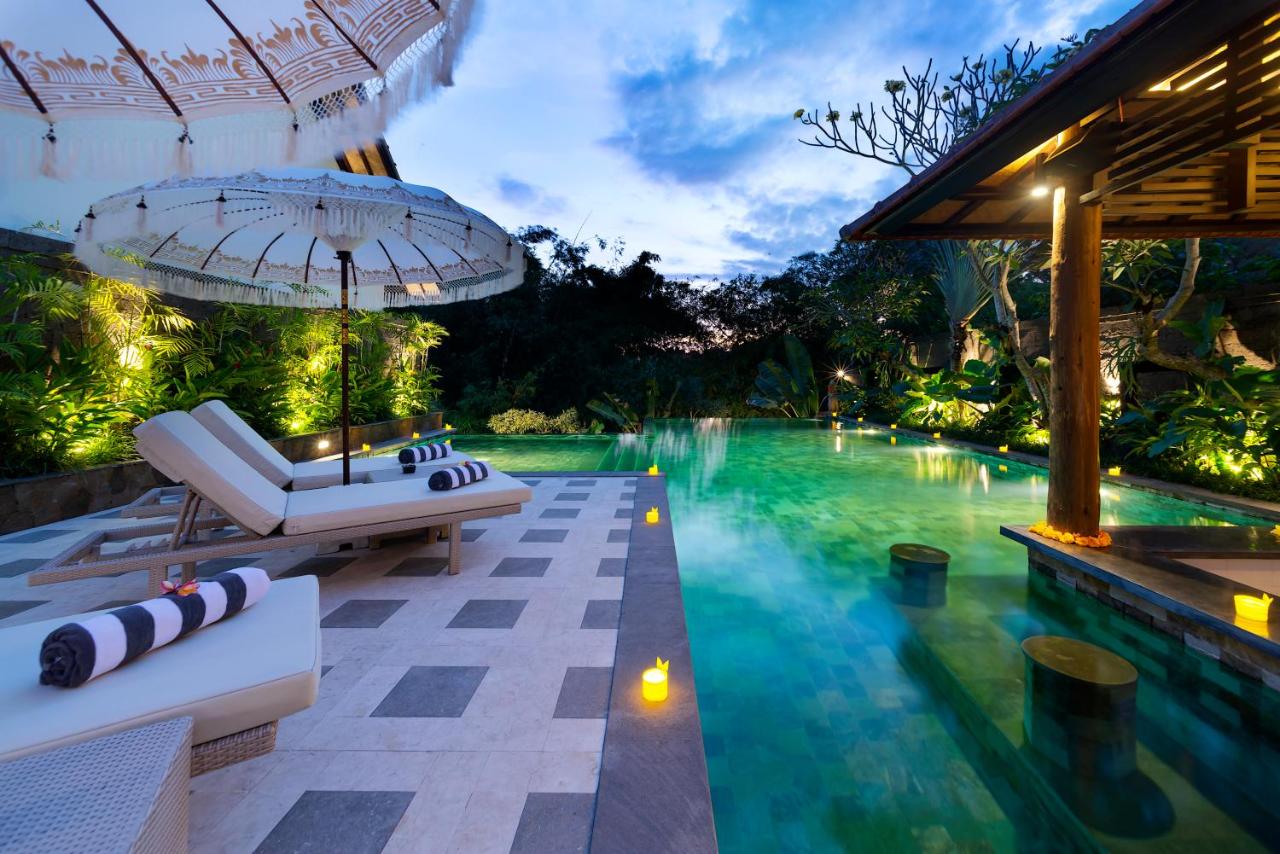 Location: Umalas, Canggu
Reviews about pool villas at this Canggu resort:
"The villa was great, quiet and spacious for couple. Great location, very close to Brawa area."
"Amazing private pool villa! Clean and very quiet. The breakfast was so delicious. Loved the garden."
"Beautiful and very private, large villas. Very comfortable large bed. Nice outside shower and large bath tub. Good size private pool and large common are pool with an area for shallower water."
"The villa contained everything you could wish for. Bathtub, nice outdoor shower, a feeling of a walk-in closet, a nice bedroom and a wonderful outside area with kitchen, own pool and couch."
8. Dea Villas
Boasting a garden, an outdoor pool and garden views, Dea Villas is located in Canggu. The units at the villa complex come with air conditioning, a seating area, a kitchen, a dining area and a private bathroom with a bath. A balcony featuring pool views and equipped with outdoor furniture are provided in some pool villas.
Location: Berawa, Canggu
Reviews about pool villas at this Canggu resort:
"This was the most amazing villa I've ever stayed in. I would definitely come back. Was absolutely stunning."
---
Canggu Hotels
For more places to stay in Canggu, Bali please check: Hotels in Canggu.
Other Pool Villas in Bali
If you are interested in other areas of Bali for a luxury stay at pool villas, check the following articles:
If you don't have a specific area in mind and just want to experience the best Bali island has to offer, explore the list of the Best Bali Pool Villas.