Kuta is one of the most popular resort areas on the west coast of Bali, Indonesia. If you are looking for luxurious holidays in Bali, check the list of the best Kuta luxury resorts with private pool villas, including the special selection of resorts in Kuta that boast pool villas with private pools.
Kuta Pool Villas
Kuta in Bali, Indonesia, is a developed resort area with numerous accommodations available for different tastes and budgets. Even if the number of luxury resorts is limited in this area, you still can find some higher-end resorts offering villas with private pool in Kuta.
Kuta Villas with Private Pool provide not only a comfortable stay, but also an unforgettable experience. The luxury pool villa resorts normally offer a high level and wide range of services.
Accommodation prices of pool villa in Kuta can vary significantly. You will find both really expensive and more affordable options in this part of Bali.
Best Kuta Resorts with Pool Villas
The best resorts with pool villas in Kuta offering exceptional luxury during your holiday in Bali are listed below.
---
To decide on the best option for the trip, more detailed information on each of the resorts with reviews, prices and availability of rooms for the selected dates can be found by clicking the links provided.
---
1. The Anvaya Beach Resort Bali
The Anvaya Beach Resorts Bali is a beachfront accommodation situated in the Kartika Plaza district in Kuta. Offering rooms, suites and private villas, the hotel boasts large swimming pools and landscaped tropical gardens. Blending modern designs and Balinese touches, the spacious villa features a private pool and a large en suite bathroom with walk-in dressing room, double vanities, a bath and a separate shower.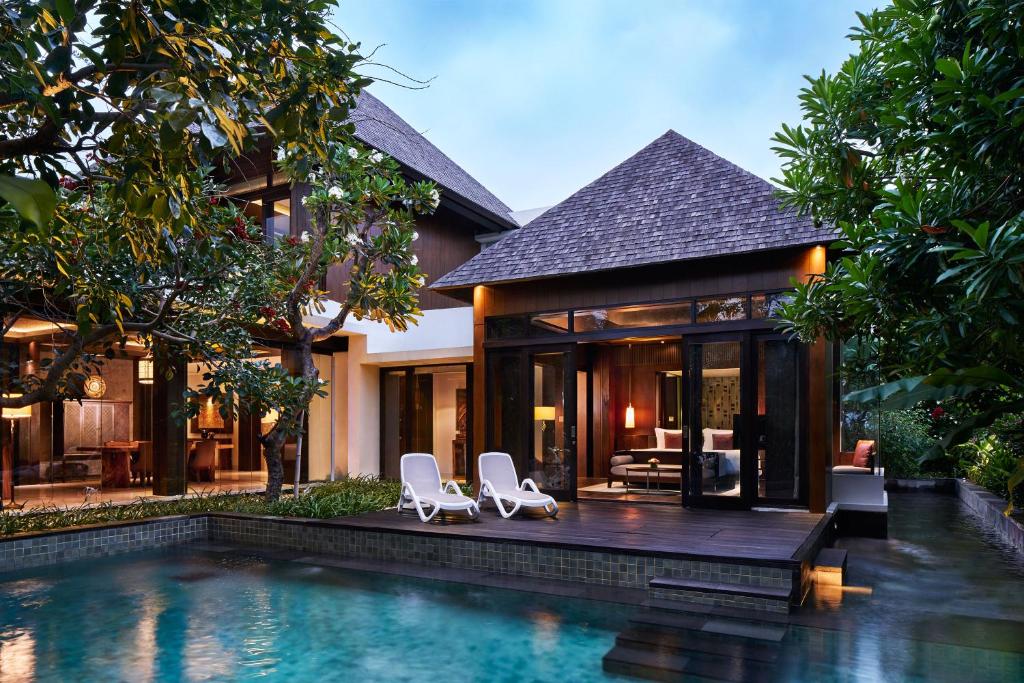 Location: Kartika Plaza, Kuta
Reviews about pool villas at this Kuta resort:
"We staying in the one-bedroom villas which are located at the front of the complex is separate from main areas which gives you privacy. We had the option of our own plunge pool in our complex or communal pool just out our gate or go to main pool area where there is a bar and other guests. Was nice to have options."
"We stayed in a villa this time and it was superb."
"Beautiful private villa and the staff was so friendly!"
2. Rama Beach Resort and Villas
Set amidst palm trees and tropical gardens, Rama Beach Resort and Villas is in Tuban, just 2 minutes' walk from the beach. It features an outdoor pool and a restaurant. Decorated in a modern Balinese style, villas come with a private balcony overlooking the garden. Some villas feature private plunge pools.
Location: Kartika Plaza, Kuta
Reviews about pool villas at this Kuta resort:
"Close to beach, amazing friendly staff, lovely family vibe, very deep pool, lovely spacious garden villa."
"The villa we stayed in had its own private pool it was so relaxing just what we needed."
"Booked pool villa which we enjoy. Beautiful gardens, great selection for breakfast, fabulous main pool with swim up bar."
"We had a villa with a pool, it was so clean and well presented, private and quiet."
3. Bintang Bali Villa
Located in the heart of Kuta, Bintang Bali Villa offers a great beachfront getaway featuring private outdoor swimming pool surrounded by lush garden. The accommodation at Bintang Bali Villa comes with a private whirlpool, separate living room, dining area, and a kitchenette. The property is offering one-bedroom and three-bedroom villas with private pool.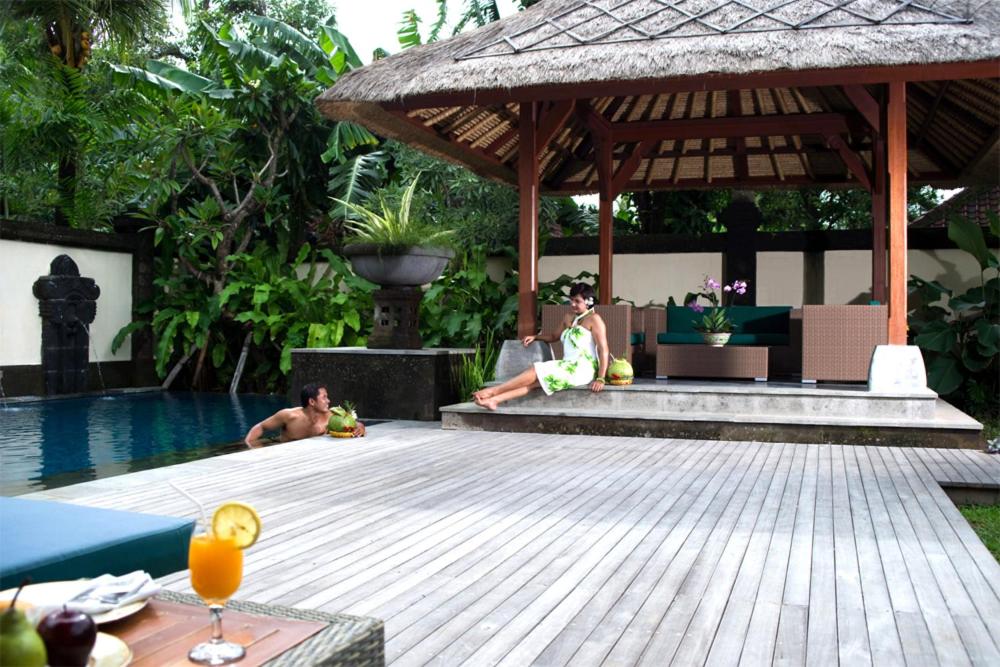 Location: Kartika Plaza, Kuta
Reviews about pool villas at this Kuta resort:
"This is the biggest facility of this property…it's literally huge & well decorated…little distant (100m) from main hotel building & from beach (200 m) … still acute privacy we enjoyed in here."
"The bed was very comfortable. I liked the amount of space there was in the rooms. The shower was really nice and garden area was nice too."
"The villa was huge in a great location. The resort pool was fantastic. The bathroom in the villa was amazing."
"Large spacious villa, large outdoor area and nice small pool, outdoor table and chairs, good ac and internet."
4. Alaya Dedaun Kuta
Strategically located in Kuta, a short drive from Kuta Beach, Alaya Dedaun Kuta offers spacious villas with personal butler service. Each unit comes with a private outdoor pool where guests can enjoy floating breakfast. Surrounded by a garden, every villa has an air-conditioned bedroom, a semi-open seating or dining area and a kitchenette.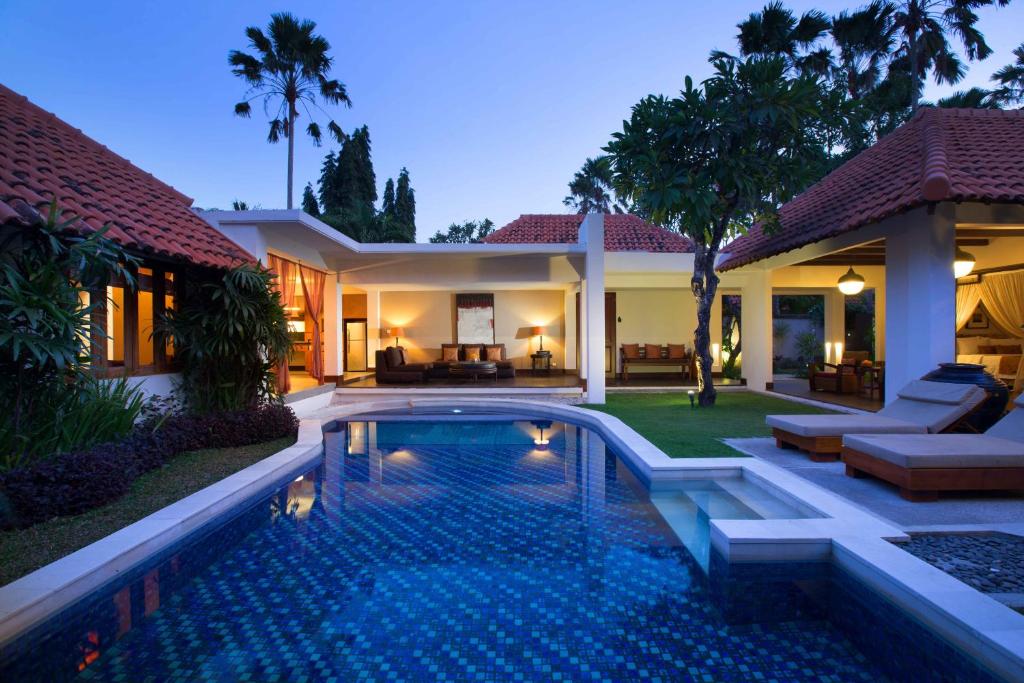 Location: Jalan Legian, Kuta
Reviews about pool villas at this Kuta resort:
"Villa is very spacious with a good-sized private pool. Lots of personal touches and extremely comfortable bed. Great location in town."
"The villa was spacious, and having your own pool was great. We did the flowers in the pool because we thought, why not. Looked fabulous. Even had breakfast in the pool."
"Well-appointed Villa that is very quiet. The property is extremely clean and well maintained and the villas are cleaned thoroughly each day."
"Very well-appointed villa with all facilities in quiet secluded grounds. Excellent butler service and a very good spa."
5. Holiday Inn Resort Baruna Bali
Featuring tastefully-furnished Balinese-style rooms set in landscaped grounds, Holiday Inn Baruna features a large outdoor pool located steps from the beachfront. 5-star facilities include a gym, beachfront restaurant and spa. At the resort guests can stay at Four-Bedroom Beachfront Villa with Private Pool.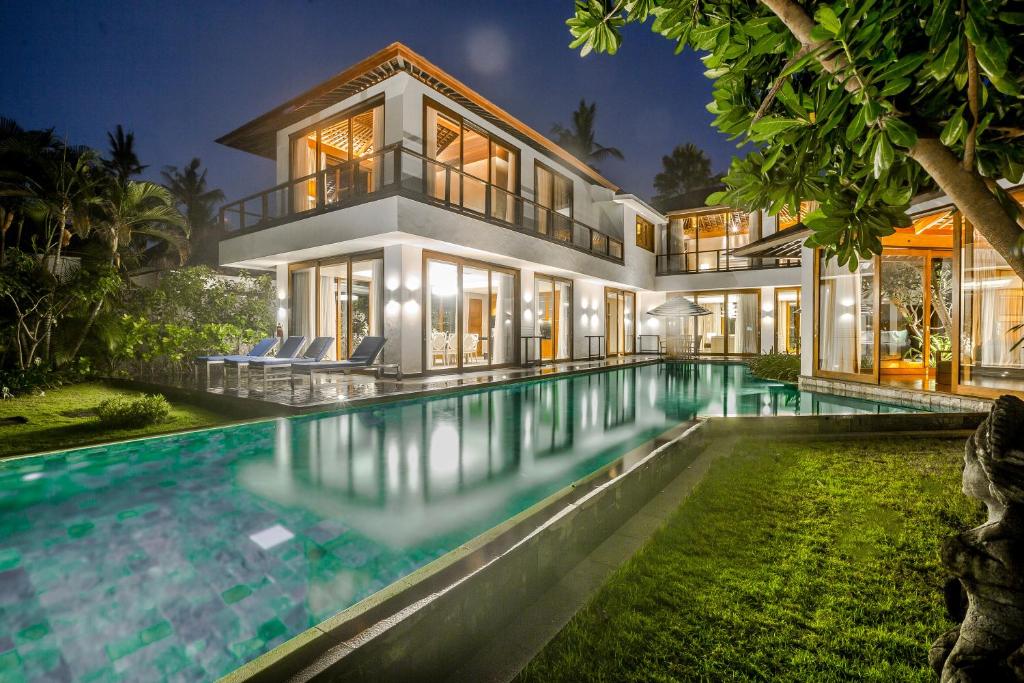 Location: Kartika Plaza, Kuta
Reviews about pool villas at this Kuta resort:
"My family liked the place too much, we enjoyed swimming in our villa."
"Location provides easy access to everything. Airport transfer well arranged. Villa is clean, spacious and comfortably accommodates 3-4 people. Spacious toilet and bath. Access to beach and outdoor amenities."
"Spacious bathroom and clean for the most important part of the villa but overall seems quite maintained by the property owner."
"Nice villa with private pool and direct access to Jerman beach."
6. The Calna Villa Bali
Featuring an outdoor swimming pool, The Calna Villa Bali is a sustainable villa complex located 1.1 km from Kuta Beach. At the villa complex, every unit includes air conditioning and seating area. Guests can choose from one-bedroom, two-bedroom and three-bedroom villas with private pool.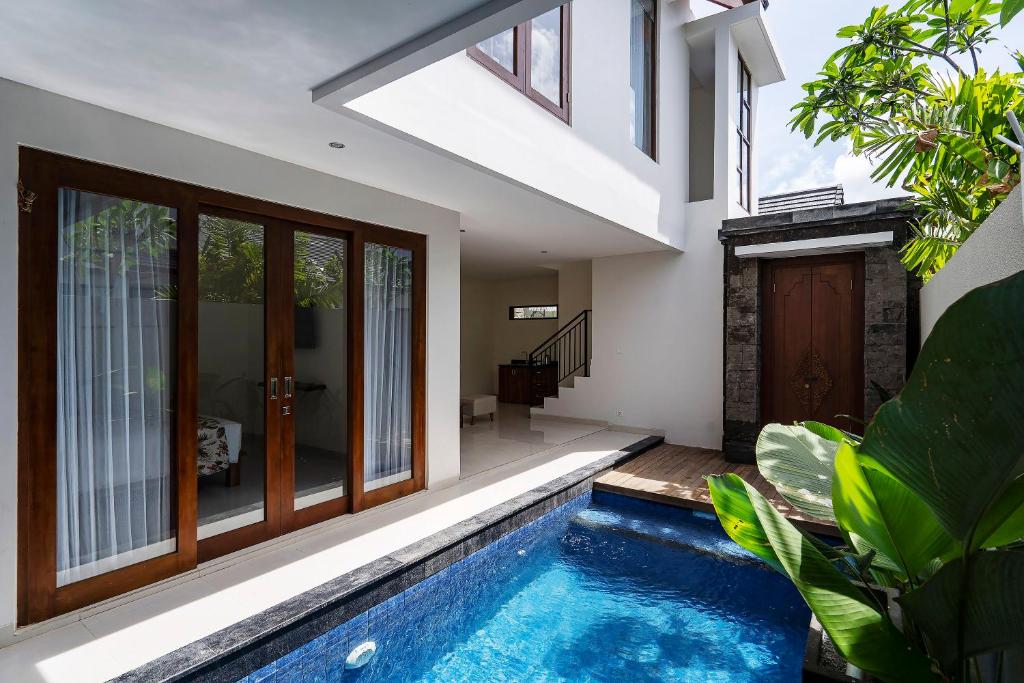 Location: Raya Kuta, Kuta
Reviews about pool villas at this Kuta resort:
"Beautiful villa with swimming pool that you can jump in from any space."
"It's a good budget pool villa and around 20 minutes' walk from Kuta."
"Calna Villa is in such perfect location in kuta short distance scooter/ taxi ride from beach and main areas. The villas are basic but cute!"
"The location of the villa was easy to go around. Some of the facilities were a bit of a let down."
7. The Patra Bali Resort & Villas
Located along the white sands on South Kuta Beach, The Patra Bali Resort & Villas offers modern Balinese-style rooms. Offering 4 dining options, it boasts a full-service spa, large lagoon pool and seaside pool. At the resort you can find Honeymoon Villa that comes with a private pool.
Location: Tuban, Kuta
Reviews about pool villas at this Kuta resort:
"We really enjoyed the quietness of the property and the care keeping it beautiful from the staff. Our villa was very comfortable and cozy - great access, but also tucked in its own little corner."
"Spacious and clean. Each villa is well spaced out so there's adequate privacy and serenity."
"The location was great, and the amenities were also good. The swimming pools were also good."
"The hotel itself has been there for decades but don't let that fool you as it still remains one of the best villa resorts in Bali."
8. AlamKulkul Boutique Resort
Modelled after a typical Indonesian village, AlamKulkul Boutique Resort features tropical gardens and antique furnishings. A 5-minute walk from Kuta Beach and steps away from Legian Beach, it offers 2 outdoor pools, 2 restaurants and traditional spa treatments. At the resort, Alam Java Villa and Two-Bedroom Villa come with a private pool.
Location: Downtown Kuta, Kuta
Reviews about pool villas at this Kuta resort:
"Location is good. Good price. Villa is comfortable. Villa not as private as others I've stayed in but still very good."
"The location is very good, right across the beach. The design is also very nice, with villa ambience in the middle of a busy Kuta beach."
"The Alam Java villa I booked was absolutely beautiful. The room was huge and the staff were lovely. The private plunge pool is just that, it's very small."
"We had one of the Java Villas, a private and peaceful oasis! Villa was huge, outdoor bathroom (with fish pond!) was amazing and then of course there was the plunge pool and little garden. we pinched ourselves every day!"
"The property was beautiful & in a great location. The villa pool we were in wasn't as clean as we would have liked."
9. Discovery Kartika Plaza Hotel
Situated next to Discovery Shopping Mall in South Kuta, Discovery Kartika Plaza Hotel features beachfront rooms surrounded by tropical gardens. It offers a kid's pool, kids club, an outdoor pool, and 3 restaurants. At the hotel you can rent a spacious beachfront villa with private pool that comes with a nice view.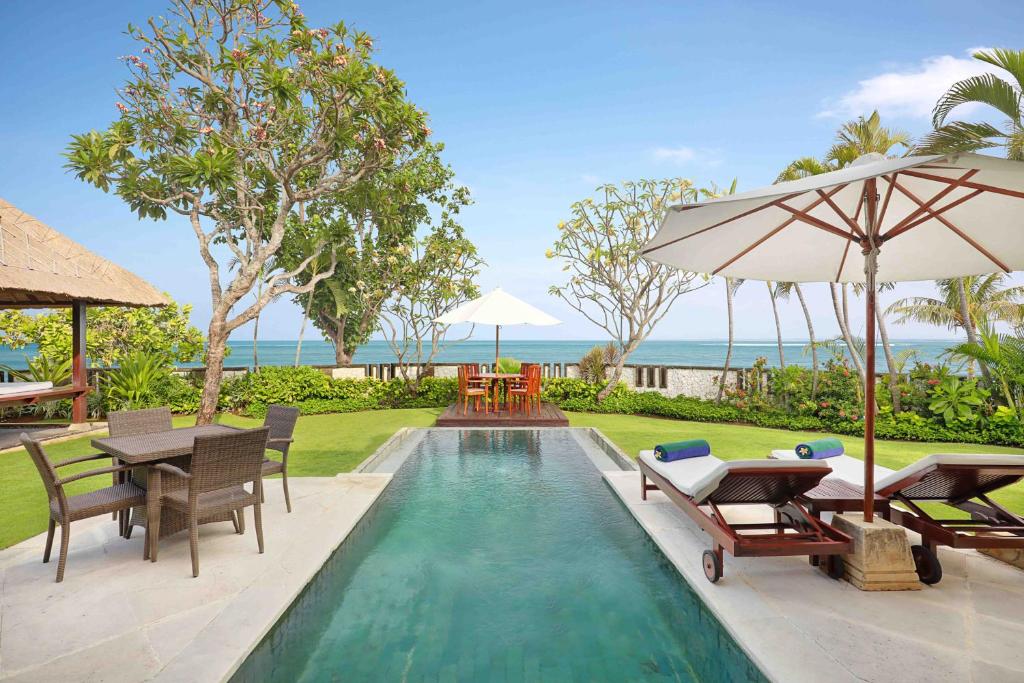 Location: Kartika Plaza, Kuta
Reviews about pool villas at this Kuta resort:
"The Villa, swim up Pool Bar, Buffet Breakfast was amazing."
"The staff are awesome we stayed in a villa and it was great."
---
Kuta Hotels
For more places to stay in Kuta, Bali please check: Hotels in Kuta.
Other Pool Villas in Bali
If you are interested in other areas of Bali for a luxury stay at pool villas, check the following articles:
If you don't have a specific area in mind and just want to experience the best Bali island has to offer, explore the list of the Best Bali Pool Villas.