Uluwatu is one of the most popular beach areas on the south-western tip of Bali, Indonesia. If you are looking for luxurious holidays in Bali, check the list of the best Uluwatu luxury resorts with private pool villas, including the special selection of resorts in Uluwatu that boast pool villas with private pools and exceptional views.
Uluwatu Pool Villas
Uluwatu Beach in Bali, Indonesia, is a well-developed resort area with a good number of accommodations available for all tastes and different budgets. Luxury villas with private pool can also be found in Uluwatu.
Uluwatu Villas with Private Pool provide not only a comfortable stay, but also an unforgettable experience. The luxury pool villa resorts normally offer a high level and wide range of services.
Accommodation prices of pool villa in Uluwatu can vary significantly. You will find both really expensive and more affordable options in this part of Bali.
Best Uluwatu Resorts with Pool Villas
The best resorts with pool villas in Uluwatu offering exceptional luxury during your holiday in Bali are listed below.
---
To decide on the best option for the trip, more detailed information on each of the resorts with reviews, prices and availability of rooms for the selected dates can be found by clicking the links provided.
---
1. Bulgari Resort Bali
Bulgari Resort Bali is located 150 metres above sea level and offers sweeping views of the Indian Ocean. It features luxurious villas with a private sundeck and plunge pool. A 1-km long beach is accessible only through the resort's inclined elevator. The resort also offers an infinity swimming pool overlooking the ocean. The spacious villas at Bulgari Resort Bali come with traditional Balinese décor.
Location: Ungasan, Uluwatu
Reviews about pool villas at this Uluwatu resort:
"The hotel has an outstanding location (albeit not actually on the beach, but above it). Staff are extremely helpful and the villa we had was lovely."
"The accommodation is a dream. Each villa has its own small pool. The private beach area is beautiful."
"Each of the villas are outstanding."
"The villa, the views, the grounds are beautiful!"
2. The Ungasan Clifftop Resort
The Ungasan Clifftop Resort is a luxurious cliff-edge resort set 150 metres above the Indian Ocean and affording stunning views of surrounding landscapes. Offering personalised service, The Ungasan Clifftop Resort features a private beachfront, fitness facilities and a day spa. Guests can lounge by the cliff-edge infinity pool or have a game of tennis at the lawn and hard courts. Leisure options include a games room and Balinese massages. Fully furnished villas have a designer kitchen, rain showers and ample indoor/outdoor lounge areas.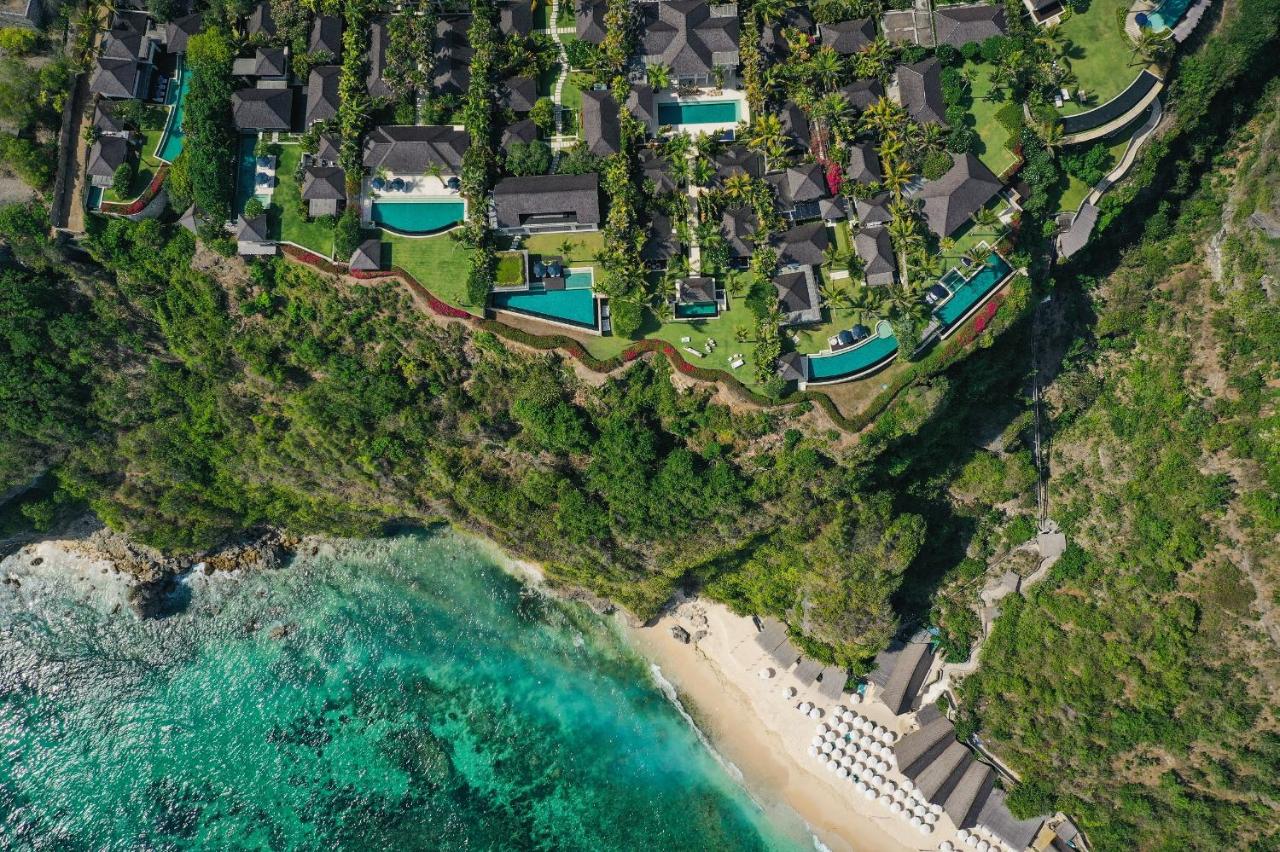 Location: Ungasan, Uluwatu
Reviews about pool villas at this Uluwatu resort:
"Loved everything about this place! The privacy and beauty of our Villa, the quiet compound it was nestled in, the spectacular view from the cliffs."
"The villa was beautiful and cleaned regularly. The shared villa pool had an infinity edge which had stunning views over the cliff face."
"We loved the clifftop location and beautiful landscaping of the resort. Our villa was private, very well presented and had everything we needed."
"Everything was great about this hotel: stunning view on top of the cliff, excellent service, spacious and stylish rooms. Our villa had a private pool overlooking the ocean which was very special."
3. Six Senses Uluwatu
Perched on a cliff with sweeping views of the Indian Ocean, Six Senses Uluwatu welcomes guests at their elegant accommodation in Uluwatu in the Bali Region. All types of accommodation offer modern amenities such as air conditioning, flat-screen TVs with satellite channels, wireless speakers, and organic coffee machines. All units offer an outdoor deck with uninterrupted ocean view. One-bedroom, two-bedroom, three-bedroom and four-bedroom pool villas are available at the property.
Location: Ungasan, Uluwatu
Reviews about pool villas at this Uluwatu resort:
"We also love our Villa which is spacious and it is designed with attention. We can see the stunning ocean view directly from our room, not to mention the lovely private pool."
"Beautiful location, amazing views, lovely large 2 bed villa with pool."
"It's a stunning property on the cliffs of Uluwatu with beautiful private villas and well-designed common spaces like the pool area and the spa."
"We've stayed at Cliff Pool Villa, big and spacious with a nice view over the ocean. The bed is super comfortable, most been the most comfortable one from all the resorts we've stayed this vacation."
4. Anantara Uluwatu Bali Resort
Anantara Uluwatu Bali Resort boasts facilities such as an outdoor infinity pool, a fitness centre and a spa. 360 Restaurant serves local and international delights. SONO Teppanyaki's specialty is hot-plate Japanese fusion dishes. Botol Biru Bar & Grill offers Mediterranean specialities. Guests at Anantara Uluwatu Bali Resort from several types of two-bedroom and three-bedroom pool villas, some of them being ocean front.
Location: Pecatu, Uluwatu
Reviews about pool villas at this Uluwatu resort:
"Room (Ocean View) and hotel in general were beautiful. View was stunning. Ocean View Villa has a private pool but everyone in the main pool can see you so it's not private."
"We managed to bundle reservations and get an ocean front villa for all of us. Service was exceptional. The property would need a renovation as you can see everything is in place since the opening."
"The rooms are big and spacious. We had a private villa with a pool and it was beautiful. The view was great. The hotel is noticeably old."
"The view was great as we booked the ocean front villa. However, there was no beach as the resort sits on a cliff. The elevator from the resort to the beach below was broken so we did not have access to any beach."
5. Suarga Padang Padang
Perched on a majestic 220-metre cliff along Bali's southern peninsula, Suarga Padang Padang is a sustainable boutique resort built with a minimal environmental impact. It boasts two outdoor pools, a lounge bar and a contemporary-style restaurant with panoramic ocean views. A number of one-bedroom, two-bedroom, three-bedroom and four-bedroom pool villas are available at the property.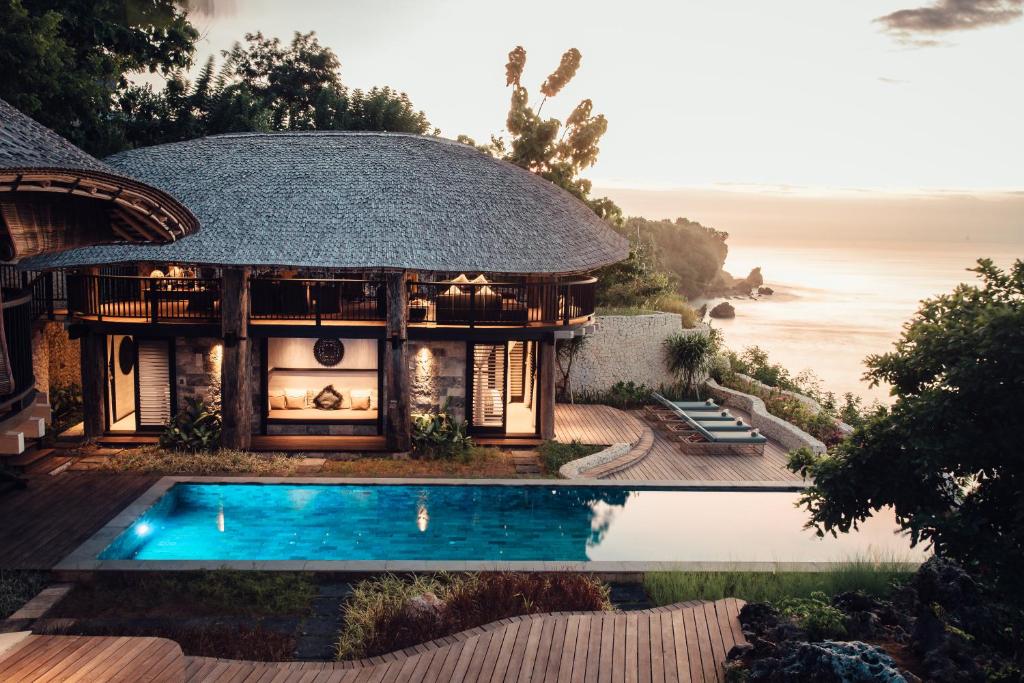 Location: Padang Padang, Uluwatu
Reviews about pool villas at this Uluwatu resort:
"Beautiful architecture, kind and friendly staff, amazing views; especially from the Villa that we stayed in, very close to Padang Padang beach, peaceful."
"The beautiful Villa we had, with a huge bedroom and bathroom, large seating area, amazing infinity pool and INCREDIBLE views."
"The villa and the views from the whole hotel were unbelievable! The hotel is eco conscious which is very nice to see."
"The property is beautifully built with incredible views out to the ocean. It is peaceful and has a very luxurious feel to it. The villas and rooms are very clean and comfortable."
6. Karma Kandara
Situated on Ungasan Hill overlooking the Indian Ocean, Karma Kandara Resort offers villas with a private pool. The spacious villas offer views of the sea and are fully furnished with a dining area, living room and kitchen. Karma Kandara Resort features an outdoor infinity pool and massage treatments at Karma Spa. The near-by Karma Beach Bali has daybeds, a bar and water sports activities.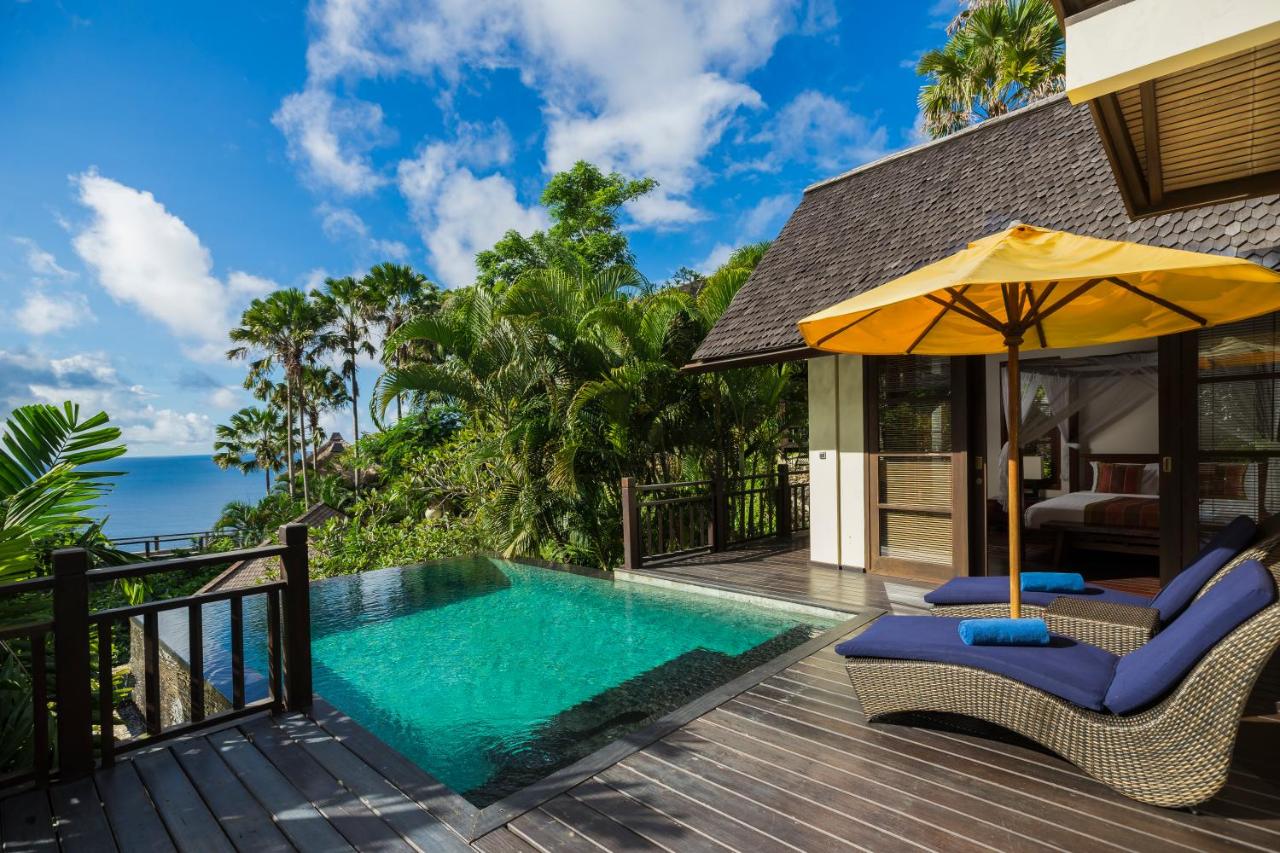 Location: Ungasan, Uluwatu
Reviews about pool villas at this Uluwatu resort:
"Though there are some 70 odd villas, you wouldn't know it - The way it has been laid out and landscaped, it feels intimate and our villa certainly felt secluded and private."
"Great location above the cliff close to Melasti Beach. 3-bedroom villa was spacious with large living room area."
"Excellent location, superb private beach that is great and safe for kids. The inclinator down to the beach was such a treat. Villa is nicely sized for a family of 4. I love the stonework architecture of the resort which enhanced the cliff side vibe."
"The villa was luxurious, the facilities was good, the beach was beautiful."
7. The Istana
Set in Uluwatu, 200 metres from Suluban Beach, The Istana offers accommodation with an outdoor swimming pool, a garden and a restaurant. Ideally located in the Pecatu district, this resort provides a spa and wellness centre, as well as a sauna and a hot tub. At The Istana guests can stay at pool villa with ocean view.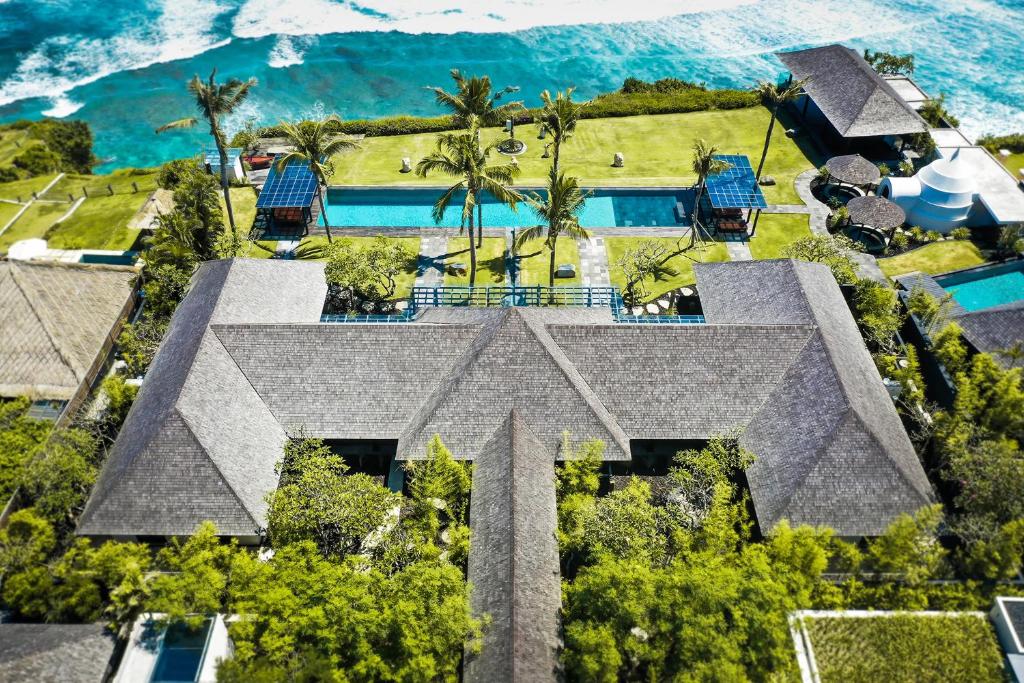 Location: Suluban, Uluwatu
Reviews about pool villas at this Uluwatu resort:
"Location was beautiful. The pool was heavenly and good food. The bed was extremely comfortable."
"View and sauna, pool is spectacular. Pictures not allowed in common areas."
"Location is fantastic, Top of the cliff views and beautiful sunset. Real shame it was spoilt by this establishment open to all public."
"The pool was nice, the view of the beach. No cellphone policy was very uncomfortable, everyone was watching you if you wanted to take picture. I was not allowed to take pictures at the facility and i could not relax at the facility."
8. Mu Bungalows
Located in Pecatu, Mu Bungalows has an outdoor swimming pool, a garden and a bar. Featuring views of the sea, each bungalow is designed eco-friendly and natural recycled materials. In addition to different bungalows, the property has on offer a number of villas with private pool.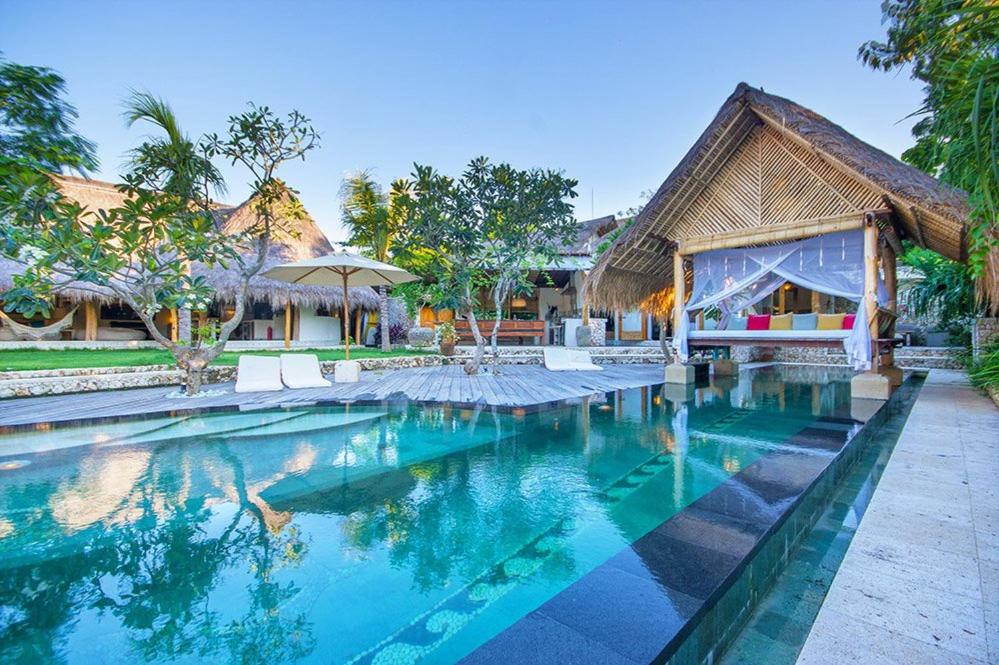 Location: Bingin, Uluwatu
Reviews about pool villas at this Uluwatu resort:
"A gem in Uluwatu, overlooking the sea, boutique style hotel with either bungalows or private villas and with low numbers of people around and great beach + restaurant and shops at walkable distance."
"Really enjoyed staying here as a family. The private pool was nice and the wider Mu Bungalows facilities were excellent (really enjoyed having dinner at the restaurants overlooking the water on the cliffs)."
---
Uluwatu Hotels
For more places to stay in Uluwatu, Bali please check: Hotels in Uluwatu.
Other Pool Villas in Bali
If you are interested in other areas of Bali for a luxury stay at pool villas, check the following articles:
If you don't have a specific area in mind and just want to experience the best Bali island has to offer, explore the list of the Best Bali Pool Villas.