Chinatown is one of the best areas to stay in Bangkok. In this detailed guide to Bangkok Chinatown you will find the essential information about the ancient neighborhood with the most popular attractions and things to do in Chinatown, transportation, and selection of hotels according to your budget.
Bangkok Chinatown area, also known as Yaowarat, is one of the oldest and most unique cultural areas of Bangkok, which was established by Chinese merchants since the 1780s. The streets of Chinatown are full of colorful buildings and decorations as well as Chinese style attractions, restaurants and markets. The area boasts its multi-cultural environment.
Bangkok Chinatown is a good place to stay for food lovers as here you can enjoy a huge variety of food all day and night. Due to its location, Chinatown is also convenient for people planning to visit all the main attractions of Bangkok such as the Grand Palace, Wat Phra Kaew and Wat Arun. There are many boutique accommodations, garments and the prices in the area are affordable.
Attractions in Bangkok Chinatown
Yaowarat Road: The main street of Bangkok Chinatown is full of shops and restaurants and at night it transforms into one of the best street food spots in the world.
Wat Traimit (Temple of Golden Buddha): Beautiful temple with the world's largest solid gold statue. The Buddha statue weighs 5.5 tons and is 3 meters tall.
Wat Mangkon Kamalawat: The largest and most important Chinese temple in Bangkok, known as the temple of Dragon. Most Thai-Chinese people come here to pray for life blessing, especially during Chinese New Year festival and Vegetarian festival.
Chinese Heritage Centre: A museum that explains the history of Chinese community in Bangkok.
Odeon Circle: The typical Chinese gate in the middle of the roundabout to welcome visitors to Chinatown of Bangkok.
Sampheng Market: A bustling market in a narrow alley that runs parallel to Yaowarat Road where they sell all kinds of wholesale products from clothing, household goods, to souvenirs.
Guan Yin Shrine: Chinese shrine on Yaowarat Road dedicated to the goddess of mercy, Guan Yin. There is a Thien Fa Foundation that aims to giving treatment to deprived patients in the area.
The So Heng Tai Mansion: An old Chinese House, built over 200 years ago.
Bangkok Railway Station: Previously the main train station in Bangkok, locally known as Hua Lamphong Railway Station, is set in the heart of the city with easy access to Chinatown, the Chao Phraya River, Silom and Sukhumvit areas.
Transportation in Bangkok Chinatown
You can easily come to Chinatown by public transportation. You can take MRT Metro from anywhere in the city to Wat Mangkon MRT station, which is the nearest to Chinatown.
Taking Chao Phraya Express Boat is another convenient option for getting to Chinatown as you can board the boat at Sathorn Pier (near Saphan Taksin BTS station) and get off at Rachawongse Pier.
You can also walk from Hua Lamphong Train Station as it's just a 15-minute walk. Otherwise, you can take a taxi or tuk tuk from there to Chinatown.
Several Bangkok bus routes pass through Chinatown: No. 1, 4, 21, 25, 40, 49. The bus will drop you close to Yaowarat Road.
In the area you can also use the sightseeing bus as there's a stop of Hop-On Hop Off Bus Tour in Chinatown.
How to get from Suvarnabhumi Airport to Chinatown
By Train: Airport Rail Link train connects the airport with MRT system at ARL Makkasan Station. From there, you can travel by MRT from Phetchaburi station to Wat Mangkon station, which is the closest station to Chinatown.
By Airport Express bus: Airport Express bus service Red Line goes from Suvarnabhumi Airport to Bangkok downtown (Chinatown/ Old Town Route) with a stop at the popular hotels in Chinatown like Chinatown Hotel and Grand China Bangkok. Price is 180 THB.
By Private Transfer: Enjoy a premium and hassle-free experience going from Suvarnabhumi Airport (BKK) to Bangkok Chinatown with VIP transfer service. All-inclusive price includes a luxurious ride with comfortable seating and ample luggage space.
By Taxi: Bangkok taxi ride from Suvarnabhumi Airport to Chinatown area takes approximately 1 hour. The price should be approximately 250-300 THB plus an additional 50 THB airport fee.
---
Explore Bangkok right away by booking Bangkok Airport luggage delivery to send your luggage from the airport to your accommodation within the city. 
---
How to get from Don Mueang Airport to Chinatown
By Train: SRT Red Line Train from Don Mueang Airport stops at Bang Sue station, which is connected with MRT Blue line so you can take metro to MRT Wat Mangkon station.
By Taxi: Taxi ride from Don Mueang Airport to Chinatown area takes approximately 30-45 minutes, depending on the traffic. The price is approximately 200-250 THB plus an additional 50 THB airport fee.
Places to Stay in Bangkok Chinatown
Some of the best Bangkok Chinatown hotels are listed below.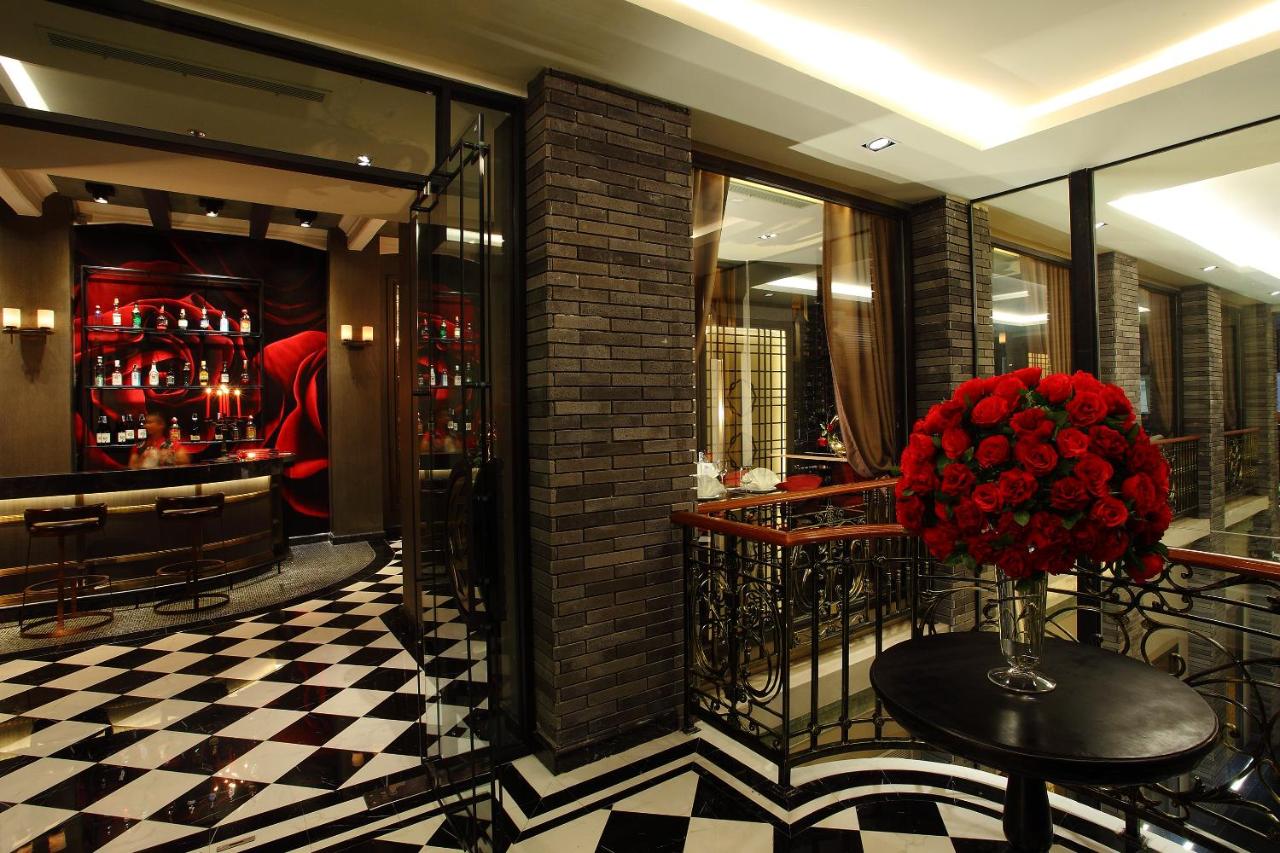 Budget-Friendly Hotels in Chinatown
Merge Hostel: Budget accommodation, set along a narrow alleyway, with a garden, shared lounge, terrace and bar.
Arawana Express Chinatown: 3-star hotel offering cozy guestrooms with kitchenettes, located in the heart of Bangkok Chinatown district. 
Luk Hostel: The hip hostel with convenient location right in the middle of Chinatown. Complimentary walking tours and workshops, including cooking classes, can be arranged. 
Mid-Range Hotels in Chinatown
Hotel Royal Bangkok@Chinatown: A lifestyle hotel that measures up in comfort and design in Chinatown to serve both business and leisure travelers.
Chinatown Hotel: 3-star hotel on Yaowarat road in Chinatown area. The hotel provides 75 modern rooms.
W22 by Burasari: 3-star boutique lifestyle hotel with a youthful vibe in Bangkok Chinatown. The hotel features stylish rooms, with comfy beds and all the amenities for a laid-back, relaxed stay.
Luxury Hotels in Chinatown
The Quarter Hualamphong by UHG: A modern oriental style 4-star hotel, located opposite of Hua Lamphong Railway Station and Hua Lamphong MRT Station.
Grand China Hotel: 4-star hotel at the Ratchawong and Yaowarat Road intersection. There is the 'Sky View 360' restaurant having a 360-degree-panoramic cityscape.
Shanghai Mansion Bangkok: An award-winning luxury boutique hotel in the heart of Chinatown with the decoration inspired by Shanghai of the 1930s.
Tips for a stay in Chinatown
For those looking for a quiet place to stay, it is best to check other Bangkok areas as Chinatown can be noisy, crowded and chaotic, especially in the evening and at night.
If you would like to stay as close to Bangkok Railway Station as possible, check the detailed guide to Hua Lamphong area.
To make your travel experience more efficient, book BTS Skytrain One Day Pass in advance for unlimited travel on the BTS Skytrain during a single day and avoid the long queues at ticket machines.
Stay connect with your loved one during a stay in Thailand, get the Tourist SIM Card which is offering generous data with affordable packages.
Popular Bangkok Chinatown Tours
A visit to Chinatown is part of many interesting tours in Bangkok. Therefore, even if you are not planning to stay in this area, you can easily explore it by joining one of Bangkok Chinatown tours that will let you discover this ancient neighborhood of the city.
Bangkok Backstreets Food Tour: Enjoy 15 tastings on a culinary experience around the backstreets of old Bangkok. Join a tour led by foodie guides, and try satay chicken, shrimp dumplings, tom yum soup, and more. In small groups of up to 8 exclusive guests, these passionate foodie guides take you on a journey around the alleyways of Yaowarat, Bangkok's Chinatown.
Bangkok 4-Hour Chinatown Guided Tour: Discover the history of Bangkok's sprawling Chinatown as you make your way through the area's best cultural, culinary and photographable hotspots. Explore market stalls, street-side restaurants and gold shops, and visit the most important Chinese-Buddhist temple in Bangkok as well as the old house at the Charoen Chai Community, where you will learn the story of the Thai-Chinese residents of the area.
Bangkok Markets, Temples and Food Night Tour: On this evening tuk tuk tour you'll whizz around Bangkok and discover the beauty of the city and local culture at night. This tour combines temples, market areas, famous sights, tuk tuks and food.
Bangkok Classical Bicycle Tour: Discover the unknown Bangkok on a bicycle tour that explores Chinatown and the Chao Phraya River. Cross the river and continue through backstreets discovering the historic neighborhood of Thonburi. In Chinatown, the tour explores the frenetic market environment, winding through narrow streets and alleyways. Your senses will come alive to the sights, sounds, and smells of a vibrant community in motion.
Bangkok Michelin Guide Street Food Tour: Explore Bangkok's bustling Chinatown by Tuk Tuk to savor food from street stalls recommended in the Michelin Guide. Find out more about the history of these stalls and learn what dishes each stall is known for.
Other Bangkok Areas
Planning a trip to Thailand and wondering where to stay in Bangkok? To make your visit in the capital city easier, find the guide to the best Bangkok areas and choose accommodation according to your preferences and trip plan.
Detailed guides to other popular Bangkok areas:
Bangkok Old Town - Rattanakosin