Don Mueang International Airport (DMK) – Bangkok's second airport which is well connected with all Thailand regions and other Southeast Asian countries by low-cost carriers. Don Mueang Airport is located about 20 km from central Bangkok and is very convenient for traveling by air inside Thailand for a very reasonable price.
Flights from/to Don Mueang Airport
International Flights from/to DMK Airport
Thailand has international flight connections with a vast number of destinations worldwide. Don Mueang is the second biggest international airport located in Bangkok and used by regional low-cost carriers intensively.
Don Mueang International Airport is served by international flights from/to:
- China
- Malaysia
- Indonesia
- Cambodia
- Japan
- Singapore
- Myanmar
- Laos
- Vietnam
- Hong Kong
- Taiwan
- India
- Maldives
Get a really good flight deal for your trip to Thailand on Flights at Trip.com.
Domestic Flights from/to DMK Airport
You can reach other cities in Thailand by using domestic flights from/to Bangkok's Don Mueang Airport (DMK):
- Buriram
- Chiang Mai
- Chiang Rai
- Chumphon
- Hat Yai
- Khon Kaen
- Krabi
- Lampang
- Loei
- Mae Sot
- Nakhon Phanom
- Nakhon Si Thammarat
- Nan
- Narathiwat
- Phitsanulok
- Phrae
- Phuket
- Ranong
- Roi Et
- Sakon Nakhon
- Surat Thani
- Trang
- Ubon Ratchathani
- Udon Thani
Airlines Operating in Don Mueang Airport
Bangkok's Don Mueang Airport is the main hub for these Thai airlines - low-cost carriers Thai AirAsia, Thai Lionair and Nok Air.
Flight Tickets
Flight deals for the most popular international destinations from DMK Airport can be found here:
Flight deals for the most popular domestic destinations from DMK Airport can be found here:
Flight tickets for other destinations can be found and booked by using this search form.
Don Mueang Airport Transportation
Train from DMK Airport to Bangkok
Bangkok SRT Red Line is a long-awaited city train route connecting Bangkok city with Don Mueang Airport. The Red Line commuter train operates daily from 05:00 to midnight. The journey from Don Mueang Airport to Bang Sue Grand station, also known as Krung Thep Aphiwat, takes about 17 minutes and costs 33 THB.
To find SRT Red Line Don Mueang station, after getting out from the restricted area of the airport you need to turn left and walk to the end of Terminal 2 (domestic terminal). From there a covered walkway leads to the train station. The direction to the train station is quite well marked at the airport so finding it shouldn't be difficult as you just need to follow signs leading to "SRT Red Line".
Bus from DMK Airport to Central Bangkok
Traveling from Don Mueang Airport to Bangkok City by bus is one of the best choices because it is very convenient and not expensive. The journey usually takes between 30 minutes to an hour, depending on traffic conditions.
There are four different bus routes starting at Don Mueang Airport – A1, A2, A3 and A4. More about Don Mueang Airport bus routes read here: Don Mueang Airport Bus.
Taxi from DMK Airport to Central Bangkok
If using public transportation seems to be too complicated for you, book a private transfer online and the driver will be waiting for you at the airport holding a sign with your name on it. It's definitely the most comfortable way to reach the city and not to get lost in Bangkok on the first day of your trip.
Private transfer from Don Mueang Airport to Central Bangkok can be booked here: Private Don Mueang Airport Transfers (DMK).
Shuttle Bus to Suvarnabhumi Airport (BKK)
Bangkok has two airports - the second one is called Suvarnabhumi Airport (BKK). Traveling between Don Mueang Airport and Suvarnabhumi Airport can be done in several ways but the cheapest way is taking a free shuttle bus service.
Check where to find and how to use Free shuttle bus between Suvarnabhumi (BKK) and Don Mueang (DMK) airports.
More transportation options for getting from Don Mueang Airport to Suvarnabhumi Airport can be found here: DMK to BKK - Don Muang Airport to Suvarnabhumi Airport.
Services at Don Mueang Airport
Thailand SIM Card at DMK Airport
There are counters of all main Thailand mobile network providers at Don Mueang Airport. If you are willing to save money, you can just book a discounted Thailand 4G SIM Card and pick it up at the airport as it will be significantly cheaper. For the deal check here: [SALE] 4G SIM Card for Thailand (DMK Airport Pick Up).
Luggage Storage at DMK Airport
Luggage storage at DMK Airport costs depending on the size of the luggage: storage of Normal Luggage (25kg or less) costs 100 THB per unit per day, storage of Special Item (Non-Luggage Item) costs 200 THB per day. Longer storage is charged by a discounted rate as storage for 5-7 days costs 500 THB, storage for 30 days – 2000 THB.
AIRPORTELs also offers luggage delivery from Don Mueang Airport to your hotel or other accommodation in Bangkok and vice versa. Scheduled delivery of Normal Luggage (25 kg or less) costs 199 THB per piece, delivery of Special Item (Non-Luggage Item) – 399 THB. On demand luggage delivery from the airport to the hotel or vice versa costs 200 THB more.
Luggage storage at Don Mueang Airport or delivery from/to Bangkok can be booked online here: Airport Luggage Services by AIRPORTELs.
Currency Exchange at DMK Airport
If Don Mueang Airport is your entry point to Thailand, you will need to get some local currency here as normally only Thai baht is accepted for all purchases within the country and payment in cash is still preferred in many places. Withdrawing cash from ATM or exchanging money at currency exchange booths are the best ways to get Thai baht at the airport. However, none of these options is cost effective at Don Mueang International Airport (DMK).
The rates offered by foreign exchange booths at Bangkok Don Mueang International Airport (DMK) are far from good. What exchange rates are offered by currency exchange booths at Don Mueang Airport and what should you do for getting better rates than that, read here: Don Mueang Airport Currency Exchange.
Thailand Visa at DMK Airport
When arriving to Don Mueang Airport on an international flight from another country in the region, you need to pass the immigration of Don Mueang Airport, even if you have a connecting domestic flight from here. If your nationality lets you enter Thailand on Free visa-exempt stay or you've got a Single Entry Tourist Visa / Multiple Entry Tourist Visa in advance from Thai embassy or consulate, just proceed to the immigration, present your travel documents to the officer, get your passport stamped and you will be allowed to enter the country. Thailand Immigration control procedure at the airport is briefly described here: Thailand Immigration Control Procedure for Foreigners.
However, if you're a citizen of one of the countries eligible to obtain Thailand Visa on Arrival and decided to use this type of Thailand Visa, you can get your Visa on Arrival at Don Mueang Airport as this airport is one of Thailand's Immigration Checkpoints providing facilities for issuance of Visa on Arrival.
For more details check: Thai Visa on Arrival at Bangkok Don Mueang Airport (DMK).
Hotels near Don Mueang Airport
If you'll be arriving at Don Mueang Airport late at night or leaving from the airport very early in the morning, you might consider staying overnight at the hotel near the airport. Amari Don Muang Airport is a hotel that is connected with Don Mueang Airport by a walkway.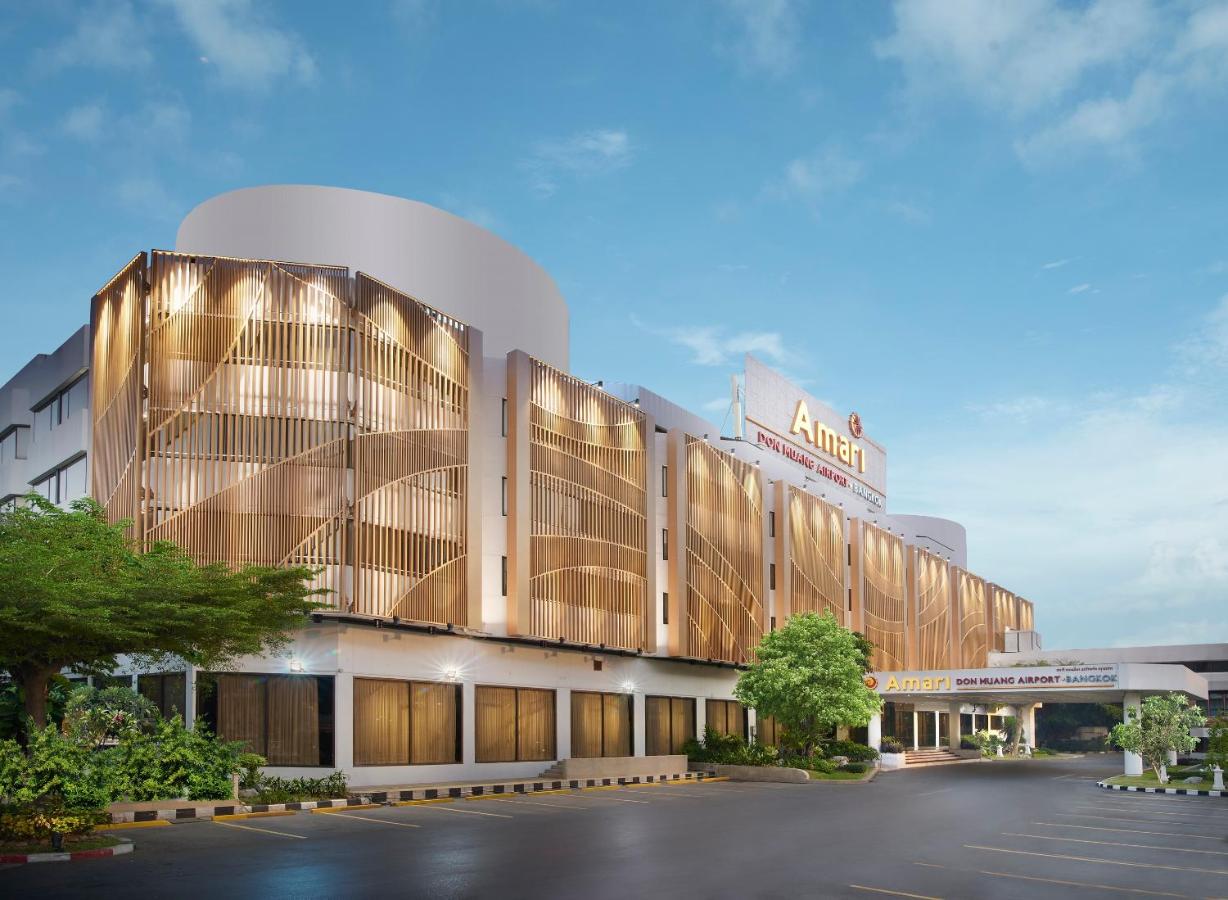 More places to stay nearby can be found here: Hotels near Don Mueang Airport.
Otherwise you can stay in Bangkok area which is well connected with the airport by direct bus routes. Our recommendations for choosing the right area to stay in Bangkok can be found here: Bangkok Best Areas.
Any Questions?
Check our Frequently Asked Questions about public transportation in Bangkok and ask your own question if it's not answered there yet.