Bangkok is big and there are plenty attractions for a traveller of any taste. If you like art, visit one of art galleries in Bangkok, like Bangkok Art and Culture Centre (BACC) and The National Gallery. If you're fond of history, outdoor museum Ancient Siam and The Erawan Museum with its ancient treasures should be your bet. None of these are your interests? Head to Art in Paradise or Madame Tussauds museum and you will have lots of fun while taking wonderful photos with creative 3D paintings or worldwide known celebrities.
Bangkok Art and Culture Centre (BACC)
Bangkok Art and Culture Centre or BACC is home for the contemporary art of Thailand and international artists in Bangkok. The masterpieces of creativity are collected and offered to all people at the gallery. At Bangkok Art and Culture Centre you will find art library, open space for artists and the main gallery of visual art exhibitions with over 3,000 square meters of exhibition space. The exhibitions here are changed occasionally so you get an opportunity to see different arts on your repeat visits.
Address: 939 Rama I Rd, Wang Mai, Pathum Wan District, Bangkok
Opening hours: Daily, except Monday 10:00-19:00
For more detailed information about this art gallery check here: Bangkok Art and Culture Centre (BACC).
Art in Paradise Bangkok
Art in Paradise is an optical illusion gallery in Bangkok. There are five zones within the gallery: Aqua and Safari, Classic Art, Fantasy, Nature and Modern Art. The gallery is fully interactive as you can step on these paintings and take photos with them. Trick yourself and your friends in the gallery of illusions!
Address:  Esplanade Shopping Mall, 4th Floor, Ratchadapisek Road, Din Daeng, Bangkok
Opening hours:  Daily 10:00-22:00, last admission 21:00
Make another trick and spend less by booking your ticket online in advance here: Art in Paradise Bangkok tickets.
 
The National Gallery
The National Gallery in Bangkok is an art gallery and one of Thailand's national museums. The atmosphere here is classics and the buildings of the gallery are worth to see as they were designed by European architect Carlo Allegri. The National Gallery is a place for temporary art exhibitions of famous artists, both Thai and foreigners, as well as  home to a big number of classical and contemporary artworks. The permanent collections consist of modern sculptures, traditional paintings and ancient religious paintings. King Rama VI and His Majesty King Bhumibol's oil paintings are also displayed.
Address:  4 Chao Fa Rd, Chana Songkhram, Phra Nakhon, Bangkok
Opening hours: Wednesday - Sunday 9:00-16:00
For more detailed information about this art gallery check here: The National Gallery in Bangkok
Madame Tussauds Bangkok
Bangkok has its own Madame Tussauds museum with a large collection of wax figures. Celebrity personalities you can meet here include pop stars, movie stars, artists, global leaders, sportsmen, scientists and other famous people. Madame Tussauds Wax Museum is actually not only in Bangkok, but in various places around the world. However, in Bangkok you can find a collection of wax sculptures of famous figures. You will have endless photo-opportunities at Madame Tussauds museum with the stars like Michael Jackson, One Direction, Bruce Lee, Brad Pitt, Angelina Jolie, Albert Einstein, David Beckham, Cristiano Ronaldo or Spiderman.
Madame Tussauds Museum is located on the 6th floor of Siam Discovery, you can take the BTS sky train and get off at Siam Station, then proceed to walk to Siam Discovery Mall.
Address: Siam Discovery, 4th Floor, 989 Rama 1 Road, Pathumwan, Bangkok
Opening hours: 10:00 – 21:00, last admission 20:00
You can save 40% on tickets to Madame Tussauds Bangkok by getting them here: [Skip-the-Line] Madame Tussauds Bangkok
For the review of Madame Tussauds museum in Bangkok check here: Madame Tussauds Bangkok.
Ancient Siam
Ancient Siam is one of the largest outdoor museums in the world. The attraction houses a variety of collections owned by museum owner Khun Lek Viriyapant, offering a look into local heritage, customs and craftsmanship. Here you will find many scaled-down replicas and reconstructions of many Thailand's historically significant monuments such as temples, palaces and shrines. At Ancient Siam, you'll have a possibility to walk through the entire Thailand just in a day.
Address: 296/1 Sukhumvit Road, Bangpoo, Samut Prakan
Opening hours: Monday-Sunday 09:00-19:00, last admission 17:00
Book your Ancient Siam tickets online and get a significant discount.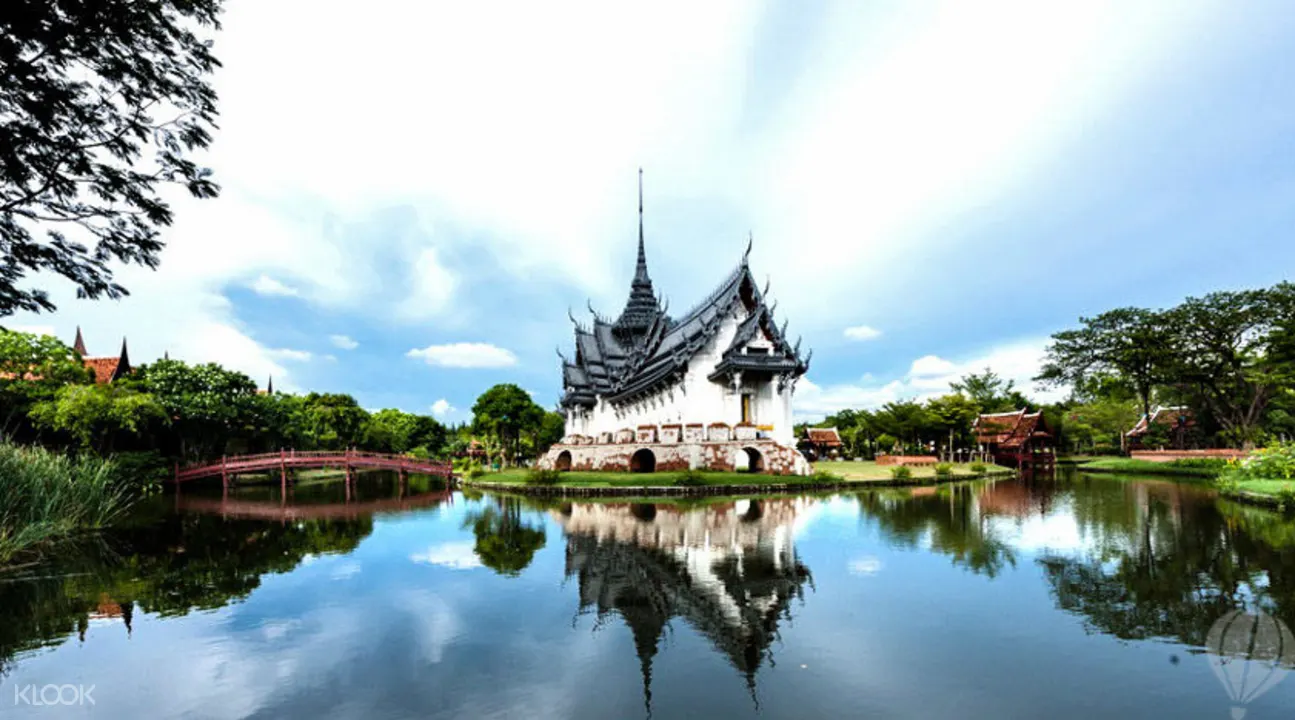 The Erawan Museum
The Erawan Museum building is dominated by a three-headed elephant. The museum houses a large number of priceless Thai and Asian antiques, artworks and religious objects.
Address: 99/9 Moo 1 Bangmuangmai, Samut Prakan
Opening hours: Monday-Sunday 09:00-19:00, last admission 17:00
Get familiar with Thai culture and religion at the museum cheaper by booking your Erawan Museum tickets online.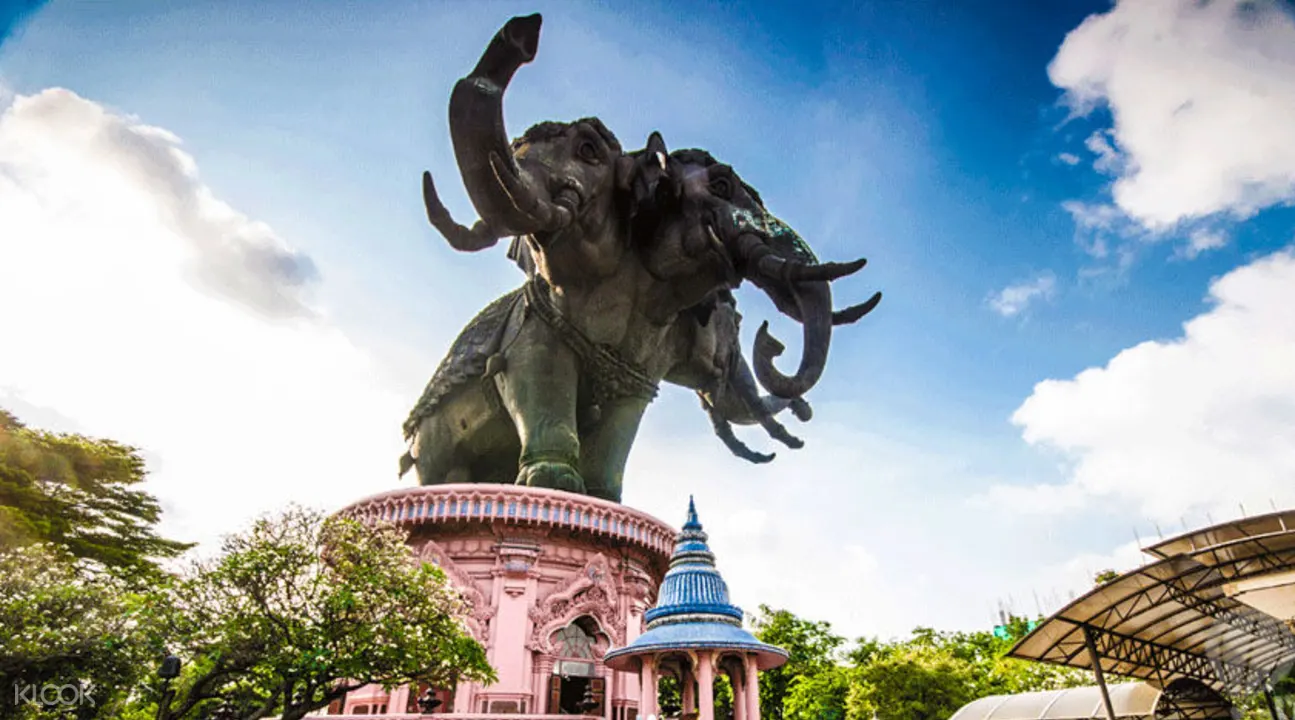 You can discover the stories of Thai culture and history at these two museums cheaper with one Erawan Museum & Ancient Siam combination ticket.
Jim Thompson House and Museum
As the name implies, this place is a house that was once owned by Jim Thompson, an American who has for many years been attached to Thailand. Jim himself is known as a silk businessman who has a lifelong passion for unique collecting of art goods from other countries. However, Jim Thompson disappeared while exploring Malaysia's jungle in 1967 and never returned, so his home was eventually turned into a museum and became one of the tourist attractions in Bangkok. If you want to enjoy a vacation while looking at various beautiful art collections, then you can choose this museum. You can see the silk manufacturing process, and results of silk art work as well as buy the silk in the souvenir shop.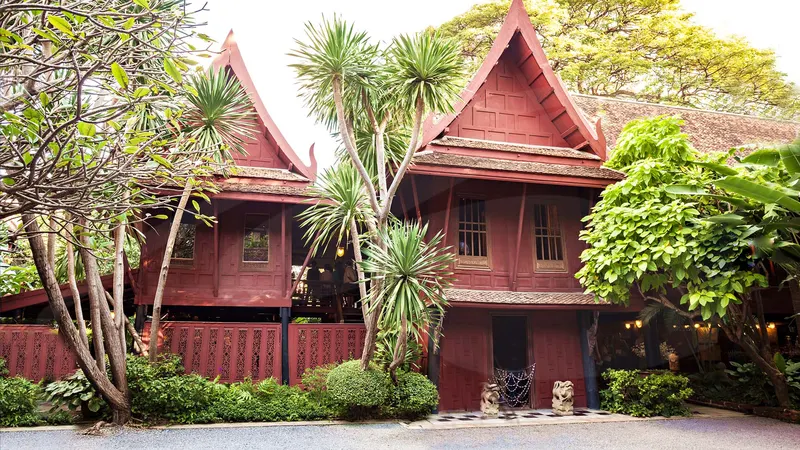 Address: 6 Kasem San 2 Alley, Wang Mai, Pathum Wan District, Bangkok
Opening hours: 11:00 - 19:00
Suan Pakkad Palace
Suan Pakkad is the place for a glimpse of the Thai image that you thought had long ago disappeared from Bangkok. Suan Pakkad Palace was previously the home of Princess Chambon of Nakhon Sawan. This palace is made up of 5 traditional wooden buildings, nestled in the heart of a lush garden. It is a family treasure dating back to the 19th century.  A vast array of antique artifacts, ancient artifacts, and more can be found in this cultural museum. Inside the palace, you can admire up to 4,000 years old pottery from the Bronze Age as well as musical instruments, Khmer sculptures as well as lacquers full of charm from the time of Ayutthaya.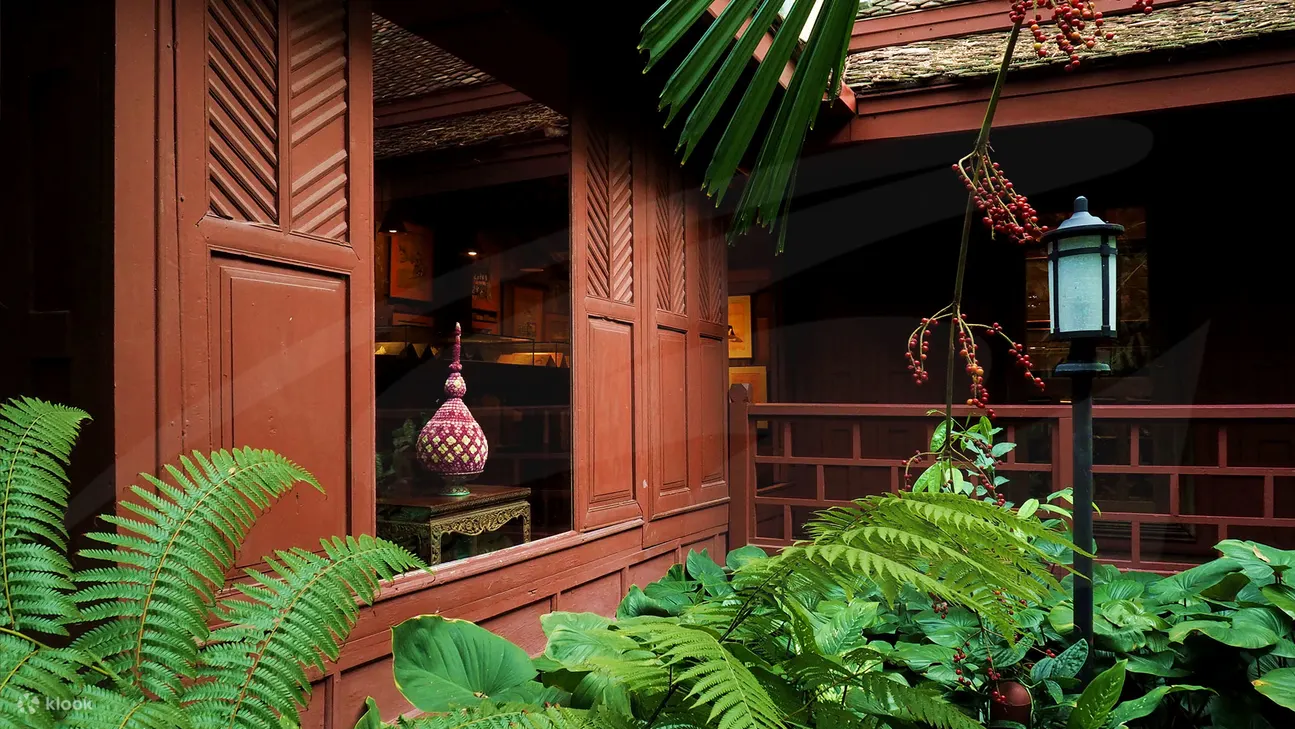 Address: 352 - 354 Sri Ayudhya Rd, Rajathevi, Bangkok
Opening hours: Daily 9:00 - 16:00
---
You can see two of the most famous and historical buildings in Bangkok in a half day tour by joining Tour of Suan Pakkad Palace and Jim Thompson's House 
---
Vimanmek Mansion
When you hear the word mansion, of course what you have in mind is a large and magnificent building, and sure enough, the Bangkok Vimanmek Mansion has become the biggest teakwood building not only in Thailand or Southeast Asia, but in the world. The Vimanmek Mansion was built with golden teak wood as a whole. It served as a royal residence for some time at the beginning of the century. For a visit, it is preferable to have a suitable outfit with no shorts or sleeveless shirt.
Address: 5 1 Ratchawithi Rd, Dusit, Dusit District, Bangkok
Opening hours: 9:00 - 17:00
Remark: The Vimanmek Mansion is currently closed without reopening date, for renovation.
National Museum of Royal Barges
The museum of royal barges is a fascinating place to visit. This museum is a place to display the famous royal boats. The most impressive and important of the boats is Suphanahong, the King's personal barge used during official ceremonies by the King and family entourage. You will see people working on them, they are decorated by mythical creatures of ancient Thailand. The Royal Barge Museum is located on the northern edge of the Khlong Bangkok Noi. The best way is to take a private long tail boat which drops you right at the museum's pier.
Address: 80/1 Arun Amarin Road Bangkok Noi, Bangkok
Opening hours: 9:00 - 17:00
Siriraj Medical Museum
If you are looking for something different, Siriraj Medical Museum will please you. There are many exhibits related to medicine and pharmacy. Apart from that, the parts of the human body are mummified and displayed like works of art and preserved for scientific and knowledge purposes. In addition, the museum also has other collections in the form of autopsy photographs, skulls with gunshot scars, skeletons, murder victims, and others. Located in the complex of Siriraj Hospital. The easiest way to get to Siriraj Medical Museum is to take the boat on the Chao Phraya River and get off at Wanglang Pier.
Address: 2, Wang Lang Road, Bangkok Noi, Siriraj Hospital, Bangkok
Opening hours: 10:00-17:00
Rattanakosin Exhibition Hall (Nitas Rattanakosin)
Bangkok has an interesting history, and the way to discover it is through a trip to Rattanakosin Exhibition Hall. Here you will experience many things that make the great of Bangkok through series of movies, music, photos on computer and a guided tour. If you crave to know and understand the palaces, temples and neighborhoods, this is the place to be. There are two parts of the exhibition, each part takes 2 hours to complete so you need 4 hours to complete the visit. There is an audio in several languages for visitors to borrow to enjoy the museum.
Address: 100 Ratchadamnoen Avenue, Wat Bowon Niwet, Phra Nakhon, Bangkok
Opening hours: Daily, except Monday 9:00 - 17:00
Museum Siam
The Siam is the old name for Thailand. The Museum Siam is located in Bangkok's Old City near the Grand Palace and Wat Pho Temple. Museum Siam is a learning museum for people of all ages. Though the museum is not as big as Bangkok National Museum, but it is really interesting and unique. Museum Siam is comprising of 3 main buildings: the permanent exhibition building, temporary exhibitions and special events and museum office buildings. The permanent exhibition building has 17 exhibition rooms in different themes. You can go through the history of Thailand by investigating what 'Thainess' was through the ages. The exhibition is full of fun interaction with innovative and captivating media and you can easily spend an hour or two here.
Address: Sanam 4 Sanam Chai Rd, Phra Borom Maha Ratchawang, Phra Nakhon, Bangkok
Opening hours: Daily, except Monday 10:00 - 18:00
Patpong Museum
You probably know that Patpong is one of Bangkok's nightlife districts, located between Silom Road and Surawong Road. It was raised as the red light district with many clubs and bars. The museum is run by Michael Messner, who is recognized as the owner of the famous Barbar Fetish Club and Black Pagoda in Patpong. The Patpong Museum is an interesting museum showcasing the history of the famous Patpong. A story is including the Vietnam war, drugs, girls, infamous Ping-Pong shows.
Address: Patpong Museum, No. 5, 2nd Floor, Patpong Soi 2 Address: Bangrak, Bangkok
Opening hours: 11:00 to 23:00
Where to Stay in Bangkok
You should choose Hotel in Sukhumvit area if you want to stay in central location which is well connected with all important areas of the city by public transportation. Staying in Sukhumvit will help you to reach all Bangkok's galleries and museums easily. There are also plenty of attractions, restaurants, shopping malls and entertainment spots in the area so you won't be bored on weekends too. Find your place to stay in Sukhumvit area here: Hotels in Sukhumvit.
What is the best area to stay in Bangkok if your itinerary includes not only a couple of visits to Bangkok museums and galleries? The answer can be found here: Where to Stay in Bangkok - Guide to Bangkok Best Areas.