Bangkok Old Town, called Rattanakosin, is one of the best areas to stay in Bangkok. In this detailed guide to Rattanakosin area you will find the essential information about the old city with the most popular attractions and things to do in Bangkok Old Town, transportation, and selection of hotels according to your budget.
Rattanakosin area is the historic center of Bangkok, also called the Old Town, located in the Phra Nakhon district along the Chao Phraya River. Rattanakosin area is the most visited area of the entire Thai capital, which contains some of the most famous historical attractions and important buildings in the capital, such as the iconic Grand Palace, the majestic Wat Phra Kaew, the famed Wat Pho, the famous Khao San Road, the National Museum and much more. If this is your first trip to Thailand, Bangkok Old Town is definitely one of the top places in the city that you shouldn't miss.
Rattanakosin is different from other tourist areas in Bangkok due to its authenticity, so by staying in this area you can immerse yourself in Thai culture. In Bangkok Old Town, the selection of hotels is quite limited but you can still find comfortable accommodation in different price ranges with many boutique hotels available.
Things to Do in Bangkok Old Town
The list of the main attractions in Rattanakosin area below includes the most popular things to do in Bangkok Old Town.
The Grand Palace: A must-visit tourist attraction in Bangkok Old Town that is the former royal residence with over 100 luxurious buildings, beautiful courtyards, and neatly kept gardens, built by King Rama 1 in 1782 in the heart of the old city of Bangkok, on the bank of the Chao Phraya River.
Wat Phra Kaew: A popular tourist spot in Bangkok, commonly known as the Temple of the Emerald Buddha, is located inside the complex of the Grand Palace. The temple is famous for its unique architecture and jade statue of Buddha.
What Pho: Often called the Temple of the Reclining Buddha, this temple has a famous reclining Buddha statue, which is 47 meters long, 15 meters high, and gilded with gold.
Wat Arun: One of the most beautiful temples in Bangkok, located not on Rattanakosin Island but on the west side of the Chao Phraya River. It is famous for its 80-meter central pagoda, decorated with tiles made of colored Chinese porcelain and many decorative elements.
Wat Saket: The Golden Mountain Temple with the staircase consisting of 318 steps leading to the top of the hill, where you can see the panoramic view of Rattanakosin area.
Wat Suthat: Famous temple with a 21-meter-high red swing next to it. The Giant Swing was brought to Bangkok from Phrae province.
Khao San Road: A 300-meter road that is considered to be the paradise of backpackers in Bangkok. The road is bustling with many eateries, bars. clubs and inexpensive accommodations.
Democracy Monument: Located at the roundabout on Ratchadamnoen road, the monument commemorates the 1932 Siamese coup d'état that led to the establishment of a constitutional monarchy.
Santichaiprakarn Park: A famous park in Bangkok that overlooks the Chao Phraya River and Phra Sumen Fort, built during the era of King Rama I.
The National Gallery: Situated on Chao Fa Road opposite the National Theatre, the museum exhibits traditional and contemporary works of art created by Thai artists.
Chao Phraya River Dinner Cruise: Highly recommend experience to enjoy Bangkok city in a different way. You can spend the night on a dinner cruise while enjoying food and live entertainment on board and admiring the views of several historic Bangkok Old Town landmarks on the Chao Phraya River. Some of the popular Chao Phraya River cruises are the following:
Muay Thai Fight at Rajadamnern Stadium: A must try experience at least once when coming to Thailand. Witness exciting Muay Thai fights up close and skilled fighters in action and experience authentic Muay Thai heritage at the birthplace of Muay Thai, where 78 years of heroic battles and timeless legends unfold.
Transportation in Rattanakosin Area
Transportation is very well developed in Rattanakosin area, which is easily accessible by public transportation from anywhere in Bangkok. The main historical and cultural attractions are within a walking distance from accommodations in Bangkok Old Town.
There is MRT Metro Sanam Chai Station, which id close to many attractions such as Wat Phra Kaew, Wat Pho, Museum Siam and Pak Khlong Talat (Flower Market).
The Chao Phraya River flows by Bangkok Old Town, so taking a boat is an easy way to get around the area and for sightseeing. The important piers are Tha Chang (for the Grand Palace), Tha Tien (for Wat Pho) and Rachawongse (for Chinatown). All Chao Phraya Express Boats go to Sathorn Pier, where you can transfer to BTS SkyTrain Saphan Taksin Station.
Chao Phraya Hop-On-Hop-Off Boat is also a convenient and cheap way to explore the sightseeing along the magnificent Chao Phraya River. You can choose to board or depart from any of the 9 different piers available and hop on and hop off the boat at whatever pier you desire.
Several Bangkok bus routes pass through Rattanakosin: No. 3, 9, 4, 44, 47, 53, 64,80, 82, 91, 123, 125, 189, and 203. The bus will drop you in Bangkok Old Town area.
In the area you can also use the sightseeing bus as there are stops of Hop-On Hop Off Bus Tour in Bangkok Old Town.
Bangkok taxi and tuk-tuk seem to be good options to get around Rattanakosin but beware of taxi and tuk-tuk drivers in the area as they usually operate on the flat rate and will hardly miss a chance to rip you off.
How to get from Suvarnabhumi Airport to Bangkok Old Town
By Airport Bus: A direct airport bus S1 from Suvarnabhumi Airport (BKK) stops at a few places in and around Rattanakosin, including National Gallery, National Theater and Sanam Luang, and costs only 60 THB.
By Airport Express Bus: Airport Express bus service from Suvarnabhumi Airport to Bangkok downtown (BKK Airport, China Town/ Old Town Route) makes a stop at The Giant Swing. Price is 180 THB.
By Train: Airport Rail Link train connects the airport with Phaya Thai station in the city center, from there, you can take taxi or tuk-tuk to Bangkok Old Town.
By Private Transfer: Enjoy a premium and hassle-free experience going from Suvarnabhumi Airport to Bangkok Rattanakosin area with VIP transfer service. All-inclusive price includes a luxurious ride with comfortable seating and ample luggage space.
By Taxi: Taxi ride from Suvarnabhumi Airport to Bangkok Old Town area takes approximately 1 hour. The price should be approximately 300-400 THB plus an additional 50 THB airport fee.
---
Explore Bangkok right away by booking Bangkok Airport luggage delivery to send your luggage from the airport to your accommodation within the city.
---
How to get from Don Mueang Airport to Bangkok Old Town
By Airport Bus: A direct bus A4 from Don Mueang Airport stops at a few places in and around Rattanakosin, including Democracy Monument, Khao San Road and Sanam Luang, north of The Grand Palace near the Chao Phraya River. It costs only 50 THB.
By Limo Bus: There is a limousine bus called Airport Limobus Express between Don Mueang Airport and Khao San area. The air-conditioned bus comes with free WiFi.
By Train: Train from Don Mueang Railway Station stops at Hua Lamphong Railway Station. From there you can take MRT Metro to Sanam Chai Station.
By Private Transfer: Travel in style and comfort with the luxury airport transfer service from Don Mueang Airport to Bangkok Old Town area. The car comes equipped with a range of amenities to ensure you have a relaxing and enjoyable ride.
By Taxi: Taxi ride from Don Mueang Airport to Rattanakosin area takes approximately 45 minutes to 1 hour, depending on the traffic. The price should be approximately 300-350 THB plus an additional 50 THB airport fee.
Places to Stay in Bangkok Old Town
When it comes to finding a place to stay in Bangkok Old Town area, you will have a limited number of accommodations to choose from, mostly the mid-range to high-end hotels along Chao Phraya with all modern conveniences. However, if you are on a budget and want to find cheaper accommodation, consider staying in Khao San Road area, known worldwide by backpackers, which is not far from the historical center and still has an easy access. Some of the best Rattanakosin hotels are listed below.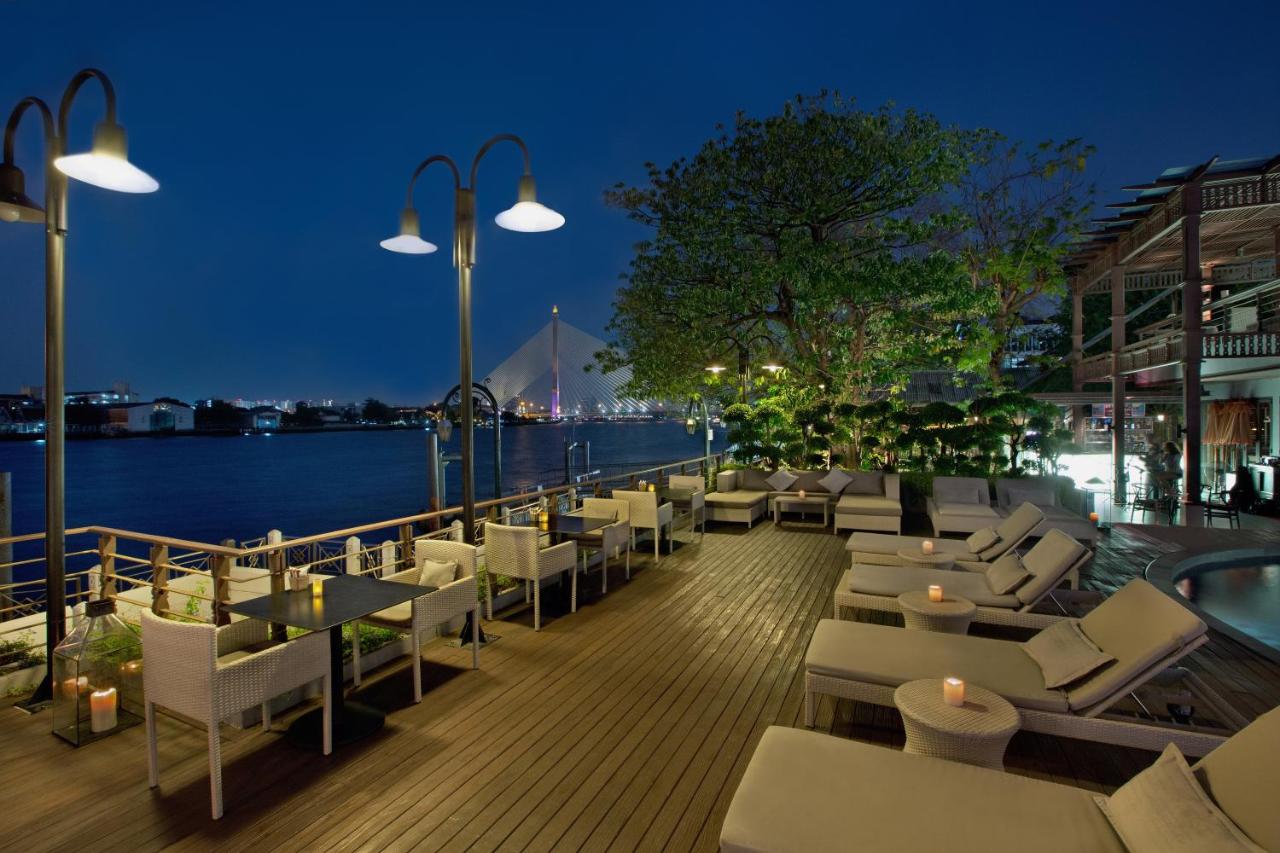 Budget-Friendly Hotels in Bangkok Old Town
Siam Champs Elyseesi Unique Hotel: Unique hotel, located in the heart of Bangkok Old Town. The interior design is inspired by Thai contemporary style and is an exquisite blend of Oriental-French influenced architecture and modern contemporary Thai design.
Casa Vimaya Riverside: Elegant 3-star hotel on Phra Sumen Road in a historic neighborhood of Bangkok offering two different types of accommodation, each with its own special charms.
Siri Heritage Bangkok Hotel: 3-star hotel highlights classic Siamese historic architectural motifs through a clean, colorful and contemporary design. Located on Rattanakosin Island near Grand Palace and Khao San Road, hotel has spaces for families and friends' picnic on the rooftop with relaxing and great view.
Villa De Khaosan Hotel: Unique and timeless design hotel of the French Era hotel style which is inspired by the age of traveling, when French Kingdom began their exploration of the Kingdom of Siam. Khao San Road is reachable within a 4-minute walk.
Mid-Range Hotels in Bangkok Old Town
Centra by Centara Hotel Bangkok Phra Nakhon: 4-star hotel with 180 rooms and suites spread across two low-rise buildings built around an inner courtyard, conveniently provides a peaceful and relaxing sanctuary from the bustling city outside, located near bustling Khao San Road.
Villa De Pranakorn: A luxury boutique hotel with 47 rooms from the solo-friendly Superior rooms to the one-of-a-kind Signature Suites, located in Bangkok Old Town, on Rattanakosin island.
Praya Palazzo Hotel: A boutique hotel steeped in history providing tailor-made holiday experiences. The hotel is only accessible by own private barge, taking you from the pier, across the Chao Phraya River.
Baan Noppawong: One of the beautiful traditional Thai houses in Bangkok Old Town. The artist chose to decorate the tea room with white flowers from Pak Klong Talat, so-called Flower Market.
Luxury Hotels in Bangkok Old Town
Chakrabongse Villas: A former royal residence located by the Chao Phraya River offering stunning views of Wat Arun from luxurious Thai-style suites. This luxury boutique hotel is a short walk from the Grand Palace.
Royal Orchid Sheraton Hotel: A luxurious 5-star hotel located along the Chao Phraya River, offers the finest contemporary Thai style decoration with floor-to-ceiling windows in all guest rooms. All guestrooms are guaranteed the stunning river view of the Chao Phraya River.
Riva Surya Bangkok: A luxurious 4-star urban oasis along the bank of the Chao Phraya River, which offers a touch of style and charm. This modern boutique hotel in Bangkok provides a lavish experience and true Thai hospitality, along with 68 beautifully designed rooms, elegant dining options, riverside swimming pool and leisure facilities.
Sala Rattanakosin Bangkok: A 4-star boutique riverside hotel overseeing the beautiful Bangkok Old Town, located just a 4-minute walk from the reclining Buddha of Wat Pho and a 7-minute walk from the Grand Palace.
Tips for a stay in Bangkok Old Town
Rattanakosin area is perfect for first-time travelers coming to Bangkok as you can visit all the main attractions of Bangkok Old Town on foot. Alternatively, you can also take tuk tuk, or taxi.
Families with kids might find other areas such as Siam, Silom, or Sukhumvit more suitable for a stay. These are more modern areas with family-friendly atmosphere and definitely a lot more kid-friendly attractions.
Stay connected with your loved ones during a stay in Thailand by getting the Tourist SIM Card, which is offering generous data with affordable packages.
Popular Tours around Rattanakosin Area
Grand Palace and Emerald Buddha Half Day Walking Tour: Discover Bangkok's history and culture as you explore the world-famous Grand Palace complex and the Wat Phra Kaew with a professional guide. You'll be able to enjoy more time to take in the beauty and history of the historical landmark with the ticket's skip-the-line access.
Bangkok's Best Eats Midnight Food Tour by Tuk Tuk: Immerse yourself in Thailand's unique culinary heritage by joining the four-hour food tour in Bangkok. You will visit famous local food places such as North Eastern Thai restaurant, Michelin-recommended restaurant, Pak Klong Talad, and "Secret Bar" on a rooftop via the iconic Tuk Tuk.
Thai Bus Food Tour Experience in Bangkok: Experience a Michelin-starred dining experience on the first food bus in Thailand. You will enjoy 4 exclusive menu choices and see Bangkok city's iconic landmarks around Rattanakosin area without having to leave your seat.
Other Bangkok Areas
Planning a trip to Thailand and wondering where to stay in Bangkok? To make your visit in the capital city easier, find the guide to the best Bangkok areas and choose accommodation according to your preferences and trip plan.
Detailed guides to other popular Bangkok areas: