Pratunam is one of the best areas to stay in Bangkok. In this detailed guide to Pratunam area you will find the essential information about this shopping neighborhood with the most popular attractions and things to do in Pratunam, transportation, and selection of hotels according to your budget.
Pratunam area is a commercial district in Bangkok, similar to Siam but with more authentic and local feel than the modern neighbor. The area features numerous fashion shopping centers and many of them offer wholesale deals, making Pratunam area very popular between retailers. Many foreign tourists from the Middle East and India also like to stay and do shopping in this Bangkok area.
Pratunam is located in the heart of the city, at the intersection of Petchburi Road and Ratchaprarop Road, and also includes the areas of Victory Monument, Ratchathewi and Makkasan. When staying in Pratunam, you will have a quick access to BKK Airport by airport train and to the main historical attractions in Bangkok old town such as the Grand Palace and Wat Pho by fast canal boat. You can find plenty of affordable accommodations in this area.
Attractions in Pratunam Area
Pratunam area is one of the shopping districts in Bangkok with many shopping malls found in the neighborhood. The area is also offering different activities and places to visit, so you will easily find plenty of things to do in Pratunam.
Baiyoke Tower II Observatory and Revolving Roof deck: On the 77th floor, there is the observation deck from which you can also get to the revolving viewpoint on the 84th floor offering an incredibly beautiful panoramic view of the city.
>> Baiyoke Sky Hotel 78th Floor Bangkok Sky Buffet with Observation Deck Admission
Pratunam Market: The most famous shopping spot in the area filled with stalls and small shops that are open from dawn till dusk and sell mainly fashion-related products, including clothes, fabrics, textiles and accessories for really good prices.
Platinum Fashion Mall: The largest wholesale and retail mall with several hundreds of small shops selling women's fashion clothes, accessories, souvenirs, luggage, and more. Bargaining here is also acceptable.
Indra Square: A wholesale and retail fashion shopping mall located in Pratunam area.
Krungthong Plaza: Both retail and wholesale shopping mall for plus size clothes at reasonable prices, located just opposite Platinum Mall.
Palladium Night Market: Small night market in Bangkok's Pratunam district, located just across the street from Pratunam Market, selling various options from clothes, leather goods, hand bags to accessories at reasonable rates
CentralWorld: Thailand's leading department store covering an area of ​​over 550,000 square meters of retail space, where you will find the most famous brands from all over the world. Central World is also holding various festivals such as the New Year's festival, Songkran Festival, Chinese New Year.
Phaya Thai Palace: The former palace of King Rama 6 with the most noticeable feature of it being the European-style. Now it is part of the army residence and hospital.
Suan Pakkad Palace: Collection of 8 traditional Thai houses surrounded by a tropical garden gives you an insight into the appreciation of art and gardening by members of the Royal family. There are also small lakes that will give you a retreat from Bangkok city life.
Bangkok Dolls Museum: A museum of Thai and International dolls collection, which was established in 1957 by Khunying Thongkorn Chanthawimol, who was a renowned doll maker trained in the Ozawa Doll School, in Tokyo. The museum also shows the process of making the dolls.
Thai Labour Museum: A museum from a collaboration between the Thai Labor Group and the Friedrich Ebert Foundation, Germany exhibits the evolution of Thai workers in various eras and the struggle for rights of Thai workers. The exhibition is divided into 7 rooms.
Victory Monument: A military monument, erected in June 1941 to commemorate the Thai victory in the Franco-Thai War, is located in the middle of a traffic circle at the intersection of Phahonyothin Road, Ratchawithi Road and Phayathai Road. It is also a transport hub, where you can catch buses on major routes.
Let's Relax Spa Experience: A multi-awarded spa featuring wide varieties of massages with excellent service at a great price, conveniently located inside the modern Berkeley Hotel Pratunam.
Transportation in Pratunam Area
Pratunam area is easily reachable by public transportation. It is a perfect base for getting around the city and even going to the airport.
Pratunam can be reached by BTS SkyTrain as Ratchathewi, Phaya Thai and Victory Monument BTS stations are located in the area. Phaya Thai BTS station is connected with same named Airport Rail Link station from which you can reach Suvarnabhumi Airport in around 30 minutes. Airport Link Ratchaprarop Station is also located in the area.
In the neighborhood you can also find Pratunam Pier, where you can get on Saen Saep Express Boat and travel to the old town of Bangkok to visit the historic tourist attractions within a few minutes.
To make your travel experience more efficient, book BTS Skytrain One Day Pass in advance for unlimited travel on BTS SkyTrain during a single day and avoid the long queues at ticket machines.
How to get from Suvarnabhumi Airport to Pratunam
By Train: Airport Rail Link train connects the airport with Ratchaprarop Station, which is located in Pratunam area. This is the fastest and the most economical way to travel, allowing you to avoid traffic jams.
By Private Transfer: Enjoy a premium and hassle-free experience going from Suvarnabhumi Airport (BKK) to Pratunam area with VIP transfer service. All-inclusive price includes a luxurious ride with comfortable seating and ample luggage space.
By Taxi: Taxi ride from Suvarnabhumi Airport to Pratunam area takes approximately 40 minutes to 1 hour, depending on traffic conditions. The price should be approximately 250-300 THB plus an additional 50 THB airport fee.
More options for traveling to Pratunam from Suvarnabhumi Airport (BKK) can be found here: How to get from Suvarnabhumi Airport to Pratunam.
---
Explore Bangkok right away by booking Bangkok Airport luggage delivery to send your luggage from the airport to your accommodation within the city.
---
How to get from Don Mueang Airport to Pratunam
By Bus: Direct bus A3 is running from Don Mueang Airport and arrives in Pratunam area on the opposite side of Indra Square within 30 minutes.
By Taxi: Taxi ride from Don Mueang Airport to Pratunam area takes approximately 30-45 minutes, depending on traffic. The price should be approximately 150-200 THB plus an additional 50 THB airport fee.
More options for traveling to Pratunam from Don Mueang Airport (DMK) can be found here: How to get from Don Mueang Airport to Pratunam.
Places to Stay in Pratunam Area
Pratunam area has a great choice of accommodations, from luxury 5-star hotels to budget guesthouses. In this area it's pretty easy to find a hotel you like at a price that suits you. Keep in mind that the best deals here are offered when hotels are booked well in advance.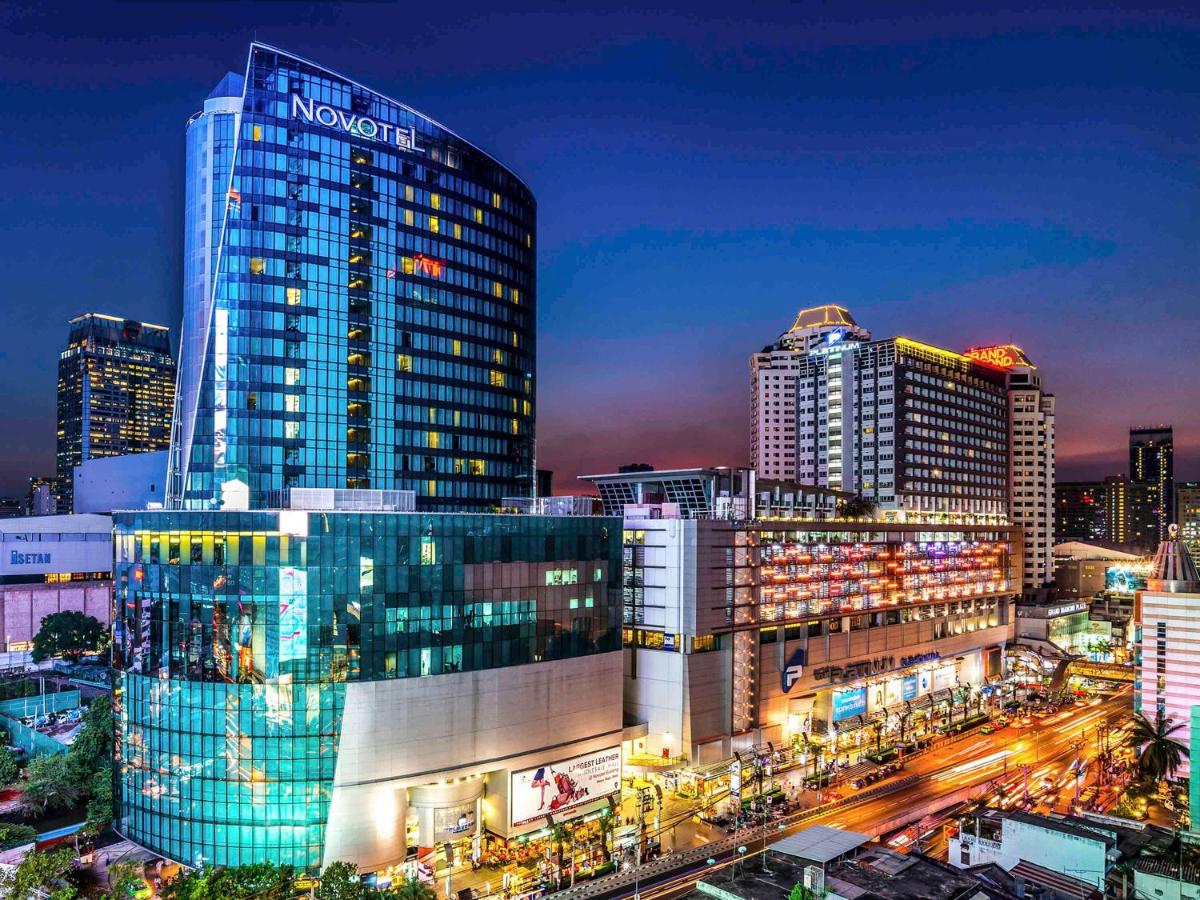 Budget-Friendly Hotels in Pratunam
4M Pratunam Hotel: Affordable 3-star hotel for travelers who only want to spend the night in Pratunam area. The hotel is located within a walking distance to the Platinum shopping area and BTS station.
Siam Star Hotel: Budget hotel in a quiet laneway just 200 meters from Ratchaprarop Airport Rail Link Station offers simple modern design rooms and easy access to Pratunam.
Pratunam 19 Hotel: Cheap hotel located in Pratunam Market area with lots of food and shopping around. The rooms are greatly furnished, with comfortable beds.
Pinto Hostel Bangkok: A cozy little hostel renovated from a 4-story shop house. With only 3 rooms, hostel is more like a big family house, where everyone feels at home. Conveniently located in the heart of Bangkok, it is only 4 minutes' walk form BTS Ratchathewi and 8 minutes' walk from Phaya Thai Airport Link.
Mid-Range Hotels in Pratunam
Centre Point Pratunam: 4-star hotel conveniently situated near Pratunam Market right across from Platinum Fashion Mall and Pantip IT Plaza. A wide variety of restaurants are available within walking distance from the hotel. Hotel has a fully-equipped fitness center, in-room internet services, salt swimming pool, jacuzzi, sauna, reading room, entertainment room and children playground.
Lemontea Hotel: Well-rated hotel, conveniently located in the middle of Pratunam Fashion Market. The concept of staying here is much alike drinking a glass of lemon tea: "Casual, Easy, and Fresh".
Century Park Hotel: An elegant 4-star hotel located in the Victory Monument area. The 380 bright and elegant guest rooms and its lush garden with stunning views over the city, make this hotel one of the best accommodation options for both business executives and families.
Spenza Hotel: A boutique hotel with an excellent location for shoppers as it is right in Pratunam Shopping Market within a 10-minute walk from Ratchaprarop Airport Rail Link Station. The hotel offers new facilities with a modern design and a hint of Thai touch service.
Luxury Hotels in Pratunam
Amari Watergate Bangkok: 5-star luxury hotel across the street from Platinum Fashion Mall. Hotel offers modern Thai accommodation, private lounge privileges for Club rooms and suites, work space, free-form swimming pool, Breeze Spa, FIT Centre.
VIE Hotel Bangkok, MGallery: Award-winning 5-star hotel just steps away from BTS SkyTrain Ratchathewi station, offering luxurious and elegantly decorated spacious rooms with floor-to-ceiling windows overlooking the cityscape. There is French restaurant, pool bar, rooftop pool, indoor pool and gym, as well as sauna.
Novotel Bangkok Platinum Pratunam: 4-star hotel offers convenience for any traveler with 288 well-designed rooms, modern amenities, a kid's club, infinity swimming pool, fitness center, two bars and two restaurants. The hotel is located right on top of the popular Platinum Fashion Mall.
Centara Watergate Pavillion Hotel Bangkok: A trendy 4-star Pratunam hotel offering great shopping and rooftop dining experiences in the heart of Bangkok. This stylish hotel features 281 sleek rooms and suites, each designed with striking white decor and tasteful touches of color.
Tips for a stay in Pratunam
If you want to stay in the area which is easily accessible by public transport and cheap shopping is part of your trip, Pratunam area is a good choice for staying in Bangkok.
Pratunam area is also connected with the main tourist attractions in Siam by Skywalk, so you can go to some of the most popular shopping spots in the city, including Central World Shopping Centre, Siam Paragon, Siam Centre, and Siam Square within a few minutes' walk.
With a good number of budget accommodations and hostels, Pratunam area could be an alternative stay for those of you who don't like party and the crowds of Khao San Road.
As it is the central area, traffic conditions in Pratunam area can be heavy, meaning that a 15-minute trip can turn to be 1-hour long journey. However, the area is very well connected with public transport so Airport Rail Link or BTS Skytrain should be your preferred choice if you are not willing to waste your time in traffic jams.
Stay connect with your loved ones during a stay in Thailand by getting the Tourist SIM Card, which is offering generous data with affordable packages.
Popular Day Tours from Bangkok
Bangkok Day Tour: Visit the stunning Grand Palace and Emerald Buddha Temple (Wat Phra Kaew), Wat Phra Chetuphon Vimolmangklaram (Wat Pho) and cross the river on a ferry boat and stop by Wat Arun (Temple of Dawn).
Ayutthaya Day Tour: Admire Thailand's history and cultural heritage and explore the Bang Pa-In Summer Palace, roam markets, and discover some of Thailand's most charming temples in Ayutthaya.
Floating Markets Day Tour: Take a tour to the famous Damnoen Saduak Floating Market, ride long-tail boats down Amphawa Floating Market's river and watch a train passing through the middle of a bustling market at the Maeklong Railway Market.
Kanchanaburi Highlights Day Tour: Travel back in time and recapture Kanchanaburi's triumphs and tragedies on the River Kwai Bridge and discover WW2 landmarks including the Death Railway.
Other Bangkok Areas
Planning a trip to Thailand and wondering where to stay in Bangkok? To make your visit in the capital city easier, find the guide to the best Bangkok areas and choose accommodation according to your preferences and trip plan.
Detailed guides to other popular Bangkok areas:
Bangkok Old Town - Rattanakosin