If you like seeing animals, Bangkok gives you opportunities to see elephants, tigers, crocodiles, snakes and even sharks. In Bangkok you can find a traditional Dusit Zoo, aquariums of SEA LIFE Bangkok Ocean World, interactive zoo Safari World, the largest in the world Samut Prakan Crocodile Farm and snake shows at Snake Farm.
SEA LIFE Bangkok Ocean World
SEA LIFE Bangkok Ocean World is the largest aquarium in Southeast Asia. Here you can find over 400 sea species and 30,000 fish on display. It's a perfect place for families to spend a few hours without feeling bored in Bangkok. It's possible to walk in an acrylic tunnel or ride a glass-bottom boat through the main tank, experience movies at 4D Cinema, feed lovely penguins, otters, water rats and even sharks, if feeling brave enough to dive with them.
Book your SEA LIFE Bangkok Ocean World tickets online and get a significant discount.
Safari World
Safari World in Bangkok is a perfect place to spend a day in the wild while staying at the bustling Thai capital. In Safari World you can meet exotic animals like lions, giraffes and ostriches. There's also a Marine Park where you can see your favourite sea animals during 8 spectacular shows. If animal sightings are not enough, there's the live Hollywood Cowboy Stunt Show with gunfights, bullwhips and horseplay at Safari World, as well as a refreshing water flume ride in the jungle which is perfect on a hot, sunny day.
Book your Safari World tickets online and visit this interactive zoo much cheaper.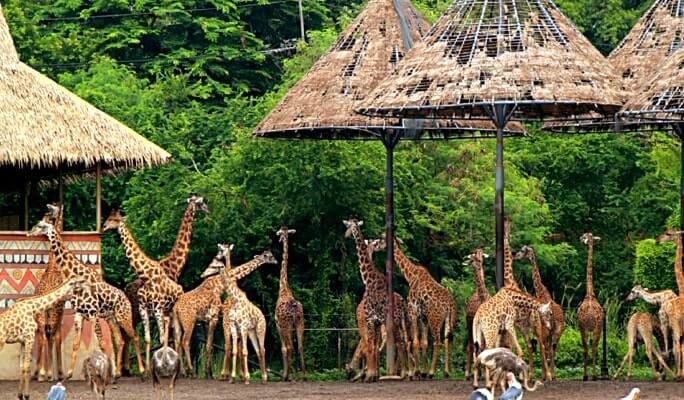 Samut Prakan Crocodile Farm and Zoo
Samut Prakan Crocodile Farm is the world's largest crocodile farm located in Samut Prakan near Bangkok. It's also the first crocodile farm opened in Thailand. You can find over 60,000 crocodiles of different kinds in the crocodile farm. There are also daily shows with crocodiles, featuring catching them bare-handed and putting hands or heads into their jaws. You can also feed crocodiles, visit a Dinosaur Museum or just walk around the Zoo and see other animals such as tigers, chimpanzees, gibbons, turtles, pythons, camels, hippopotamuses and various birds.
Dusit Zoo
Dusit Zoo in Bangkok is the oldest and the most popular zoo in Thailand. Dusit Zoo contains over 1600 species of animals, including monkeys, crocodiles, kangaroos, zebras, penguins, elephants, camels, giraffes and others. There are rides on sightseeing train, peddling on boat and amusement facilities offered to entertain all family while exploring this animal park throughout the day. Dusit Zoo also features an animal hospital, zoo museum and educational centre. 
UPDATE! Dusit Zoo is permanently closed!
Snake Farm
Snake Farm is part of Queen Saovabha Memorial Institute in Bangkok. Snake Farm isn't really a farm but a facility dedicated to researches related to snakes. They have a real snake exhibition and various interesting activities such as Venom extraction and Snake handling show.
Where to Stay in Bangkok
You should choose Hotel in Sukhumvit area if you want to stay in central location which is well connected with all these zoos, animal parks and aquarium by public transportation. There are plenty of other attractions, restaurants, shopping malls and entertainment spots in the area. Find your place to stay in Sukhumvit area here: Hotels in Sukhumvit.
For more places to stay in Bangkok check Hotels in Bangkok on Booking.com or  Hotels in Bangkok on Agoda.com.