Koh Phangan is one of the most popular backpacker destinations in Thailand, located in the Gulf of Thailand, close to Koh Samui and Koh Tao. If you are planning to travel there, check our ultimate guide to Koh Phangan Island that will help you prepare for a perfect vacation on this spectacular tropical island.
Koh Phangan is known for the legendary full moon parties that attract tens of thousands of travelers but the island offers so much more. Koh Phangan has everything you would expect from a tropical island with white sand beaches, fantastic blue sea, and coral reefs. It is definitely worth a visit!
This Koh Phangan travel guide presents detailed information about transportation, best things to see and do, places to stay, best viewpoints and much more.
Koh Phangan Attractions
Previously, only backpackers visited this island, but Koh Phangan offers much more than just a bustling party scene and today the tourists arriving here are of a much more varied nature. You can discover wide choice of fun things to do in Koh Phangan.
Koh Phangan Beaches
Koh Phangan has the advantage of long coastline with countless white sand beaches lined with tall palm trees and crystal-clear waters. Some of these beaches represent an authentic corner of tropical paradise.
In the south of the island, you will find the famous Haad Rin Beach where the notorious Full Moon Party takes place. Not far from there is Haad Yuan, an absolute dream beach. The so-called Leela Beach is probably one of the whitest and finest beaches on the island. The north, with the exception of the beach at Chaloklum, is wild and some beaches such as Malibu Beach and Bottle Beach can be reach only by boat. The east coast of Koh Phangan is still very pristine, especially two bays of Thong Nai Pan Beach. They are quite far away, but it is worth going there for sunbathing and swimming. Another great place to visit is Haad Sadet, where you will find many luxurious accommodations. If you are looking for absolute calm, you will be in the right place. The west of Koh Phangan has beautiful, easily accessible beaches, from where you can watch the sunset. Haad Salad is particularly recommendable, with its palm tree jutting out into the water. Another beach gem is Secret Beach, which is home to one of the coolest bars on the island.
Discover the best beaches on the island in this detailed article: Koh Phangan Beaches.
Koh Phangan Viewpoints
Due to the many mountains and hills, Koh Phangan is full of spectacular viewpoints and scenic spots where you can witness the sunsets.
Amsterdam Bar is the most popular place for drinking and relaxing with two floors and a swimming pool. Three Sixty Bar is a unique hilltop bar with 360-degree views all around. With a cool drink you have a breathtaking view of the sea and the island of Koh Ma. Other spectacular viewpoints are the Thong Nai Pan Viewpoint and the Haad Son Viewpoint on the west coast at Secret Beach.
The best viewpoints on the island are listed here: Koh Phangan Viewpoints.
Koh Phangan Temples
There are more than 20 temples scattered around Koh Phangan.
The oldest of them is Wat Phu Khao Noi, in the southwest. This temple is located on top of a hill, offering nice views of the area. Wat Pho Temple, located in the southwest of the island, is a wonderful oasis of calm. Those who come here must definitely have a massage. The Chinese Temple, which can be found on the northwestern part of Koh Phangan, is the most popular temple for tourists. The temple is located in high mountains, south of the village and the beach of Chaloklum.
The most interesting temples on the island can be found in the list of the top temples on Koh Phangan and you should definitely add some of them to your Koh Phangan must-visit list for a nice cultural change from beach life.
Diving and snorkeling around Koh Phangan
There are numerous snorkeling and diving opportunities on Koh Phangan, even if the dive sites are not as specular as those of the neighboring island Koh Tao.
The island of Koh Ma, which is connected to Koh Phangan by a sand strip, is worthwhile for those who like to snorkel. There are a lot of corals and quite large amounts of fish in the area.
Those who want to get an international diving certificate, there are several diving schools in the areas around Haad Rin, Haad Yao, Chaloklum and Thong Sala.
Other Koh Phangan activities
Koh Phangan has plenty of other attractions and activities on offer. You can also take Muay Thai lessons or yoga teaching course on the island, as well as hike to the top of Khao Ra, the highest mountain in Koh Phangan, offering the great natural beauty.
You can discover more of activities on the island here: best things to do in Koh Phangan. It will be handy when planning your holiday on this paradise island.
Full Moon Party and Nightlife in Koh Phangan
In contrast to many other islands, you will find a pretty vibrant nightlife on Koh Phangan. Koh Phangan has become synonymous with the party scene because of Full Moon Party. The party started in the mid-80s, when travelers gathered to drink, dance and party under a full moon. At the Full Moon parties, thousands of partygoers celebrate with buckets filled with liquor and dance along with International DJs on Haad Rin Beach until the morning.
Read more about Full Moon Party and find dates on which the party takes place.
However, the nightlife in Koh Phangan does not mean only the famous Full Moon Party, because it only takes place once a month. In addition to the Full Moon Party, many other parties and events are organized on the island, including the Waterfall Party right in the jungle of Koh Phangan, the Eden Party on the dream Haad Yuan, and much more.
Where to Stay in Koh Phangan
Whether you are traveling for relaxing, exploring or experiencing, there are many types of accommodation in Koh Phangan for you to choose from. The approximately three hundred hotels and resorts generally have more space here than on Koh Samui, and life is cheaper there.
Best area to stay in Koh Phangan
If you come to Koh Phangan for parties, Haad Rin is the place to be. The area has many cheap hostels, bars and restaurants. To make things easier, check the selection of the best hotels near Full Moon Party.
Although most travelers stay in the far south of Koh Phangan, if you prefer the quieter side of Koh Phangan, we recommend staying on the west coast. It is not only quieter here, also the beaches are more beautiful.
To help you find the perfect accommodation on the island, we have prepared a guide to the best places to stay in Koh Phangan, where you will also find our hotel recommendations for individual beaches and bay areas.
Koh Phangan accommodation
On Koh Phangan, there are surprisingly many good hotels and resorts, and you can really expect value for money. Some of the best rated accommodations in Koh Phangan are listed below.
Budget accommodation:
Those who are traveling on a budget, can find more hostels, guesthouses, beach huts or even affordable resorts here: Best Cheap Hotels in Koh Phangan (under 30$)
Mid-range hotels:
Luxury resorts:
Anantara Rasananda Koh Phangan Villas
Santhiya Koh Phangan Resort and Spa
We have collected the most popular luxury resorts and hotels that are providing the best service on the island here: Best Luxury Hotels in Koh Phangan.
Hotel Booking
In the high season and during Full Moon Party many accommodations on Koh Phangan are fully booked. Many hotels and guesthouses also require a minimum stay of 3 or 4 days during these days. Therefore, you should definitely book your hotel well in advance. If you are coming in a period other than full moon, finding a suitable accommodation should not be a problem.
You can click here to book your hotel - hotels in Koh Phangan. In most cases you can cancel free of charge up to 24 hours in advance, in case your plans change.
How to get to Koh Phangan
Koh Phangan does not have its own airport, so you will have to take a boat to reach this island. There are countless ways to get to Koh Phangan from any corner of the country. Below are listed the easiest ways to get to the island.
Getting to Koh Phangan from Bangkok
By Plane + Ferry
Taking a flight to Koh Samui is the most comfortable and fastest way to travel to Koh Phangan but also the most expensive. There are a number of daily flights from Bangkok to Koh Samui, from where you then have to take a ferry to Koh Phangan.
A much cheaper alternative is to fly to Surat Thani Airport or Chumphon Airport. Many flights to these airports are operated by low-cost airlines that are offering economical flights combined with ferry crossings to Koh Phangan. From Chumphon or Surat Thani, it takes about 2.5 hours by boat to Koh Phangan. Flights from Bangkok to the nearby airports can be booked here:
Flights from Bangkok to Surat Thani
Flights from Bangkok to Chumphon
By Bus + Ferry
If you would like to save some money, taking a bus might be the best option. However, we would recommend this option only if you have plenty of time. Buses to Koh Phangan depart from Southern Bus Terminal (Sai Tai Mai) and Khao San Road area in Bangkok. From there you usually drive overnight to a port in Chumphon or Surat Thani and then switch to a ferry that takes you to Koh Phangan. Buses are in most cases comfortable and well equipped.
You can book combo tickets for bus and ferry online here: Bus and Ferry from Bangkok to Koh Phangan.
By Train + Ferry
Another option is to take a train from Bangkok to Koh Phangan. The train journey starts at Aphiwat Railway Station in Bangkok and ends at Chumphon or Surat Thani Railway Station. The boat companies in Chumphon provide a free transfer between the train station and the pier, then you take the ferry to the island. The journey by train is quite long and often delayed so we are not recommending this option if you have a tight schedule.
More detailed information about traveling between Bangkok and Koh Phangan can be found here: How to get from Bangkok to Koh Phangan.
Getting to Koh Phangan from Koh Samui
Koh Phangan is located a few kilometers north of Koh Samui. If you are traveling to Koh Samui beforehand, you can easily transfer to Koh Phangan by ferry. There are 5 boats companies operating between these two islands with ferries from Koh Samui to Koh Phangan leaving almost every hour. The sailing time varies from 30 minutes to 1 hour 30 minutes, depending on the ferry you take. For the fastest crossing we recommend ferries of Lomprayah and Seatran Discovery. During Full Moon Party there are shuttle boats operating at night between Haad Rin and the northern beaches of Samui.
Ferry tickets can be booked here:
Lomprayah Ferry to Koh Phangan
Find more detailed information on How to get from Koh Samui to Koh Phangan (and vice versa).
Various transportation options for a trip to Koh Phangan can be found by using this search form.
How to get around Koh Phangan
By Motorbike
On Koh Phangan you have many ways to explore the island. The best way is to rent a motorbike and to tour around in complete freedom. The roads on Koh Phangan are good and the traffic is not chaotic. The route to Haad Than Sadet, through the mountains and jungle, is definitely recommended. The motorbike rental price is about 150-300 THB per day.
By Taxi
If you do not want to drive by yourself on Koh Phangan, you can take a songthaew on the road. These are a kind of shared taxis with two benches in the back. They run all over the island but are certainly not very cheap for longer distances. You can hail these taxis and indicate where you want to go, and you need immediately agree a price with them before boarding.
Shared taxi prices in Koh Phangan should be the following:
Thong Sala to Haad Rin 100 THB
Thong Sala to Baan Tai 100 THB
Thong Sala to Thong Nai Pan 300 THB
Thong Sala to Chalokum 150 THB
Thong Sala to Haad Yao 150 THB
Thong Sala to Haad Salad 200 THB
Thong Sala to Mea Haad 200 THB
Trips to remote places can cost more. At night trips by taxi are considerably more expensive. If you will be staying at the resort, they should normally offer shuttle services to Thong Sala or to the nearby beaches.
By Longtail Boat
Some beaches in Koh Phangan are accessible only by sea so you need to take a longtail boat for getting there. Organized boat tours to the beaches and surrounding islands are available all over Koh Phangan. It is possible to reach the east coast beaches such as Haad Yuan, Haad Thian, Haad Yao (East) with longtail boat from Haad Rin Nok. You can go to the famous Bottle Beach with longtails from Chaloklum. Fares are negotiable and depend on the number of passengers and the route. The price for a one-way trip from Chaloklum to Bottle Beach should cost around 100-150 THB per person.
By Tour
If you will be visiting Koh Phangan alone or in a small group, taking a tour to visit main sights on Koh Phangan and surrounding area is a worthwhile option to consider. Koh Phangan offers a full range of daily excursions around the island but three of them are especially recommended.
Ang Thong Marine National Park
You cannot leave Koh Phangan without making a trip to Ang Thong National Marine Park. There are 42 islands, largely uninhabited, to discover. A typical trip to the national park includes snorkeling, kayaking and hike to the top of the hill for views. You will spot one of the natural wonders surrounding Koh Phangan.
Koh Samui and Koh Tao
As Koh Phangan is located in a good position between the neighboring islands of Koh Samui and Koh Tao, many people also explore these two islands. In addition to ferry trips, you can visit the islands on half-day and full-day boat trips.
Koh Nang Yuan
Probably you've heard of Koh Nang Yuan and this island will be perfect for a half day or full day getaway. The island is located not far from the northwest coast of Koh Tao and is easily accessible on a trip by boat from Koh Phangan. In addition to the pristine beauty and clear water, the island is famous for wonderful viewpoint and is offering an ideal setting for snorkeling. During the day it can get crowded due to the many visitors from other islands, but it is possible to stay overnight in bungalows of Nangyuan Island Dive Resort.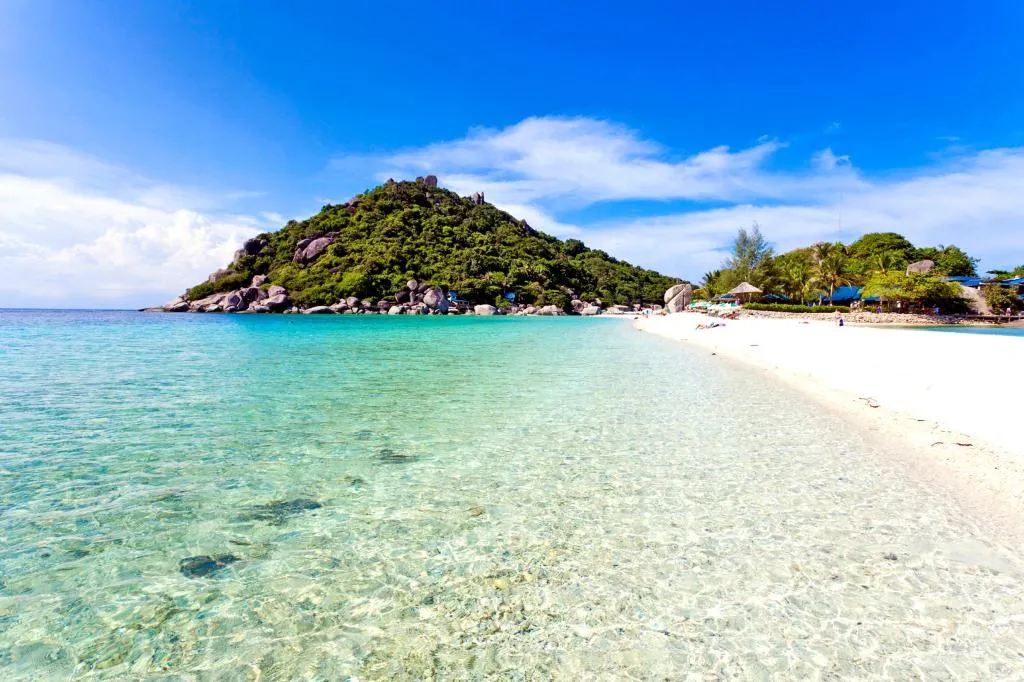 As you can see, from Koh Phangan you can take a number of great day trips. You will find tips for the best excursions and tours that will let you get the most out of your visit in this article: Top Koh Phangan Day Trips.
Food & Drinks in Koh Phangan
Besides the beautiful scenery, Koh Phangan also has a lot of delicious dishes that are waiting for you to discover in this tropical paradise. In almost all the beaches you will find beach bars with different options. Most bungalows and other accommodations also have small restaurants. If you want to eat local food, a good idea is to go to the small market which opens every night in Thong Sala. There are plenty of 7/11s all over the island, like in every corner of Thailand, and they are open 24 hours.
Shopping in Koh Phangan
Koh Phangan is not a shopping destination. There are no big shopping malls and markets on the island but you will find enough souvenir and jewelry shops, boutiques and supermarkets in larger tourist areas, especially Thong Sala, where the main pier is located. You can buy clothes, island souvenirs, handicrafts, paintings, swimwear, beach and snorkeling equipment, postcards there.
Every Saturday you can visit Walking Street on the main street of Thong Sala with all kinds of Thai delicacies and souvenirs being sold near the pier.
However, if you want to buy clothes such as shorts, t-shirts and sarongs or souvenirs cheaply, the selection is larger and prices are significantly lower in Bangkok or Koh Samui.
Best Time to Travel to Koh Phangan
Koh Phangan has a tropical climate and is hot and sunny all year round with occasional heavy rainfall during the monsoon season. The wettest months on the island are September and November so avoid them if you want to relax on the beach for a few days in a good weather. The temperature is pleasant all year round so, in general, you can visit this island at any time of the year, but the most beautiful is the dry season. Those who cannot tolerate the heat should avoid the months of April and May, because then it is very hot on Koh Phangan. The peak months of Koh Phangan are during the months of July and August, and between December and March. If you travel out of season, then it can be very quiet.
Next Destination after Koh Phangan?
Most people travelling to Koh Phangan continue their journey by visiting the neighboring islands of Koh Tao and Koh Samui. There are several boats operating daily between the islands. The three islands are all very different from each other and together they are a fantastic island-hopping destination in Thailand.
If you want to travel further, you can go to the beautiful Khao Sok National Park. There you will sleep in a bungalow above the water and discover the jungle. Of course, you can also fly from Surat Thani to the northern part of Thailand, destinations such as Chiang Mai, or back to Bangkok.