Koh Phi Phi is a small archipelago of six islands in Southern Thailand. Koh Phi Phi islands are widely considered to be amongst the most beautiful islands in the world. Koh Phi Phi are one of the most popular islands in Thailand especially after they came to fame worldwide after the Leonardo Di Caprio movie "The Beach" was filmed in Maya Bay.
Koh Phi Phi is one of the biggest tourist destinations in Thailand as it's a perfect tropical island with limestone cliffs, turquoise waters and white sand beaches. The main island is stunning, and the surrounding small islands and ocean are really spectacular, even if with its popularity some of the island's beauty and charm disappeared as it became overdeveloped. Despite overdevelopment and thousands of visitors coming here, Koh Phi Phi is still nice and many people love it, not only because of its beauty but of its laid-back atmosphere too.
The largest and only populated island of archipelago is Koh Phi Phi Don. This island undergone huge development and now numerous supermarkets, restaurants, dive centres and various options for accommodation can be found here. Koh Phi Phi Don has a very vibrant nightlife, making it a good choice if you are looking for an island to have fun.
Koh Phi Phi Leh and other smaller islands are uninhabited. They are a part of the National Park and can only be seen on tours. Koh Phi Phi Leh is the island where parts of the movie "The Beach" were filmed and its Maya Bay beach now gets plenty of tourists during daylight hours, making it a very crowded place. Other islands in Koh Phi Phi archipelago are Koh Mai Phai ('Bamboo Island'), Ko Yung ('Mosquito Island'), Bida Nok and Bida Nai.
Beaches in Koh Phi Phi
The central area of Koh Phi Phi Don is the busiest place in the island and hosts a wide choice of hotels, shops, restaurants and bars. This are is located between Tonsai Bay to the south and Loh Dalum Bay to the north. This area is a good choice for people who like busy and lively beaches and love to party.
Tonsai Bay
Tonsai Bay is the place where the ferry pier is situated and is the main arrival and departure hub for Koh Phi Phi Islands. It's a busy place with ferries coming and going, and various boats carrying tourists or goods. This boat traffic makes the water at Tonsai Bay quite polluted and the noise of the engines is not tempting at all.
Loh Dalum Bay
Loh Dalum Bay is located on the northern side of Tonsai Village and is one of the most beautiful beaches in Koh Phi Phi. The bay is almost entirely enclosed by limestone cliffs and boasts clear emerald waters and a white sandy beach. This beach can get very busy and is good for partying until the early hours.
Long Beach
Long Beach is at the eastern end of Tonsai Bay. This beach is only separated from the central area of the island by a rocky cape. There's a narrow jungle path which allows getting to Long Beach on foot. Long Beach is a quiet and not crowded beach offering great views over Koh Phi Phi Leh.
Laem Thong Beach
Located towards the north-eastern coast of Koh Phi Phi Don, Laem Thong Beach is beautiful, quiet and secluded. This 3 kilometre long beach can only be reached by long-tail boat and it takes roughly 45 minutes by long-tail boat from Tonsai Village. Laem Thong Beach features only a few resorts, bars and restaurants and small fishermen's village. The beach is a perfect place to spend a relaxing holiday and enjoy sunbathing or snorkelling on the reefs off the coast or nearby Mosquito and Bamboo Islands.
Attractions in Koh Phi Phi
Phi Phi Viewpoint
Koh Phi Phi Don is an unusually shaped island. The main village is built on 100 metres long flat strip of sand between the two bays and other parts of the island are mountainous and covered with jungle. Situated 186 m above sea level, Phi Phi Viewpoint is a perfect place to enjoy breath-taking panoramic views of the island. The best time to go there is at dawn or sunset.
Maya Bay
Maya Bay is the only beach of Koh Phi Phi Leh, the second largest island in Koh Phi Phi archipelago. Maya Bay is famous worldwide for the movie with Leonardo Di Caprio "The Beach" being filmed here. Here you can find a shallow bay surrounded by a ring of steep limestone hills, white sand powder and perfect for snorkelling clear crystal waters. Maya Bay is very beautiful but very crowded with tourists, especially in a high season.
Bamboo Island
Bamboo Island (Koh Mai Phai in Thai) is a small, flat island approximately 5 kilometres northeast off Koh Phi Phi Don. Bamboo Island is surrounded by a strip of white sand and is a perfect spot for a day trip, especially if you like snorkelling.
Monkey Bay
Monkey Bay (Ao Ling in Thai) is a small hidden cove which is popular spot to visit. Monkey Bay is situated northwest of Loh Dalam Bay and is home to a colony of crab-eating macaques. There's a nice beach to share with the monkeys as well as a superb coral reef not far from the beach. Monkey Bay can be easily reached by foot, by canoe or by chartered long-tail boat.
Things to do in Koh Phi Phi
Koh Phi Phi islands are famous not only for sunbathing on its picturesque beaches and having fun on its crazy parties. Koh Phi Phi islands are also known as one of the best places for snorkeling.
If you want to stay cheap and immerse yourself in nature, choose Phi Phi Snorkeling Tour by Longtail Boat.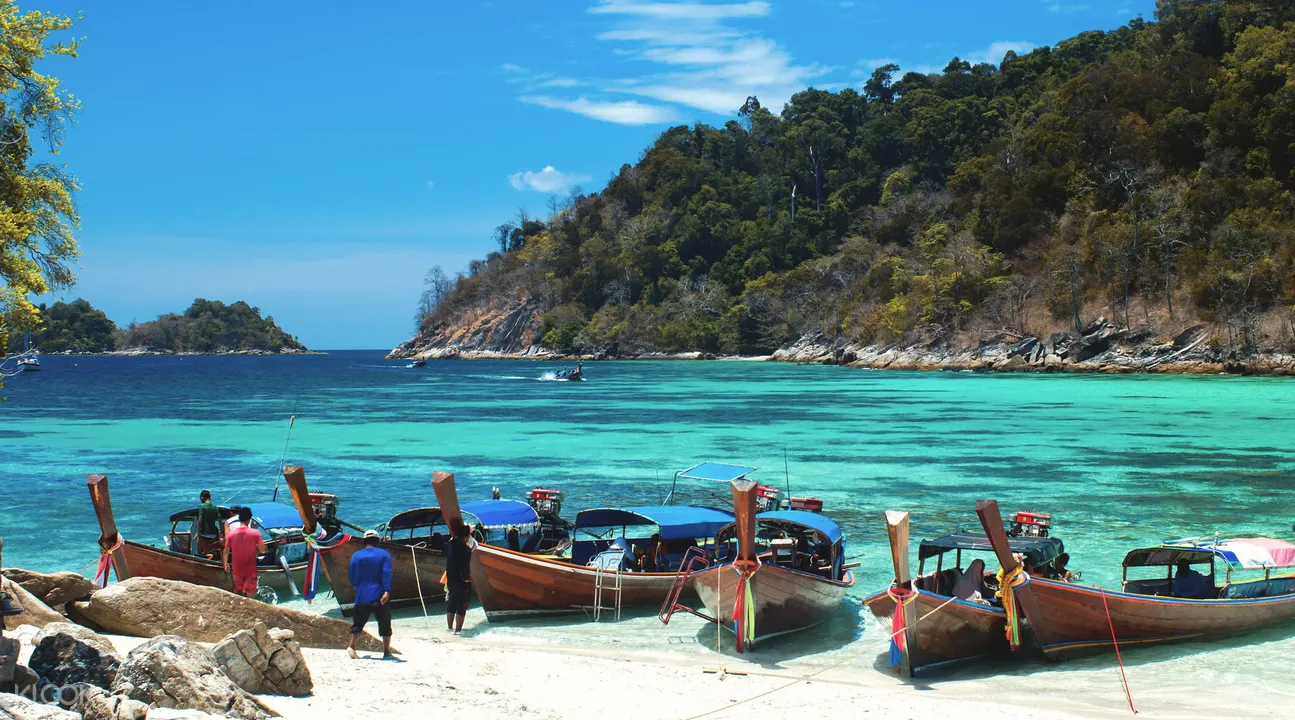 For time saving trip choose Phi Phi Snorkeling and Maya Bay Tour by Speedboat and visit up to 10 most famous sites of Koh Phi Phi.
Where to Stay in Koh Phi Phi
The only island you can overnight on Koh Phi Phi islands is Koh Phi Phi Don. If you want to party, you should stay in the central part of the island as it's the place where all the fun is going on. Otherwise, you can choose a place on a secluded Laem Thong Beach. For places to stay in Koh Phi Phi check Hotels in Koh Phi Phi on Booking.com or Hotels in Koh Phi Phi on Agoda.com.
How to get to Koh Phi Phi?
Ferries to Koh Phi Phi
You can get to Koh Phi Phi only by boat. There are more than enough ferries going to Koh Phi Phi from Phuket, Krabi and Koh Lanta. Ferry schedule can be found and tickets can be booked here:
Ferry from Phuket to Koh Phi Phi
Ferry from Krabi to Koh Phi Phi
Ferry from Koh Lanta to Koh Phi Phi
If you want to get from Phuket to Koh Phi Phi faster and more convenient, book speedboat trip with transfer to the pier. Tickets can be booked here: Speedboat from Phuket to Koh Phi Phi.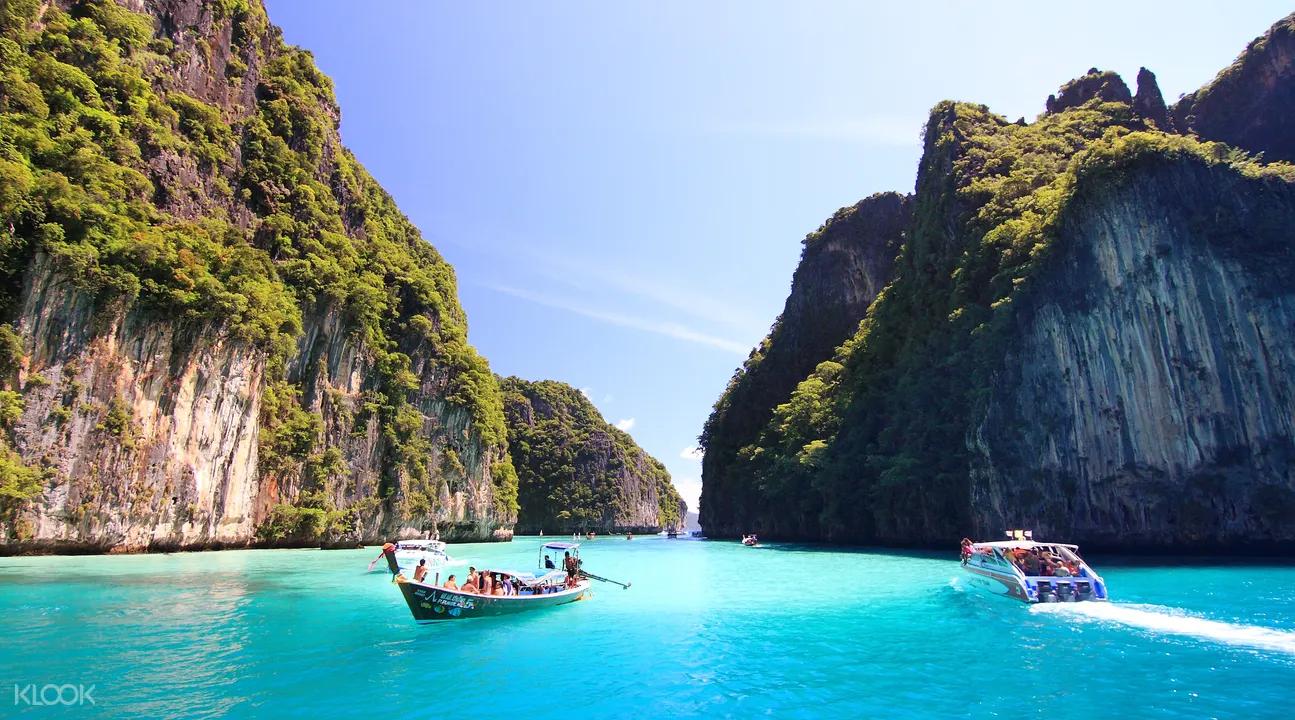 Buses to Koh Phi Phi
For reaching Koh Phi Phi, you need to take a bus to Phuket or Krabi. There are regular bus services from Bangkok Southern (Sai Tai Mai) Bus Terminal to both Krabi and Phuket. Bus schedule can be found and tickets can be booked here:
Flights to Koh Phi Phi
The nearest to Koh Phi Phi airports are Krabi International Airport (KBV) and Phuket International Airport (HKT). There are plenty of domestic and international flights serving these airports so you will never be short of options when combining your flight with a ferry trip to Koh Phi Phi. Flight tickets from Bangkok to these airports can be booked here:
Schedules & Tickets
Schedules and tickets of various ground and sea transportation options can be found by using this search form.
Weather in Koh Phi Phi
Koh Phi Phi has only two seasons - the wet and the dry. Weather conditions are at their best at Koh Phi Phi Islands from November to March, when a cooling wind keeps the heat at bay and humidity level is low here. From March to May the temperature rises as the cooling wind departs and the humidity rises.
In April monsoonal weather usually arrives, which is expected to last until October. Peak rainfall levels are usually experienced in September and October. Outside of these months, the rain can often come in a short, heavy shower, usually in the afternoon.
Koh Phi Phi has similar weather conditions with other West coast destinations throughout the year as they all experience the impact of the Andaman sea. Temperatures and weather conditions in these locations might differ a bit in short term but in long term it's not notable so you can easily combine a visit to Koh Phi Phi with other nearby destinations like Phuket or Krabi.
For the best time to visit Koh Phi Phi islands check our West coast of Southern Thailand weather ratings chart.
| Jan | Feb | Mar | Apr | May | Jun | Jul | Aug | Sep | Oct | Nov | Dec |
| --- | --- | --- | --- | --- | --- | --- | --- | --- | --- | --- | --- |
| ★★★★★ | ★★★★★ | ★★★★☆ | ★★★☆☆ | ★★★☆☆ | ★★★☆☆ | ★★★☆☆ | ★★☆☆☆ | ★★☆☆☆ | ★★☆☆☆ | ★★★☆☆ | ★★★★★ |
You are planning to continue your trip up north or to visit island on the East Coast after visiting Koh Phi Phi? Check when is the best time to visit Thailand's other destinations and choose destination with the best possible weather conditions.