Phu Quoc Island, also known as the Pearl Island, lies in the south-west of Vietnam in the Gulf of Thailand just 15 km off the coast of Cambodia. If you are planning your trip to Phu Quoc, check our ultimate guide to Phu Quoc Island that will help you prepare for a perfect vacation on this spectacular tropical island.
This Phu Quoc travel guide presents detailed information about transportation, best things to see and do, places to stay, best local food to try and much more.
Overview of Phu Quoc
Phu Quoc is gradually becoming one of the leading vacation destinations in Vietnam with many direct domestic and international flights and countless of resorts, hotels and other accommodation facilities.
Phu Quoc District of Kien Giang Province consists of 28 islands, most of which are uninhabited while some are planned for development as private resorts. The entire island district has a total area of 589.23 sq. km. Duong Dong Town, located in the northwest, is the capital of the island district. Phu Quoc is located 120 km from Rach Gia city and 45 km from Ha Tien town. To get to Phu Quoc Island by waterway, you need to take a ferry or speedboat from any of these 2 cities.
Phu Quoc Attractions
Phu Quoc offers an array of fun activities and attractions to its visitors coming from all over the world. You can discover fun things to do in Phu Quoc.
VinWonders Phu Quoc
VinWonders Phu Quoc is the largest and most modern amusement park, located on Long Beach. When visiting it, you can freely enjoy unlimited attractions. There is also a water park with unique water slide games such as Tsunami slide, Hill slide, and Body Slide. You can book your VinWonders Phu Quoc Ticket to discover indoor and outdoor activities around the park, plus an exciting Water Park with dolphin shows and more.
Vinpearl Safari Phu Quoc
Animal lovers and adventure seekers will have a blast of a time at Vinpearl Safari Phu Quoc, Vietnam's first and only open zoo with an area of about 380 hectares. Vinpearl Safari gathered about 2,000 individual animals, representing 140 rare and precious animal species from around the world. Vinpearl Safari Phu Quoc is divided into two main areas: wildlife park, open zoo. You can immerse yourself in the natural wildlife of the animal kingdom, and get the chance to eat with elephants at the Elephant House, or feed some majestic giraffe at the Giraffe Restaurant by booking Vinpearl Safari Phu Quoc Ticket.
Sunworld Hon Thom Cable Car
Hon Thom Cable Car belong to Sunworld Hon Thom Nature Park which is the entertainment complex bringing an exciting experience in Phu Quoc. In fact, this amusement park consists of two main areas: Hon Thom Cable Car and Aquatopia Water Park on Hon Thom Island. Hon Thom Cable Car is the world's longest 3-wire cable car connecting An Thoi area on Phu Quoc Island and Hon Thom Island. Aquatopia Water Park is another highlight of southern Phu Quoc where you can enjoy over 20 modern water attractions in 6 themed zones.
You can book Sunworld Hon Thom Nature Park Admission Ticket to experience the world's longest sea-crossing cable car system and enjoy the stunning beauty of the island from above as well as participate in the fun-filled activities of Sun World Hon Thom.
Check the complete guide to admire stunning views from Hon Thom Cable Car, including things to see, how to get there, ticket price, and other tips.
Phu Quoc Night Market
Phu Quoc Night Market is a famous tourist spot in the heart of Duong Dong Town. The night market area has over 50 stalls stretching for about 500 m along both sides of Bach Dang Street where vendors are selling food, souvenirs, handicrafts, cosmetics, jewelry and Phu Quoc pearls. This is a good place to go at night as here you get an opportunity to enjoy delicious fresh seafood and local specialties of Phu Quoc, as well as to shop for local products and handicrafts. The market operates daily from 17:00 to 23:00 and is especially crowded on weekends.
See our Phu Quoc Night Market Guide to prepare for your visit to the place where you can see the rhythm of life of the island as well as shop for seafood and souvenirs.
Long Beach (Bai Dai)
Long Beach is set on the northwestern coast of Phu Quoc in Ganh Dau commune, just 45 minutes north of Phu Quoc International Airport. You can come here for a walk, to relax in the water or take part in leisure activities on the fine white sand and the cool blue ocean. The beach is also home to many high-class tourist resorts where you can consider staying:
Vinpearl Resort & Spa Phu Quoc
Truong Beach (Bai Truong)
Truong Beach is Phu Quoc's longest beach with a coastline of about 20 km. The starting point of the beach is from Dinh Cau port and it's stretching right to Bac An. The section along Tran Hung Dao Road spanning for about 5 km from Dinh Cau port to the south, is full of restaurants, hotels, resorts and entertaining zones for you to rest and relax. The beach attracts tourists with clear water, smooth golden sand under coconut tree shade and many interesting activities such as swimming, sunbathing, massage services along the beach, etc.
Some of the most popular resorts on Truong Beach:
Mercury Phu Quoc Resort & Villas
Salinda Resort Phu Quoc Island
Sao Beach (Bai Sao)
Sao Beach, also known as Star Beach, is located about 25 km south from the capital of Phu Quoc Island. With a crescent-shaped coastline, Sao Beach is one of the most beautiful beaches in Phu Quoc. You will love the clear blue water with sparkling pure white sand gleaming under the golden sunshine by the coconut grove. At Sao Beach, tourists can rent fishing boats to take them to small islands and discover the charming beauty of Phu Quoc with other activities such as fishing, squid fishing, and snorkeling. The area is also popular for hiking and cycling. You can stay at Phu Nam House - Resort which is located within a short distance from Sao Beach.
Phu Quoc is best known for its many beautiful beaches with soft white sand and crystal clear water. The complete guide to the top beaches on the island can be found here: Phu Quoc Best Beaches.
Ham Ninh Fishing Village
Ham Ninh Fishing Village is one of the most beautiful fishing villages in Phu Quoc. Ham Ninh is known as one of the oldest fishing villages on the island. This is the place where you will experience the daily life of local fishermen as well as enjoy fresh seafood caught by the fishing village people. Boiled crabs are especially recommended!
There is an affordable Hai Anh Guesthouse located in Ham Ninh area, only 300 m away from Ham Ninh Fishing Village.
Hon Mong Tay or Fingernail Island
Fingernail Island is located south of Phu Quoc. The island is a romantic spot with clear turquoise waters and pure white sand beaches under shady coconut trees. Fingernail Island retains its natural beauty as it was at the beginning, with no residents and no interference from convenient services from the mainland. This place is adores by nature lovers visiting Phu Quoc.
May Rut Island
May Rut Island is located south of Phu Quoc Island. May Rut is still quite pristine with sandy beaches stretching along the the clear blue water reflecting the coconut trees. In addition, the sea in Hon May Rut area has a very diverse ecosystem with more than 100 species of corals, 125 species of fish, 150 species of mollusks along with many other valuable marine species.
Phu Quoc 4 Islands
Probably you've heard of 4 Islands of Phu Quoc that are Fingernail Island, Dam Ngang Island, May Rut Island, and Pineapple Island. These islands are located close to the southern part of Phu Quoc Island. In addition to the pristine beauty and clear water, these islands are famous for their wonderful underwater world beneath, especially Dam Ngang Island. To get to these stunning island, you can cross the clear seas of Phu Quoc by joining Phu Quoc Islands Day Tour.
Other Phu Quoc Attractions
Phu Quoc has many beaches and plenty of other attractions. You can discover more of tourist attractions in Phu Quoc with detailed information and updated ticket prices here: Top Tourist Attractions in Phu Quoc. It will be handy when planning your holiday on the Pearl Island.
Phu Quoc Nightlife
The nightlife in Phu Quoc is unique and very different from party cities in Vietnam. Phu Quoc Night Market is the main place to go on the island at night. After the sun sets, you can also find a handful of cool bars on the beaches of Phu Quoc. Let's find out more what you can do and what places to visit in Phu Quoc at night.
Where to Stay in Phu Quoc
Whether you are traveling for relaxing, exploring or experiencing, there are many types of accommodation for you to choose for your trip to discover this ideal holiday island in Vietnam.
Wondering where to stay on Phu Quoc? Those who focus on the convenience and relaxation can choose to stay at a tourist street along Tran Hung Dao Street with plentiful hotels and resorts located not far from one of the most beautiful beaches on the island. If you want to stay in a peaceful location, check for the resort on Bai Dai beach or Sao Beach, that are a little bit out from the center of Duong Dong. Read our guide to Phu Quoc Best Areas and the best hotels on the island to save your time and easily find the place to fully enjoy your holiday.
Budget Accommodations
The Vibe House - Chillout Hostel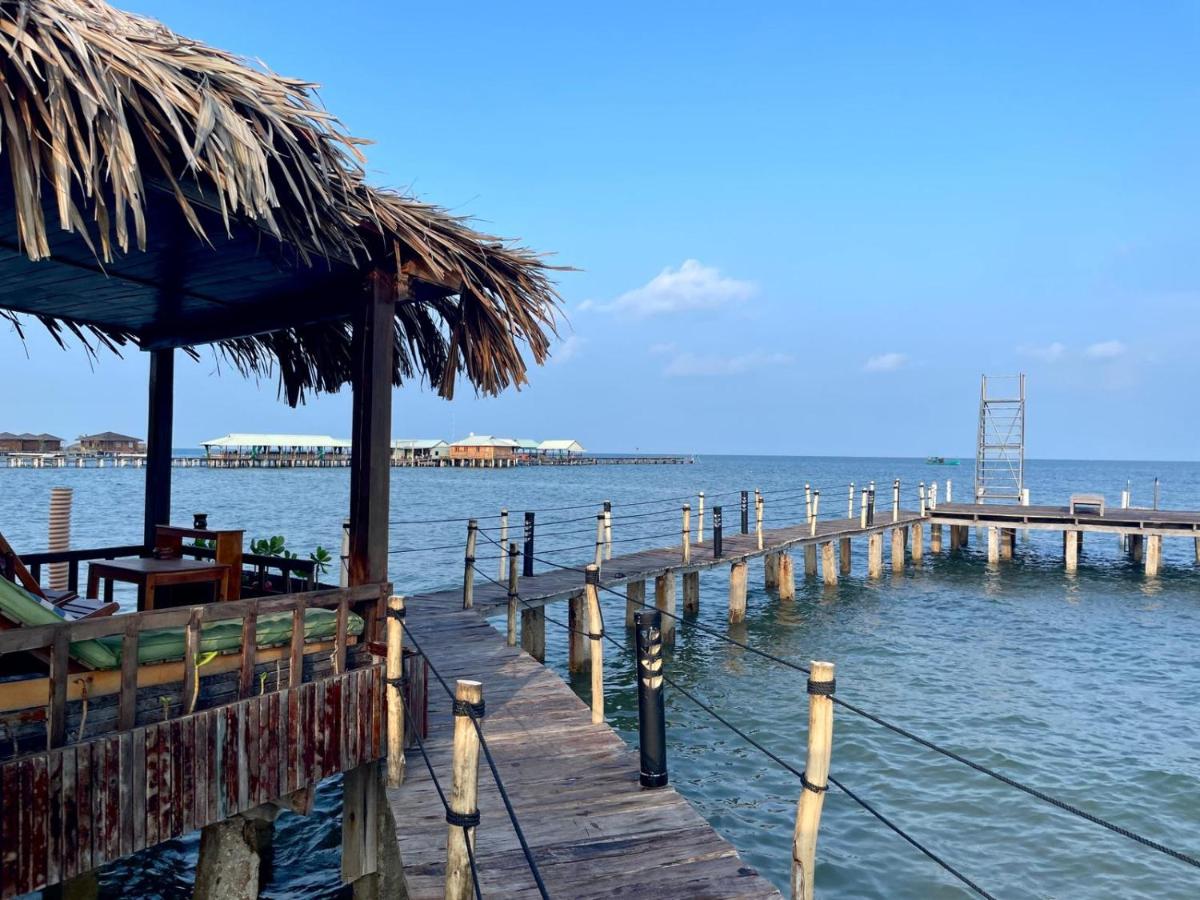 Mid-Range Hotels
Luxury Resorts
JW Marriott Phu Quoc Emerald Bay Resort & Spa
Salinda Resort Phu Quoc Island
Chen Sea Resort & Spa Phu Quoc
Beautiful luxurious beachfront resorts in Phu Quoc are numerous as on the island you can find Vietnam's leading luxury hotel chains such as Vinpearl, Novotel, and Muong Thanh. If you are looking for a luxurious experience where you can just mingle sunshine, blue sea with 5-star service and your trip budget allows you, consider staying at one of the best luxury resorts in Phu Quoc.
An affordable hotel in Phu Quoc we have stayed at: Ori Hotel Review.
This is one of the hotels we've stayed at. In terms of room quality, location and the service of the hotel itself, this place was really good value for money.
How to get to Phu Quoc
Phu Quoc is an island located not too far from the mainland and is a major tourist center of Vietnam so getting to Phu Quoc is pretty easy.
By Airplane
Taking a flight is the most convenient way to travel to Phu Quoc. The island reveives many international flights from destinations such as Kuala Lumpur, Seoul, Bangkok, Guangzhou, Shenzhen, etc. There are also many seasonal charter flights from other cities such as Kunming, Milan, Moscow, London, Copenhagen, Helsinki, Oslo, Stockholm, etc.
Really good deals for flights to Phu Quoc can be found on Trip.com and Kiwi.com. We would recommend checking both flight search systems and compare prices as for different flights any of them can offer better price.
Airlines, currently operating domestic routes to the Pearl Island, include Vietnam Airlines, VietJet Air, Jetstar Pacific Airlines and Bamboo Airways.
Direct domestic flights to Phu Quoc:
As Phu Quoc is a popular destination in Vietnam, the airfares are relatively low. If you will plan in advance, you can hunt for a ticket deal. However, flight ticket prices can vary depending on the season and normally increase on holidays, during New Year and in summer.
The detailed guide for traveling from Phu Quoc Airport to your accommodation can be found here: How to Get from Phu Quoc Airport (PQC) to Hotel.
When traveling from Hanoi or other central or northern province, flying is the only reasonable way for getting to Phu Quoc.
If you are heading there from Saigon or other southwestern provinces, you can choose another option and travel to Phu Quoc by taking a bus and boat.
By Boat
Traveling to Phu Quoc by boat can save you travel expenses, although it is somewhat inconvenient. You can only reach Phu Quoc from Ha Tien Pier or Rach Gia Pier. The distance from Ha Tien to Phu Quoc is about 45 km and it takes about 1 hour and 20 minutes to reach the island. If you choose to travel from Rach Gia, it can take about 2.5-3 hours to reach Phu Quoc as the distance between these locations is 120 km.
Currently, there are many companies offering ferry or speedboat service for transporting passengers to Phu Quoc and vice versa, such as Superdong, Phu Quoc Express and Ngoc Thanh. Superdong is the most popular ferry and is chosen by many passengers.
Be noted that if you want to bring your own car or motorbike, you need to transfer by ferry from Ha Tien. The port of arrival in Phu Quoc will be Ham Ninh or Da Chong.
The speedboats and ferries from Ha Tien or Rach Gia to Phu Quoc usually depart from 8:30 to 13:30. Therefore, if you will arrive late in Ha Tien or Rach Gia, you should find accommodation to stay overnight and then leave to the island in the next morning.
The ferry schedule is based on weather conditions of the Kien Giang Sea area so the schedule of ferry departures can be changed without notices.
If you will be travelling from Saigon, you can read our detailed guide How to get from Ho Chi Minh City to Phu Quoc Island.
Transportation within Phu Quoc
Just like the mainland, Phu Quoc Island is currently using many basic means of transportation to travel around the island on roads and waterways.
By Taxi
Taxi is an appropriate option for short distance traveling in groups. Currently, there are many active taxi companies on the island such as Vinasun Phu Quoc Taxi, Taxi Mai Linh Phu Quoc, Saigon Phu Quoc Taxi, Taxi Sasco Phu Quoc and Taxi Phu Quoc. However, taxi fares here are a little higher than on the mainland.
By Motorbike
If you are travelling alone or as an adventurous couple and want to travel freely not depending on anyone, you should rent a motorbike. The motorbike rental service here is relatively developed, with all kinds of vehicles for you to choose from. The price of renting a motorbike in Phu Quoc is slightly higher than at the tourist destinations on the mainland, and ranges from 150,000 VND to 200,000 VND for motorbike per day.
By Bus
Bus is also a popular mean of transportation on the island. However, bus routes and frequency are very limited in Phu Quoc.
The most popular shuttle bus route is from Duong Dong town area to VinWonders Phu Quoc and Vinpearl Safari. It departs every 30 minutes, from 8:30 to 21:40.
By Waterways (ships, boats, canoes)
Waterway transport also plays an important role in Phu Quoc, especially in tourism. This mean of transportation is suitable for touring around Phu Quoc Island or An Thoi archipelago.
By Private Car Charter
Private Car Charter is a perfect way to travel comfortably around the island. When chartering a private car, you don't need to worry about transportation and have more time for exploring all the attractions around Phu Quoc. Pre-booked Private Car Charter can be significantly cheaper than taking a random taxi every time you want to travel between attractions.
By Tour
If you are visiting Phu Quoc alone or in a small group, taking a tour to visit main sights around Phu Quoc is a worthwhile option to consider. Phu Quoc offers a full range of daily excursions around the island. Some of the most popular tours can be found here:
3 Islands Day Tour in Phu Quoc: This is an exciting day tour around three of Phu Quoc's finest islands by cruise.
Snorkeling And Fishing To The South Of Phu Quoc: You will spend a fun eventful day on a boat cruise from relaxing at the beach to fishing, snorkeling and admiring local pearls with this tour.
Sunset and Squid BBQ Boat Trip: This is the 4-hour trip to discover the life of local fishermen on Phu Quoc Island, watch the sunset from a boat, catch squids at night and enjoy a delicious barbecue on board.
Best Time to Travel to Phu Quoc
The climate of Phu Quoc Island is a tropical monsoon climate with two distinct seasons, rainy and dry. You can go to Phu Quoc at any time of the year, but if you do not want to be uncomfortable with the persistent rains, you should consider avoid the rainy season.
Dry Season (November - April)
The best time to visit Phu Quoc is in the dry season. The weather in Phu Quoc is beautiful. There will be little weather change, low humidity, smooth waves, that are extremely suitable for traveling, exploring, and taking pictures. You can watch the beautiful sunrise and sunset. Restaurants, resorts, hotels and tours are operating normally. This is also the season when the number of foreign visitors, mainly Russian and Chinese tourists, is extremely high so flights and accommodations are more expensive. Therefore, you should book flights and hotel reservations in advance, if you choose to travel at this time of the year.
Rainy Season (May - October)
In the rainy season, Phu Quoc gets lots of rain, sometimes with storms, especially from August to October. It can easily be uncomfortable for travelling. The number of tourists coming here greatly reduces so service prices are normally lower.
What to Eat in Phu Quoc
Besides the beautiful scenery, Phu Quoc also has a lot of delicious and famous dishes that are waiting for you to discover in this tropical paradise. When coming to Phu Quoc, you definitely have to try the following dishes.
Ham Ninh Crab: Crabs are a specialty of Phu Quoc. To eat the best crabs, you must come to Ham Ninh Fishing Village, ancient fishing village on the coast of Phu Quoc that has long been famous for seafood. Ham Ninh crab is quite small, but the meat is firm, very fragrant, and sweeter than other types of crab. Ham Ninh crab is priced around 100,000-150,000 VND per kg, depending on the size.
Herring Salad: Herring salad is an attractive Phu Quoc special dish. This rustic dish converges the full flavor of the forest and the sea of Phu Quoc.
Melaleuca Mushrooms: Melaleuca mushrooms only grow after the first monsoon rains in melaleuca forests. This type of mushroom is abundant in Phu Quoc and can be cooked in a soup base, fried with bacon or cooked with seafood porridge.
Black Sea Urchin: Grilled sea urchin is the favorite dish in Phu Quoc. It is often eaten with lemon, salt or porridge. The meat and eggs are both sweet and fragrant, like a crab.
Snails: There are many types of snails, the most popular being the white snails and the red snails. The price of snails is around 120,000-200,000 VND per kg. The best snail dish is grilled snails or snails boiled with lemongrass.
Phu Quoc Fish Sauce: Being the most famous specialty of Phu Quoc Island, Phu Quoc fish sauce is made from anchovies of all kinds.
Phu Quoc Pepper: Phu Quoc Pepper is a specialty and a precious spice of the whole Vietnam. Phu Quoc pepper is famous not only for its abundance, but also for its characteristic spicy and aromatic flavor.
Phu Quoc Sim Wine: Phu Quoc Sim wine is made from the forest sim fruit. Sim wine has a beautiful transparent yellow color and the typical aroma. It has a sweet taste and acrid taste.