Ba Na Hills is one of the most famous tourist destinations in Da Nang. This tourist area is an entertainment, dining and hotel complex located on Ba Na Mountain, 1487 m above sea level. The ultimate guide to Ba Na Hills is a complete overview of this tourist attraction in Vietnam.
At first sight, Ba Na Hills is a mini Europe in the heart of the city with beautiful ancient architectural works, extremely attractive entertainment games and even a flower garden. If you will be traveling to Da Nang, Ba Na Hills is definitely worth to visit at least once in a lifetime.
Location of Ba Na Hills
Address: An Son Village, Hoa Ninh Commune, Hoa Vang District, Da Nang City, Vietnam.
Ba Na Hills is located in Hoa Ninh commune, Hoa Vang district, about 30 km from the center of Da Nang City. The travel time from Da Nang City center to Ba Na Hills is about 60-70 minutes, depending on transportation and traffic conditions.
Opening Hours
Ba Na Hills is open Monday to Sunday, from 8:00 to 22:00
Transport to Ba Na Hills
Even if Ba Na Hills is around 30 km from the center of Da Nang City, the road is convenient and you can travel to this tourist attraction by various means of transportation.
By Motorbike
Motorbike is a convenient and economical way to travel to Ba Na Hills that is suitable for those who want to explore the city and its surroundings independently. Motorbike rental price is only from around 150,000 VND per day. You can book online motorbike rental at a very well rated and reliable Da Nang motorbike rental agency (5.0 on Google) here: Da Nang motorbike rental.
By Shuttle Bus
A one-way Ba Na Hills shuttle bus ticket price starts from around 120,000 VND to 150,000 VND, but most of service providers are offering round-trip tickets for the price in the range from 200,000 VND to 300,000 VND. The cheapest Ba Na Hills shuttle bus round-trip tickets cost 200,000 VND and the price is even lower when booked online here: Ba Na Hills shuttle bus.
By Private Transfer
Booking a private transfer to Ba Na Hills is the most convenient way to travel there for a group of people. Normally, the price of private transfer starts from 320,000 VND for one-way trip and from 600,000 VND for round-trip. You can book a private transfer for a group of up to 3-12 people here: Private Transfer between Da Nang and Ba Na Hills.
You can also go to Ba Na Hills directly from the airport. A one-way private transfer from Da Nang Airport to Ba Na Hills will cost you 450,000 VND per trip and can be conveniently booked online here: Da Nang Airport transfer to Ba Na Hills.
By Tour
Travelling to Ba Na Hills by tour is another good option as it is often cheaper than organizing a trip by yourself. Tour prices range from 1,200,000 VND to 2,000,000 VND per person and include everything like transportation from your Da Nang hotel to Ba Na Hills, entrance and cable car fee, and the guide. Lunch is usually optional. A really good value for money tour can be booked here: Ba Na Hills Day Trip from Da Nang.
Other Options
There are also other ways for getting to Ba Na Hills. For detailed information about traveling between Ba Na Hills and Da Nang city check here: How to get from Da Nang to Ba Na Hills.
Ba Na Hills is also frequently visited from Hoi An - another popular tourist destination. For detailed information about traveling from Hoi An to Ba Na Hills check here: How to get from Hoi An to Ba Na Hills.
Ba Na Hills Entrance Fee
Ba Na Hills ticket prices are slightly adjusted every year. Ba Na Hills ticket prices are the following:
Adults: 900,000 VND
Children (1-1.4 m): 750,000 VND
Baby (<1 m): free
Entrance ticket price includes:
1 Ba Na Hills ticket
Admission to Golden Bridge
Admission to Le Jardin D'Amour Gardens
Admission to Luna Castle
Admission to Helios Waterfall
Admission to French Village
Admission to Alpine Coaster 2
Admission to Fantasy Park (Not free for games with coins and awards)
Round trip cable car
This ticket price does not include an admission to Wax Museum as there's an additional fee of 100,000 VND per person for visitors of this museum, admission to Debay Wine Cellar and Rain Sheltering Teahouse, Alpine Coaster 1 and other expenses.
For the latest Ba Na Hills ticket prices that are constantly updated check: Ba Na Hills Ticket Prices.
Booking Ba Na Hills Tickets
If you will be buying entrance tickets at the place, the price will be as displayed above. Ba Na Hills attracts a huge number of visitors and can get extremely crowded. To avoid the hustle and bustle of queuing at the gate, you should book Ba Na Hills tickets in advance. Discounts are offered when booking tickets online at Ba Na Hills Tickets and you easily save not only your time but also at least 10,000 VND per person.
Tourist Attractions in Ba Na Hills
Ba Na Hills is a tourist complex consisting of many spiritual tourist attractions, entertainment areas, landscapes, restaurants, hotels and souvenir shops. When traveling to Ba Na Hills, you can easily spend an entire day discovering all the beauty and enjoying your time there. There are many places to visit and these are our top attractions in Ba Na Hills that you shouldn't miss.
Cable Car
One of the most special experiences for visitors traveling to Ba Na Hills is taking the cable car and admiring the whole Ba Na as a perfect picture with clouds, mountains and majestic waterfalls from the above. Ba Na Hills cable car is more than 5.7 km long and the altitude difference between departure station and destination station is even 1,369 m. The cable car can accommodate more than 3,000 people per hour with 200 cabins that are the most modern in Southeast Asia. The journey by the cable car takes about 17 minutes.
Golden Bridge
Golden Bridge started to be ranked as the most famous bridge in Da Nang that attracts numerous domestic and international tourists. Nearly 150-meter long Golden Bridge looks like giant's hands reaching out to the sky. We would recommend coming to experience the feeling of walking in the clouds.
Fantasy Park
Fantasy Park is known as the largest indoor amusement park in Asia. It is an ideal entertainment spot for the whole family with fascinating special games. There are more than 90 games waiting for you to discover and almost all the games are FREE. Popular games that are really worth trying are a 29-meter Free Fall Tower, Fairy Forest, Jurassic park, haunted house, 4D and 5D movies. This place is usually crowded so you might need to stand in a long queue.
In addition, there are 3 very diverse food courts serving a variety of Asian and European dishes, along with a souvenir stalls with many diverse products in Fantasy Park.
Le Jardin D'Amour Gardens
Le Jardin d'Amour (Garden of Love) is inspired by French architecture. This French-style flower garden occupies a huge area on the east side of Ba Na Mountain. The special thing here is that there are 12 small gardens with all kinds of flowers that always attract visitors. The names of all the lovely gardens you could explore: Thien Thai Flower Garden, Senses Garden, Grape Garden, Love Garden, Maze Garden, Eden Garden, Mo Spring Garden, Thought Garden, Mythology Garden, Memory Garden, Holy Garden and Tinh Tam Garden.
Linh Ung Pagoda
Linh Ung Pagoda is one of the three famous Linh Ung Pagodas in Da Nang City. This place is a spiritual destination that you must definitely visit when coming to Ba Na Hills. The temple is located at an altitude of nearly 1,500 meters above sea level. From the gate of the temple, you will see the majestic panorama of Da Nang City, Son Tra Peninsula, My Khe Beach and Ba Na Mountains. One of the symbols of Ba Na Hills is a 27-meter-tall statue of Sakyamuni Buddha, the founder of Buddhism, meditating on the lotus. You can see this statue from the foot of the mountain, making the temple more majestic. There is also Mysterious Garden which is a maze-style garden for you to visit.
Funicular (Mountain climbing train)
Experiencing travel by Vietnam's first funicular, aka the mountain climbing train, at Ba Na Hills is interesting. The train can help you easily reach parts of the complex such as Linh Ung Pagoda, Le Jardin Flower Garden, and the old villa area. Even old people or kids can admire the view as well as transfer to other places effortlessly and safe. The train has a capacity of 80 people per cabin moving through a cable line of over 400 m.
Recently Funicular No2 was opened to connect the Sun Kingdom and the Moon Kingdom. On this funicular you can enjoy a magnificent trip admiring the marvellous beauty of Chua Mountain. Departing from Gieng Than station and stopping at Hang Rong station, the Funicular is the opening adventure to discover the magical fairyland in the Moon Kingdom.
French Village
French Village is one of the most scenic tourist attractions in Ba Na Hills. At French Village on the top of Ba Na Hills, you will admire a romantic and classic complex of architectural works inspired by France such as romantic castles and St. Basil's Cathedral. This area is very picturesque and many people come here for taking wedding photos.
Helios Waterfall
Helios Waterfall is a magnificent fountain crafted by Frilli Gallery – the famous sculpture studio in Florence, Italy established in 1860. At the fountain you can admire the collection of classic god statues such as Helios, Apollo, Bacchus, Venus, Athena, and 15 other gods.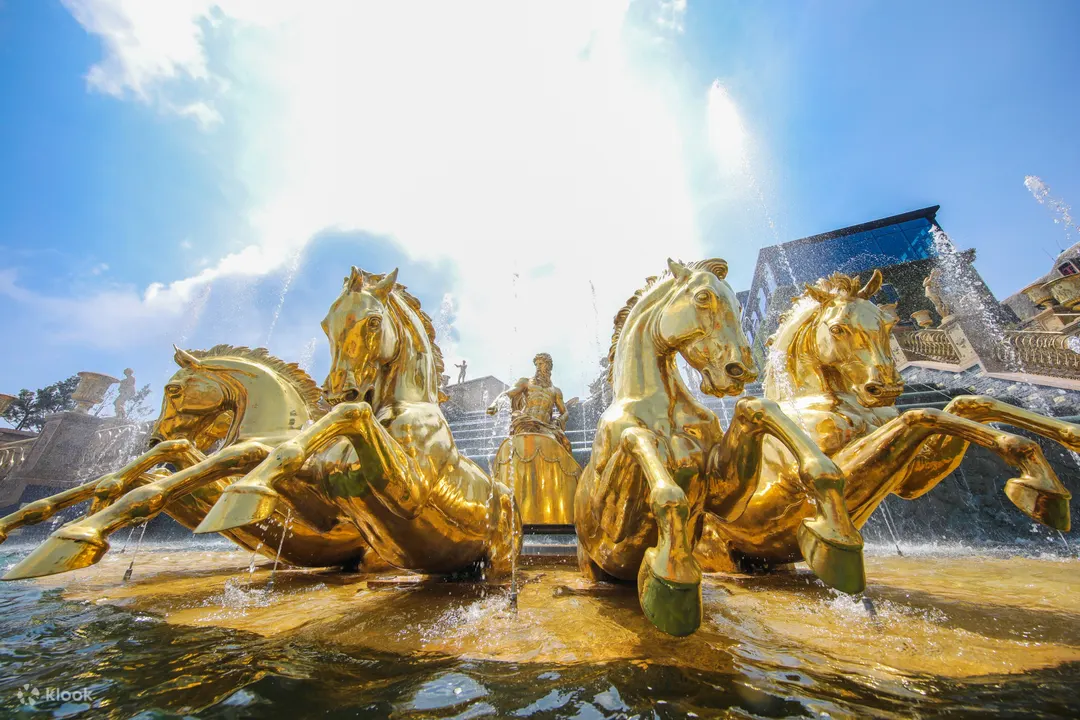 Luna Castle
Luna Castle is a fairy-tale castle and a 2,000-seat stage is a place of high-class shows. With a total floor area of up to 38,000 square meters, the castle boasts 4 floors with different themes: Dragon Den, Powerful Wolf, Erud Owl, and Moon Square.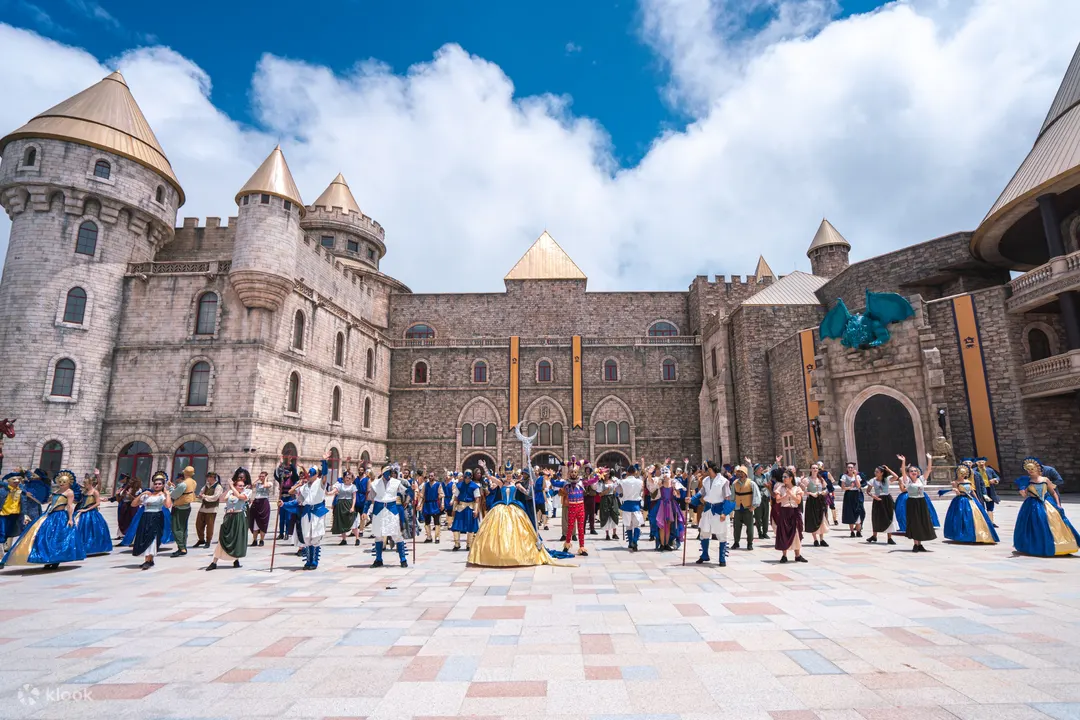 Nghinh Phong Tower
Nghinh Phong Tower is one of tourist attractions that receive the attention of a large number of visitors coming to Ba Na Hills. Nghinh Phong Tower has 9 floors and is built in the majestic ancient architecture style. The special feature is that each tower floor has 4 small bronze bells hanging in 4 corners to create sacred sounds.
In addition, visitors can admire majestic mountain scenery from the tower.
Debay Wine Cellar
According to the history of Ba Na Hills, Debay Wine Cellar is known as a special structure built by the French nearly 100 years ago. The cellar is built from rocky and mortar materials with a width of 2 meters and a length of 100 meter. Inside the cellar, there is a fireplace, storage cellar, and bar.
The wine here is very precious and delicious since this place always keeps the temperature of 16-20 degrees Celsius to preserve the best wine.
Wax Museum
Wax Museum at Ba Na Hills is the largest wax sculpture exhibition area in Vietnam. This is the place displaying wax statues of world's famous people such as singer Victoria Adams, basketball player Michael Jordan, composer Park Jae Sang, Jack Sparrow, X-men. Each extremely sophisticated wax statue is created by the skillful Italian artisans. When visiting Wax Museum, you will be able to see them all and take unlimited photos with wax figures.
However, you have to pay extra 100,000 VND per person for the entrance to Wax Museum.
Lau Chuong
The highest place of Ba Na Hills is Lau Chuong. This is the place from where you can see all Ba Na Hills attractions. Standing on the top of Lau Chuong, you will admire the whole beautiful scenery of Ba Na and French Village.
Toc Tien Waterfall
Toc Tien Waterfall is located at the foot of Ba Na Mountain. Before taking the cable car, you can visit this place. Toc Tien Waterfall is 700-meter high waterfall that non-stop flows to Thuy Duong Lake. The waterfall has 9 layers overlapping to create the magnificent scenery. You will be impressed by the majestic waterfall and surroundings with extremely rich and diverse flora and fauna.
Dream Stream
Dream Stream is one of the most attractive destinations in Ba Na Hills during summer. When the weather is hot, many people spend time at Dream Stream for refreshing. You can visit the Dream Stream before taking the cable car.
Best Time to Visit Ba Na Hills
Ba Na Hills is one of the entertainment areas in Vietnam that welcome visitor at any time of the year. However, the high season at Ba Na Hills is from March to September, because at this time Da Nang receives less rain. It is a perfect time for photography.
If you don't like bustling atmosphere, consider coming here during the low season. The weather will be cool but you will have the opportunity to enjoy the beauty of less crowded Ba Na Hills.
Unique Festivals in Ba Na Hills
To make the experience even more memorable, various festivals are taking place at Ba Na Hills during the year:
Wine Festival: 5th-20th May
Beer Festival: August – September
Week of A Glimpse of France: July
Carnival Festival: August – September
Halloween Festival: September – October
Winter Festival: November – December
Flower Festival: February
Food at Ba Na Hills
At Ba Na Hills you can easily find dishes that are suitable for your taste. There are plenty of restaurants located in 3 main areas:
Le Jardin Flower Garden
Du Dome Square
French Village
There are a large number of restaurants at Ba Na Hills offering a variety of food from Asian to European dishes. Some of the restaurants at Ba Na Hills:
Rosa Hot Pot Restaurant, housed in the Morin Rose Garden, offers a buffet service for hot pot dipping that includes more than 90 standard dishes
Rosa Fried Chicken - a fast food restaurant in Ba Na that serves its own fried chicken meals and distinctive rose sauces
Rosa Sushi and Sashimi Restaurant offers a menu of traditional Japanese dishes using fresh ingredients and sophisticated preparation techniques in accordance with Japanese standards
Beer Plaza Festival Food Court serves premium German draft beer and festival cuisine including made-in-Banahills sausages, grilled meat skewers, peppered beef, etc.
Le Petrin bakery attracts customers with the aroma of its delectable pastries, fresh cakes, and romantic cozy seating areas both in and outdoors
Arapang Restaurant is equipped with stretchy aisles of buffet delicacies running all over the space
Bar Debay, situated above the old Debay Wine cellar, is a unique work constructed by the French in Ba Na mountain in 1923, which is a place where visitors can rest and enjoy a glass of finesse wine
Kavkaz Restaurant is uniquely modelled after a horse barn and offers outdoor barbecue grills
Thai Market Restaurant specializes in serving delicious Thai dishes and attracts visitors with typical dishes representing the culinary spirit of Thailand
Kungfu Noodle Restaurant offers attractive bowls of noodles with many options such as wonton noodles, char siu noodles, shrimp, chicken
Four Seasons Restaurant, designed by the landscape of the four seasons of the year, offers an Asian-Western buffet with more than 90 typical dishes on three levels
Needless to say, as it's a famous tourist destination, food at restaurants at Ba Na Hills is much more expensive than in Da Nang City center. Up here, you will find that 1 sausage costs 50,000-70,000 VND. Starting in late 2018, no food and drinks are allowed to be brought to Ba Na Hills for protecting the environment. These rules are strictly checked before boarding the cable car so better don't even try to bring your own food there.
Many tourists choose to eat buffet lunch instead of eating at the restaurant as the price of buffet is more reasonable. When you are buying Ba Na Hills tickets, it is recommended to buy tickets with lunch buffet included to get the best value for money deal. Note that Ba Na Hills Buffet Restaurant is only open from 12:00 to 14:00, so you need to plan your visit accordingly.
Hotel at Ba Na Hills
Most people only go to Ba Na Hills for a day trip, but if you want to immerse yourself in the atmosphere, you can spend the night on Ba Na Hills at Mercure Ba Na Hills French Village.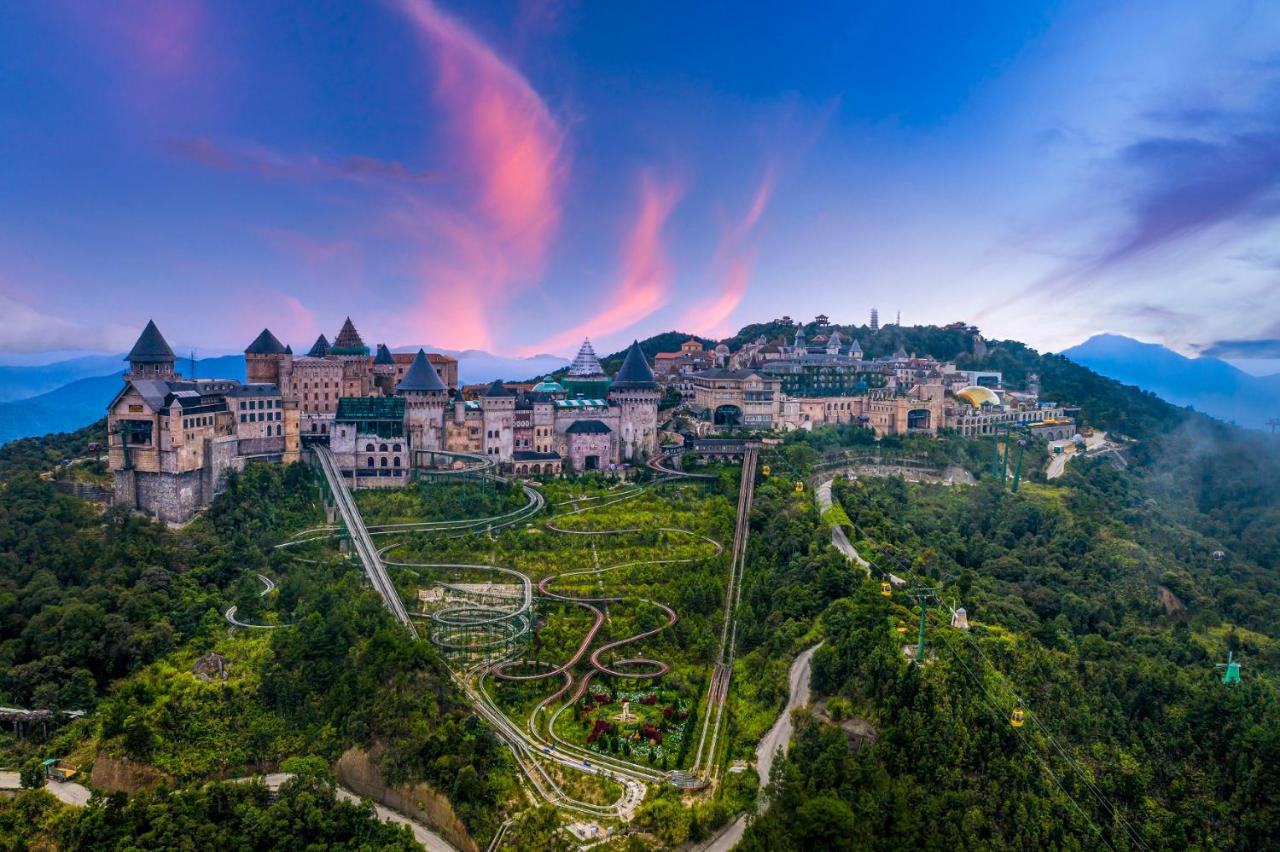 The hotel offers 4-star accommodation with 333 contemporary rooms overlooking the mountain. The hotel has 4 restaurants, indoor pool, and fitness center. Check in at the hotel starts after 14:00, and check out is before 11:00, so if you go there earlier you will have to wait.
The price of the room at Ba Na Hills hotel starts from 3,000,000 VND for a night. You should book rooms in advance on the online booking site during the peak season to avoid disappointment as it's quite often fully booked.
If your budget doesn't allow you staying at Ba Na Hills, you can stay at hotel in Da Nang City or near My Khe Beach and just book a Ba Na Hills and Golden Bridge Day Tour for visiting the place.
Souvenirs at Ba Na Hills
Cham Stone is the only high-end souvenir shop complex in Ba Na Hills with hundreds of diversified items. Here you can carve portraits or shop for unique and interesting gifts for your loved ones. Of course, prices here are quite high.
Da Nang City center is the place where you can buy local products or gifts for friends and family significantly cheaper than here.
Tips
If possible, avoid traveling to Ba Na Hills during holidays because there will be terribly long line at the cable car and ton of people taking photos at every spot.
Even if at the foot of the mountain is hot, on the top of the mountain it can be quite cold so bringing a lightweight jacket would be a good idea.
The cable car ticket includes two trips to and from Ba Na Hills. Remember to check what time the last cable car is and plan your visit accordingly.
Ba Na Hills is a large area with many attractive spots and games, so you should wear very comfortable shoes to move around.
It can take you about 6-7 hours to fully discover Ba Na Hills.
Tickets should be booked at least one day in advance that can easily be done here: Ba Na Hills Tickets.