Cebu is one of the most popular holiday destinations in the Philippines. If you are looking for luxury for your holidays, check the list of the best Cebu luxury resorts with private pool villas, including the special selection of resorts in Cebu that boast pool villas with private pools and exceptional views.
Cebu Pool Villas
Cebu, an island in the Philippines, is quite well developed and offers a number of accommodations for various tastes and different budgets. Even if not as numerous as in other popular destinations, luxury villas with private pool can still be found in Cebu.
Cebu Villas with Private Pool provide not only a comfortable stay, but also an unforgettable experience. The luxury pool villa resorts normally offer a high level and wide range of services. Accommodation prices of pool villa in Cebu can vary significantly.
Best Cebu Resorts with Pool Villas
The best resorts with pool villas in Cebu offering exceptional luxury during your holiday in the Philippines are listed below.
---
To decide on the best option for the trip, more detailed information on each of the resorts with reviews, prices and availability of rooms for the selected dates can be found by clicking the links provided.
---
1. Crimson Resort and Spa - Mactan Island
A posh hideaway in the island of Mactan with a private beach, an infinity pool, and a spa facility, Crimson Resort & Spa - Mactan Island is a 5-star resort located in Cebu. Decorated with pleasant neutrals, tropical-style rooms here feature classic wood furnishings. Crimson Resort & Spa has a number of private pool villas, the best of them being ocean front.
Location: Mactan
Reviews about pool villas at this Cebu resort:
"I like the Balinese villa theme of the resort. The staff were wonderful and provided excellent service. The facilities were excellent as well."
"Villa was exceptionally clean; bed and linens immaculately soft and comfortable. Best sleep ever!"
"The private villa was bigger than what we expected."
"Well-maintained, aesthetically appealing and clean villa accommodation, resort facilities and amenities."
2. Bluewater Sumilon Island Resort
The only resort on the island, 24-hectare Bluewater Sumilon Island Resort offers accommodation with direct access to coral reef beaches. Spacious cottages at Bluewater Island Resort Sumilon feature a private veranda with lounge chairs. Guests can enjoy massages or activities such as fishing, snorkelling and diving. Bluewater Sumilon Island Resort has several one-bedroom and two-bedroom villas with private pool on offer.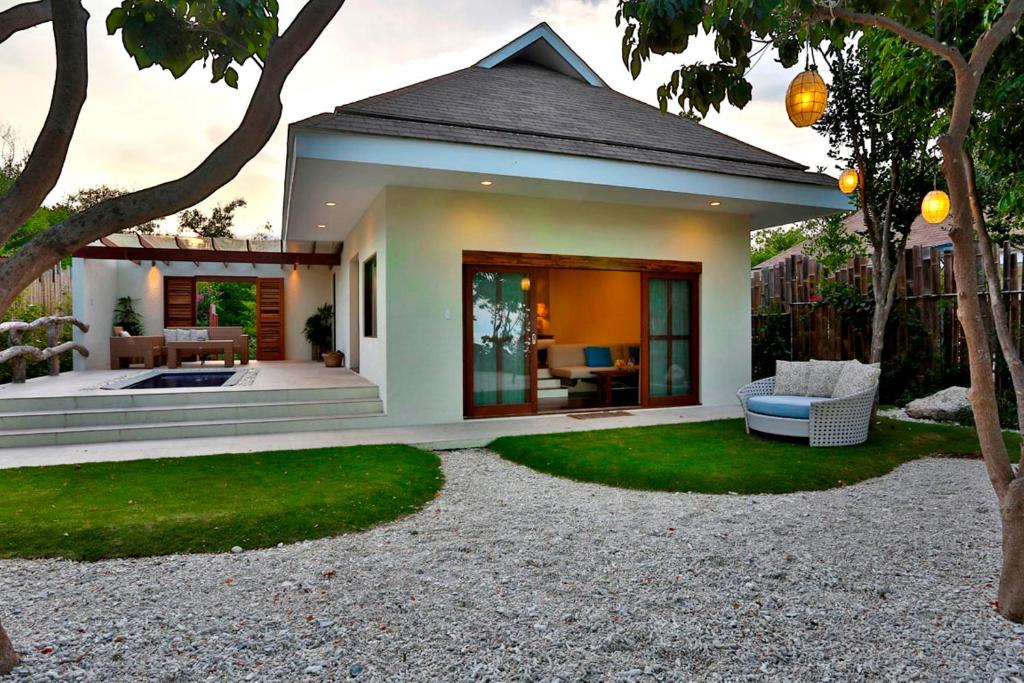 Location: Sumilon Island
Reviews about pool villas at this Cebu resort:
"Superb location, nice rooms with views of the sea. Quiet location with nice facilities and lots of little activities to do in the island. Good snorkeling and nice pool area as well."
"Everything is perfect! The pool was the highlight."
"The marine sanctuary is incredible. The infinity pool and the open spaces are nice."
3. Jpark Island Resort & Waterpark Cebu
Jpark Island Resort boasts an idyllic settling on Mactan Island. Within its 16.5-hectare expanse, the resort comprises beautifully-appointed 568 rooms, suites and villas, 6 themed pools, 10 dining outlets, a casino, activity zone, spa, fitness center, dive shop, indoor themed park and private beach. The highlights of the sprawling water complex include 3 towering waterslides, a lazy river pool, and a pool with beach-like shoreline. A number of one-bedroom villas with private pool are offered at Jpark Island Resort.
Location: Mactan
Reviews about pool villas at this Cebu resort:
"Love the villa as always.. Family really had a wonderful time."
"The cart service to and from Villa door. The waterpark was great. Additional charges that had to be paid for some of the facilities - ie mini golf, electric cars, indoor kids theme park etc. They should have been included for those paying the considerable amount to stay in Villas."
"The villa pool was the only saving grace. There were ants and flies in the villa. You have to go to the main pool to get the outdoor towel even if you have your own villa pool."
4. Kandaya Resort
An idyllic place to unwind amidst the northern tropical landscape in the coastal heart of historic Daanbantayan, Cebu, Kandaya Resort offers an array of activities available on-site and nearby. The sea-side location allows the resort to offer a variety of activities such as tennis, paddle boarding, canoeing, horseback riding and snorkeling to nearby islands. At Kandaya Resort you can find a garden villa and beach villa with private pool.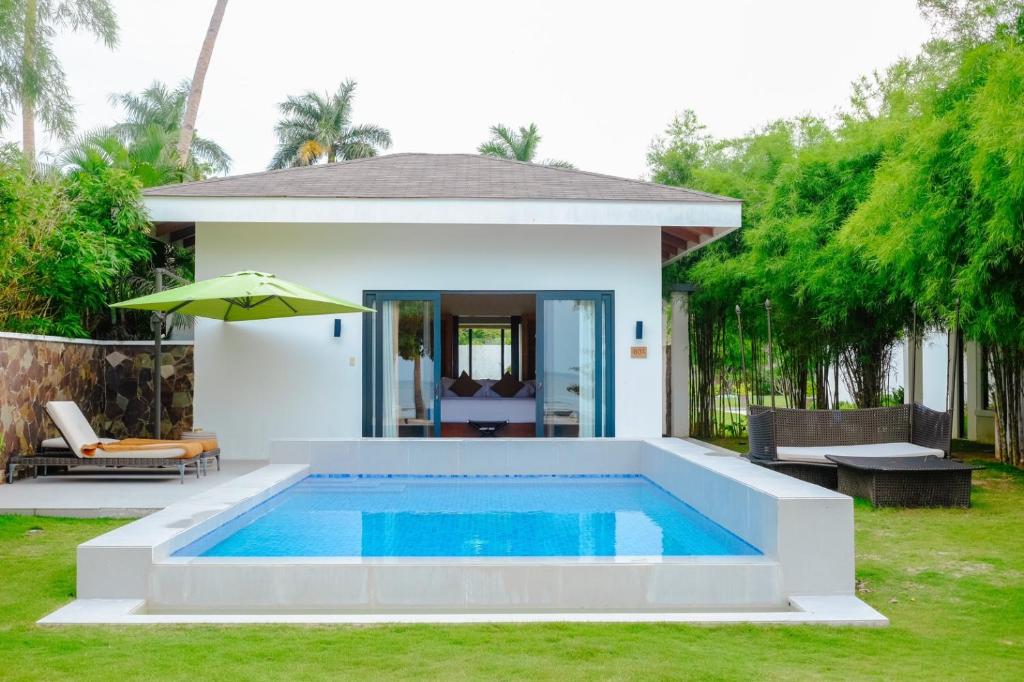 Location: Daanbantayan
Reviews about pool villas at this Cebu resort:
"We had the villa with its own pool, it was brilliant."
"The villa with pool was great (even though a bit too much chlorine) and the view we had was amazing."
"Pool villa was excellent. Great location."
5. Badian Island Wellness Resort
Badian Island Wellness Resort is an eco-friendly health resort featuring a cascading saltwater pool and organic gardens. Overlooking the lagoon and mountains, it offers luxurious suites with private balconies and villa with private pool.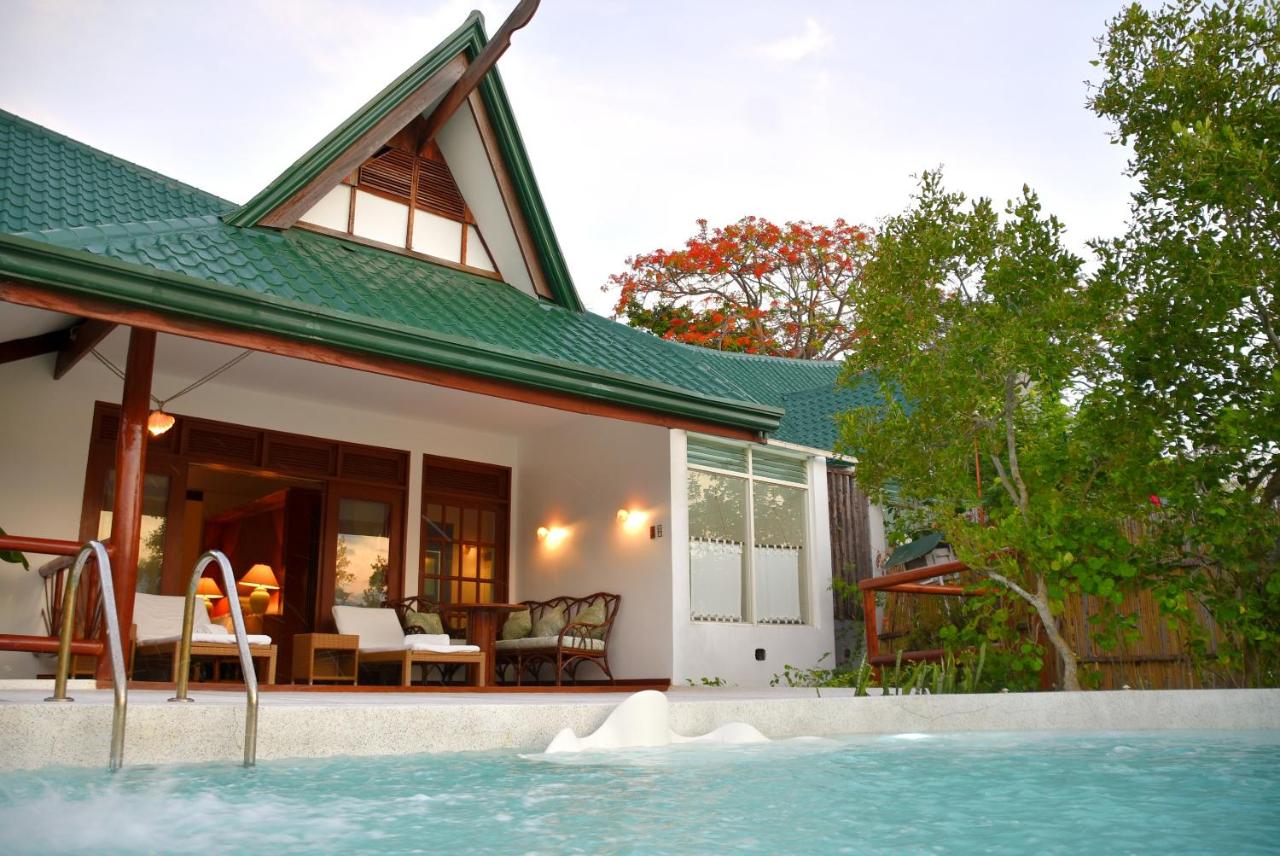 Location: Badian Island
Reviews about pool villas at this Cebu resort:
"The entire place is really good for relaxation. The massage was great too as well as the villa pool."
"The villa was spacious and well designed. The pool in the room makes the highlight for the stay. We really enjoyed the time in the pool."
"Beautiful views and grounds. The pool villa was huge, amazing views and good ac. The spa was amazing, such a nice setting for a massage."
"The resort is serene and private. We enjoyed our pool villa and private tub with the picturesque view of the mountain and the sea."
---
Cebu Hotels
For more places to stay in Cebu please check: Hotels in Cebu.