The list of top 15 best hotels Ayutthaya, Thailand, will help you choose the right place to stay in the old capital of Siam. The selection of the most popular and best rated hotels from different price ranges will be useful. if you are looking for the best Ayutthaya hotel within your budget
There is a wide range of hotels and guesthouses in Ayutthaya with some of the best options found along the river. If you are wondering about where to stay in Ayutthaya, here is a shortlist of 15 best hotels in Ayutthaya suitable for various budgets.
Ayutthaya
Ayutthaya is an important historical city in Thailand which is tempting tourists with its ancient temples, palaces and many other attractions. Most people choose to visit Ayutthaya on a day trip from Bangkok but staying overnight in Ayutthaya is a good choice for anyone willing to fully experience the old city charm.
Best Hotels in Ayutthaya
There is a wide range of hotels and guesthouses in Ayutthaya with some of the best options found along the river. If you are wondering about where to stay in Ayutthaya, here is the selection of 15 best hotels in Ayutthaya suitable for various budgets.
1. iuDia Hotel
iuDia Hotel is a luxury hotel in Ayutthaya which is perfectly located on the river and offers comfort, good service and Thai touch. The hotel is beautifully designed, in a tranquil setting. Some of the rooms face the river offering scenic views of it. There's also a swimming pool for refreshing after a long day of sightseeing in Ayutthaya. Staying here will definitely be not disappointing.
Price range: $$$$$
Our Rate: 9/10
2. Sala Ayutthaya
Sala Ayutthaya is a hotel located by the river. The hotel is not large, with a total of 27 chic rooms. When entering the hotel, you will see the gallery displaying art works. Next from the gallery section, there is an orange brick room which looks outstanding on both sides of the corridor. The rooms are decorated in white tones giving the feeling of smooth and clean place. The most outstanding feature of this property is the view from the dining room overlooking the river and ancient ruins of Ayutthaya.
Price range: $$$$$
Our Rate: 8.5/10 
3. Baan Pomphet
Baan Pomphet is a hidden gem to not be missed for those who wish to experience true Thai hospitality and serenity. The 8-room boutique sanctuary is artfully designed to embrace the natural ambiance of Ayutthaya's Chao Phraya Riverfront and the scenic beauty of its namesake Pomphet Fortress. The cuisine on site is rustic, traditional and designed to be shared as is the way Thai people enjoy meals with their families.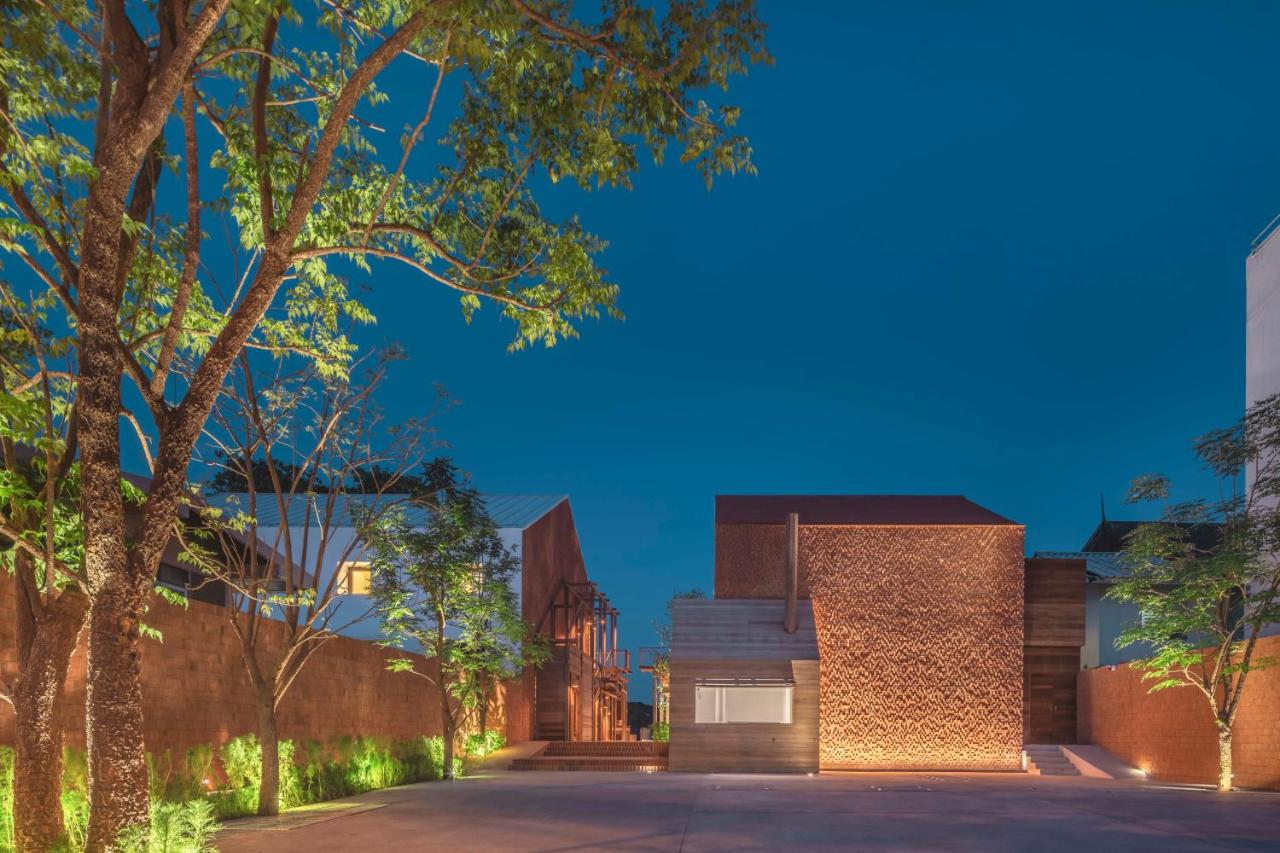 Price range: $$$$
Our Rate: 9/10 
4. Phuttal Residence
Phuttal Residence is a waterfront accommodation in Ayutthaya which is located in a peaceful area giving you an experience of a local resident. The area of the hotel is enriched with beautiful plants, trees, flowers, a place to relax and a playground for children. This is another good place to stay in Ayutthaya for families with children. The rooms are designed like in an authentic Thai house. The nature will make your stay here unforgettable.
Price range: $$$$
Our Rate: 9.5/10 
5. Kantary Hotel Ayutthaya
Kantary Hotel Ayutthaya is an apartment style accommodation in the city that is rich in culture. Many activities are offered to do around this place starting from visiting the temples, palaces and museums to cruising on the river and shopping at the night market. The hotel has many excellent facilities for its guests including gym, limousine service and playground for kids.
Price range: $$$$
Our Rate: 8.5/10 
6. Classic Kameo Hotel & Serviced Apartments
Classic Kameo is an accommodation suitable for the families who want to rest and recharge. Each room is well designed and beautifully decorated. There are many facilities including a swimming pool and an international restaurant named Tapestry Restaurant which is serving Dim Sum, authentic Chinese cuisine, Thai food and international cuisine dishes.
Price range: $$$
Our Rate: 8.0/10 
7. Ayutthaya Retreat
Ayutthaya Retreat is a Thai style accommodation that is beautiful and elegant. It is suitable for those who want to relax and escape the city chaos. This hotel gives you the feeling that you have gone back in time. The hotel is well organized and there are many areas for relaxing with the reception area, coffee shop, dining area and sitting corner around. There are not many rooms in this hotel but all rooms are well decorated with wood.
Price range: $$$
Our Rate: 8.5/10 
8. Baan Canalee
Baan Canalee Ayutthaya is an accommodation on the edge of the canal which is surrounded by beautiful nature. This place is offering an atmosphere of family-friendly relaxation and gives you a feeling like staying in a country house. The houses are well designed and each of them consists of a bedroom, bathroom, living room and small kitchen. The interior is simply beautiful and stylishly decorated. Baan Canalee is located nearby a number of tourist attractions such as Ayutthaya Floating Market, Wat Yai Chaimongkon, Wat Panan Choeng Worawihan and Ayutthaya Night Market.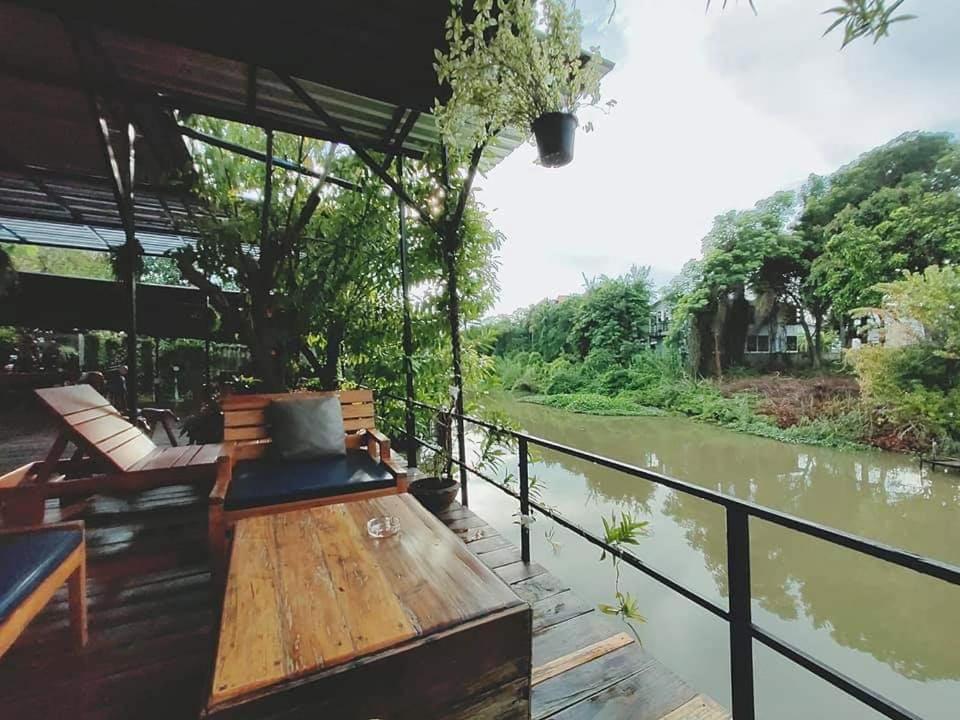 Price range: $$$
Our Rate: 9.5/10 
9. Baan Tye Wang Guesthouse
Baan Tye Wang Guesthouse is a traditional Thai style boutique by the river. This Thai house uses different colors as the theme for decoration of the room with various facilities. All rooms are facing the garden and provide a balcony to sit and chill in close proximity to nature. There is also a small antique museum on site where the owner intends to display his old collections to recall the past.
Price range: $$$
Our Rate: 9/10 
10. Silp Pa Phra Nakhon Si Ayutthaya
Silp Pa Phra Nakhon Si Ayutthaya is a small hotel but the interior of it is very beautifully decorated with pieces of Ayutthaya art. There are a variety of room types to choose from, such as Superior Double Bed, Superior with Balcony, King Room with Balcony and Triple Room. Hotel is close to night market and city's main tourist attractions.
Price range: $$
Our Rate: 9/10 
11. Athithara Homestay
Athithara Homestay is a traditional Thai style house with a high basement. The original intention of the owner was just to build a beautiful house for living. However, after the construction was completed, it was found that the house is too large for own needs and therefore it was opened for tourists. There are 6 rooms available for rent and each room is beautifully decorated with full facilities. The house also offers a boat service for cruising along the river.
Price range: $$
Our Rate: 8/10 
12. Slow Tree Ayutthaya
Slow Tree Ayutthaya is one of the budget hotels in Ayutthaya offering a nice atmosphere by the river. There are many types of rooms to choose from such as a single room for privacy or mixed room for making new friends and enjoying time with them. The hotel is located nearby important attractions of Ayutthaya Historical Park such as Wat Phra Si Sanphet, Wat Ratchaburana, Wat Phra Ram, Phra Mongkol Bophit, and Wat Lai Ya Sutha temples.
Price range: $
Our Rate: 9/10 
13. Niwas Ayutthaya
Niwas Ayutthaya is a cozy accommodation with a terrace and a good lounge area for relaxation. The hotel provides a variety of accommodation types, such as bungalows, single beds, superior rooms, twin beds and deluxe rooms. Each room comes with various amenities. The hotel is centrally located in not too crowded area which is nearby the major tourist attractions of Ayutthaya such as Wat Mahathat and Wat Ratchaburana, making it a convenient starting point for exploring the ancient Thai capital.
Price range: $
Our Rate: 8.5/10 
14. Banchan Hostel
If you are looking for a cheap accommodation in Ayutthaya and would like to stay in a stylish house, Banchan Hostel is a place for you to consider. This hostel provides warm and friendly atmosphere. Banchan Hostel comes with a concept "My home is your home". There is drinking water and snacks available throughout the day. Additionally, there is a bicycle service that can be used to ride around the city. The hostel is nearby the main attractions of Ayutthaya Historical Park, such as Wat Mahathat.
Price range: $
Our Rate: 8.5/10 
15. Zleepinezz Hostel
Zleepinezz Hostel is located right in the center of Ayutthaya, a great location close to tourists' favorite landmarks. The hostel is right next to the old city of Ayutthaya, so location is perfect for all travellers. The hostel also cheaply rents bicycles, which is a great and fun way to discover the ruins and temples of the ancient capital of Thailand. The hostel is also close to good restaurants so finding nice local food without breaking your bank will not be a problem here.
Price range: $
Our Rate: 9/10 
Tips
Read more about top attractions in Ayutthaya here: Best Things to See & Do in Ayutthaya.
Enjoy your stay!
Important Note: The price range is compared between the hotels described in this blog only and may vary depending on the season. The rating score is based on the reviews in many sources and is just our personal opinion. Please check for more information about each hotel before booking it, so you could decide if the hotel is right for you.