The small town of Pai is located 80 km northwest from Chiang Mai.  However, by road this distance increases to almost 135 km due to the mountainous landscape that it crosses. If you are planning a trip to Thailand that includes these destinations, find the best way to travel from Chiang Mai to Pai.
Pai is a popular destination for both foreign and local tourists during the high season in Thailand (November-January) which coincides with Thai winter. Pai is small but constantly growing mainly thanks to the increasingly numerous people attracted by the beauty of its alternative environment of the mountains and stunning landscapes. Almost everyone arrives in Pai through the amazing Chiang Mai. The road to Pai is famous as it has no less than 762 curves running through the mountains with an infinite series of motion sickness.
Best Way to Travel from Chiang Mai to Pai
Pai has its own airport (PYY), so going from Chiang Mai to Pai by air is an option. You can also travel between these destinations by road, either by bus, car, motorbike or private transfer. The option you choose will depend on your preferences, your time, and your budget.
By Plane
Pai has its own airport located approximately 1 km outside the town center and you could previously comfortably reach Pai from Chiang Mai International Airport (CNX) with a flight of only 25 minutes.
The airlines that were offering the service on the route Chiang Mai - Pai were Kan Air and Wisdom Airways, providing service with small touring planes and a very scenic journey. However, currently there are no scheduled flights on this route. 
Be noted that the flights are irregular and are sometimes suspended indefinitely. For newest updates on availability of this flight and the price of tickets check Flight from Chiang Mai to Pai.
By Public Bus
If you are not in a hurry and you are on a tight budget, the bus is a good way to get from Chiang Mai to Pai. The public bus drives slower and without air conditioning, making you feel less nauseous and get dizzy on the roads. The trip by bus with many stops can take 4 hours or more, depending on the traffic. The journey costs about 90 THB.
All buses originate from the Arcade Bus Terminal in Chiang Mai, which is also called the "New Terminal" with departure times every few hours from 06:00 to 16:00. Arcade Bus Station is located in the northeastern part of Chiang Mai, outside the Old Town. You will need a taxi or tuk-tuk to reach the bus station. Public buses with many empty seats can be delayed until more passengers arrive.
By Minibus
The minibus is the most popular form of transportation from Chiang Mai to Pai. It is a better solution than taking a public bus. The air-condition minibuses are equipped with greater facilities, offering more comfortable and faster services. Depending on how full the van is, the luggage can be held inside or on the top of the minibus.
To get from Chiang Mai to Pai, it takes about four hours by road but depending on the conditions of the road conditions and the road surface you could also get to Pai faster. The minibuses that leave from Chiang Mai depart between 06:30 and 17:30, giving you the possibility of a considerable freedom of choice regarding the departure time.
You can also find air-conditioned minivans that frequently leave the bus terminal, or hire minivan services that will pick you up directly at the door of your hotel and drop you off at Pai. The ticket is around 200-250 THB per person. Tickets for these minibuses can be purchased anywhere in Chiang Mai or conveniently booked online here:
Minivan from Chiang Mai to Pai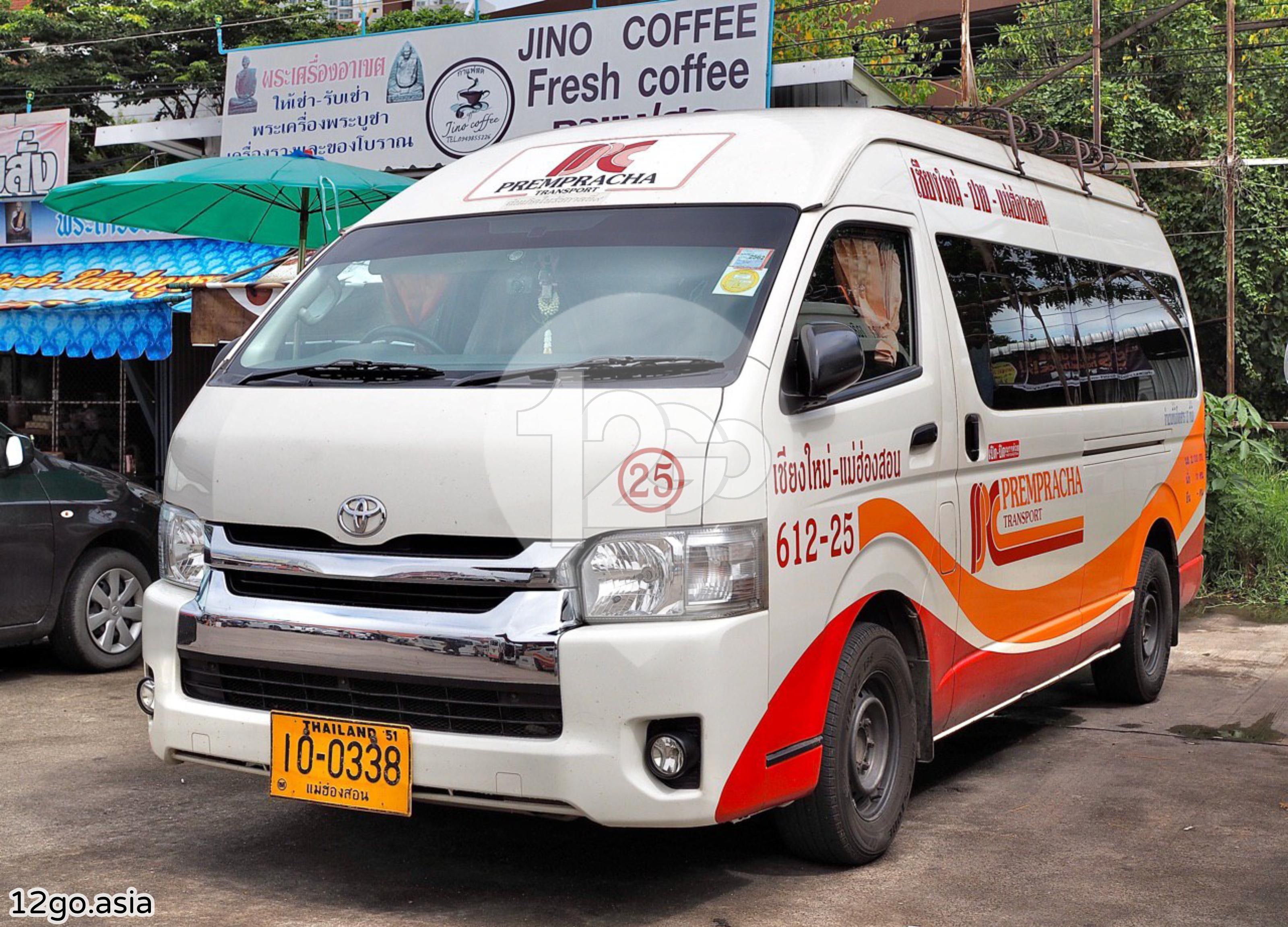 As it's a popular route, note that tickets for a trip from Chiang Mai to Pai can sell out quickly. If you are travelling during major events like Songkran and Loi Krathong, make sure to buy tickets in advance to get your seat.
The path to Pai is very beautiful, although there are 762 curves through the mountains. Some van drivers seem to have little respect to the safety of passengers and despite numerous complaints they often feel the need to drive at top speed. It happens regularly that passengers get dizzy, but the driver doesn't mind and continues driving. If you suffer from car sickness, we strongly recommend you to bring your medicines and sit at the front seat or in the middle of the minivan.
---
Use the form below to find the best solution for your trip from Chiang Mai to Pai and book your tickets online now!
---
By Taxi or Private Transfer
If you don't have problems with your budget, you can hire a taxi to take you to Pai from Chiang Mai. However, we strongly recommend that you agree the price of the trip with the driver before starting the journey to avoid misunderstandings or uncomfortable situations when paying the fare. Otherwise, book your taxi online here:
You can also hire a private transfer, this way you can enjoy the beautiful landscapes offered by the road from Chiang Mai to Pai, stopping whenever you want.
By Motorcycle
If you decide to take a motorcycle, you can go to Pai on your own and drive on the road. The hilly trip to Pai is beautiful and the scenery is incredible so having your own transportation allows side adventures via natural scenery. Of course, you can see the surroundings from the minivan, but you will have more time to stop from time to time to enjoy the beautiful views.
There are many companies that rent motorbikes in Chiang Mai. The rental contract should include insurance that covers mechanical breakdowns. We are not recommending to do this route if you only have a minimum of experience riding motorcycles or have not experienced mountain routes.
You can also consider renting a one-way rental. This option is more expensive, but provides some flexibility. You can check Aya Service, which is the largest and the most famous company, renting motorcycles in Chiang Mai that accept returning them in Pai. They will take your luggage in one of the minibuses.
Be noted that there are regular police checks. If you don't have a driver's license or an international driver's license, you can expect a fine of 400-500 THB. Without an international driver's license, you will always be punishable by accident and not insured so don't risk it.