Bali is the most famous island and holiday destination in Indonesia. If you are looking for luxurious holidays in Bali, check the list of the best Bali luxury resorts with private pool villas, including the special selection of resorts in Bali that boast pool villas with private pools and exceptional views.
Bali Pool Villas
Bali, Indonesia, is a very well-developed holiday destination with a good number of accommodations available for all tastes and different budgets. Not surprisingly, lots of luxury villas with private pool can be found in Bali.
Bali Villas with Private Pool provide not only a comfortable stay, but also an unforgettable experience. The luxury pool villa resorts normally offer a high level and wide range of services. In most cases, such hotels have a variety of restaurants and bars, luxury spa, saunas, Jacuzzis, and access to excellent beaches. In more exclusive resorts, you will find world-class facilities, including entertainment, shopping, award-winning fine dining and outdoor activities.
Accommodation prices of pool villa in Bali can vary significantly. You will find both incredibly expensive and more affordable options in this part of Bali.
Best Bali Resorts with Pool Villas
The best resorts with pool villas in Bali offering exceptional luxury during your holiday in Indonesia are listed below.
---
To decide on the best option for the trip, more detailed information on each of the resorts with reviews, prices and availability of rooms for the selected dates can be found by clicking the links provided.
---
1. Desa Hay Canggu
Located in Canggu, Desa Hay Canggu provides accommodation with an outdoor swimming pool, a garden and a restaurant. It is a unique sanctuary with spacious and luxurious villas nestled within lush, private gardens. The resort is carefully designed to reflect the spirit of the island and provide a deep feeling of tranquility, wellness and harmony with nature. All villas at Desa Hay Canggu come with a private pool.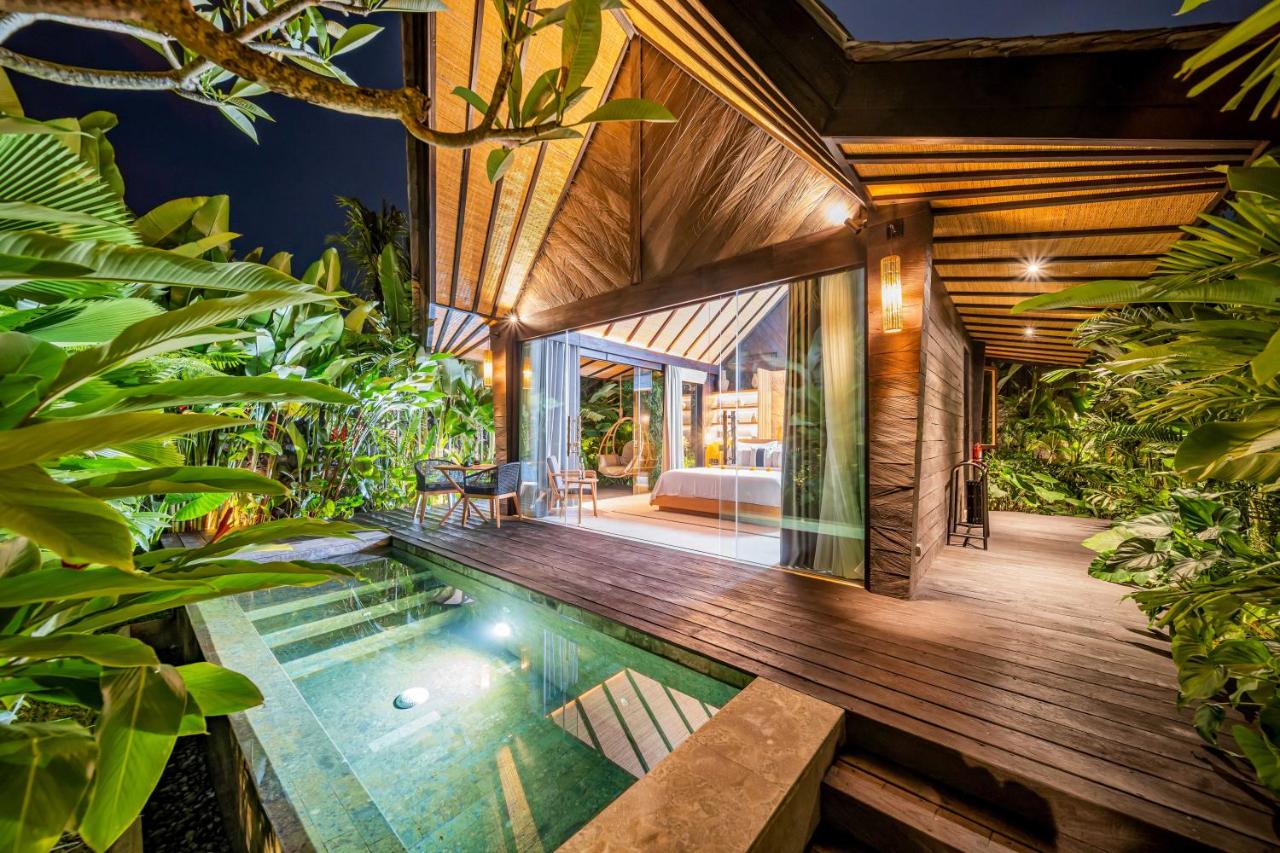 Location: Babakan, Canggu
Reviews about pool villas at this Bali resort:
"Very modern villa with complete peace and tranquil surroundings. The green garden is luscious and the plunge pool made for a very relaxing stay."
"This place is like a private villa in a James Bond movie. Lovely design with lots of great details."
"An oasis, away from the hustle and bustle, on the outskirts of Canggu. The villas are stunning, from the antique style Balinese gates to the stylish decor of the room and the luxury of the bathroom, it's like a secret garden."
"Amazing pool area with double couches and palm trees surrounded. The private villas are luxury, very modern, very nice ambience also at night, own little pool, very comfy bed and amazing open rain shower."
"The private villas are amazing, with small private pool: amazing bedding, the rooms are spacious, very well thought out, lots of little touches and memories, very clean."
2. Mandapa, a Ritz-Carlton Reserve
Mandapa, A Ritz-Carlton Reserve offers a retreat amongst the greenery in Ubud. This hotel also features an outdoor swimming pool, an on-site spa and wellness centre. Complimentary 24-hour butler service is available in all rooms. Every pool villa at this property is air-conditioned and comes with an ample seating area and an en suite bathroom, which has separate bath and shower facilities. Fresh towels, bathrobes, and other bath amenities are also provided. Most of the villas offer views of the surrounding rainforest, rice paddies and even views of the Ayung River.
Location: Kedewatan, Ubud
Reviews about pool villas at this Bali resort:
"A really relaxing place where you feel calm, far from high-capacity hotels. Exceptional villa, very quiet and comfortable. Pleasant public pools with snacks offered & small touches."
"We liked everything about the property. The facility was excellent and clean, the hotel had an amazing view."
"This property is stunning and the service is top tier. We stayed in beautiful rooms and our butler was able to accommodate all of our requests. The spa treatments were fabulous."
"The surroundings are magical. The design is the most aesthetic I have ever seen in any luxury hotel."
"I liked that it was super clean. Preserved well. Full of greenery. Marvelous views."
3. Buahan, a Banyan Tree Escape
Located nearby the small Buahan village, a 40-minute drive from the north of Ubud, and nested behind infinite layers of impenetrable flora in the heart of the Balinese jungle with glimpses of rice fields, is Buahan, Banyan Tree Escape. Stretching over a site far out of the commercial areas, where you can contemplate the unobstructed views of the seven peak mountains, have access to the Ayung River and stroll its untouched waterfall.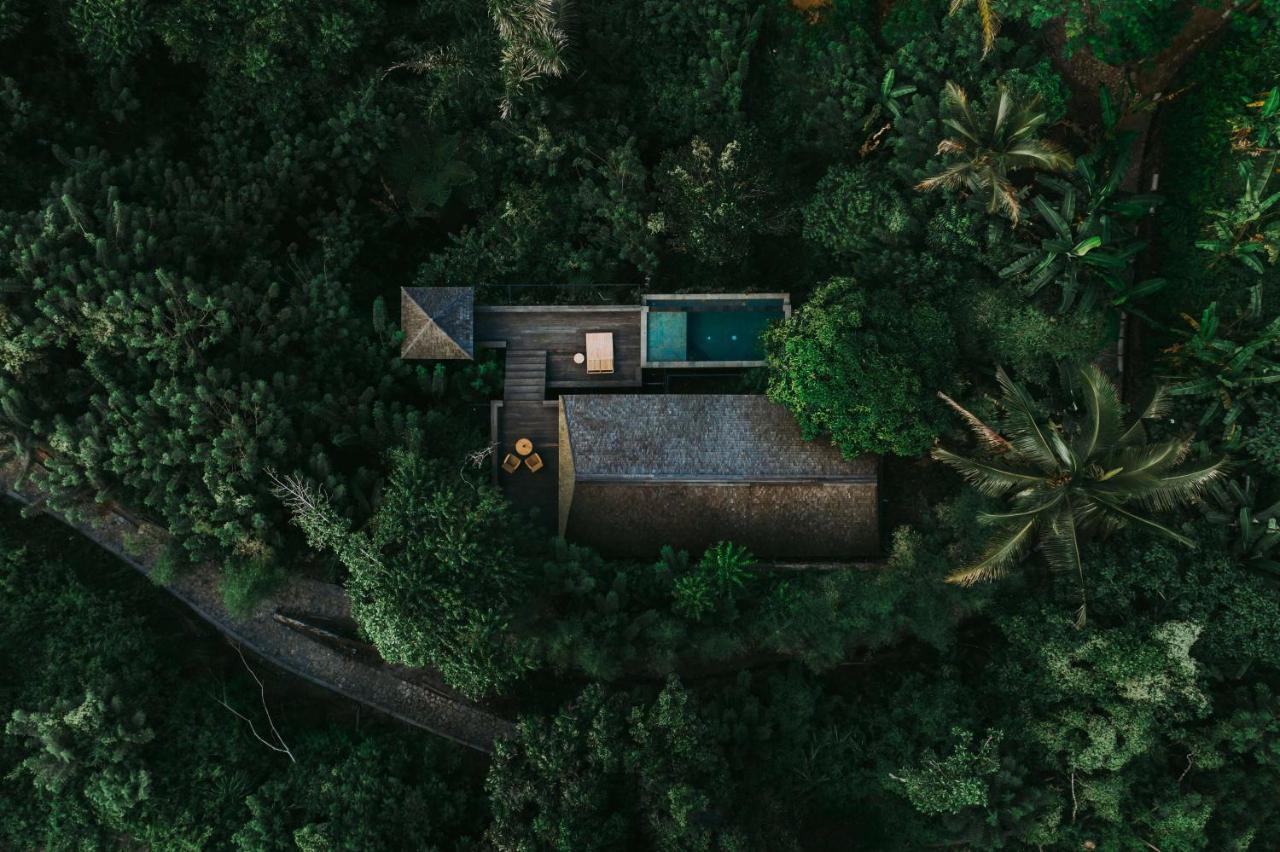 Location: Payangan
Reviews about pool villas at this Bali resort:
"Banyan Tree had everything we were looking for a unique relaxing getaway. The villa was super comfortable with a magnificent private pool, the food was delicious, the spa amazing and the view of the jungle and rice fields majestic."
"Everything was beautiful. The rooms are spacious and very private, the pool is just great size with beautiful views (definitely go for the valley views instead of the river)."
"The accommodation is nothing short of dream worthy. Photos do not its justice no matter how impressive the photography. Be prepared for a complete outdoor experience in complete privacy. The Treetop construction is both fascinating and uplifting to experience. The private pool and adjacent resting cabana areas are perfect for chilling out and lazing around."
4. Bulgari Resort Bali
Bulgari Resort Bali is located 150 metres above sea level and offers sweeping views of the Indian Ocean. It features luxurious villas with a private sundeck and plunge pool. A 1-km long beach is accessible only through the resort's inclined elevator. The resort also offers an infinity swimming pool overlooking the ocean. The spacious villas at Bulgari Resort Bali come with traditional Balinese décor.
Location: Ungasan, Uluwatu
Reviews about pool villas at this Bali resort:
"The hotel has an outstanding location (albeit not actually on the beach, but above it). Staff are extremely helpful and the villa we had was lovely."
"The accommodation is a dream. Each villa has its own small pool. The private beach area is beautiful."
"Each of the villas are outstanding."
"The villa, the views, the grounds are beautiful!"
5. Uma Kalai
Situated in Ubud, Uma Kalai features luxurious accommodation with an outdoor swimming pool and a fitness centre. Among the various facilities of this property are a garden, a shared lounge and a terrace. At the resort guests can choose one-bedroom villas with heated plunge pool and sauna, some of them offering garden views or living room.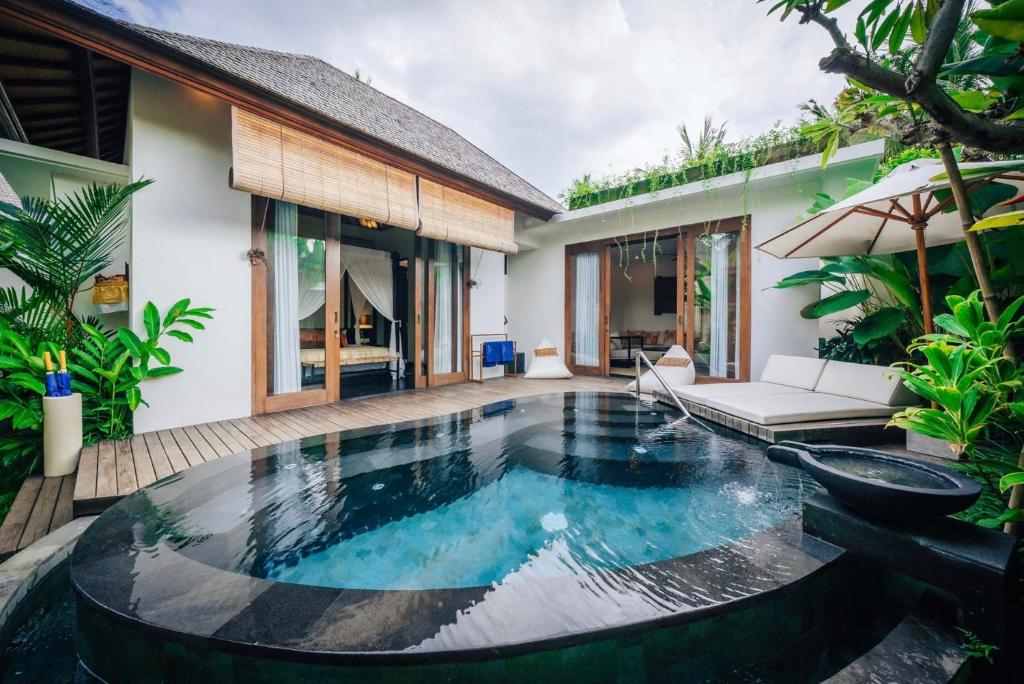 Location: Sayan, Ubud
Reviews about pool villas at this Bali resort:
"Amazing villa, amazing common areas and views, very quiet and very good service!"
"The villa we stayed at is called Tejas (Fire element) and was, fittingly, a warm and cozy respite from busy days sightseeing in Ubud and its surrounding areas. Our favorite features in the villa are the Steam Therapy Room fitted in the shower, and the heated plunge pool. The views from the main pool were also stunning."
"The property was stunning and very intentional. Our villa had a private pool which was heated and very nice."
"A beautiful property with only 6 villas set in the lush tropical Ubud. All villas are tastefully designed and gave a lovely mix of traditional but luxe."
"There are only 6 villas of Uma Kalai. It's so easy to miss your chance if you won't book the room early in advance;) Our villa is installed with Sauna room and heated plunge pool surrounded by numerous trees, grass and flowers."
6. The Ungasan Clifftop Resort
The Ungasan Clifftop Resort is a luxurious cliff-edge resort set 150 metres above the Indian Ocean and affording stunning views of surrounding landscapes. Offering personalised service, The Ungasan Clifftop Resort features a private beachfront, fitness facilities and a day spa. Guests can lounge by the cliff-edge infinity pool or have a game of tennis at the lawn and hard courts. Leisure options include a games room and Balinese massages. Fully furnished villas have a designer kitchen, rain showers and ample indoor/outdoor lounge areas.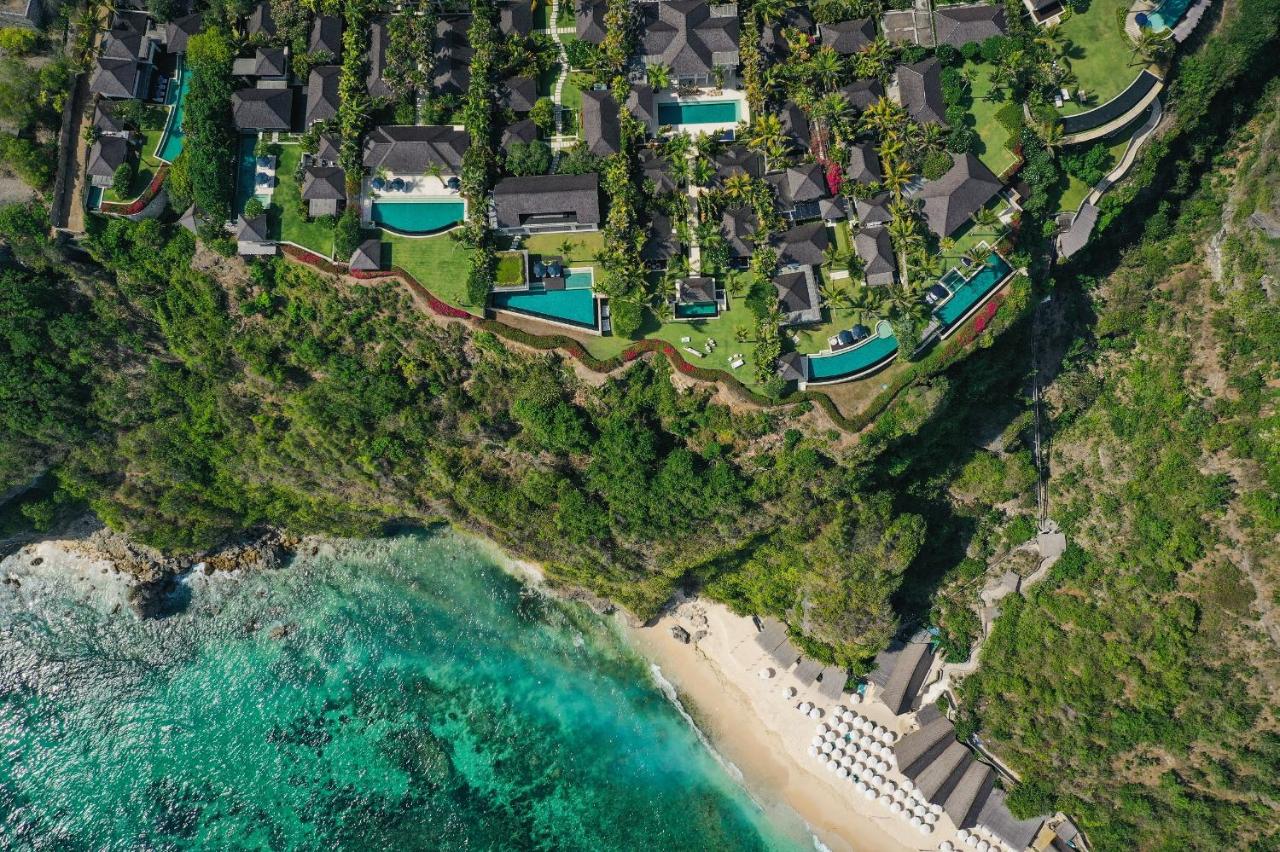 Location: Ungasan, Uluwatu
Reviews about pool villas at this Bali resort:
"Loved everything about this place! The privacy and beauty of our Villa, the quiet compound it was nestled in, the spectacular view from the cliffs."
"The villa was beautiful and cleaned regularly. The shared villa pool had an infinity edge which had stunning views over the cliff face."
"We loved the clifftop location and beautiful landscaping of the resort. Our villa was private, very well presented and had everything we needed."
"Everything was great about this hotel: stunning view on top of the cliff, excellent service, spacious and stylish rooms. Our villa had a private pool overlooking the ocean which was very special."
7. The St. Regis Bali Resort
Directly on the beachfront of Nusa Dua, The St. Regis Bali Resort is a property featuring a full spa and an outdoor lagoon pool. All villas and suites at the resort are decorated with cultural fabrics and enjoying sea views. Each comes with a balcony or terrace overlooking the garden, pool or ocean. Selected villas at The St. Regis Bali Resort feature a private hot tub or plunge pool.
Location: Sawangan, Nusa Dua
Reviews about pool villas at this Bali resort:
"The rooms were absolutely beautiful! We had a Lagoon Villa which exceeded our expectations. The temperature of our private pool and the lagoon pool was perfect."
"We stayed a few days in a villa with private pool with access to the sea (Strand Villa)! Probably one of the best options offered by the hotel! Overall, the villa offers very high-end services worthy of the best hotels in the world."
"We stayed at the ocean villa and having the beach at our door step was amazing. We've had our day beds at the beach setup for us, the villa is spacious and comfortable."
"The strand villa has a very nice private ocean view, the room is comfortable and clean as well."
8. Nirjhara
Nirjhara has an outdoor swimming pool, a fitness centre and garden in Tabanan. The property is located 1.5 km from Kedungu Beach and 1.6 km from Panggungan Beach. At Nirjhara pool villas guests will have a special experience as these villas provides a hot tub and a private pool.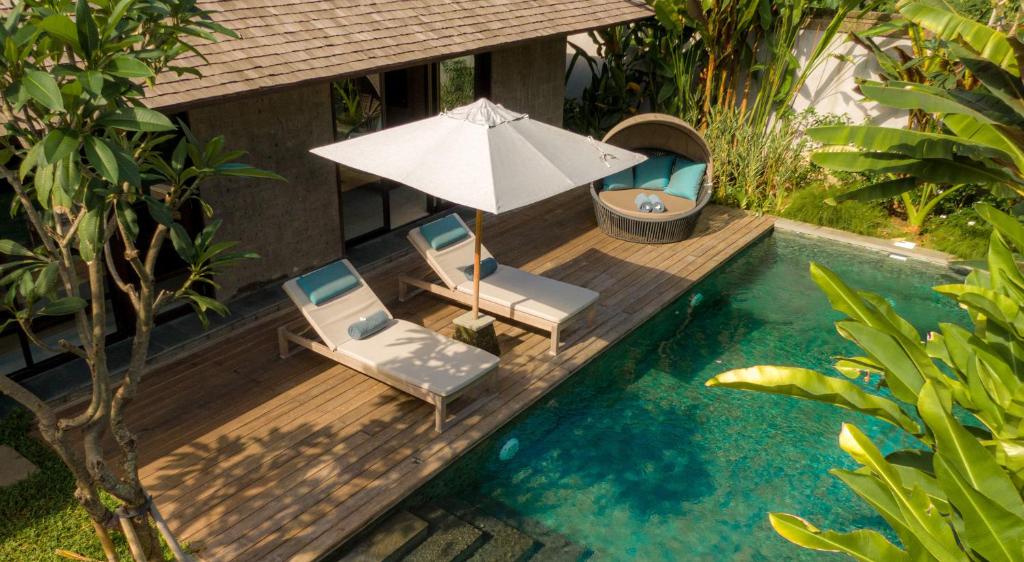 Location: Tabanan
Reviews about pool villas at this Bali resort:
"Huge villa, view in the jungle and rice paddies, very large pool, maximum comfort."
"This place is awesome, extremely fancy compared to most of the villas around Bali, yes, it is a lot more expensive than most places but you get what you pay for!"
"Our family chose to stay in the Jungle Pool Villa and the facilities were fantastic. The living room was very nice for the whole family to gather. The size of the swimming pool is just right for four people. The surroundings covered in trees and plants making it very jungle-like."
"Good experience, love the landscape architecture around the villas & interior design of the canopy room."
9. The BK Village
Situated in the peaceful area of Umalas, The BK Village offers a relaxing getaway surrounded by lush tropical greenery. It boasts an outdoor pool and a spa. Decorated in ethnic Javanese style, some of the private villas at the property come with a private pool. Boasting spacious interiors with an open plan design, each villa has a cosy lounge area, in-house bar and a private terrace.
Location: Umalas, Canggu
Reviews about pool villas at this Bali resort:
"The full site is so big but there are only several rooms which means it is very quiet and peaceful. Yoga shala is really cool and the spa treatments/facilities are exceptional. The pool is INCREDIBLE."
"The villas are beautiful, as are the gardens. It's quite a costly place to stay."
"The rooms are super comfortable with a big luxury outdoor bathroom and the room also has an amazing aircon!! The location is a little far to walk but it is located in between Seminyak and Canggu."
"Excellent architecture with high harmony spaces and amazing villas. We stayed at villa Lima and the space was amazing. The 2 pools are fantastic."
10. Komaneka at Bisma Ubud
A hillside property in Ubud, Komaneka at Bisma offers clear views of Campuhan River, coconut plantations and rice fields. The resort features 2 outdoor pools, a restaurant, and a spa. Rooms at Komaneka come with private balconies, where guests can enjoy the natural scenery from the sun loungers provided. Guests can choose from one-bedroom, two-bedroom, three-bedroom and family pool villas.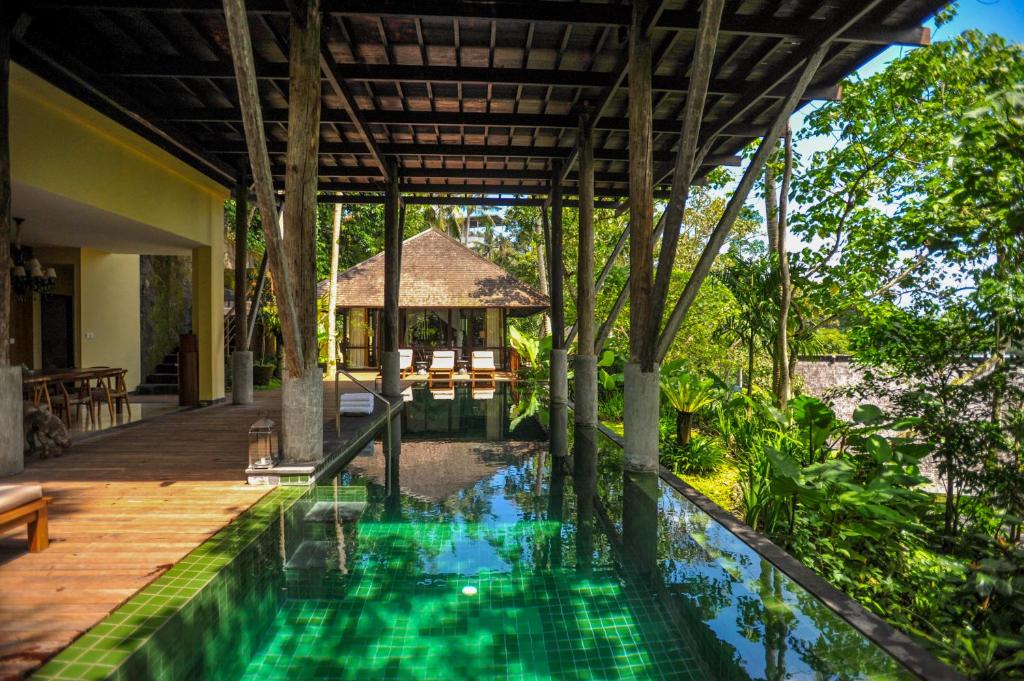 Location: Ubud City-Centre, Ubud
Reviews about pool villas at this Bali resort:
"We stayed in the villas with the private pool and this was an outstanding experience in our lives."
"We stayed in one bedroom villa; it's big and very comfy. Location is good, only takes 15 mins by walking to Monkey Forest, Ubud Palace and Ubud Art Market etc."
"The hotel, rooms and views were incredible. We cannot recommend a 2-bedroom villa enough."
"We upgraded to the one-bedroom villa with the private pool and the views were amazing. The villa was massive and super clean - definitely would recommend upgrading if you can! The location is good, one street across from the busy Ubud streets."
"Our villa had a beautiful view of the trees and jungle, and the greenery-facing terrace and pool was very generously sized. The bathroom area was also particularly big, with both indoors and outdoors showers, and a large freestanding bath tub."
11. Munduk Moding Plantation Nature Resort & Spa
Munduk Moding Plantation Nature Resort offers luxurious suites and villas. An outdoor infinity pools and jacuzzi provide scenic views of the surrounding coffee trees, rice fields and mountains. The resort also boasts its own spa, restaurants. Featuring wood flooring and furnishings, each pool villa has a 4-poster bed and floor-to-ceiling windows.
Location: Munduk
Reviews about pool villas at this Bali resort:
"The view of the swimming pool is stunning. The villa we lived is located well and got beautiful view as well."
"The villa we took was large, comfortable and clean. The villa had a pool and jacuzzi overlooking a green landscape."
"Villas are really nice and private, and hotel overall is not big so it's very relaxed and quiet. Views are amazing."
"The villa itself is a masterpiece. Comfortable beds and couches. Warmed private pool and a jacuzzi with a stunning view."
12. The Apurva Kempinski Bali
Surrounded by lush greenery overlooking the ocean, The Apurva Kempinski Bali offers luxurious stays in Nusa Dua. Boasting a 60-metre outdoor swimming pool, the resort also houses a spa. Elegantly decorated, each unit is well-appointed with modern amenities and wooden furnishings. Guests enjoy garden or ocean view from the private balcony. The Apurva Kempinski Bali villas have a private pool and ocean views.
Location: Sawangan, Nusa Dua
Reviews about pool villas at this Bali resort:
"We booked a 2 bed Villa with pool. From the moment you arrive at the hotel and are met with a stunning entrance lobby you know it's going to be special. As we had booked a villa, we had our own dedicated check-in area. The villa had an outdoor living room with an outdoor kitchen."
"Room (stayed at the villas), look and feel of the property, spa was incredible."
"Villa is really beautiful! The location of villa & hotel area is too far."
13. Viceroy Bali
Poised on a ridge overlooking the verdant Valley of the Kings, Viceroy Bali is a revered retreat for discerning visitors to the extraordinary island nation of Bali. Located in the central foothills of the Gianyar regency, Viceroy Bali is just 5 minutes' drive to the thriving culture and arts centre of Ubud, yet the location feels like another world -- the perfect place to relax and renew in utter tranquility. At the resort guests can choose from several types of pool villas.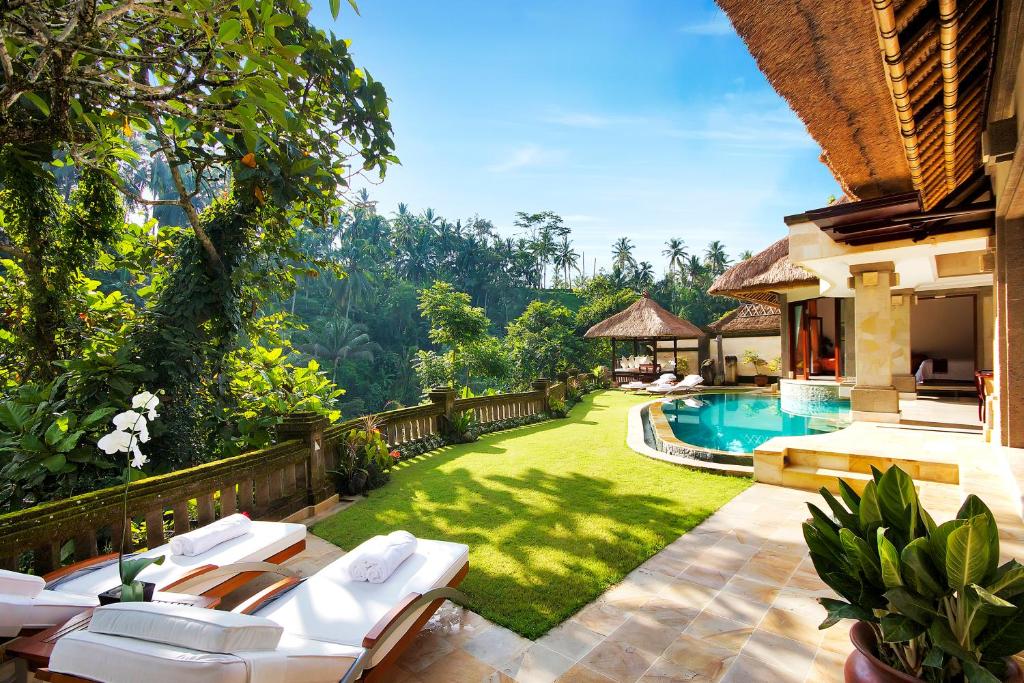 Location: Andong, Ubud
Reviews about pool villas at this Bali resort:
"Villa was superb. Private and very relaxing."
"Well set out 5-star villas with an excellent 10-minute shuttle service to and from Ubud."
"We stayed in the terrace villa with pool and it was stunning!"
"Beautiful. Pristine. Amazing! This place was absolutely breathtaking and beautiful. The villa was beyond amazing."
"Luxurious stay with amazing pool villas."
14. Wapa di Ume Sidemen
Wapa di Ume Sidemen is a five-star boutique resort that has a 360° panoramic hillside with a magical backdrop of the tallest mountain of Mount Agung, and surrounded by rice fields as its centre piece. The resort is just another peaceful hideaway resort in the area away from the hectic of the city life. Wapa di Ume Sidemen has several one-bedroom pool villas overlooking to the panoramic hillsides.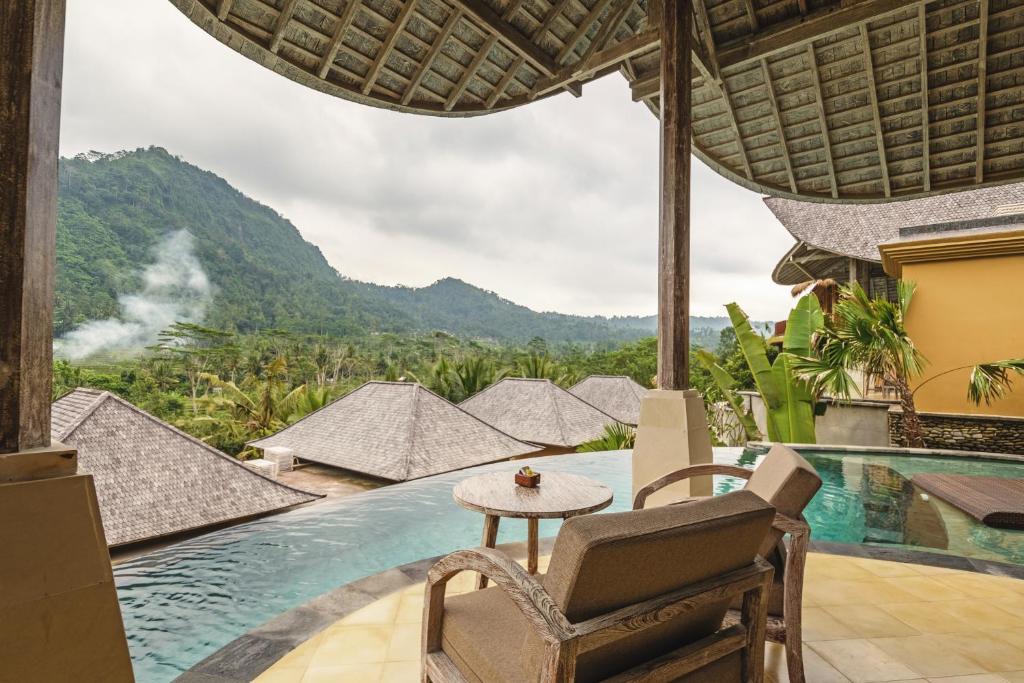 Location: Sidemen
Reviews about pool villas at this Bali resort:
"Stunning property, we stayed in a private pool Villa and the views surrounding were magnificent. Sidemen has less tourists which we enjoyed - we liked the security at Wapa and felt as though we were in our own little bubble in the middle of the jungle and rice fields. Absolutely stunning and never too busy. Our private pool was too cold to enjoy."
"We stayed in the villa with private infinity pool and had the best experience in Bali. We loved the incredible views, super comfortable villa, restaurant, main pools and spa. The resort is spacious with not too many rooms which makes it the perfect place to enjoy the nature and recharge yourself."
"Beautiful location. Ambience and tranquility. The pool villa is superb and not overlooked."
"We stayed in a pool villa room for 3 nights and absolutely loved it! The room was very private making you feel like you had your own connection with the surrounding nature. The views are stunning from all sides."
15. Four Seasons Resort Bali at Jimbaran Bay
Located on the edge of Jimbaran Bay, Four Seasons Resort Bali at Jimbaran Bay features an outdoor pool with stunning views of the Indian Ocean. The resort houses 3 dining options and Balinese-style villas surrounded by lush tropical gardens. Each spacious villa has a private outdoor pool. Recreational options include taking cooking classes, working out at the gym or indulging in spa treatments.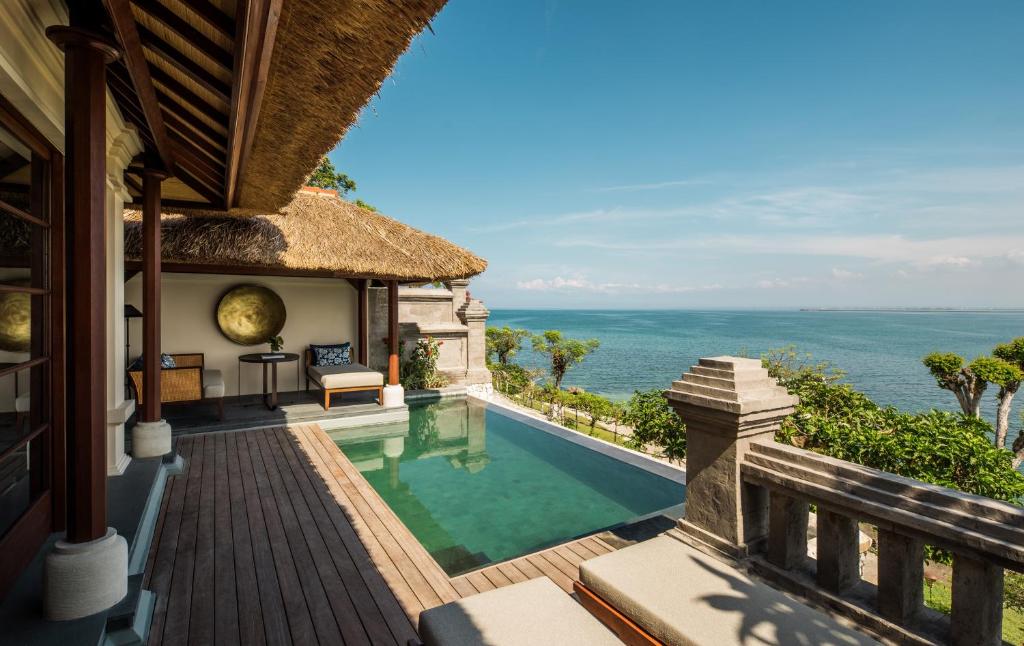 Location: Jimbaran Bay, Jimbaran
Reviews about pool villas at this Bali resort:
"Beautiful property on the side of the cliffs. Stunning views and beautiful private villas with pools."
"Fantastic Villas with private pools. Exceptional staff and amenities."
"The facilities are amazing, beautiful villas gorgeous beach very close by. Very friendly staff and fast buggies to take you around the property."
"The view of Jimbaran Bay from the villa is beautiful. The hotel is a true haven of peace. Lush gardens. The staff is extremely kind and always takes care of your well without being intrusive. A real luxury hotel in which you feel at home. The location is close to the lively Jimbaran beach with grilled fish restaurants."
"The villas are spacious and sumptuous, comfortable, perfect size and have all the amenities for a paradisaical stay."
16. Andaz Bali - a Concept by Hyatt
Andaz Bali - a Concept by Hyatt is a luxury hotel in Sanur, featuring a restaurant and outdoor swimming pool. For the most luxurious stay at this hotel guests can choose from One-Bedroom Garden Villa, which is fitted with a living room, a private bathroom and a private pool with sunbeds, and Two-Bedroom Beach Villa, boasting the private pool, 2 bedrooms, 1 bathroom with a bath, a seating area and terrace where you can relax.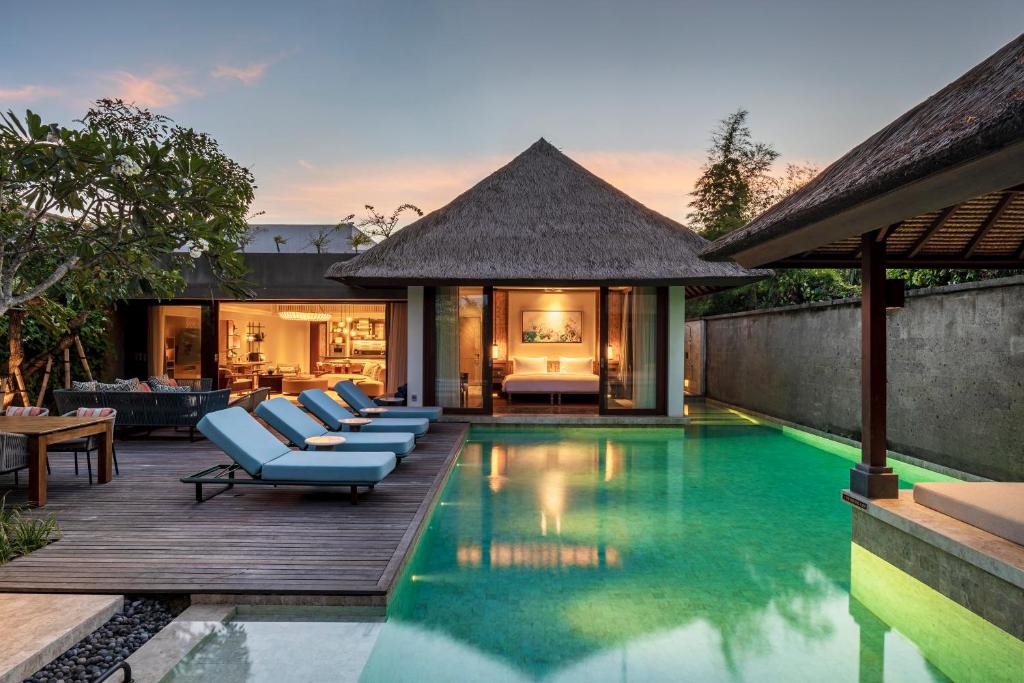 Location: Sanur Beach, Sanur
Reviews about pool villas at this Bali resort:
"Excellent hotel. The thoughtful details made the stay so enjoyable. We had the adjoining villas which I would highly recommend."
"Everything from our pool villa through hotel grounds to pools and kids club was amazing."
"The beautiful hotel and our magnificent garden villa with private pool."
"The location right on the beach is perfect and they have several activities based around the beach and the swimming pools that help you enjoy the beauty and surroundings. We stayed in villas with private pools and they were absolute luxury."
17. The Laguna
Bordered by a white sandy beach, The Laguna features 7 large lagoon swimming pools and stunning views of the Indian Ocean. Set amid landscaped tropical gardens, it offers spacious accommodation with around-the-clock, on-call butler service. Rooms and villas at The Laguna are decorated with wooden furnishings and flooring. Spacious 1-bedroom and 2-bedroom pool villas are offered at the resort.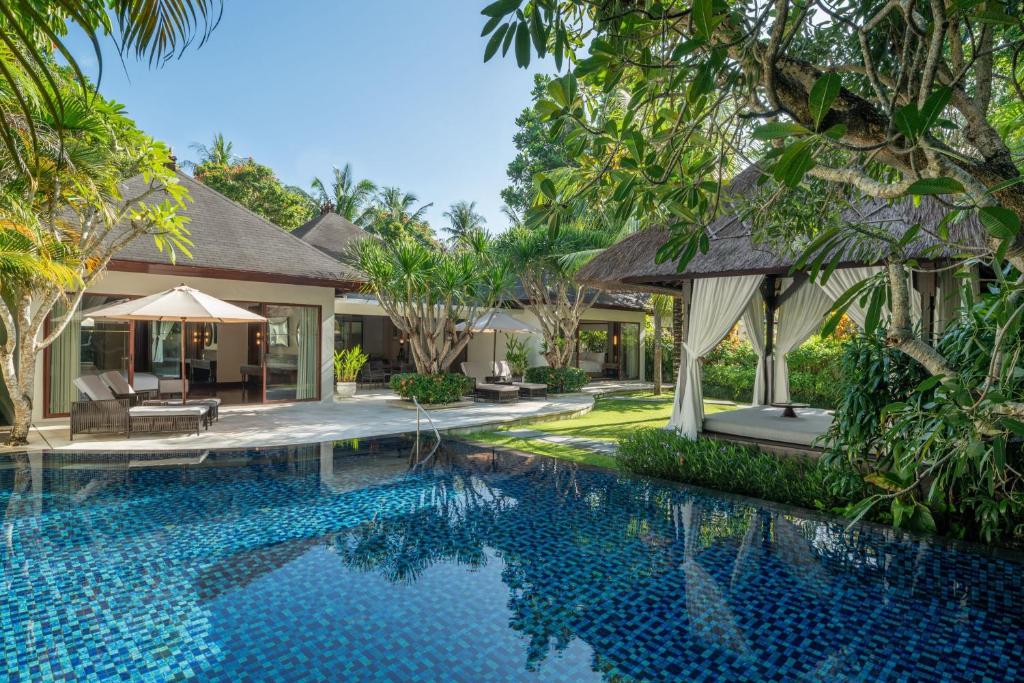 Location: BTDC, Nusa Dua
Reviews about pool villas at this Bali resort:
"Villa was fabulous, clean and spacious. Facilities are outstanding."
"We had a villa. Clean, big, private pool, private butler. Leaves nothing to be desired. Clean beach, incredibly friendly staff. Everything perfect. Large breakfast, even on request to the villa. There is nothing missing."
"The hotel is in an excellent location on Nusa Dua beach. It was very clean with both modern and traditional Balinese feel."
18. Kelapa Retreat & Spa
Boasting an infinity pool overlooking the Indian Ocean, Kelapa Retreat & Spa is a luxurious boutique resort surrounded by a beautifully landscaped coconut garden. It features a private beach and restaurant. Spacious and bright, air-conditioned villas feature modern Balinese interiors and beautiful ocean views.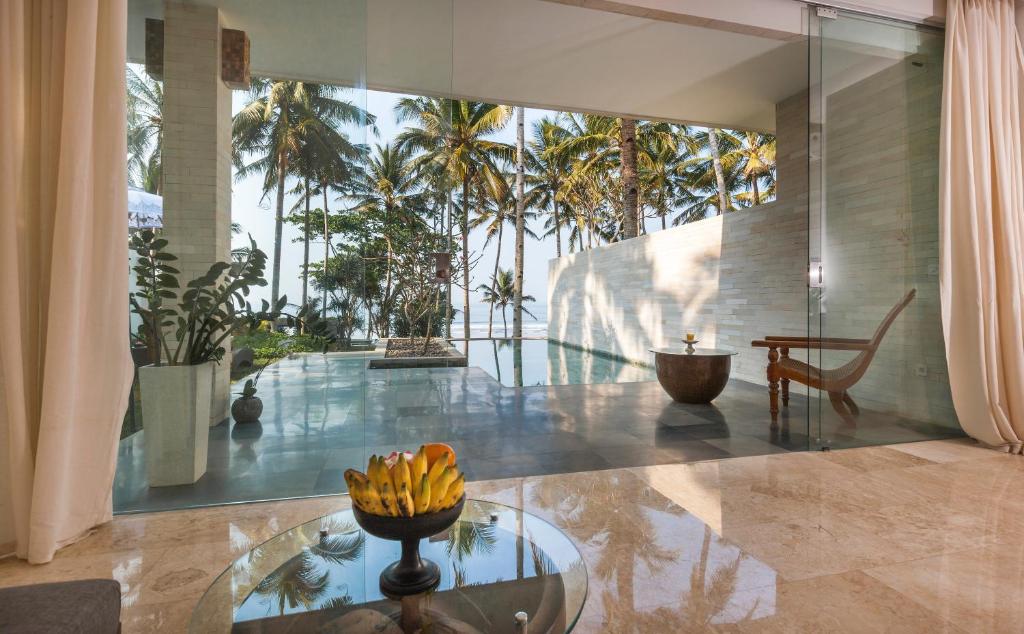 Location: Pulukan
Reviews about pool villas at this Bali resort:
"Deserted beach location. Stunning views from round communal. Infinity pool. Individual villa pools especially in garden villas private and beautiful. Long journey from airport - but worth it!"
"The Kelapa Retreat is a beautiful resort away from the main tourist drag. Our villa was beautiful, spacious, clean and had a fabulous view of the beach."
"Next to the private beach, there is a beautiful infinity pool surrounded by palm trees, and a number of villas have their own infinity pools. The villas are clean and very pleasant to stay at. The retreat is about 2.5 hours from Denpasar and the airport, sometimes more depending on traffic."
"An amazing resort, lost in the middle of nowhere, real hidden paradise with huge and well-designed gardens, private stone pools and stunning villas, perfectly located right on an endless and empty and beautifully natural beach front with trees everywhere (No other resort around)."
19. The Seminyak Beach Resort & Spa
The beachfront The Seminyak Beach Resort & Spa resort features an ocean-facing infinity pool and sunset lounge surrounded by greenery. The resort is located next to the famous Ku De Ta Restaurant. The Seminyak Beach Resort & Spa features a traditional Balinese touch, while villas here also offer a hot tub with ocean views. Guests looking for luxury, at the resort can choose from one-bedroom and two-bedroom pool villas.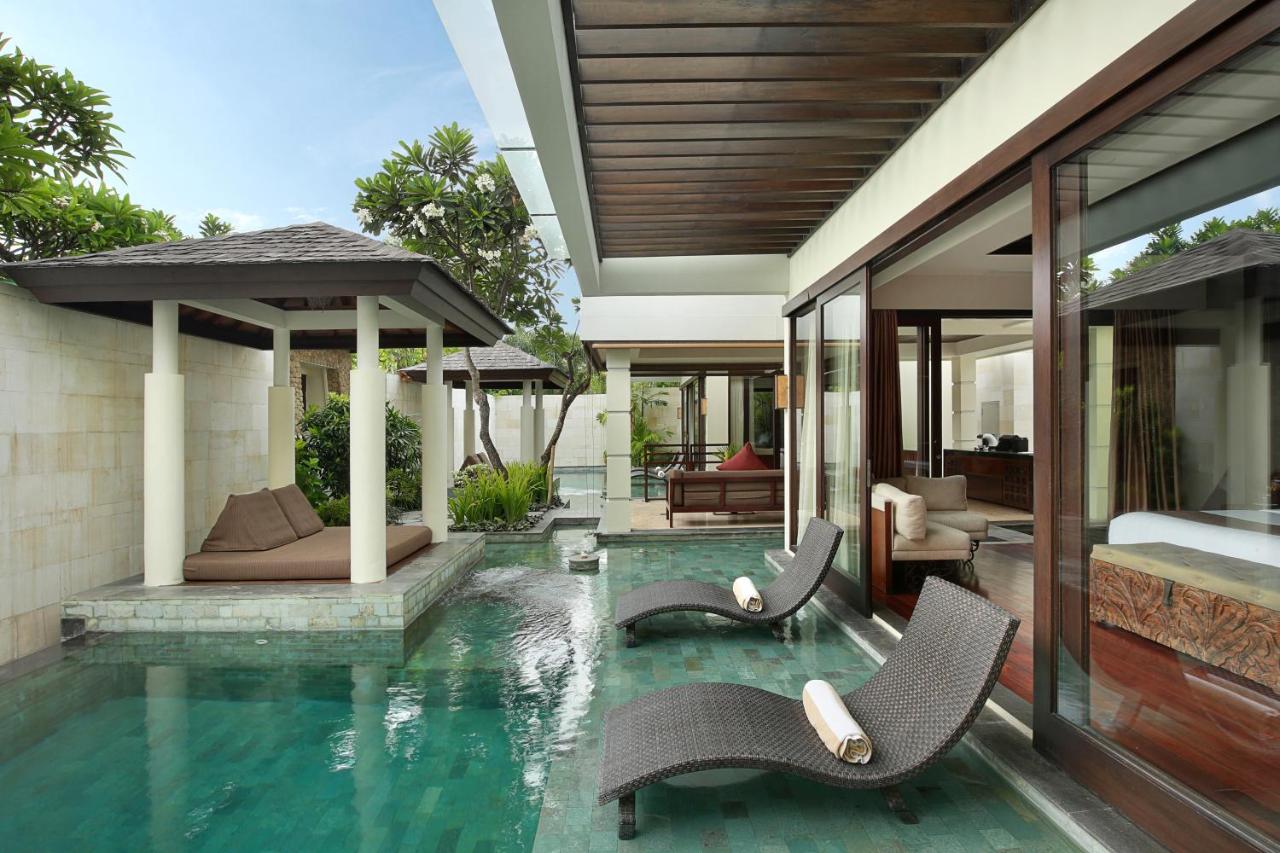 Location: Laksmana, Seminyak
Reviews about pool villas at this Bali resort:
"We stayed in the amazing beach villa we had all the amenities we could wish for very huge and spacious our Villa had a lovely pool."
"Our oceanfront villa was absolutely amazing. Beautifully appointed villa in a stunning location as well as being very private and very quiet. The beds were comfortable as well. This hotel is in a brilliant location, close to the action but doesn't get the noise from the beach clubs."
"We stayed in a garden villa which was simply amazing. Wonderful staff, great SPA, great view from the infinity pool to the ocean."
"The Ocean Villa has huge and the private pool was excellent. The bathroom was spacious. The bed was very comfortable. The Ocean villa was a little expensive."
20. Aqua Nusa - Luxury Lembongan Villas
Overlooking the beautiful Lembongan's surf breaks, Aqua Nusa offers a retreat in a strategic location where restaurants and bars are only minutes away. It takes about a 5-minute walk from the property to Coconut Beach. Each villa features a private pool as well as a separate living and dining area, and a well-equipped kitchen.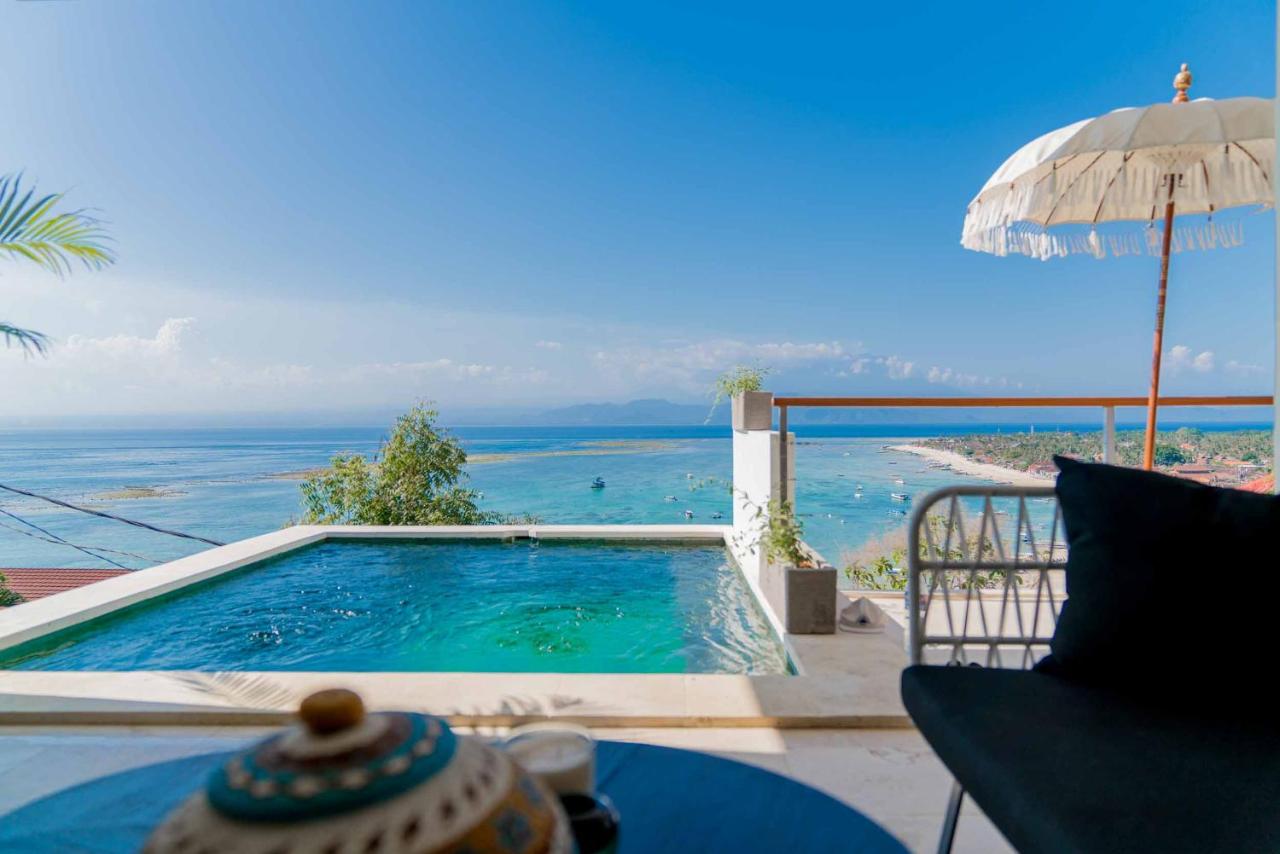 Location: Jungut Batu, Nusa Lembongan
Reviews about pool villas at this Bali resort:
"Amazing villa, secluded and huge space for 2 people to relax and unwind. Private pool is a hit, however the view is just spectacular."
"The view is unbelievable and awesome. I sat with a cup of coffee at my villa deck and watched the sunrise."
"Beautiful villas, we stayed in villa Tinggi and Villa Luar Biasa, both fantastic with amazing views, very spacious, small pools but enough to have a dip and a cool down. Very close to bars and restaurants and beach, amazing place. Just a note that if you have trouble with steps, it is 193 steps down to beach and 193 steps back up to the villa."
"The Villa was absolutely beautiful with an amazing view. Short walk to all of the restaurants and cafes."
"It was beautiful stay; they have everything in the villa. Amazing view, nice TV, and kitchen which has everything. Pool was quite small, you can't swim in there."
---
Bali Hotels
For more places to stay in Bali please check: Hotels in Bali.
Other Pool Villas in Bali
If you are interested in a specific area of Bali for a luxury stay at pool villas, check the following articles: