Ubud is a popular town in the uplands of Bali, Indonesia. If you are looking for luxurious holidays in Bali, check the list of the best Ubud luxury resorts with private pool villas, including the special selection of resorts in Ubud that boast pool villas with private pools and exceptional views.
Ubud Pool Villas
Ubud in Bali, Indonesia, is a unique town with a good number of accommodations available for all tastes and different budgets. Not surprisingly, lots of luxury villas with private pool can be found in Ubud.
Ubud Villas with Private Pool provide not only a comfortable stay, but also an unforgettable experience. The luxury pool villa resorts normally offer a high level and wide range of services. In most cases, such hotels have a variety of restaurants and bars, luxury spa, saunas, Jacuzzis, and access to excellent beaches. In more exclusive resorts, you will find world-class facilities, including entertainment, shopping, award-winning fine dining and outdoor activities.
Accommodation prices of pool villa in Ubud can vary significantly. You will find both incredibly expensive and more affordable options in this part of Bali.
Best Ubud Resorts with Pool Villas
The best resorts with pool villas in Ubud offering exceptional luxury during your holiday in Bali are listed below.
---
To decide on the best option for the trip, more detailed information on each of the resorts with reviews, prices and availability of rooms for the selected dates can be found by clicking the links provided.
---
1. Mandapa, a Ritz-Carlton Reserve
Mandapa, A Ritz-Carlton Reserve offers a retreat amongst the greenery in Ubud. This hotel also features an outdoor swimming pool, an on-site spa and wellness centre. Complimentary 24-hour butler service is available in all rooms. Every pool villa at this property is air-conditioned and comes with an ample seating area and an en suite bathroom, which has separate bath and shower facilities. Fresh towels, bathrobes, and other bath amenities are also provided. Most of the villas offer views of the surrounding rainforest, rice paddies and even views of the Ayung River.
Location: Kedewatan, Ubud
Reviews about pool villas at this Ubud resort:
"A really relaxing place where you feel calm, far from high-capacity hotels. Exceptional villa, very quiet and comfortable. Pleasant public pools with snacks offered & small touches."
"We liked everything about the property. The facility was excellent and clean, the hotel had an amazing view."
"This property is stunning and the service is top tier. We stayed in beautiful rooms and our butler was able to accommodate all of our requests. The spa treatments were fabulous."
"The surroundings are magical. The design is the most aesthetic I have ever seen in any luxury hotel."
"I liked that it was super clean. Preserved well. Full of greenery. Marvelous views."
2. Uma Kalai
Situated in Ubud, Uma Kalai features luxurious accommodation with an outdoor swimming pool and a fitness centre. Among the various facilities of this property are a garden, a shared lounge and a terrace. At the resort guests can choose one-bedroom villas with heated plunge pool and sauna, some of them offering garden views or living room.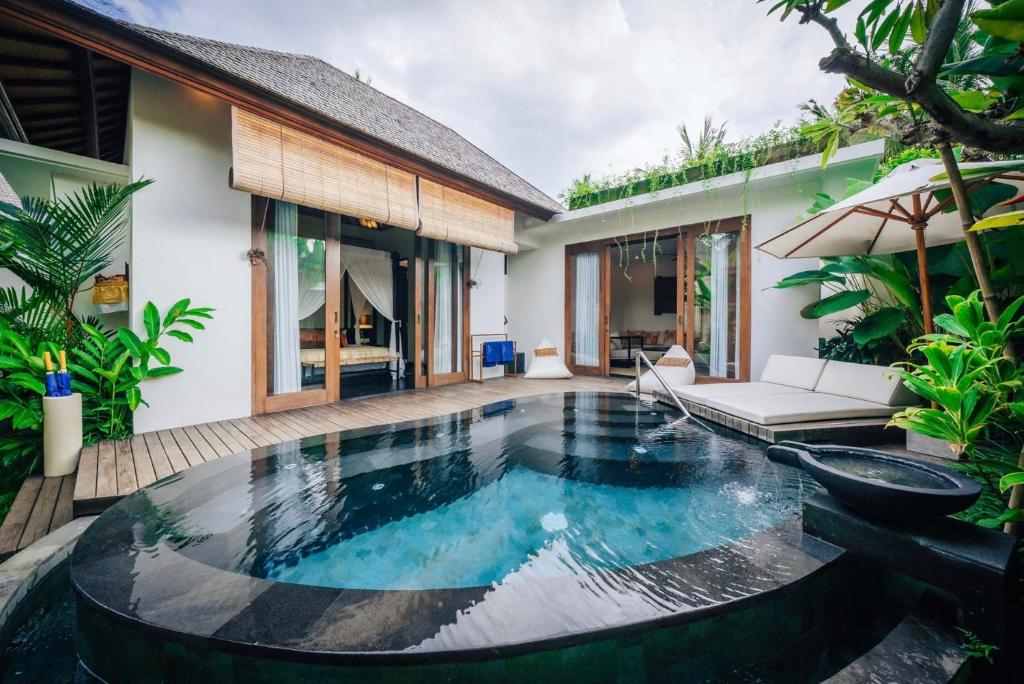 Location: Sayan, Ubud
Reviews about pool villas at this Ubud resort:
"Amazing villa, amazing common areas and views, very quiet and very good service!"
"The villa we stayed at is called Tejas (Fire element) and was, fittingly, a warm and cozy respite from busy days sightseeing in Ubud and its surrounding areas. Our favorite features in the villa are the Steam Therapy Room fitted in the shower, and the heated plunge pool. The views from the main pool were also stunning."
"The property was stunning and very intentional. Our villa had a private pool which was heated and very nice."
"A beautiful property with only 6 villas set in the lush tropical Ubud. All villas are tastefully designed and gave a lovely mix of traditional but luxe."
"There are only 6 villas of Uma Kalai. It's so easy to miss your chance if you won't book the room early in advance;) Our villa is installed with Sauna room and heated plunge pool surrounded by numerous trees, grass and flowers."
3. Komaneka at Bisma Ubud
A hillside property in Ubud, Komaneka at Bisma offers clear views of Campuhan River, coconut plantations and rice fields. The resort features 2 outdoor pools, a restaurant, and a spa. Rooms at Komaneka come with private balconies, where guests can enjoy the natural scenery from the sun loungers provided. Guests can choose from one-bedroom, two-bedroom, three-bedroom and family pool villas.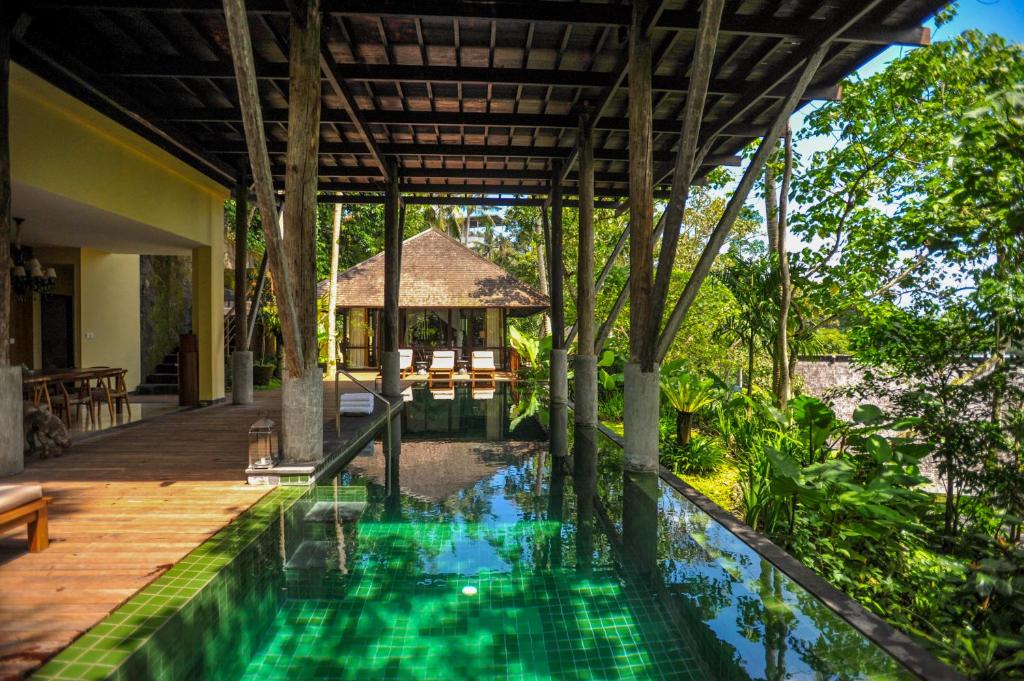 Location: Ubud City-Centre, Ubud
Reviews about pool villas at this Ubud resort:
"We stayed in the villas with the private pool and this was an outstanding experience in our lives."
"We stayed in one bedroom villa; it's big and very comfy. Location is good, only takes 15 mins by walking to Monkey Forest, Ubud Palace and Ubud Art Market etc."
"The hotel, rooms and views were incredible. We cannot recommend a 2-bedroom villa enough."
"We upgraded to the one-bedroom villa with the private pool and the views were amazing. The villa was massive and super clean - definitely would recommend upgrading if you can! The location is good, one street across from the busy Ubud streets."
"Our villa had a beautiful view of the trees and jungle, and the greenery-facing terrace and pool was very generously sized. The bathroom area was also particularly big, with both indoors and outdoors showers, and a large freestanding bath tub."
4. Viceroy Bali
Poised on a ridge overlooking the verdant Valley of the Kings, Viceroy Bali is a revered retreat for discerning visitors to the extraordinary island nation of Bali. Located in the central foothills of the Gianyar regency, Viceroy Bali is just 5 minutes' drive to the thriving culture and arts centre of Ubud, yet the location feels like another world -- the perfect place to relax and renew in utter tranquility. At the resort guests can choose from several types of pool villas.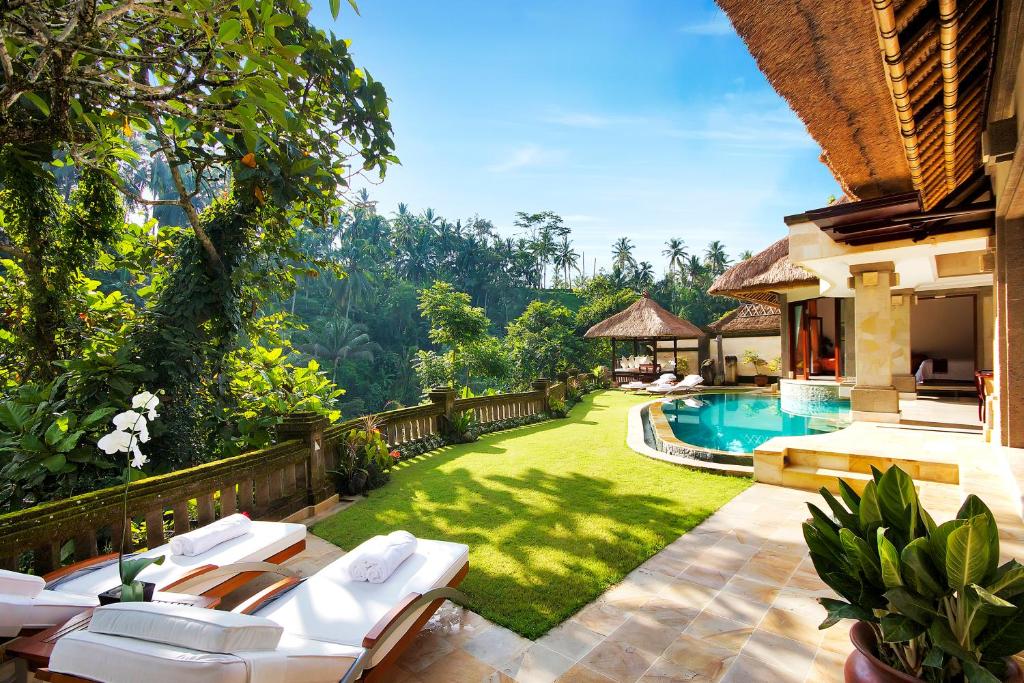 Location: Andong, Ubud
Reviews about pool villas at this Ubud resort:
"Villa was superb. Private and very relaxing."
"Well set out 5-star villas with an excellent 10-minute shuttle service to and from Ubud."
"We stayed in the terrace villa with pool and it was stunning!"
"Beautiful. Pristine. Amazing! This place was absolutely breathtaking and beautiful. The villa was beyond amazing."
"Luxurious stay with amazing pool villas."
5. Tanah Gajah, a Resort by Hadiprana
Tanah Gajah, a Resort by Hadiprana provides a relaxing getaway surrounded by rice fields. Located 3 km from central Ubud, it offers a 28-metre outdoor pool and free scheduled yoga classes. Different types of pool villas at the resort come with a private terrace, semi-outdoor bathroom and a private pool with outdoor dining area.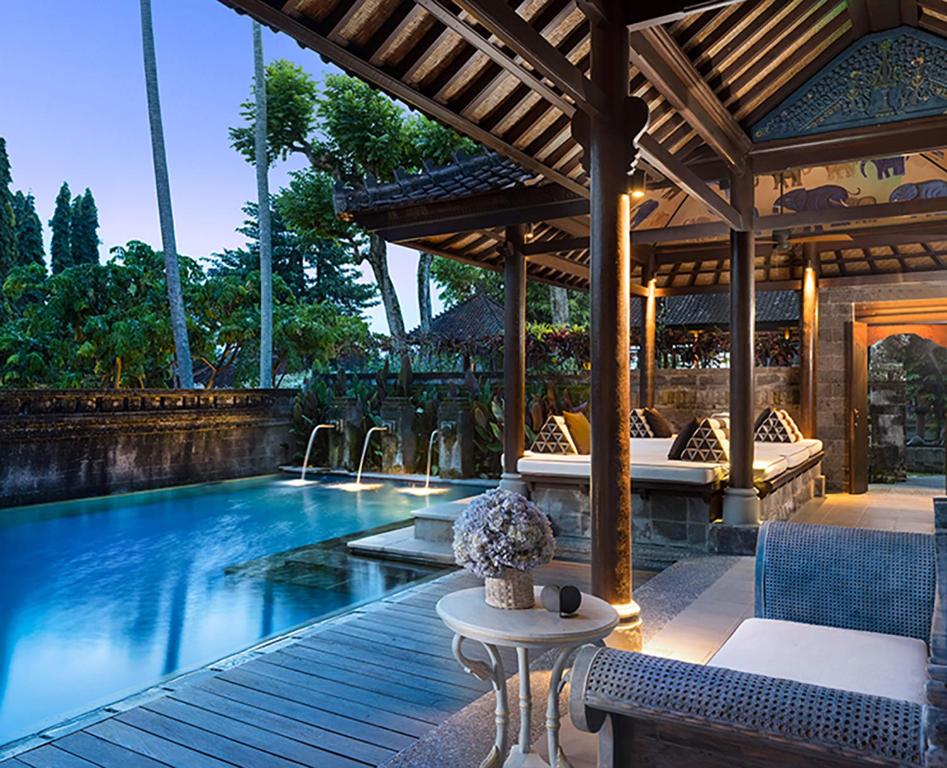 Location: Ubud
Reviews about pool villas at this Ubud resort:
"The pool villa was beautiful, quiet and private. Very relaxed atmosphere. The gardens are stunning and full of beautiful sculptures."
"The grounds are beautiful, authentic with traditional Balinese touch. Every corner seems to be well-maintained and cared with love. The villa comes with its private pool, outdoor courtyard."
"The place is massive but calm, peaceful & relaxed. My villa was a bit old but charming. It has a modern Balinese vibe to it and came with an outdoor pool and a bath tub."
"The location of the hotel is breathtaking. It is located in the middle of a large park and beautiful rice fields. We had booked Hadiprana Villa as a family. The villa with private pool is huge and very nicely decorated."
6. The Kayon Jungle Resort
Surrounded by tropical greenery, The Kayon Jungle Resort offers accommodation with an outdoor pool in Ubud. Inspired by Balinese traditional architecture, the resort houses a spa centre and fitness facilities. At the resort guests can choose from Jungle Pool Villa, Valley Pool Villa, Kayon Premier Pool Villa and Kayon Royal Pool Villa.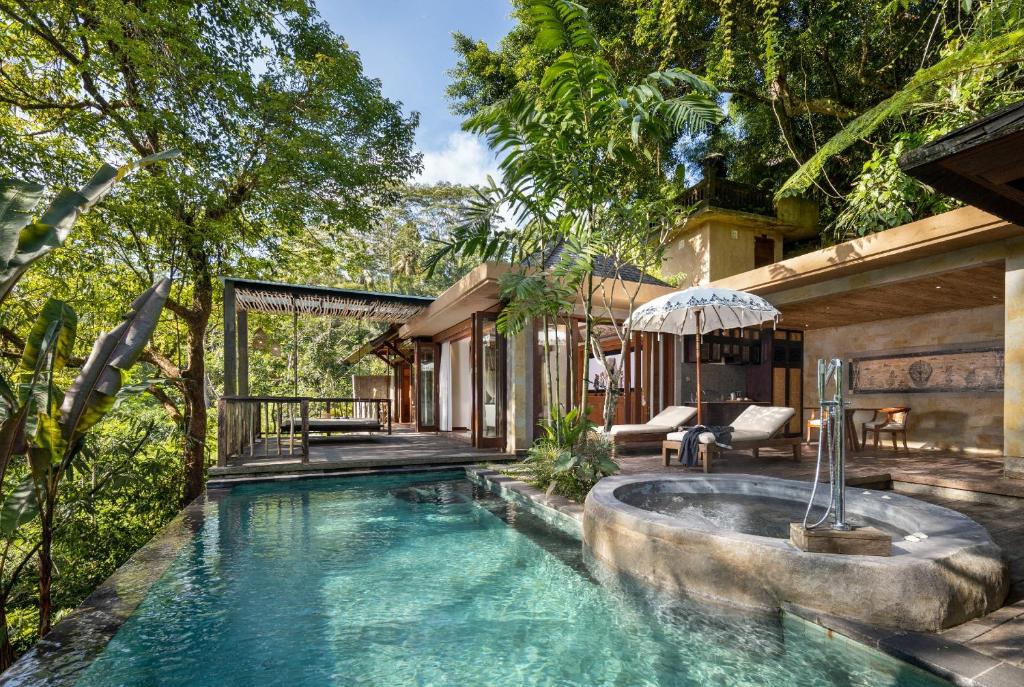 Location: Ubud
Reviews about pool villas at this Ubud resort:
"First of all, the pictures don't do the scenery justice, it's a truly remarkable property to look at. We stayed in a jungle pool villa and it was beautiful with a lot of amenities inside which made our trip that little bit easier."
"Amazing villa with an unforgettable view and a heated pool!"
"I booked a Premier Pool Villa, but got upgraded to the Royal Villa. It was an absolute surprise! It's an extra spacious property with every facility you could wish for (they even have a mini kitchen in the pool area with a beverage stocked fridge)."
"Our villa was super comfortable, with an amazing infinity pool (stayed at the Valley Villas with private pool)."
7. Chapung Sebali
Chapung Sebali is situated within a traditional village on hillside of Ubud. It features villas with private pools as well as the famous Jungle Fish pool bar and an infinity pool, open to both resident and non-resident guests overlooking the valley. Airy villas with plenty of natural light await guests of Chapung Sebali. Guests can relax with a drink from the minibar as they lounge by the pool or take a walk among the greenery.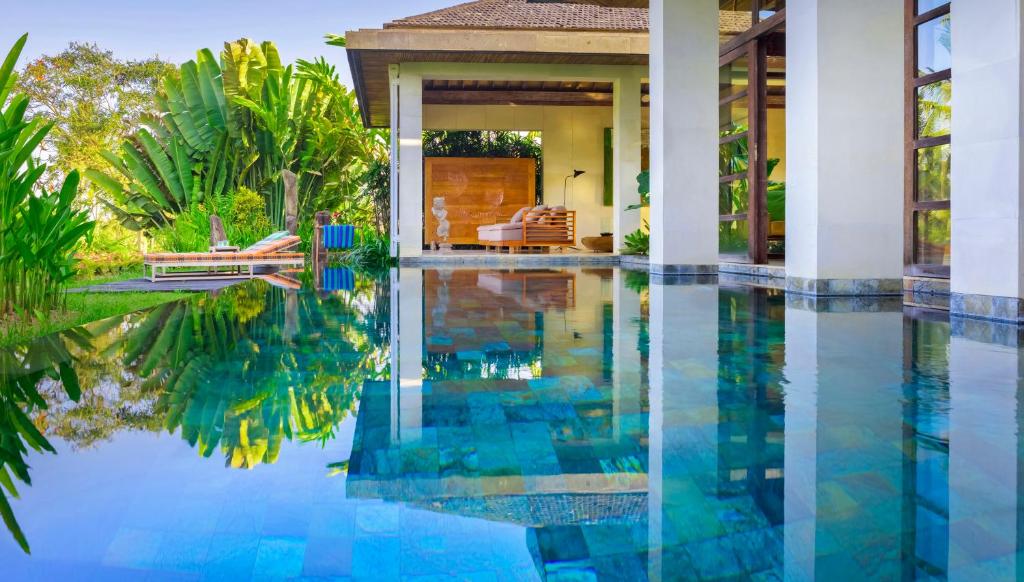 Location: Sambahan, Ubud
Reviews about pool villas at this Ubud resort:
"The private villa was exceptional - there was a large private infinity pool that came directly up to the bathroom, a spacious outdoor kitchen and dining area, an expansive bathroom, and a very comfortable bed."
"My villa was amazing, with its own infinity pool and outdoor seating area. This was one of the nicest places I have ever stayed."
"The surrounds were awesome, with the property surrounded by rice paddies and forest. Our villa was amazing, with a pool just outside our door, and an undercover outdoor area providing a great outdoor getaway escape."
"Beautiful villas set in rice rice fields and jungle. Main pool was too noisy with loud music and open to public. These things weren't consistent with the rest of the property brand. The fact that we had our own pool gave us the peace and relaxation we were looking for."
8. Tejaprana Bisma
Set in Ubud, Tejaprana Bisma offers accommodation with a garden, a restaurant and a bar. At the resort guests can choose from Pool Villa with Terrace View, Pool Villa with Forest View, Pool Villa with Valley View and Two-Bedroom Villa with Infinity Pool.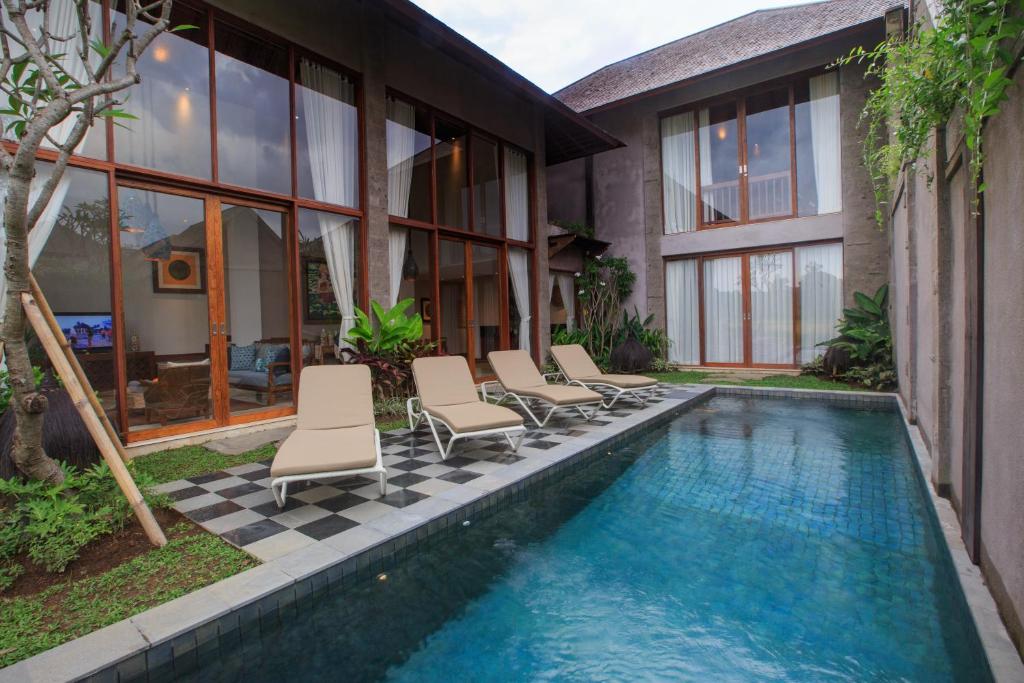 Location: Ubud City-Centre, Ubud
Reviews about pool villas at this Ubud resort:
"The space of the Villa is very suitable for a single person or a couple to live in. There are independent small pools (140cm), outdoor bathtubs and small pavilions for trance and leisure."
"Rooms were spacious and the private pool was serene and very private indeed (we stayed at terrace villa and the garden villa)."
"Lovely, clean villa with pool. Comfortable bed. Lovely view from pool. Located next to monkey forest so can walk to shops and restaurants nearby."
"Layout and decor of the Villa and the whole resort is amazing. Peaceful and tucked away."
9. Royal Kamuela Villas & Suites
Located in the cultural hub of Bali, Royal Kamuela is a 10-minute walk from the famous Monkey Forest. It provides beautiful villas with private pool, surrounded by tropical gardens. Featuring a semi-open concept, every room has large windows offering spectacular views of the garden. The 5-star villas are cosy and tastefully decorated with luxurious furnishings and beddings. Ample lounging space is available.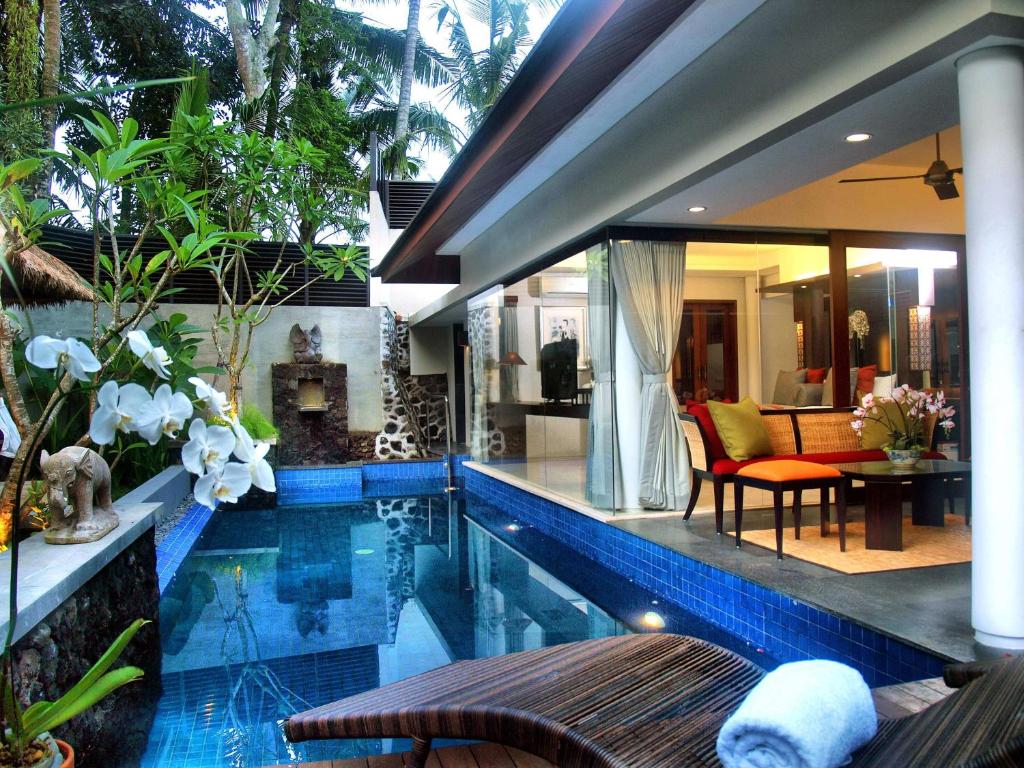 Location: Ubud City-Centre, Ubud
Reviews about pool villas at this Ubud resort:
"We thoroughly enjoyed our generously proportioned one-bedroom villa with private pool and jacuzzi bath. We stayed in villa 8 which happened to form part of the monkey highway resulting in daily visits."
"It was beautiful, the villas with the private pool are just perfect."
"Villa met all of our expectations, it was great and comfortable experience to spend days and nights in it. Proximity to best spots in Ubud, comfortable interior and exterior (covered outside area allows to spend nice time even during rain)."
"The Villa was amazing for the price we paid we had our own private pool!"
10. K Club Ubud
K Club Ubud has a fitness centre, garden, a terrace and bar in Ubud. At the resort guests can choose from a wide range of pool villas, from One-Bedroom Luxury Pool Villa with Jungle View to even Five-Bedroom Royal Pool Villa Paddy View.
Location: Ubud
Reviews about pool villas at this Ubud resort:
"Beautiful surrounding although the accommodation is quite far (30 min taxi ride) from central Ubud. We stayed in a villa facing the rice field which was stunning and witnessed beautiful sunsets. Villa was beautifully appointed with large private pool and comfortable beds."
"The villa was amazing but the pool needs a heating system to cope with the weather changes."
"The spacious living area, open bathrooms and bedrooms, the whole Balinese feel to our villa was well thought out."
"The villas are absolutely beautiful- they are spacious with stunning scenery. The setting is spectacular."
11. Kuwarasan A Pramana Experience
Featuring a terrace, Kuwarasan A Pramana Experience is located in Ubud, 9 km from the city center. The resort has an outdoor swimming pool and guests can enjoy a meal at the restaurant or a drink at the bar. At the resort One Bedroom Pool Villas are available.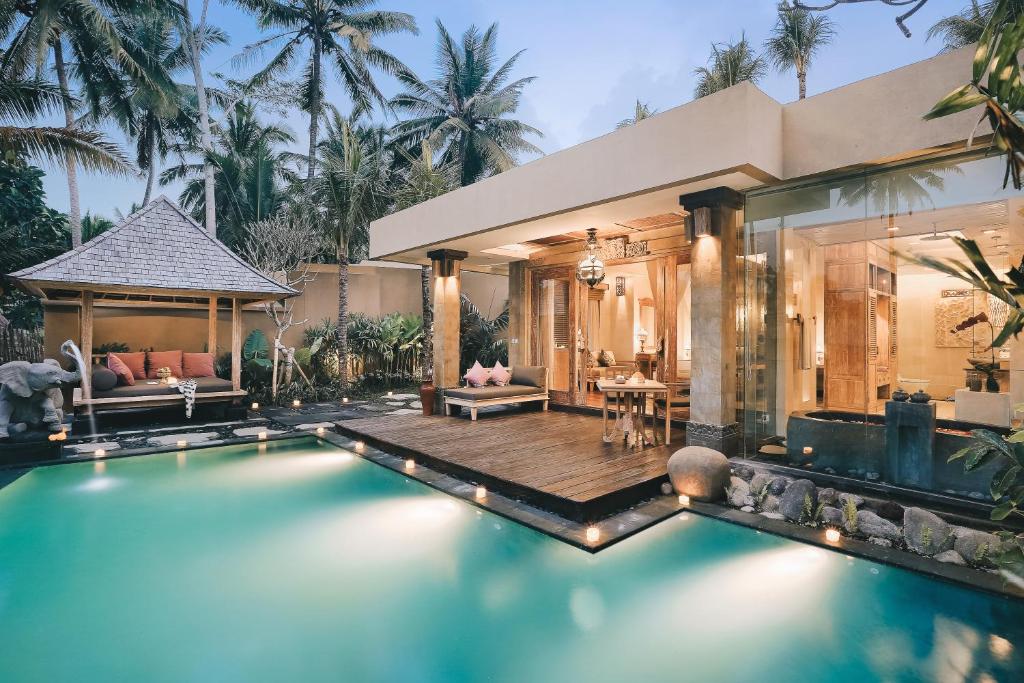 Location: Taman, Ubud
Reviews about pool villas at this Ubud resort:
"This place is a little paradise. We stayed at the Melati Villa and is as great as it looks in picture."
"The whole resort is visually stunning, with views across the paddy fields. We stayed in a pool villa which was private and large - the bed was very comfortable. The spa was also fantastic - the reflexology treatment was so very good."
"Our villa was beautiful, elegant, thoughtfully designed to the last detail."
"Hotel was well designed and pleasing to the eye. Enjoyed the option of having a private villa with pool."
"The villa itself is perfect, spacious, nicely decorated following the same Balinese theme as the rest of the hotel. The swimming pool is big enough to stretch your legs and arms and get some real exercise."
12. Goya Boutique Resort
Goya Boutique Resort is a luxurious resort located an 8-minute walk from Ubud Monkey Forest, boasting contemporary design, a spa and an outdoor pool. Resort's One-Bedroom and Two-Bedroom Villas with Private Pool feature a blend of traditional and modern décor.
Location: Ubud City-Centre, Ubud
Reviews about pool villas at this Ubud resort:
"Super tranquil. Wonderful room and pool both in the villa and resort."
"We had the 1 room villa which was beautifully done, super comfortable, very pleasant garden and pool."
"Excellent services, clean, quiet and great location! In reality the place looked even better that the pictures. The one bed room pool villa was completely private."
"The 2-bedroom villa was perfect for a small family, super clean and comfortable. Location is within walking distance to good restaurants and not far from the town centre."
13. Four Seasons Resort Bali at Sayan
Set amidst lush tropical valleys by Ayung River, Four Seasons Resort Bali at Sayan presents an outdoor pool, four dining options and a gym. Guests can indulge in pampering treatments at the spa. The pool villas feature a dining area, seating area with sofas, and a private terrace with views of the greenery.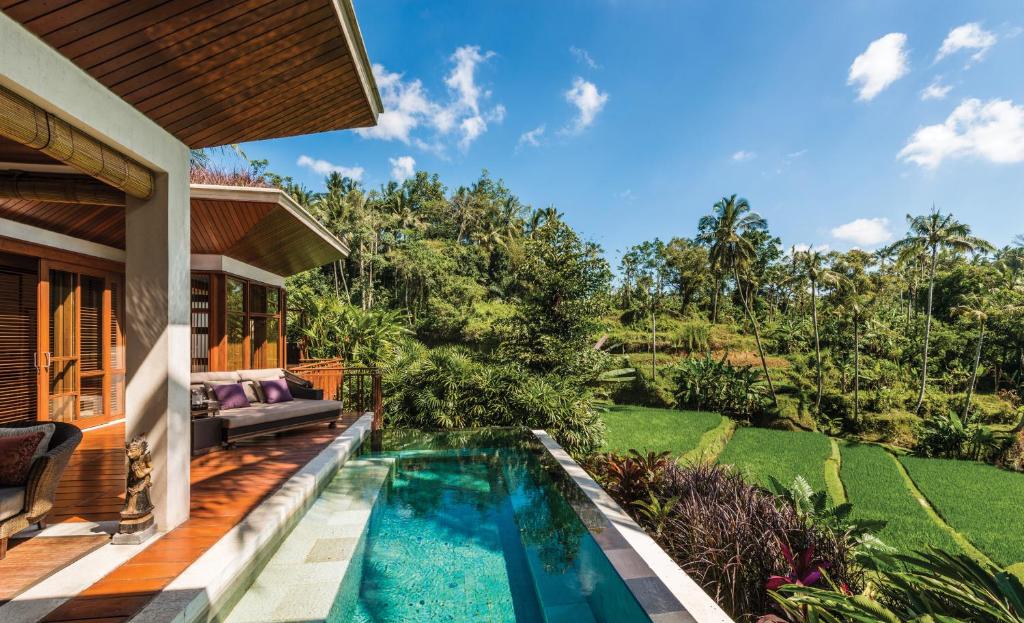 Location: Sayan, Ubud
Reviews about pool villas at this Ubud resort:
"Great hotel. Incredible view. Pool villas are a dream. Jungle feeling."
"Excellent services and amazing villa near to the nature."
"Paradise in the center of Bali. Complete privacy and service that was second to none."
"Excellent hotel in an amazing location!!! Absolutely stunning room with pool overlooking the river."
14. Natya Resort Ubud
Located 4 km from Ubud Market, Natya Resort Ubud features an outdoor pool, a sun terrace, and guests can enjoy a meal at the restaurant or a drink at the bar. Luxury Villa with Private Pool, Royal Villa with Private pool and Villa with Private Pool all boast a private pool and a dining area.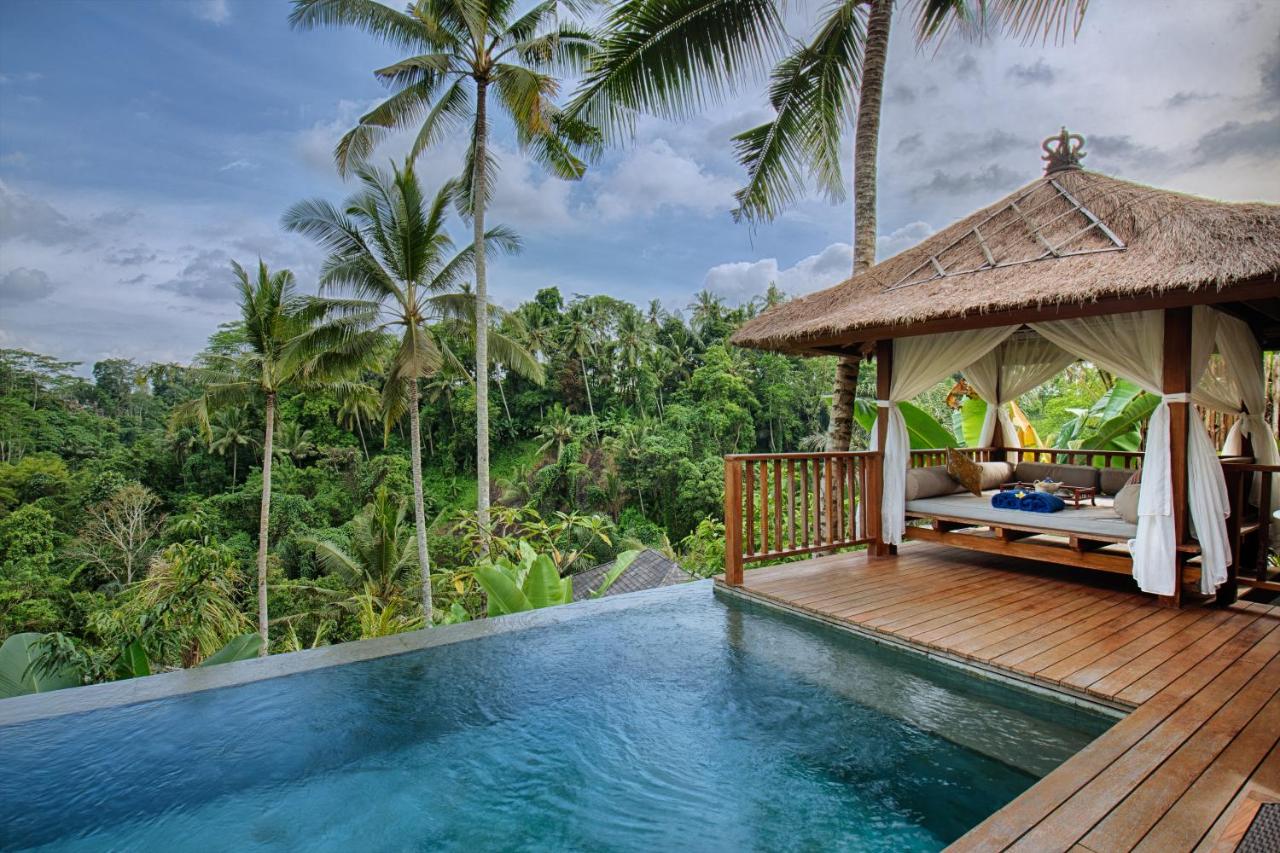 Location: Taman, Ubud
Reviews about pool villas at this Ubud resort:
"The villas are built into a cliff side overlooking a river. Ambient noise of waterfalls and the flowing river made the space even more relaxing. The private pool in our villa was an amazing way to cool off and relaxing morning evening and night."
"The private villa has everything you would want. nice pool with a forest view."
"The villa itself was impeccably clean and exquisitely designed, showcasing a beautiful Balinese style with rustic charm. The pool area was particularly stunning, adding to the overall allure of the resort."
"The resort is extremely beautiful and well kept. The view from our villa was amazing."
"The villas are gorgeous, located in a very special place, near the river. The privacy offered was one of a kind."
---
Ubud Hotels
For more places to stay in Ubud, Bali please check: Hotels in Ubud.
Other Pool Villas in Bali
If you are interested in other areas of Bali for a luxury stay at pool villas, check the following articles:
If you don't have a specific area in mind and just want to experience the best Bali island has to offer, explore the list of the Best Bali Pool Villas.