In the heart of the Gulf of Thailand, and not far from Koh Samui, Koh Phangan and Koh Tao, is the Ang Thong National Marine Park (also known as Mu Ko Ang Thong), a group of 42 large and small islands comprising this protected archipelago. It is one of the most spectacular destinations in Thailand.
Ang Thong, translated as "Golden Bowl", received the nickname Golden Bowl of the Gulf of Thailand. The Ang Thong National Marine Park is offering some of the most magnificent landscapes in Thailand. Its landscape is often compared to that of Halong in Vietnam.
Ang Thong National Marine Park
Declared a marine national park in 1980, Mu Ko Ang Thong National Park consists of 42 islets spread over an area of 102 square kilometers. Most of the islands are steep limestone hills. The highest point of the park is about 396 m above sea level. It is in the shallow water area near the shore with an average depth of 8-10 meters. The islands are uninhabited but it is possible to stay overnight on the main island of Koh Wua Talap.
What to see in Ang Thong National Marine Park
With 42 islands to discover, it would take a couple of weeks to visit the entire park. Usually, any excursion takes you to visit several islands. The trip combines activities such as hiking, kayaking, snorkeling or simply enjoying sun on the fine sandy beaches and the sea.
Koh Wua Talap
Of all its islands, the largest and probably the most famous is Koh Wua Talap. The island of Wua Talap is located in the bay of Kha. It is the main island of the park where the headquarters of the national park and the tourist information center are located. In front of the office, there is a beautiful white sand beach with crystal clear water where you can relax in the sun and swim.
You can go up to the viewpoint on the top of the mountain. You will see one of the most spectacular views in Thailand from there. It takes about 1 hour of walking to reach the top and this magnificent view. The summit is reached after a climb of some difficulty but the effort is really worth it. From it you can admire the impressive landscape of Ang Thong archipelago that is stretching in a long line of strange shapes, surrounded by the emerald sea. Koh Wua Talap also has a restaurant, camping, bungalows, caves, and some trails through the jungle.
Koh Mae Ko
Koh Mae Ko is also a must to visit at Ang Thong National Marine Park. Koh Mae Ko, known as Mother Island, has an emerald-colored saltwater lake, surrounded by limestone cliffs. The Emerald Lagoon, called Thale Nai, is connected to the sea by an underground tunnel. On the island, there is a small trek that takes you to a viewpoint with stunning panoramic views of the lake below and the surrounding islands. There is a natural stone bridge that arches out into the sea. Koh Mae Ko also has a fantastic white sandy beach suitable for camping and swimming.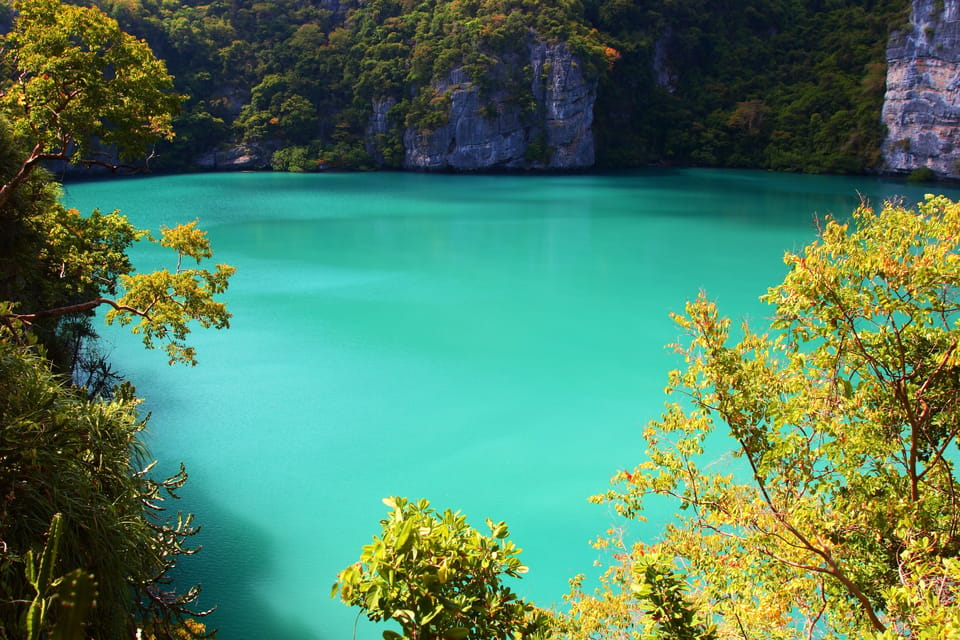 The Emerald Lagoon on Koh Mae Ko as well as several other islands of the national park can be visited by joining this Ang Thong National Marine Park Day Trip by Speedboat
Koh Pee Island
Koh Pee Island is one of the best attractions of the marine park and is highly recommended due to its unique beauty. Normally, the boats stop here for tourists to spend some time swimming or to discover its small caves by kayak.
Koh Sam Sao
Koh Sam Sao or Tripod Island is located in front of the island of Koh Mae Ko. Here you will find beautiful corals and beautiful white sandy beaches suitable for snorkeling and swimming.
What to do in Ang Thong National Marine Park
1. Snorkeling
A must-do activity of the visit to the park is snorkeling at least at one of the 42 islands in Ang Thong Marine Park. You can search for colorful tropical fish swimming around the multicolored corals.
2. Kayaking
After snorkeling, the boat will usually bring you to another island for kayaking. You will row across the islands and admire the different views. The activity will last about 40-45 minutes and it will not be necessary to go far to enjoy this experience. Many tours are not including this activity in the price but you should opt for kayaking.
3. Hiking
Hiking at Koh Wua Talab Island is an experience not to be missed. There is a 500-meter-long steep path leading up the side of the rocks to take you to the viewpoint with spectacular view. You just need to make sure to have a good footwear as there are sharp limestone on the way.
4. Relaxing on the beach
When visiting Ang Thong National Marine Park, the tour will let you swim at the oceanfront. You can also lie down on the warm beach for sunbathing.
How to get to Ang Thong National Marine Park
Ang Thong National Marine Park and its main island Koh Wua Talap can be accessed with a licensed tour operator so it's not easy to get to the park on your own. The easiest way is to book an excursion with any travel agency in Koh Phangan, Koh Samui or Koh Tao. It is located about 30 kilometers from Koh Samui and about 40 kilometers from Koh Phangan. It takes between 50 to 60 minutes to get there from Koh Samui and about 60 to 90 minutes from Koh Phangan, depending on the boats and weather conditions.
Ang Thong National Marine Park Tour
The most popular route is to explore Ang Thong Marine Park on a full-day excursion from Koh Samui. You can join Ang Thong National Marine Park Tour by Speedboat to experience a spectacular day out in the crystal blue waters of the Gulf of Thailand and discover the huge diversity of marine species that thrive within the park's protection.
In additional, there are some companies organizing 1-day excursions or 2-day excursions with an overnight stay on the boat. There is the option to go on slow ferry with a group of 40-50 people or by speedboat with a maximum of 25 people.
For the day tour, the price varies between 1,800-3,000 THB, depending on the type of boat, the season, and extra activities like kayaking, special routes, food and drinks, etc.
Accommodation at Ang Thong National Marine Park
There is no luxury hotel in the Ang Thong National Marine Park but if you plan to stay in the marine park for the night, you will have 3 options.
1. Stay in bungalows
There is a possibility to stay at the bungalows on the main island of Koh Wua Talap, where the headquarters of the park are located. The price of bungalows for 2 people is 600 THB and for 8 people is 1,500 THB per night. They are all equipped with beds, fans and private bathrooms. They do not have hot water and the electricity is cut from 23:00. Be noted that there are only 5 bungalows, so reservations must be made well in advance.
2. Camping
You opt for camping. There is a small area for camping for free on Koh Wua Talap. You can camp by bringing your own tent or renting it on site with mattress for 250 THB. If you are interested in making a reservation, you can find more information on the park's official website.
3. Cruise
If you take a few-day cruise from Koh Tao, Koh Phangan or Koh Samui, you will then sleep on board of your cruise ship.
Where to eat in Ang Thong National Marine Park
The only place offering to buy something to eat in the Ang Thong National Marine Park is a small restaurant on Koh Wua Talap.
Entrance Fee to Ang Thong National Marine Park
Ang Thong National Marine Park admission is normally not included in the price of the tour, unless otherwise specified. The entrance fees are collected by tour companies before the trip starts or at the Ang Thong Park ranger's office.
Entrance Fees:
300 THB for foreigner adults
150 THB for foreigner kid (under 12 years old)
50 THB for Thai adults
25 THB for Thai kid (under 12 years old)
Best time to visit Ang Thong National Marine Park
During summer, between February and mid-May, the weather will start to get hot and it will be the hottest in April. The rainy season is between May and mid-October. During this time, the hot and humid wind from the Indian Ocean causes rain. The cold season between October and February is cool and dry. The average temperature throughout the year 28 degrees Celsius.
The ideal time to visit the park is during the months of February, March and April. Although it is very hot, the sea is calm to sail.
Important Note: The Ang Thong National Marine Park is closed every year between 1 November - 23 December due to the monsoon that can be dangerous for navigation.
Tips
Apart from Ang Thong National Marine Park, there are many popular day trips in the region. Check the list of the best day trips from Koh Phangan to find some of the treasures and most precious places in Thailand that are worth visiting during your journey.
Koh Samui, Koh Phangan and Koh Tao are located next to each other, which is why it makes very good sense to combine the three islands in one trip - it is quite easy to get from island to island by boat.