Planning your holidays in Thailand and looking for a family-friendly hotel or resort in Pattaya that would have water slides or even a water park onsite? Find the list of the best Pattaya hotels with water park or water slides for the whole family.
Where to book Pattaya Hotels?
The most convenient way to book Pattaya hotels with water park or water slides is by using a reliable online travel agent such as Booking.com.
It is recommended to book your accommodation in advance during the hottest days of summer, as Pattaya resorts with water park and water slides are some of the most popular destinations on the island for families with children during the summer months.
---
Note! While most of Pattaya hotels are offering airport pick-up service, booking a separate Bangkok Airport transfer to Pattaya hotel in most cases is significantly cheaper than transfer arranged by the hotel
---
List of Pattaya Hotels with Water Park
Many Pattaya hotels and resorts offer numerous entertainment options and water activities for kids to make sure that you will have the perfect family holiday.
The most popular Pattaya Hotels with water park or water slides for a family holiday are listed below.
---
To decide on the best option for the trip, more detailed information on each of the hotels/resorts with reviews, prices and availability of rooms for the selected dates can be found by clicking the links provided. 
---
1. Centara Grand Mirage Beach Resort Pattaya
Nestled on the quiet shore of Pattaya, Centara Grand Mirage Beach Resort Pattaya offers a luxury range of ocean-facing rooms where you can see the brilliant blues from your own balcony. Whether you are looking for endless family fun, a romantic getaway or a restorative retreat, this beachfront water theme park resort offers the experience you desire for your dream vacation. The water park is a gentle jungle of lazy rivers, waterfalls and slides that twist this way and that provides excitement for all ages. For serenity, adults can take a quiet swim while enjoying a poolside cocktail or simply escape to SPA Cenvaree. Those seeking adventure can venture beyond the shores for a variety of water sports.
Reviews about hotel's water park from guests:
"The Resort is a Water park in itself with cute water falls, Swimming pools, Water slides and even a cute Lazy-river, all with sensible non-skid floorings and shallow depth. Beachfront property with alert Life Guard near the Beach chairs. One can happily spend two days within the property to enjoy the facilities."
"The hotel has excellent swimming pools, water park and playground for kids. Brilliant hotel for families with kids."
"The water park in the hotel is the best among the same type of the hotel in Pattaya"
2. Grande Centre Point Pattaya
Grande Centre Point Pattaya is Thailand's first space themed hotel, where you may experience the extraordinary world of space travel. Approximately 12,000 square meter Space Water Park is divided into four themed zones, allowing guests to enjoy a variety of exciting activities such as huge slides, a lazy river, or relaxing on the golden sands of an exotic Space Pirate Beach.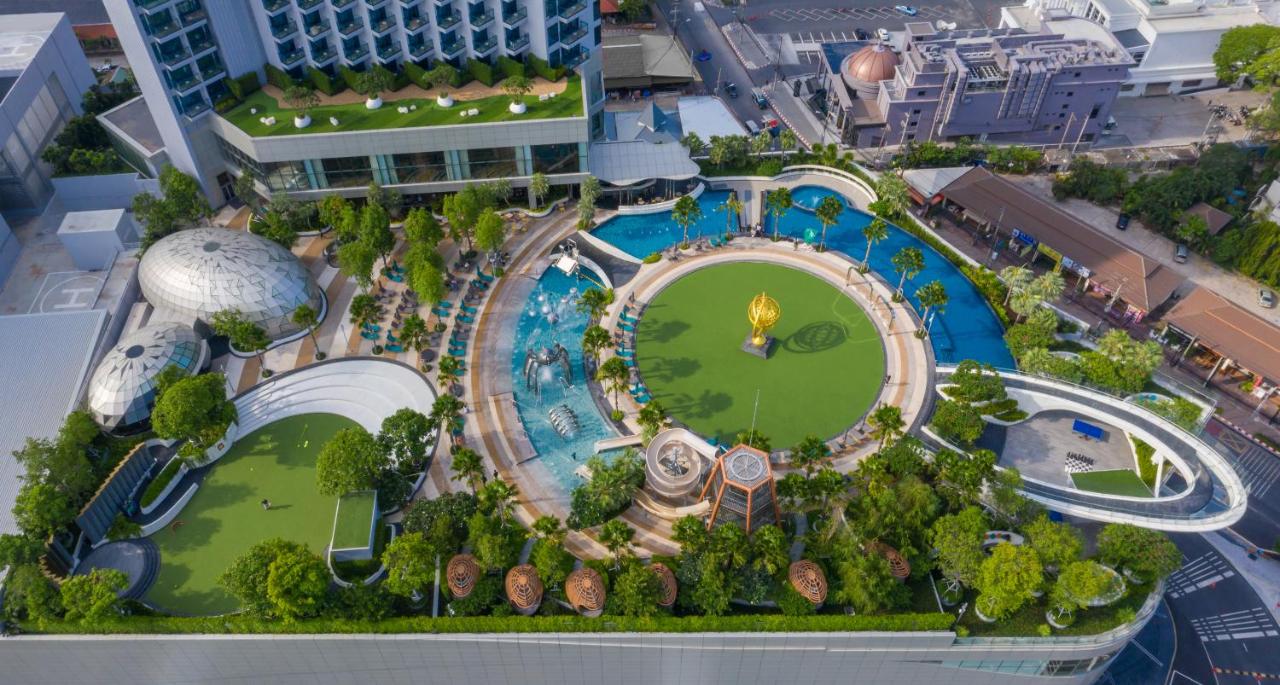 Reviews about hotel's water park from guests:
"The pool was perfect; water was clean and there was a small water park that we really enjoyed playing at"
"This is the perfect hotel for family. We really loved the character of the hotel. The water park was fantastic and staff was friendly and helpful."
"The water park and children's play area were great."
3. Mercure Pattaya Ocean Resort
Mercure Pattaya Ocean Resort occupies a prime location in North Pattaya with direct access to the beach and close to Terminal21 Pattaya. The hotel offers guests modern and well-appointed rooms with a wide range of facilities and activities for everyone. Its highlight is the mini water park with a dramatic rock wall, caves and a giant slider, surrounded by tropical gardens for a full relaxation and family fun.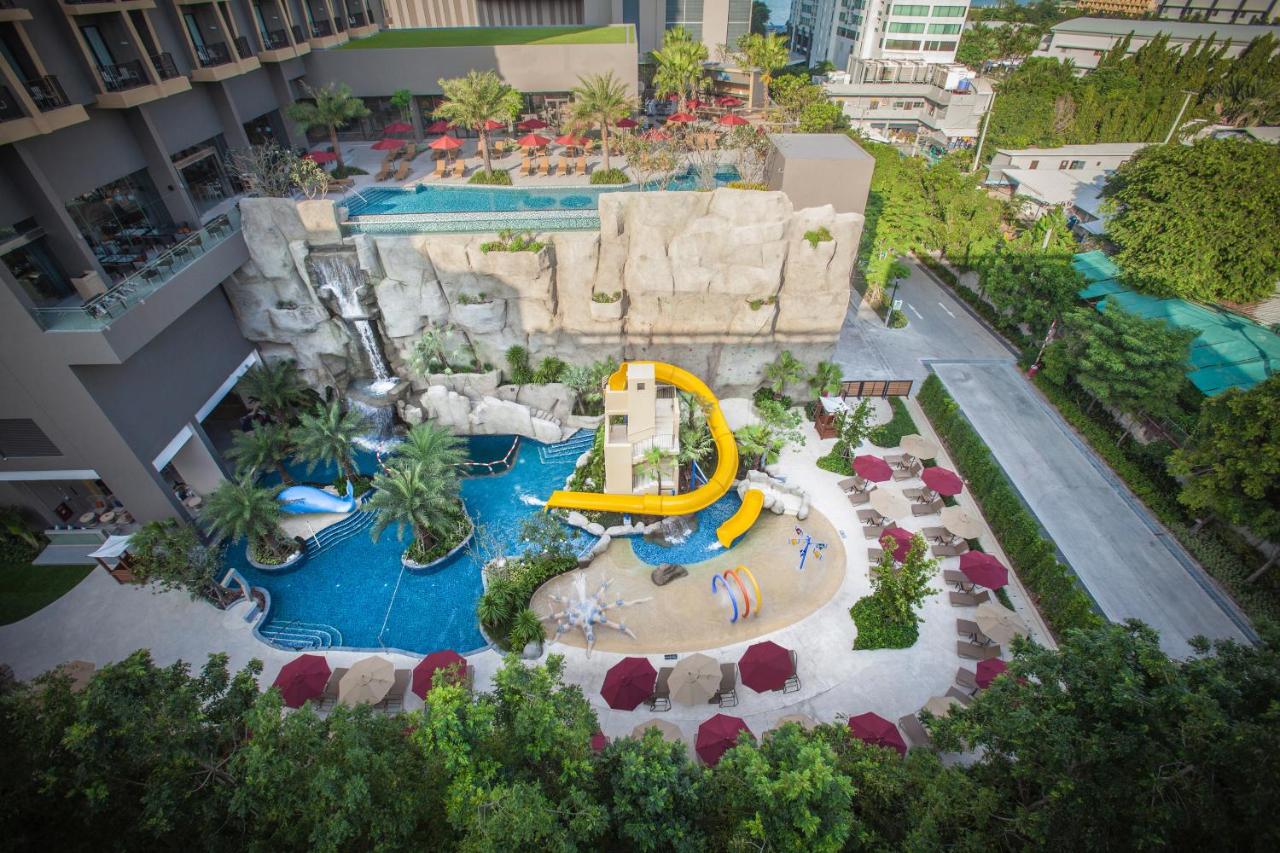 Reviews about hotel's water park from guests:
"Nice waterpark and kid swimming pool. I would recommend for family with kids."
"The great place for family, special who has kids to use water park"
"Nice swimming pool with cliff jump and waterslides, also an area for small kids."
4. Amari Pattaya
The luxurious Amari Pattaya along Northern Pattaya offers stunning sea views, an outdoor pool with a pool bar. At the heart of the resort is the pool and incredible kids' waterpark, complete with fun slides and paddling areas. The Animation team is fully trained to take your kids on their own little adventures while you enjoy some well-deserved "me" or "we" time, worry-free. They'll be spellbound by meeting monkey mascots, Rose & Sky.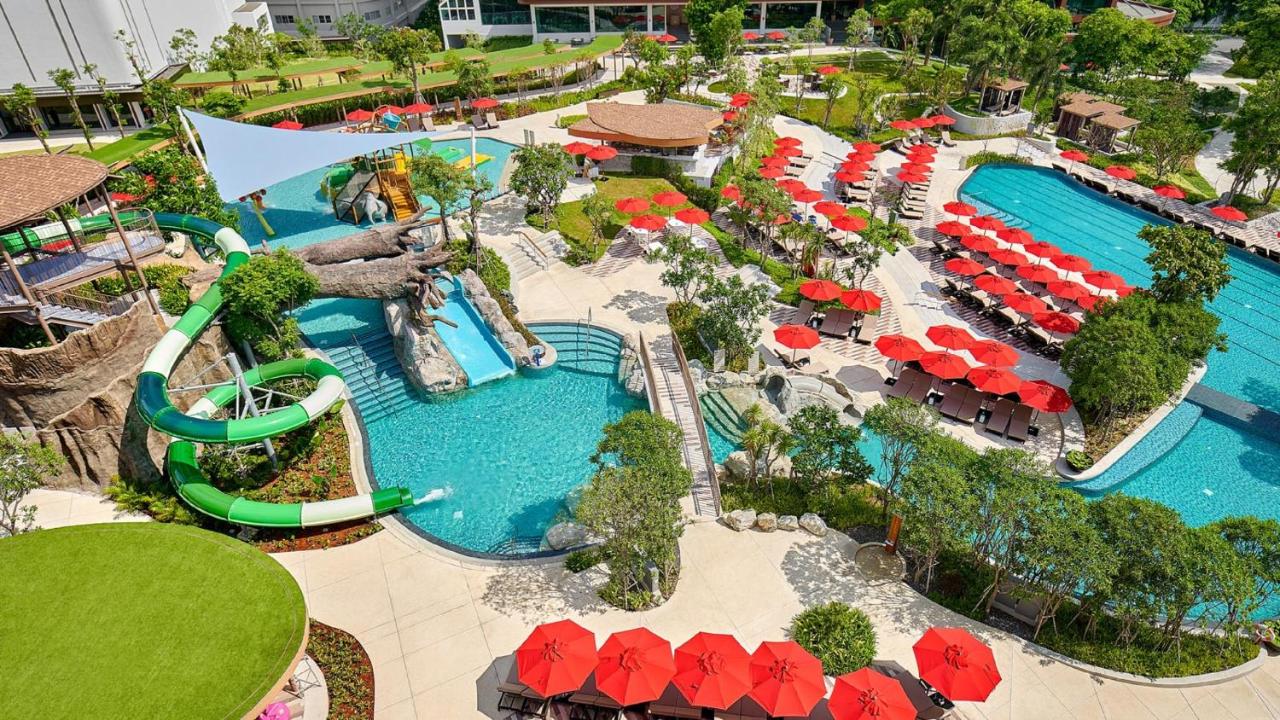 Reviews about hotel's water park from guests:
"The Aqua Park and kids club were awesome and very kids & family friendly. you can spend whole day here."
"Great place for family with kids. Just love the kids club and activities. The pools are wonderful with all those slides."
"The swimming pools and waterpark are simply great! My kids gave it a 9!"
5. Hard Rock Hotel Pattaya
An 8-minute walk from Pattaya Beach, Hard Rock Hotel features rock-and-roll themed accommodation. It offers a full spa and the largest free-form pool in the Eastern Seaboard. Hard Rock Pattaya offers glamorous décor featuring pin-ups of superstars. The pool features a guitar deck, jacuzzi, under-water speakers, new lighting, a kids' area with slides, sun loungers, and many more for rock stars of all ages.
Reviews about hotel's water park from guests:
"The pool was nice but is definitely a hotel and pool set up for families and children. The staff organizing the children's club seemed nice and the children seemed to be having a good time."
"Good location, good swimming pool, and good for kids, slides etc. The pool side huts were worth the extra 800-1000 baht 'rent' you had to pay to book them for the day."
"Awesome for kids! Hard Rock Pattaya has fun activities at the pool all day long, Stand Up Paddleboard, Rock Climbing, Pool Obstacles, etc."
6. Holiday Inn Pattaya
Holiday Inn Pattaya is your destination of choice for an ocean view hotel that is centrally located right along the most popular beach in town. The hotel features sea views from all 567 guest rooms and suites with the added comfort of a private balcony. This family-friendly hotel boasts 4 outdoor pools and the kids can slide down at fun water slide and into the kids' pool, which is located at the Bay Tower on the 4th floor. Café G is also right beside the pool, so you'll be able to order food and keep a close watch on your little ones.
Reviews about hotel's water park from guests:
"Great place to stay with the family, kids pool is perfect with the slide and depth to swim for the little ones"
"This hotel was beautiful and pool was amazing with outstanding views!"
"I was with my family and for Kids there is Kids Club and Kids Pool, very good view of Sea and Pattaya Beach from the down stair Big Pool."
7. A-One The Royal Cruise Hotel Pattaya
A-ONE The Royal Cruise Hotel is a modern 4-star hotel on Beach Road in Pattaya, located only a 2-minute walk from the beach. This hotel is conveniently located in the center of Pattaya, only 3 km from Central Festival and 4 km from the nightlife on Walking Street. The hotel offers comfortable rooms and suites with a balcony. During their stay, guests can enjoy an outdoor pool with water slides.
Reviews about hotel's water park from guests:
"Family friendly with great pool for kids to play"
"Pool open to public. DJ on all day, so it was loud and full of children."
"The pool is very beautiful, with slides, expanse for children"
"If travel with children and u want to enjoy pool no second thought this is the one and only best."
8. Royal Wing Suites & Spa
Set on a gently sloping hillside overlooking the azure Gulf of Thailand, a 5-star Royal Wing Suites & Spa is ideally located on a private estate between the vibrant Pattaya City Center and Jomtien Beach. This beachfront hotel is offering exclusive ocean views, each suite features indulgent spaces with the finest amenities for guests to luxuriate in. There are an abundance of activities and hotel facilities available throughout the resort to indulge in during your stay. Guest can dip in any of the 7 free-form swimming pools stretching along the beachfront and enjoy the shaded by lush tropical gardens.
Reviews about hotel's water park from guests:
"The pool water temperature was perfect; the softness and condition of the water was noticeably the best we ever experienced."
"Pool and beach are wonderful and secluded."
"Pool is big and very private for group of guests in this private section"
9. The Bayview Hotel Pattaya
Towering majestically over Pattaya Bay, The Bayview Hotel is a secluded retreat nestled amid the vibrant hustle and bustle of Beach Road. The Bayview has a great selection of hotel services and facilities to be enjoyed by families such as pool tables, board games and table tennis. Sports lovers can enjoy two swimming pools and a tennis court that are available for use to all hotel guests. For younger children, the hotel has Sukee Wonderland, including a kids' pool, club room and treehouse.
Reviews about hotel's water park from guests:
"Our young son particularly liked the elephant slide in the children's pool and the adjoining children's club."
"Pool was very nice, especially for kids. The playhouse was also very nice to our little one. "
"The swimming pool was a wonderful, very good for kids."
10. Pattaya Discovery Beach Hotel
Pattaya Discovery Beach Hotel is a 4-star hotel situated in the north of Pattaya. A beautiful beach stretches right in front of the hotel just across the road. The well-known shopping center, Central Pattaya, is within walking distance from the hotel. The hotel has two swimming pools, both pools come with water slides. The hotel also features a children's playground for little ones.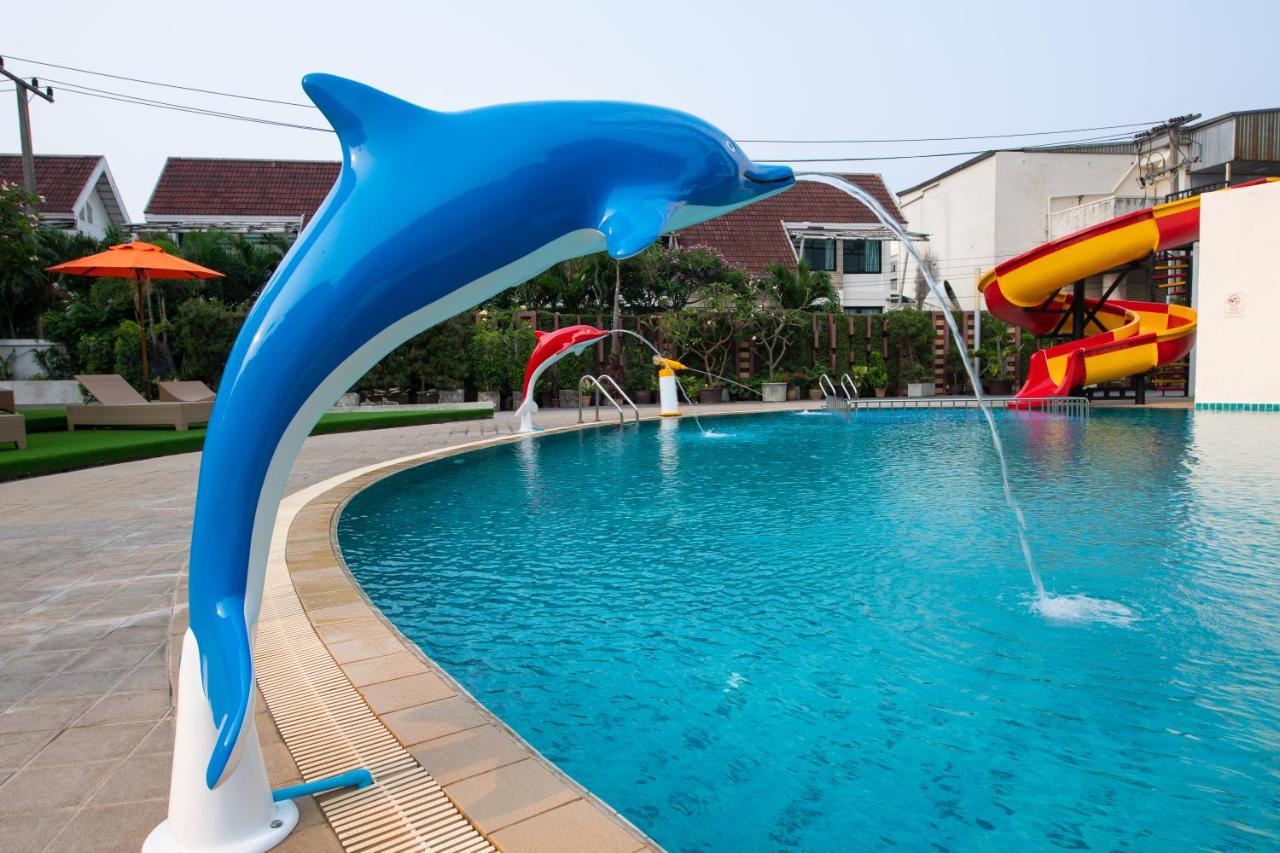 Reviews about hotel's water park from guests:
"Pools are beautiful, with small water slides and water guns. Pools are not deep enough for swimming but good for water play."
"The hotel has an excellent pool. If you wish, you can get a towel near the pool and go to the seashore, where for a small fee you can rent a sun bed for at least the whole day, if you want to."
"Great location, nice ground level pool that great for kids"
Water Parks in Thailand
Going to a water park in Thailand is one of the best ways for escaping the heat during your trip to this tropical country. Numerous water parks can be found in all most popular destinations of the country. Find the list of the best Thailand water parks in Bangkok, Pattaya, Pattaya and Hua Hin.