Planning a trip to Thailand and wondering where to stay in Railay Beach, Krabi? To make choosing of the best place to stay in Krabi easier, find the selection of top 11 best Railay Beach hotels and choose one of them for your perfect holidays.
Best Hotels in Railay Beach, Krabi
Watching the sun rise in the morning and enjoying a sunset in the evening is something that makes you want to stay in Railay. Railay is full of hotels, ranging from inexpensive bungalows suitable for backpackers and climbers to luxurious six-star hotels, suitable for honeymooners. If you are looking for a perfect place to stay in Krabi, these 11 best hotels in Railay Beach can make your holidays unforgettable.
1. Rayavadee
Rayavadee is the most luxury resort in Railay. The resort occupies the best location, near Railay Beach, Nam Mao Beach and Ao Phra Nang Beach, in the midst of coconut and lush gardens surrounded by limestone cliffs. There are 102 rooms, designed to allow customers to relax comfortably and in style. Each room has air conditioner, bathrobe, daily newspaper, air dryer, safety box, television, bathtub. Rayavadee also offers 24-hour room service, shops, bars, pubs, meeting rooms and restaurants to make your travel pleasant, as well as massage, swimming pool, Jacuzzi, fitness room, tennis court, and spa.
Price: $$$$$
Our Rate: 10/10
2. Railay Phutawan Resort
Railay Phutawan Resort is a quiet resort located on the east coast of Railay. It is one of the best places to relax in the midst of nature surrounded by lush green mountains and the turquoise Andaman Sea. All rooms are private bamboo huts with a spacious balcony and a comfortable table set. If you want to experience the simple life, combined with the beauty of tropical nature, along with the magnificent seaside landscape, this place is where you should consider staying in Railay.
Price: $$$
Our Rate: 8.5/10
3. Bhu Nga Thani Resort & Spa
Bhu Nga Thani Resort & Spa is located in the heart of East Railay. The sea facing hotel is surrounded by mangrove forest. At the resort, there are 59 rooms with full facilities. There are many activities offered by Bhu Nga Thani Resort & Spa such as boat riding, sunset watching, snorkeling and hiking. The resort also has a restaurant that is open until late night.
Price: $$$$
Our Rate: 9/10
4. Avatar Railay
Avatar Railay Resort is something unique – a brand new boutique resort with a selection of different accommodations to suit every need. Furniture, furnishings, fabrics and décor are modern, stylish and pleasing to the eye, colour schemes keyed to harmonious earth-tones. The location, on Railay Beach East, is accessible only by boat. It's secluded and peaceful. And yet it's not totally isolated, having a short beachside strip of colourful bars and restaurants, with several 'mini-marts' plus a pharmacy and medical centre. Access to the mainland is quick and easy by means of water taxis which run continually throughout the day. The resort has its own boat deck, and hotel boats are available for guests at the reasonable price.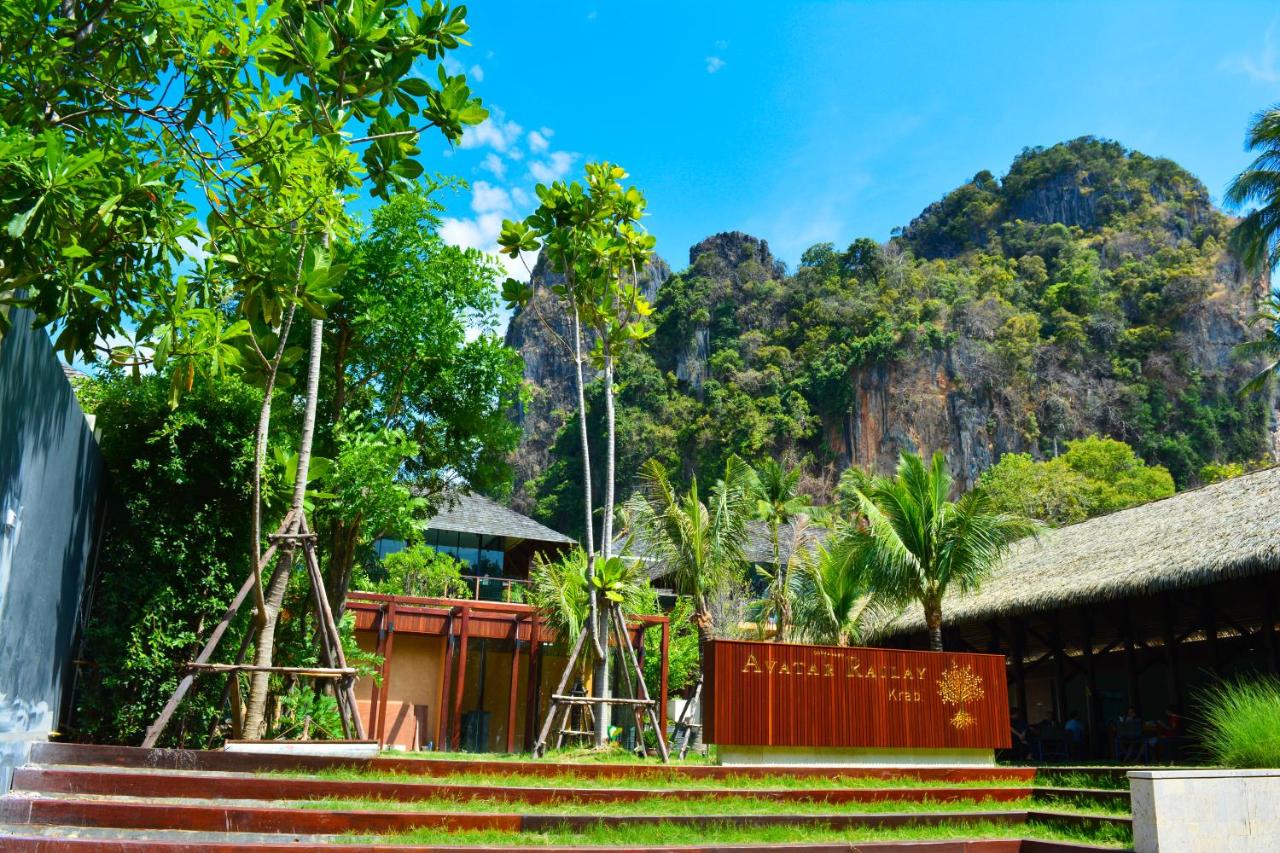 Price: $$$$
Our Rate: 8.5/10
5. Railay Garden View Resort
Railay Garden View Resort is a small and quiet resort located on the eastern hillside of Railay. The resort offers fan bungalows that are spread in the garden with a relaxed atmosphere. Some of the bungalows and restaurants offer beautiful views of the sea. The resort provides tour services, shuttle service and free Wi-Fi. When staying at Railay Garden View Resort, you can enjoy the sun, sea and beaches while being surrounded by nature.
6. Railay Village Resort
Railay Village Resort is located on the west side of Railay where you get a perfect sunset viewing spot and access to the best beaches. The hotel is surrounded by limestone cliffs. Railay Village Resort provides Pool Villa and Spa Villa rooms. All rooms are well furnished and beautifully decorated.
Price: $$$$$
Our Rate: 8.5/10
7. Railay Great View Resort
Railay Great View Resort is located on East Railay Beach, which is one of the most beautiful beaches in Krabi. The resort has many types of rooms such as Deluxe Cottage with Sea View and Grand Deluxe Cottage with Sea View. Each room is spacious and exquisitely decorated with contemporary amenities to ensure a comfortable stay. The hotel also has a beachfront restaurant that serves both traditional Thai and international cuisine. Services and facilities at the resort include massage, kayak, free internet.
Price: $$$$
Our Rate: 8.5/10
8. Railay Bay Resort & Spa
Railay Bay Resort & Spa is providing 126 rooms with full facilities. All rooms are beautifully decorated. The restaurant serves both international and Thai food. The area is beautiful with wonderful landscapes, but nearby beach can be very crowded during high season. The hotel has a coffee shop, meeting room, restaurant, Jacuzzi, spa, outdoor swimming pool, garden.
Price: $$$$$
Our Rate: 8/10
9. Railay Princess Resort & Spa
Railay Princess Resort & Spa is located to the east of Railay Beach, just a 5-minute walk from Pha Nang Cave beach. The hotel is surrounded by sea and mountains. There are 59 rooms decorated in Thai style. Hotel offers 2 outdoor swimming pools and fitness center, as well as a restaurant serving Thai and international dishes.
Price: $$$
Our Rate: 8.5/10
10. Dream Valley Resort
Dream Valley Resort is located on Ton Sai Beach and is surrounded by limestone hills. The resort is an ideal place to escape the hustle and bustle of the crowds visiting Railay to enjoy the holidays and relax in a quiet place. The resort's facilities include restaurants, pool, minimarts, tour services, laundry services and long-tail boat rental services. There are also a number of bars and restaurants that can be found in the neighborhood. In addition, the surrounding terrain of limestone cliffs is also the climbers' paradise.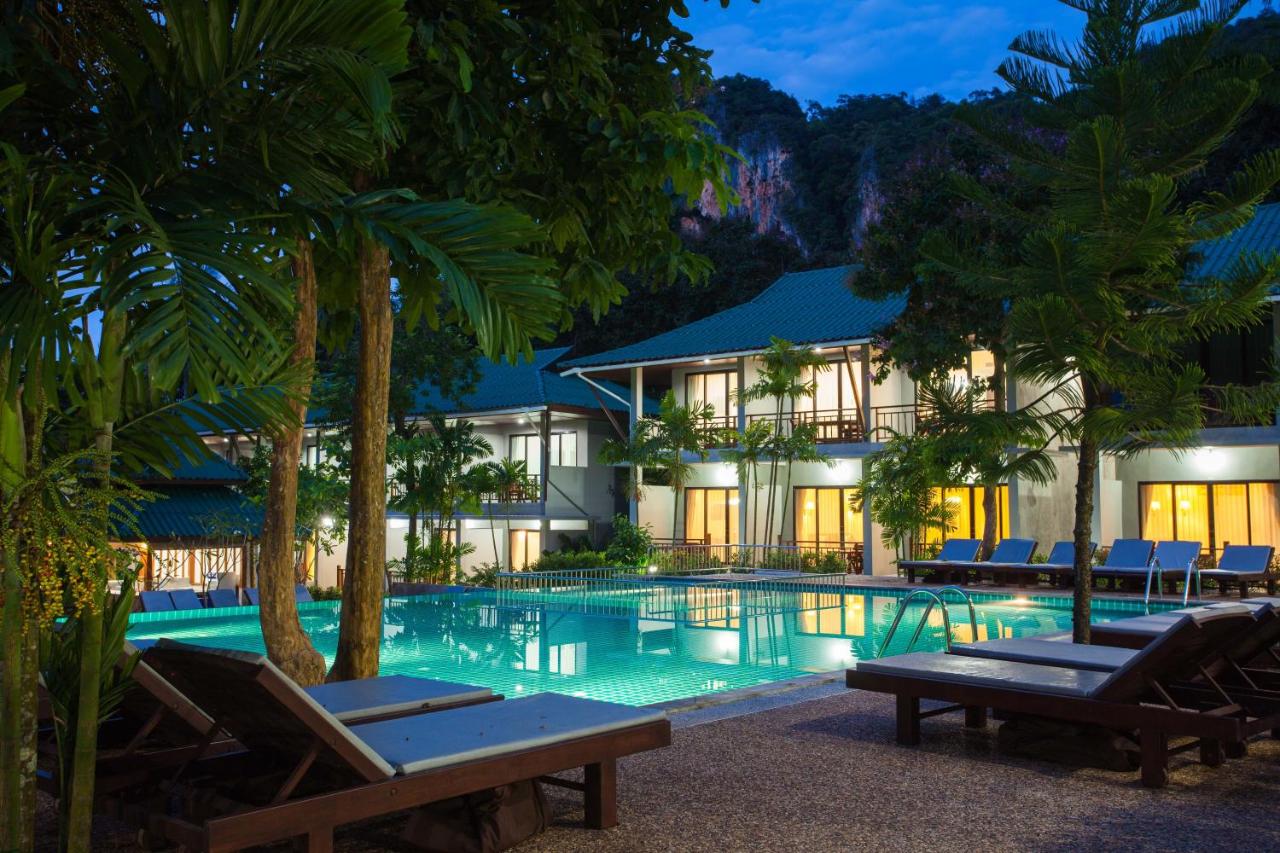 Price: $$
Our Rate: 7.5/10
11. Sand Sea Resort
Sand Sea Resort is a beach resort on the west coast of Railay where you can enjoy the scenery and adore wonderful sunsets. The resort offers good relaxing atmosphere, combined with beautiful views. There are 68 rooms with all amenities, air conditioner, bathrobe, desk, hairdryer, TV, shower, mini bar.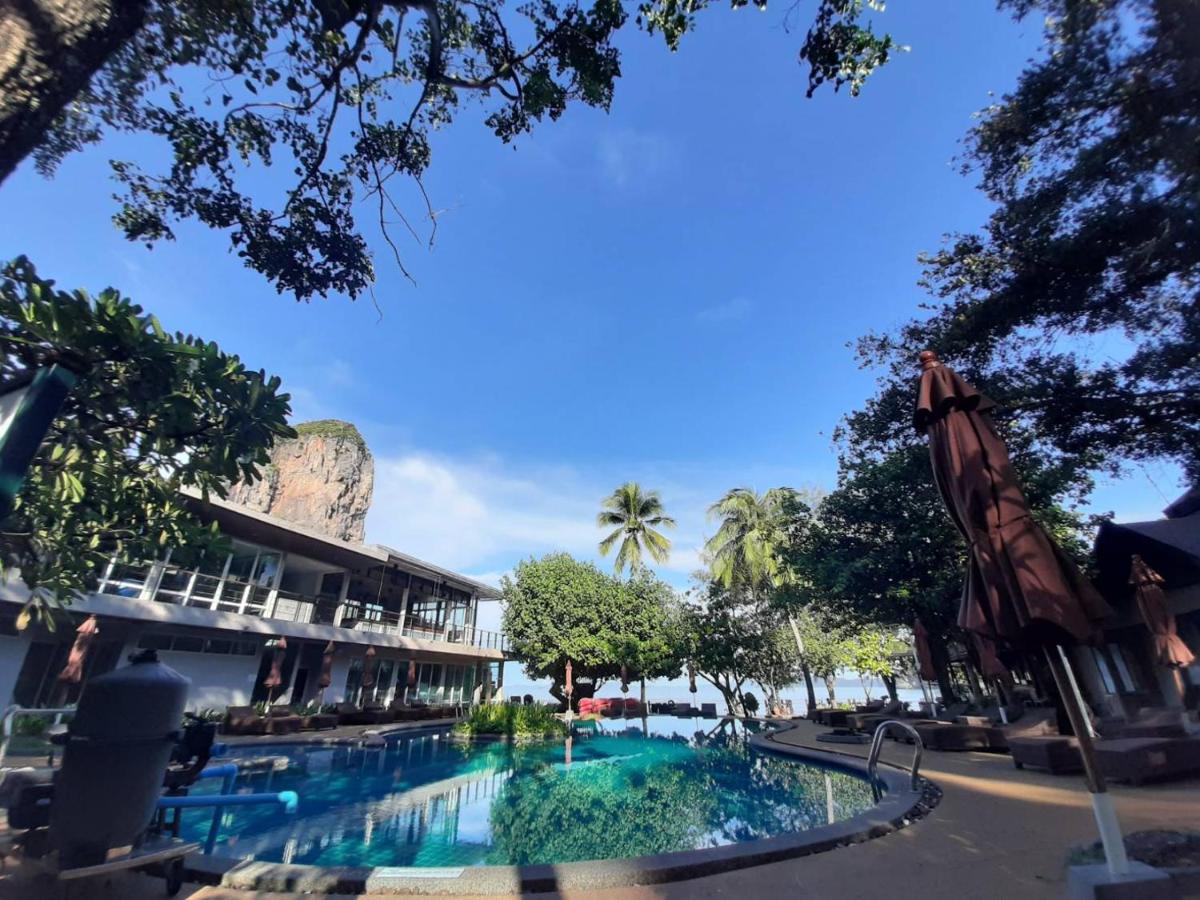 Price: $$$$$
Our Rate: 8.5/10
Best Areas in Railay Beach
The location of hotels in Railay Beach can be divided into 3 areas that all can be reached by foot.
West Railay
West Railay is the most popular area to stay in Railay because of its beautiful beach and crystal-clear water. The beach front is wider and offers the best spot for sunsets in Railay.
East Railay
East Railay is a narrow beach with many inexpensive resorts. The walking distance between the east and the west is just 3-5 minutes.
Others
The hotels located between west-east coasts or at the end of the beach.
Enjoy your stay!
Important Note: The price range is compared between the hotels described in this blog only and may vary depending on the season. The rating score is based on the reviews in many sources and is just our personal opinion. Please check for more information about each hotel before booking it, so you could decide if the hotel is right for you.