Koh Phangan is a relatively large island so choosing the best area to stay in Koh Phangan may seem complicated, as there are several different areas where you as a tourist can settle down. Accommodation on Koh Phangan is cheaper than in other Thailand beach destinations, with the exception of Full Moon Party days.
Best Areas to Stay in Koh Phangan
In this guide, we present the best areas to stay in Koh Phangan and give some suggestions on how to choose the perfect base for your stay on the island. 
Haad Rin (Rin Beach)
On the south coast of the island, you will find the notorious Haad Rin. It is the world-famous beach known for its vibrant nightlife with the famous Full Moon Party taking place there once a month at the full moon. You should not expect authentic Thailand here, but rather young backpackers, and parties until late at night. If you want to party and spend crazy times, you can stay in this area of the island. This is the sight that is not suitable for parents with kids.
Haad Rin is also one of the most beautiful beaches on the island, where the white beach is set among the rocks, gently sloping and the backdrop is gorgeous. In fact, the Haad Rin peninsula has 3 beaches: Haad Rin Nok (Sunrise Beach), which is the beach where the Full Moon Party takes place, Haad Rin Nai (Sunset Beach), which is the strip of sand, and Haad Leela, which is a smaller and more intimate beach. In general, Haad Rin and all other beaches in the area are very charming and peaceful when it is not a full moon period. In the town of the same name, there are many cheap accommodations, restaurants and bars and the atmosphere is particularly relaxed. During the Full Moon Party, accommodations are fully booked and prices is high. Reservations must be made well in advance.
Some of the best rated hotels in Haad Rin:
OUT! a Radically Inclusive Beach Hostel by Wild & Wandering
Haad Khuat (Bottle Beach)
Haad Khuat, better known as Bottle Beach, is located in the northeast of the island. It is one of the most beautiful beaches in Koh Phangan, perfect for a holiday relaxation. The beach is characterized by fine white sand, and incredibly transparent waters, ideal for snorkeling. The beach, however, is quite isolated and you can practically move around only by long tail boat as there is no paved road to the bay yet. Boats are available from Chaloklum or Haad Khom, prices are around 200 THB. In the evening, when tourists return to their hotels, there is an incredible feeling of peace. There are few resorts on Bottle Beach and the choice of restaurants is also limited but we recommend you to stay here if you are looking for a place to stay in contact with nature, away from the nightlife and tourists.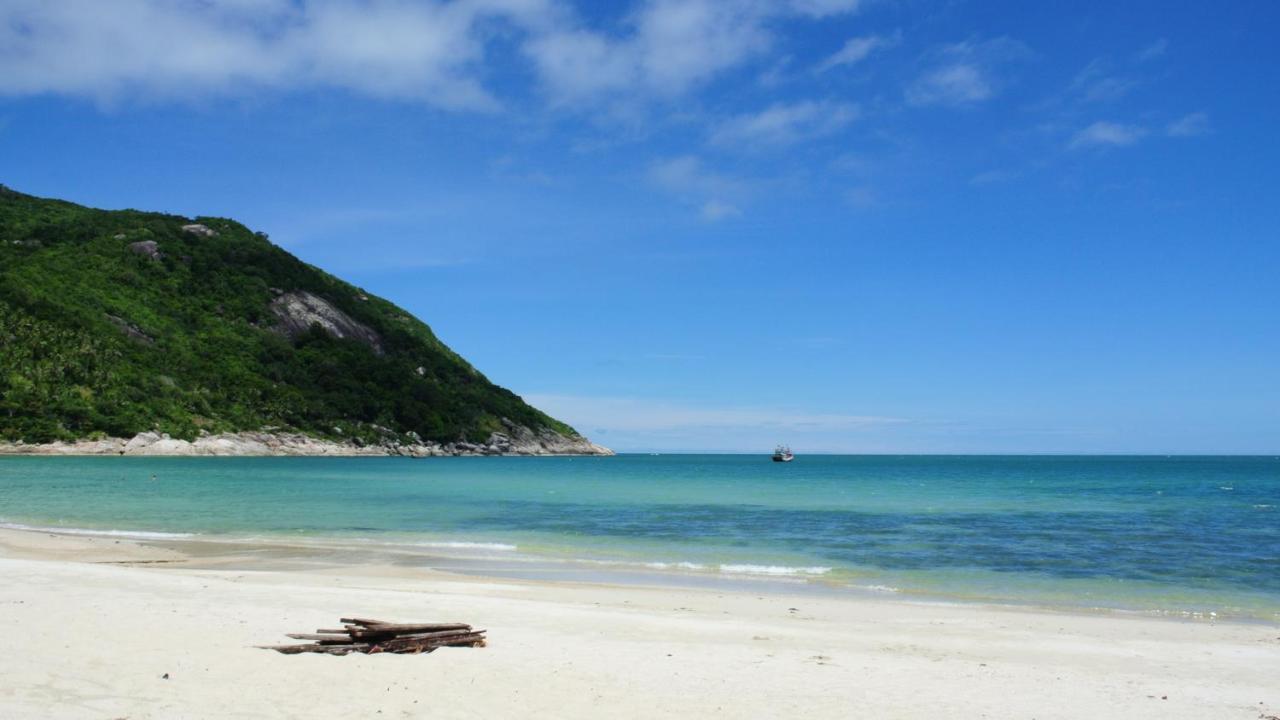 Some of the best rated hotels in Haad Khuat (Bottle Beach):
Haad Salad (Salad Beach)
Together with Bottle Beach, Salad Beach is among the most beautiful beaches on Koh Phangan. Haad Salad is located in an excellent position and is easily accessible by scooter or car. The area is not as isolated as Bottle Beach. The beach impresses with the finest sand and crystal clear, very shallow water. By staying at Haad Salad, you will enjoy an absolutely incredible view of the sea with the possibility to go out for dinner or a drink without having to go too far. You will find a good selection of restaurants, bars, a few shops and accommodation in all price ranges. Salad Beach is one of the most popular holiday destinations for local Thais. This area is also very popular with families with young children.
There are about half a dozen resorts directly on the beach. Some of the best accommodations at Salad Beach are the following:
Villa Cha-Cha Salad Beach Koh Phangan
Thong Sala
Thong Sala is the main town in the southwest of Koh Phangan, where all ferries arrive and depart to the mainland Surat Thani (Donsak Pier) and to the neighboring islands of Koh Samui and Koh Tao. Most of the island's residents live and work in Thong Sala. The rest are spread over the traditional small fishing villages on the coast. Although here the beach is certainly not wonderful like other beaches, but you can spend a little time, eat well, stay well and you can rent you own vehicle to explore the island.
In Thong Sala you get everything you can imagine. There are many Thai and western restaurants, banks, travel agencies, the post office and hospitals, cafes, bars, supermarkets, shops or souvenir shops. The island's capital is best visited on Saturdays, when Walking Street with its countless food and shopping stalls takes place. There are many inexpensive accommodations near the pier in Thong Sala. Also this area gets quite crowded during the full moon period.
Some of the best rated hotels in Thong Sala:
Haad Thong Nai Pan
One of the most beautiful beaches on the entire island awaits you in northeast Koh Phangan. The charming village of Thong Nai Pan has two bays, Thong Nai Pan Noi and Thong Nai Pan Yai, that together form a picturesque double bay.
This place is definitely one of the best places to stay on Koh Phangan. You will find a large number of bungalows and more upscale resorts with spectacular scenery of the island. There are also numerous nice restaurants and colorful beach bars that invite you to relax in the evening. If you are not interested in nightlife, but are satisfied with a few restaurants on the beach, you can stay in area. This destination is popular with families with children, as well as couples.
Haad Thong Nai Pan Yai has more reasonably priced resorts and a greater choice of upscale bungalows.
Some of the best accommodations at Haad Thong Nai Pan Yai:
Anantara Rasananda Koh Phangan Villas
Santhiya Koh Phangan Resort and Spa
In Haad Thong Nai Pan Noi, there are some more expensive and luxury resorts, perfect for a few days of pure relaxation directly on a beautiful beach.
Some of the best accommodations at Haad Thong Nai Pan Noi:
PingChan Koh Phangan Beachfront Resort
Best Hotels in Koh Phangan
There are numerous hotels and accommodation options on Koh Phangan waiting for you. No matter whether you are looking to stay as a backpacker in the beach hut by the sea, in a great bungalow in the jungle or in a dream hotel directly on the beach, from cheap to luxury hotels with no limits and the range is constantly growing. You can check our recommendation of the best hotels in Koh Phangan:
Best Luxury Hotels in Koh Phangan
Best Cheap Hotels in Koh Phangan (under 30$)
The prices of hotels on Koh Phangan are dynamic, so we recommend visiting Booking.com and Agoda.com to get current prices of accommodation on your travel dates.
Where to sleep during Full Moon Party?
If you are planning to take part at the Full Moon Party, consider staying in Haad Rin, where the party is taking place. There are good places to stay even for less than 10 USD a night. If you want to be close to the main places of the island, stay around Thong Sala. Here you will be close to the beaches and many restaurants and you will be able to easily get to the Full Moon Party.
Some of the best rated accommodations near Full Moon Party in Koh Phangan can be found here:
Best Hotels Near Full Moon Party
Keep in mind that around the Full Moon Party literally every hotel room and bed is occupied, so it is highly recommended to book your stay well in advance. For many accommodations, a minimum stay of several nights applies around the Full Moon Party.
How to get to Koh Phangan
Due to the lack of an airport and mainland connection, Koh Phangan can only be reached by boat. To make your journey easier, we have prepared several tips on how to get to Koh Phangan easily and safely from different parts of Thailand.
If you want to get an overview of all travel options, we recommend using this search form.
For more detailed information check here:
How to get from Bangkok to Koh Phangan
How to get from Koh Samui to Koh Phangan (and vice versa)
Tips
If you will be staying on the island for several days, spend 2-3 days in different accommodations to discover several areas and take full advantage of the different atmospheres.
Koh Phangan has lots of incredibly impressive attractions that pull tourists all year round. Explore the best things to do in Koh Phangan to better prepare for your next holiday in Thailand.
Koh Phangan is located between Koh Tao and Koh Samui, which is why it makes very good sense to combine the three islands in one trip - it is quite easy to get from island to island by boat.