Booking of attraction tickets, tours and activities in Thailand and other Southeast Asian countries can be easily done with our trusted partners. Being active travelers, we are often using the services of these well known companies and that's the main reason why we recommend them to our readers.
If you will book your attraction tickets, tours or activities via our website, you will get the best deals and at the same time you will support our work (it won't cost you any extra!). Consider booking your tours, activities and attraction tickets in Thailand and other Southeast Asian countries via the links below if you find our website useful. Thank You!
 
Do you know that you can get tickets to various attractions in Thailand and other Southeast Asian countries significantly cheaper than you would pay at the door? We didn't know about it a couple years ago until we accidentally came up to the websites of KLOOK and Trazy.
KLOOK
KLOOK is the leader in the Southeast Asian market of attraction tickets resale. They offer not only attraction tickets, various activities and tours, but also travel essentials like local SIM cards, private transport to/from the airport and much much more. Check what deals KLOOK has for you in these countries:
The list of countries covered by KLOOK doesn't end with Thailand and Southeast Asia as it has many offers in countries around the world.
The most popular KLOOK attractions and activities between our readers include:
For more offers at your next travel destination use the search form below.
Trazy
Trazy is another online system providing discounted attraction tickets that is worth checking. So far Trazy covers only 3 countries but when it comes to attractions in Thailand, South Korea and Vietnam, they can often beat the price offered by KLOOK.
The most popular Trazy attractions and activities between our readers include:
For more offers visit Trazy website by clicking the banner below.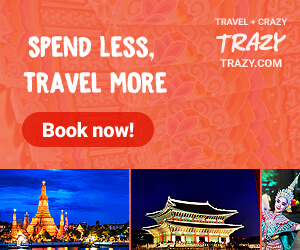 We would recommend checking the websites of both suppliers and comparing prices of attraction tickets for getting the best attraction ticket deals in Thailand.
Bangkok River Cruises
Bangkok River Cruises along the Chao Phraya River is a MUST DO experience when you are visiting Bangkok. During your dinner cruise you have an opportunity to enjoy the beauty of Thai capital's stunning scenery and famous historical sites such as the Royal Grand Palace & Wat Pra Kaew (Temple of Emerald Buddha), Wat Arun (Temple of Dawn), Bangkhunprom Palace, Kanlayanamitr Temple and the Rama VIII Bridge while floating on the river, sipping drinks and enjoying food on board.
More information about the best dinner cruises in Bangkok can be found here: Bangkok River Cruises.