Phu Quoc is one of the hottest tourist destinations in Vietnam for beach lovers. Phu Quoc is known as the Pearl Island in the southern sky. There are plenty of things to see and do during your holiday on the island. For not missing the best it has to offer, check the list of top tourist attractions in Phu Quoc.
Top 20 Phu Quoc Attractions
1. VinWonders Phu Quoc
VinWonders Phu Quoc is an entertainment complex with the most magnificent water park in Phu Quoc, aquarium, indoor play area, outdoor play area, water stage for performances. This attraction is suitable for both children and adults.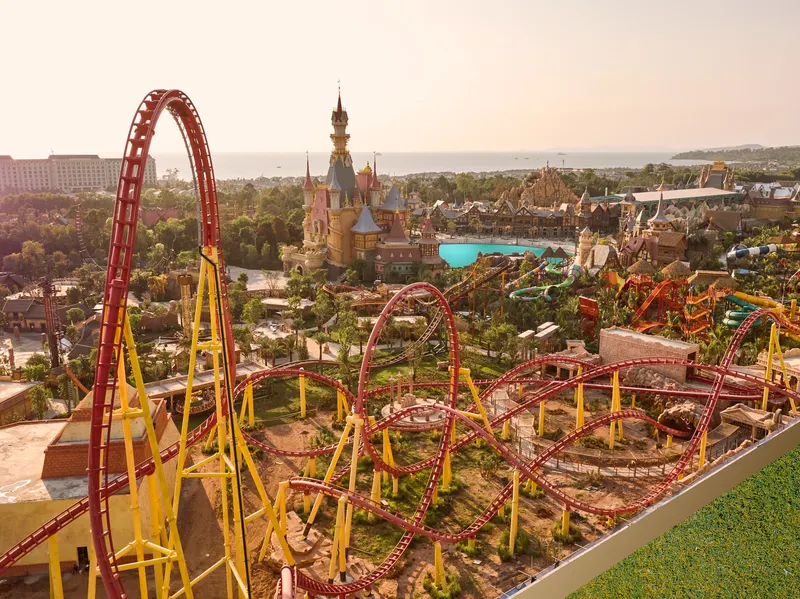 Aquarium: At Vinpearlland Aquarium Phu Quoc, you will see hundreds of interesting species of marine creatures from around the world, divided into many areas. In addition, there are special and interesting shows such as the performance of beautiful mermaids, or fish-feeding performances.
Performance hours:
Mermaid Program: 11:00 and 15:00
Fish Feeding Program: 10:00 and 17:00
Water Park: Vinpearl Land Phu Quoc Water Park is a complex including the beach and series of interesting and fun underwater games for all ages.
Indoor play area: Indoor play area of amusement park Vinpearl Land Phu Quoc has many diversified and abundant attractions suitable for different ages such as 3D virtual world games, fairy garden. There is also a large 5D cinema system with a capacity of hundreds of people.
Outdoor games area: You can freely enjoy unlimited games. The outdoor game area has many unique thrilling attractions such as Flying saucer, Super speed spinning disc, and Giant Ferris wheel.
Performances: On the performance stage, you will have a chance to enjoy fascinating performances by the clever black seal, and hyperactive dolphins.
Show Schedule:
Dancing Performance at Typhoon World: 10:00, 16:30
The Song of Mayan at Adventure World: 11:00, 17:00
Vinwonders's friend at European Streetmosphere: 09:00, 15:00
Viking's Dance at Mysterious Village: 10:30, 15:30
Opening Hours: 09:00-20:00, daily
Address: Ganh Dau, Phu Quoc Island, Kien Giang Province
Entrance Tickets: Vinwonders Phu Quoc Ticket
2. Vinpearl Safari Phu Quoc
Vinpearl Safari is the largest open zoo model in Vietnam, covering an area of about 380 hectares and housing about 130 species with more than 2,200 individuals of rare animals. Vinpearl Safari is divided into two main subdivisions: an open zoo and the semi-wild area (safari park). Vinpearl Safari Phu Quoc is an ideal adventure for both children and adults. At Vinpearl Safari visitors will experience many interesting activities such as admiring panoramic view of the park with modern tram system, enjoying fascinating animal performances, practical experience for feeding animals, taking souvenir photos with rare animals. Vinpearl Safari is not only opened to serve as a tourist area for sightseeing but also a place for research and exploration activities in the environment.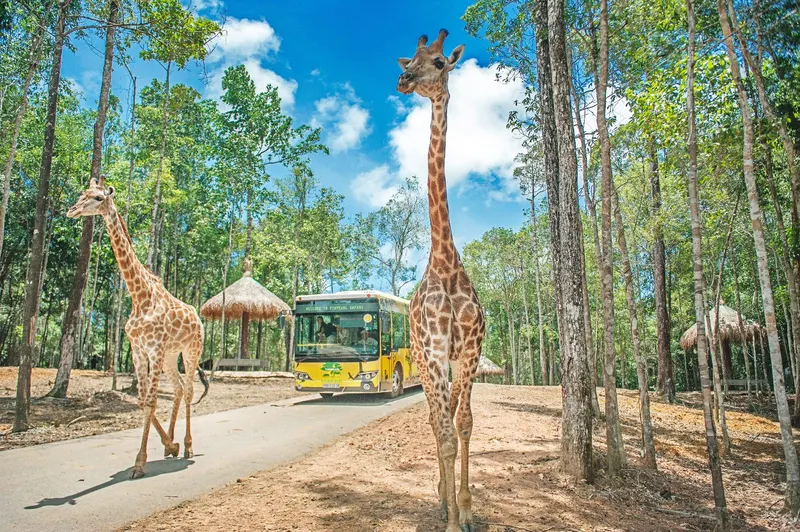 Address: Ganh Dau, Phu Quoc Island, Kien Giang Province
Opening Hours:
Open Zoo: 09:00-16:00
Safari Park: 09:30-15:20
KIDs Zoo: 10:30-12:00, 14:30-16:00
KIDs Farm: 09:00-16:00
Multi Animal Show at Flamingo Restaurant:
Duration: 30 minutes
Schedule: Sunday-Monday at 10:00 and Sunday, Monday, Thursday, Friday, Saturday at 14:00
Entrance Ticket: Vinpearl Safari Phu Quoc Ticket
3. Sunworld Hon Thom Cable Car
The trip to Phu Quoc Island will be full of excitement when you try riding Hon Thom Cable Car. Hon Thom Cable Car is actually the short name for Hon Thom Nature Park.
Hon Thom Cable Car is the longest 3-wire sea cable car in the world at 7,899 meters. The cable car is connecting Phu Quoc Island (An Thoi Town) with Hon Thom Island and you can admire 360 degrees of the sky, blue sea and all the beauty of south island from above. Hon Thom is not only famous for the longest cable car in the world, as there are many interesting things to discover, especially Aquatopia Water Park with more than 20 adventure attractions from the world's leading manufacturers.
Address: Red Ground, An Thoi Town, Phu Quoc District, Kien Giang Province
Operating Hours: 8:30-12:00 and 13:30-17:30, daily
Ride duration: 15-20 minutes
Tickets: Sunworld Hon Thom Nature Park Admission Ticket
You can check the complete guide to admiring the stunning views from Hon Thom Cable Car, including things to see, how to get there, ticket price, and other tips.
4. Hon Mong Tay or Fingernail Island
Going to Phu Quoc and skipping the surrounding islands would be a pity. Fingernail Island is located south of Phu Quoc. The island is one of the few islands off the coast of Phu Quoc that still retains its pristine scenery. You can take a boat to Fingernail Island and enjoy a day immersed in nature, water waves and the white sand beach under shady coconut trees. There are also outdoor activities such as camping, swimming or diving to see the coral ecosystem.
---
Fingernail Island is not the only famous island around Phu Quoc. There is also Dam Ngang Island, May Rut Island, and Pineapple Island where you can enjoy sunbathing, swimming in warm, clear waters and snorkeling in the ocean. You can explore these 4 stunning islands of Phu Quoc in style by joining Phu Quoc Islands Day Tour.
---
5. Long Beach (Bai Dai)
Long Beach is located on the North Island tourist route and stretches along the northwestern coast of the island, from Ganh Dau to Cua Can. Long Beach was voted as one of the 13 most beautiful unspoiled beaches in the world. Surrounding the beach is Bai Dai Mountain, lush primary forests and many high-class tourist resorts.
Update: Currently, Vinpearl's resorts have taken the entire Long Beach area to serve guests. If you want to enjoy most of the time at Long Beach, consider staying at one of resorts in the area.
Vinpearl Wonderworld Phu Quoc - a truly unique resort complex bringing together incredible activities and attractions with a wonderful beachfront suite and villa stay in Mediterranean design style.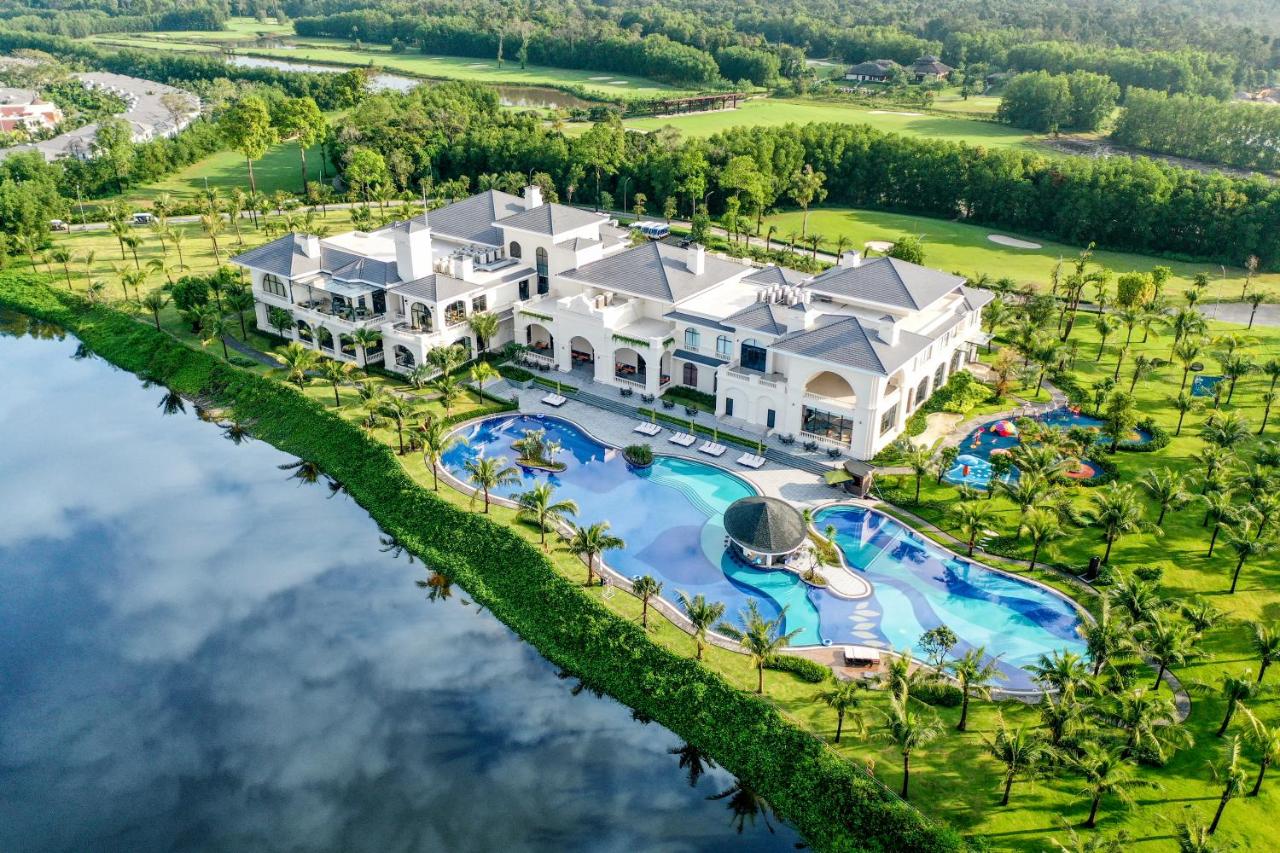 Melia Vinpearl Phu Quoc - the resort featuring Mediterranean architecture and offering elegant accommodation and different dining outlets serving an array of Vietnamese, South East Asian and European dishes.
Radisson Blu Resort Phu Quoc - the resort featuring a private beach area,  a casino and a tropical garden.
Vinpearl Resort & Spa Phu Quoc - the Indochine-style resort with an outdoor swimming pool of nearly 5,000 square meters.
Sheraton Phu Quoc Long Beach Resort - the resort featuring European neoclassical architecture and offering an outdoor swimming pool, private beach, water sport facilities and 4 on-site restaurants.
Wyndham Grand Phu Quoc - a sophisticated entertainment complex with 1,399 modern design rooms and villas, the largest conference and convention center in Phu Quoc, Vietnam's first legal casino and a center for international and local cuisine.
6. Truong Beach (Bai Truong)
Truong Beach is located in southwest Phu Quoc and spans along the coastline for about 20 km. This is the longest and the most crowded beach in Phu Quoc. The beach attracts tourists with clear water and smooth golden sand. Truong Beach is one of Phu Quoc top tourist attractions, especially for watching the sunset on the sea.
The famous Sunset Sanato Beach Club with impressive art works, dining and sports services such as volleyball, kayaking and parasailing is located on Truong Beach. Every year on New Year's Day, this is also the place where the biggest music festival in Phu Quoc takes place.
Some of the most popular resorts on Truong Beach:
Mercury Phu Quoc Resort & Villas
Salinda Resort Phu Quoc Island
7. Sao Beach (Bai Sao)
Sao Beach, also known as Star Beach, is located around 25 km south from the capital of Phu Quoc Island. Sao Beach is always mentioned as the most beautiful beach in Phu Quoc. The beach is located between two large mountain ranges, providing a quiet space and fresh climate. The sea here is blue, and the sun is not too harsh. When night falls, thousands of starfish move ashore, covered with a white sand beach. Sao Beach is a top tourist destination for couples and families who love private and quiet space for relaxing holidays. The area is also popular for hiking and cycling. You can stay at Phu Nam House - Resort which is located within a short distance from Sao Beach.
---
Phu Quoc is best known for its many beautiful beaches with soft white sand and crystal clear water. The complete guide to the top beaches on the island can be found here: Most Beautiful Beaches in Phu Quoc.
---
8. Phu Quoc Night Market
Phu Quoc Night Market is a famous tourist spot in the heart of Duong Dong Town and also the center of shopping on Phu Quoc Island. The night market space stretches for 500 m along Bach Dang Street. This is the place where you have the opportunity to enjoy delicious fresh seafood and local specialties of Phu Quoc, as well as do some shopping for local products and handicrafts from the evening until late night. The market operates from 17:00 to 23:00 and is especially crowded on weekends.
See our guide to Phu Quoc Night Market to prepare for the visit and feel the rhythm of life of the island.
9. Phu Quoc Pearl Farms
Phu Quoc pearls are ranked among the most beautiful pearls in the world, so pearl farms became one of the unique tourism places of Phu Quoc. There are many famous pearl farms on the island, including Ngoc Hien Pearls, Long Beach Pearls and Quoc An Pearls. When visiting the pearl farm, you will be able to see all the process of pearl farming in Vietnam, from the harvesting to the final quality pearl product and see the showroom displaying pearl products. You will also have the opportunity to buy real, beautiful pearls at affordable prices.
10. Phu Quoc National Park
Phu Quoc National Park is located in the northeast of Phu Quoc Island, about 35 km from Duong Dong Town. Phu Quoc National Park covers the area of natural conservation zone of the North Island, Ham Rong Mountain, Ganh Dau, and Cua Can. Phu Quoc National Park attracts tourists thanks to its natural beauty, pristine beaches and ecotourism potential. The flora and fauna ecosystem is very rich and diverse with 470 species of plants and 140 species of wildlife. However, be aware when visiting this area as you can easily get lost. Therefore, if you intend to visit, you should hire a guide to ensure safety and save time.
11. Phu Quoc Ridgeback Dog Farm
Phu Quoc Ridgeback is a breed of dog from Phu Quoc Island in Kien Giang Province. The typical features of the Phu Quoc Ridgeback are long legs, spotted tongue and a sword-shaped ridge on its back. If you will go to Phu Quoc Ridgeback Dog Conservation Center (Thanh Nga Farm) in Cay Thong Ngoai Hamlet of Cua Duong Commune, you will see many rare Phu Quoc Ridgeback dogs.
12. Dinh Cau Lighthouse and Temple
Dinh Cau Lighthouse and Temple is considered to be the symbol of the island, located just next to the Duong Dong Fishing Harbor. Dinh Cau is a sacred place worshiped by the people of the island and is believed to bring good things to fishermen, keeping the rain and wind in harmony during the fishing season. There is also the lighthouse area, where you can come to watch the sea and impressive sunset.
13. Phu Quoc Prison
Phu Quoc Prison, also known as the Coconut Tree Prison, is located in the southern part of the island, about 30 km from Duong Dong market. Phu Quoc Prison was built during the French colonial period and served as a detention camp during the two resistance wars. Phu Quoc Prison is full of the death and torture images that the national heroes of Vietnam once experienced. You should come here once to know more about the history of Vietnam.
14. Ganh Dau Cape
Ganh Dau Cape is a spit of land jutting into the sea in the northwest of Phu Quoc Island. Ganh Dau Cape is located at the unique position where you can also see Cambodian sea and mountains in the distance. Ganh Dau Cape attracts visitors by the most pristine and unique natural beauty. The scenery of Ganh Dau Cape is impressive, especially during sunset. This is also a great place to enjoy seafood.
15. Suoi Tranh Waterfall
Suoi Tranh Waterfall is one of the most popular ecotourism attractions on Phu Quoc Island, located about 7 km southeast of Duong Dong Town. The peaceful stream originates from Ham Ninh Mountain Range and flows into a three-tier waterfall hidden in the dense forest. From the foot of the stream, you can follow the bumpy paved road up to 300 m to explore the mysterious nature, camping, and bathing. This is also a suitable tourist destination in Phu Quoc to organize interesting camping trips.
16. Ham Ninh Fishing Village
Ham Ninh Fishing Village is known as one of the most famous and oldest fishing villages on Phu Quoc Island. Ham Ninh is located on the east coast with a mountain forest behind and the gorgeous sea in front of it. When visiting Ham Ninh, you will enjoy taking a cool bath in the blue water and enjoy delicious dishes made from fresh seafood caught by the fishing village people. Ham Ninh Fishing Village with the ancient features of the old fishing village is also an ideal place to watch the sunrise.
There is an affordable Hai Anh Guesthouse located in Ham Ninh area, only 300 m away from Ham Ninh Fishing Village.
17. Rach Vem Fishing Village
Rach Vem Fishing Village is a fishing village with a very beautiful Rach Vem Beach, located in the north of the island, about 20 km from Duong Dong Town. Rach Vem is a relatively small fishing village, with only 170 households, mainly engaged in fishing. When coming to Rach Vem, you will be taken to the sea by fishermen. It only takes about 5 minutes to reach the fishing village in the middle of the sea, where you can totally see the fish swimming right under your feet.
This place is also famous for the beach with many starfish where you can easily see starfish on the white sand beach.
18. Ho Quoc Pagoda
Ho Quoc Pagoda, also known as Truc Lam Ho Quoc Monastery, is the largest temple in Phu Quoc. Ho Quoc Pagoda was built in 2012 with a unique architecture, entirely made of iron columns. Ho Quoc Pagoda features Quan Am statue and giant bell. This unique temple is located high above so it offers extremely beautiful ocean views.
19. Phu Quoc Pepper Garden
Phu Quoc is dubbed as the "kingdom of pepper". This place is one of the largest growers of this agricultural product in Vietnam and produces the best quality pepper. It would be a mistake to come to Phu Quoc without visiting the green pepper gardens. The major pepper growing areas in Phu Quoc are Ganh Gio, Suoi Da, Suoi May and Khu Tuong hamlets. At the pepper garden you can learn about planting and techniques, take photos and buy some pepper as gifts.
20. Sim Wine Production Facility
Sim Wine, also known as Ruou Sim or Rose Myrtle wine, is a popular drink between many tourists visiting Phu Quoc Island. This is a type of wine found on Phu Quoc Island, made with local fruit from the Rose Myrtle tree. The recipe originated from various ethnic minority groups living in the central highlands. Most locals drink Sim Wine when they are eating seafood. When visit the Sim wine factory, you will have an opportunity to see the processing of wine and try wine before you buy it. You can grab few bottles of the liqueur as souvenirs for family and friends.
---
You can immerse yourself in the local culture and traditions of Phu Quoc with this Sightseeing to the South of Phu Quoc Island Tour. You will have a chance to explore Suoi Tranh Waterfall, Sim Wine Factory, pearl and pepper farms, the infamous Coconut Prison, fish sauce factory as well as treat yourself of peace and quiet by sunbathing and relaxing at Sao Beach.
---
Phu Quoc Nightlife
The nightlife in Phu Quoc is unique and very different from party cities of Vietnam. Phu Quoc Night Market is the main place to go on the island at night. After the sun sets, you can also find a handful of cool bars on Phu Quoc beaches. Check Phu Quoc Nightlife Guide for the most popular activities on Phu Quoc Island at night.
Tips
Useful guide to the best places to stay in Phu Quoc with the best hotels in each area can be found here: Where to Stay in Phu Quoc?