Planning your holidays in Thailand and looking where to stay in Cha-Am, Phetchaburi? Find the list of the best Cha-Am hotels, including the most popular resorts and hotels in Cha-Am Beach, Thailand: top family hotels, beach resorts, villas, and other kinds of accommodation.
Cha-Am
Cha-Am is a small resort town just 25 km north of Hua Hin. Cha-Am is one of favorite holiday and weekend destinations for Thais. This resort town can't offer as developed tourist infrastructure as Hua Hin does but it's a quieter and more laid back than its southern neighbor.
Where to book Cha-Am hotels?
The most convenient way to book Cha-Am hotels is by using a reliable online travel agent such as Booking.com or Agoda.com.
List of Hotels in Cha-Am Beach
The list of most popular Cha-Am hotels can be found below.
---
To decide on the best option for the trip, more detailed information on each of the hotels/resorts with reviews, prices and availability of rooms for the selected dates can be found by clicking the links provided. 
---
1. Novotel Hua Hin Cha Am Beach Resort & Spa
Located in Cha-am, Novotel Hua Hin Cha-Am Beach Resort & Spa offers luxury rooms with full facilities. It boasts an outdoor swimming pool with water slide, a spa and a 24-hour fitness centre. All rooms and suites feature a private balcony with panoramic sea views.
2. Springfield at Sea Resort & Spa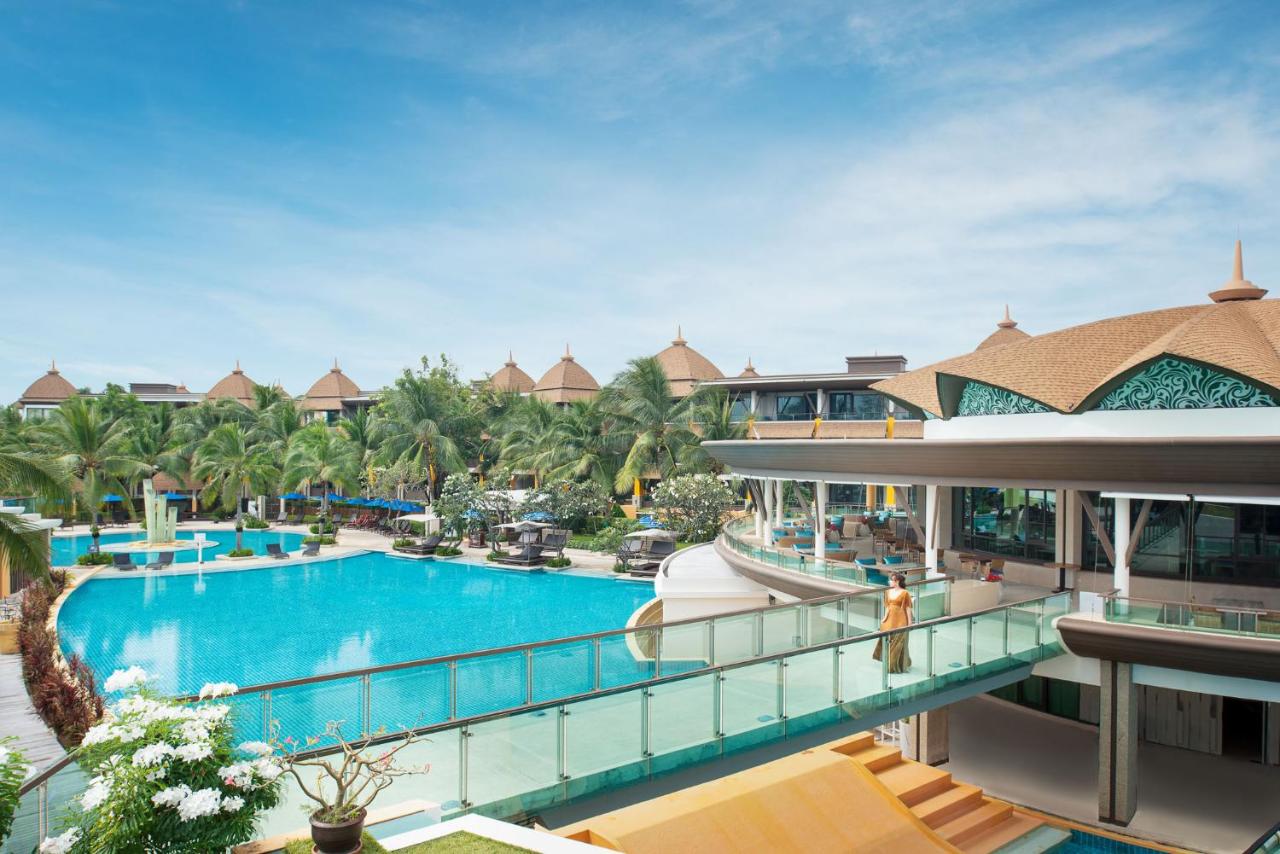 Springfield at Sea Resort & Spa, the new gem on Cha-Am beach, the latest creation in the Springfield Group, provides the finest in boutique resort elegance, uniting luxurious living with nature.
3. Springfield Village Golf & Spa
Springfield Village Golf & Spa features luxurious accommodations. It offers 4 food and beverage options, 2 outdoor pools, free parking and a shuttle service to the Hua Hin Night Market. Accommodation at the Springfield Village consists of Deluxe Rooms, Suites and Cottages. All room types come with cable TV, air conditioning, a minibar and private bathroom. Guests can enjoy a 27-hole championship golf course and a driving range.
4. Dusit Thani Hua Hin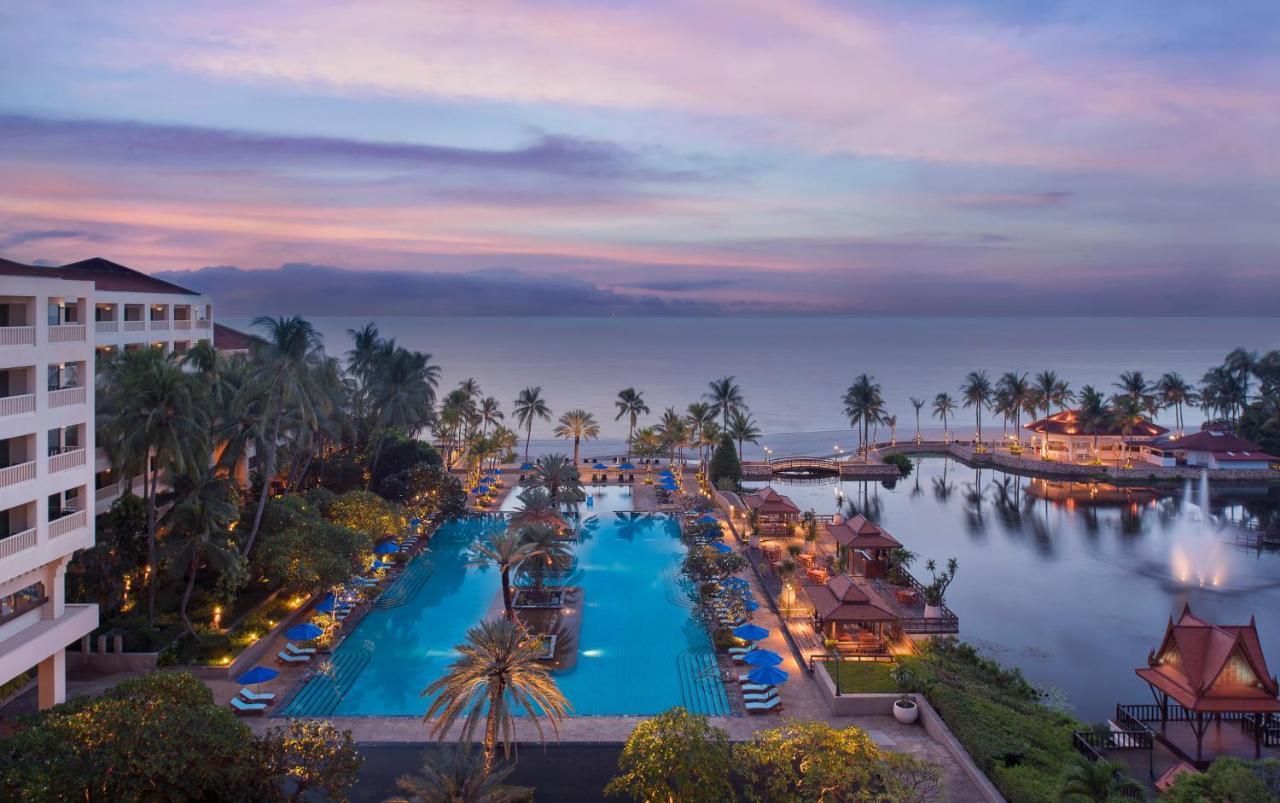 Overlooking an idyllic beach on the Gulf of Thailand and surrounded by lush greenery, Dusit Thani Hua Hin provides the ultimate Hua Hin resort experience for families in a historic destination steeped in Thai royal heritage that no other Hua Hin resort on the beach can match. Dusit Thani Hua Hin combines classic Thai design in a Hua Hin hotel on the beachfront with modern amenities, offering guests a serene and lavish getaway that echoes Dusit Thani Hua Hin's past as a summer retreat for the Thai royal family. In addition to the natural beauty that surrounds this Hua Hin hotel near the beach, the Dusit Thani Hua Hin hotel's spacious grounds comprise an ornamental lake, lily pond, tropical gardens, two magnificent swimming pools and much more. This Dusit Thani Hua Hin self-contained oasis hotel in Hua Hin Beach also provides a range of recreational facilities, including water-sports venues, tennis and squash courts, a fitness centre and sports pavilion.
5. SO Sofitel Hua Hin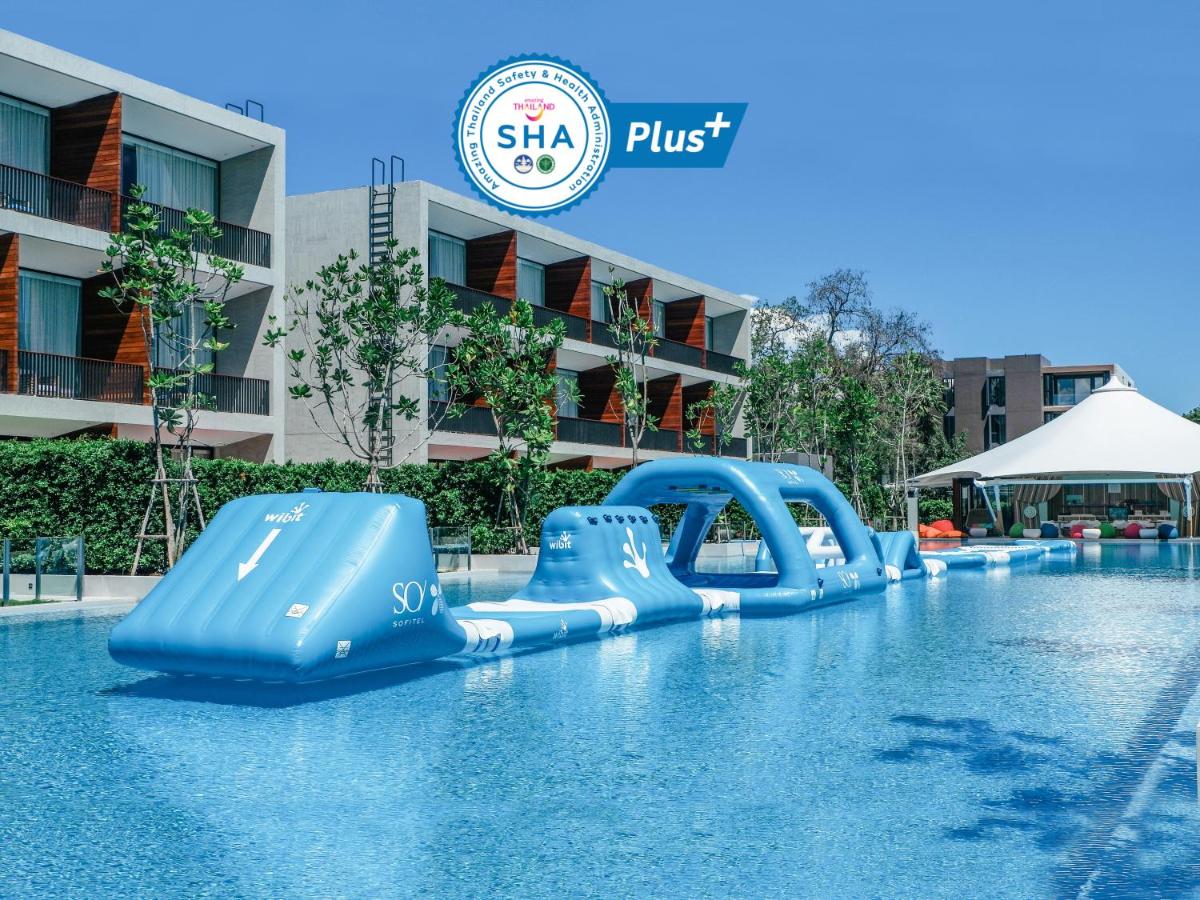 Located in the coastal town of Cha-Am, SO Sofitel Hua Hin is a luxurious beachside resort offering 5-star facilities including a pool with sea views and rooms designed to be personal retreats. The resort features 109 rooms, family suites, pool access rooms and pool villas. Surprising wine and dine experiences await at White Oven restaurant, Beach Society beach club, SO Sundae poolside eatery and HI-SO rooftop bar. Well-being experiences are offered at SO/ SPA, SO/ FIT, and three swimming pools including one anchored by a Wibit adventure course. Family and recreational facilities include a kids club, an adventure golf, bicycle track, multipurpose and pickle ball court.
6. Avani+ Hua Hin Resort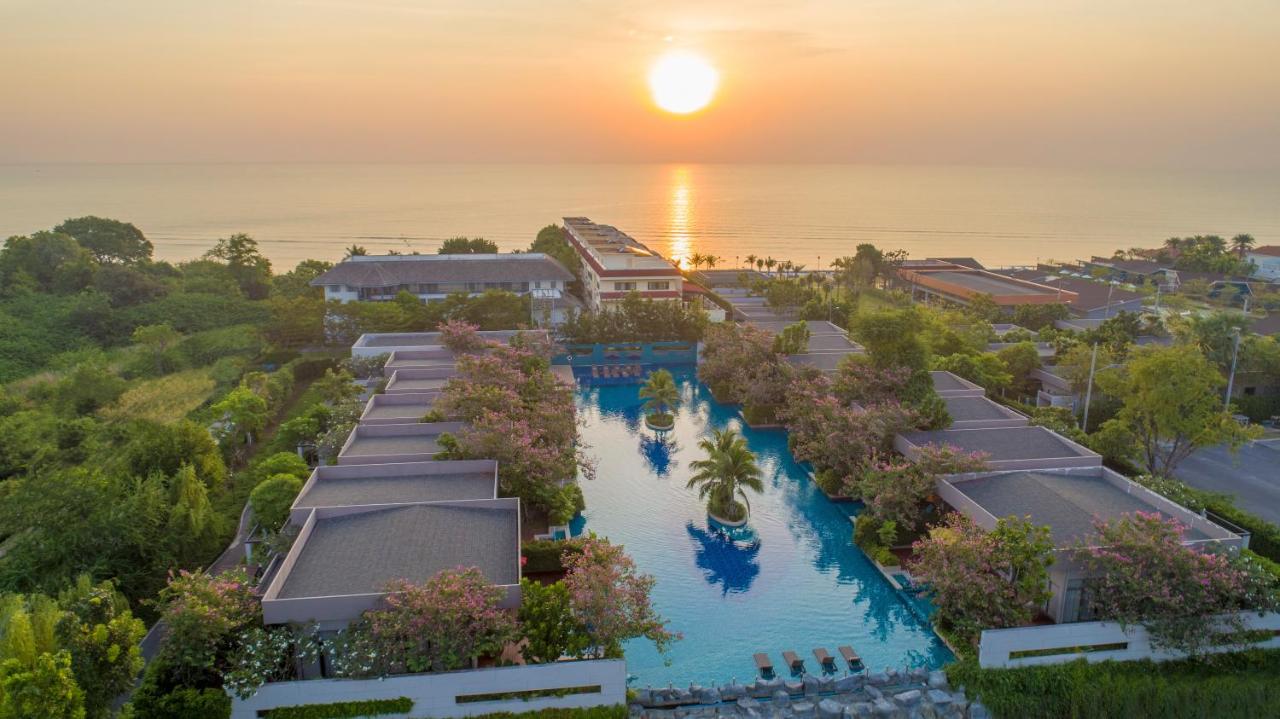 Boasting a beautiful beachfront location, AVANI+ Hua Hin offers majestic accommodations in Hua Hin, a 10-minute walk from The Venezia shopping village. Surrounded with lush vegetation, the resort is decorated in bright colors with artistic tiles, marble and wooden floor. Whether staying in a villa or a hotel room, guests are offered a full range of on-site facilities, including of fitness center, premium spa, bar and restaurants.
7. Veranda Resort & Villas Hua Hin Cha Am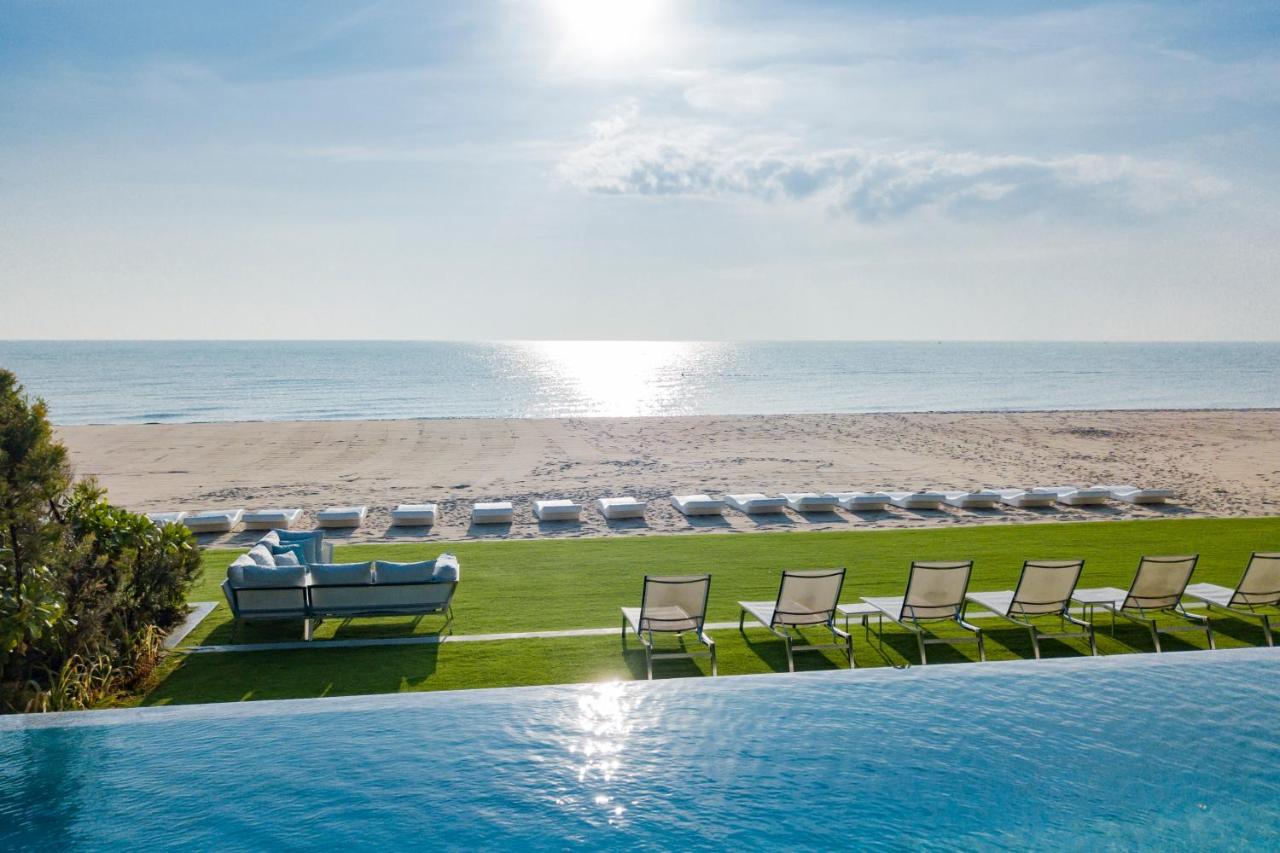 Enjoying a scenic location on a large private beachfront, Veranda Resort Hua Hin – Cha Am has a beautiful infinity pool with enormous sunbathing space.  Overlooking the sea or gardens, the spacious rooms all come with a flat-screen HD TV, DVD player and tea/coffee making facilities. Open-concept bathrooms have a rain shower and separate bathtub. Villas come with a private pool and outdoor hot tub. Veranda Resort provides area shuttles around Hua Hin Town Center.
8. Sheraton Hua Hin Resort & Spa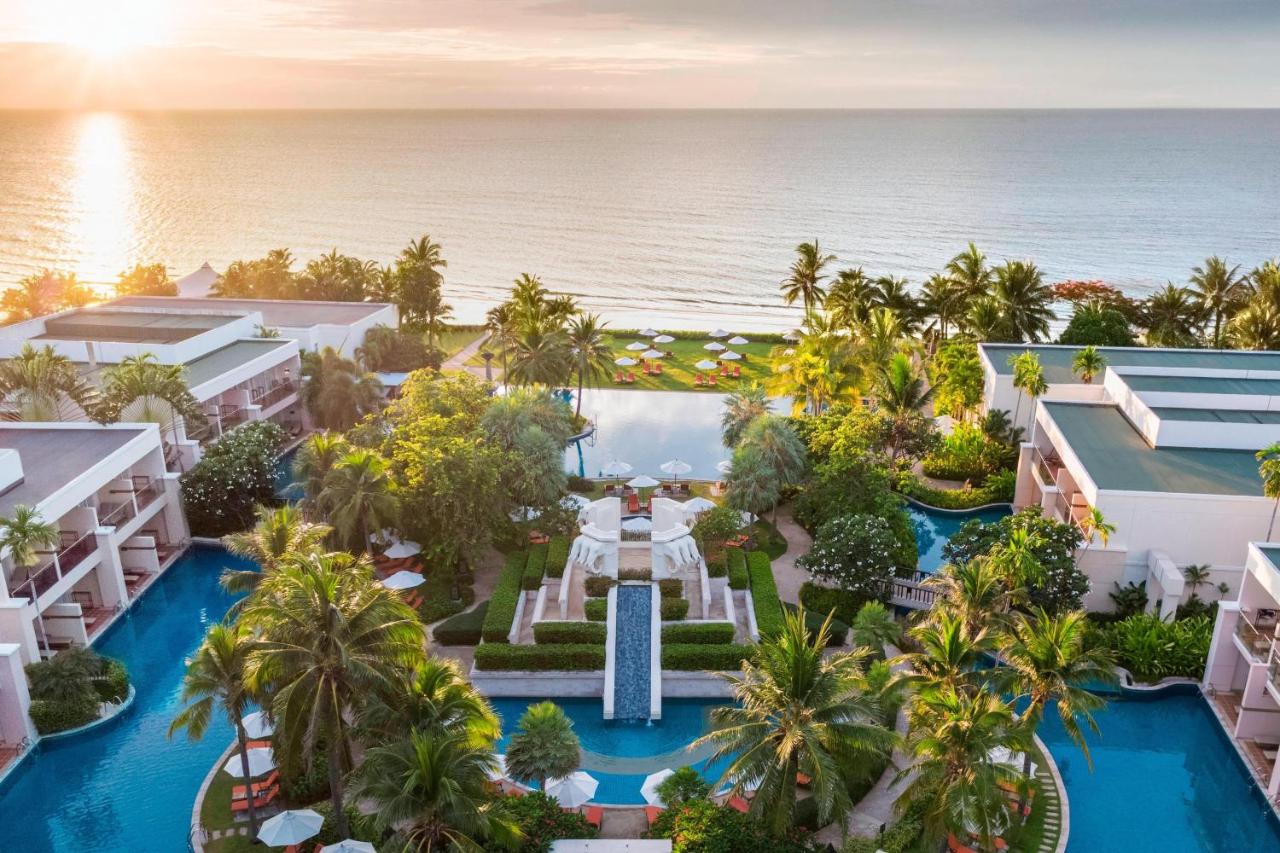 Conveniently located on the seafront between the classic seaside towns of Hua Hin and Cha-am just 2.5 hours from Bangkok, Sheraton Hua Hin Resort & Spa offers an endless sense of holiday fun at every turn. Surrounded by tropical landscaped gardens, the hotel's main highlight is the 560-matres lagoon shaped swimming pool that flows around the resort and is considered one of the largest pools in town. 240 modern decor rooms in 9 buildings, the low-rise architecture provides a boundless panoramic view of the ocean. There are 8 categories of guest rooms with private balcony starting from the Garden View room with a tropical garden view, the Lagoon Access room which direct access to a unique Lagoon pool, Oceanfront room and Ocean Suite room, face to the ocean.
9. Mida De Sea Hua Hin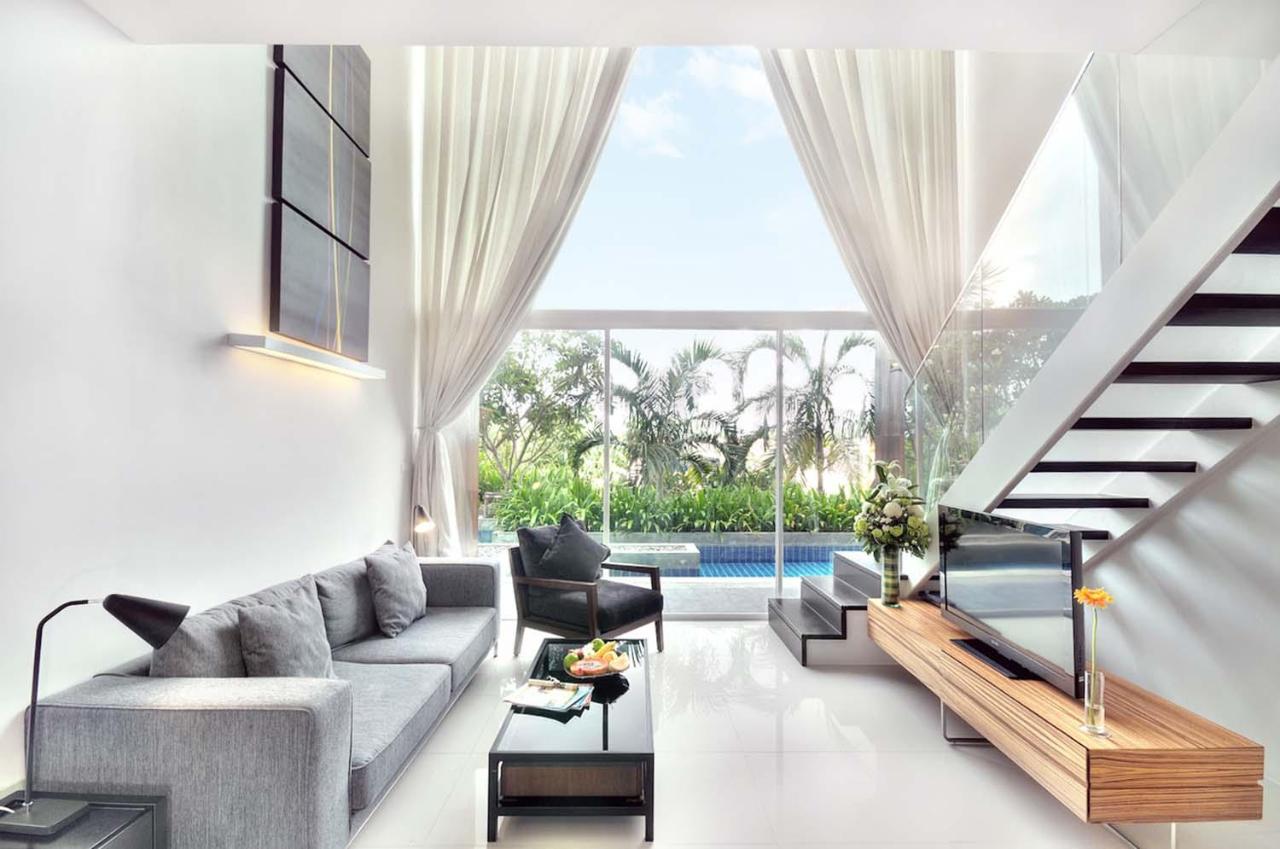 Mida De Sea Hua Hin offers luxurious 4-star accommodation with a flat-screen cable TV and a private balcony. With A large area space in all rooms and private balcony,  the guest can feel the best relaxing & sea view of Hua Hin beach. From hotel to the beach, just only 5 minutes walking distance, you will discover the white sand beach from the sister hotel "Ace of Hua Hin Resort".
10. Ace of Hua Hin Resort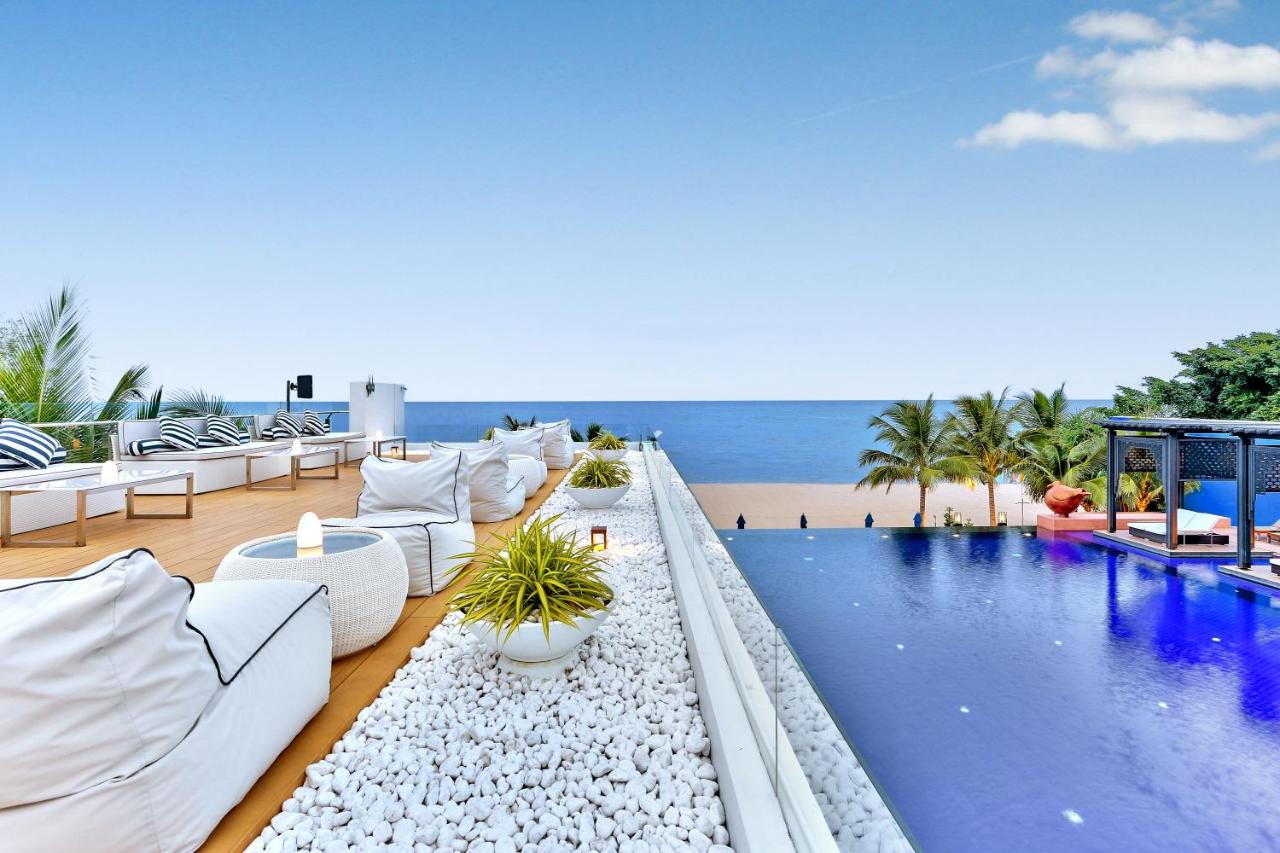 Ace of Hua Hin is a boutique-inspired lifestyle beachfront resort catering to high-end travelers. In search of a stylish cool escape and immersive local experiences in Cha-Am/Hua Hin, Thailand's most attractive getaway destination. Escape to a Kaleidoscope of exciting experiences. Ace of Hua Hin Resort's iconic design and swaying palms sets the stage for an unforgettable experience, where contemporary comfort and luxury, infused with character, welcomes guests to immerse themselves in a fresh and cool beach escape rooted in local culture and warm Thai hospitality.
11. FuramaXclusive Sandara Hua Hin, Cha-Am
FuramaXclusive Sandara Hua Hin, Cha-Am is a four-star resort conveniently located along the beautiful beach of Cha-Am. This resort in Hua Hin is a perfect gateway for holidaymakers looking for a stylish seaside vacation. Located just 175 kilometres from Bangkok near HM the King's Summer Palace, the resort is an ideal destination for families to spend quality time and for business people to meet.
12. Centra by Centara Cha-Am Beach Resort Hua Hin
Centra by Centara Cha Am Beach Resort Hua Hin in Cha Am features a restaurant, an outdoor swimming pool and a bar. Centra by Centara Cha Am Beach provides some rooms with pool views, and rooms are equipped with a balcony.
13. Asia Cha-am Hotel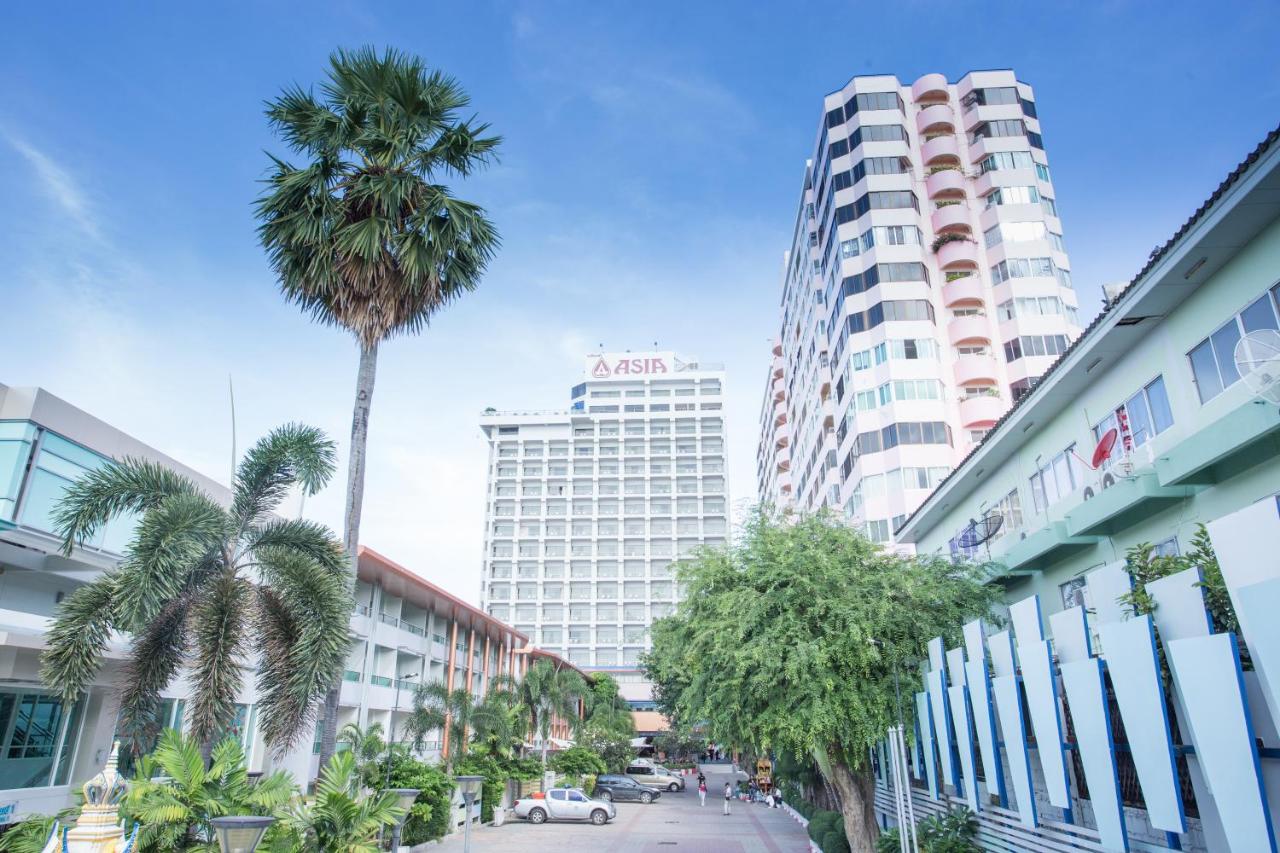 Asia Cha-am Hotel is a 2.30-hrs drive from Suvarnabhumi Airport. It features an outdoor swimming pool and offers rooms with a private balcony overlooking the sea.Cha-am Beach is just across Asia Cha-am Hotel. Hua Hin City and Santorini Park are within a 25-minute ride from the property.
14. Tara Mantra Cha-Am Resort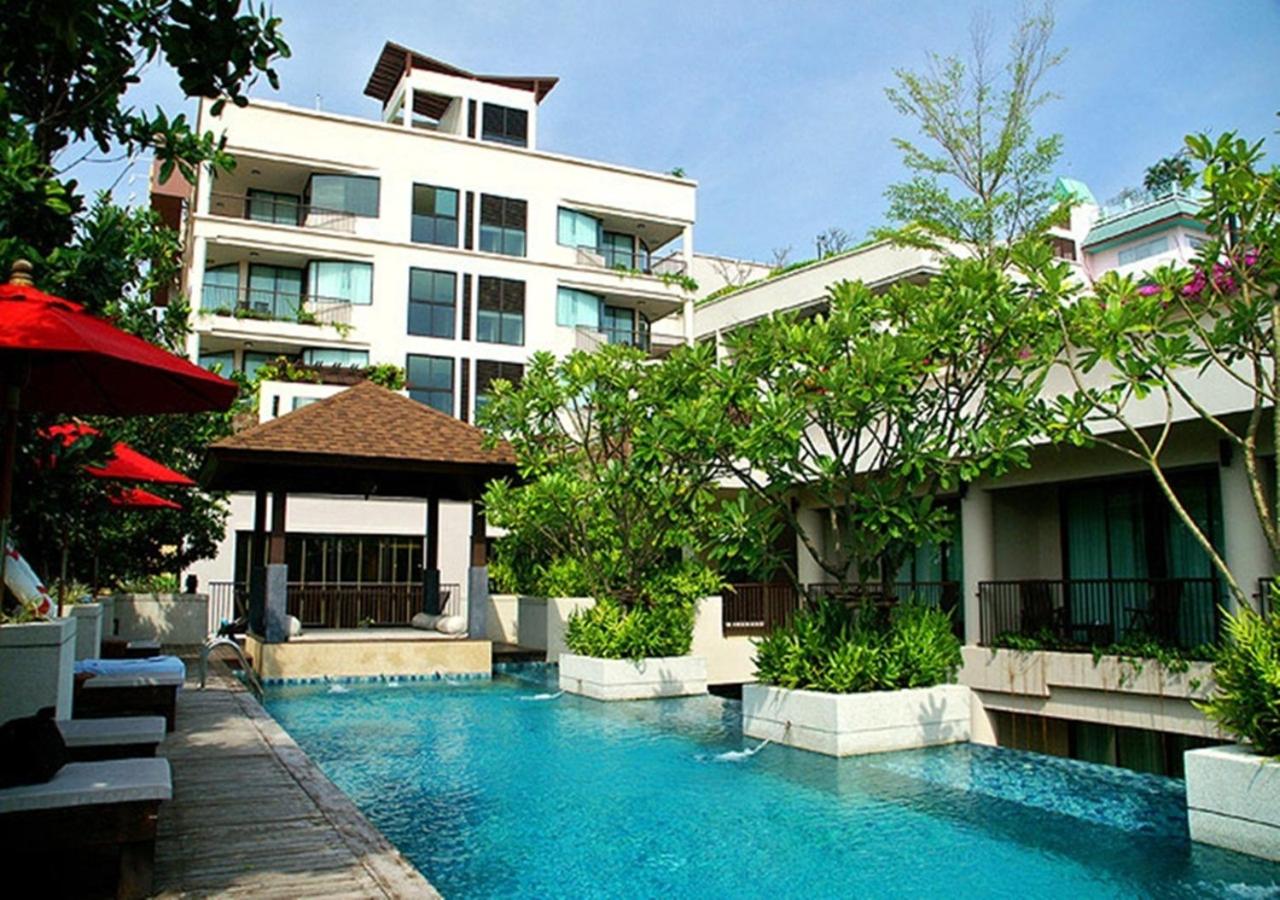 Tara Mantra Cha am is a new stylish boutique beach resort, with 3 mood swimming pools and waterfall cascading their ways toward the sea line. Tara Mantra's air-conditioned rooms overlooks the swimming pool and gardens. They offer a tea/coffee maker, minibar and private bathroom. 
15. Baba Beach Club Hua Hin by Sri panwa
Baba Beach Club Hua Hin by Sri panwa is envisioned with the intention of fusing together brio and bluster with glamour and grace whilst presenting itself as a Music Lovers Hotel. Scattered across 12 rais in Thew Talay Estate, the pristine oceanfront beach and between Cha-am & Hua Hin, the property offers unrivaled oceanside access with a beach club area as well as a restaurant that all exude the signature Baba Beach Club vibe. Opulent beachfront swimming pools boast panoramic views of the idyllic Gulf of Thailand allowing guests to swim in luxury amid an atmosphere designed to relax and refresh both day and night.
16. Regent - Chaam, Hua Hin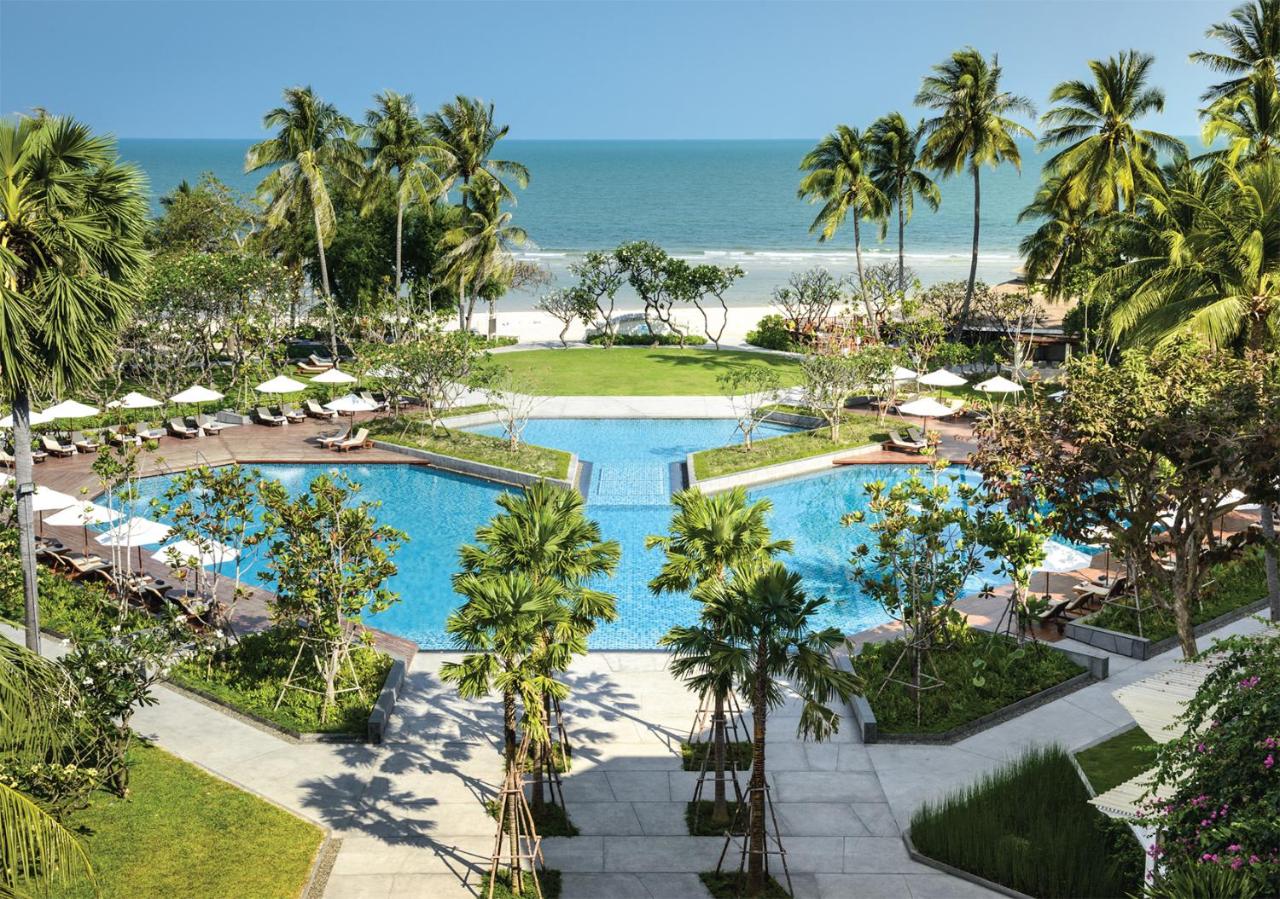 Regent - Chaam, Hua Hin resort, also known as "The Regent Cha-Am Beach Resort", situated in front of Cha-Am beach and recognized as an ideal haven for couples or honeymooners, while families adore the range of facilities and tailored activities. In 2020, the resort also offers a newly renovated swimming pool, landscape design, and dedicated play zones for kids called "Family Wing" as a Family Paradise. This project designed to enhance guest experience and emphasize the meaningful bonds between children, parents, and extended families.
17. Regent - Chalet, Hua Hin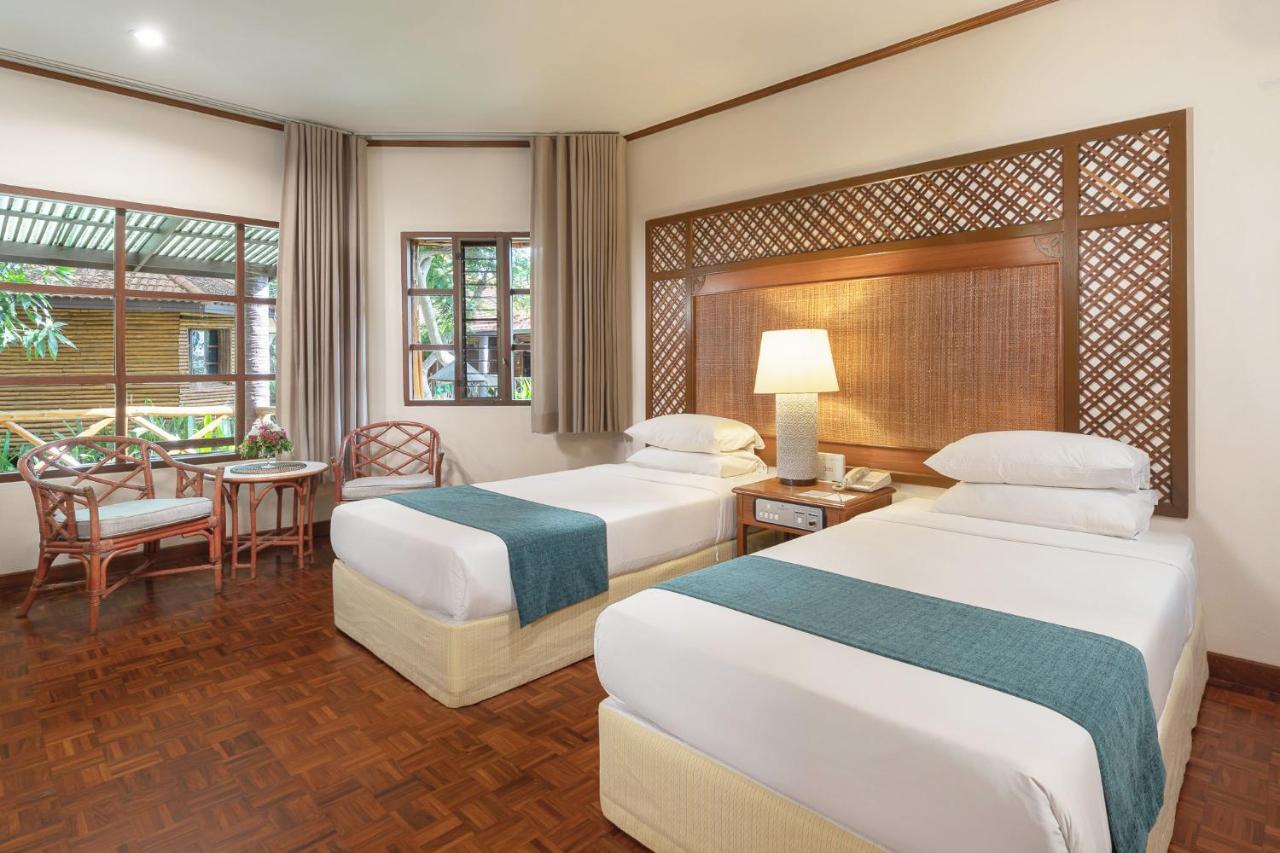 Regent - Chalet, Hua Hin is situated in a tropical garden, facing the sunrise side of the Gulf of Thailand. This restful and friendly resort is built to harmonize with nature in a contemporary Thai setting. Enjoy a delicious breakfast selection and tantalizing dishes of both Thai and Western cuisine at the beachfront in-house restaurant, Chom Talay. Here, you will stay on the beach under the shady coconut tree canopy and find a total retreat, relaxation, and togetherness in a home away from home.
18. VALA Hua Hin - Nu Chapter Hotels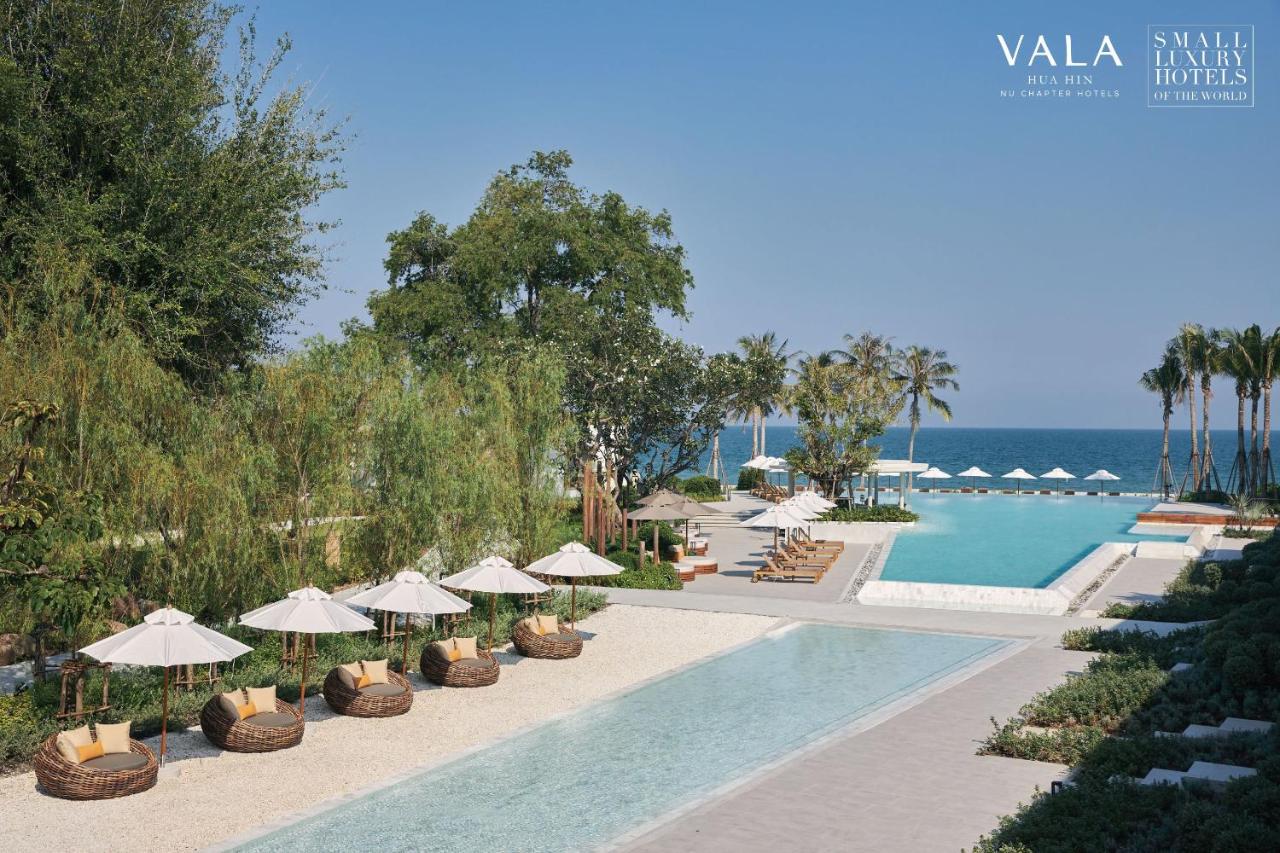 Boasting a serene location between Hua Hin and Cha-Am on a long private beachfront, VALA Hua Hin – NU Chapters has an enormous oceanfront swimming pool with a beautiful sunbathing space. Free WiFi, a fitness centre and kid-friendly facilities are available. Overlooking the beachfront, the sea or the gardens, all the rooms and the pool villas come with a flat-screen HD TV, a minibar and coffee & tea making facilities. Villas come with a Nespresso machine, a separate bathtub and a private pool. 
19. Bluemoon Cha-Am Hotel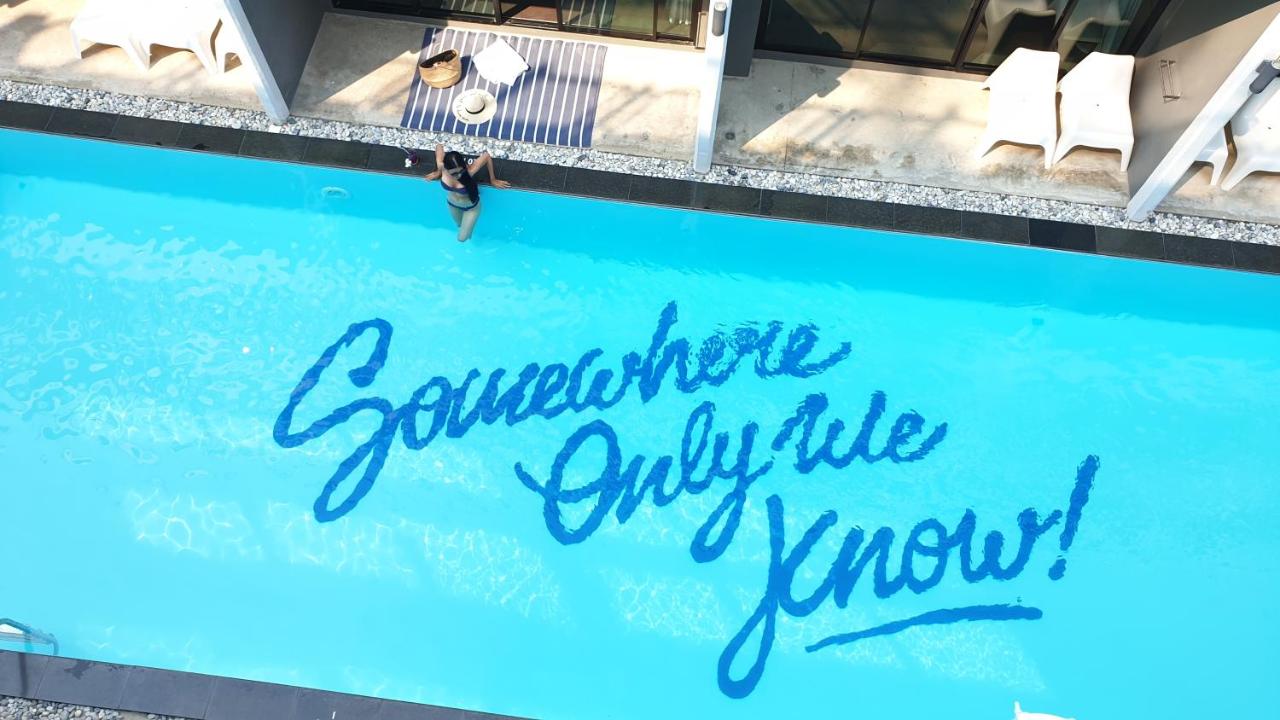 Located in Cha Am, 100 m from Cha Am Beach, Bluemoon provides accommodation with a restaurant, free private parking, free bikes and an outdoor swimming pool. Open in 2016, Bluemoon Cha-Am Hotel aim to brought together sophisticate and local culture in one place. 
20. Grand Pacific Sovereign Resort and spa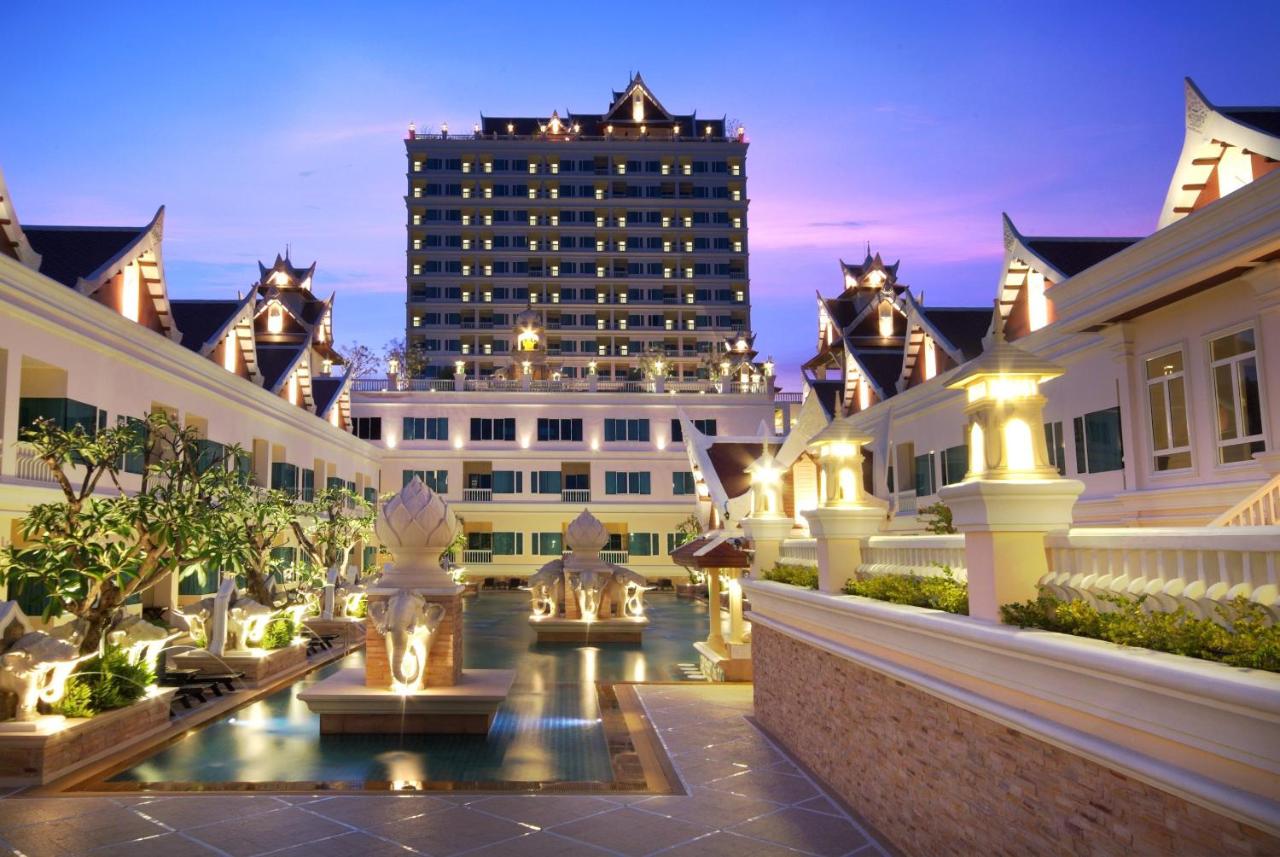 The Grand Pacific Sovereign Resort & Spa offers beautiful views out over the Gulf of Thailand, free parking, direct access to the beach and 3 outdoor swimming pools. Rooms at this Cha Am seaside resort offer a view of the mountains or swimming pool. They are equipped with a day bed, flat-screen TV, balcony and dressing table. Internet access is available at an additional charge. Grand Pacific Sovereign offers relaxation with its spa, which offers traditional massages and herbal therapies. It also has a game room, fitness center and kids club. A shuttle bus service to attractions is also available. Bellevue Coffee Shop offers international and Thai cuisine. Grand Pacific Sovereign Resort & Spa also offers a Chinese, Italian and Japanese restaurant. 
21. The Palayana Hua Hin
Located along the Cha-am coast, The Palayana Hua Hin is a tropical getaway just steps from a private beach area. The resort features an outdoor infinity pool with sunken bar. Decorated with wooden furnishings and local fabrics, rooms feature a private balcony with a daybed. Room amenities include a flat-screen TV and DVD player. Beach accessories are provided along with an eco-friendly tote bag. The Palayana Hua Hin is around 2 hours and 30 minutes' drive from Bangkok. Transfers from Bangkok's Suvarnabhumi International Airport can be arranged at an extra charge.
22. The Methavalai Hotel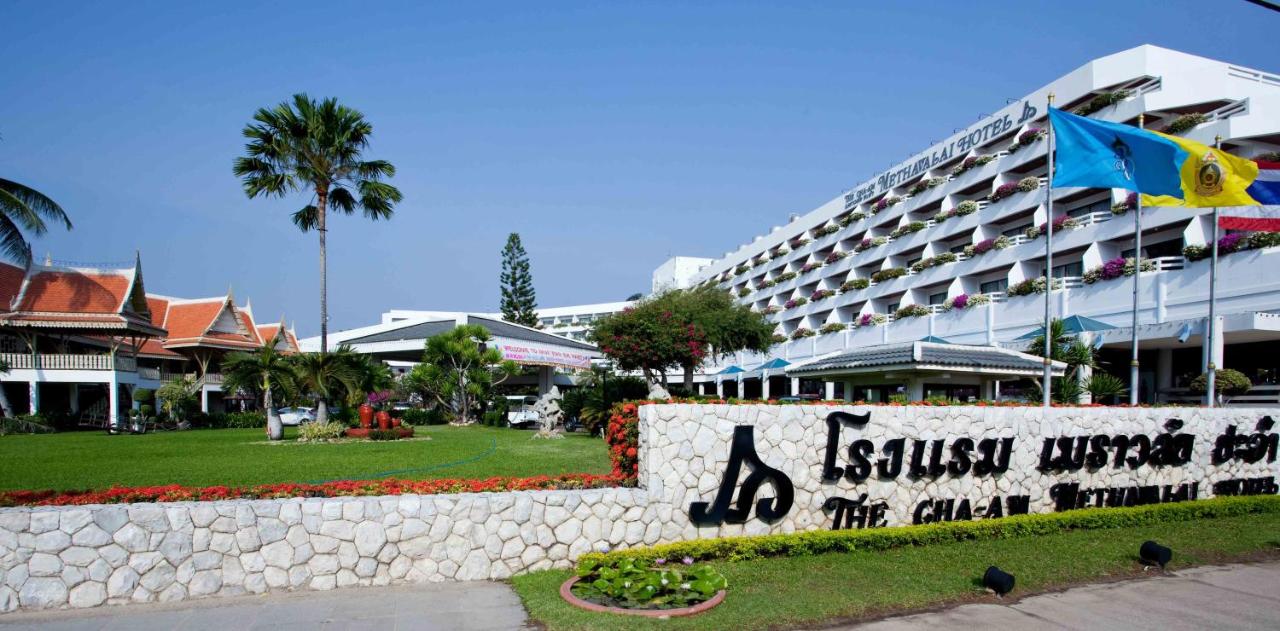 Situated at the Cha-Am beachfront, Methavalai Hotel offers peace and tranquility to our guests. With a variety of room types to accommodate different needs, all of our rooms are equipped with a balcony that overlooks Cha-Am beach and all necessities, such as a television, Wi-Fi, mini-fridge, toiletries, and etc. To ensure a complete and relaxing stay, many facilities that are available for our guests at the hotel, such as 2 outdoor swimming pools, gym, lobby, lounge area, luggage storage, parking, and security guards to ensure safety.
23. RELO' The Urban Escape
Located a 5-minute drive from Huahin Airport, RELO' The Urban Escape - Huahin offers spacious accommodations with warm and personalized service, reflecting the serene ambiance the resort has created. This beachfront resort offers rooms and villas with views of the tropical gardens or the white sandy beach. Elegantly decorated in modern eclectic style, rooms feature several facilities that include wireless internet access, an LCD television, as well as room service.
24. Cha-am Villa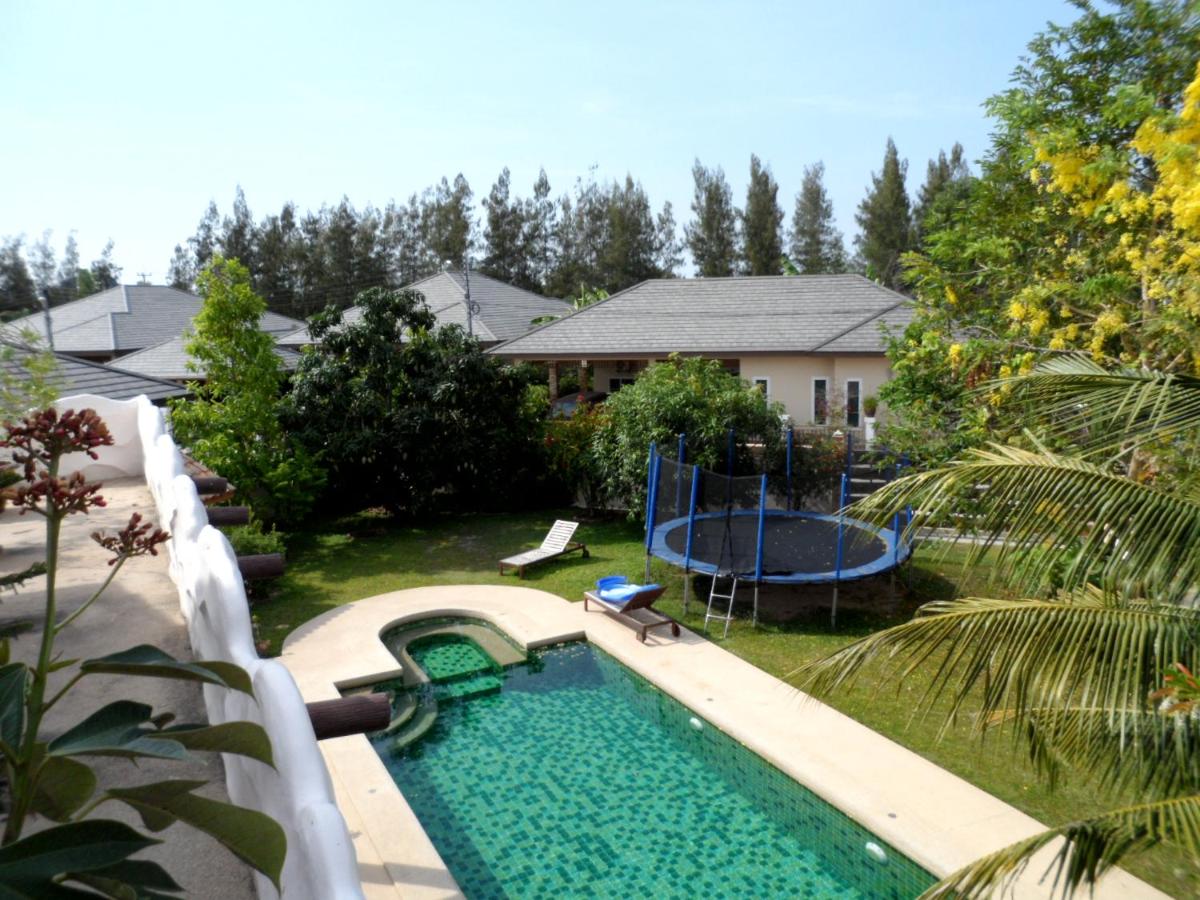 Set in Cha Am,  Cha-am villa offers accommodations with free WiFi, air conditioning, an outdoor swimming pool and a terrace. The villa features 5 bedrooms, a flat-screen TV, an equipped kitchen with a dishwasher and a microwave, a washing machine, and 7 bathrooms with a shower.
25. Baan Phing Phu Praew Resort Cha-am
Designed for both business and leisure travel, Baan Phing Phu Praew Resort At Cha Am is ideally situated in Cha Am Beachfront; one of the city's most popular locales. Only 5 km from the city center, the hotel's strategic location ensures that guests can quickly and easily reach many local points of interest. With its convenient location, the hotel offers easy access to the city's must-see destinations.
26. Elmas Cha-Am Design Hotel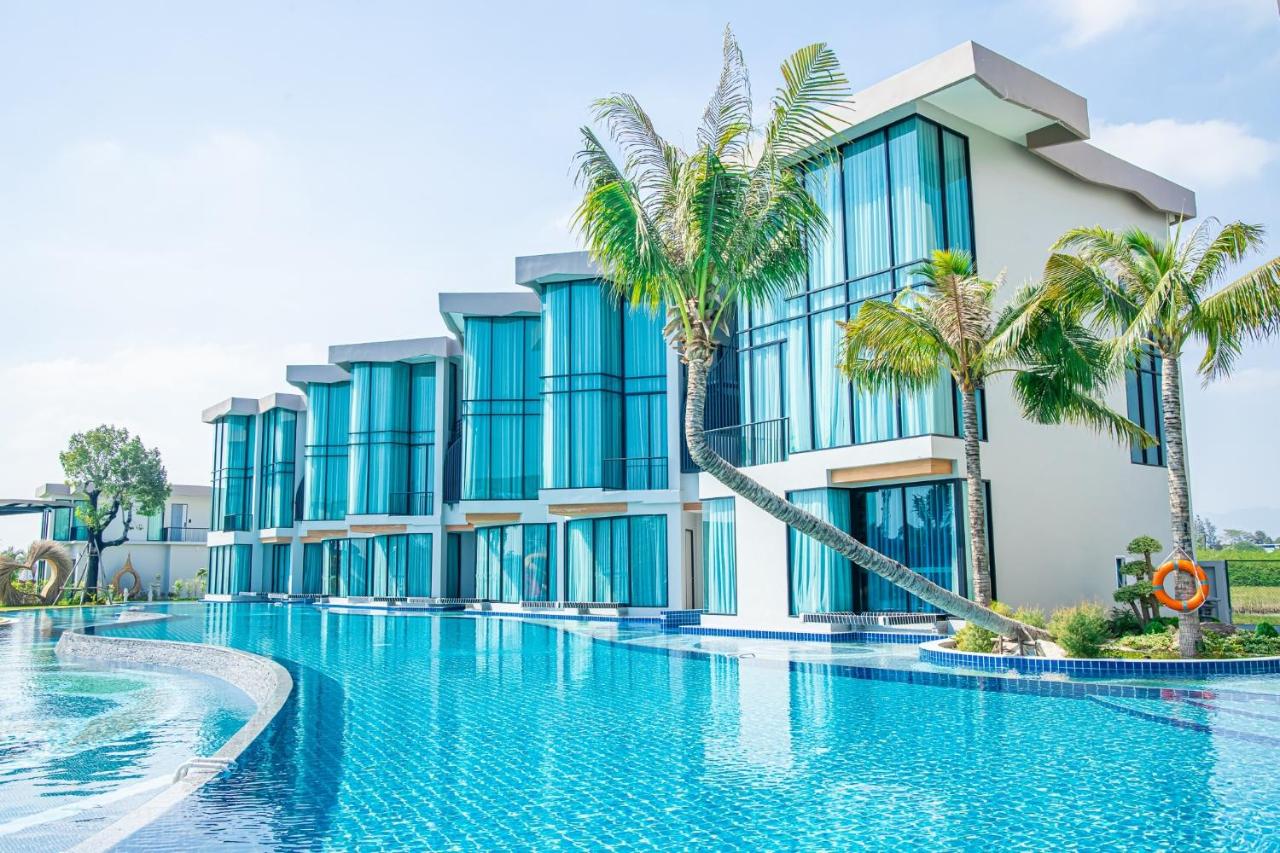 Set in Cha Am, 500 m from Cha Am Beach, Elmas Cha Am Design Hotel offers accommodations with a restaurant, free private parking, an outdoor swimming pool and a fitness center. Each accommodations at the 4-star hotel has pool views, and guests can enjoy access to a bar and to a garden.
27. Dream D Hotel
For travelers who want to take in the sights and sounds of Phetchaburi, Dream D Residence is the perfect choice. From here, guests can enjoy easy access to all that the lively city has to offer. The hotel features 52 beautifully appointed guest rooms, many of which include television LCD/plasma screen, non smoking rooms, air conditioning, wake-up service, desk. 
28. Bann Pantai Resort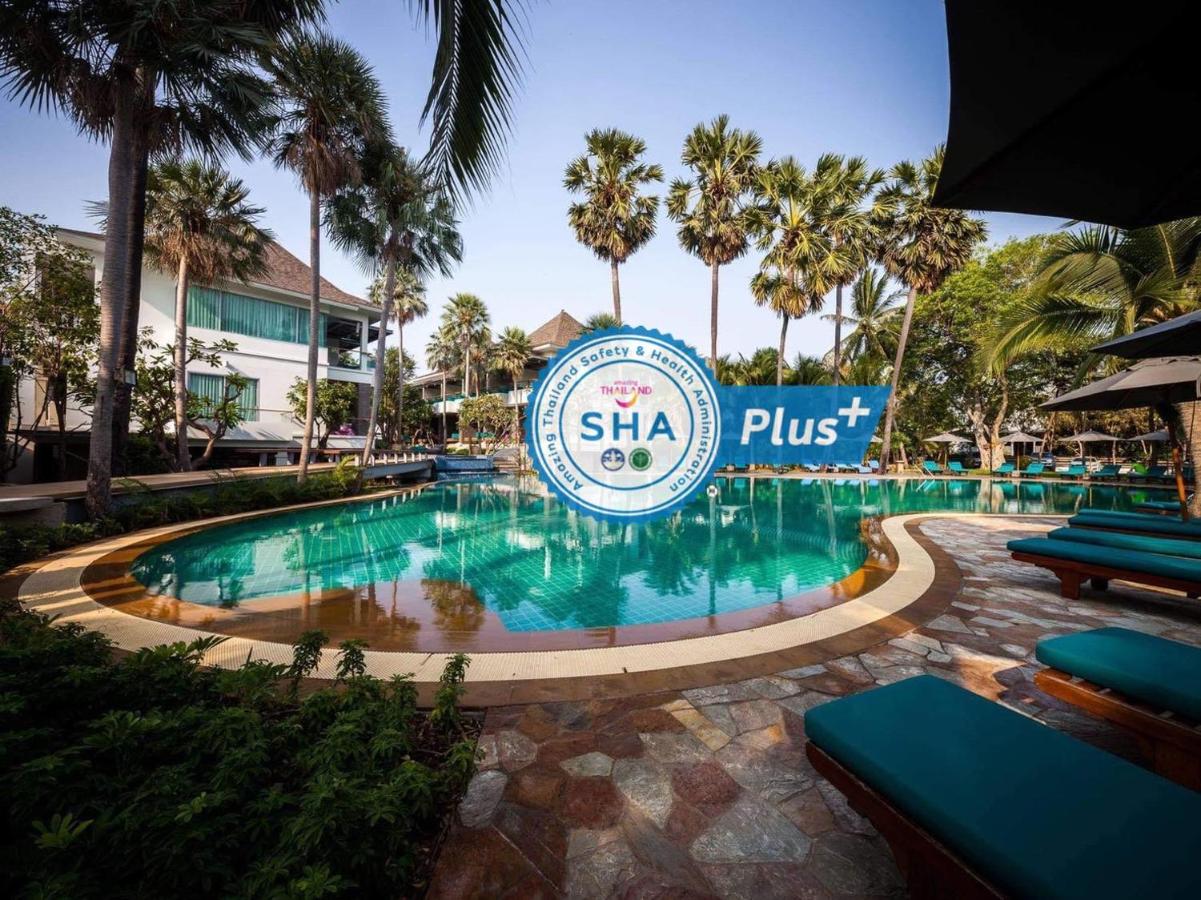 Located along Cha-am Beach, Bannpantai Resort provides boutique-style accommodations with private balconies and rainshower facilities. It offers massage services, and a spectacular saltwater pool with beach views. Rooms offer spacious and stylish interiors and come with large windows that allow the fresh ocean breeze in.
29. Nirundorn Resort Chaam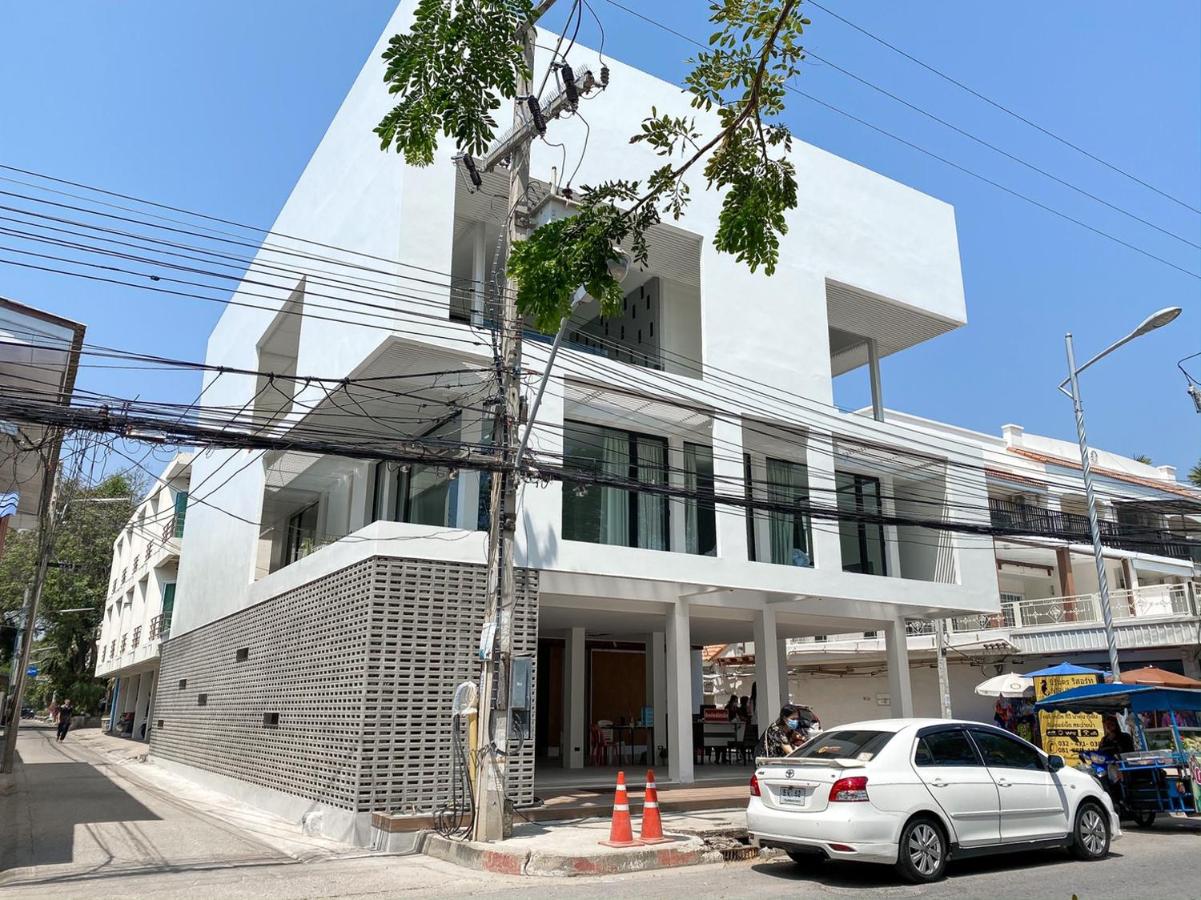 Across the road from Cha Am Beach, Nirundorn Resort Chaam provides free Wi-Fi and Thai massage. It is within a 5-minute walk from Cha Am Bus Station and many local restaurants. The well-designed rooms are fitted with air conditioning, a TV and a sofa. Some rooms have a private balcony.
30. Banlansuan Resort Cha-Am
Centrally located on Cha-am's beach road facing the sea, Banlansuan Resort provides its guests with a cool, tranquil retreat amidst the bustle of this tropical seaside setting. Banlansuan is a boutique resort, renowned for its quality service and peaceful environment, with 39 air-conditioned rooms in two parallel wings. Its close proximity to the beach enables guests to swim, relax on deck-chairs and discover the area's many exciting restaurants. Cha-am is two hours' drive from Bangkok and 20 minutes from the royal resort of Hua Hin.
---
Other Hua Hin Hotels
For more options of hotels in Hua Hin area please check: