Dalat is surrounded by mountains and green pine forests offering fresh and cool atmosphere. Staying at a homestay in Dalat is much loved by tourists as it not only brings great experience but also is a way to get closer to the beauty and culture of the city. Choose the place to stay from the list of 10 best homestays in Dalat.
---
We would recommend doing a research and booking your hotel in advance, especially when traveling during peak season to save time and nerves during your trip. The best websites to book hotels in Dalat are Booking.com and Agoda.com that always offer great deals.
---

Top 10 Dalat Homestays
Don't miss a chance to experience staying at a homestay with hill and mountain views in Dalat. Some of the best homestays in the city and its surroundings are listed below.
1. The Shelter Homestay
The Shelter Homestay deserves to be on the list of the most beautiful homestays in Dalat as it is nestled in the middle of a slope about 2 km from the city center. Therefore, you can absolutely enjoy a quiet, fresh atmosphere with simple scenery of a small town in the highlands. The Shelter Homestay occupies a relatively large area sharing it with a cafe. This Dalat homestay has 4 double rooms and 2 dorm rooms. The special thing is that the dorm room has a very nice view. The view from this room overlooks the beautiful rose garden blooming all year round.
Address: 01/10 An Son, Ward 4, Tuyen Lam Lake, Dalat, Vietnam
Price: $$$$
Rate: 8/10
2. The Lake House Dalat
The Lake House Dalat is situated in a picturesque location. One side is the immense green pine forest, the other is the quiet Tuyen Lam lake. The Lake House is simply decorated with silky-white curtains and bright, neutral colors, making everything here to look graceful. There are 3 types of rooms available, including 2 dorm rooms, 2 double rooms and 3 bungalows, so you can freely choose the one that suits your needs.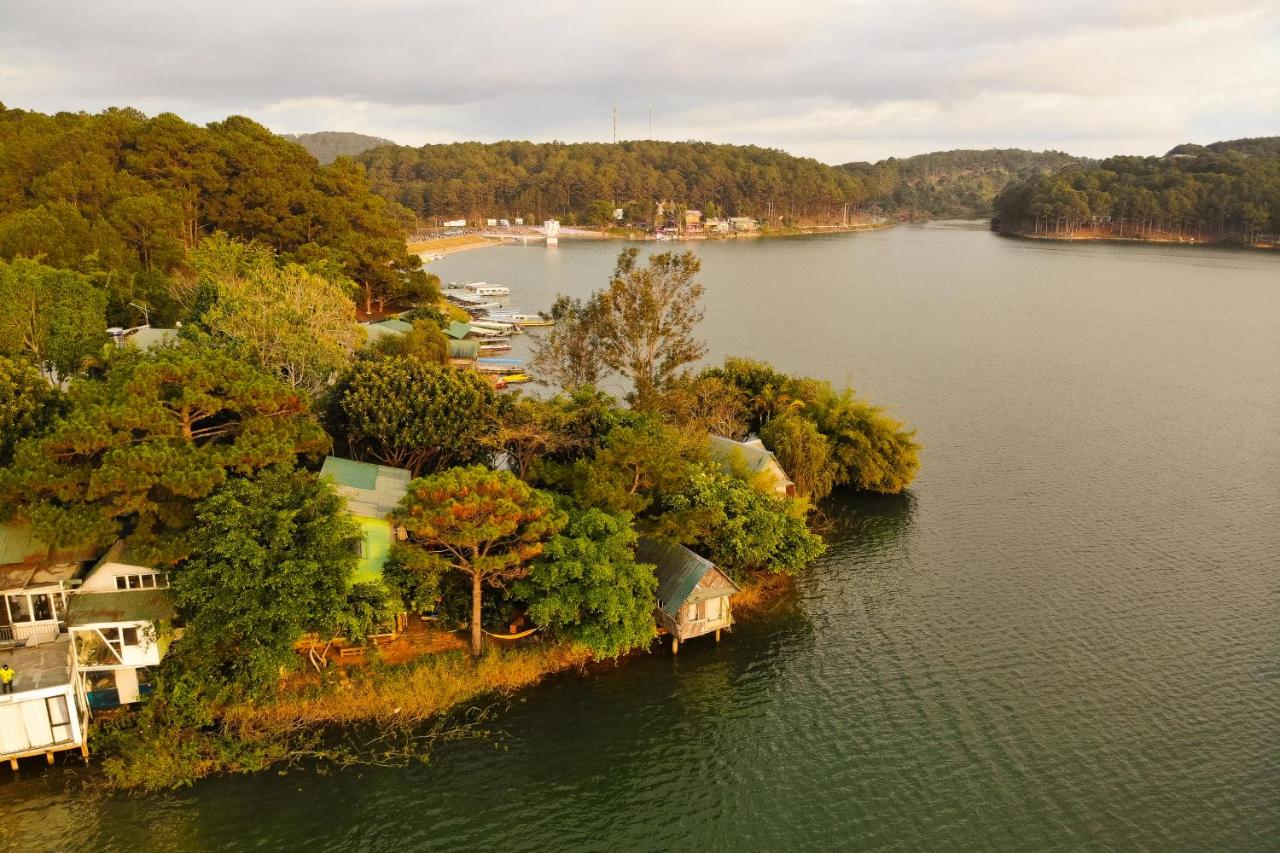 Address: Tuyen Lam Marina, Ward 3, Dalat, Vietnam
Price: $$
Rate: 8.5/10
3. Lam Vien Homestay
Lam Vien Homestay is the place where you can feel like home sweet home. This place is located about 2 km from the center of the city. Lam Vien Homestay is offering comfortable, well-maintained rooms with a low platform bed, TV, and bathroom with grey marbled tiles. The homestay has a fully equipped kitchen with dining area, microwave, kettle, and fridge. The landlord is super hospital and friendly.
Address: 444 (old number 162) Hai Ba Trung, Ward 6, Dalat, Vietnam
Price: $$
Rate: 9.5/10
4. Lu Tan Inn
Lu Tan Inn is located not far from the city center and offers rooms with pretty and romantic views of the garden or city. There is a garden with outdoor furniture at the premises. The whole area is well designed for those who want to relax by listening to music, reading books or just simply sitting and enjoying the view. All rooms are fitted with an electric kettle, wardrobe, and private bathroom.
Address: 2/6 Tran Hung Dao, Dalat, Vietnam
Price: $$$$
Rate: 9/10
5. Lalaland Homestay
Lalaland Homestay is located in the peaceful area of the dreamy mountain town. When staying at Lalaland, you will feel like you are immersed in nature while enjoying the refreshing feeling of standing in the middle of green farm fields at the bottom of the valley. The homestay is decorated with everyday items and its corners and walls are meticulously decorated with lovely crafts. Lalaland homestay offers dorm rooms and private rooms. You can choose the room type according to your preferences and budget.
Address: 10A Trieu Viet Vuong, Dalat, Vietnam
Price: $$$$
Rate: 8/10
6. Hai Ả Homestay
Hai Ả Homestay in Dalat offers views overlooking the valley with many flowers and vegetables. This place has received a lot of positive reviews from visitors as it is the place where you can enjoy a truly peaceful sunrise and sunset. Not only that, right at the homestay, there is a coffee shop and lovely bakery so you can enjoy a cup of coffee and cake while enjoying the view. Hai Ả Homestay is beautifully designed and decorated in modern style. The rooms are fully furnished and cozy. There is also a spacious garden for guests to relax or organize an outdoor BBQ.
Address: Vong xoay, 77 Nam Ho, Trai Mat, Ward 11, Dalat, Vietnam
Price: $$$$
Rate: 8/10
7. Yolo Camping House
Yolo Camping House is one of the accommodations with beautiful pine hill view in Dalat. Yolo Camping House has a total of 10 tents with many options for a group of 2, 3 or 4 members. Even if you are a solo traveler, you can still choose a nice small tent overlooking the valley. At Yolo Camping House you will enjoy the experience of "sleeping tent" with a suitable tent placed in each room with the typical colors. There is also a shared lounge, garden, 24-hour front desk and shared kitchen. The place also provides guests with a barbecue and continental breakfast.
Address: 27B, Street 3/4, Dalat, Vietnam
Price: $$
Rate: 8.5/10
8. Kimi Homestay Dalat
Kimi Homestay Dalat is located on Nguyen Tu Luc Street, the road quite near the city center. From there you can easily travel to the main tourist destinations of the city. Kimi Homestay is decorated with eye-catching items that create a very unique space. On the wall, there are many lovely wooden boards with funny words. All of them make every corner of the homestay a great place to take photos. Each room of the homestay is fully equipped and designed with elegant colors. In addition, there is a lovely garden corner with many trees where you can enjoy barbecue.
Address: 56 Nguyen Tu Luc Street, Ward 8, Dalat, Vietnam
Price: $$$
Rate: 8/10
9. Cherry House Dalat
Cherry House Dalat is located on Nguyen Cong Tru Street, right in the heart of the city. All rooms in the house are fitted with a seating area and equipped with a desk, TV and private bathroom. Most rooms have beautiful balconies so visitors can see the city in the best way. The accommodation provides a 24-hour front desk, shared kitchen and currency exchange for guests.
Address: Alley 31 Nguyen Cong Tru, Dalat, Vietnam
Price: $$
Rate: 9/10
10. Nang Homestay (Sunny Homestay)
Sunny Homestay is located about 3 km from Xuan Huong Lake. True to its name, the homestay has an extremely good sunlit garden on a hillside with picturesque views. The homestay provides accommodation with a garden, barbecue facilities and 24-hour front desk for your convenience. There is also a dining area and kitchen equipped with a fridge, oven, and stovetop.
Address: 14B Dong Da, Dalat, Vietnam
Price: $$
Rate: 9/10
Best Area to Stay in Dalat
If you intend to stay at a homestay in Dalat, you should know that homestays in the city center are often not as beautiful as the ones far from the city. The surroundings of these homestays are not that beautiful and eye-catching and the space is tight. If you want to have the view of mountains or lakes, look for a homestay a bit out of the city.
For more information about the best areas to stay in Dalat check where to stay in Dalat.
How to get from Dalat Airport to Homestay
Save time and money and book a private transfer before taking the flight to Dalat Airport. You will be met at the airport and transferred directly to your homestay in Dalat. If you will be staying close to the city center, other ways for getting from Dalat Airport to Dalat City are also worth considering.
Tips
If you're traveling on a tight budget, enjoy some of the best free things to do in Dalat.
Dalat flowers are well known around the world for their radiant, delicate and transient beauty. The most famous spots for admiring cherry blossoms can be found here: Best Cherry Blossom Photography Locations in Dalat.
If you want to drop your soul into the natural scenery, you can try to experience camping in Dalat. For more information check Overnight Camping in Dalat
For all nature lovers and adrenaline seekers, here are the top picks of adventurous travel experiences in Dalat.
At night, Dalat has many attractive places to explore. Discover the most fun things to do in Dalat at night.
Dalat cuisine has a large variety of dishes and regional specialties. Check the ultimate food guide to the delicacies of Dalat.

Enjoy your stay!
Important Note: The price range is compared between the homestays described in this blog only and may vary depending on the season. The rating score is based on the reviews in many sources and is just our personal opinion. Please check for more information about each hotel before booking it, so you could decide if the hotel is right for you.