Dalat has long been known as one of the top tourist destinations in Vietnam. People often call Dalat with many different names like the city of flowers, the land of love, dream city. Whatever the name, where to stay in Dalat is definitely the top question for travelers and this list of 15 best hotels in Dalat will help to answer it.
---
We would recommend doing a research and booking your hotel in advance, especially when traveling during peak season to save time and nerves during your trip. The best websites to book hotels in Dalat are Booking.com and Agoda.com that always offer great deals.
---
Top 15 Hotels in Dalat
Hotels in Dalat are offering exceptional experience and the best rated of them are listed below.
1. Romeo & Juliet Dalat Resort
Romeo & Juliet Dalat Resort is a popular choice for travelers who want to stay in the hotel with a mountain view in Dalat. Romeo & Juliet Dalat is solely situated in a pine forest right next to Tuyen Lam Lake. All rooms feature a TV, private bathroom and balcony. With the fresh atmosphere, green beauty of surrounding hills and colorful flower gardens, this hotel is the most suitable for a family vacation or couples looking for peace and privacy.
Address: Duong Hoa Phuong Tim, Khu Highland Resort, Ward 3, Dalat, Vietnam
Price: $$$$
Rate: 8.5/10
2. Swiss-Belresort Tuyen Lam
Swiss-Belresort Tuyen Lam is one of the best luxury resorts in Dalat, which is located in a prime location, right next to the romantic Tuyen Lam Lake and the quiet space of Truc Lam Zen Monastery. With such a special landscape, this hotel is ready to offer you the most relaxing and comfortable vacation. The resort not only impresses visitors by the open space, this place is also rated by tourists as offering the best views from the swimming pool and golf course in Dalat. The rooms here are fully equipped and offer the view overlooking the mountain. The resort boasts recreational areas such as an indoor and outdoor pool with sun decks and lounge chairs, and a bar.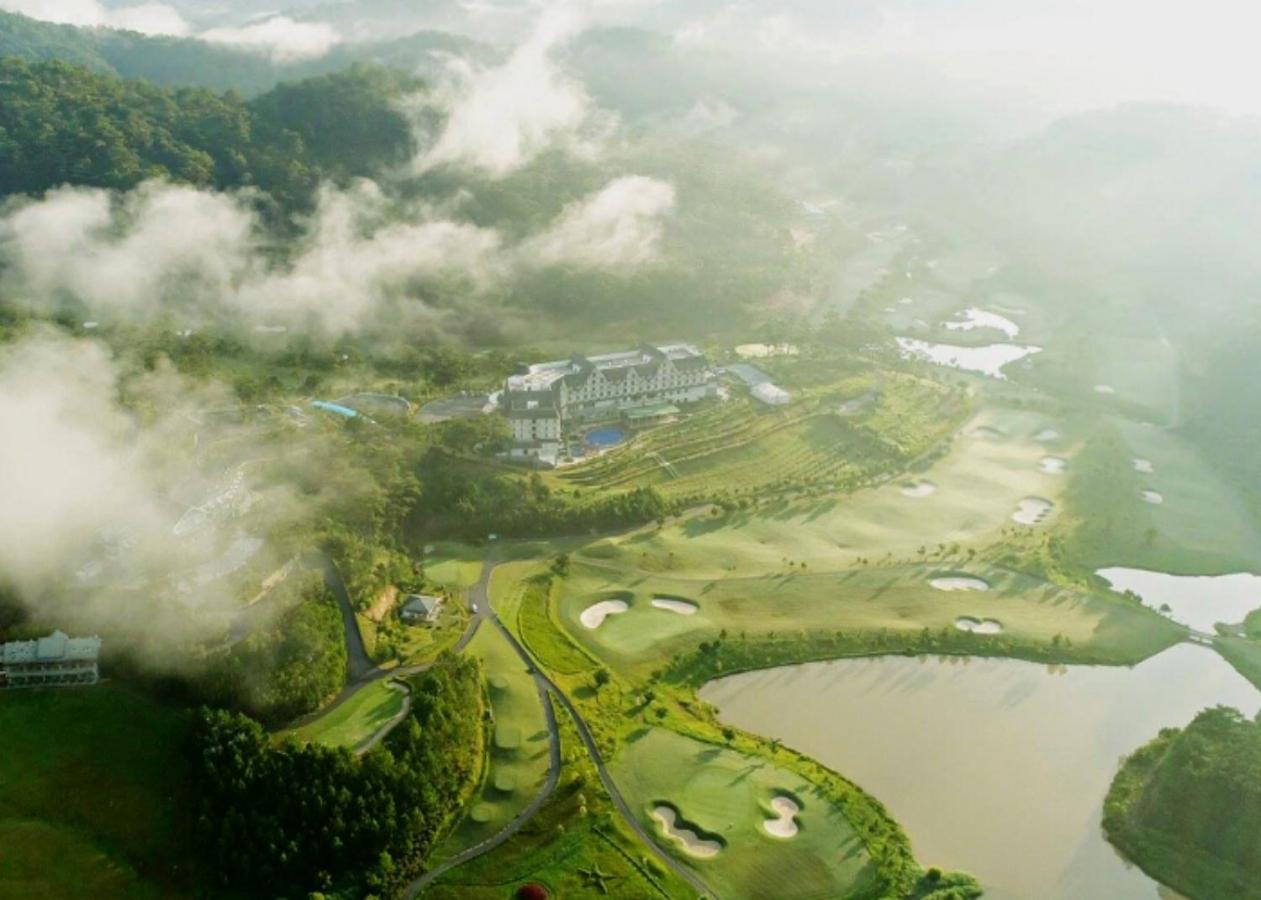 Address: Zone 7&8, Tuyen Lam Lake Tourist Area, Ward 3, Dalat, Vietnam
Price: $$$
Rate: 8.5/10
3. Zen Valley Dalat
Zen Valley Dalat is one of the most picturesque resorts in Dalat. This place is a complex of nearly one hundred years old French villas, located on the mountainside separately from all the hustle and bustle of the city. The special feature of the resort is that there are separate bungalows, nestled in lush green gardens. The rooms are not large but very cozy and full of modern amenities. Each room and bungalow has a flat-screen cable TV, seating area, electric kettle, and private bathroom. The resort provides many activities for guests, such as sauna, fishing, massage, sunbathing, and children's playground to help you relax after a long day of sightseeing.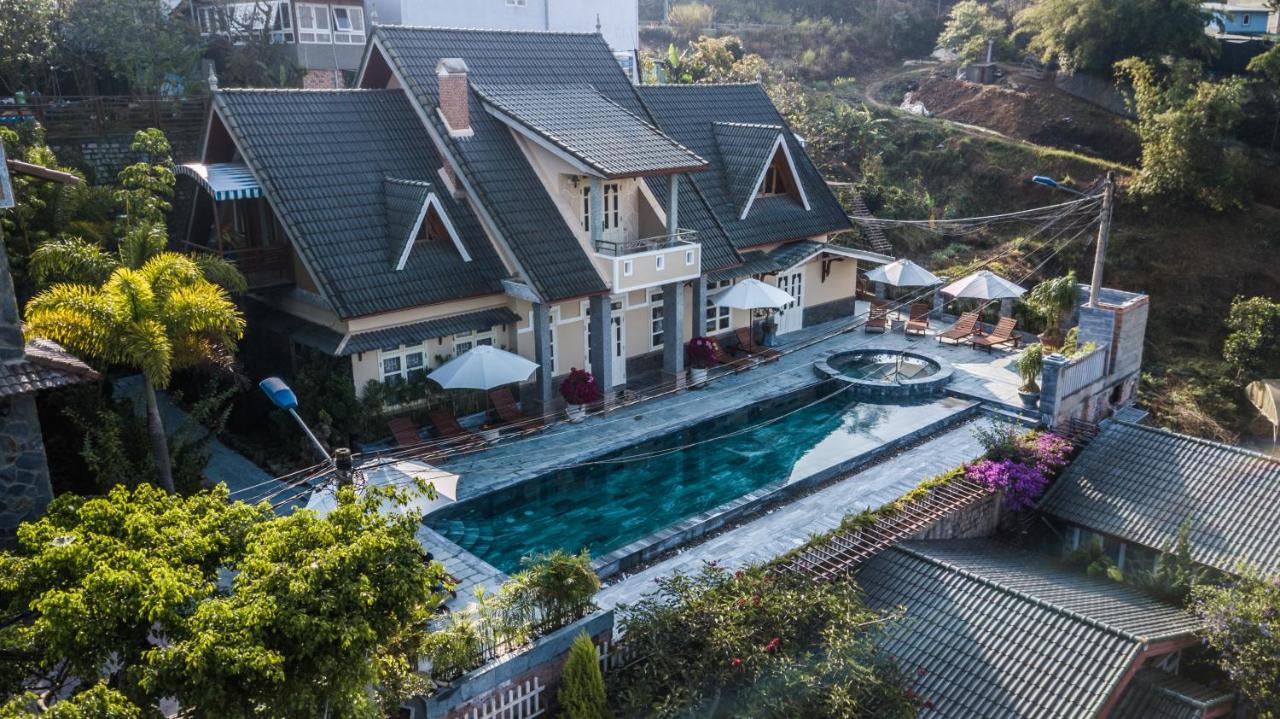 Address: 38 Khe Sanh, Dalat, Vietnam
Price: $$$$
Rate: 9/10
4. Dalat Wonder Resort
Dalat Wonder Resort is offering a relaxing space, built in European style. There are 149 rooms coming in a variety of room types, such as the bungalow or whole suite of 4 bedrooms suitable for families. Almost all rooms have views overlooking Tuyen Lam Lake and lush pine forests. The most unique and distinctive feature here is the large infinity pool with warm water, overlooking the mountains and Tuyen Lam Lake and providing a relaxing dip. The restaurant at the resort serves a continental buffet breakfast. Dalat Wonder Resort has a large garden suitable for outdoor BBQ.
Address: 19 Hoa Hong Street, Ho Tuyen Lam, Ward 4, Dalat, Vietnam
Price: $$$
Rate: 8/10
5. Saigon Dalat Hotel
Saigon Dalat Hotel is a 4-star hotel located right in the heart of the city. This is the ideal place for those who both love the bustle and want to have a luxurious vacation while visiting the most famous tourist attractions in the city of thousands of flowers. The hotel has 160 luxurious and comfortable rooms with balconies or large windows so you can admire the beauty of the lakes, forests, or hills. Saigon Dalat Hotel boasts 4 restaurants serving a variety of Western dishes and tasty Asian cuisine, 3 bars, heated indoor pool, tennis court and fitness center.
Address: 180 3/2 Street, Dalat, Vietnam
Price: $$$$
Rate: 8/10
6. Dalat Boutique Hotel
Dalat Boutique Hotel is located right in the center of Dalat City, making it very convenient to travel. The hotel is designed quite nicely as each room has its own color and layout. Each room also has a private balcony for you to admire the city view. Guests at the hotel can enjoy a buffet breakfast. The hotel features a 24-hour front desk, restaurant and terrace.
Address: 14 Huynh Thuc Khang Street, Dalat, Vietnam
Price: $$$
Rate: 9/10
7. Dalat Terrasse Des Roses Villa
Found just 2 km from the city center, Dalat Terrasse Des Roses Villa is built according to the trends of European architecture. The hotel has many different room types looking cozy and elegant. All rooms feature a TV, minibar, seating area, and private bathroom. The hotel campus is very large and beautiful with many kinds of lush green trees, ponds and typical flowers of Dalat blooming. Therefore, you can enjoy the fresh, quiet and romantic atmosphere when staying in this Dalat hotel.
Address: 260 Xo Viet Nghe Tinh, Ward 7, Dalat, Vietnam
Price: $$$
Rate: 8.5/10
8. Banyan House
Banyan House is a French-style mansion with a classical architecture located in the heart of Dalat City, just 900 m from Xuan Huong Lake. Most of the guests visiting this hotel are impressed by the beauty and unique design of the house, which is surrounded by flowers and trees. The rooms are always clean, cozy and equipped with a seating area, desk and private bathroom. Continental and à la carte breakfast options are available daily at Banyan House. The food here is very fresh and delicious, because the ingredients for the dishes are all grown by the restaurant in the local garden.
Address: 94 Ly Tu Trong, Dalat, Vietnam
Price: $$$
Rate: 8.5/10
9. Villa De's Vins
Villa De's Vins is a villa combining a classic style of the indigenous architecture of Dalat and neoclassical architecture. There are only 18 rooms including a variety of single, double rooms and group dormitories. Each room here is arranged and decorated according to the standard of 3-star hotel. The units come with a microwave, fridge, kettle, bidet, hairdryer, desk, wardrobe and coffee machine. Villa De's Vins is located in a villa area, so it's separated from the noisy town, providing you a peaceful space.
Address: 112 Hoang Hoa Tham, Dalat, Vietnam
Price: $
Rate: 9/10
10. Cocoon Bungalow
Cocoon Bungalow features a design styled with pure colors and the space in harmony with nature. The resort is surrounded by the greenery. The rooms at the resort are fitted with a seating area, flat-screen TV with cable channels, private bathroom with a hairdryer and bidet, as well as a wardrobe and kettle. Guests at Cocoon Bungalow can enjoy a à la carte or Asian breakfast.
Address: 16 Trinh Hoai Duc, Ward 11, Dalat, Vietnam
Price: $$
Rate: 8/10
11. Hong Mon Villa
Hong Mon Villa is located in a convenient area of Dalat, 2.5 km from the city center. With a convenient location, the hotel offers easy access to the most famous tourist attractions of the city. Hong Mon Villa is built as a luxurious, modern villa. There are 34 rooms with an eye-catching colorful decoration, equipped with light wooden furniture and modern equipment and facilities. Hong Mon Villa also provides a barbecue for its guests. Otherwise, you can enjoy a meal at the on-site restaurant.
Address: 102 To Hien Thanh, Ward 3, Dalat, Vietnam
Price: $$$
Rate: 8.5/10
12. Dalat Eco Hotel
Dalat Eco Hotel is one of the most popular 3-star hotels near Dalat Market. The rooms at the hotel are equipped with all the necessary items to give visitors the most comfortable stay. In particular, the rooms here are spacious and airy. Dalat Eco Hotel also makes visitors satisfied with the extremely professional and friendly staff. The hotel also provides a bar, free private parking, shared lounge, garden, room service, concierge service, shared kitchen and currency exchange for guests.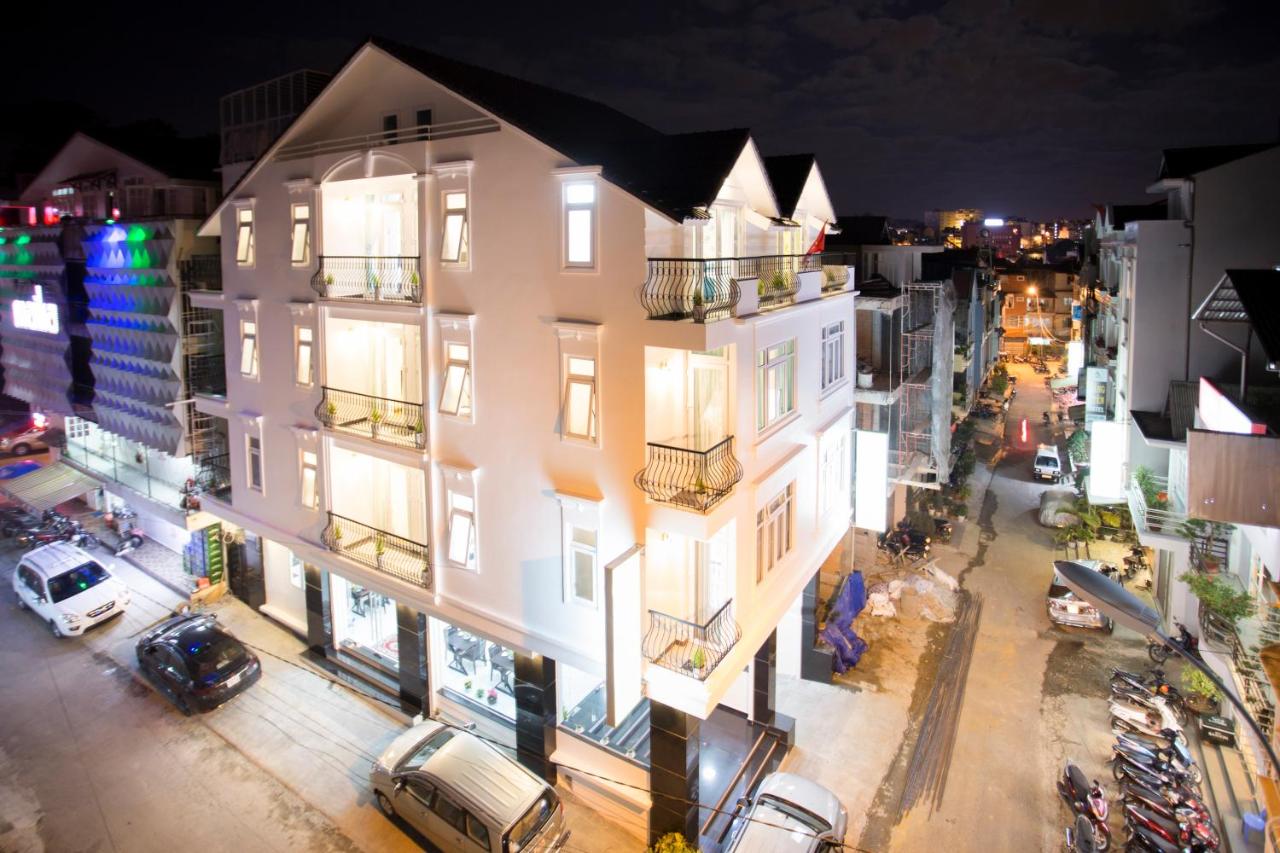 Address: C48-49 Hoang Van Thu, Ward 4, Dalat, Vietnam
Price: $$
Rate: 9/10
13. Newcentury Hotel
Newcentury Hotel is located not far from the center of Dalat City, just about 2.6 km from Xuan Huong Lake. Newcentury Hotel is quite eye-catching with extremely beautiful room decoration. There are 39 rooms fully equipped with modern amenities. All rooms are fitted with a TV, fridge, kettle, bidet, hairdryer, desk and private bathroom fitted with a shower and free toiletries. Newcentury Hotel also has a garden, bar, shared lounge and currency exchange services for guests.
Address: 14B Dong Da, Ward 3, Dalat, Vietnam
Price: $
Rate: 8.5/10
14. Sammy Dalat Hotel
Sammy Dalat Hotel is located on Le Hong Phong Street in Dalat City, less than 300 m to Xuan Huong Lake. Sammy Dalat Hotel is one of the hotels preserving the unique features of Dalat City Architecture. The hotel has 92 rooms with modern amenities and 10 luxury rooms designed luxuriously. Each room has a TV, safe and minibar. You can play golf, work out in the gym, or enjoy relaxing massage treatments. Local and international cuisines are served at the on-site restaurants.
Address: 1 Le Hong Phong, Ward 4, Dalat, Vietnam
Price: $$$$
Rate: 8/10
15. Melody Hotel
Melody Hotel is like a gentle, peaceful "melody" in the heart of Dalat. From the hotel, you can see hillsides, beautiful valleys and city views below. Rooms feature contemporary décor and stylish interiors. Although the rooms are not spacious, they are very nice, clean and have large windows offering magnificent views. The hotel rooms come furnished with a minibar, cable TV and tea/coffee making facilities. There is also a modern en-suite bathroom with a shower, free toiletries and hairdryer in each room. Both local Vietnamese and international meals can be enjoyed at the on-site restaurant.
Address: 29A, 3/4 Street, Dalat, Vietnam
Price: $$$
Rate: 8.5/10
Best Area to Stay in Dalat
If you're wondering, what is the best area to stay in Dalat, you should choose one depending on your preferences. The most convenient area to stay is probably the area around Dalat Night Market but it's suitable for those who want to be in the middle of action as this area is usually packed with people. When looking for a more relaxing environment, staying at one of exceptional hotels and resorts on the outskirts of Dalat City would be the best option.
Best Luxury Hotels in Dalat
Dalat has everything that you could be looking for the ultimate relaxing experience. Even if not that numerous, the best luxury hotels in Dalat are offering magnificent settings for the most comfortable stay.
Travel Tips in Dalat
Dalat is an amazing city that most people have dreamt of visiting. Discover the best things to see and do in Dalat with the list of top tourist attractions in the city of thousand flowers.
When visiting Dalat, taking a ride on Robin Hill Cable Car is a must-do experience. This is a great way to travel from Robin Hill to Truc Lam Zen Monastery while enjoying the cool air and majestic panoramic views during the journey.
Adventurous activities are one of the best things to do when exploring the mountainous town of Dalat. Join some of the most thrilling and adventurous experiences in Dalat to make your trip more fascinating.
Dalat is also popular for its themed cafes with cool concept offering very unique and memorable visits. Find the most unique themed cafés in Dalat to sip a cup of coffee in extraordinary surroundings.
For those who are wondering what to do in Dalat at night, check the top nightlife experiences in Dalat.
Dalat has a huge variety of flowers that bloom in each of the seasons throughout the year. Find the information on when and where to see the most beautiful flowers gardens in Dalat.
Dalat cuisine presents a large variety of dishes and regional specialties that can be found in the ultimate guide to the food to try in Dalat.
Enjoy your stay!
Important Note: The price range is compared between the homestays described in this blog only and may vary depending on the season. The rating score is based on the reviews in many sources and is just our personal opinion. Please check for more information about each hotel before booking it, so you could decide if the hotel is right for you.