Dalat is known as the city of love and memories. This city in Vietnam is blessed with a cool atmosphere, four seasons of flowers, fresh fruit trees so you can come to enjoy your honeymoon in Dalat at any time. The best romantic honeymoon hotels in Dalat are a paradise for couples looking for solitude and peace.
The beauty of Dalat will bring you happy moments with your lover to get ready for the journey into each other's life. This romantic city has many hotels to choose from so you can find a wonderful place to stay with romantic spaces and great services.
---
We would recommend doing a research and booking your hotel in advance, especially when traveling during peak season to save time and nerves during your trip. The best websites to book hotels in Dalat are Booking.com and Agoda.com that always offer great deals.
---
A romantic stay will contribute to the perfection of your honeymoon. We have listed the most romantic hotels in Dalat that are suitable for enjoying the perfect honeymoon with your other half.
Top 9 Romantic Hotels in Dalat
1. Tea Resort Dalat
Tea Resort Dalat (formerly Hoang Anh Dat Xanh Dalat Resort) is located in central Dalat, near Xuan Huong Lake and just 400 meters from the picturesque Dalat Train Station. This resort is designed in Western European style and provides 122 rooms in an airy garden space mingled with beautiful nature. There are several types of rooms available such as Superior, Deluxe, Junior Suite, Executive Suite rooms with private balconies and beautiful views. All rooms offer TV, personal safe, tea/coffee making facilities minibar, and en-suite bathroom.
Address: 03 Nguyen Du Street, Ward 9, Dalat, Vietnam
Price: $$$
Rate: 8.5/10
2. Hôtel Colline
Hôtel Colline is a 4-star hotel located in the heart of Dalat City, 500 meters from Lam Vien Square. This place is another good place to stay if you want to add some luxury and aristocracy to your honeymoon. Hôtel Colline has more than 150 rooms, all of which are fully equipped with modern and comfortable furniture. The rooms are tiled with wooden floors and designed in colors that are harmoniously varying between light brown and white bringing a pleasant feeling. The hotel also has a food court, buffet restaurant, bar, Sky Lounge, gym, and spa services that will definitely bring you a wonderful experience.
Address: 10 Phan Boi Chau Street, Ward 1, Dalat, Vietnam
Price: $$$$
Rate: 8.5/10
3. Dalat Terrasse Des Roses Villa
Dalat Terrasse Des Roses Villa is located near Love Valley tourist area and Dream Hill, 2 km from the city center. With modern and luxurious style and a garden filled with flowers and a stream, this romantic place attracts a lot of tourists. All rooms feature a flat-screen cable TV, minibar, seating area, and private bathroom. Other facilities like a ticket service, tour desk and luggage storage are offered. Guests of the hotel can also relax at the sauna.
Address: 260 Xo Viet Nghe Tinh, Ward 7, Dalat, Vietnam
Price: $$
Rate: 8.5/10
4. Terracotta Hotel & Resort Dalat
Terracotta Hotel & Resort Dalat is offering rooms and villas, located next to Tuyen Lam Lake. The hotel, designed in harmony with nature, will help you to enjoy the beauty of nature during your honeymoon. Terracotta Hotel & Resort Dalat owns a building with 240 rooms overlooking the garden or Tuyen Lam Lake. There are also 21 villas with modern Western-style architecture scattered in an open space along the lake. Every room and villa features a TV, safe, minibar, electric kettle, seating area and private bathroom with a shower and bathtub. The hotel also has an indoor warm water pool that will help you to relax in the cool weather of Dalat.
Address: Zone 7.9, Tuyen Lam Lake Tourist Area, Ward 3, Tuyen Lam Lake, Dalat, Vietnam
Price: $$$$
Rate: 8.5/10
5. Swiss-Belresort Tuyen Lam
Swiss-Belresort Tuyen Lam is located in a large area where the resort stands in harmony with the poetic scenery of the land around Tuyen Lam Lake. It is not an exaggeration to say that Swiss-Belresort Tuyen Lam appears as magnificent as a fairy castle. The resort owns hundreds of rooms in different style. All rooms are equipped with modern and comfortable furniture and full amenities. In particular, most rooms have balconies with panoramic views of the mountains in the distance. The special thing of the resort is that amidst the cold weather of the mountains, you can still enjoy swimming in the infinity pool filled with warm water. In addition, the hotel is equipped with facilities such as a tennis court, fitness center, spa and wellness center, as well as a children's playground.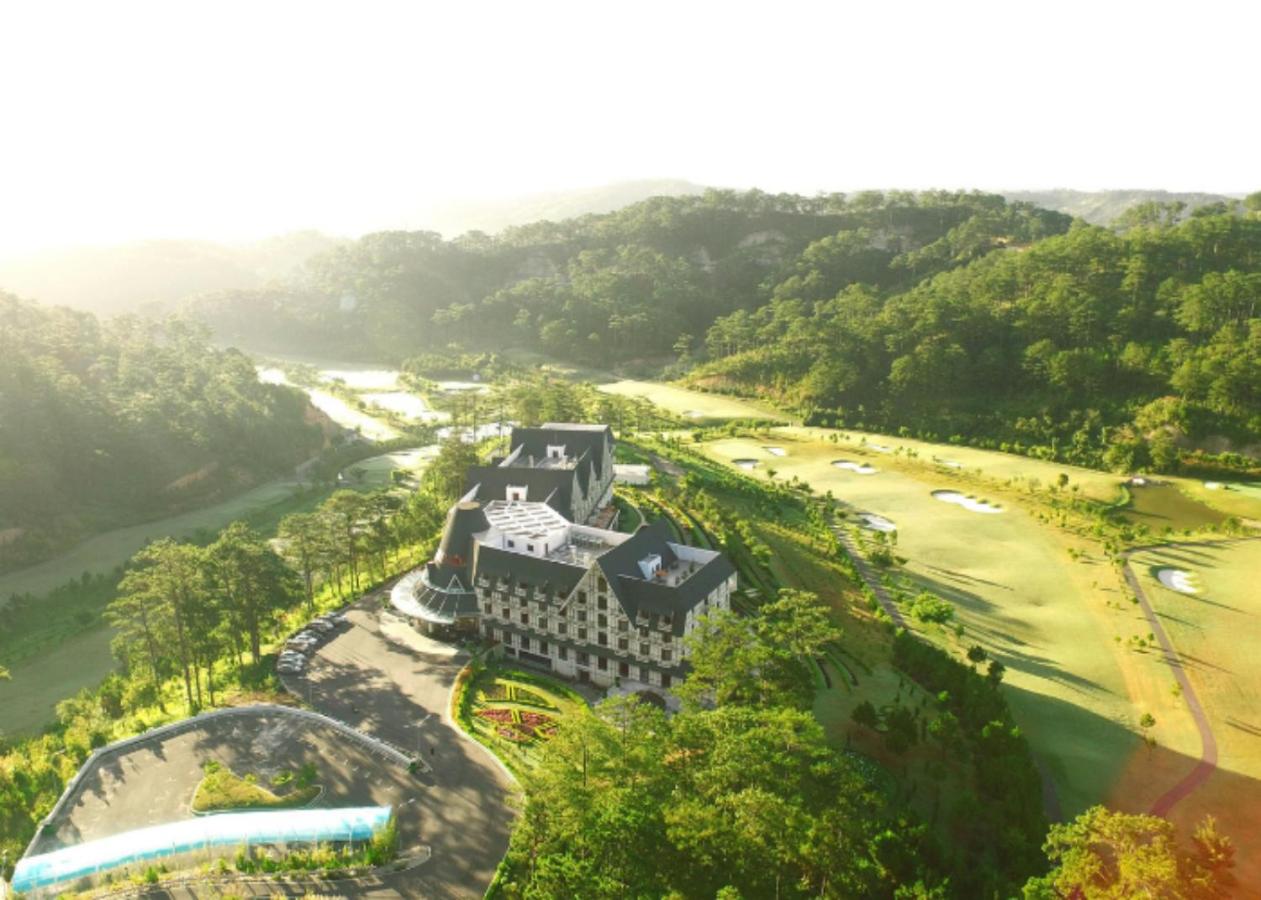 Address: Zone 7&8, Tuyen Lam Lake Tourist Area, Ward 3, Dalat, Vietnam
Price: $$$$
Rate: 8.5/10
6. Golf Valley Hotel
If you are looking for a hotel in the heart of Dalat as a place for the honeymoon with your partner, consider staying at Golf Valley Hotel. The hotel is located on Bui Thi Xuan Street, so the two of you could easily discover famous places in the center of the city such as Dalat Market, Xuan Huong Lake, and Lam Vien Square. The hotel has 164 rooms with fully equipped furniture and modern amenities. Some rooms have balconies providing you a dreamy city view of Dalat. When staying at Golf Valley, you can also enjoy various delicious Asian or European dishes as the hotel has a great restaurant.
Address: 94 Bui Thi Xuan, Ward 2, Dalat, Vietnam
Price: $$$$
Rate: 8/10
7. Ngoc Phat Dalat Hotel
Ngoc Phat Dalat Hotel has become the favorite destination for travelers to Dalat as the hotel is located just a few steps away from the shopping center and the main square of the city, which is extremely convenient for visiting and exploring the city of thousands of flowers. The hotel has 91 rooms, luxuriously designed and equipped with the most modern equipment such as TV with many international TV channels, international phone calls, fridge, remote control light system, electronic safe, private bathroom. More than half of the rooms are overlooking the romantic Xuan Huong Lake. The hotel offers a tour desk, luggage storage, and laundry services. In addition, Ngoc Phat Dalat Hotel also provides other entertainment and relaxation services such as massage, sauna, and karaoke.
Address: 10 Ho Tung Mau, Dalat, Vietnam
Price: $$$
Rate: 8.5/10
8. Saigon Dalat Hotel
Centrally located in the city, Saigon Dalat Hotel boasts 4 restaurants, 3 bars, heated indoor pool, tennis court, and fitness center. The hotel is just a 10-minute walk from Dalat Market and Dalat Flower Gardens. The rooms are elegantly furnished with parquet flooring, personal safe, minibar, TV and seating area as well as en-suite marble bathroom. Saigon Dalat Hotel also provides a business center, tour desk, luggage storage, currency exchange, and laundry service.
Address: 180 3/2 Street, Dalat, Vietnam
Price: $$$
Rate: 8/10
Best Area to Stay in Dalat
If you're wondering about the best area to stay in Dalat, the most convenient part of the city is the area around Dalat Night Market. This area is very central and usually packed with people. However, the most beautiful hotels or resorts of Dalat that are most recommended for the perfect honeymoon are usually located on the outskirts of the city, mainly concentrated in the area around Tuyen Lam Lake.
Best Honeymoon Attractions
If you are looking for romantic places to enjoy your time in Dalat, our list of the Best Honeymoon Attractions in Dalat will help you to get the most out of your trip.
How to Get from Dalat Airport to Hotel
If you will be flying to Dalat, the fastest and easiest way to get from Dalat Airport to your romantic honeymoon hotel is a pre-booked private transfer. When choosing this way of traveling, you will be met at the airport and transferred comfortably to your hotel. Otherwise, you can check other ways for getting from Dalat Airport to City and choose the most suitable one.
Travel Tips for Dalat
Explore all tourist attractions in Dalat on your own tour itinerary and enjoy a comfortable ride in a modern air-conditioned car by booking Dalat Private Car Charter.
Dalat is an amazing city that most people have dreamt of visiting. Discover the best things to see and do in Dalat to get familiar with top tourist attractions in the city of thousand flowers.
After discovering the gentle side of Dalat, explore the most beautiful places to see panoramic views of Dalat. These places will show you the majestic Dalat.
Dalat cuisine has a large variety of dishes and regional specialties. The ultimate food guide to the delicious foods to try in Dalat can be found here: Top 9 Dishes to Eat in Dalat.
Dalat is the city with many unique things to do at night. Discover the best of nightlife in Dalat to have fun after sunset.
Enjoy your stay!
Important Note: The price range is compared between the hotels described in this blog only and may vary depending on the season. The rating score is based on the reviews in many sources and is just our personal opinion. Please check for more information about each hotel before booking it, so you could decide if the hotel is right for you.