Planning your holidays in Thailand and looking for a hotel in Koh Chang, Trat province of Eastern Thailand? Find the list of the best Koh Chang hotels, including the most popular hotels and resorts in Koh Chang that will help you choose the best Koh Chang accommodation for your trip to Thailand.
Koh Chang
Koh Chang is an island in Trat Province, Eastern Thailand. The island is also known as 'Elephant Island' named like this because of its shape of an elephant. Koh Chang is Thailand's second largest island after Phuket, and by far the largest island in Eastern Thailand. Even if tourism and development has increased significantly over the last few years, Koh Chang is still not heavily populated and nowhere near as touristy as Phuket or Koh Samui.
The popular beach in Koh Chang include White Sand Beach, Chai Chet Beach, Khlong Prao Beach, Kai Bae Beach, Lonely Beach, Klong Kloi Beach (Bang Bao Beach), and Bailan Beach (Bailan Bay).
Where to book Koh Chang hotels?
The most convenient way to book Koh Chang Hotels is by using a reliable online travel agent such as Booking.com or Agoda.com.
List of Koh Chang Hotels
The list of the most popular Koh Chang hotels is provided below:
---
To decide on the best option for the trip, more detailed information on each of the hotels with reviews, prices and availability of rooms for the selected dates can be found by clicking the links provided.
---
1. Kai Bae Beach Resort
Kai Bae Beach Resort is a resort located on Kai Bae Beach where you can swim in the sea. It is another beautiful sunset view point. Along with experiencing the relaxing atmosphere, the wind, the sunlight and the sound of the sea waves. It is a resort suitable for couples, families and groups of friends.
2. Sea View Koh Chang
Sea View Koh Chang is recognized as one of the best Koh Chang beachfront resort location, beautifully located on long tranquil white-sandy beach with spectacular and panoramic view of 4 charming islands and the azure water of Gulf of Thailand, surrounding with 25 hillside acres of rainforest habitat. Providing spacious 156 sea view rooms and suites with charming seascape of island romance. All luxurious deluxe rooms, family rooms and suites are designed with the utmost luxury and comfort to suit all guests' preference, from romantic honeymooners to family retreats or adventure holidays.
3. Kacha Resort and Spa, Koh Chang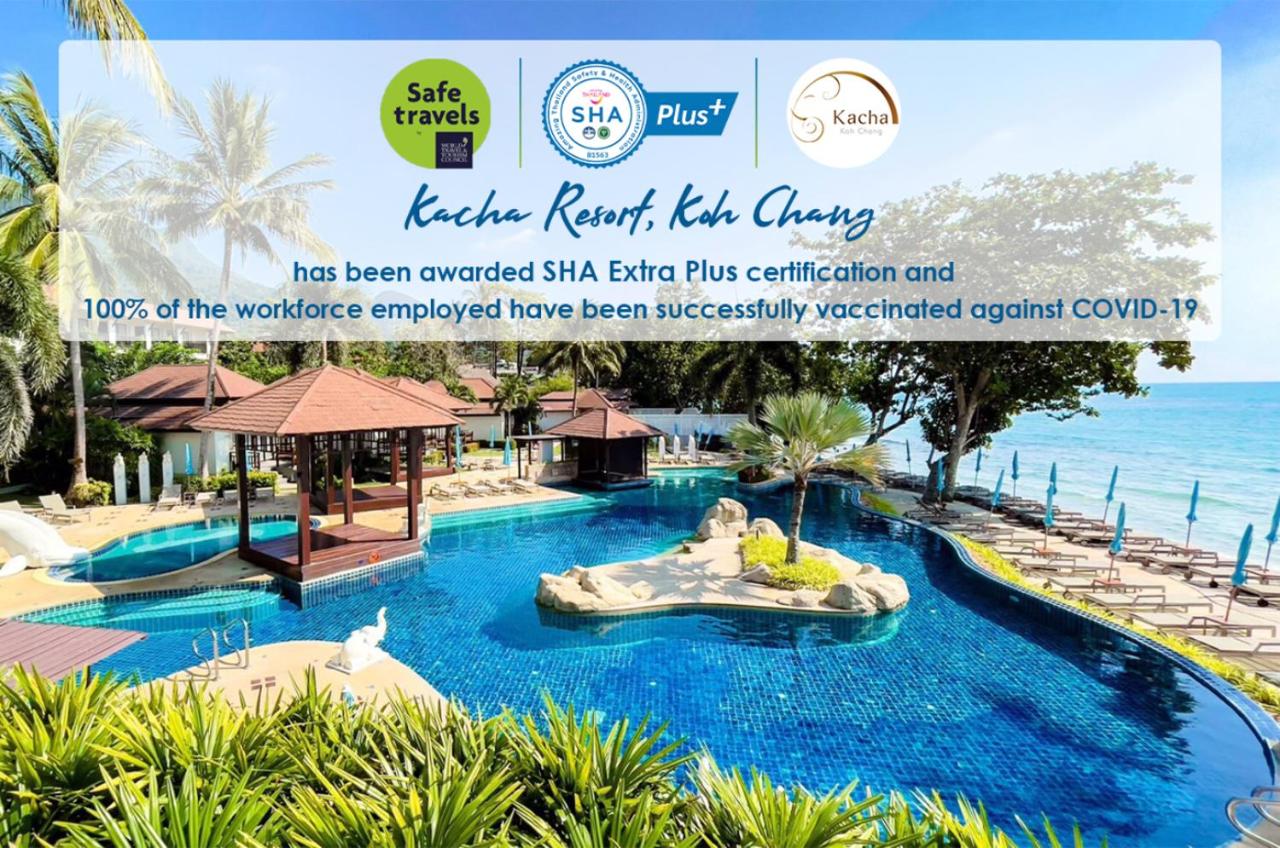 On the island's most privileged location, Kacha Resort & Spa is set in the heart of Koh Chang's most beautiful White Sand Beach. Koh Chang Kacha Resort has 2 outdoor pools, 2 restaurants, a beach bar and a pool bar. Rooms at Kacha Resort feature a private terrace with garden views.
4. Koh Chang Cliff Beach Resort
The eco-friendly Koh Chang Cliff Beach Resort offers a relaxing tropical retreat surrounded by natural landscapes. The resort features a cliff top infinity pool, private beach and a restaurant. Located at Kai Bae Beach, Koh Chang Cliff Beach Resort is a 10-minute drive from Ao Sapparod Pier. The spacious rooms feature private balconies with panoramic views.
5. KC Grande Resort & Spa
KC Grande Resort & Spa is located on a secluded corner of Haad Sai Khao (White Sand Beach), where you can relax fully and take a deep breath of the refreshing, cool sea breeze alongside a clear blue sky, sparkling turquoise ocean, and lush mountain greenery surrounding you. Besides the beach itself, we have a wide variety of facilities to make your stay with us truly memorable.
6. Koh Chang Lagoon Princess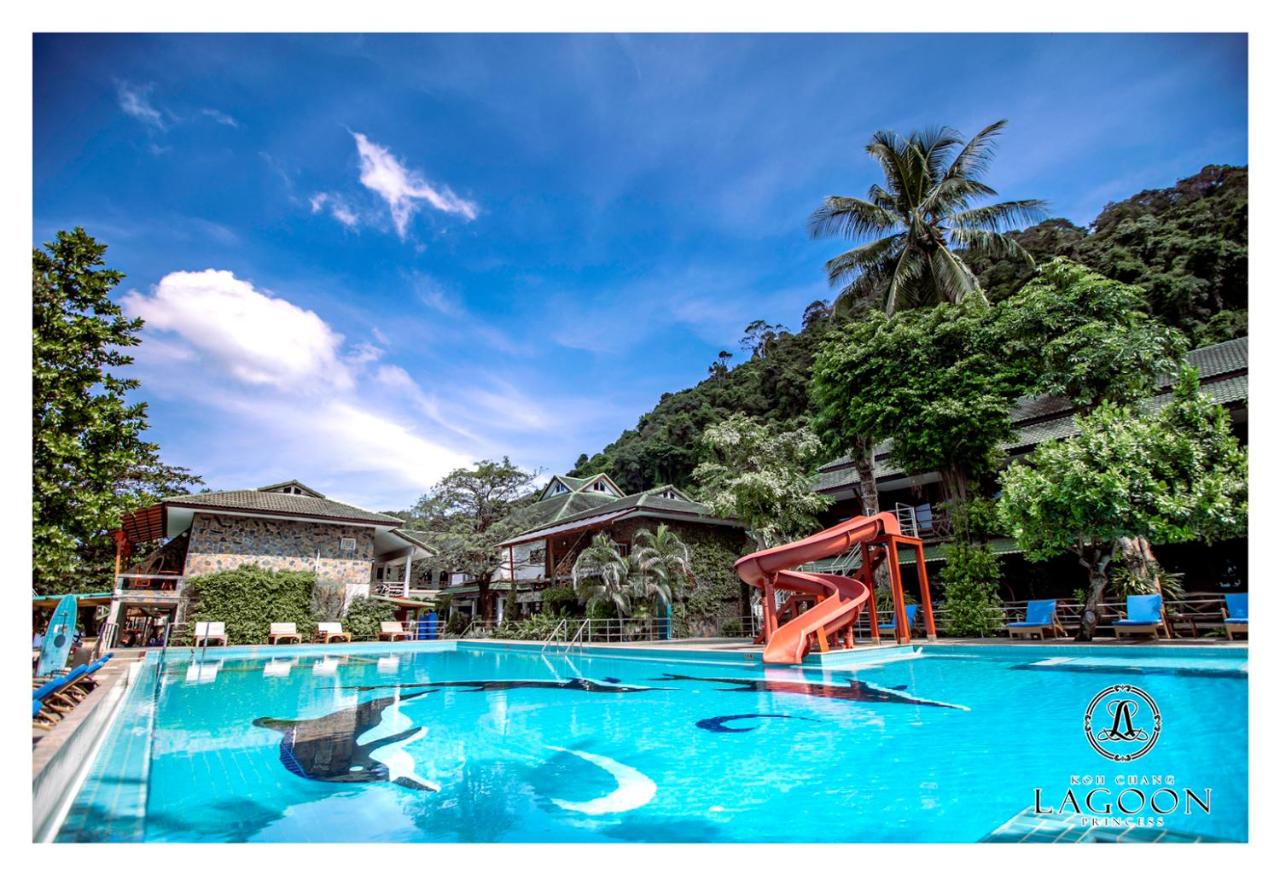 Koh Chang Lagoon Princess lies on the White Sand Beach the most beautiful fine sandy beach on the island of Koh Chang. The 150 m. long and very clean private white sandy beach is the longest one in the whole of Had Sai Kao (White Sand Beach).  There are many amenities such as a swimming pool with players, Lagoon GYM, beach front restaurant and bar, free WiFi, free parking and air-conditioned rooms with private balconies
7. Chang Cliff Resort
Chang Cliff Resort presents beautiful views of Koh Chang's mountains and ocean from its spacious air-conditioned bungalows. The resort is a 10-minute walk from the sandy beaches of Koh Chang. Spread out in 3 rows, the bungalows at Chang Cliff Resort feature private balconies and large windows with beautiful landscape views.
8. Koh Chang Paradise Hill
Koh Chang Paradise Hill has 96 rooms in modern design. The  swimming pool offers relaxations and comfort. Whenever you are looking for a holiday destination, Koh Chang Paradise Hill is perfect for short stays and long vacations. The friendly staff are always ready to make you feel like home with their Thai charms and smiles.
9. Cookies Hotel
Cookies Hotel is located at the white sand beach in the heart of Koh Chang, that has been popular and favorite by tourists. There are two accommodation zones, those are mountain view and sea view thereby the customers able to choose. There are also have the restaurant, the convenience stores. Importantly, nearby tourist attractions, entertainment venues such as the chilling bars, chic cafes and clubs.
10. SYLVAN Koh Chang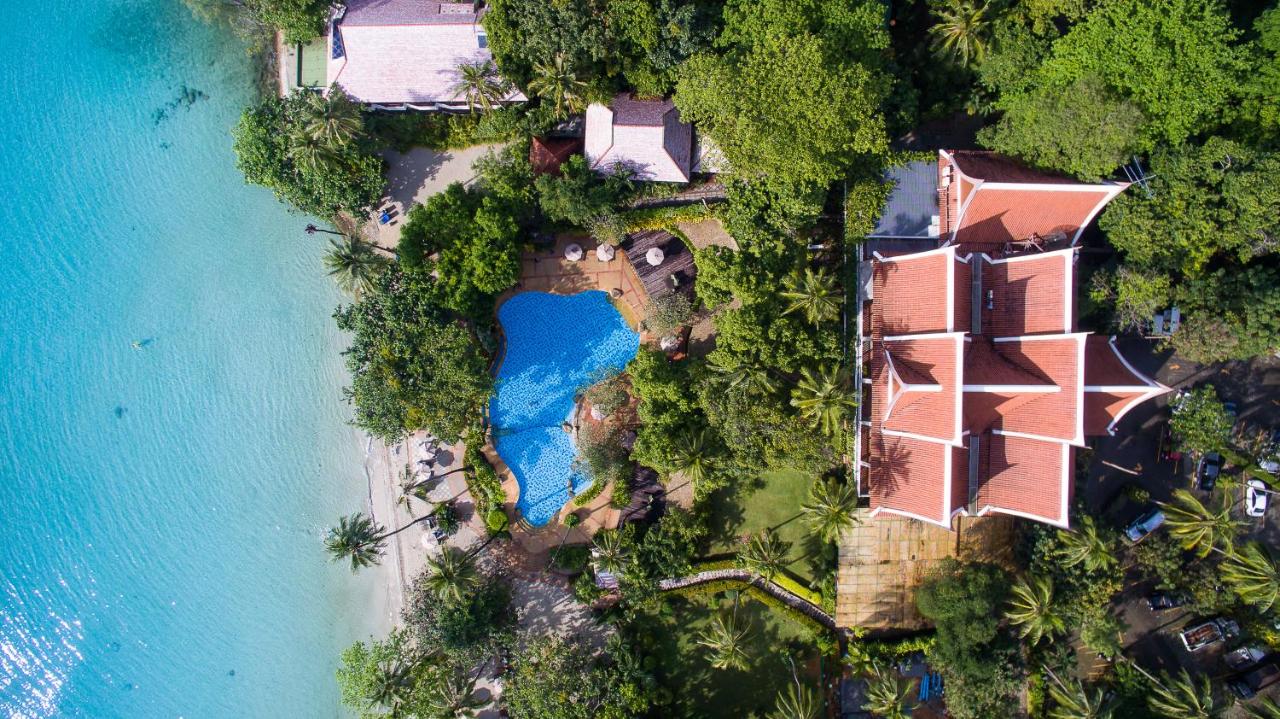 Located along the beach with views of 4 islands, SYLVAN Koh Chang is only a 10-minute kayak ride from Koh Man Nai. Every room's balcony offers a clear view of the sea. With two large swimming pools, the resort's restaurants offer either a private seaside dinner at Sunset Beach or a sunset shake cocktail at Sea View 1989. 
11. Mac Resort Hotel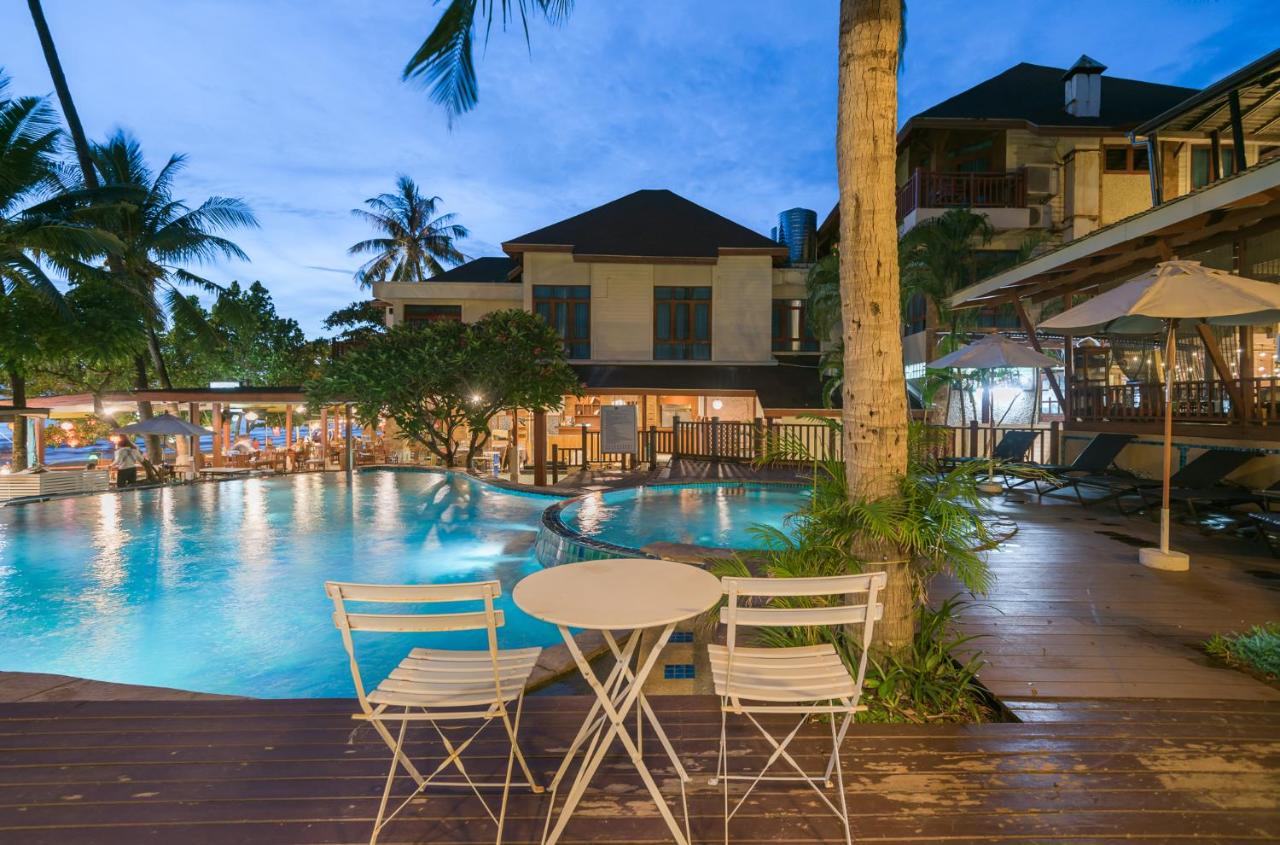 Steps from White Sand Beach in Koh Chang, Mac Resort Hotel provides an outdoor pool and free Wi-Fi in public areas. The beach-side Mac Restaurant serves fresh seafood, Thai dishes and other international delights.
12. Top Resort Koh Chang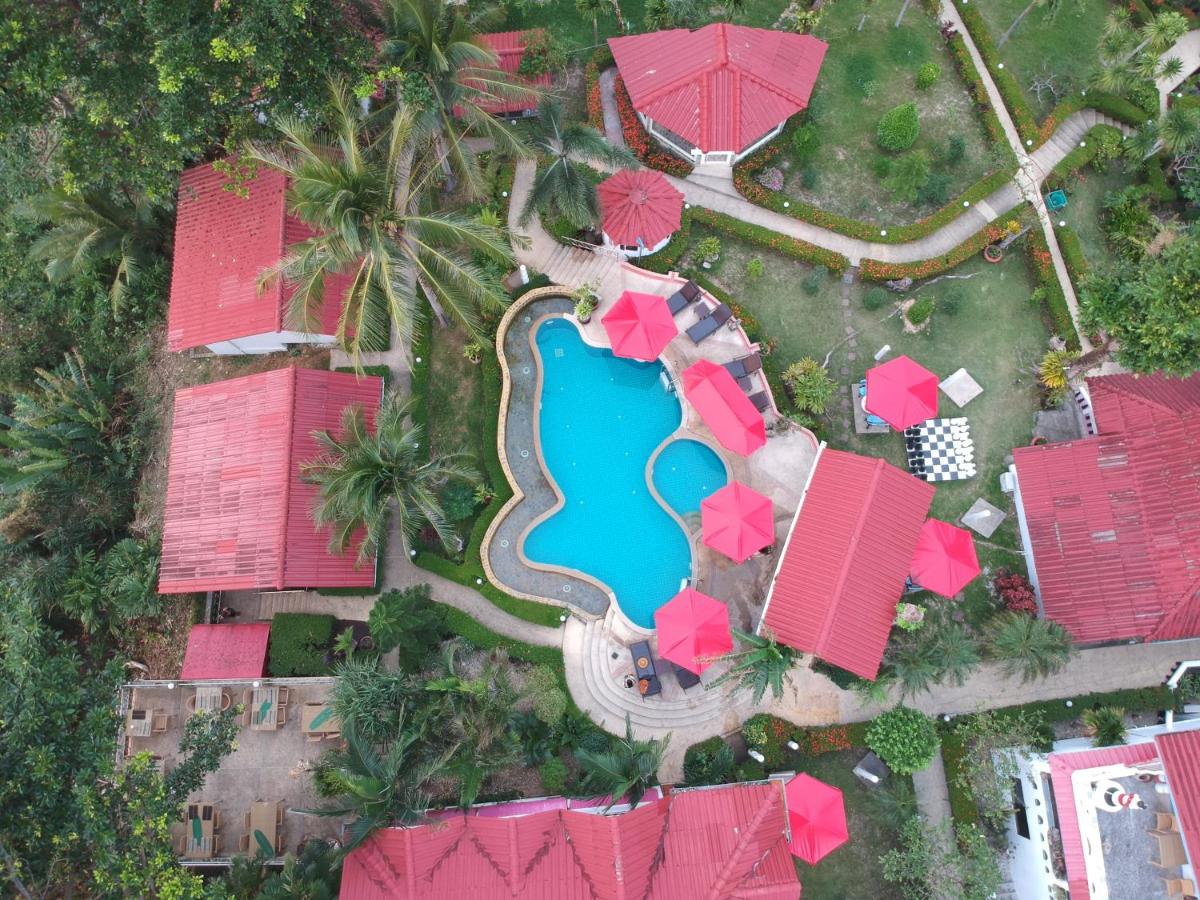 Top Resort offers accommodations for tropical islands lovers. Our family style resort is located at the southern end of White Sand Beach, on the paradise island of Koh Chang. Located atop a hill and surrounded by tropical gardens, Top Resort features an outdoor pool with sea views.
13. KB Resort
Facing the beachfront in Ko Chang, K.B. Resort features an outdoor pool and a restaurant. The property is around 100 m from Kai Bae Beach, 1.9 km from Lonely Beach and 14 km from Mu Koh Chang National Park.
14. The Emerald Cove Koh Chang
Boasting an outdoor pool with stunning views of the ocean, Emerald Cove Koh Chang is located just a few steps away from the private beach. The 5-star Hotel at The Emerald Cove Koh Chang welcomes you with luxury amenities, extraordinary service and an unparalleled beachfront location which feature private stunning 50-metre beachfront pools and awe-inspiring views. 
15. GajaPuri Resort and Spa
GajaPuri Resort & Spa, just a 15 minutes drive from Ao Sapparod pier, is situated at Kai Bae Beach. GajaPuri backs on to a natural rainforest reserve with scenic mountain views that surround your line of sight. GajaPuri is laid out like a cozy village with a unique wooden pathway leading you towards your private corner in paradise.
16. Barali Beach Resort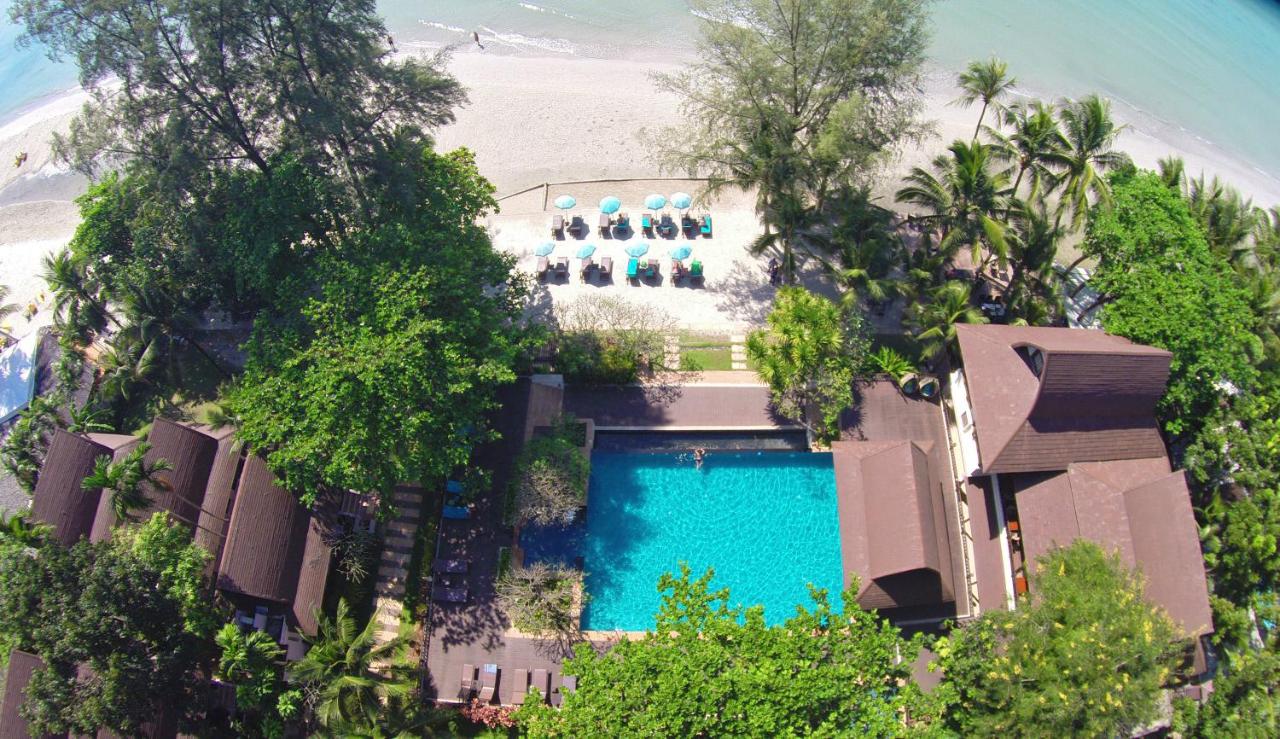 Featuring panoramic views of the ocean, Barali Beach Resort & Spa is located on Klong Prao Beach. The villa is a contemporary Asian-Style, guests will find themselves at home from the resort facilities and activities. It offers a swimming pool, restaurant and 40 villas with balconies. The spacious villas at Beach Resort Barali come with large windows and hardwood furnishings.
17. The Aiyapura Koh Chang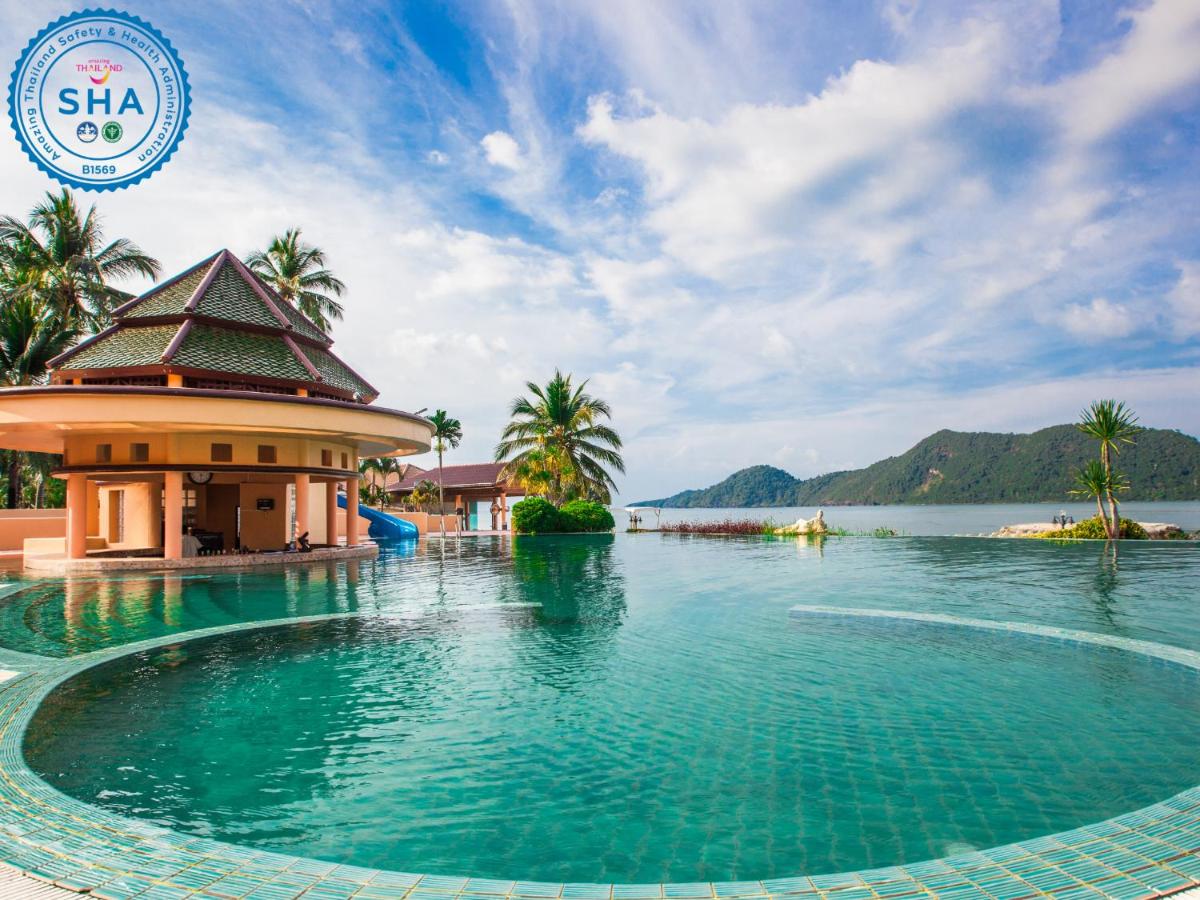 The Aiyapura Koh Chang is located on the beautiful island of Koh Chang, overlooking the blue waters of Klong Son Bay and offering beautiful Thai-style rooms and villas. Rooms and villas at The Aiyapura Koh Chang are decorated in a contemporary style with a Thai touch. It is also fitted with a private balcony offering an ocean view.
18. Centara Koh Chang Tropicana Resort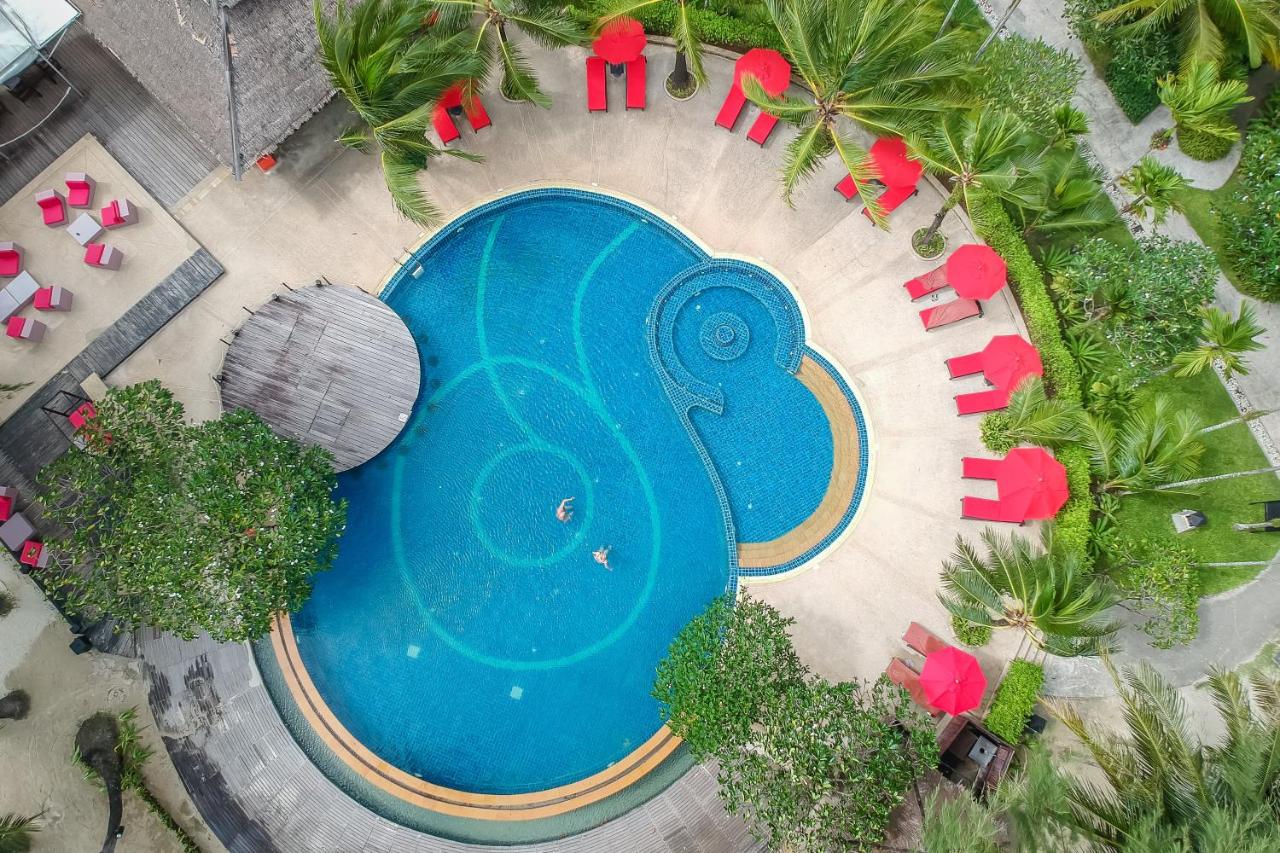 Centara Koh Chang Tropicana Resort is situated on Klong Prao Beach. It offers massage rooms, a beachfront restaurant and 2 outdoor swimming pools. Rooms at the Koh Chang Tropicana Resort & Spa have Thai-style décor and wooden furniture. They overlook a tropical garden and include a private balcony, a satellite TV, a tea/coffee maker and a work desk.
19. Santhiya Tree Koh Chang Resort
Santhiya has a new island home on Koh Chang, where the hotel group's signature heart-warming hospitality is infused with contemporary Thai tropical design in the flagship Santhiya Tree property. Draped along Klong Prao Beach — a spectacular stretch of sand-carpeted shoreline on the island's sunset coast — Santhiya Tree Koh Chang Resort invites  guests to unwind and tune-in to nature. Santhiya Tree Koh Chang Resort currently comprises 85 rooms, which are divided into 50 Deluxe Villas and 35 Pool Suites. All rooms are nestled in mature tropical gardens and perfectly furnished with expansive space and handcraft wood furniture, featuring beautiful back-to-nature style bathrooms and spacious terraces to ensure a relaxing luxury stay.
20. Chivapuri Beach Resort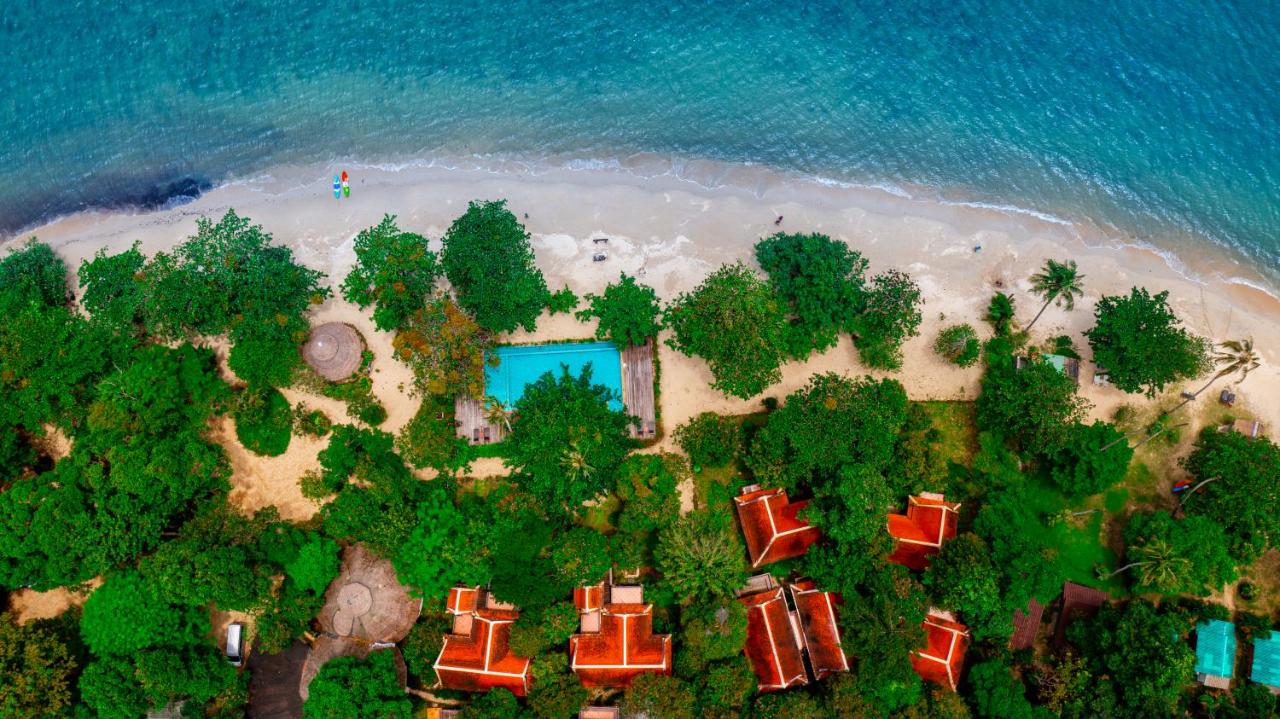 Nestled in the prestigious South West region of Koh Chang Island and adjacent to Khlong Kroi canal, the newest resort called Chivapuri Beach Resort located on the private beachfront allows you to enjoy unmatched scenic beauty, tranquil ambience, and calm breezes of a most serene environment that helps soothe your mind and spirit. The contemporary designed Thai houses, which resemble the Sukhothai period, are situated in the natural surroundings of a beautiful picturesque private white-sand beach in Koh Chang.
21. Iyara Resort & Spa
Featuring a garden, Iyara Resort & Spa is located in  Koh Chang, 2.4 km from Klong Prao Beach and 2.6 km from Kai Bae Beach. With a shared lounge, the hotel has air-conditioned rooms with free WiFi.  Your slow life is beginning at green garden or blue pool.
22. Mercure Koh Chang Hideaway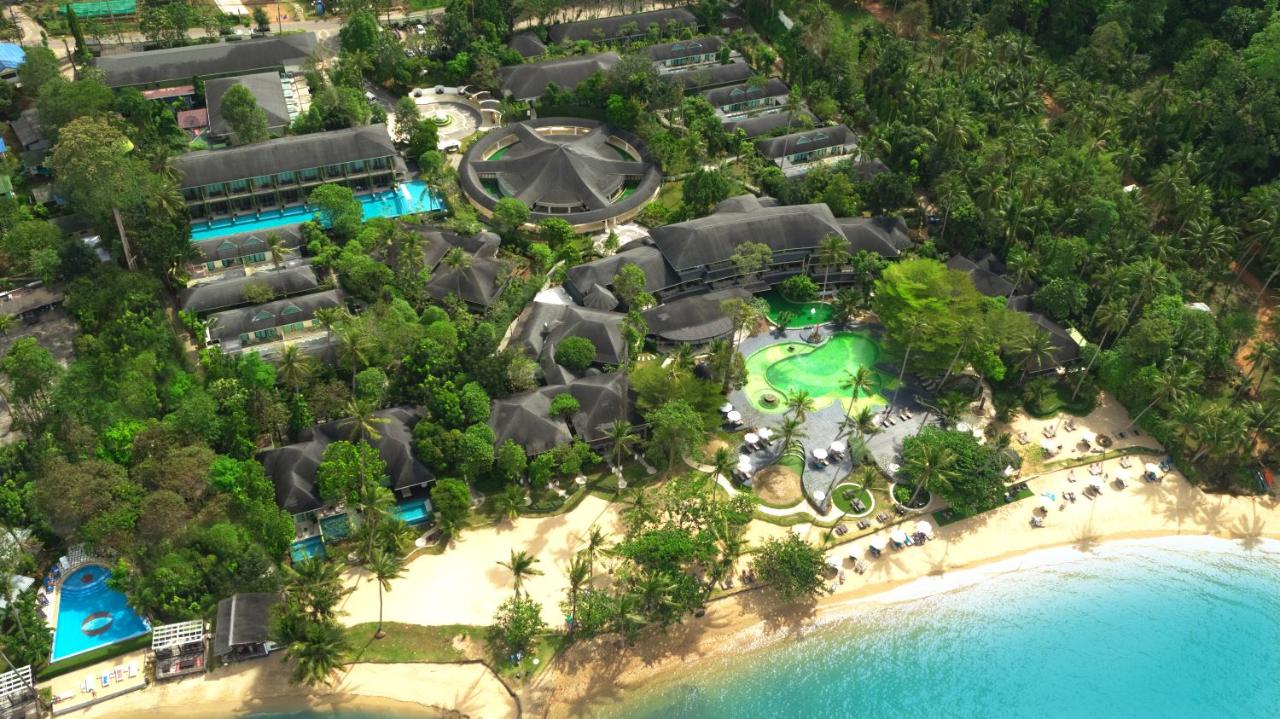 Directly located on Bai Lan Bay, the luxurious Mercure Koh Chang Hideaway boasts modern Thai-style rooms, a private beach and pampering spa treatments. Guests can relax by the beautiful outdoor pool.
23. Klong Prao Resort Koh Chang
Klong Prao Resort is located along the white sandy beach on Koh Chang Island. It features 2 restaurants, an outdoor pool and rooms with balconies. The spacious rooms at Resort Klong Prao come with modern décor and hardwood flooring. Rooms feature views of the sea or garden.
24. The Dewa Koh Chang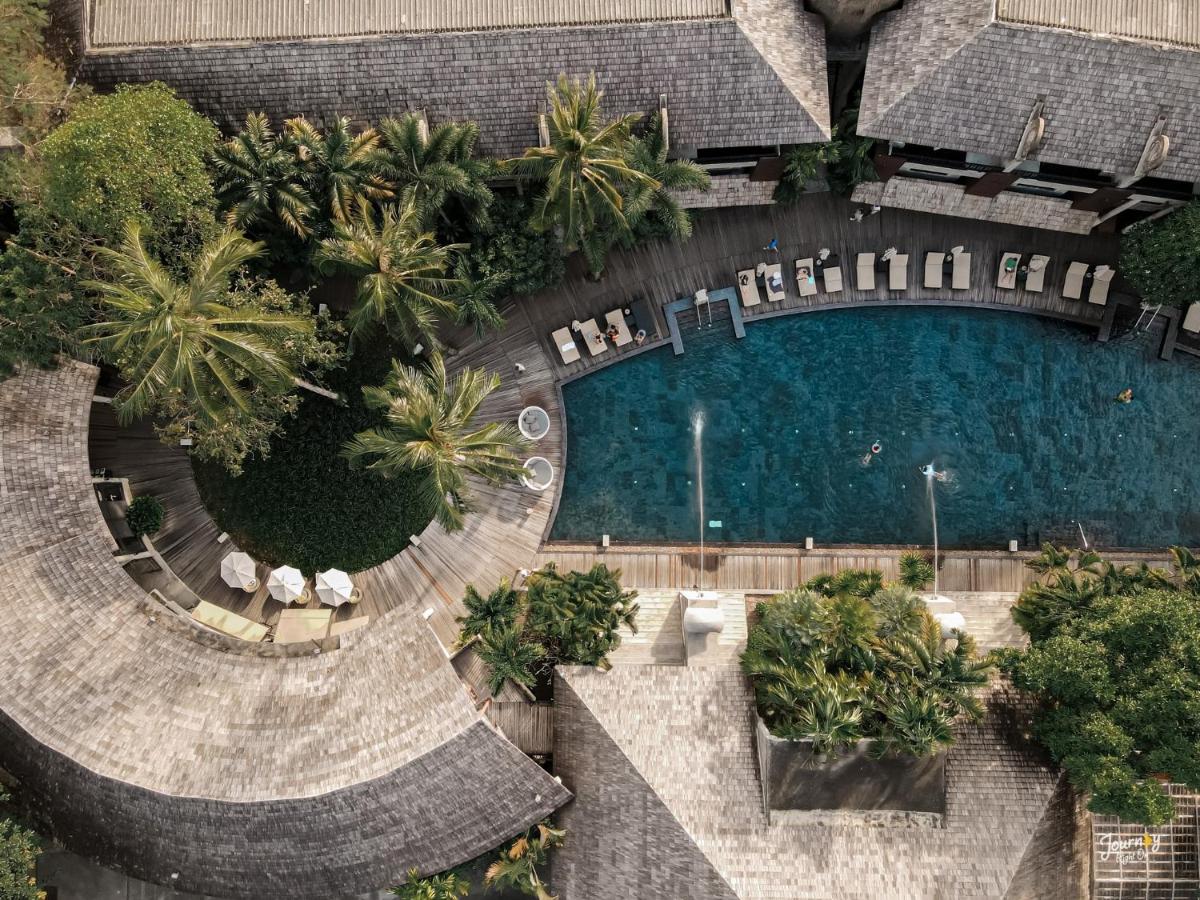 With its famous fusion architecture, The DEWA blends with rustic, tropical and modern contemporary elements and celebrates in the perfection and the harmony with its surrounding of the beautiful Klong Prao Beach. The Dewa Koh Chang provides rooms with private balconies that overlook the Thai Gulf. The non-smoking resort features a 6,460-ft² swimming pool, water sports activities and a luxurious spa. 
25. Chai Chet Resort Koh Chang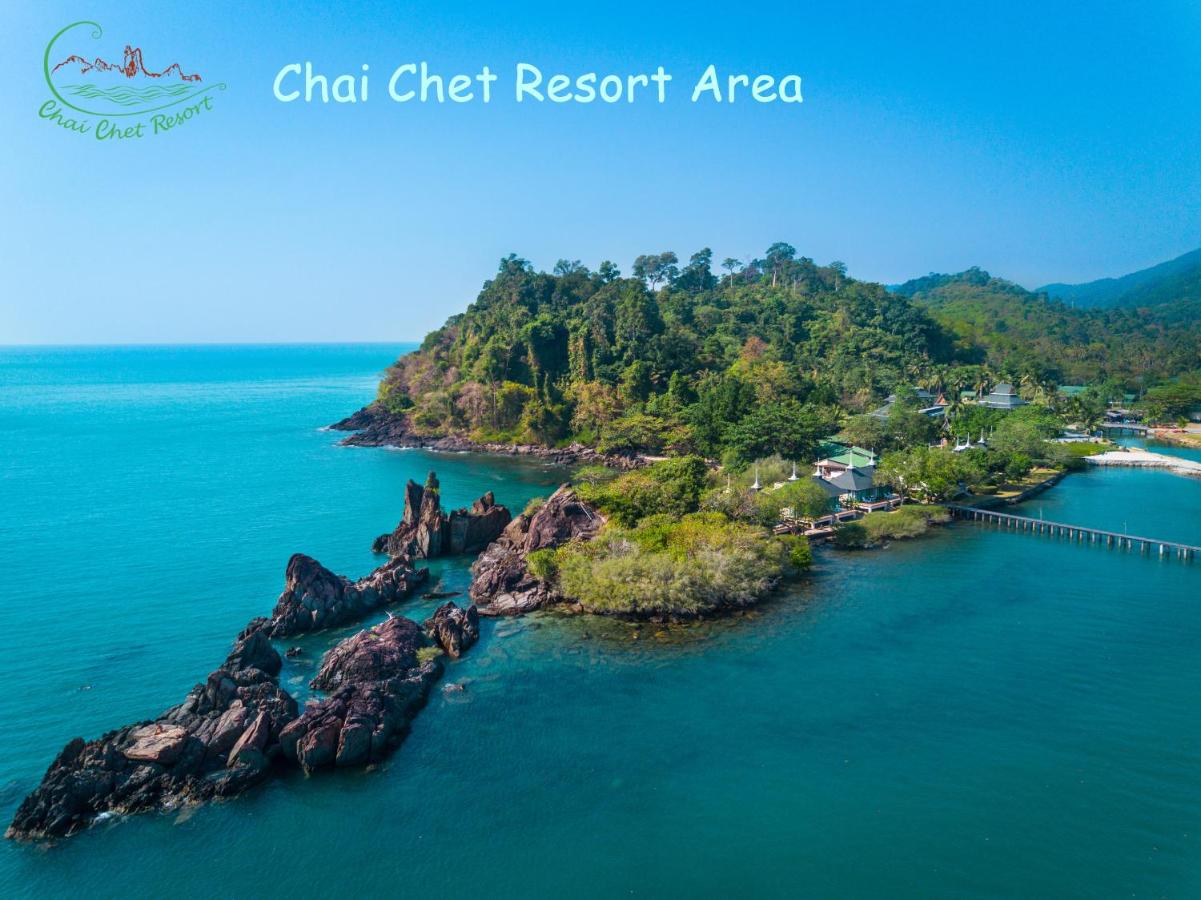 Located along the Chai Chet Beach with Klong Phrao Beach and White Sand Beach a short drive away, Chai Chet Resort Koh Chang offers an outdoor pool. Rooms come with sea or mountain views. Apart from relaxing and unwinding on the beach, guests can enjoy meals and drinks at the restaurant.
26. Ramayana Koh Chang Resort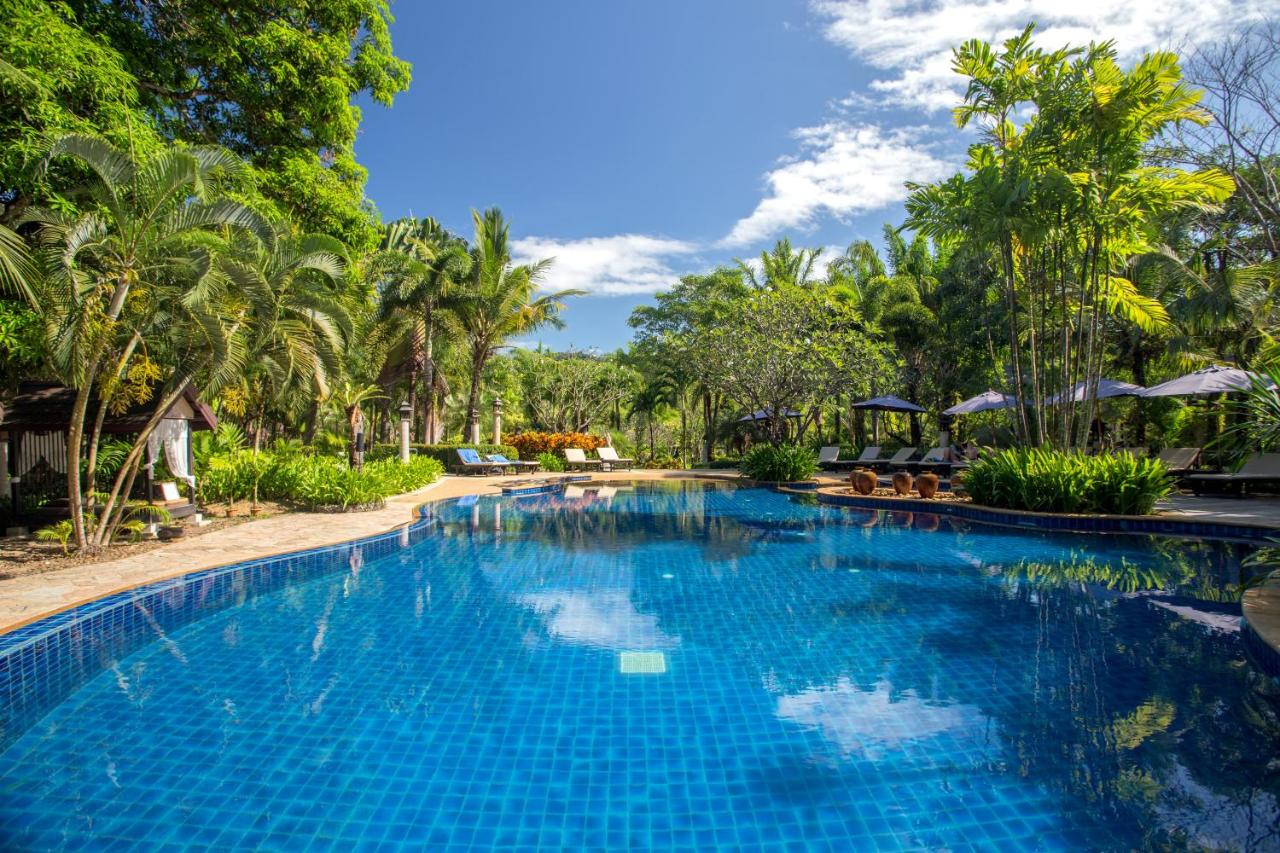 Situated on the island of Koh Chang, Ramayana Koh Chang Resort & Spa features spacious bungalow-style accommodation with a private patio offering garden views. It houses a spa and an outdoor pool. Fitted with wooden floors, air-conditioned rooms offer contemporary furnishings, blended with traditional Thai motifs.
27. Koh Chang Paradise Resort & Spa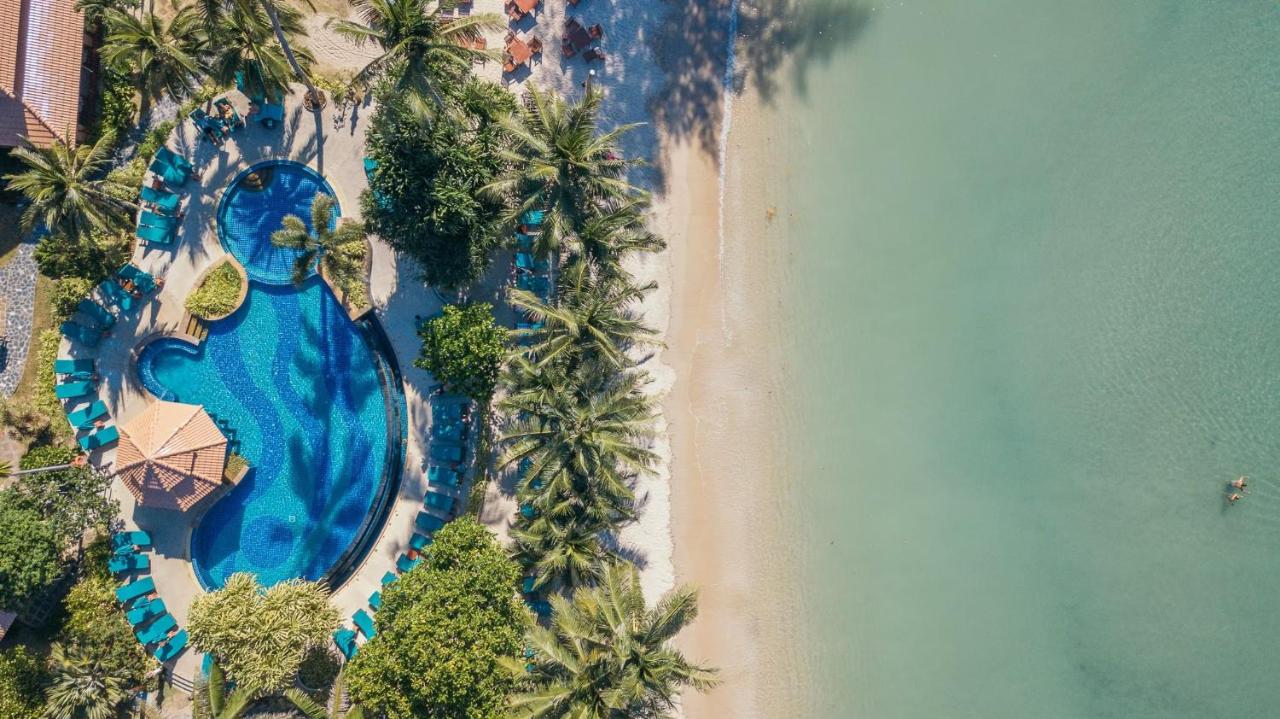 Within an area of 51 rais (17 acres) on a beachfront of 260 metres long,  Koh Chang Paradise Resort & Spa of 80 sea-view and garden view bungalows and villas, is located at Klong Praow Beach, along white sandy beach where you can relax in an easy-going atmosphere and just only a 15 minute ride from the pier. Whenever you are looking for a holiday destination with a romantic escape, come and stay with a warm welcome at Koh Chang Paradise Resort & Spa.
28. Banpu Resort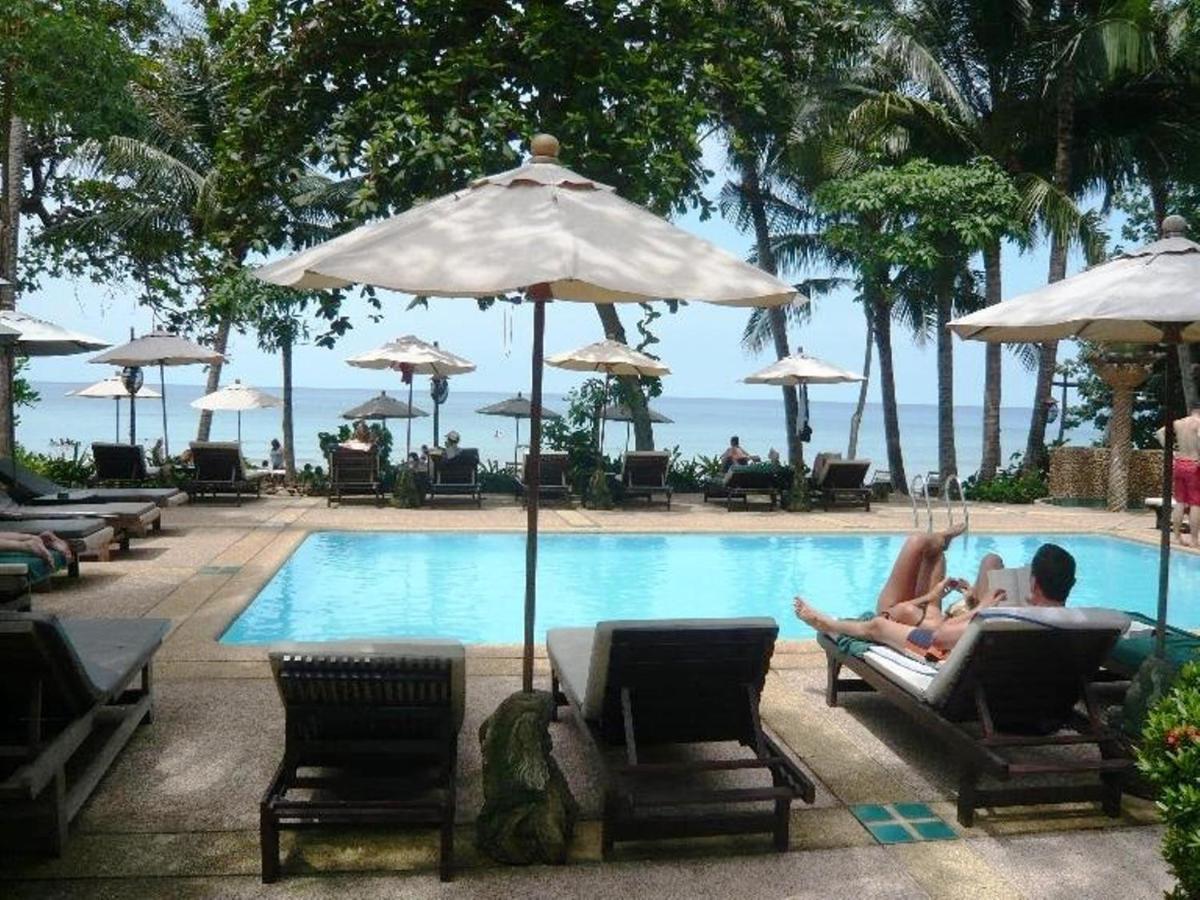 Boasting a private beachfront on White Sand Beach, Banpu Koh Chang Resort offers charming wood-panelled rooms with private balconies. It features an outdoor pool with sea views and a poolside bar. Surrounded by tropical greenery, air-conditioned rooms feature wood flooring and a seating area.
29. VAYNA Boutique Koh Chang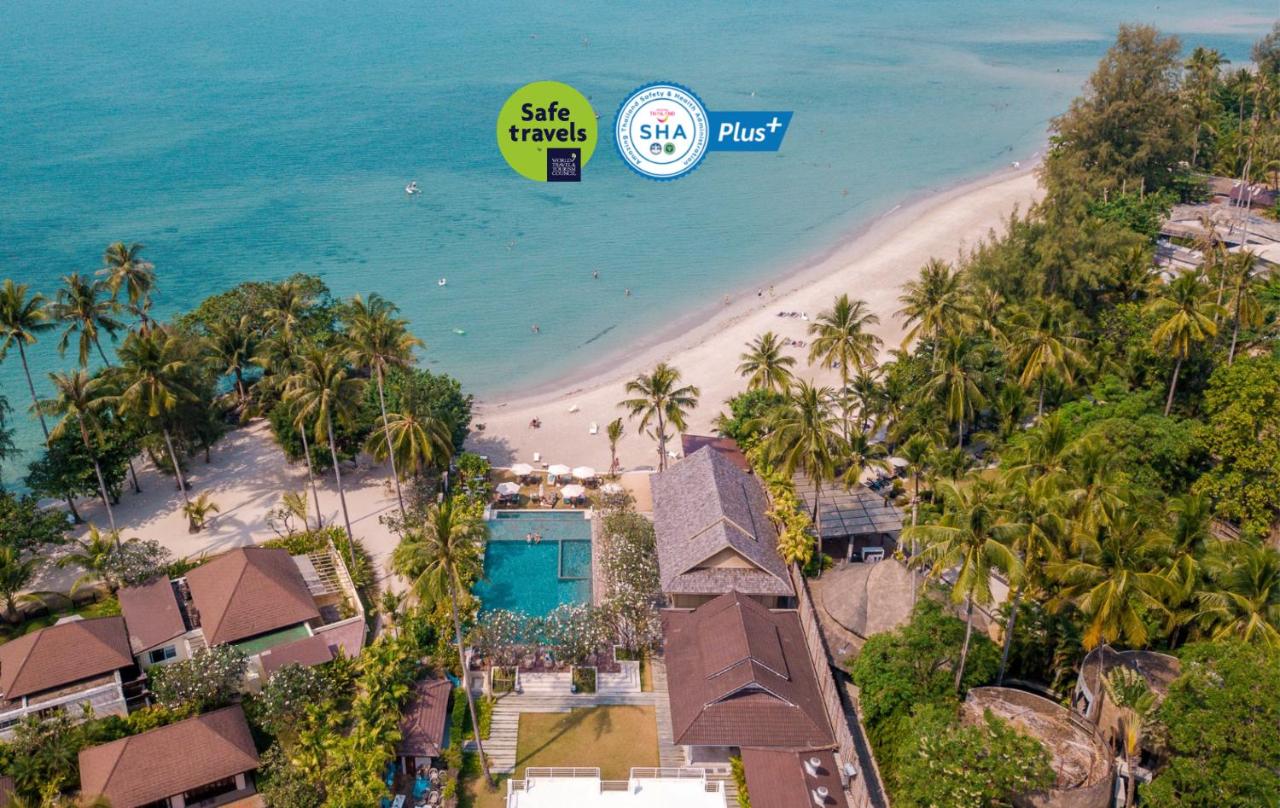 VAYNA Boutique Koh Chang is a small boutique hotel located on a private beach with the most beautiful sunset view point on Koh Chang. There is a swimming pool and a restaurant by the sea. Situated in the Kai Bae Beach area, Vayna Boutique Koh Chang is the perfect place to experience Koh Chang and its surroundings.
---
Trat Hotels
The most popular hotels in Trat province are listed here: Trat Hotels