With all those tourists and parties' scene, it might be hard to imagine that Koh Phangan is actually a very relaxed holiday destination. The island is home to some of Thailand's most beautiful beaches and the choice of beaches here is enormous, all of which are very different. Discover the best beaches in Koh Phangan.
Below you will find a small overview of the most beautiful beaches on Koh Phangan Island, some of which represent hidden gems of tropical paradise. You will only need a beach towel, good sun protection and a book to read under an umbrella to spend a relaxing holiday on this tropical island.
The most popular beaches of Koh Phangan can be divided by area:
Southeast: Haad Rin Nok and Haad Rin Nai
Southwest: Thong Sala and Ban Tai
West: Haad Thian and Haad Yao
Northwest: Srithanu, Haad Son, Haad Salad and Mae Haad Beach
North: Ao Chaloklum (Chaloklum Bay) and Haad Khuat (Bottle Beach)
Northeast: Thong Nai Pan Yai and Thong Nai Pan Noi
Best Beaches in Koh Phangan
Find the list of the best beaches on Koh Phangan below.
1. Haad Rin
Haad Rin is the most famous beach on the entire island of Koh Phangan. This beach can be compared to Chaweng Beach on Koh Samui as most tourists come here. The Haad Rin peninsula is located in the southernmost part of Koh Phangan and is divided into two different bays - Haad Rin Nok (Sunrise Beach) and Haad Rin Nai (Sunset Beach).
Haad Rin Nok (Sunrise Beach)
Had Rin Nok is found on the eastern part of the southern tip of the island, which is why it is also called Sunrise Beach. Haad Rin Nok is where the famous Full Moon Party is held so it is also known as Full Moon Beach. The beach here is very beautiful with 1 km of fine white sand and turquoise waters. At low tide, the beach is very wide but at high tide the water reaches the level close to the numerous resorts and bars.
During the monthly Full Moon Party, the beach comes alive and turns into a huge open-air disco to welcome people looking for fun nightlife. Apart from the party day, it is hard to imagine that beach invaded by a crazy crowd celebrating the crowded Koh Phangan full moon party. You will be surprised that this beach is perfectly clean. In additional, this is the beach where the best sports activities of the island are gathered such as beach football, beach volleyball and many water sports. There are a large number of restaurants, bars and resorts located next to the beach.
Where to stay at Haad Rin Nok (Sunrise Beach):
If what you come to Koh Phangan for is partying, check the list of best hotels near Full Moon Party. You will love them!
Haad Rin Nai (Sunset Beach)
Haad Rin Nai, sometimes also called Sunset Beach, lies west of Haad Rin Pier. Smaller ferries from Koh Samui also arrive here. Haad Rin Nai is an alternate beach with more relaxing vibe, which is only a few minutes' walk from Haad Rin Nok. It is a good base for those who like to party but want to stay somewhere away from the hustle and bustle. Haad Rin Nai is only about 200 meters long and very narrow. At high tide the water reaches the concrete wall while at low tide the water is very shallow far out.
Where to stay at Haad Rin Nai (Sunset Beach):
The COAST Resort and Spa - Koh Phangan
2. Mae Haad Beach
This picture-perfect white sandy beach lined with coconut trees is located on the northwest coast of the island. Mae Haad Beach is a great beach for swimming. The water is crystal clear and the beach is wonderful, wide and gently sloping. The sea is almost always calm, and the beach is never too crowded. Haad Mae Beach is also popular because of the coral reefs so you can also snorkel here for discovering the colorful underwater world.
The highlight at Mae Haad Beach is the small offshore island of Koh Ma where you can walk across a large sandbar at the very low tide. This small rocky island is uninhabited and a popular diving and snorkeling spot. Since it is known for good snorkeling spots, many day tourists come here too.
Near Mae Haad Beach, there are a few restaurants, scooter rental, massages and supermarkets. Other destinations nearby are the Wong Sai Waterfall and the trendy Three Sixty Bar, which is located above Mae Haad Beach and offers an amazing great view over Koh Ma and the sandbar. If you can, stop by at sunset time.
Mae Haad can be easily reached by car or scooter via the paved coastal road. There are also many resorts and restaurants on the shoreline.
Where to stay at Mae Haad Beach:
---
Discover the best of the cheapest hotels in Koh Phangan to enjoy a pleasant stay on the island at the best price.
---
3. Haad Seekantang (Leela Beach)
Haad Seekantang, better known as Leela Beach, is located almost on the very southern tip of Koh Phangan, not far from Haad Rin peninsula. Leela Beach is suitable for those who want to stay nearby Haad Rin, where Full Moon Party is located, but want to escape the crowds with just within 5-10 minutes walking distance away.
Many websites and travel guides have voted Leela Beach the most beautiful beach on the island. The beach is quite long, approximately 800 meters. In the north, Leela Beach ends on a rock cliff. In the south, the beach extends to a forested hill. The beach is quite comfortable for a light morning jogging, sunbathing, swimming and even more.
You will mainly find small-scale resorts here. For resort guests, there are sun loungers, hammocks on the shore. There is no one to stop you from laying down your towel on the sand.
Where to stay at Haad Seekantang (Leela Beach):
4. Haad Son (Secret Beach)
In the western part of Koh Phangan, you will find numerous beach paradises and one of them is Haad Son. Haad Son has been nicknamed as Secret Beach but unfortunately is no longer secret. It didn't even exist until a decade ago. We would definitely recommend this place for a short trip. To get to Haad Son, you need to pass the super nice Secret Beach Bar with reggae music.
It is a beautiful beach with fine white sand and crystal clear waters. The sea is calm and the water remains shallow for a long time. You can enjoy a nice swim. It is a perfect beach for families with kids. A short distance from the beach, you can come across the coral reef so it is good for snorkeling. You can see many colorful fish there.
Where to stay at Haad Son (Secret Beach):
There are few resorts offering simple accommodation with sea views, steps away from the beach.
Sunset Hill Boutique Resort Koh Phangan
5. Haad Salad
If you are looking for perfect pictures with hammocks and palm trees, you have to be here. Haad Salad is a beautiful beach in the northwest of Koh Phangan. Haad Salad is one of the most popular beach choices for Thais and is usually not crowded. Here you will encounter less backpackers who are looking for parties. This area is also very popular with families with young children and couples who are looking for romance and peace. In addition to a relaxed atmosphere, the beach is blessed with white sand and crystal clear, and very shallow water, especially at the northernmost part. The hills covered with coconut trees rise just behind the beach. In addition, you can also snorkel well as reef is only about 150 meters from the beach.
By staying at Haad Salad, you will enjoy an absolutely incredible view of the sea with the possibility to go out for dinner or a drink without having to go too far. You will find several restaurants and cafes on the beach. Here you can taste national Thai cuisine for a reasonable price.
Where to stay at Haad Salad:
Villa Cha-Cha Salad Beach Koh Phangan
6. Haad Khom (Coral Beach)
One of best beaches of Koh Phangan is Haad Khom or Coral Beach. Haad Khom is a small picture-perfect beach on the west side of Chaloklum Bay (Ao Chaloklum). It is the last beach that can still be reached by car from the main road from Chaloklum Bay. Moreover, Bottle Beach is around the corner. We secretly think that Coral Bay is more beautiful than the neighboring Bottle Beach, which is said to be the most beautiful beach on Koh Phangan.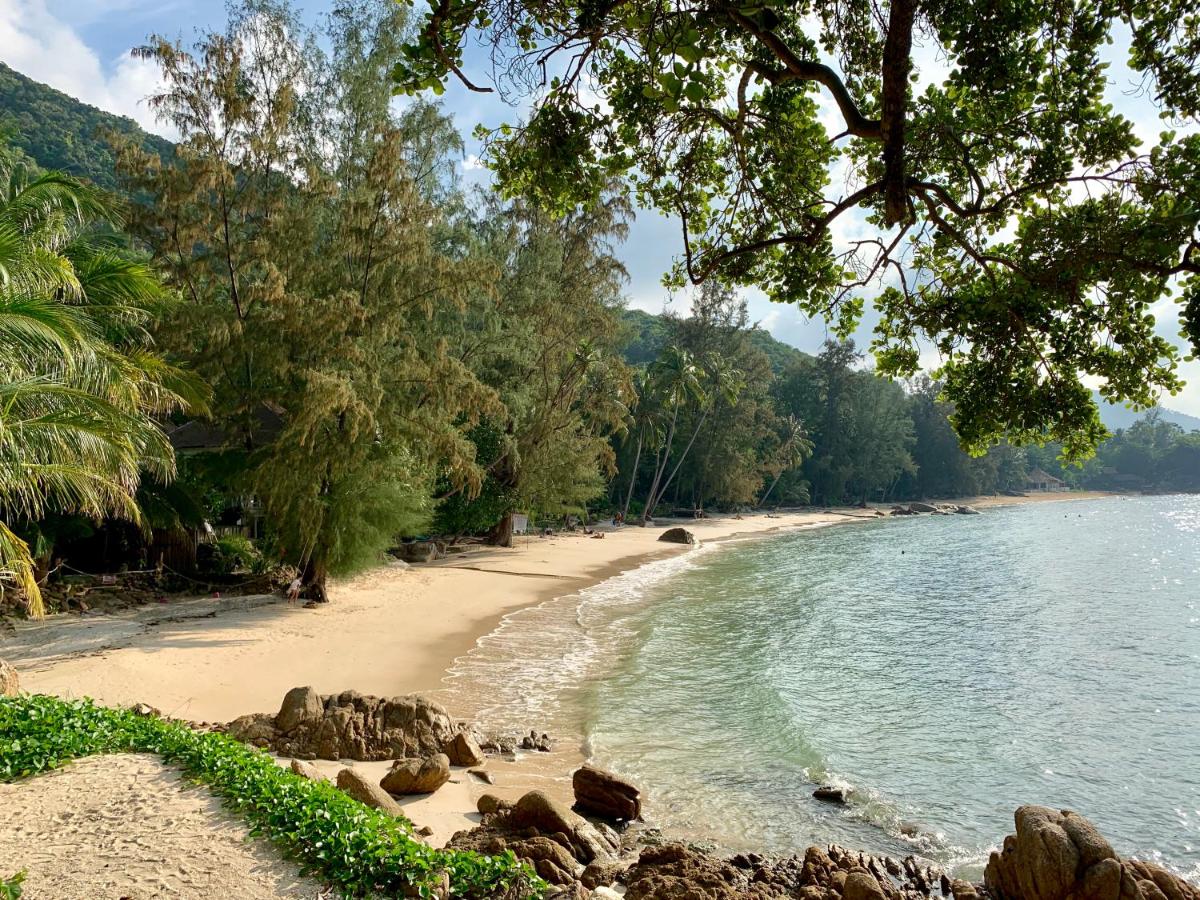 Coral Beach is a beautiful approximately 300-meter-long strip of sand. As it is so remote from all tourist spots, you will meet only few people and the beach is almost deserted in low season. It is popular with long-term vacationers looking for absolute peace and quiet in Koh Phangan.
Haad Khom is also famous for snorkeling, you can snorkel wonderfully with a beautiful reef like almost everywhere in the north and east of the island. The atmosphere is also very relaxed above water. Nearby, there are also clubs and restaurants in an average price range.
Where to stay at Haad Khom:
On the beach, there are a number of excellent middle class bungalows. You can spend the night at the Coconut Beach Bungalows which offers accommodation, restaurant, outdoor swimming pool, garden and private beach area.
7. Ao Chaloklum (Chaloklum Bay)
Ao Chaloklum is one of the largest bays on the north coast of Koh Phangan with a length of 2.5 km. The bay is surrounded by densely forested hills and can be divided into several beach sections. The central area of Chaloklum Bay is also known as Malibu Beach, which belongs to the Malibu Beach Bungalows. The sand at Ao Chaloklum is white and very fine, the coast is quiet. The Chaloklum Bay area also has picturesque coral reefs, and the waves are great for surfing.
Ao Chaloklum is actually the beach of a small fishing town. At the western part of Chaloklum Bay, you will find Chalok Lam Village, the last active fishing village of Koh Phangan and the surrounding islands. You will also see many fishing boats departing from this beach in the afternoons and evenings. The eastern part of the beach is very beautiful and here you can stay in one of the few resorts. There are also some restaurants on the beachfront, where you can sit, relax and enjoy the cold beer at sunset. The fishing village offers some authentic seafood restaurants, where you can eat delicious, fresh seafood.
Where to stay at Ao Chaloklum (Chaloklum Bay):
Some simple accommodations can be found on this natural stretch of sand.
8. Bottle Beach (Haad Khuat)
Bottle Beach is one of those quiet, isolated and uncrowded beaches on the north coast of Koh Phangan. It is called Haad Khuat in local language. The 500-meter-long Bottle Beach is famous for its beauty of fine white sand, and incredibly transparent waters.
You can reach this spot with one of the traditional long tail boats from Chaloklum Beach, Khom Beach or Thong Nai Pan Bay on the east coast. The trip should cost more or less 150-200 THB. Bottle Beach can also be reached by land through an unpaved dirt road, but it is an impractical and time-consuming solution. There is also a handful of accommodations with a breathtaking sea view and a couple of small restaurants with fairly affordable prices.
This beach is recommended if you are looking for a place to stay in contact with nature, away from the nightlife and big crowds of tourists.
Where to stay at Bottle Beach (Haad Khuat):
9. Thong Nai Pan Bay
Thong Nai Pan Bay is home to 2 of the island's finest beaches, Thong Nai Pan Noi and Thong Nai Pan Yai, located on the northeast side of the island. These two popular beaches form a picturesque double bay, surrounded by mountains and forest. They are accessed through a jungle through a dirt road.
Thong Nai Pan Noi
In Thai, Noi means "small". Thong Nai Pan Noi is called like this as it is a smaller beach of the two. Here you can have a romantic dinner on the beach. In Thong Nai Pan Noi, there are accommodations for all budgets. You can book one of the super basic bungalows that are located directly on the beach. There are also several beautiful restaurants and bars around that invite you to relax and celebrate in the evening.
Where to stay at Thong Nai Pan Noi:
Anantara Rasananda Koh Phangan Villas
Thong Nai Pan Yai
It is the "twin beach" of Thong Nai Pan Noi and the size of Thong Nai Pan Yai is definitely larger. This beach is excellent for swimming. On the beach itself, there are many trees that provide welcome shade. From here, it is possible to admire wonderful sunrises that overlook the sea directly. Thong Nai Pan Yai is also a good starting point for excursions around the island. There is a small waterfall of Than Prawet with just 5 minutes' drive and the Than Sadet-Ko Phangan National Park with a few kilometers away.
Where to stay at Thong Nai Pan Yai:
PingChan Koh Phangan Beachfront Resort
---
If you want real comfort on your vacation, take a look at the best luxury hotels in Koh Phangan.
---
10. Haad Than Sadet (Than Sadet Beach)
Haad Than Sadet is located on the east coast of Koh Phangan Island, at the foot of the Than Sadet waterfall. The sea is not crystal clear here, but it is deep enough to swim all year round. There are a lot of stones so it is not the best place for snorkeling. The beach is about 200 meters long and almost no people come here.
You will only find few accommodations and a single, cozy restaurant and bar with reasonable prices along the beach. Incidentally, Haad Than Sadet is not far from the two Thong Nai Pan beaches.
Where to stay at Haad Than Sadet (Than Sadet Beach):
11. Haad Yao (Long Beach)
The popular beach of Haad Yao is located on the west coast, adjacent to Haad Son Bay. Haad Yao is often considered to be one of the most beautiful beaches on the island. Clear blue water with a white sandy beach and palm trees is what you will find here. The beach is almost a kilometer long and relatively wide, there is enough space for everyone. The water here is absolutely ideal for swimming. Of course, there are also idyllic sunsets and coral reefs for snorkeling fans. The coral reefs along the northwest coast are in good condition and it is even possible to dive directly from the beach. There are also some really good diving schools in Haad Yao that offer a number of different diving courses. There are both upscale and simple bungalows and resorts nearby the beach. Long Beach is a good option if you are looking for a quiet environment.
Where to stay at Haad Yao (Long Beach):
12. Haad Yuan (Yuan Beach)
Haad Yuan is located in the southeast, near the famous Haad Rin. This bay is much less crowded than its neighbor, also because it is rather difficult to reach. You will either come here by long tail boat which should cost no more than 150-200 THB each way or walk from Haad Rin. If you walk, don't go down without taking a photo at the viewpoint.
The beach is ideal for those who have spent time on Haad Rin and are looking for a quieter and more peaceful alternative with fewer resorts, restaurants and bars during the Full Moon Party. However, keep in mind that Haad Yuan is the setting for the famous Eden Garden Party, an event in all respects similar to the Full Moon Parties, that is held every Saturday. If you don't like the music on the beach until the morning during that time, you should head elsewhere.
Where to stay at Haad Yuan (Yuan Beach):
Pariya Resort & Villas Haad Yuan Koh Phangan
How to get to Koh Phangan
Due to the lack of airport and mainland connection, Koh Phangan can only be reached by boat. To make your journey easier, we have prepared several tips on how to get to Koh Phangan easily and safely from different parts of Thailand.
If you want to get an overview of all travel options, we recommend using this search form.
For more information on travel options check here:
How to get from Bangkok to Koh Phangan
How to get from Koh Samui to Koh Phangan (and vice versa)
Tips
Koh Phangan has lots of incredibly impressive attractions that pull tourists all year round. Explore the best things to do in Koh Phangan to better prepare for your next holiday in Thailand.
Koh Samui, Koh Phangan and Koh Tao are located next to each other, which is why it makes very good sense to combine the three islands into one trip - it is quite easy to get from island to island by boat.