Koh Phangan is certainly one of the most beautiful islands in the Gulf of Thailand. This island offers a wide range of activities, from relaxation to partying until dawn. If you are planning a trip to Thailand and thinking what are the best things to do in Koh Phangan, check the extended list of top activities on the island.
Best things to do in Koh Phangan
Although Full Moon Party on Haad Rin Beach is a worldwide famous activity in Koh Phangan, when visiting the island, you can also just simply relax in a hammock on the beach with a cocktail in your hand. There are also spectacular beaches and irresistible sunsets, mountains, wonderful waterfalls, Buddhist temples and scenic viewpoints to discover at this lively island. Below you will find the best things to do in Koh Phangan.
Party until dawn
There is a party almost every night on Koh Phangan at various locations. Of course, Full Moon Party is the biggest. Haad Rin Nok Beach on the southernmost tip of Koh Phangan is considered by many to be the best place in the world to admire the full moon. This beach is also the location for the world-famous Full Moon Party, where thousands of people gather on the beach. You can see a lot of people who have lost themselves from alcohol and entertainment at the crazy parties since the sun says goodbye to the day and disappears down into the horizon. You will see the beach transformed into a huge open-air disco, where the music mixes with shows and fireworks.
In addition to the Full Moon Party, there are other cool events including the Waterfall Party right in the jungle of Koh Phangan, the Eden Party on the dream Haad Yuan, and much more.
For more detailed information about the crazy parties on the island of Koh Phangan, check the guide to Koh Phangan Full Moon Party.
If you want to visit the island of Koh Phangan and live to the fullest the Full Moon Party, one of the most spectacular parties in the world, you can find the best possible accommodation with these top hotels near Full Moon Party. Keep in mind that many accommodations of Koh Phangan are fully booked two days before and after the celebration so reservation in advance is a must.
Relax on the best beaches on Koh Phangan
Koh Phangan has the advantage of long coastline that is home to countless white sand beaches that are lined with tall palm trees and crystal-clear waters. Some of these dreamy beaches represent an authentic corner of tropical paradise.
In the south of the island, you will find the famous Haad Rin Beach where the notorious Full Moon Party takes place. Not far from there is Haad Yuan, an absolute dream beach. The so-called Leela Beach is probably one of the whitest and finest beaches on the island. The north, with the exception of the beach at Chaloklaam, is wild and some beaches, such as Malibu Beach and Bottle Beach, can only be reached by boat. The east coast of Koh Phangan is still very pristine, especially two bays of Thong Nai Pan. They are quite far away, but it is worth going there for sunbathing and swimming. Another great place to visit is Haad Sadet, where you will find many great and luxurious accommodations. If you are looking for absolute calm, you will be in the right place. The west of Koh Phangan has beautiful, easily accessible beaches, from where you can watch the sunset. Haad Salad is particularly recommendable, with its palm tree jutting out into the water. Another of beach gems is Secret Beach, which is home to one of the coolest bars on the island.
As you can see, Koh Phangan offers many beaches that are different from each other. To choose the perfect one for yourself, explore the selection of the best beaches in Koh Phangan.
Snorkeling & diving around Koh Phangan
The nearby island of Koh Tao is one of the most popular dive spots in the world, but there is also a lot to see under waters around Koh Phangan. Around the island, there are beautiful coral reefs full of tropical fish. Koh Phangan is considerably quieter compared to Koh Tao. Diving tours are organized daily from the island of Koh Phangan to the island of Koh Tao. Incidentally, it does not really matter because you often visit the same places. Famous spots like the Southwest Pinnacle and Sail Rock are great diving spots for advanced divers. With a little luck, you can even come across whale sharks and manta rays.
There are several diving schools on Koh Phangan, where you even get your PADI under the guidance of professional diving teachers. Many of the diving schools have their offices in the areas around Haad Rin, Haad Yao, Chaloklum and Thong Sala. In the fishing village of Chaloklum you can also try Free Diving.
For those who just want to snorkel, there are numerous snorkeling opportunities on various beaches, mainly on the west coast of Koh Phangan. You can check out the beaches of Mae Haad, Haad Salad and Haad Yao. The island of Koh Ma, located just north of Mae Had Beach and connected to Koh Phangan by a sand strip, is also worthwhile to snorkel. There are a lot of corals and quite large amounts of fish in the area. It is smart to bring your own snorkel in your backpack to admire the diverse underwater world.
Explore the beach by kayaking
There is no better way to discover the great beaches on Koh Phangan than by kayaking. Kayaks are available on some beaches. Haad Yao, Haad Salad, and Haad Khuat are good beaches to start from. You can kayak and sail out to the sea to enjoy the sunset in peace. The price of kayak rental is around 100 THB per hour. In addition to the kayaks, you can also rent paddle boards on various beaches on the island.
Walk on a sandbar to Koh Ma
Koh Ma is a small, deserted island that you can visit by crossing a sandbar. This island is located on the west coast of Koh Phangan, where on one side you have Mae Haad beach and on the other is Koh Ma. The sandbar connects both islands, allowing you to walk to Koh Ma during low tide.
Surrounded by fresh coral reefs, Koh Ma is a perfect place for snorkeling so don't forget your goggles. Koh Ma has been uninhabited for years and you can walk around the island, which is mostly jungle. You can also climb to the top of the island and enjoy an absolutely stunning view.
Hike to Khao Ra
One of Koh Phangan activities we would recommend is hiking through the mountainous jungle of the island. There are lots of jungle hikes in Koh Phangan. A highlight is the way to Khao Ra, the highest mountain on the island with 627 m above sea level. A long winding footpath takes you to the top and offers a spectacular view of Koh Phangan. You can also visit the hidden Phaeng Waterfall on the way up.
Visit waterfalls of Koh Phangan
In the mountains of Koh Phangan Island, you will find some beautiful waterfalls. The waterfalls in Koh Phangan are well worth a visit - especially between September and February. Than Sadet and Phaeng Waterfall are the best known on the island.
Than Sadet Waterfall
One of the most famous is Than Sadet Waterfall, which can be reached by a short walk through the jungle. Officially, the area is known as Than Sadet National Park in the east of the island and occupies a total area of 44.99 square kilometres. The name of the park is given by the homonymous river which, before flowing into the sea, generates the most famous waterfall on the island. After a short hike through the jungle, the pool of the waterfall offers an ideal swimming spot.
Phaeng Waterfall
There are many waterfalls in Koh Phangan and the most beautiful of them is Phaeng Waterfall. It is located in a protected nature reserve but can be visited. The flow of the waterfall changes according to the season. So, before you go, better ask locals about the actual situation of the waterfall. The waterfall leads over two levels and offers numerous hiking trails. You can go straight to the viewpoint at 625 meters for a spectacular view of the island.
Take a boat trip
A boat trip around Koh Phangan can be a relaxing and at the same time adventure. You can book longtail boat tours on all major beaches and in most resorts on the island. You can visit many beaches such as Thong Nai Pan Yai and Thong Nai Pan Noi, Bottle Beach and a few smaller islands around such as Koh Ma. You can even spend the night on one of the beaches and islands during your boat trip.
Many organizers also offer fishing trips in the evening. You can fish almost anywhere on Koh Phangan, except in the marine park around Koh Ma.
Admire the sunset at Amsterdam Bar
Amsterdam Bar is located on the slope of the mountain, on the west side of Koh Phangan. It is one of the most beautiful places to watch the sunset. That's why everybody flocks here at sunset time to both have a drink and enjoy the view. At around 16:30, it is still wonderfully quiet and then it slowly starts to fill up. From the parking lot there is a steep staircase going up. There are two floors, two bars, two terraces and one swimming pool.
Some of the most famous places to enjoy wonderful views of Koh Phangan:
Secret Mountain - restaurant and pool bar with breathtaking views
Three Sixty Bar - a unique hilltop bar with 360-degree views all around
Top Rock Bar – a bar right next to Amsterdam Bar, which is almost exactly the same in terms of space and concept. You need to climb the 150 steps that lead to the bar but the views are definitely worth it.
Blue Rama - an adults-only pool bar with sunset views from the infinity pool.
Spectacular views and scenic spots can be found on the island and the best of these places are listed here: Koh Phangan Viewpoints.
Eat at the night market
Thong Sala Night Market is a must go when you are in Koh Phangan. Thong Sala is the capital of the island and also the place where you arrive by ferry. This place really comes alive in the evenings. Every night the night market takes place in Thong Sala, where you can find street food and many traditional Thai food dishes at cheap price.
Shop at Walking Street
Every Saturday the street at Thong Sala Pier is closed and turned to a large walking street near the pier. It is one of the most important Koh Phangan sights that is mostly visited by tourists. Walking Street has everything - clothes, toys, accessories, souvenirs and, of course, lots of food.
Learn or watch Thai boxing (Muay Thai)
Muay Thai or Thai boxing is the most important sport in the whole country - also in Koh Phangan. There are four boxing stadiums on Koh Phangan, three of them in the island's capital Thong Sala and one in Haad Rin. There are usually six competitions per evening. This Thai national sport is not only popular with locals but also with tourists. To know the schedule of Muay Thai matches, check with your accommodation. You can also take a good look around you on the street, as if there is a match or tournament, there will be posters everywhere and you will hear the loudspeaker announcements from pickups.
If you are interested, you can also take Muay Thai lessons. There are many good schools on Koh Phangan that can offer you private or group lessons for a small fee. You can even get an ED visa as a Muay Thai student, with which you can stay in the country for years.
Some of the best known Muay Thai schools on Koh Phangan:
Diamond Muay Thai: opened in 2011 on Koh Phangan Island, serving as one of the most authentic Muay Thai camps in South Thailand.
Muay Thai Chinnarach: the place, where you can learn Muay Thai with the former world champion Chinnarach. 
Phangan Muay Thai: the place offering a unique and exciting Muay Thai boxing and fitness experience.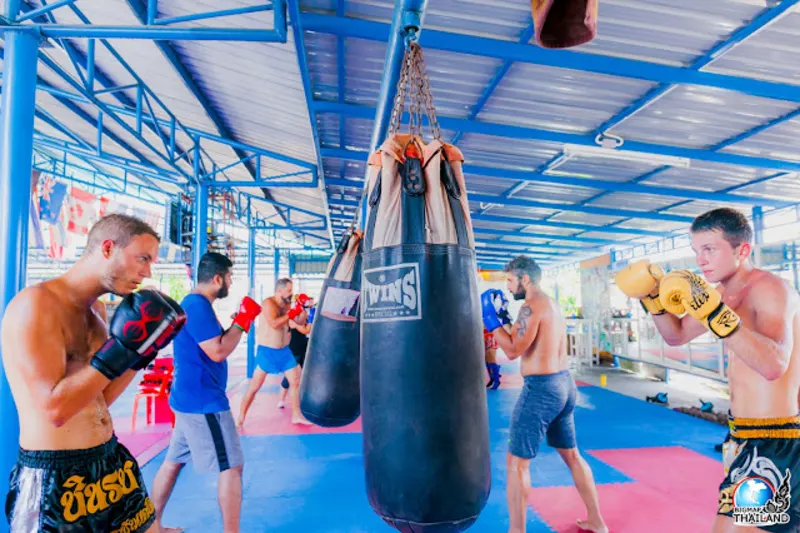 Join Thai Cooking Class
Thai food is incredibly diverse and known all over the world. If you love eating Thai food or are interested in cooking, you can take a short course cooking classes and learn how to make Pad Thai, Green Curry, Tom Yum Goong, or Somtam, Thailand's most famous dishes. With what you've learned, after the trip you can surprise those who stayed at home.
There are many cooking classes on the island. There you can discover the unique culinary heritage of Thailand and learn which spices and herbs are used by the locals to create authentic and traditional Thai flavors and get detailed, step-by-step instructions to prepare various dishes. The popular cooking schools on the island include C&M Culture Center, Proud Home Cooking and Jang's Thai cooking school. A cooking course will cost you between 1,000 and 3,000 THB.
Take a Thai massage
A holiday in Thailand is not a real holiday if you don't take a Thai massage that is available practically everywhere on Koh Phangan. They offer massage at the resorts and on the beaches, but you will also find plenty of spas and massage parlors in the villages. The price is starting from 250 to 350 THB for an hour-long massage. If you want to pamper yourself with a really original Thai massage when visiting Koh Phangan, you should definitely make a detour to Wat Pho. The temple is famous for its massages and herbal sauna.
Do yoga
Koh Phangan has become a real yoga paradise in recent years. If you are considering becoming a yoga instructor, or just want to know a lot more about yoga, then a Yoga Teacher Training on Koh Phangan is highly recommended. On the island you will find several yoga schools that offer daily courses and other spiritual events. Most of them are located in Srithanu.
Visit temples on Koh Phangan
You may expect temples in Bangkok or Sukhothai, but there are also a number of beautiful Buddhist temples on Koh Phangan. The history of the island goes back a long way. As the monks passing by took notice of the spiritual island of Koh Phangan 600 years ago, there are more than 20 temples to be discovered today. You will be able to visit the temple daily during your travels here. Like majority of Thailand's temples, it is for the practice and teaching of Buddhism.
Explore the list of the top temples on Koh Phangan that you should definitely add to your Koh Phangan must-visit list for a nice cultural change from beach life.
Explore the island on wheels
The island of Koh Phangan is pretty large so discovering the island independently by driving from beach to beach by motorbike is recommended, but only for those who already have experience. Depending on where you are staying, you will either have to drive a lot or not at all. But even if you are in the center of everything happening, it's still worth renting a motorbike for a day and exploring the island. Although the traffic is not particularly heavy or dense, the steep roads are often in poor condition. If you will be taking a motorbike, do not forget your helmet and remember to drive carefully. The motorbike rental will cost you about 150-300 THB per day.
Don't risk if the last thing you want is to have an accident during your vacation in Koh Phangan. Instead of driving a scooter you can also take a shared taxi.
Have fun with Slip N Fly
If you are more interested in adventure with a few bruises from hitting the water, you can have fun with Slip N Fly. You can spend a day trying the different slides, meet other travelers, and just chill. You can be there for a couple of hours or so. The gigantic slides between the palm trees also provide a wonderful afternoon entertainment. It's totally recommended for people looking for a bit of adrenaline on the island.
How to get to Koh Phangan
Koh Phangan is located in the southeast of Thailand and it takes a while to get there. Due to the lack of an airport and mainland connection, Koh Phangan can only be reached by boat.
Koh Phangan can be reached from the mainland of Surat Thani province, where ferries depart from the small town of Donsak.
As Koh Phangan is located a few kilometers north of Koh Samui, you can fly to the island of Koh Samui and cross to Koh Phangan by a speedboat or ferry. Every day several ferries sail between the two islands. You arrive and depart from Thong Sala on Koh Phangan.
If you want to get an overview of all travel options, we recommend using this search form.
To make your journey easier, we have prepared several tips on how to get to Koh Phangan easily and safely from different parts of Thailand. You can check for more information here:
How to get from Bangkok to Koh Phangan
How to get from Koh Samui to Koh Phangan (and vice versa)
Where to stay in Koh Phangan
Koh Phangan has accommodations of all types and price ranges, from simple hostels and budget hotels to luxury resorts and villas on the hill overlooking the sea. You can find the list of the best cheap hotels in Koh Phangan, which will allow you to enjoy a pleasant stay at the best price. If you want the real comfort on your vacation, take a look at the best luxury hotels in Koh Phangan.
To help you find the perfect accommodation on the island, we have prepared a guide to the best places to stay in Koh Phangan, where you will also find our hotel recommendations for individual beaches and bay areas.
Tips
Koh Phangan is located between Koh Tao and Koh Samui, which is why it makes a very good sense to combine the three islands into one trip - it is quite easy to get from island to island by boat.