Koh Tao or Turtle Island, named after its turtle-like shape, is one of the most beautiful islands in the Gulf of Thailand. In addition to being one of the best diving sites in Thailand, Koh Tao is also well-known for its white sand beaches, lined with palm trees. List of the best beaches in Koh Tao for your holidays.
Koh Tao Beaches
Even if the area of the island is just 21 km², there are many nice beaches in Koh Tao and below you can find the list of the best Koh Tao beaches for your choice.
1. Sairee Beach
Sairee Beach on the west coast of Koh Tao is the most popular and most visited beach on Koh Tao. It can confidently be called the main beach of the island. During the high season it gets really crowded but it quickly becomes very quiet outside the tourist season. Sairee Beach is over 1.8 kilometers long and Mae Haad Pier is a 10-minute walk along the promenade.
Sairee Beach is great for sunbathing with white sand and palm trees providing shade. The sunsets here are wonderful, so make sure to be at one of beach bars and enjoy a drink while the sun sets in front of you. Sairee Beach is the classic party beach and attracts many backpackers. It is quiet enough through the day when most of visitors are out for diving trips, but when it gets dark, the beach gets lively and there are nightly beach parties every day. This is why Sairee Beach became one of the best places to stay on Koh Tao for young people and travelers who are young at heart and like to go out in the evening. If you are looking for peace and more relaxing holiday, you should avoid this area and settle on other beaches.
Sairee Beach is packed with hotels, tour operators, numerous diving schools and dive resorts, restaurants and beach bars located on the sandy beach. This beach is one of the most important diving centers in Koh Tao. The surrounding dive sites are easily reached by boat from Sairee Beach. There are also several backpacker huts and beach bungalows right on the water.
The best places to stay at Sairee Beach:
2. Mae Haad Beach
Mae Haad Beach is about a ten-minute walk from Sairee Beach. The beach is located in the main town of Mae Haad and starts right next to the ferry pier. All ferries from the mainland or the other islands (Koh Phangan and Koh Samui) dock here several times a day.
You might think that this beach is not particularly beautiful due to the location, but you might be impressed. Surely, you will find better beaches, but it's good to spend some time here. Mae Haad Beach south of the pier is pretty quiet, relatively fine and surprisingly clean. This is probably because most of tourists move to their accommodation on other beaches after arrival.
There are numerous diving centers, dive resorts and dive shops both on the beach and in the main town, Baan Mae Haad. There are also a few nice restaurants, cafés, cozy pubs, ATM and money changers, travel agencies, drugstore, a 7-eleven supermarket and smaller hotels and guesthouses.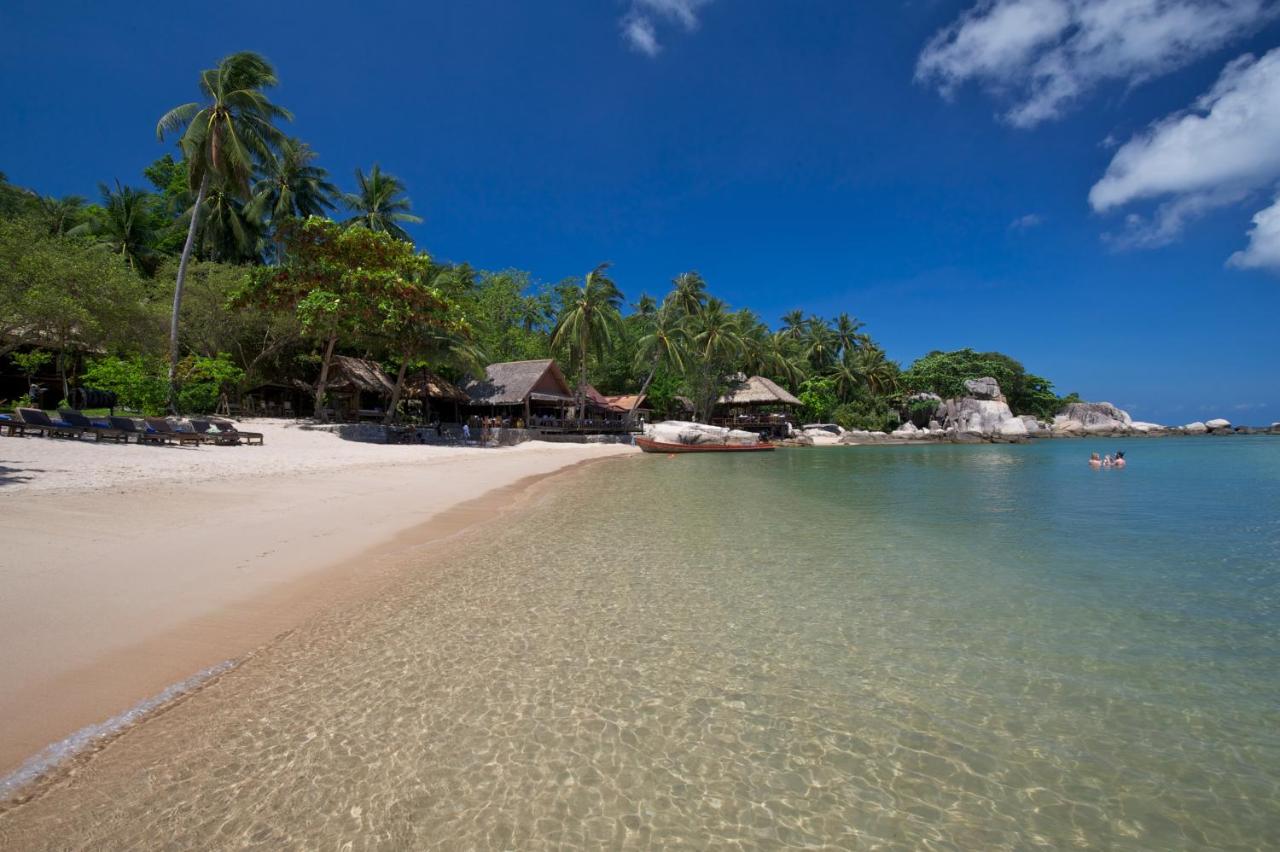 The best places to stay at Mae Haad Beach:
3. Chalok Baan Kao Bay
Chalok Baan Kao Bay with a length of 800 meters is the third largest beach on Koh Tao. It is located in the south of the island and is particularly popular with divers and families who want to relax.
It is a good place for swimming and sunbathing. The bay itself is relatively narrow and soft, making it perfect for smaller kids. The water drops gently and goes back a lot at low tide so if you really want to swim, on the other hand, you just have to walk to the distance. The atmosphere on the beach is relaxed and calm.
There are a number of small restaurants and bars, pharmacy, 7-Eleven, tour offices and ATM as well as about a dozen diving centers and schools on the beach and in the village. Several accommodations at Chalok Baan Kao Bay are dive resorts.
The best places to stay at Chalok Baan Kao Bay:
4. Jansom Bay
Jansom Bay is located south of Mae Haad Beach and from there can be reached in about 15 minutes on foot. The path leads along the coast over rocks. It is a private bay on Koh Tao, with its approximately 50-meter-long beach, belongs to the Charm Churee Village Resort. The bungalows of this resort complex are spread over the entire hill and offer a panoramic view of Jansom Bay and the turquoise sea. You can consider to stay here if you want to. For Non-hotel guests, access to Jansom Bay is only possible for a fee paid to the resort. You need to pay 200 THB per person so the price is quite steep. However, there are some sun loungers and chairs available for you to use. There are also delicious food and drinks you can order. If you like snorkeling, you will also discover many tropical marine life and a variety of fish species here.
5. Freedom Beach
Freedom Beach is a secluded stretch of beach near Chalok Baan Kao Bay. This is one of the most popular places on Koh Tao. Freedom Beach is very small compared to others with only 50 meters long, but uniquely beautiful.
Freedom Beach offers a relaxed atmosphere. The beach has white sand and it is also suitable for swimming and snorkeling a little further out here. You should bring your snorkeling equipment or rent it in the nearby restaurant for 150 THB. The only restaurant on Freedom Beach is the Freedom Bar, which is built on the rocks. Unfortunately, food and drinks here are well overpriced.
You can either reach Freedom Beach from Freedom Beach Resort or even nicer is the small path from Taatoh Beach. Be noted that the Freedom Beach is a private beach so an entrance fee for non-resort guests of 50 THB per person is required. If you come by kayak, entry is usually free.
The only resort is the Freedom Beach Resort, located on a mountain above Freedom Beach. The resort offers simple wooden bungalows that extend over the hill to the neighboring Taatoh Beach and offer a dream view of the bay.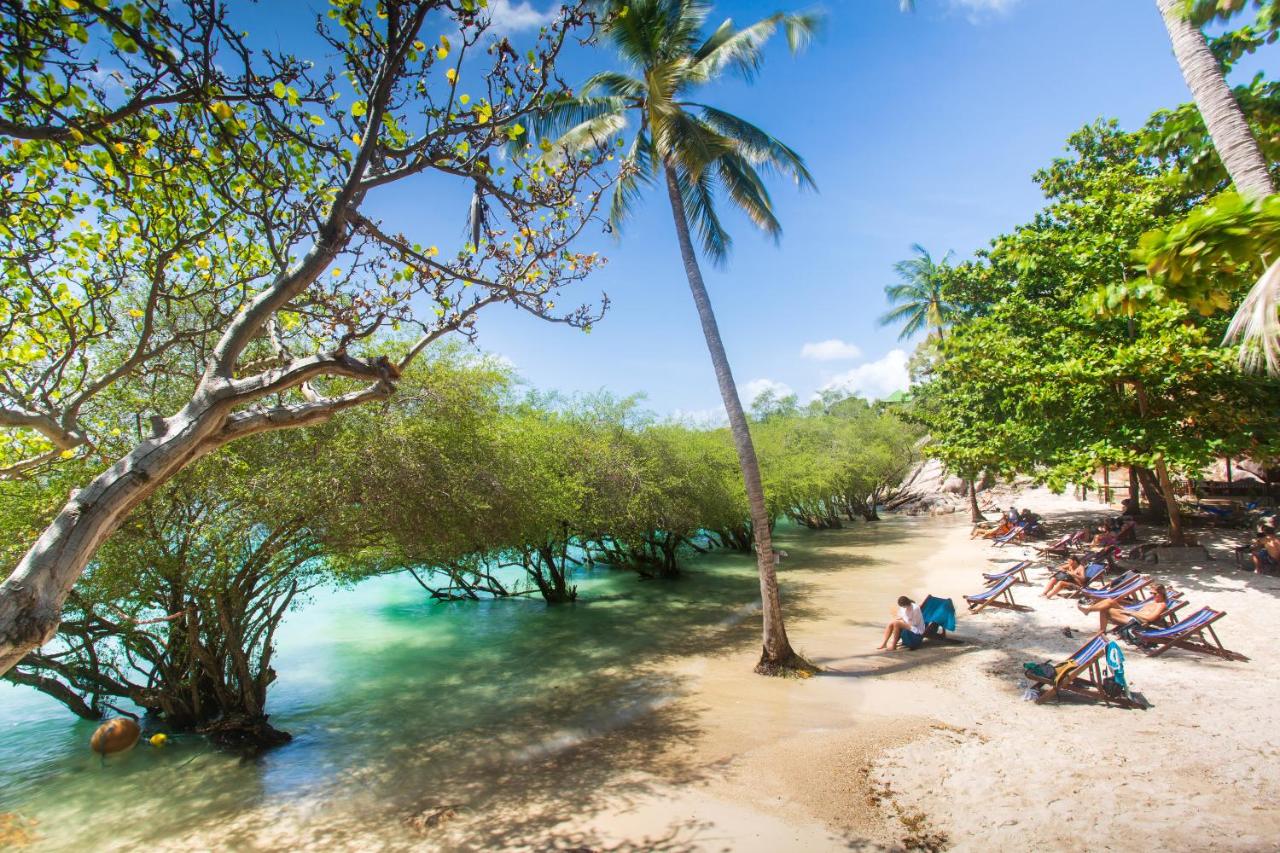 ---
Tip! One of the best views of Koh Tao is from the John Suwan Viewpoint. The viewpoint is 500 meters above Freedom Beach and can be reached via a steep, rocky path.
---
6. Taatoh Beach
As mentioned above, Taatoh Beach is almost right next to Freedom Beach and can be reached via the rocks. Alternatively, you can also climb the hill and walk down the small path to the left of the entrance to the Taatoh Resort & Freedom Beach Resort that belong together. Tatooh Beach is about 60 meters long. This small beach is also beautiful and has slightly fewer tourists than Freedom Beach. At the eastern end you will find the Buddha Rock or Taa Toh Rock, one of the landmarks of the island, which is a very beautiful stone formation and represents the seated Buddha according to Thai belief. Apparently, depending on your luck, an entry fee of 50 THB might be required.
Tatooh Resort & Freedom Beach Resort parts of the bungalow complex are built on the rocks in the sea. A narrow path leads there.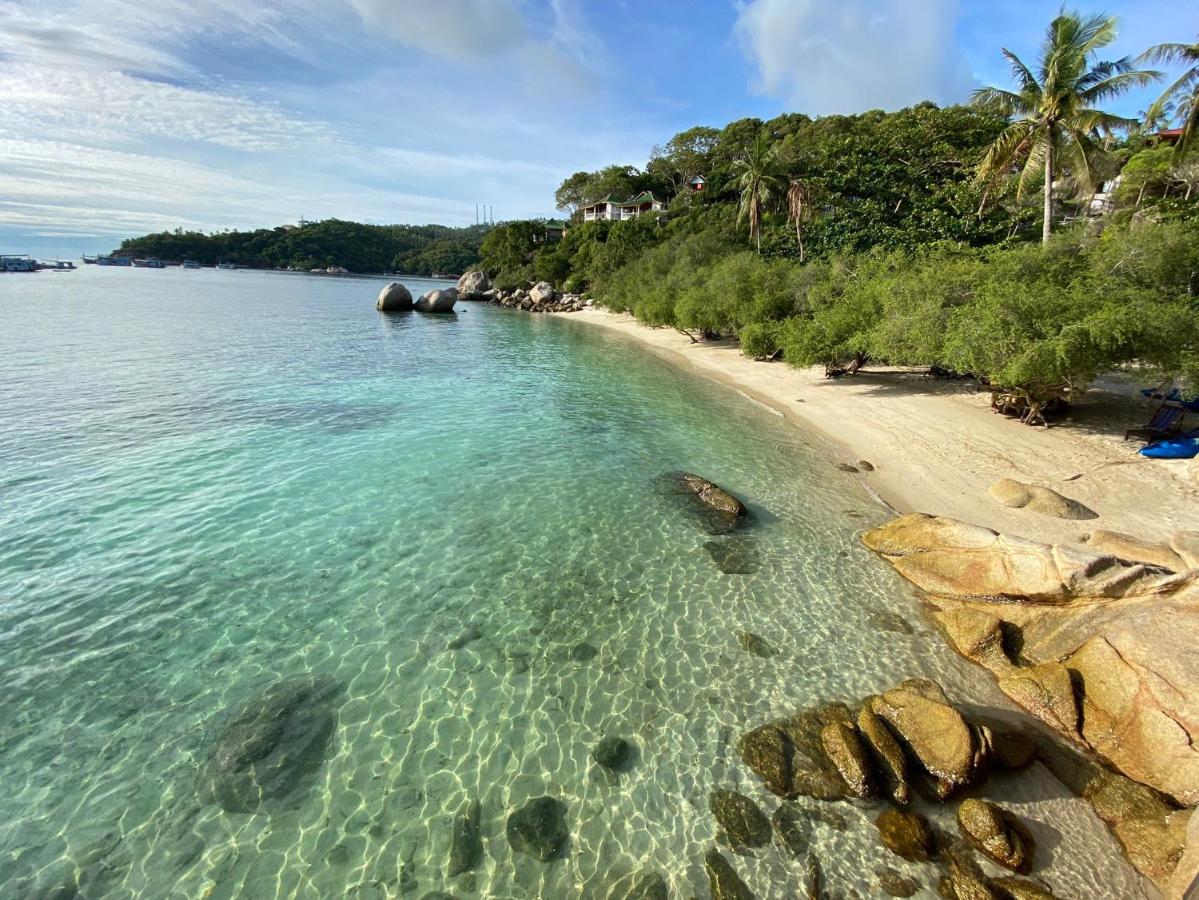 7. Thian Og Bay - Shark Bay
Thian Og Bay is also known as Shark Bay or Haad Tien. This bay is one of the most beautiful and quietest beaches on Koh Tao. The 200-meter-long beach has unique white sand beach and shallow water.
Shark Bay is perfect for a family vacation with children. The beach is suitable for swimming. It is also popular with snorkelers but unfortunately there are a lot of dead corals with many stones. As its name suggests, harmless Blacktip reef sharks can be regularly spotted at the western and eastern end of the bay as well as around the offshore rock island of Shark Island, especially in the morning and with a bit of luck.
The beach can be reached either by longtail boat or on foot via a small path of Beach Club Haadtien and you need to pay entry fee of 100 THB per person.
The best place to stay at Thian Og Bay - Shark Bay:
Shark Bay is private and belongs to Haad Tien Beach Resort with the neighboring Beach Club by Haadtien, you can stay at one of these places. The resorts are surrounded by palm groves and offer spacious villas with private balconies.
8. Ao Leuk
Ao Leuk is a small about 300 meters long bay, close to Shark Bay. Ao Leuk is a beautiful beach with palm trees, very white sand and turquoise blue water. The beach is ideal for swimming and sunbathing. Ao Leuk is also one of the most beautiful diving and snorkeling spots on Koh Tao and attracts a large number of visitors. You will easily find a very nice coral reef, which you can reach without having to go far. You can see small baby reef sharks at Ao Leuk once or twice a year.
Ao Leuk is a private beach and visiting it costs 100 THB for non-guest of Aow Leuk Grand Hill Resort and Ao Leuk II Resort. However, the price includes loungers and a free soft drink. Bringing food and drinks from outside is strictly forbidden throughout the bay.
The best place to stay at Ao Leuk Bay:
There are no accommodations directly on the beach. The Blue Heaven Resort Koh Tao is not far away on a hill and offers a magnificent view of the Ao Leuk Bay.
9. Tanote Bay
Tanote Bay on the east coast of the island is one of the busier bays in Koh Tao. The beach here is particularly wide and a 250-meter long. It has a large sandy beach with unique rock formations.
The beach is really great for swimming, sunbathing and also for snorkeling. The reef is just a few meters from the beach. The further you swim out, the better view of underwater and you can discover some great fish. The diving depth reaches up to 16.5 meters. In the vicinity of Tanote Bay, there are various restaurants and bars for snacks and refreshments. There are also many diving schools located directly on the beach. Some resorts have settled on Tanote Bay. In the off-season, the resorts here are relatively cheap and if you book for a long time, you will get a small discount.
You can reach Tanote Bay by a bumpy sandy path. Mae Haad pickup taxis cost 200 THB per person and take about half an hour to Tanote Bay.
The best places to stay at Tanote Bay:
10. Hin Wong Bay
Hin Wong Bay, meaning Bay of Round Stones, is not a swimming beach as its mainly rocks. You will find a pretty bay surrounded by hills with steep slopes invaded by the jungle. Similar to Tanote Bay, Hin Wong Bay on the east coast of Koh Tao is particularly suitable for snorkeling and diving with colorful marine life. The water is very clear and the visibility is very wide. You will discover a lot of different colorful fish and corals. With a little luck you can even see huge swarms of sardines here. Hin Wong Bay is one of the most popular beaches on the snorkeling program of all boat tour providers as well so you can expect to see speed boats or long-tail boats from Koh Samui and Phangan bringing tourists here to snorkel during the day.
Hin Wong Bay is easily accessible by scooter but be careful that the slope is steep and dangerous. You have to pay 50 THB entry fee for the bay or order a drink in the bar.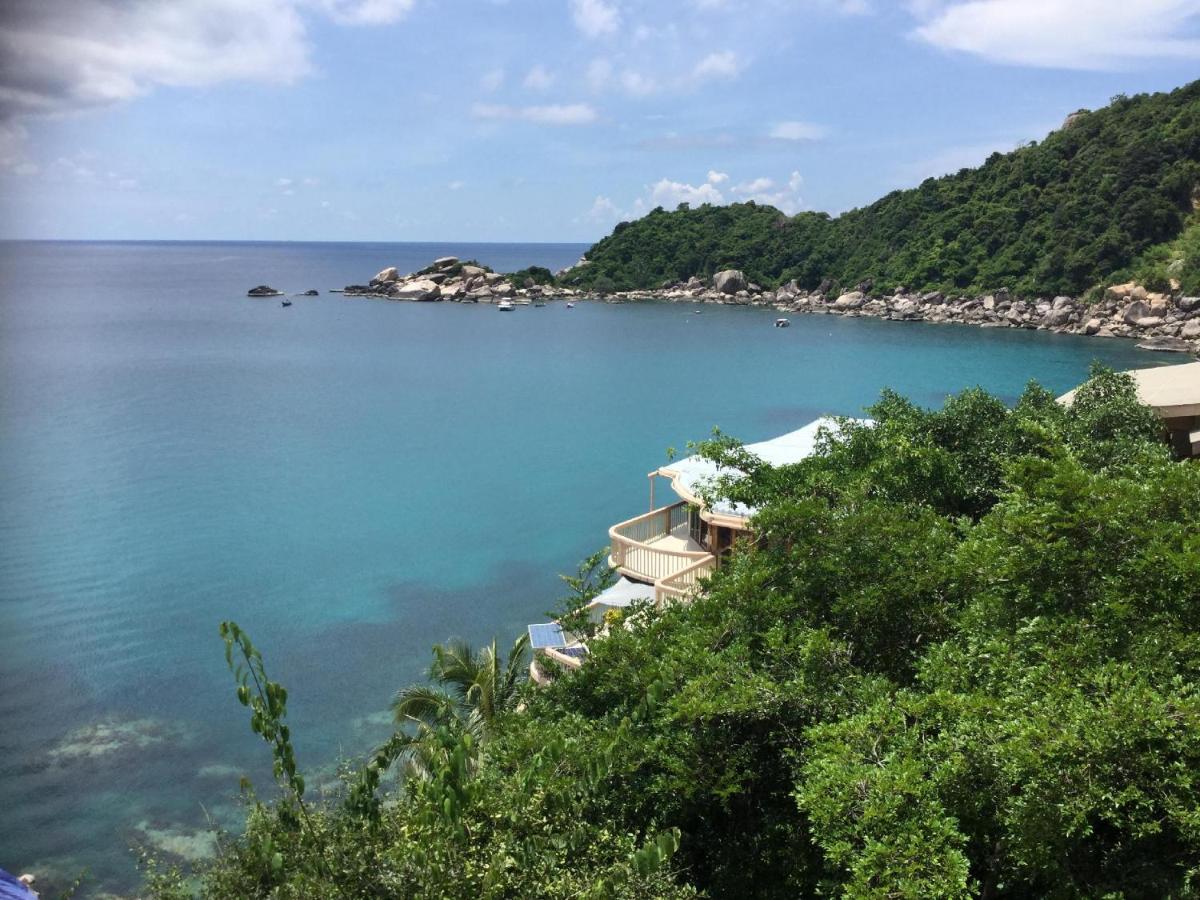 The best place to stay at Hin Wong Bay:
You can stay overnight in the Hin Wong Apartments Dive & Snorkel Resort with sea, pool or garden view. This non-party resort offers both self-catering apartments and dormitory rooms. The on-site restaurant offers Thai, European and Indian dishes. Snorkeling gears and boats for hire are all available at the property.
11. Ao Muang - Mango Bay
Mango Bay was named after the many mango trees that have grown on its hill and is located on the north side of the island. The bay has a crescent shape, with a small beach and reefs just 20 meters offshore. Mango Bay is one of the top places to snorkel in Koh Tao. Here you will find many colorful coral reefs and different types of fish.
Reaching Mango Bay can be very difficult with the scooter due to the steep paths and unpaved roads so the best way to get there is by a longtail boat. Because of the somewhat more difficult journey, you will not find mass tourism here. Entry to the bay is 100 THB. Mango Bay is also one of the favorite spots of tourists from Koh Samui and Koh Phangan coming for a day trip by boat.
The best places to stay at Aow Muang - Mango Bay:
12. Sai Daeng Beach
Sai Daeng Beach is one of the most beautiful beaches on Koh Tao. The beach is located in a beautiful rocky bay at the southern tip of Koh Tao with a view of Shark Island and Koh Phangan. The beach is around 300 meters long, slopes gently and offers plenty of shade under trees. Sai Daeng Beach is a very calm beach so it is great for swimming, sunbathing and relaxing. Snorkeling is also worthwhile in the bay. You will see beautiful coral reef offshore with a lot of fish, especially on the rocks.
The best places to stay at Sai Daeng Beach:
Sai Daeng Beach is a private beach of Sai Daeng Resort and Coral View Resort. The bungalows of both resorts are spread over the entire slope and offer a breathtaking view of the sea and the bay. To get here, you have to go through one of the two resort entrances. Visitors are always welcome with no entrance fee here. You can also rent a kayak at the resort to get to Shark Bay.
13. June Juea Bay
June Juea Bay is a small beach located in the southwest corner of Koh Tao. The beach offers pure tranquility. In the June Juea Bay you can swim, snorkel and relax. June Juea Bay is accessible only by boat or on foot. The path to access it is not passable by scooter or car, which greatly reduces crowds, even in high season. As far as we know, no entry is required here.
The best places to stay at June Juea Bay:
You can spend the night in June Juea Bay in P.D. Beach Resort or in Pinnacle Koh Tao Resort. The resorts are set right on private Jun Juea Beach and equipped with a balcony or terrace overlooking the sea.
14. Sai Nuan Beach
Sai Nuan Beach is located in a small bay and offers a brilliant atmosphere. The beach actually consists of two areas, Sai Nuan 1 and Sai Nuan 2 that are right next to each other.
Snorkeling and swimming is particularly recommended on both areas. Here you can definitely stay for a few hours. There are resorts and bars located here.
Sai Nuan Beach is known as the Secret Beach of Koh Tao due to its difficult access. The beach can be reached via bumpy slopes to Jansom Bay, and then walk to Sai Nuan Beach. You can walk along the path through the Sai Thong Resort. You should ask for advice from a local on the island to get here.
15. Nang Yuan Beach
Koh Nang Yuan (Nang Yuan Island) northwest of Koh Tao is probably one of the most famous offshore islands. You may know pictures of the island from countless Thailand travel advertising and magazines. Koh Nang Yuan offers a beautiful beach with a magnificent viewpoint. Koh Nang Yuan is actually a small island of its own, which is only connected to another small island by small sandbanks.
Koh Nang Yuan can be reached from Sairee Beach or Mae Haad Beach by longtail boat or as part of organized boat, diving and snorkeling tours. Koh Nang Yuan is privately owned so the entrance fee of 200 THB per person is required. During the day it can get very crowded due to many visitors who come by speed boats from Koh Samui and Koh Phangnan. Visiting Koh Nang Yuan from Koh Samui is easy by joining Koh Tao and Koh Nang Yuan Day Trip from Koh Samui. 
There is a single cozy accommodation, Nangyuan Island Dive Resort, on the island, but a short boat trip makes a trip to Koh Nang Yuan a perfect day trip.
Tips
Koh Tao has lots of incredibly impressive destinations that pull tourists all year round. Explore the best things to do in Koh Tao to better prepare for your next holiday in Thailand.
Check out the complete travel guide to admiring the stunning views from Koh Tao Viewpoints including the things to see, how to get there, entrance ticket price, and other tips.